16 Things You Don't Know About Chobani Yogurt
If you thought you knew everything about the king of Greek yogurt, think again.
Did you know Chobani only came to be because CEO Hamdi Ulukaya happened upon an ad for a recently-closed Kraft yogurt plant in upstate New York? It's true! They went from selling their yogurt to just a few local NY grocery stores with a team of five employees to 2,000 employees and making $1 billion in sales per year.
From Winnie the Pooh-themed yogurt for kids, indulgent salted-caramel-crunch-flavored mixes for curbing our sweet tooth cravings, and high-protein tubs for those looking to lose 10 pounds, Chobani has the answer to almost all of your good-for-you snack needs. But even though Chobani is America's top-selling Greek yogurt brand, about 60 percent of the country has never even heard of Chobani—and more than half of Americans still have never even tried Greek yogurt!
So, before you grab another container off the shelf, make sure you read up on these must-know facts about the yogurt company. And after you do, try the Eat This!-approved picks in our report: best Greek yogurts for weight loss.
They Went Through A Massive Redesign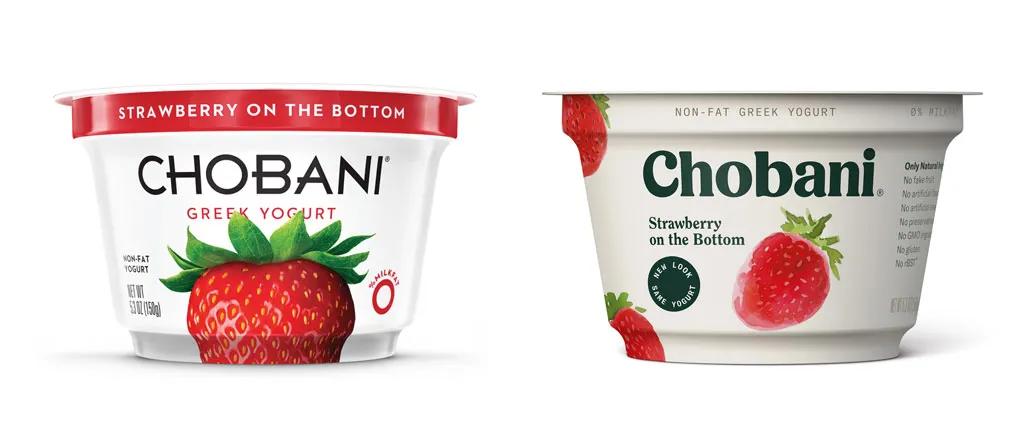 If you didn't already notice in the lead image, on November 28, 2017, Chobani unveiled their new packaging. (We think it looks very nice if you ask us.) Chief Creative Officer Leland Maschmeyer told AdAge that inspiration for the new branding "came from 19th-century American folk art, particularly quilt work from the Mid-Atlantic region." With the packaging overhaul also comes a simplification of their products. Chobani will no longer sell previously core offerings like Simply 100 or their Mezze yogurt dips.
Each Container Is Made With Live Probiotics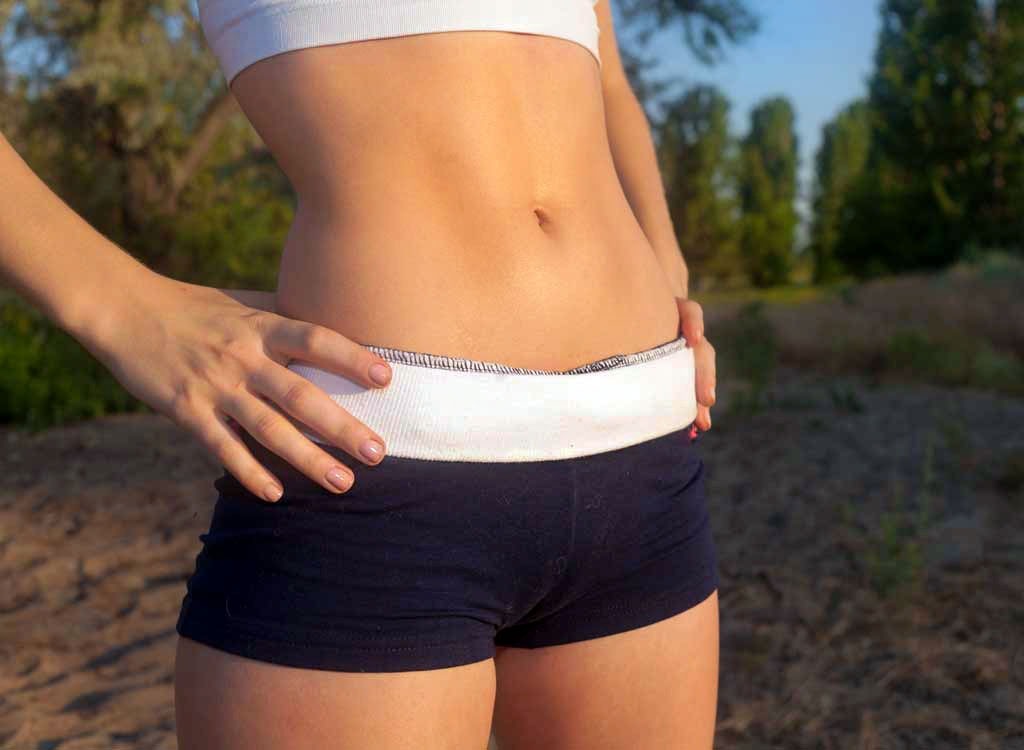 Contrary to what you might think, not all yogurts will provide you with gut-healthy probiotics—the live bacteria that scientists believe may play a role in lowering your incidence of obesity and levels of inflammation. That's because some products are heat-treated after fermentation, which will kill most of the beneficial active cultures. As you'll see on Chobani's label, their Greek yogurt is made with five "live and active cultures." Three of them have been found to be probiotic strains: L. Bulgaricus, L. Acidophilus, and Bifidus; the other two strains listed, S. Thermophilus and L. Casei, are known as active cultures.
Their Plain Flavors Have No Added Sugars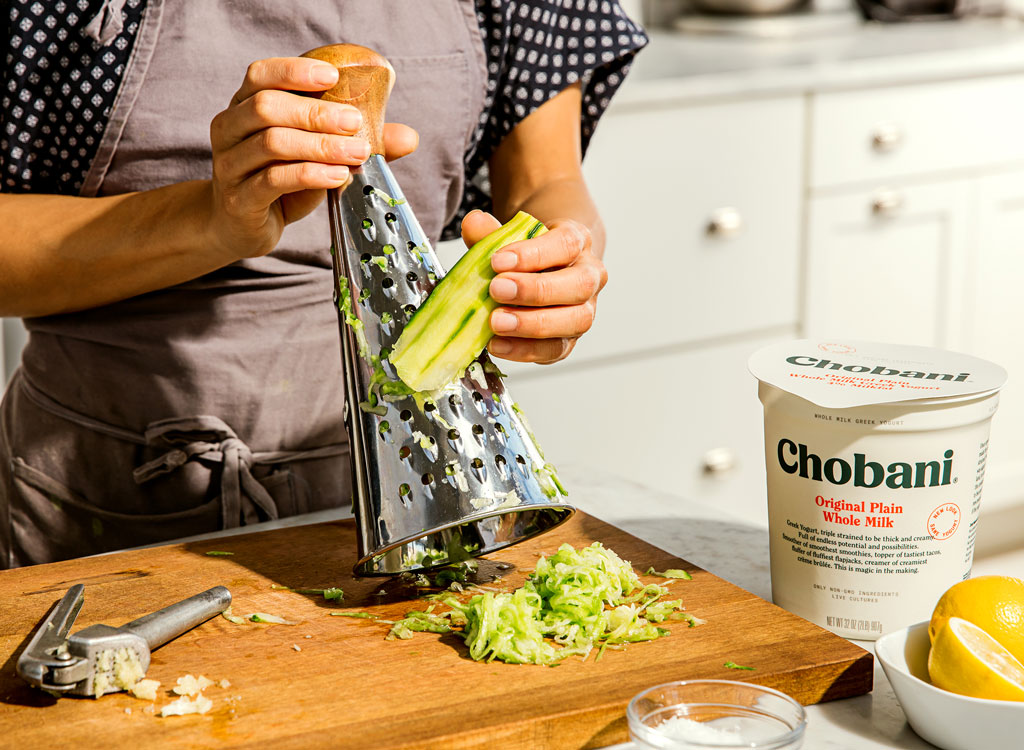 For those of us who adhere to a low-sugar diet, this is music to our ears! When you're picking out a container of Greek yogurt, you want to read just two ingredients: milk and live active cultures. Unfortunately, that's not always the case among every product on the dairy aisle shelves; in fact, some brands have plain vanilla flavors that climb up to 21 grams of sugar per serving! Whether you're grabbing their whole milk flavor or non-fat, both will fill you up with not much more than gut-friendly probiotics, healthy fats, and muscle-building protein. (P.S. By cutting production of the Simply 100 line, Chobani also ceased to flavor their yogurts with non-nutritive sweeteners like Monk Fruit Extract.)
Their Ingredients Are [Basically] Non-GMO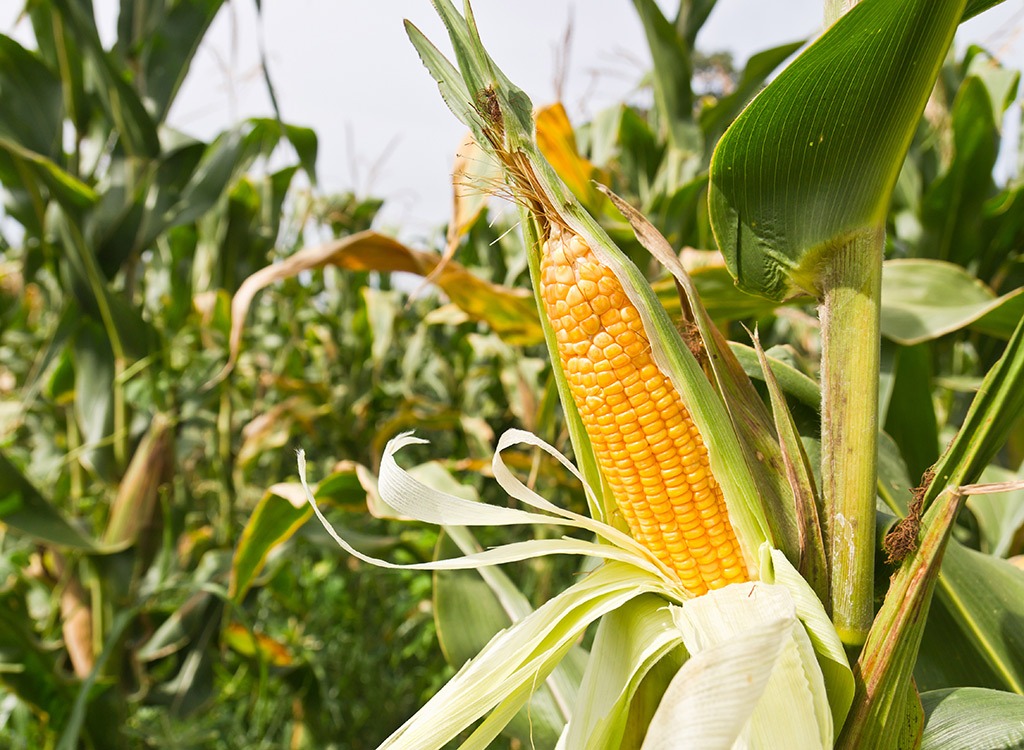 6254a4d1642c605c54bf1cab17d50f1e
Remember the debacle in 2013 when Whole Foods announced it was dropping Chobani from its stores because the yogurt maker uses milk from cows who eat genetically engineered crops (GMOs) like corn and soy? Chobani was bummed, but they argued the company was more interested in selling nutritious yogurt to everyone rather than source GMO-free milk and have to jack up the price so only a few people could buy it.
Besides helping us keep money in our wallets, apparently dairy cows fed GMOs still count as non-GMO "according to criteria applied by the United States Department of Agriculture, the European Union, and specific state criteria, such as the State of Vermont." The company also argues that switching over to non-GMO feed is pretty implausible as standard feed blends often contain corn and soy, and over 90 percent of those crops are grown in the U.S. from genetically engineered seeds—there is simply not enough non-GMO grain for farmers to feed the 78,000 dairy cows Chobani needs.
Instead, Chobani remains committed to sourcing the freshest, rBST-free milk possible from the nearly 900 farmers in their local communities—from Chenango County, New York, to Twin Falls, Idaho. Even though their milk is not verified "non-GMO," the company otherwise uses all non-GMO ingredients to make their yogurt products.
They Don't Offer a Low-Fat Plain Option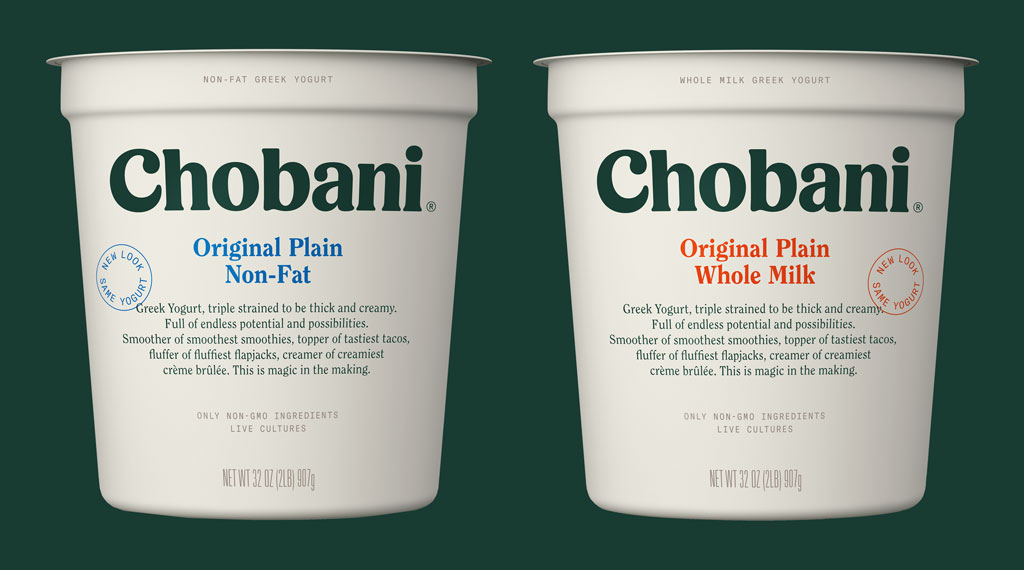 Fat content is often a deciding factor when it comes to purchasing a yogurt container. We always recommend having at least 1% fat in your dairy products. That's because the healthy fats will not only help your body absorb fat-soluble nutrients like vitamin A, D, E, and K but will also help keep you satiated longer. Ilyse Schapiro, MS, RD, CDN, and founder of Ilyse Schapiro Nutrition tells ETNT "I typically recommend 2% because it's a happy medium [between whole milk and non-fat dairy products]." Unfortunately, Chobani's only plain yogurt options are non-fat (0%) and whole milk (4%). If you are looking for low-fat (2%) options, you'll have to go for a higher-sugar variety from the "Blended" or "Fruit on the Bottom" line.
Their Greek Yogurt Is High In Protein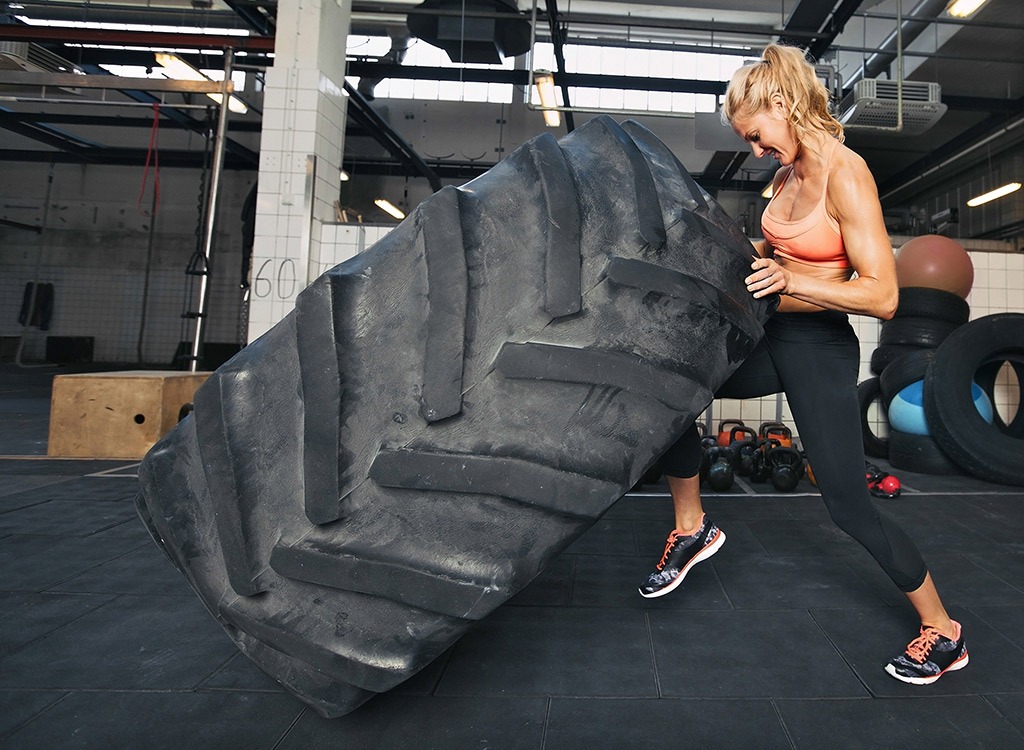 Regular yogurt you grew up eating is unstrained. Greek yogurt is strained, meaning the manufacturer removes the excess liquid whey, which results in a thicker, creamier yogurt. It also means you get a cream with an average of 12 grams of protein per 5.3 oz. cup, whereas regular yogurt has a mere 6 grams. Eating a high-protein snack won't only keep your hunger pangs at bay, it'll also help you build lean muscle mass, which will then burn more calories at rest than fat—helping you lose belly fat.
They Never Use Artificial Preservatives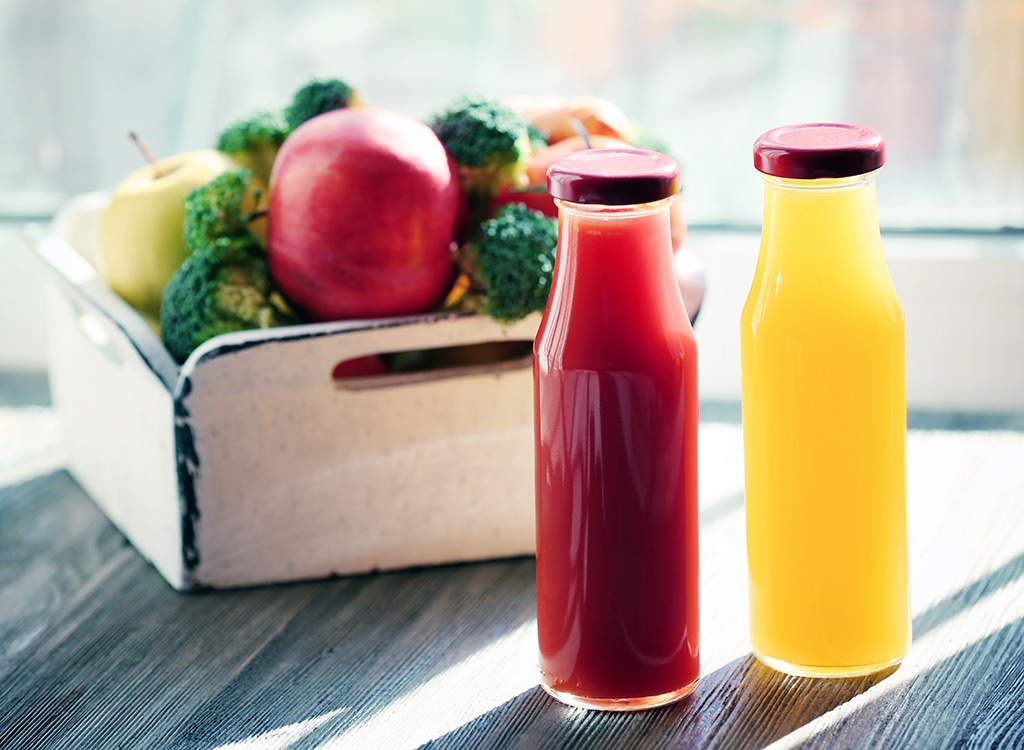 Chobani Greek yogurt is free of ingredients like milk protein concentrate, artificial flavors, colors or sweeteners, and animal-based thickeners, which some manufacturers add to make "Greek-style" yogurts. Instead of caramel color and coal-derived dyes, Chobani uses fruit juice concentrates or real fruit to color their containers. And while blended yogurts from all companies have to add stabilizers to stop the product from separating when watery fruits are added, Chobani chooses to use all-natural ingredients like pectin, locust bean gum, and guar gum rather than the pro-inflammatory potassium sorbate, cellulose gum, and modified corn starch that brands like Dannon and Yoplait use.
They've Got Options For Kids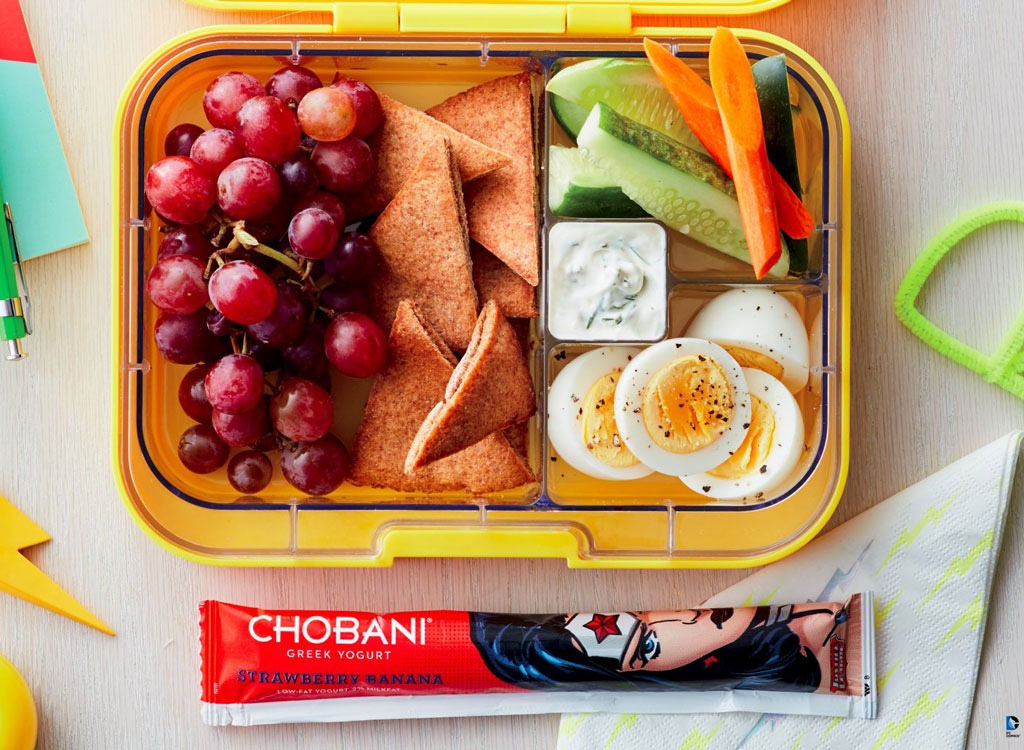 The Chobani Kids line has 25 percent less sugar and twice the protein compared to the leading kids' yogurt. That equates to about 2 grams less sugar and 3 grams more protein if you look at Chobani Strawberry Banana compared to the same flavor from Yoplait's GoGurt. Not to mention, Chobani maintains a source of live and active cultures whereas Yoplait's yogurt is pasteurized. These yogurts will please both parents and kids.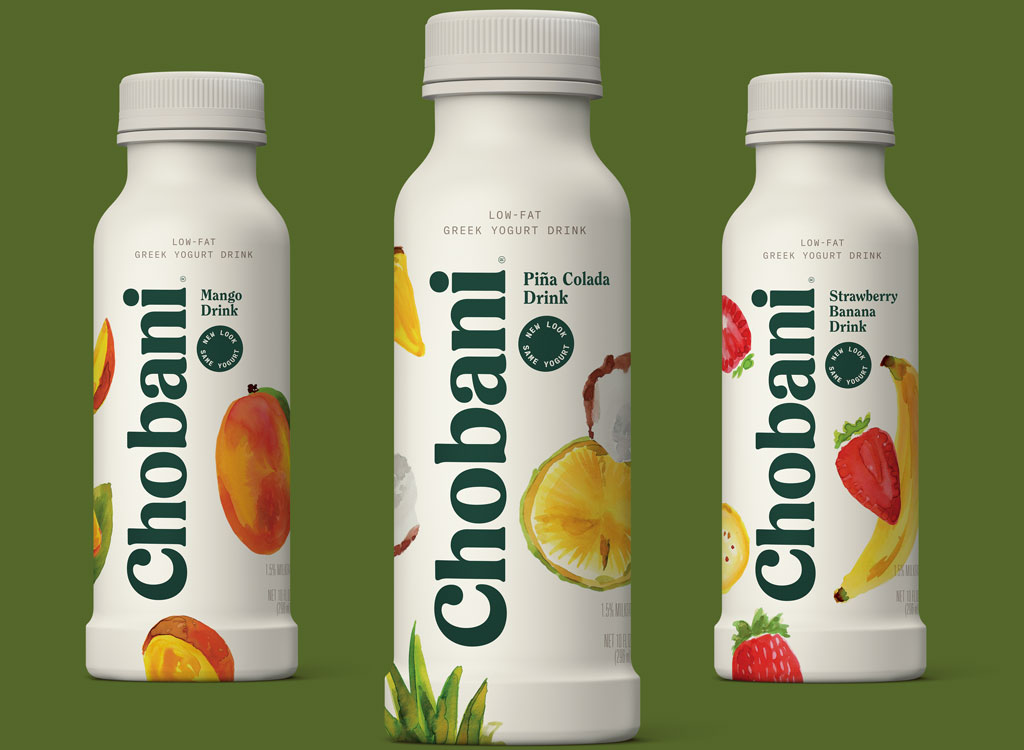 The next new product is a line of Drink Chobani, which is sure to offer a hunger-quelling alternative to your 3 p.m. soda—a drink that only revs your hunger pangs and provides zero nourishment. Drink Chobani is made with a blend of protein-packed yogurt (a whopping 14 grams!) and mixed berries, which are packed with antioxidants that fend off disease.
Thanks to the fact that Chobani's CEO, Hamdi Ulukaya, believes in measuring Chobani's success through its impact on the community, the yogurt company has made a commitment to giving back. For starters, 10 percent of all Chobani profits go to community charities, the company hires refugees, they offer their yogurt products to schools at significantly reduced prices, and they're a proud official sponsor of the U.S. Olympic and Paralympic team. In April of 2016, Ulukaya made headlines when he announced he was awarding full-time employees a total of a 10 percent ownership stake in the privately held company when (or if) the company were to go public.
In October 2016, Chobani not only announced it was starting a program—known as the Chobani Food Incubator—to mentor and support food entrepreneurs like Banza, but they also announced they would be offering 6 weeks paid parental leave to all of its employees starting in 2017. (Currently, the International Labor Organization (ILO) found that the United States is the only country besides Papua New Guinea that doesn't guarantee paid leave for new mothers.) Now if your yogurt isn't something to feel good about, this sure is!
They Turned Down PepsiCo's Stake Bid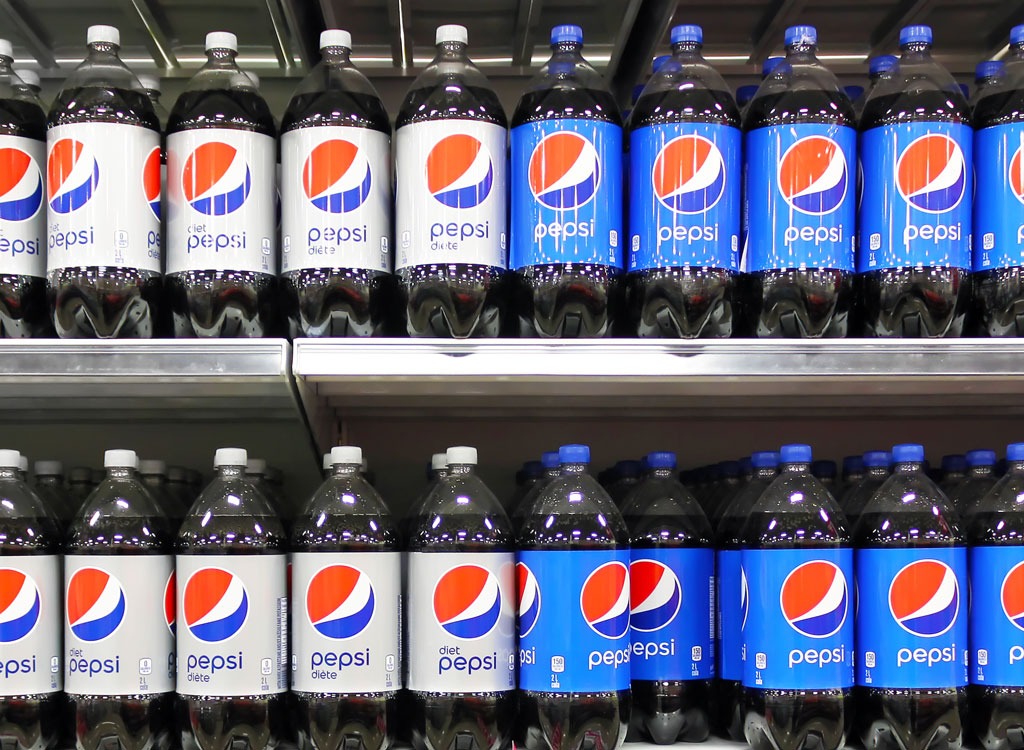 They may be the #1 yogurt in America, but Chobani is always looking to expand. That's why in 2015, they looked for a larger company that would act as a strategic partner to help them expand production and distribution facilities. Although two infamous food (and sugar) giants, PepsiCo and Coca-Cola Co., sought stakes in the company, Chobani, who has taglines like "#NoBadStuff" and "You can only be great if you're full of goodness" didn't go through with either offer, citing that they wanted to maintain control of their company and the partnership would have given a controlling, majority stake to the greedy investors.
Their Containers Are A Reasonable Size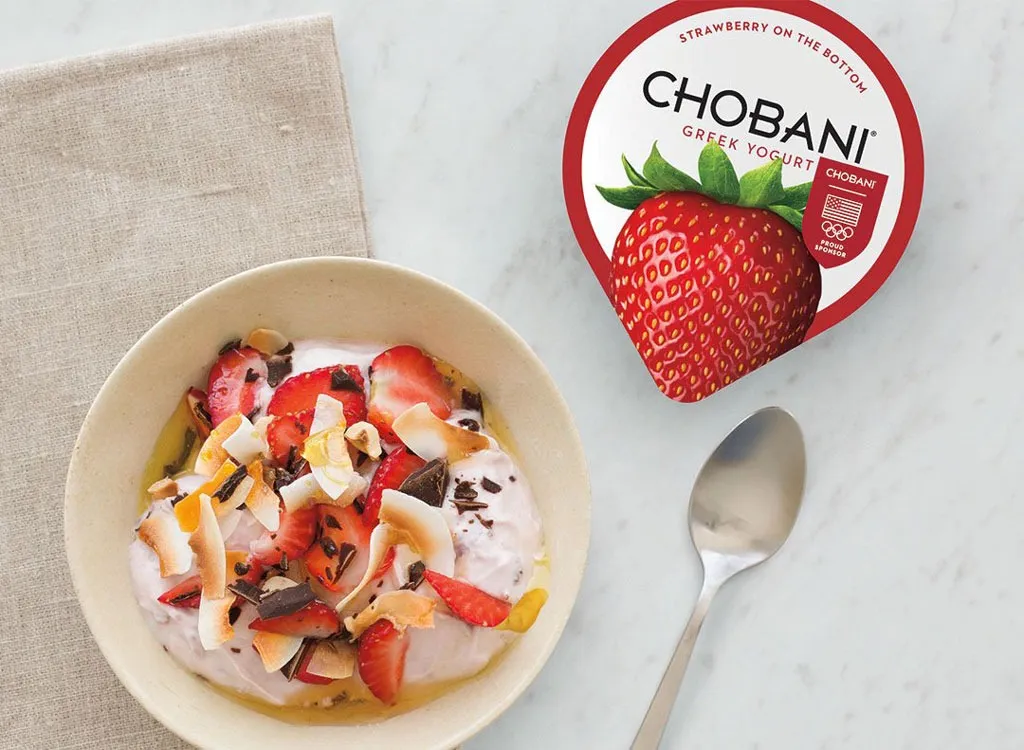 Although the FDA initially listed an 8-ounce standard serving size for yogurt, they announced they would be changing this standard to 6-ounces in concert with the updated nutrition label. Chobani has spearheaded the trend in downsizing since 2014, which was when they switched from a 6-ounce container to a 5.3-ounce container. ETNT thinks this is a responsible change, as packaging informs the consumer how much they should be eating. So, while Noosa Yoghurts are packaged in 8-ounce containers—and can have as much as 35 grams of sugar per serving—Chobani guides you into eating a reasonable amount, and thus you'll eat an average of 12 grams of sugar per serving.
They No Longer Just Make Greek Yogurt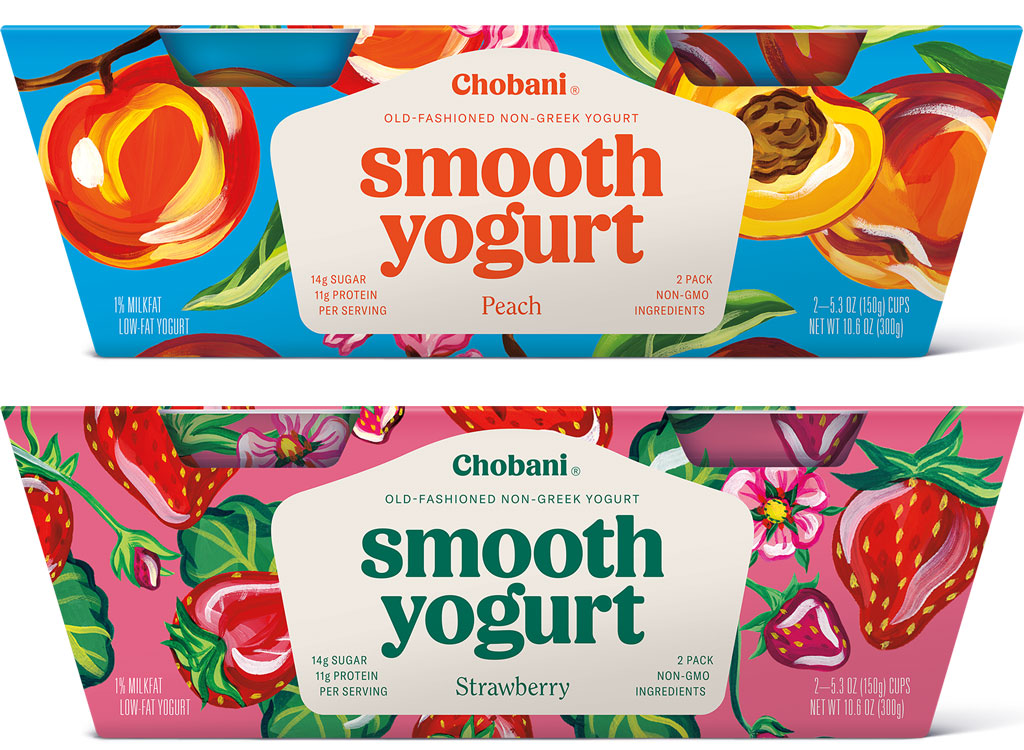 Back in June 2017, Chobani announced they were getting into the traditional, or what Chobani calls "Classic," yogurt business. Even though Greek yogurt is higher in protein—and, thus, better for weight loss—compared to regular yogurt, Americans still reach for a traditional yogurt nearly 50 percent of the time. These classic American cultures are the yogurt brands you grew up with (think: Yoplait and Dannon)—but Chobani's is healthier.
They're Launching Chobani "A hint of"
This new line of Greek yogurts is made with "hand-selected varietal fruits and spices for a curated approach to wellness and taste." We love that they'll be low in sugar—only 9 grams per 5.3-ounce serving—and will be a good source of protein (12 grams). The first five unique flavors will be Madagascar Vanilla & Cinnamon, Wild Blueberry, Monterey Strawberry, Gili Cherry, and Alphonso Mango.
They Have A Chobani Cafe!
The company opened a New York-based café in 2012 where it could test out new recipe ideas and flavor combinations on curious customers.
But… They're Only In New York and Texas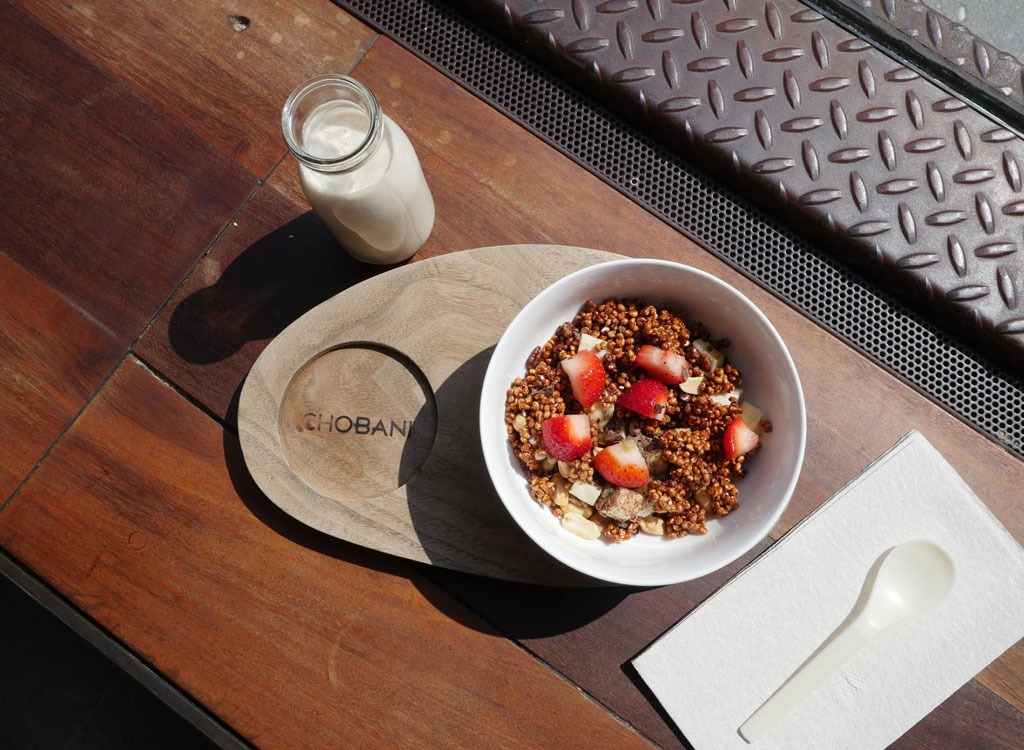 Unfortunately, only two states allow the public to try their creative creations. In New York City, you have the option of going to the first cafe location in SoHo or the vendor located in the Target in the TriBeCa neighborhood. Alternatively, you can head to Tomball, Texas (part of the Greater Houston area) to check out Chobani's newest cafe location in The Woodlands' Wal-Mart. If you're looking to enjoy Chobani yogurt straight away, check out our top picks on our list of best yogurts for weight loss.
Olivia Tarantino
Olivia Tarantino is the Managing Editor of Eat This, Not That!, specializing in nutrition, health, and food product coverage.
Read more about Olivia