10 Popular Beers Brewed with Chocolate for Valentine's Day
Beer and chocolate may not seem like the perfect match, but these rich brews will change your mind.
Whether you enjoy spending Valentine's Day planning big romantic gestures or having a simple evening in PJs, you can't go wrong with any of these tipsy sweet treats. Beer and chocolate may not seem like the perfect match, but these rich and creamy brews will easily change your mind. Some of them pair great with a slice of something sweet and others are so flavorful that they are dessert all on their own.
If you're interested in darker beers like stouts and porters, breweries are now making killer chocolate brews with flavors like Mexican cake and espresso that will make your regular picks pale in comparison. If you're still skeptical about chocolate being in your beer, you won't be after tasting all their goodness! Here are 10 popular chocolate beers you need to try this Valentine's Day. (Plus, don't miss The Most Romantic Restaurant in Every State.)
Samuel Smith Old Brewery Organic Chocolate Stout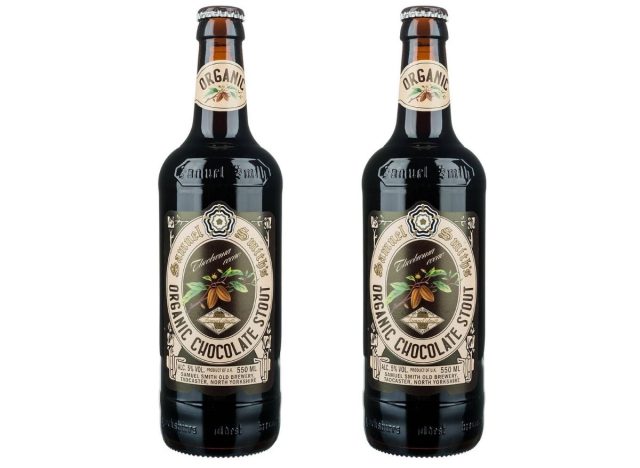 Samuel Smith Old Brewery has been creating great beers since 1758. Their smooth, milky Organic Chocolate Stout combines heavy notes of sweet chocolate, vanilla, roasted caramel malt, and marshmallows. It's also registered with The Vegan Society, so it's a wonderful alternative option for vegan and vegetarian beer lovers.
Left Hand Brewing Co. Peanut Butter Milk Stout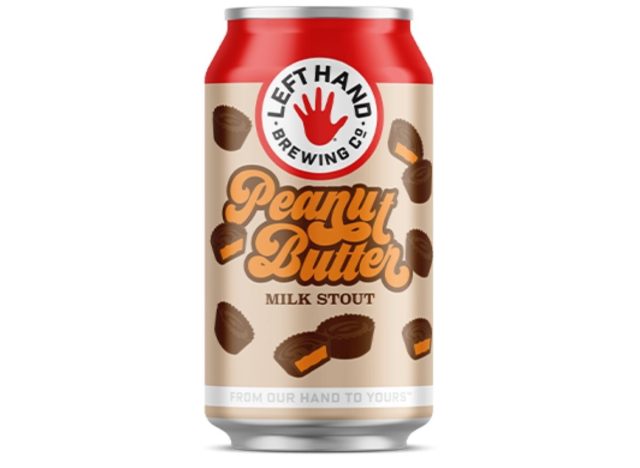 The Left Hand Brewing Co. Peanut Butter Milk Stout is right on target when it comes to perfecting a mixture of peanut butter and chocolate in a glass of beer. They call it their "deliciously dark duo" and has flavors of milk chocolate, nutty notes, and of course a rich taste of peanut butter. Customers are most pleased with the thickness of this beer because it's like drinking a glass of milk alongside your peanut butter cup.6254a4d1642c605c54bf1cab17d50f1e
Yuengling Hershey's Chocolate Porter
Yes, you read that correctly. The chocolate brand that is the mother of all chocolate has paired with Yuengling to create this brew! The Yuengling company came out with this Hershey's Chocolate Porter at the end of 2020 and it is exactly what it sounds like, a smooth beer brewed with Hershey's chocolate. This porter is delicious in every way a chocolate beer should be. The brand collaboration brings us a quality beer, with a chocolate flavor that melts in your mouth without being overpowering.
Deschutes Black Butte Porter
Deschutes Black Butte Porter is an undeniably bold, yet balanced chocolate porter. It effortlessly combines rich chocolate with a touch of coffee and a splash of cream. Experts at Liquor.com praise the unique consistency of this porter claiming that it's "something of a Goldilocks beer," as "it's not too heavy, not too complex, with just the right amount of richness." The Black Butte Porter is ranked best overall on Liquor because it's an easy-to-drink chocolate beer and a classic that's been brewed since 1988.
Rogue Double Chocolate Stout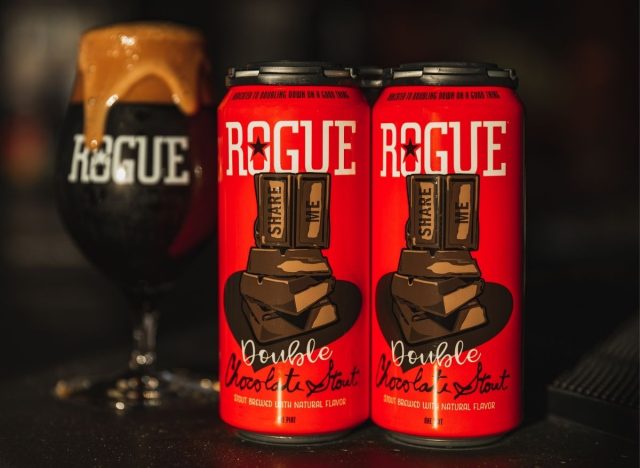 Who said your beer can't taste like a chocolate milkshake? This Double Chocolate Stout from Rogue brewery is made with imported Dutch bittersweet chocolate, which makes it stand out from all other chocolate brews. The heavy notes of chocolate and malt make for a sweet brew, but notes of roasted coffee and oats round everything out. If you love sweet and salty, you'll love this bittersweet double chocolate stout.
Westbrook Brewing Company Mexican Cake
From bittersweet to sweet and spicy. If you've never tried authentic Mexican cake, this brew is a great sneak peek! Westbrook Brewing Company created this Mexican Cake imperial stout using an array of ingredients such as cocoa nibs, vanilla beans, cinnamon, and habanero peppers. While the sweet chocolate is the main character, the cinnamon sticks and habanero peppers give the brew a real bite. Beers and Brewing also reported that this Mexican Cake beer was originally the first-ever brewed in the Westbrook Brewing Company's anniversary line, but now it's an annual comeback due to popularity.
Matchless Bar 2021Hazelnut Imperial Stout
This Willy Wonka-themed chocolate bar beer is different from the rest and it starts at the beginning. Brewed straight in Heaven Hill Bourbon barrels for countless hours, the Bar 2021 stout by Matchless blends together vanilla beans, cacao, and a generous amount of hazelnuts. What started as a limited edition beer turned into a whole new line, due to popular demand. Matchless has now come out with other candy bar-flavored beers like chocolate peanut butter, according to The New School.
The Bruery White Chocolate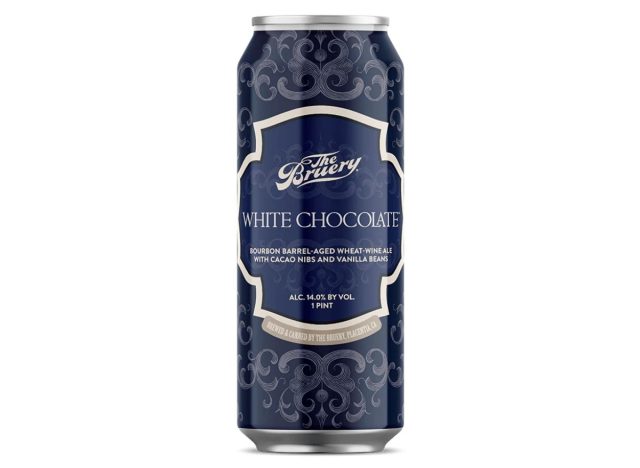 With a whopping 14% alcohol content The Bruery did not create this brew for the faint-hearted. This White Chocolate Ale is the only ale of the bunch, but more importantly, it's one of the very few brews made with white chocolate versus the milk or semi-sweet chocolate used in many. The glowing reviews highlight the savory notes of roasted toffee and oak that match seamlessly with the sweeter notes of white chocolate, vanilla, honey, and caramel. While the list of ingredients seems hectic, fans express it's not an overpowering beer, it's just flat out amazing!
Founders Brewing Co. KBS Espresso
Dessert with a side of espresso is a restaurant tradition that many enjoy, so why not have all of that in one drink? The KBS Espresso coffee stout by the Founders brewing company takes a post-meal sweet treat to a whole new level. Founders explains how their beer is brewed with large sums of chocolate and coffee over time but the taste remains "incredibly silky and full-bodied." It's a dark beer, with subtle hints of sweetness and it hits the spot every time.
Guinness Chocolate Mint Stout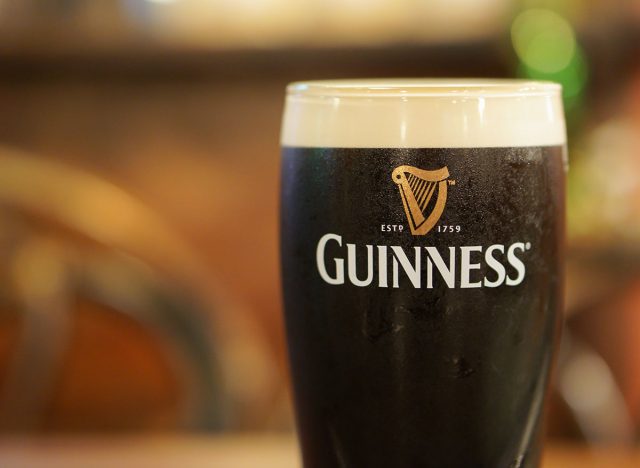 Guinness has done it again and brought the world another fan-favorite beer! The Chocolate Mint Stout is perfect for Valentine's Day–or any day if you're a lover of mint and chocolate. The rich cacao and fresh mint leaves get brewed in bourbon barrels with a hint of vanilla to compliment all of the brew's boldness. Thrillist reported that this beer was made to be sold nationwide, but you've got to find your four-pack fast because they'll soon be all gone!
Plus, don't miss 11 Secrets Craft Beer Brewers Don't Want You to Know.
Jordan Summers-Marcouillier
Jordan Summers-Marcouillier was born and raised in San Jose, California and now works as a writer in New York, NY.
Read more about Jordan