These Greek Yogurt Bars Taste Like Cheesecake, Only They're Loaded With Protein
Clio Greek Yogurt Bars will be your new go-to after dinner treat.
If you've ever looked at your Greek yogurt and wished it could be more than just your go-to healthy breakfast, we hear you. It would be really nice if it could transform into dessert, and we're talking real dessert, not just what you had that morning with honey mixed into it.
Then we ran into a product made with the popular yogurt that tasted like actual cheesecake wrapped in chocolate and we have never looked back. We don't blame you for not wanting to ask questions—nutrition questions, like if it'll fit into your diet. So we're here to break it all down.
These jazzy new bars are called Clio Snacks Greek Yogurt Bars and they come packed with a cheesecake-like filler and dark chocolate outside. Their six flavors—strawberry, vanilla, honey blueberry, hazelnut, and espresso—each contain eight grams of protein per bar with the exception of hazelnut which holds nine grams of protein.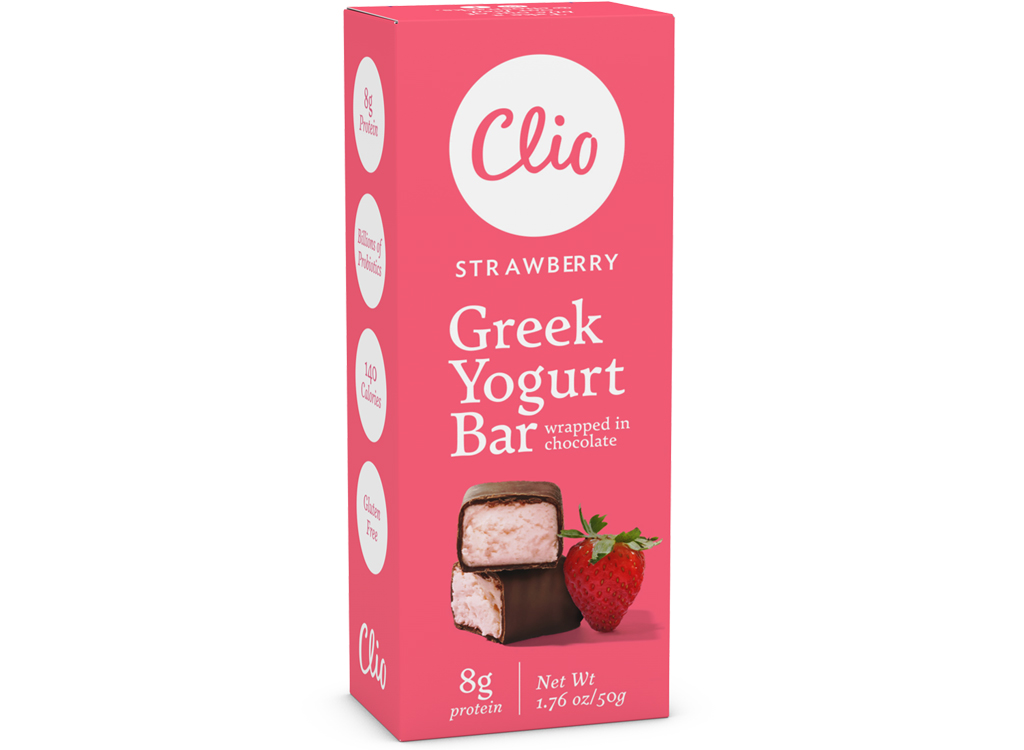 6254a4d1642c605c54bf1cab17d50f1e
Per 1-slice Serving, Strawberry Flavor
: 140 calories, 6 g fat (6 g saturated fat), 31 mg sodium, 13 g carbs (1 g fiber, 10 g sugar), 8 g protein
We love that they're gluten-free and each serving will only cost you 140 calories per bar (with the hazelnut clocking in at 150 calories) calling for some pretty guilt-free indulging.
With a short list of natural ingredients like whey protein, skim milk, whole milk Greek yogurt, and loads of gut-healthy probiotics, we're ready to dig in daily.
Also, we love the fact that Clio packs so much goodness into a reasonable serving size. Clio bars contain 10 grams of sugar per serving, which is significantly lower when compared to the 14 grams of sugar per 1/2-cup serving of Breyer's Strawberry Ice Cream. Clio's line of Greek Yogurt Bars are also lower in sugar and higher in protein than other Greek yogurt products in the freezer aisle. Each Yasso Strawberry Frozen Greek Yogurt Bar, for example, has only 5 grams of protein per serving for a higher 13 grams of sugar.
You probably won't want to limit these to just dessert, so we recommend eating them as an afternoon pick-me-up or to hanker your post-meal cravings.