Coca-Cola Challenges LaCroix With AHA, Its New Flavored Sparkling Water Brand
Will this caffeinated treat be the new go-to drink?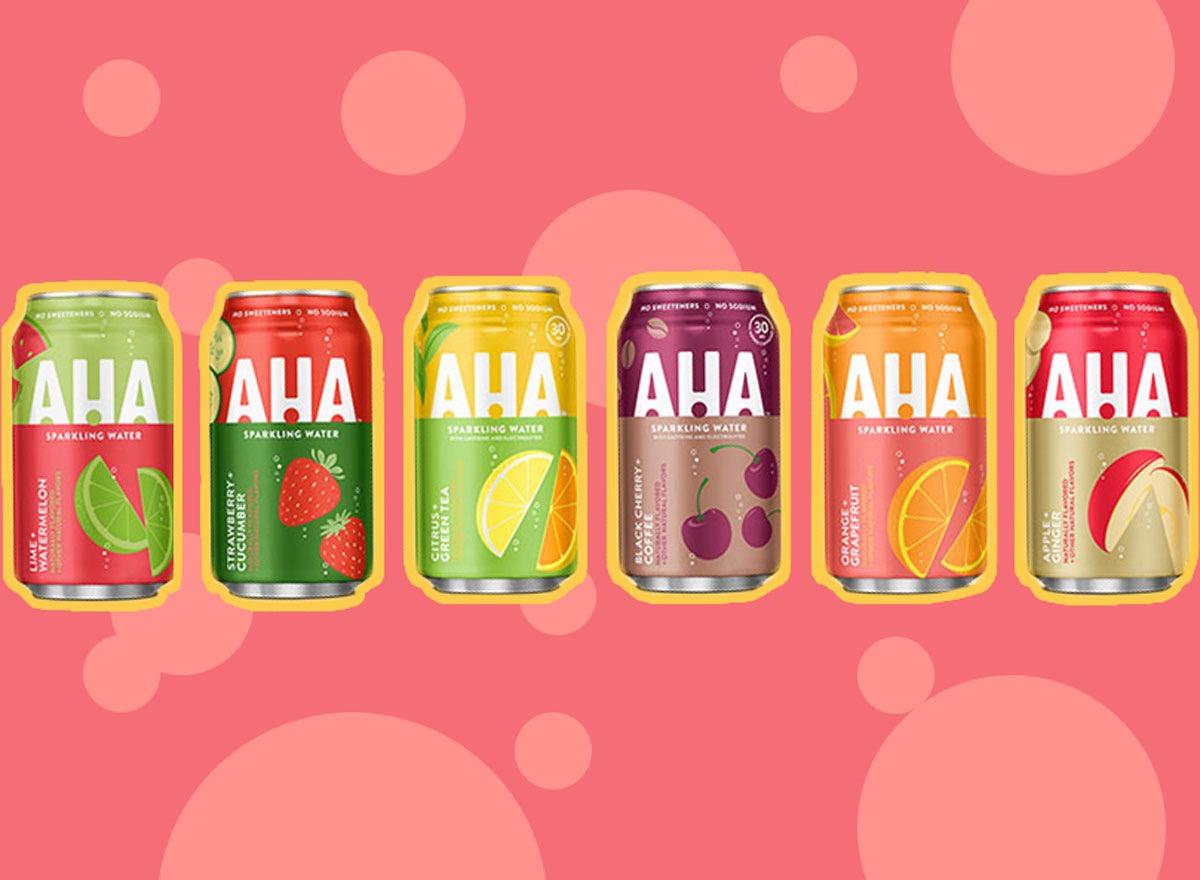 Watch your throne, LaCroix. A new sparkling water is rapidly approaching the market—and it's from an industry heavy-hitter.
Coca-Cola, the beverage giant behind such beloved soft drinks as Coke, Diet Coke, and SmartWater, is currently working on a brand-new bubbly beverage. It's (adorably) named AHA, and it fuses together two of the most addictive beverage properties: bubbles and caffeine. Expect to see it on the desk of every millennial after it hits shelves in March 2020.
AHA is the corporation's biggest product launch in more than a decade—the last major one was Gold Peak Iced Tea, all the way back in 2006—and comes in the wake of massive growth in the sparkling flavored water sector. According to Nielsen figures, the sparkling water industry increased a jaw-dropping 54 percent between 2014 and 2018.
"As the largest and fastest growing part of the category, mainstream flavored sparkling water is a segment we know we must double-down on," Celina Li, vice president of Coca-Cola North America's water category, said in a statement. "AHA is our big-bet brand in this big-bet category."6254a4d1642c605c54bf1cab17d50f1e
Rumor has it that the company mixed and matched 50 different flavor pairings—what they're calling "flavor fusions"—before settling on a series of finalists. The result is a roster more stacked than the headliner lineup for Lollapalooza. On day one, the new brand will be available in the following eight varieties:
Lime + Watermelon
Strawberry + Cucumber
Citrus + Green Tea
Black Cherry + Coffee
Orange + Grapefruit
Apple + Ginger
Blueberry + Pomegranate
Peach + Honey
Just two of the flavor fusions will be caffeinated—both Citrus + Green Tea and Black Cherry + Coffee will contain 30 milligrams each, which is about half the amount you'd find in a single shot of espresso—while the remaining six will be totally decaf. But they're all sodium-free. And even better, they're all zero-calorie.
When AHA hits shelves, it'll come out in single 16-ounce cans and packs of 12-ounce ones. Now, the keyword there is "cans." Rather than releasing the drink in bottles, part of Coca-Cola's strategy—after being notoriously crowned as the world's largest plastic polluter two years running—is to play to their consumer base's rightfully growing environmental concerns. Mother Nature may not love cans, but they're at least better than plastic bottles, which rank among the worst environmental hazards the world faces today.
One politicized concern they don't plan to play to just yet? Cannabidiol (or what you may know as CBD). Though some soft-drink brands have certainly been experimenting with several different options, Coca-Cola has no roadmap to explore that one at the moment.
"We've been absolutely clear on our thoughts about CBD," Shane Grant, president of the stills business unit for Coca-Cola North America, told The Washington Post. "We have absolutely no plans to launch."