30 Kitchen Skills Everyone Should Know by 30
Trade in your Chipotle order for an apron! It's time to act like a
Growing up in a small town, I knew I was a bit sheltered. However, nothing I've seen since moving to New York City could have prepared me for what happened when my friend, Julie, spent the night at my apartment.
"Do you want omelets for breakfast?" I asked her that morning.
She nodded yes and I dutifully began pulling together the necessary ingredients. When I tried to hand off the spatula to her so I could hop in the shower, Julie dropped a major bomb: She had zero idea how to make an omelet—despite the fact that she was a college educated 27-year-old women. I was floored.
I'm going to go out on a limb and make the assumption that I'm not the only one who thinks this simply isn't okay. There are just certain things one must know how to do in the kitchen before they enter the third decade of their life—and making an omelet is one of them. (You best believe I gave Julie a lesson then and there!)
In an era when it's totally plausible to live off drive-thru grub and pre-made supermarket food for all of eternity, you may be so curious why I'm so adamant about this. Well, I'll tell you: Not only will cooking more and ordering in less save you a ton of dough, it will also give you more control over the ingredients and calories that wind up on your plate. This is a huge benefit in your life, whether it's when you find yourself trying to lose 10 pounds or wanting to ward off diet-related diseases like diabetes and high blood pressure.
Convinced you need to up your cooking game? Good! Now, read on to find out which skills you need to know—and exactly how to master each one—by the time the big 3-0 rolls around. Happy cooking…and happy eating!
How to Bake a Perfect Potato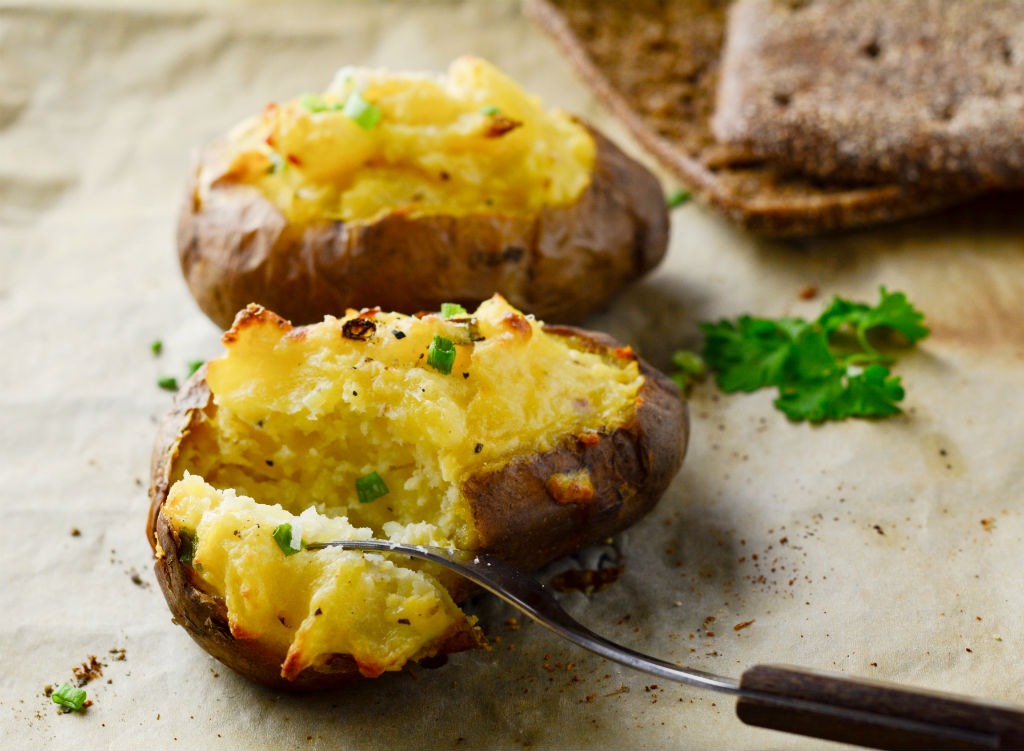 Whether you're a fan of sweet potatoes or russets, you'll first want to start by washing the spud with water and pricking it all over with a fork. (Don't skip this step, or your potato may explode! Not even kidding.) From there, you have two options: you can bake 'em or zap 'em in the microwave. I like the latter option because it only takes a few minutes and produces a spud with super soft skin. However, if you like the skins crispy, baking is for you. Here's how to pull off both techniques:
Microwave Instructions:
If you're making a single potato, place it on a microwave-safe dish and microwave at full power for 2.5 to 5 minutes, depending on its size. If cooking more than one spud, you'll want to zap them for at least 10 minutes. Turn them over and microwave for another minute or two. If still hard in the middle, microwave in additional one-minute bursts until it's fully cooked. Slice down the center, drizzle with a touch of olive oil, and sprinkle with ground pepper (one of these 5 Best Spices for Fat Loss, paprika, and dried rosemary.
Oven Instructions:
Preheat the oven to 425°F. Place the potatoes a few inches apart on a foil-lined baking sheet and bake for 45 to 60 minutes or until the skin is crispy. Be sure to flip them at the halfway mark. Slice down the center, drizzle with a touch of olive oil, and sprinkle with ground pepper, paprika and dried rosemary.
The broiler is just one of those kitchen appliances that seems to intimidate the majority of people. But it's really nothing more than an inverted grill; a source of concentrated, quick cooking heat. Since most broilers have only two settings—on or off—they're really easy to use. Just set the oven to broil and let it heat up for about 5 minutes before cooking your food. Thin cuts of chicken, pork chops, steaks, and fresh vegetables take about 10 minutes to broil; just be sure to flip them midway through the process so they're evenly cooked.
How to Make the Perfect Burger
The average American eats three burgers a week, but few of us give much thought into how we prepare our patties; we just mold the meat, toss 'em on the grill, and devour them. While that may fly when you're having a college cook out, you'll have to put in a bit more effort to make a true "grown-up" patty.
The first step: Pick out a fresh cut of meat and ask the butcher to grind it and wrap it up. (We like sirloin, chuck, or brisket for their fat to lean meat ratio and delicious flavor.) While pre-ground burger meat may be convenient, oftentimes, it's made up of low-quality beef scraps. To ensure your high-quality meat stays flavorful and juicy, keep it in the fridge up until you're ready to mold your patties. When you mold warm beef, the fat will often separate from the meat, leaving you with less flavorful, juicy burgers. For the same reason, if the grill isn't quite ready to use after you've shaped your patties, store them in the fridge. For even more tasty burger hacks, check out these 20 Tips for Making the Perfect Burger.
How to Fix 2 Common Mistakes
Accidentally dump too much salt into the skillet? Use a splash of vinegar to provide a counterbalancing punch of acid.
Too much spice? Try a drizzle of honey to mellow out the heat.
How to Make a Basic Salad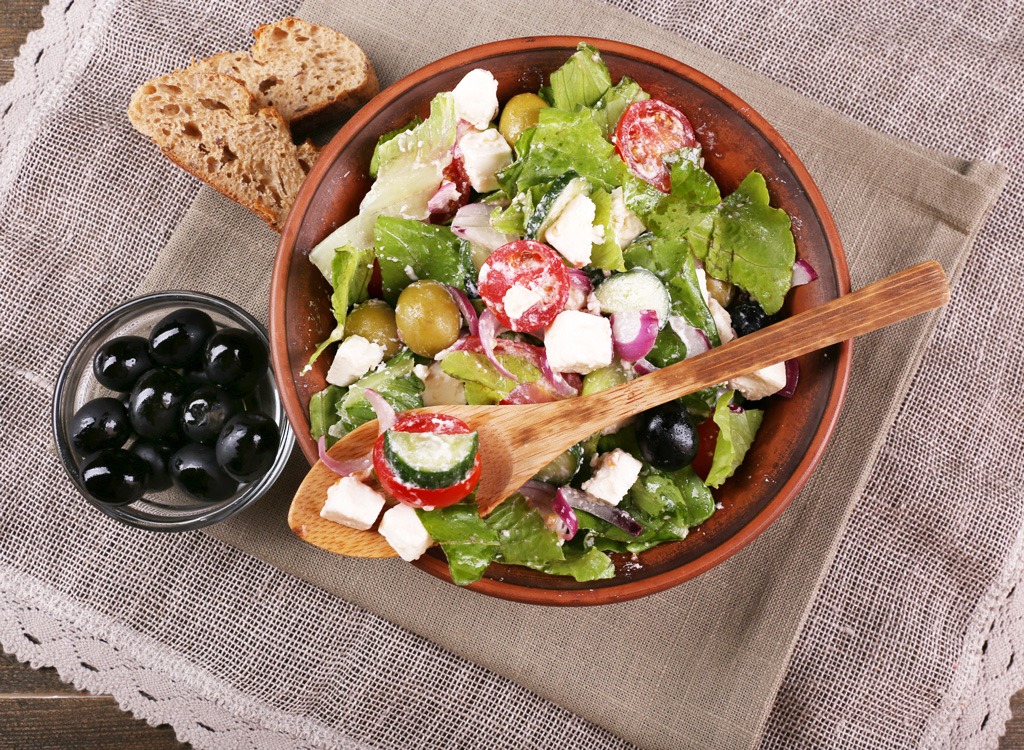 If you've ever bought the stuff, you already know that bagged salad mix can be on the pricier side. And it often isn't the most nutrient-dense mix of veggies, either. Save you cash and master the art of making a few basic salads. A basic house salad contains spinach, onion, tomatoes, carrots, and bell pepper, and a classic Greek salad is filled with things like romaine, onion, olives, bell peppers, tomatoes, cucumber, and feta cheese. Pair them with a slice of Ezekiel bread or some grilled fish or chicken to turn either one into a full-on entrée!
And a Salad Dressing, Too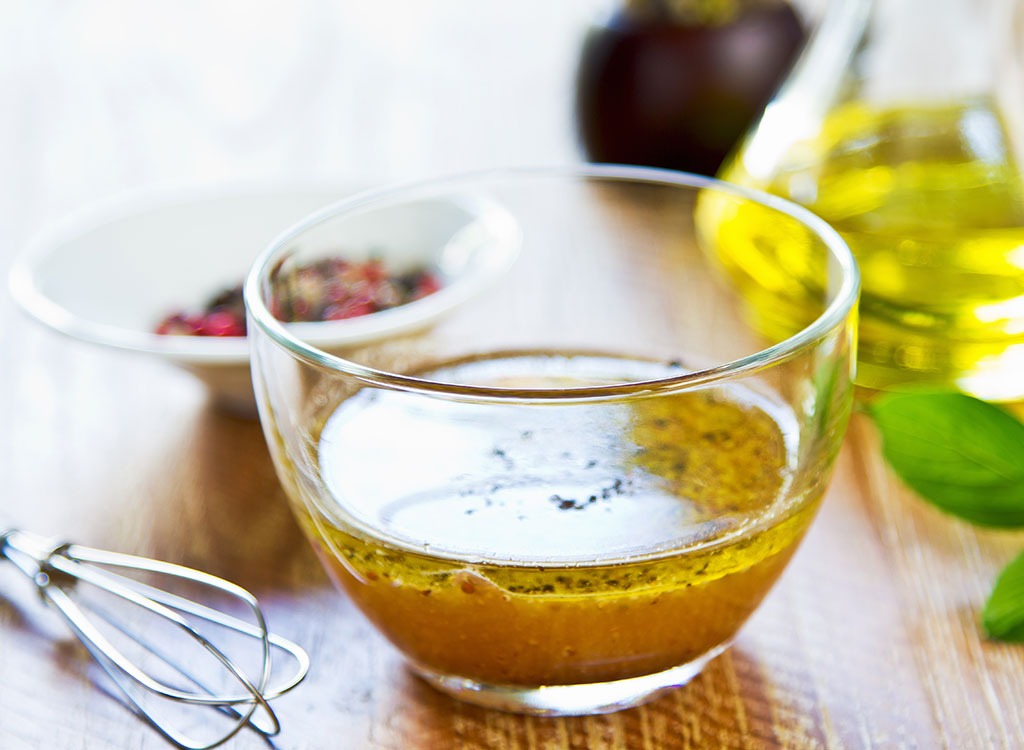 Yes, by the time you're 30, you really should know how to dress your salad without relying on something that comes in a bottle! For help making a nutritious vinaigrette, check out these 12 Tips to Make Healthy Salad Dressings.
Every good cook knows that recipe ingredients don't have to be set in stone. Mushrooms can stand in for eggplant and pricey ingredients you don't think you'll ever use again can often be omitted. If you understand what tastes good together, the possibility for creation in the kitchen is infinite. And unlike baking, cooking is much harder to mess up, so there's that bit of encouragement, too!
How to Make a "Healthy" Dessert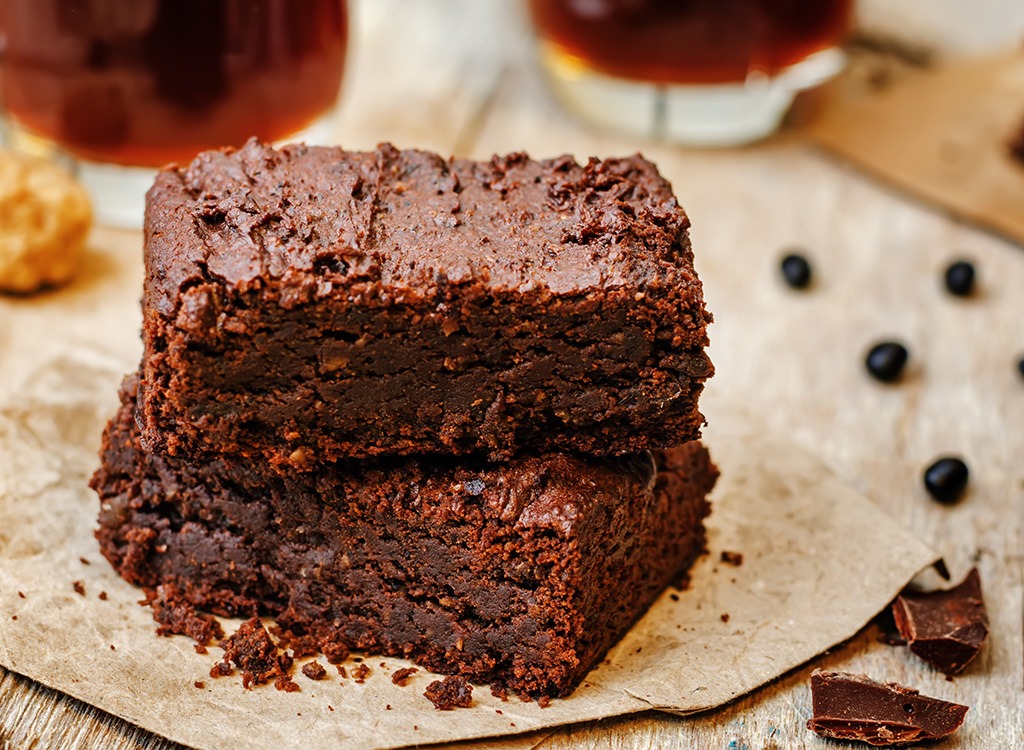 As we age, we naturally lose a bit of our muscle mass, which makes it increasingly difficult to maintain a lean figure. That said, it will likely come in handy to know how to make a healthy—yet delicious—dessert or two. Whether your concoction is just a plate of strawberries dipped in dark chocolate or an avocado-frosted zucchini cupcake, you should have a way to indulge and stay slim. These 20 Easy Dessert Recipes are some of our favorites.
How to Use a Chicken Tenderizer
There's no denying it: Thicker cuts of boneless chicken are more affordable than the thin cut kind. Thankfully, if you have a chicken tenderizer, you can flatten out thick chicken to make it just as tender, moist, and easy to cook with as its skinny counterpart. Before you start pounding away at the meat, though, you'll need to cover it with a piece of plastic wrap or put it into a plastic Ziplock-style bag. This will prevent small pieces of meat and meat juices from getting all over your counter. Once you're prepped and ready to roll, go back and forth over the meat using a hammering motion with the tenderizer until the meat reaches the desired thickness. For tons of ideas about how to make your chicken super delish, check out these mouthwatering healthy chicken recipes!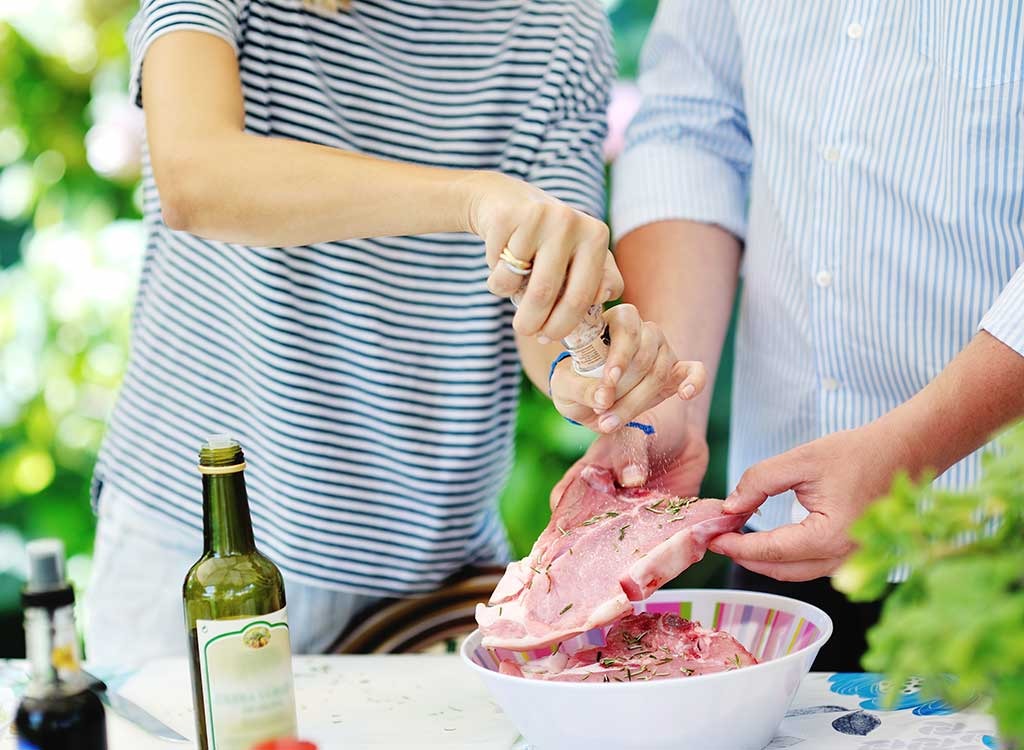 Not only is a juicy steak a nice change from burgers and chicken, it's the must-serve dish for D.I.Y. romantic meals and fancy dinner parties. To ensure a flavorful steak, start by making a marinade. Soaking your meat in a bath of flavor is great because it breaks down tough muscle fibers and infuses your food with moisture and low-cal flavor, turning even pedestrian cuts of meat into the type of succulent fare you pay serious cash for in restaurants with linen and china. Our go-to recipe is simple: It includes the juice of two limes, one cup of orange juice, two minced garlic cloves, two tablespoons of pureed chipotle peppers, and a half-cup of chopped cilantro. While you're making the marinade, take the meat out of the fridge, so it can get to room temperature, which helps it cook through more efficiently. After you've soaked your steak in the solution for about 20 minutes, it's time to cook! To ensure you get that perfect steer, read up on these 24 Tips to Grill the Best Steak of Your Life!
How to Make a Meatless Meal
Even if you're not a vegetarian or a vegan, knowing how to whip up a filling and flavorful meat-free meal is just as important as perfecting your steak and burger techniques. Having a few go-to recipes nailed to your Pinterest board ensures a stress-free dinner prep the next time an animal-loving friend or family member pops in for a last minute meal. It also ensures you'll have a few healthy recipes to turn to, even if you're short on time or cash. (Meat can be super expensive!)6254a4d1642c605c54bf1cab17d50f1e
You may even want to consider making one day a week totally meat-free. Many carnivorous Americans have adopted Meatless Monday into their routines to increase the number of vitamin- and antioxidant-rich fruits and vegetables in their diets. Not only does this array of produce lend immense health benefits—from cholesterol-lowering and immunity-boosting to antiaging and anticancer properties—a recent study performed by the Obesity Society found that plant-based diets showed higher weight loss success than conventional diets, without emphasizing caloric restriction. Sound appealing? Peruse some of these 20 Amazing Meatless Monday Ideas for some inspo.
How to Make a Smoothie or Two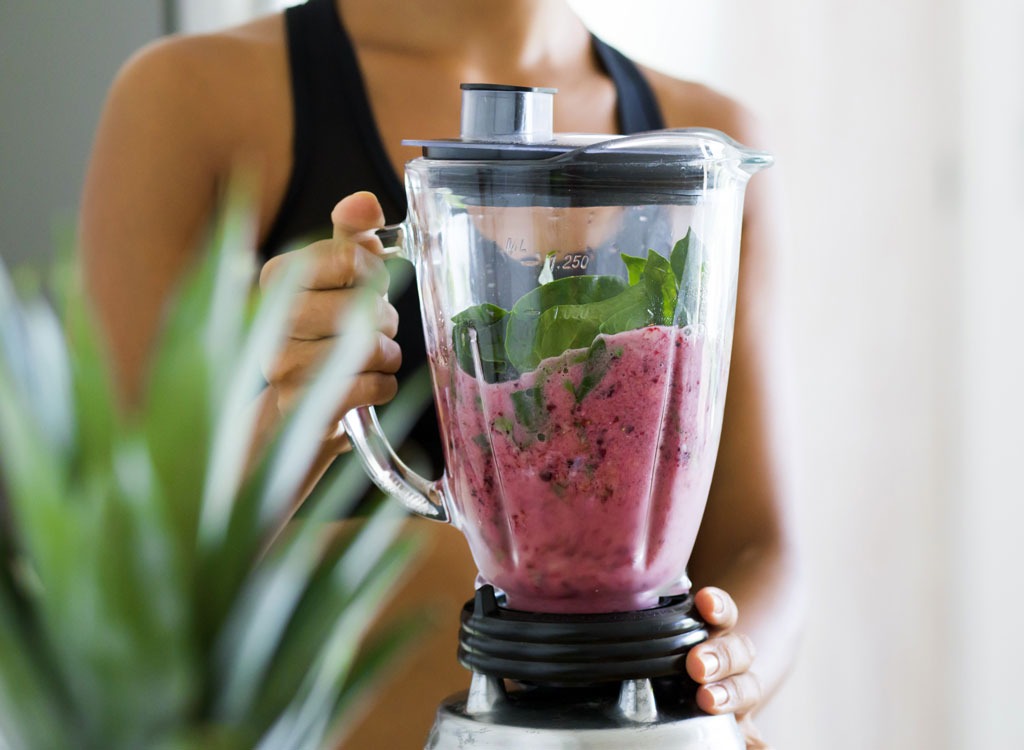 Now that you've been in the post-grad working world for a few years, you've probably realized that holding down a 9 to 5 (or should we say 9 to 7?) can be rough. And sometimes you just don't feel like whipping up a nutritious dinner. Instead of ordering in—again—stock your kitchen with a few key smoothie ingredients like almond milk, frozen fruit and veggies, and protein powder. This way you can easily blend up a nutrient-filled drink in less than 60 seconds. It's the perfect backup plan for those hectic days and late nights at the office. For some flavor combination inspiration, check out these 56 Best Smoothie Recipes for Weight Loss.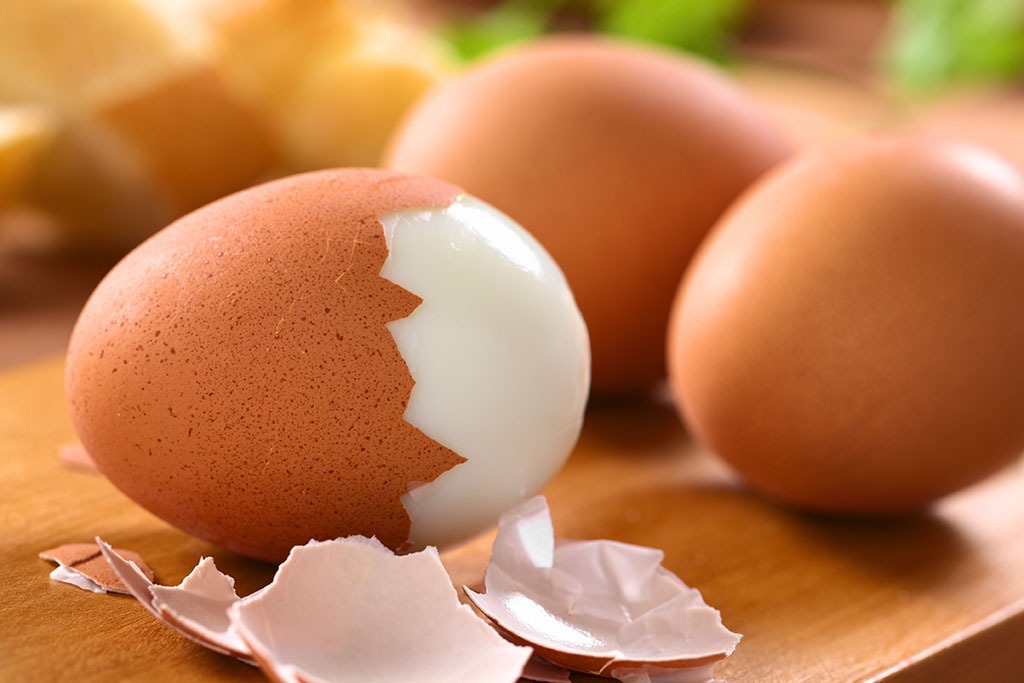 If you're like Julie and have no clue how to make an omelet, this is for you! After you've cracked your eggs into a bowl and beaten them with a whisk or a fork, pour the mixture into a warm, oiled frying pan, and scatter your fillings. We like to add things like chopped veggies and herbs. Yum! Once the egg begins to solidify, fold it in half. Once it's no longer runny, it's time to eat!
How to Make a Meal Sans Recipe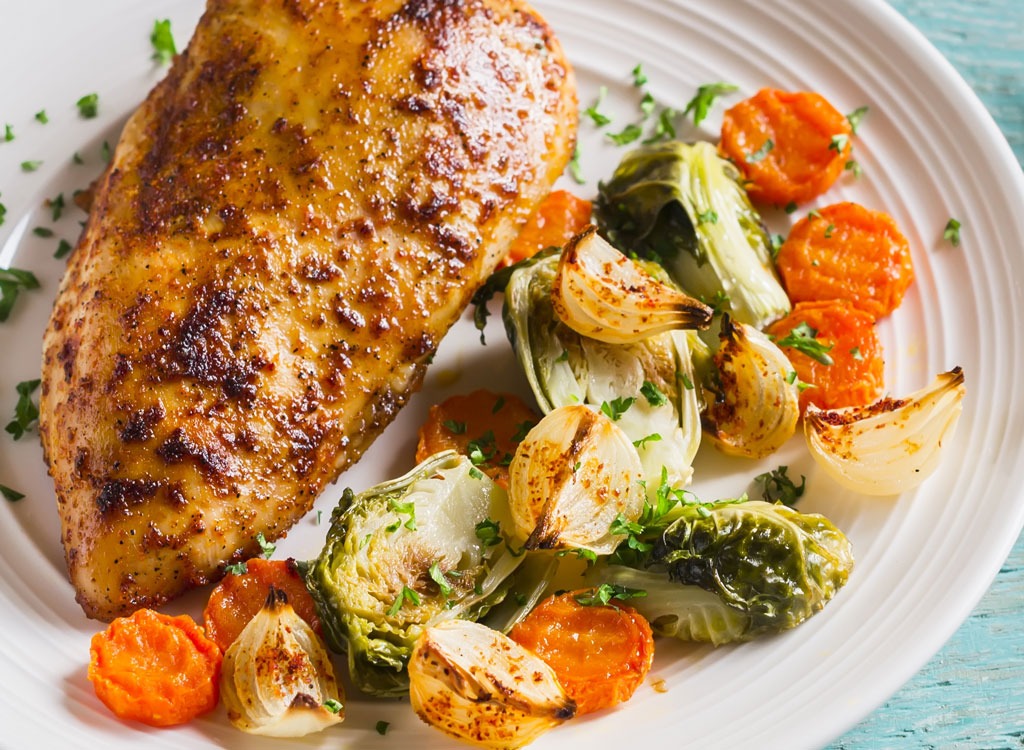 If you're anything like me, your Pinterest board is likely filled with delicious looking recipes that you'll never make. Because let's be real: When it comes down to it, it can be challenging to find the time to sit down, decide on a week's worth of recipes, write down all the necessary ingredients, hit up the supermarket, and then go through the tedious step-by-step process of actually making the meal. Thankfully, there's a better way: Ditch the recipes and seek out flavorful "freestyle" dinner ideas. We've got 40 of them you're sure to love!
How to Make a Fancy Sandwich
Addison Osta Smith, the youngest contestant to win "MasterChef Junior," recently said in an interview that every grown up should "be able to make your own real sandwich, not just a PB&J or a ham and cheese. I like roast beef, cheese [with some] kind of cheese, avocado, lettuce, and onions." We've got to agree with her on this one. This is one skill you've gotta have on lock by the time you're 30.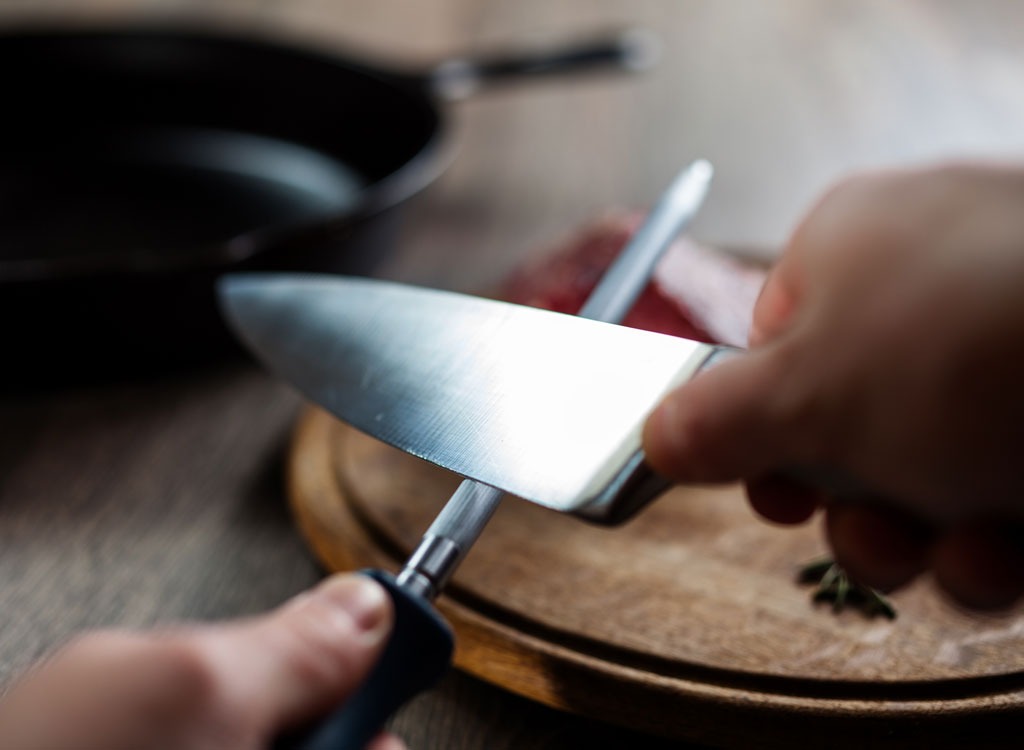 Once you're comfortable chopping things like onions and garlic, you should learn how to sharpen a knife. Admittedly, the task is an intimidating one, but the sharper your knives are, the easier they will be to control, which means they'll be safer. We like this short video from our friends at ChefSteps that explains exactly how to get the job done.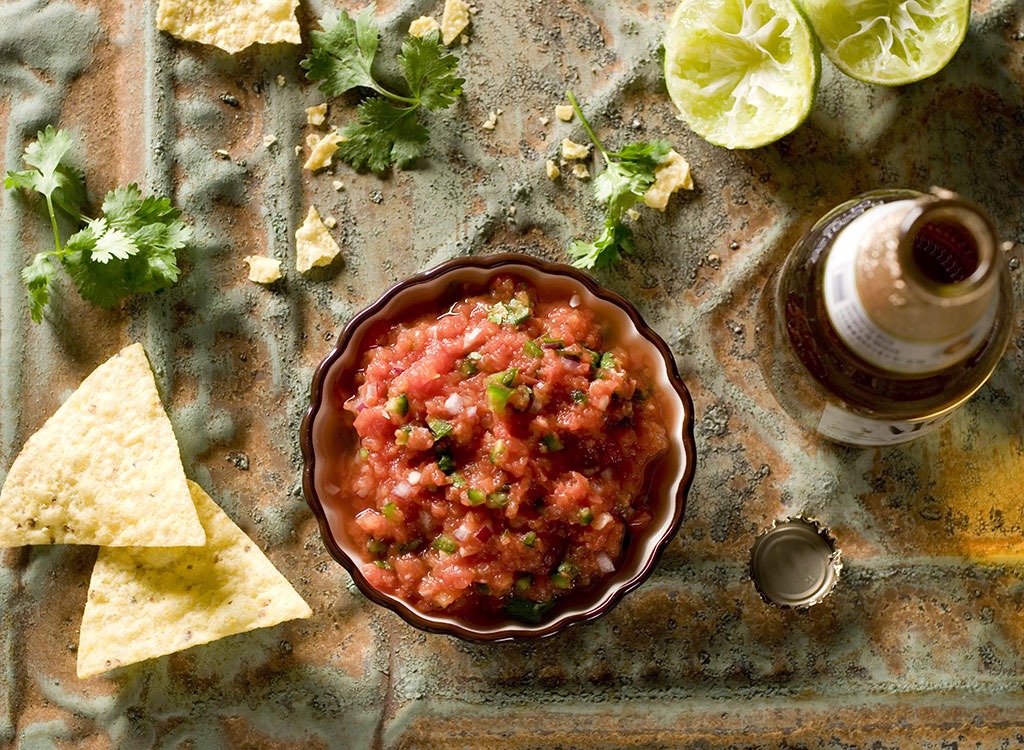 You'd be hard-pressed to find a healthier, more flavorful condiment than fresh chopped salsa. (Many store-bought options are filled with excess salt and even food dyes—yuck!) It's also super versatile. You can use it as a salad dressing, an omelet-topper, and of course, as a Tex-Mex meal enhancer. The blueprint for every bowl of salsa is the same, so all you need to do is understand the basic three-step principle and you'll be ready to salsa your way through the produce aisle.
Step 1
Choose a base. Tomatoes are traditional, of course, but a variety of fruits and vegetables work perfectly here: mangoes, pineapple, papaya, corn, even black beans.
Step 2
Add the supporting cast. Chopped red onion, chopped fresh cilantro, and minced jalapeño are the standard and they work equally well for fruit- and vegetable-based salsas. Other options include chopped bell pepper, scallions, and finely minced garlic.
Step 3
Add acid. Usually, that means the juice of a lemon or a lime, but a splash of red wine or apple cider vinegar will have a similar flavor-enhancing effect.
How to Craft a Perfectly Melty Grilled Cheese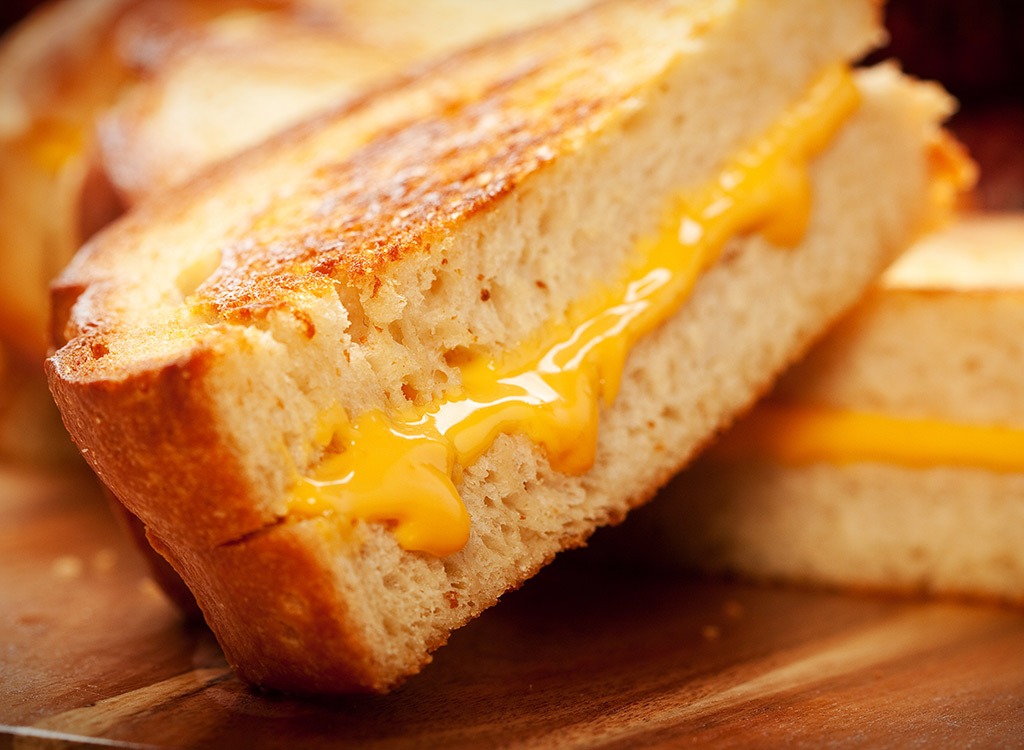 It doesn't matter if you're 8 or 28, it seems there's no problem a melty grilled cheese cannot solve. The only caveat: If you down too much processed cheese and white bread, you're bound to pack on the pounds. (Whomp, whomp!) Thankfully there are some healthier—and more grown up—ways to cobble together the classic dish and we think that at least one of them should be committed to memory while you're still in your 20's. It's a dish that you're bound to make for hungry children, spouses, and friends for years to come, after all! Here are 30 awesome grilled cheese ideas.
While we're big fans of eating the yolk (it's packed with a powerful fat-fighting nutrient called choline), lots of recipes call for only egg whites or yolks. One of the easiest methods is to lightly crack the egg on the counter, open the shell into two halves, and pass the yolk back and forth between the two halves, letting the white drop down into a bowl underneath.
How to Substitute Fruit for Oil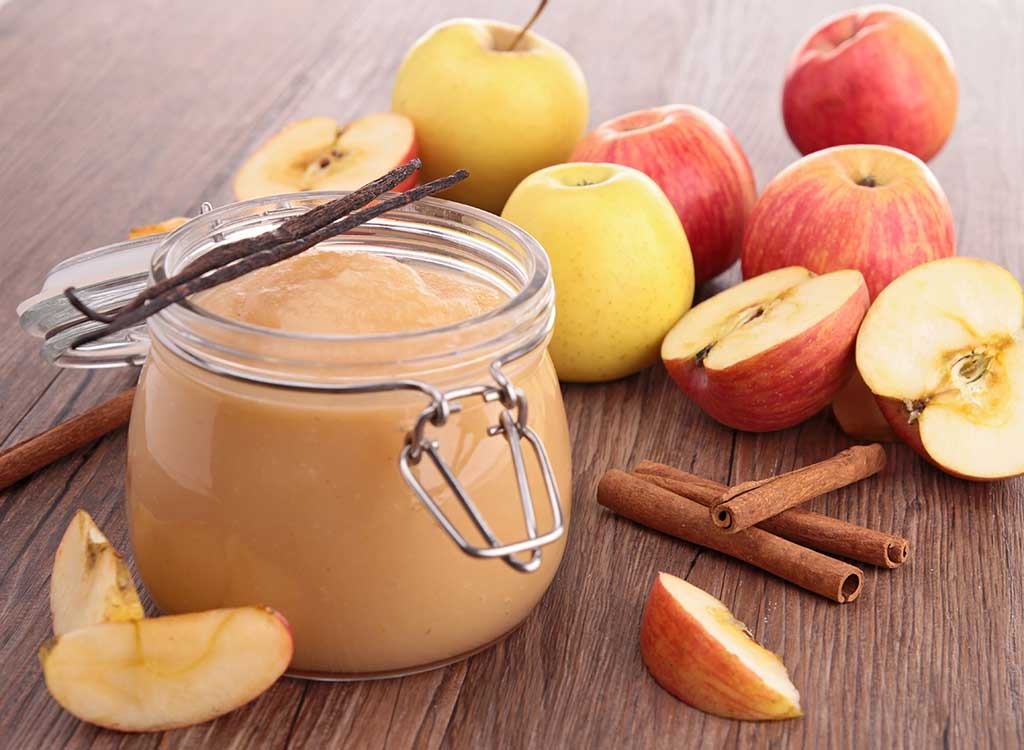 To healthify your favorite baked goods, substitute one cup of applesauce for one cup of oil in cakes and baked goods, or use one large avocado and a half cup of Greek yogurt for one cup of oil in brownies. Not only are you taking in extra nutrients, fruits and vegetables help keep cakes and healthy brownies moist.
How to Sub Greek Yogurt for Mayo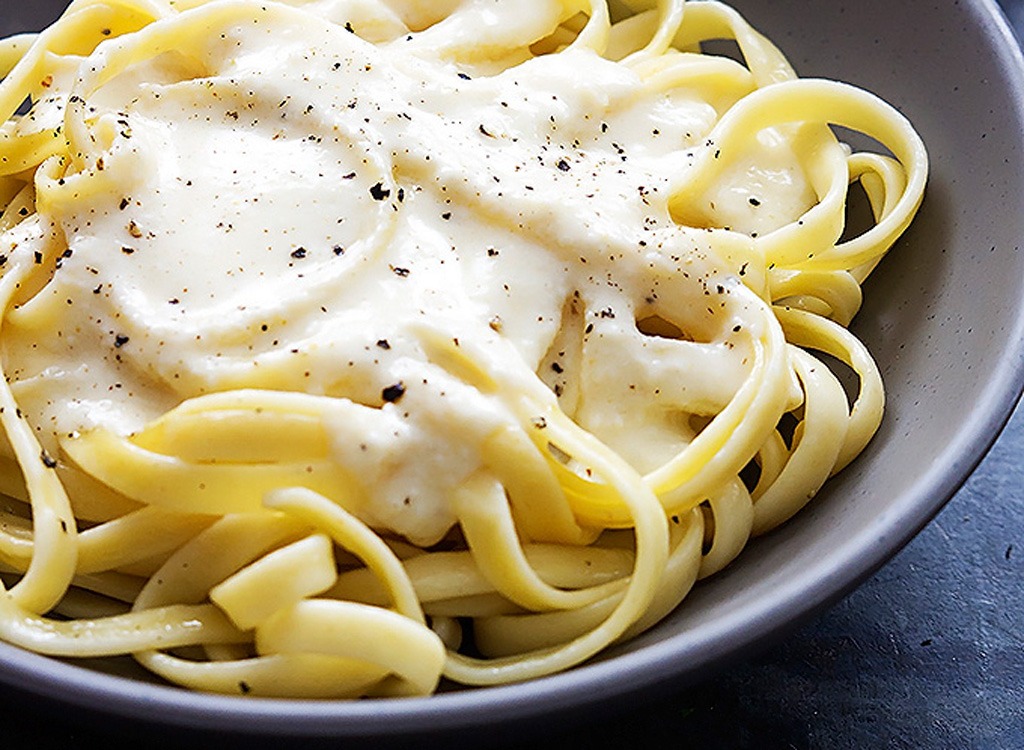 A similar hack works for recipes and dishes that call for mayo. "Instead of mayonnaise, substitute in non-fat Greek yogurt when making chicken or egg salads," suggests George Fistrovich, Executive Chef, The Ritz-Carlton Resorts of Naples. "Greek yogurt has the consistency of mayonnaise but is lower calories higher in protein." That reminds us: Ever hear of Greek yogurt alfredo sauce? Find out how to make the dish in our special report, 15 Savory Ideas to Eat Greek Yogurt!
How to Salvage Burned Cookies
You went through all this trouble to make healthy cookies for your co-worker's birthday, so don't let burnt bottoms ruin your day! Simply grab your zester and grate the black part off. Done and done!
How to Prep Meals for a Week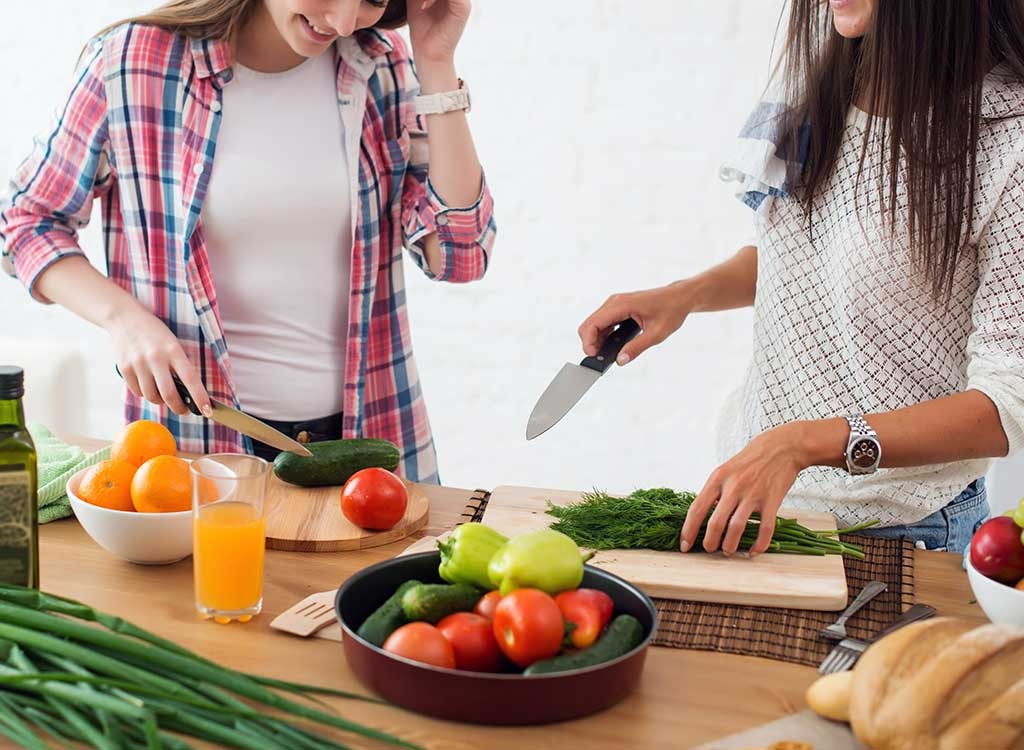 The only person who can save "Thursday You" from eating a sleeve of cookies for dinner is "Sunday You"—the sensible person who took a couple hours to prepare enough healthy food to last the week. In short, preparation is ultimately the key to weight loss success. But it's not an easy skill for everyone to master. That's why we've drummed up these 25 Tips to Eat One & Cook For a Week. Follow our simple steps and you'll be a meal prep master in no time!
How to Salvage Overcooked Meat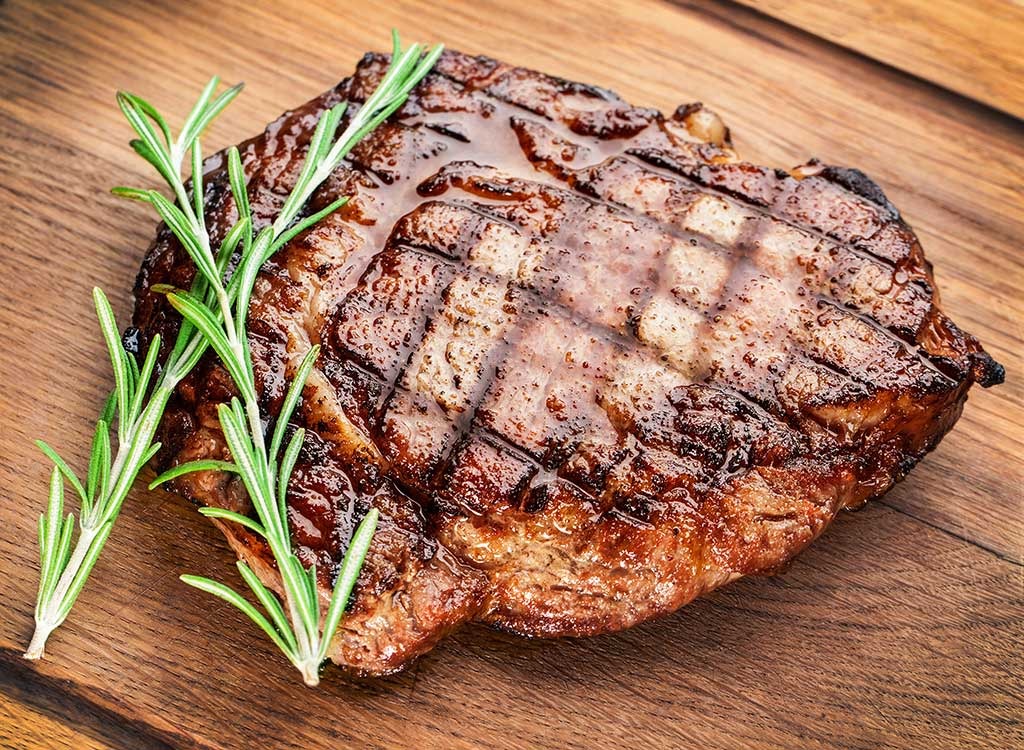 Overcooked meat? Salvage dinner by thinly slicing the meat and topping it with chopped tomato, onion, and jalapeño. Add olive oil and fresh lime juice (or a few spoonfuls of vinaigrette). The acid and oil will restore much-needed moisture and fat to the mistreated meat.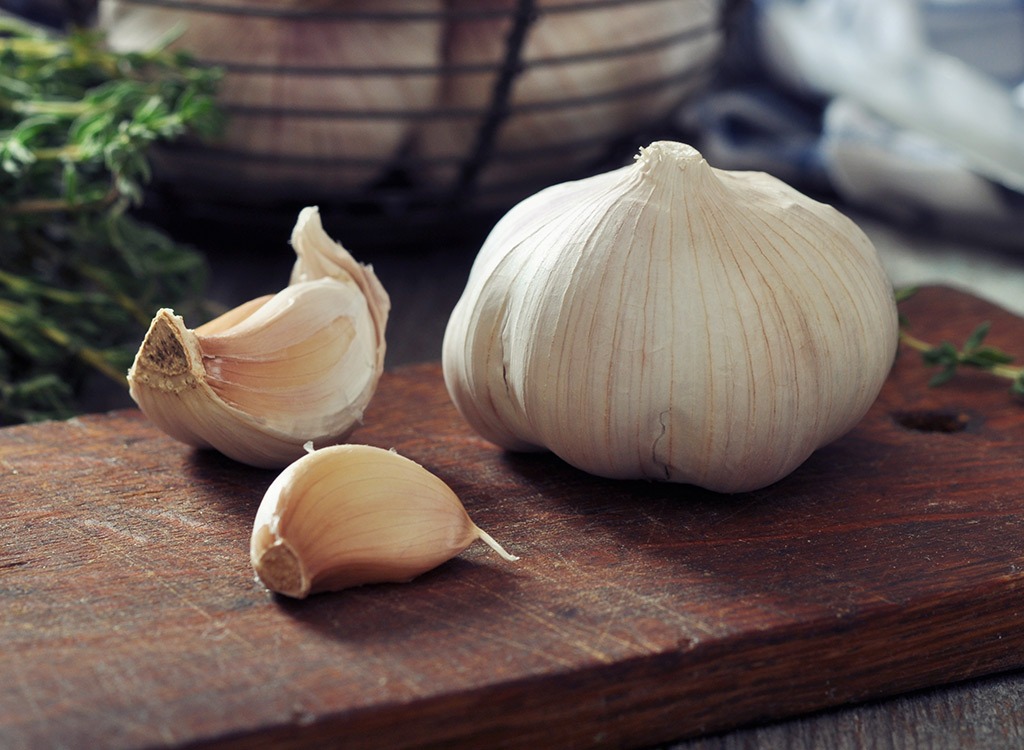 For the quickest peeling process ever, place the clove onto a cutting board and then smash it using the side of a chef's knife and your fist. It's fun to do and saves you time! For even more healthy cooking hacks, check out these 32 Kitchen Hacks & Cooking Tips for Healthy Eating.
How to Pull Together Party Apps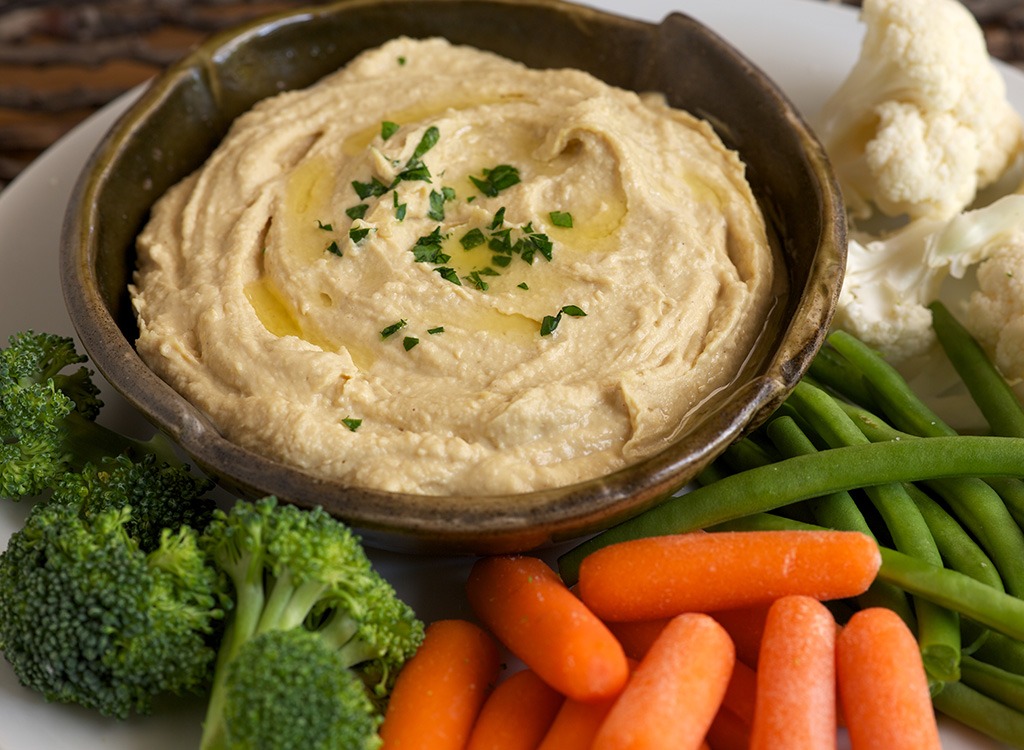 Whether for a crowd of hungry guests or a single rumbling stomach, you're never more than 10 minutes away from a satisfying small bite. Below you'll find a few of our fave easy-to-make apps. Commit one or two to memory and keep the ingredients stocked so you'll always be prepared for last-minute visitors!
Stuffed Dates
Remove the pit from dates, stuff with an almond and some blue cheese, and wrap tightly with half a strip of bacon. Secure with toothpicks and bake at 350°F until the bacon is crisp.
Fancy Popcorn
Pop some plain popcorn. Then toss with chopped rosemary, olive oil, and finely grated Parmesan. (We also love these 20 Delicious Ways to Dress Up Your Popcorn
Prosciutto Wrapped Melon
Wrap slices of melon or cantaloupe with good prosciutto or Spanish ham.
Hot n' Spicy Fruit
Peel a mango and cut it into spears. Top with fresh lime juice and chili powder.
Cheese & Fruit Skewers
Thread hunks of watermelon, cherry tomatoes, pieces of fresh mozzarella, and leaves of basil on wooden skewers.
Hummus & Veggies
Chop up some veggies and pair them with some hummus.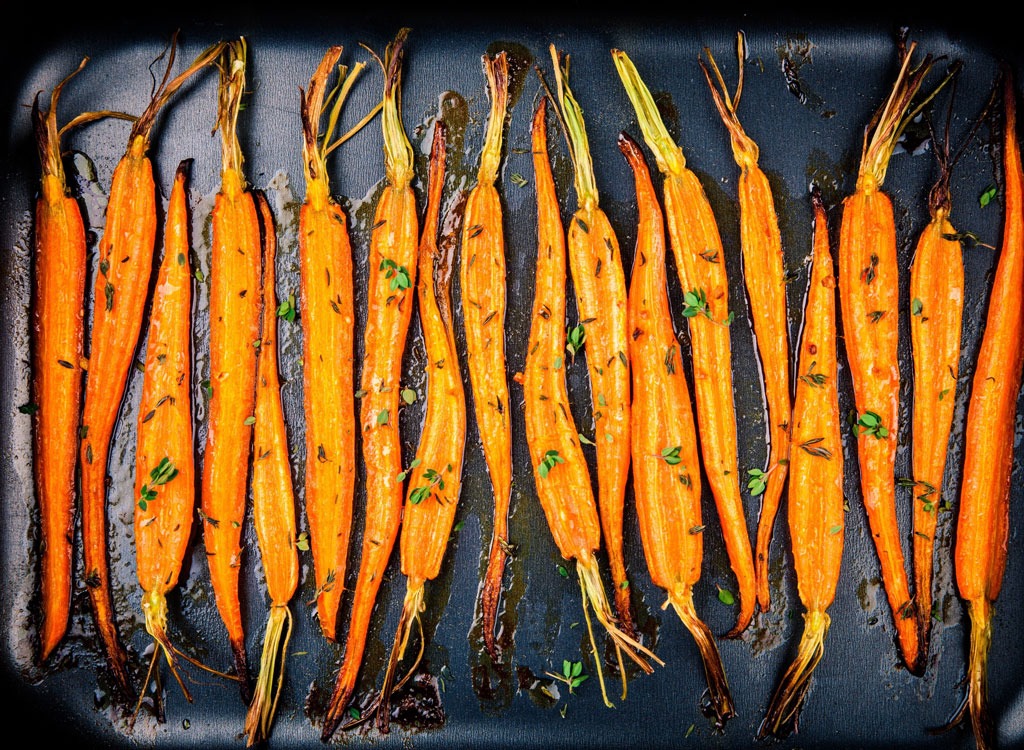 Roasted veggies are one of the most deliciously savory—and not to mention, easy and versatile—dishes around. You can make them in bulk and add them to salads, egg dishes, wraps, or simply heat 'em up and pair them with a whole grain and a protein. To pull together the dish, chop up your favorite roasting veggies (we like carrots, onions, broccoli, brussels sprouts, and sweet potatoes) and lay them out on a foil-wrapped sheet pan. Next, drizzle with some EVOO and dried herbs and spices (garlic powder, rosemary, ground pepper, oregano, etc), and toss them into a 400°F oven for about 40 minutes, or until the veggies are tender. That's it!
How to Make a Simple Soup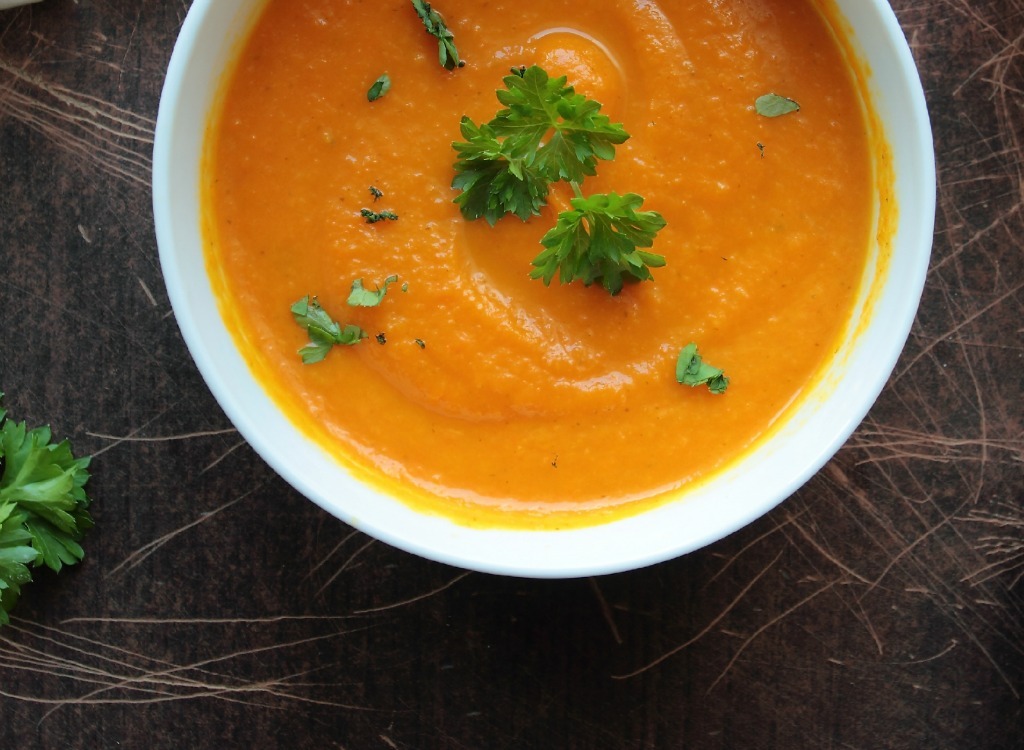 It's what you slurp when you're sick, cold, or just in the mood to get into the fall spirit. Yes, that's right, we're talking about soup. Sure, you could grab a can opener and choke down the canned variety, but we think you deserve better than that. Making a soup from scratch isn't rocket science; most don't even require recipes. You can easily just toss some chopped veggies, canned beans, and cooked cubed chicken into a pot of low-sodium chicken broth and call it a day—or you could go the fancy route with the help of these must-try soup recipes.
How to Make a Killer Guac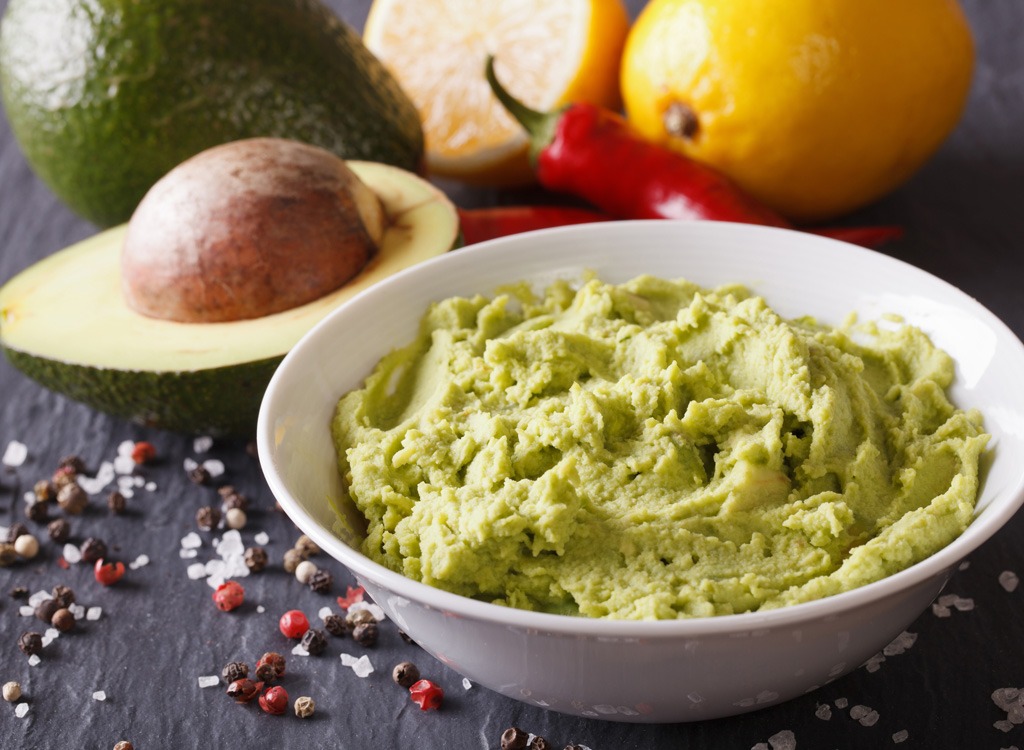 Barbecues, movie nights, Superbowls, Tuesday…there's no such thing as a bad excuse to eat some guac. While there are a handful of brands making decent batches (shout out to Wholly Guacamole!) the majority of them are filled with more chemicals than actual avocados. Gross, we know. That said, knowing how to make your own is a handy skill to have. And lucky for you, we have 20 Guacamole Recipes for the Avocado Obsessed that are sure to make your mouth water!
How to Grill More Than Just Burgers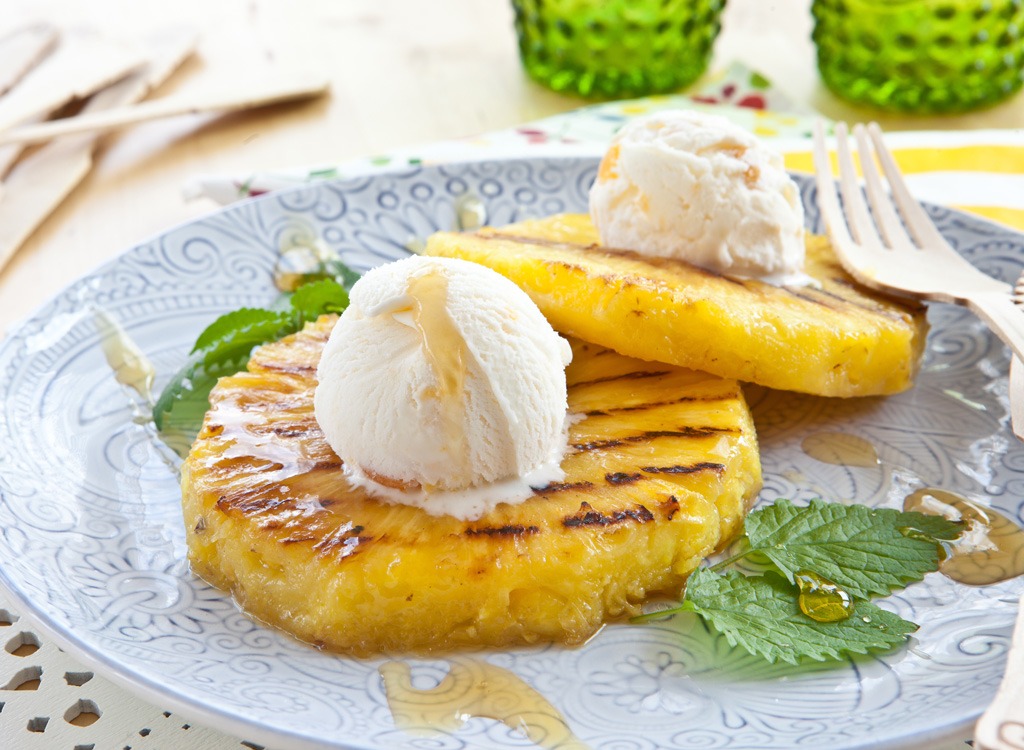 We're going to go out on a limb and assume you already know how to turn on and use a grill. (If you don't, it's time to ask a knowledgeable friend or family member to show you.) Once you've got the basics of outdoor cooking down, it's time to move on from hot dogs and burgers to something a touch more exciting. Add one of these bold grilled creations to your backyard repertoire and you'll instantly feel more like a "grown up":
Prosciutto Wrapped Grilled Chicken
Season a chicken breast with salt and pepper, wrap in thin slices of prosciutto, and grill over low heat until the prosciutto is crisp and the chicken breast is firm.
Grilled Veggie Pasta Salad
Toss zucchini slices, eggplant planks, onion slices, and asparagus spears in olive oil, salt, and pepper. Grill until lightly charred, then remove to a cutting board and give them a rough chop. Toss with a cooked whole grain or legume-based pasta (we like Banza), some olive oil, the juice of a lemon, and grated Parmesan.
Fancy-Rubbed Filet
Rub medallions of filet mignon (or any cut of beef) with equal parts ancho chile powder, ground coffee or espresso, and brown sugar, plus salt and fresh cracked pepper. Grill over medium-high heat to your desired doneness.
Grilled Pineapple with Ice Cream
Grill slices of pineapple until nicely caramelized. Top each with a scoop of vanilla ice cream and a drizzle of melted dark chocolate.