8 Best Frozen Pizzas at Costco Right Now
A piping hot, cheesy pie is just minutes away with these great finds in Costco's freezer section.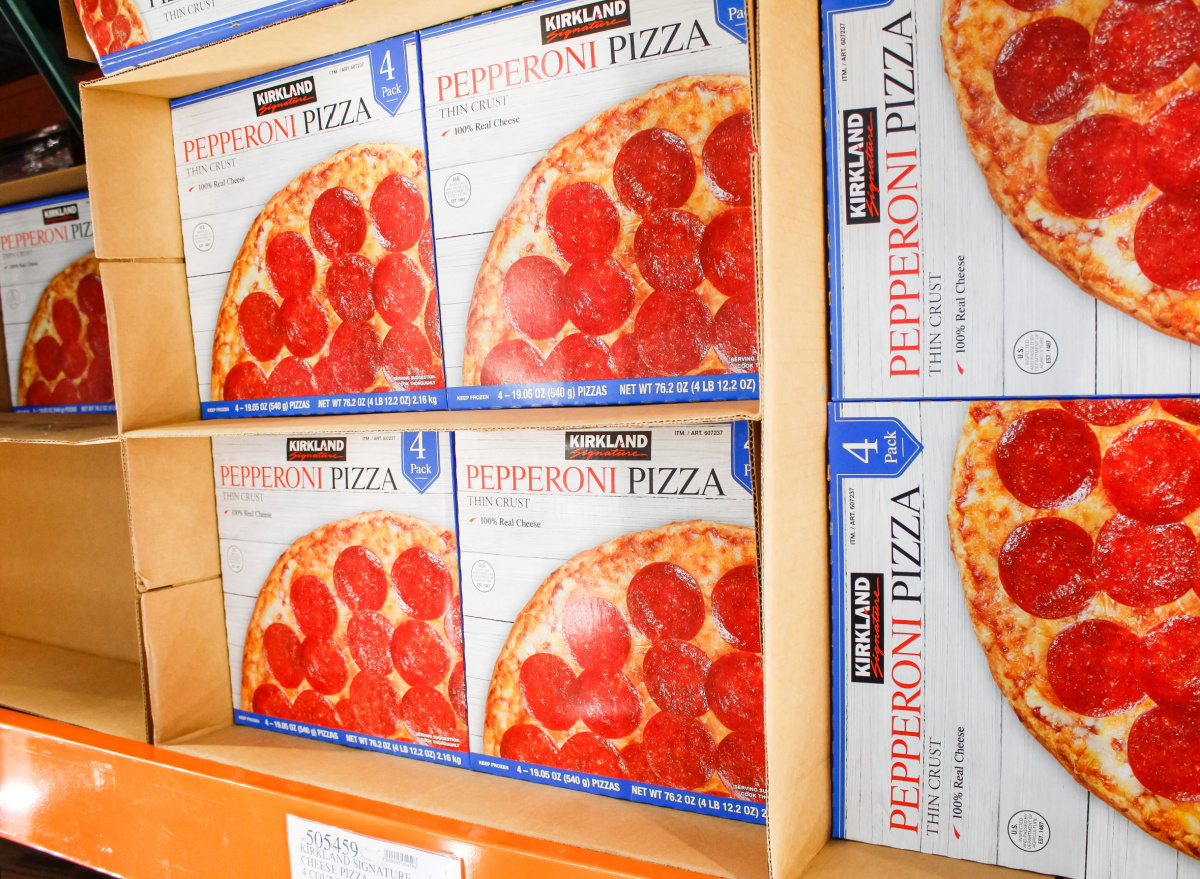 The product recommendations in this post are recommendations by the writer and/or expert(s) interviewed and do not contain affiliate links. Meaning: If you use these links to buy something, we will not earn a commission.
Costco is well-known among its members for selling all kinds of groceries, not the least of which is frozen foods. You can stock up on practically any kind of food imaginable, from fruits and veggies to whole entrées and desserts in the club's vast freezer section.
Frozen pizza in particular is really the unsung hero of last-minute meal ideas, especially if you can find one that is just as good or even better than delivery. Some frozen pizzas can get a bad rap, however, so it is worth noting when shoppers uncover a particular brand that shines.
Costco and pizza are a well-known pair, thanks in large part to those ultra-affordable slices of pizza you can enjoy at the food court each time you shop. But there are also plenty of frozen pizzas to shop for in the warehouse, including both Costco's in-house Kirkland brand as well as a number of third-party pies as well.
Get ready to make extra room in your freezer after you study our roundup of some of the top-rated frozen pizzas you can get at Costco right now. Fans had plenty of great things to say online about all of these pies, thanks to being not only tasty but affordable as well.
Motor City Pizza Co.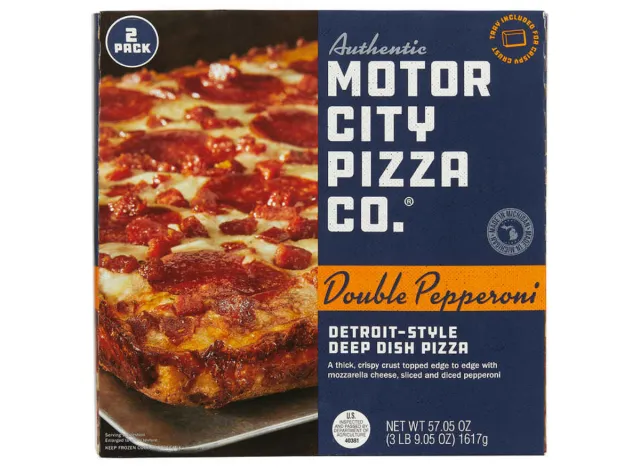 By far, the one brand of frozen pizza that garners the most passionate support from Costco fans online is Motor City Pizza Co. The company takes Detroit-style pizza, known for its thick crust and rectangular shape, and makes it accessible to every city in America. At Costco, members can shop for its Double Pepperoni Deep-Dish Pizza, available in a pack of two.6254a4d1642c605c54bf1cab17d50f1e
Shoppers have plenty of great things to say about this particular frozen pizza. One Redditor claimed that it is "[b]etter than delivery," while another said that it is "some of the best frozen pizza hands down" in comparison to the other brands and flavors available at Costco.
Milton's Cauliflower Crust Pizza, Roasted Vegetable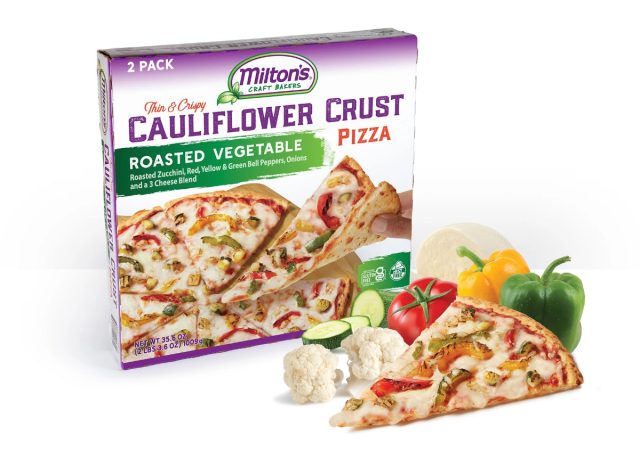 Many shoppers are seeking low-carb alternatives to their favorite dishes, including pizza. Rather than eat a pie with a traditional wheat-dough crust, one popular substitute is a pizza that uses cauliflower crust instead. At Costco, fans seem to enjoy the Roasted Vegetable flavor made by Milton's with a Cauliflower Crust.
Costco members have taken to Reddit to show their support for the cauliflower crust pizza, noting that Milton's brand in particular is a great one to customize with your favorite toppings. One Redditor noted that they add pepperoni, while another shared that they add Frank's Red Hot sauce. If you are getting used to adjusting to cauliflower crust pizza, perhaps a plethora of your favorite toppings can help boost the flavor.
Kirkland Signature Cauliflower Crust Pizza, Supreme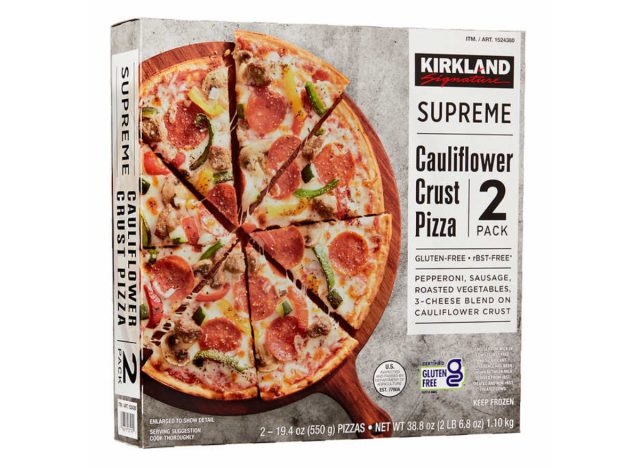 Shoppers may not be able to enjoy the Combo Pizza these days at Costco's food court, but you can still purchase Kirkland-brand Supreme Pizza in the frozen food aisle. Specifically, the Kirkland Signature Cauliflower Crust Pizza is a top pick among members, with a blend of toppings that includes pepperoni, sausage, roasted vegetables, and a three-cheese blend.
An avid fan on Reddit exclaimed that the Supreme pizza is "AMAZEBALLS and perfection." One Redditor even admitted that they "never thought I would eat a cauliflower pizza…but boy are they tasty."
Kirkland Signature Pepperoni Pizza, Thin Crust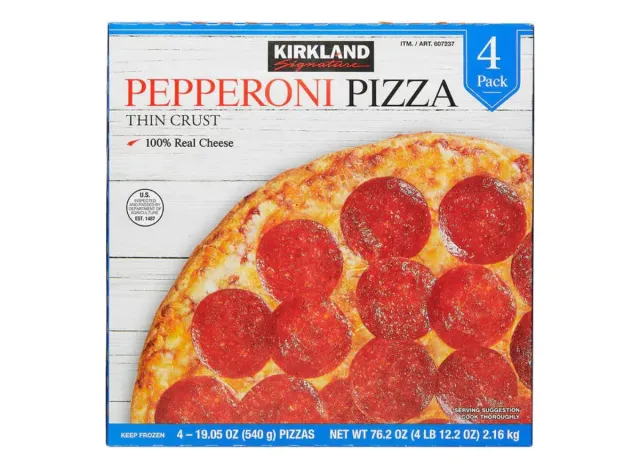 Depending on how deep your love of pizza runs, you may have a strong opinion when it comes to the thin- versus thick-crust debate. If you prefer thin crust, then you may want to check out the Kirkland Signature Pepperoni Pizza at Costco. One box contains four thin crust pies, enough to give you several quick and easy meals in between Costco runs.
One Costco member shared on Reddit that while they are not a particular fan of frozen pizza, the Kirkland Pepperoni Pizza is a favorite in their household. One huge perk of this specific pizza is the sheer volume of pepperoni that comes on each pie. One Redditor commented, "I love how there's actually enough pepperoni to cover the pizza."
Kirkland Signature Cheese Pizza, Breadcrumb Crust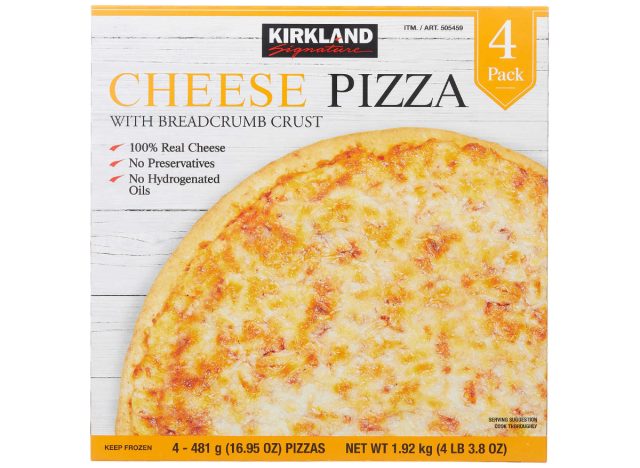 Cheese pizza is the ultimate crowd-pleaser, and Costco delivers big time with its Kirkland Signature Cheese Pizza. A huge selling point is its breadcrumb crust, offering a slightly different flavor than your garden-variety crust from your local pizza shop.
One Costco member shared on Reddit that it is one of their favorite frozen pizzas, noting how "[t]he sauce is flavorful" and "the edge of the crust is nice and crispy." Another Redditor shared their thoughts on the pizza, noting that "[f]or the price they are the best" and that they like to jazz up their pizza by adding some of their favorite toppings.
Amnon's New York Select Kosher Regular Pizza
For anyone following a Kosher diet, there is Amnon's New York Select Pizza, available in a two-pack at Costco. The company touts that its pizzas are both handmade and oven baked, giving you that authentic New York-style pizza taste that we all know and love.
Many shoppers are sold on the box alone before they even take one bite, with one Redditor noting, "that picture looks like real NY style pizza. I wouldn't hesitate a second if I saw these at my Costco."
Bellatoria Sausage Italia Pizza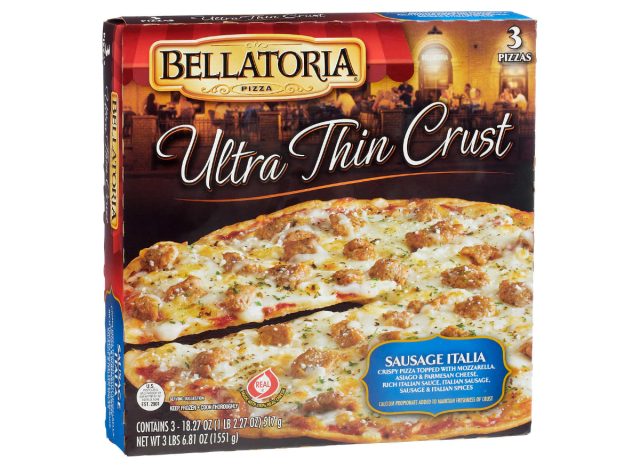 For fans of sausage pizzas, keep your eyes peeled the next time you make a Costco run for the Bellatoria Sausage Italia Pizza. The ultra-thin crust pizza comes in a three-pack box of pies. Several frozen pizza aficionados have taken to the internet to show their love for the Bellatoria Sausage Pizza. In fact, one fan claimed on Reddit that it is one of the favorites among all frozen pizzas, not just the ones sold at Costco. Another Redditor pointed out that "If you like your pizza on the salty side, you will love it."
Sabatasso's Thin Crust Pizza Singles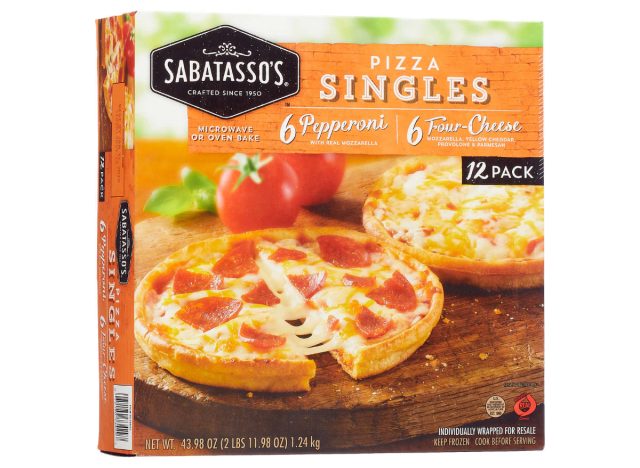 Few foods are more convenient for solo diners than personal-sized pizzas. When at Costco, be sure to check out Sabatasso's Thin Crust Pizza Singles. One box contains 12 mini pies, including six with pepperoni and another six with a four-cheese blend.
Costco members shared on Reddit how surprised they were with how much they liked the personal pizzas, especially given the fact that the tiny pizzas can be heated in the microwave. Another Redditor noted that Sabatasso's also sells a gluten-free personal pizza.
Carly Neil
Carly Neil is a freelance writer specializing in all things food, travel, Disney, and theme parks.
Read more about Carly