7 Discontinued Costco Food Court Items That Customers Want Back
These beloved classics were cut from Costco's menu in recent years.
If you've visited your nearest Costco lately and made your obligatory stop at the food court, you may have noticed the menu board is looking like a sad shell of its former self. Of course, the Kirkland Pizza and the $1.50 Hot Dog Combo still stand, and a few options that were missing during the pandemic have slowly made their return. But overall, customers feel that the food court experience just isn't the same and that even new offerings are falling short of expectation.
This also includes the recently released Roast Beef Sandwich, which the chain added to the menu this winter. The new hoagie hasn't quite gained traction among members yet, and most can't get over the sticker shock of the $9.99 price tag. People are wondering if it's really worth the same price as a whole pizza or six and half hot dogs—the answer so far appears to be no.
But whatever your opinion is on the sandwich, we think it's a positive development: Costco is tinkering with its beloved food court formula, and the possibility of old items making a much-desired comeback could be on the horizon.
Just in case you're listening, Costco, here are a few of the top items people are yearning to have back—take note!
We'll get this one out of the way first since it's a given, and fanatics continue to be relentless in their pursuit. If you're a newer Costco member, you may not remember what some deem the greatest food court item of all time: the Combo Pizza. The pie was essentially a supreme variety topped with pepperoni, Italian sausage, green peppers, onion, black olives, and mushrooms. It was certainly a cheesy crowd favorite.
However, for unknown reasons, it started to disappear in early 2020. There has been backlash ever since, with fans demanding that Costco bring it back.
"Lets take a second to appreciate what we once had. RIP Combo pizza. I hope you make a comeback someday," said Costco fan U/ImPlento on Reddit. " A picture of a slice was, of course, also included so longing consumers could drool over the beloved item once again. Many people speculate that it will never return, but what do you think? Will Costco ever just give in and bring back the dang Combo Pizza?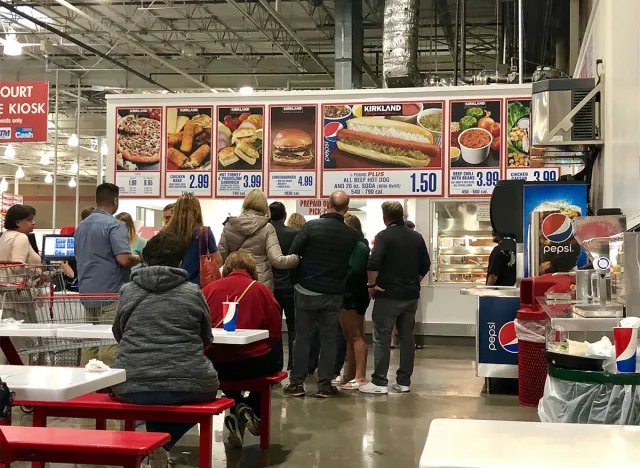 As members continued to reminisce in the Reddit thread, the names of other dearly missed food court items were tossed around, including the store's Beef Chili with Beans, which used to sell for just $3.99. One user simply commented, "the chili." Enough said, we suppose. Another followed up by saying, "That chili was awesome, made damn good chili dogs. Then had half a bowl to chow with onions and cheese!" Definitely sounds like a must-try combination if Costco ever decides to bring it back!6254a4d1642c605c54bf1cab17d50f1e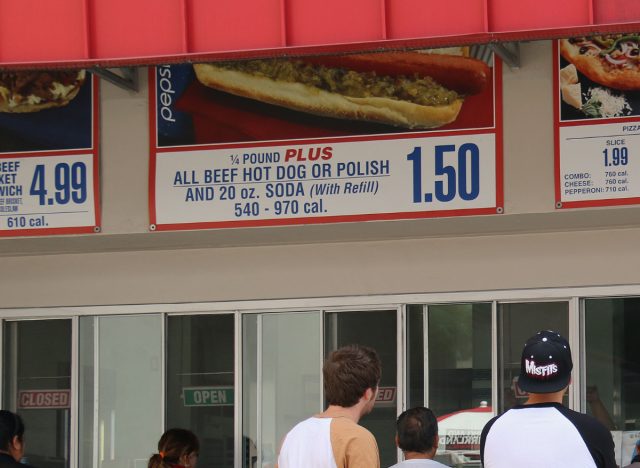 If the Combo Pizza is ranked first on the food court most wanted list, then the Polish Dog comes in as a close second. Back in the good old days, Costco used to serve up a Polish Sausage Hot Dog alongside its standard all-beef version. But the Polish variation was eventually discontinued to, in Costco's words, "simplify our menu and make room for healthier options." We're not sure if the new Roast Beef Sandwich with its almost 800 calories qualifies as a healthier choice, but okay Costco.
In a recent Reddit debate comparing the two food court franks, the overwhelming majority made it known that they wished the Polish Dog had stayed instead. "Polish! No longer available in the US, so expect significant (and justified) whining," one member warned. Another pleads for Costco to "Please bring the Polish back to the USA." We are told that the Polish Sausage is still available at Canadian Costcos though, if you're planning a road trip.
Hot Turkey & Provolone Sandwich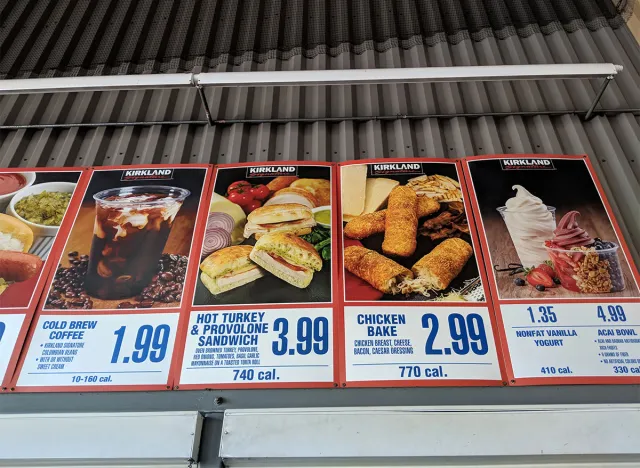 In its heyday, the Turkey & Provolone Sandwich at Costco was a hot commodity (literally), and fans want it back. "I miss the turkey sandwich big time. For about a year before getting rid of them they were intentionally under-cooking them, then they took them off of the menu. Hell, I'd pay the inflation on those to get them back," one member shared.
In a separate conversation about food court items shoppers would do anything to taste again, U/Lessa22 gave their own sandwich-related two cents. "My obligatory "Turkey Provalone Sandwich" comment is just my version of tossing a penny into a wishing well," the note read. Here's to hoping one day your dream to bring back the Turkey Sandwich comes true!
Condiments and Toppings–Specifically Diced Onions
Another common food court complaint doesn't have to do with the menu items themselves, but rather their cherished add-ons. While many customers enjoy popular Costco offerings like the hot dogs or pizza by themselves, others relish in the ability to top their grub with the condiment of their choice—and before the pandemic, there used to be a myriad of great options.
While a few standard toppings are back, others are still missing, including sauerkraut, brown deli mustard, and the beloved self-serve diced onions. Just over a year ago, a tweet brought this issue to light. "This pandemic won't be over until Costco puts the onions back out for the hot dogs," one user wrote—to which many replied bye mentioning other absent condiments. Three years later and the problem remains unresolved.
A few shoppers have mentioned that you may still be able to get your onions if you politely ask at the counter. A few lucky locations have even noticed the onion's slow return.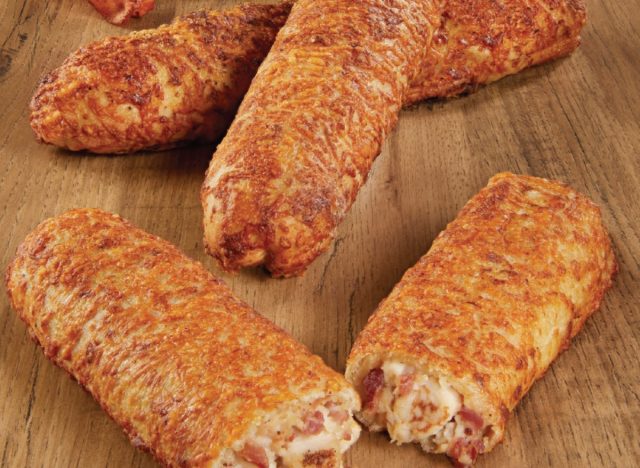 Before you freak out, yes, Chicken Bakes are still safe and sound on the food court menu, holding steadfast at least for now. But customers are upset about a more recent tweak to the original recipe.
Fans say they were previously made fresh daily with pizza dough and brushed with caesar dressing. "Since it wasn't frozen like the new ones are it tended to be a juicier fluffier chicken bake," says U/Beece who admits to working at the food court for a few years.
Additionally, the new bakes are supposedly smaller, filled with less chicken, and just overall less satisfying than they used to be. "It's a chicken fake, not bake," U/CreditCaper1 describes. To make matters worse, customers are additionally upset about the snack's recent $1.00 price increase—darn you inflation!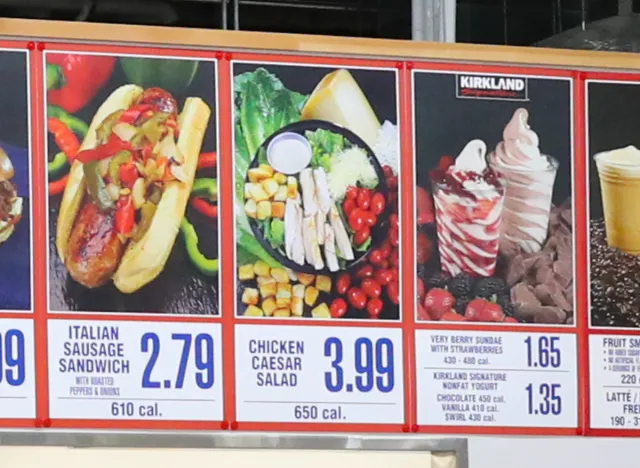 The food court menu is pretty low on "healthy" options, which is exactly why some members have been attempting to manifest the return of the 650-calorie Chicken Caesar Salad. One Reddit user simply begs for the warehouse to, "Please bring back the Caesar's salad."
The offering was not only more health-conscious, it was also economical, priced at just $3.99—one of the cheapest fast-food salad options you're likely to find. This made it the perfect cheap grab-and-go meal for students, busy moms, or anyone on the run. "This was my go to in college. I'd buy like 4 at a time and eat throughout the week. Having to go inside and get the bulk option is not worth it to me," says U/CPCPE.
Unfortunately, many longtime shoppers are convinced that this selection is never coming back.