26 Items Costco Is Discontinuing Right Now
The "death star" strikes again.
This post contains affiliate links. If you use these links to buy something, we may earn a commission.
Have you ever walked into the grocery store ready to buy one of your favorite go-to items just to find out it's been stripped from shelves, never to return again? While frustrating, it's natural for grocery store inventories to experience constant ebbs and flows due to seasonality, vendor agreements, and other operational factors—and these kinds of changes are even more common at big-box retailers such as Costco.
All grocery chains have their own methods of phasing out discontinued products to make room for the new, but at Costco, warehouses use what shoppers have dubbed the "death star." When an item is next up on the chopping block, a small asterisk will appear in the top right-hand corner of its price tag, signaling that it will no longer be restocked once sold out.
Read on to find out which items have recently been spotted with the dreaded "death star" and try to grab them before they're gone for good.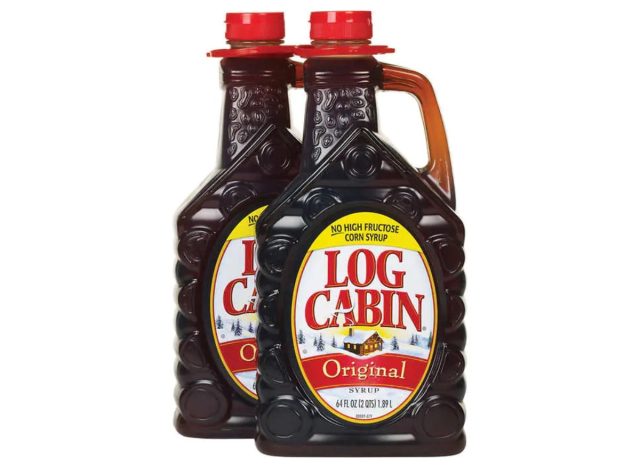 YouTube channel Gina's Shopping Life–chock-full of Costco deals and savings information—recently delivered some devastating blows. While shopping at a local Costco, content-creator Gina found a few grocery products that will soon disappear from warehouse shelves.
These included several popular, name-brand items such as Log Cabin Original Syrup, sold in packs of two 64-ounce jugs. The longstanding Costco offering is now being discounted to just $7.49 each while supplies last.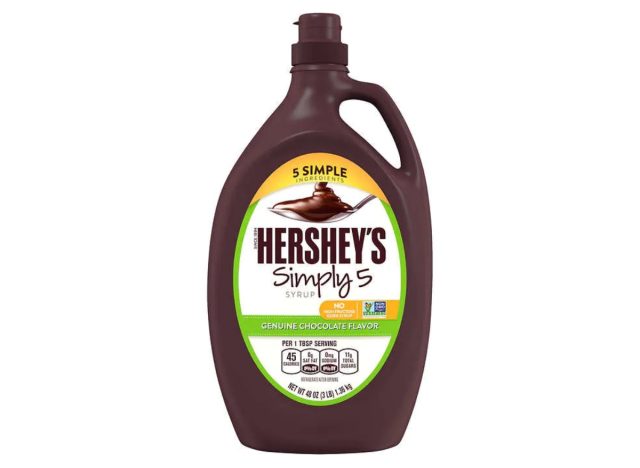 Gina also revealed that Hershey's Simply 5 Syrup—similarly sold in packs of two—has a death star of its own. The Simply 5 Syrup is a spin-off on the brand's classic chocolate syrup made with just five ingredients including sugar, organic invert syrup, water, cocoa, and natural vanilla flavor. Members can snag any remaining packs for $10.69.
Kellogg's Frosted Mini Wheats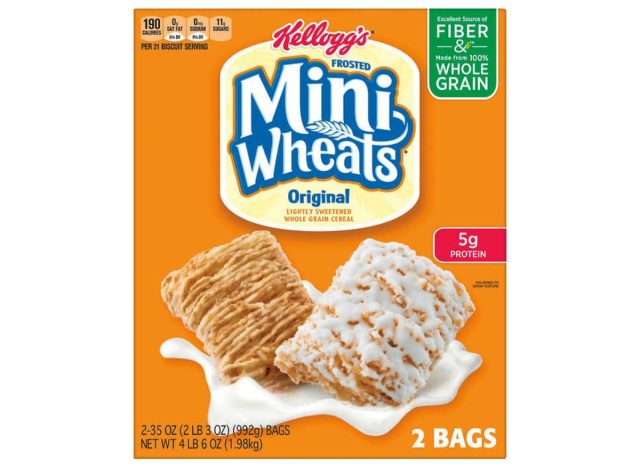 Kellogg's Frosted Mini Wheats are also getting the boot. Similar to the Log Cabin Syrup, Gina noted that these have been around at Costco warehouses for some time and were a surprising addition to the discontinuation list.
Gina's video showed the 70-ounce boxes, which include two bags of the beloved cereal, being sold for $8.99.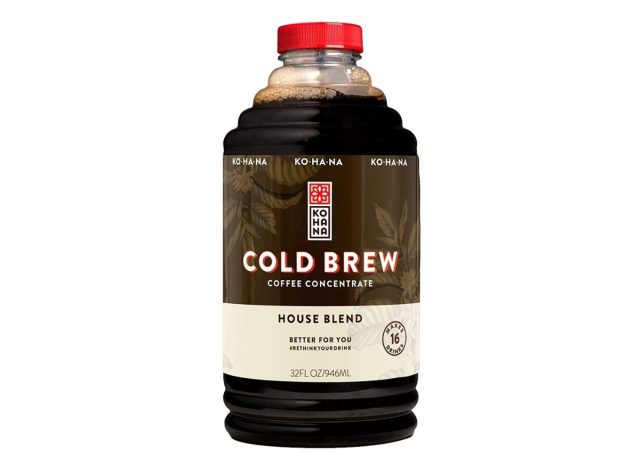 Items in the drink and condiment aisles aren't safe either, according to Gina. The asterisk of doom showed up on the following Costco products—many of which are organic varieties—during the YouTuber's sweep:
Kirkland Signature Strawberry Margarita made with Gold Tequila
Kohana Organic Coffee Cold Brew Concentrate
Carapelli Unfiltered Organic EV Olive Oil
Big Tree Farm Organic Coco Aminos Teriyaki Sauce & Marinade
Refrigerated and Frozen Foods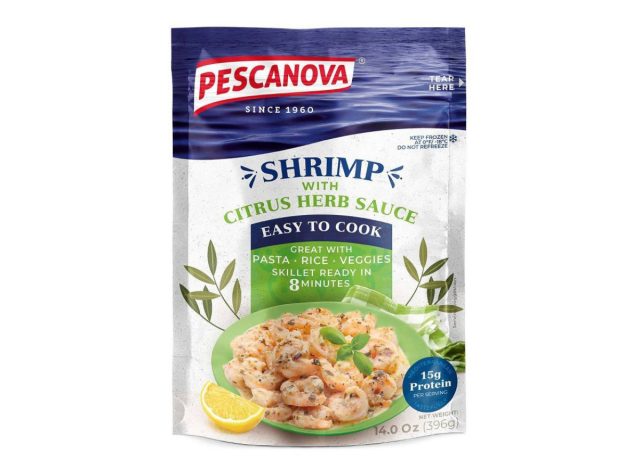 After recently surveying their Costco store, Instagrammer @costco.love reported a few items slated for discontinuation. A few ready-to-cook meat options and frozen desserts made the list, including:
Just Cook ABF Lemon Herb Chicken Thigh
Calle Sabor Sofrito Chicken Thigh
Pescanova Citrus Herb Shrimp
Eli's S'mores Squares
Cado Frozen Dessert Java Chip, Non-Dairy
Costco shopper and Instagrammer @costco.hotbuys added Roncadin Sopressata Pizza to the frozen foods list in a separate round-up of clearance items.
And, in a video titled YouTube channel The Deal Guy spotted Alden's Organic Root Beer Float Ice Cream Bars sporting the "death star" as well.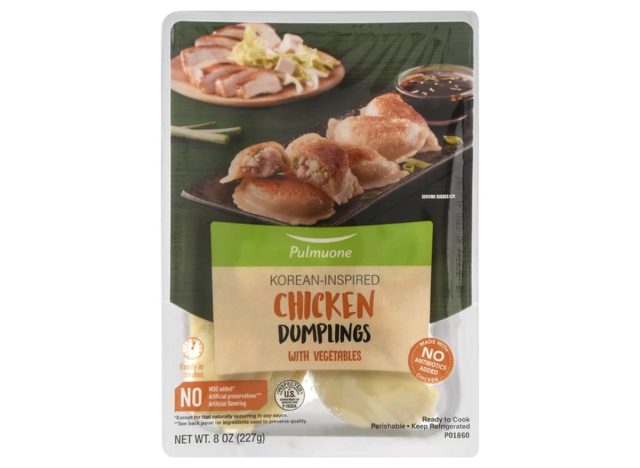 At a Costco in South San Francisco, Instagram user @costcobffs found a certain brand of dumplings—among other household items—on clearance and soon to be absent from stores. Affected products include:6254a4d1642c605c54bf1cab17d50f1e
Pulmuone Chicken Dumpling
Pulmuone Thai Basil Dumpling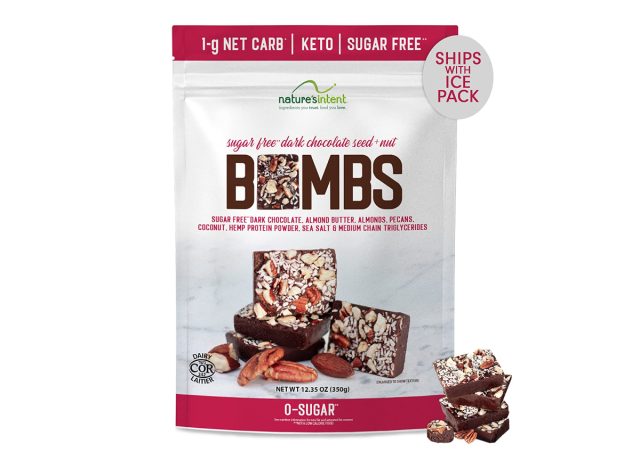 Costco's snack inventory is also taking a big hit according to Instagrammer @danthecostcoman. The following products will be disappearing soon:
Nature's Intent Seed & Nut Keto Bombs
Hawaiian Host Toasted Coconut Milk Chocolate Macadamias
Clif Bar Builder's Variety Protein Bars
Wonderful Pistachios Chili Roasted Kernels
Hoody's Keto Coconut Dark Chocolate Trail Mix
Kinder Bueno Chocolate Bars, 20 Count
Additional "death-starred" snack items were shared by YouTuber Linda Savings:
Schwartz Brothers Lemon Bars
Simple Mills Organic Garlic & Herb Cracker
Kellog's Scooby Doo Grahams
Schwartz Bros Organic Everything Bagel Chips