12 Holiday Foods Already on Costco Shelves
Because it's never too early to munch on peppermint, chocolate, and every other festive food!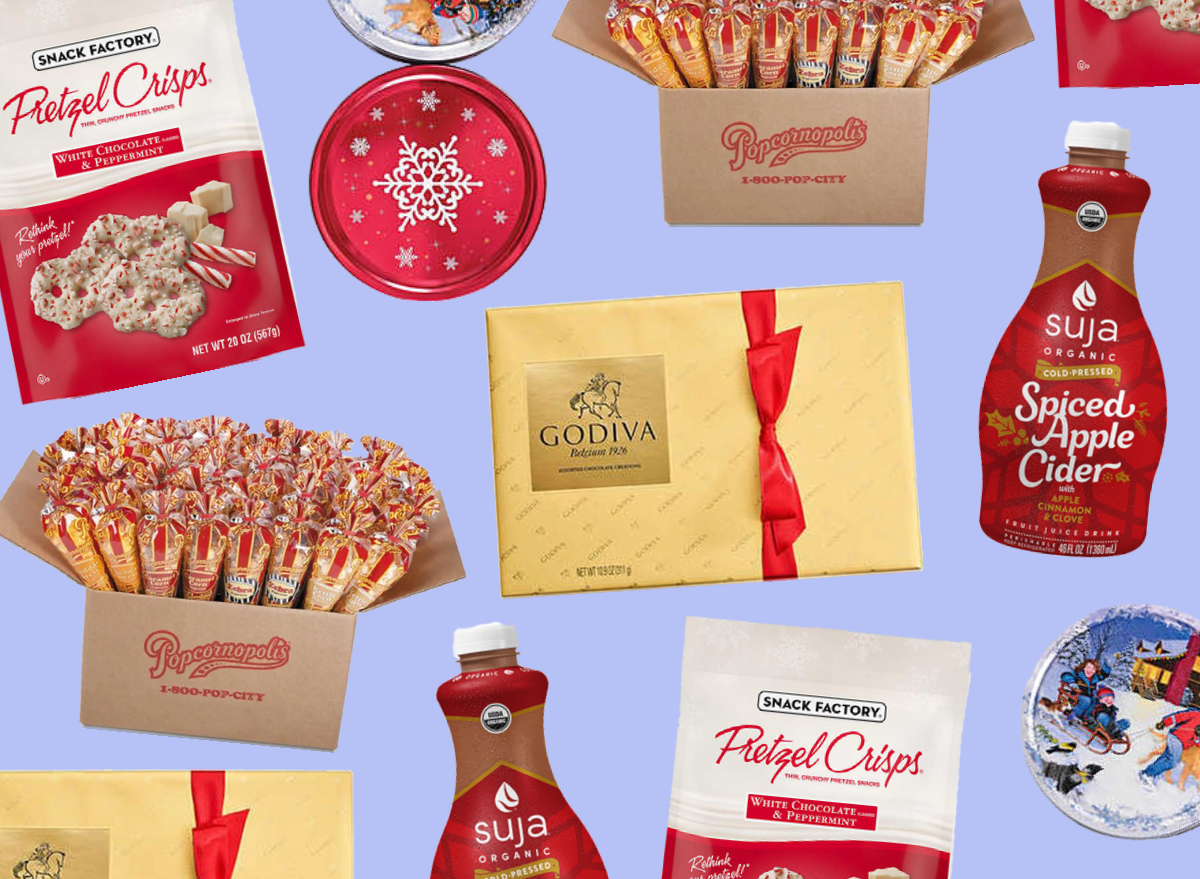 Tis' the season at Costco! Except we're not talking about fall, Halloween, or even Thanksgiving. Christmas may still be weeks away, but the w-ho-ho-ho-lesale giant already has tons of holiday decorations, gifts, and food lining its shelves.
As it turns out, there's a reason your neighborhood warehouse may look like a winter wonderland right now—and it happens to be quite a jolly one at that.
"The philosophy behind offering seasonal merchandise earlier than some other retailers is to make items available to those who may stock a business of their own, as well as to all members who have come to expect the quality and value of these limited-time items," Costco management tells Eat This, Not That!.
We've rounded up 12 holiday products you can go get right now at your local Costco. To stay up-to-date on all holiday news, sign up for our daily newsletter!
Snack Factory Pretzel Crisps, White Chocolate & Peppermint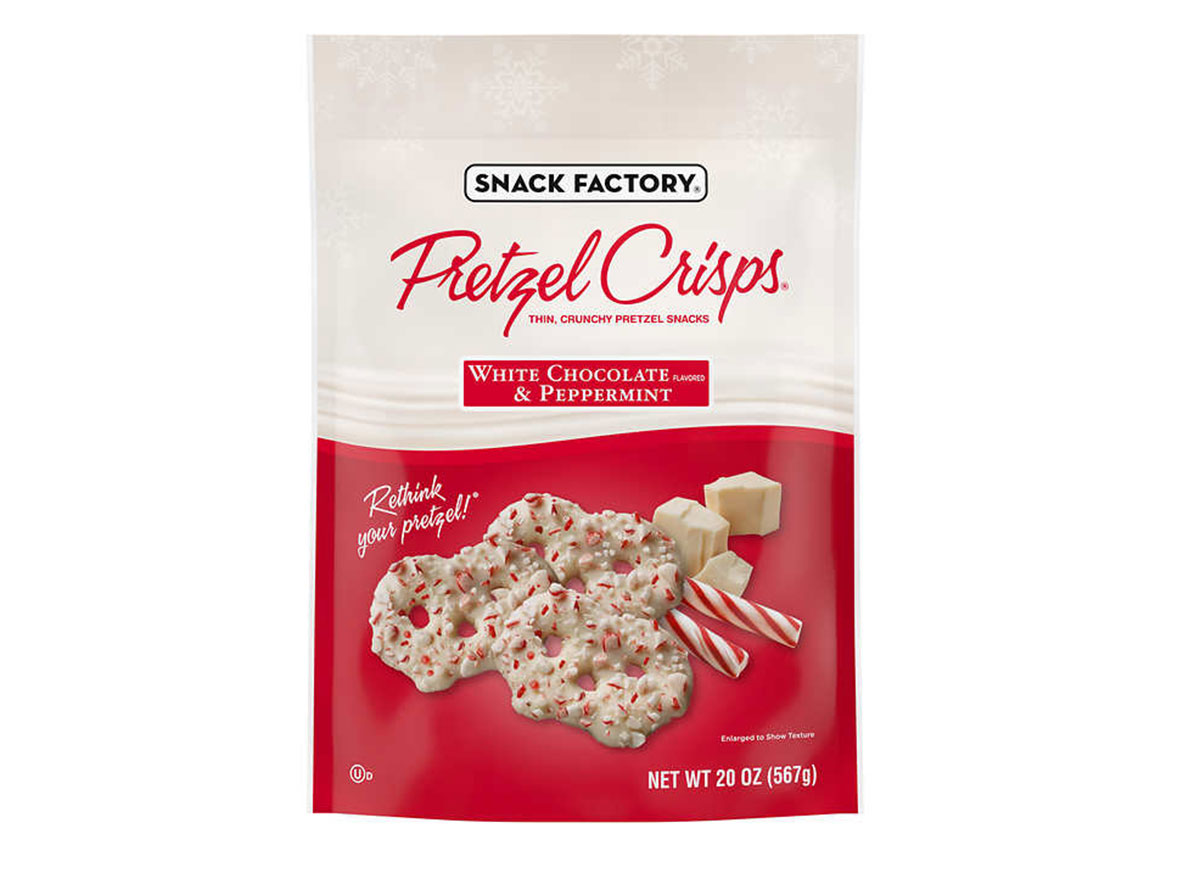 Snack Factory Pretzel Crisps are getting a winter makeover that's both sweet and minty at the same time. These white chocolate and peppermint-flavored treats are as crunchy as fresh snow on Christmas morning.
When Instagram user @costco_doesitagain discovered them around the middle of October, thousands of fans reacted with excitement. Pick up a bag at your local Costco for under $10 to snack on from now until the holidays. The bulk size contains 20 servings, which are only 130 calories each!
For any other time of the year, here are the 50 best healthy snacks to buy.
Ghirardelli Peppermint Bark Squares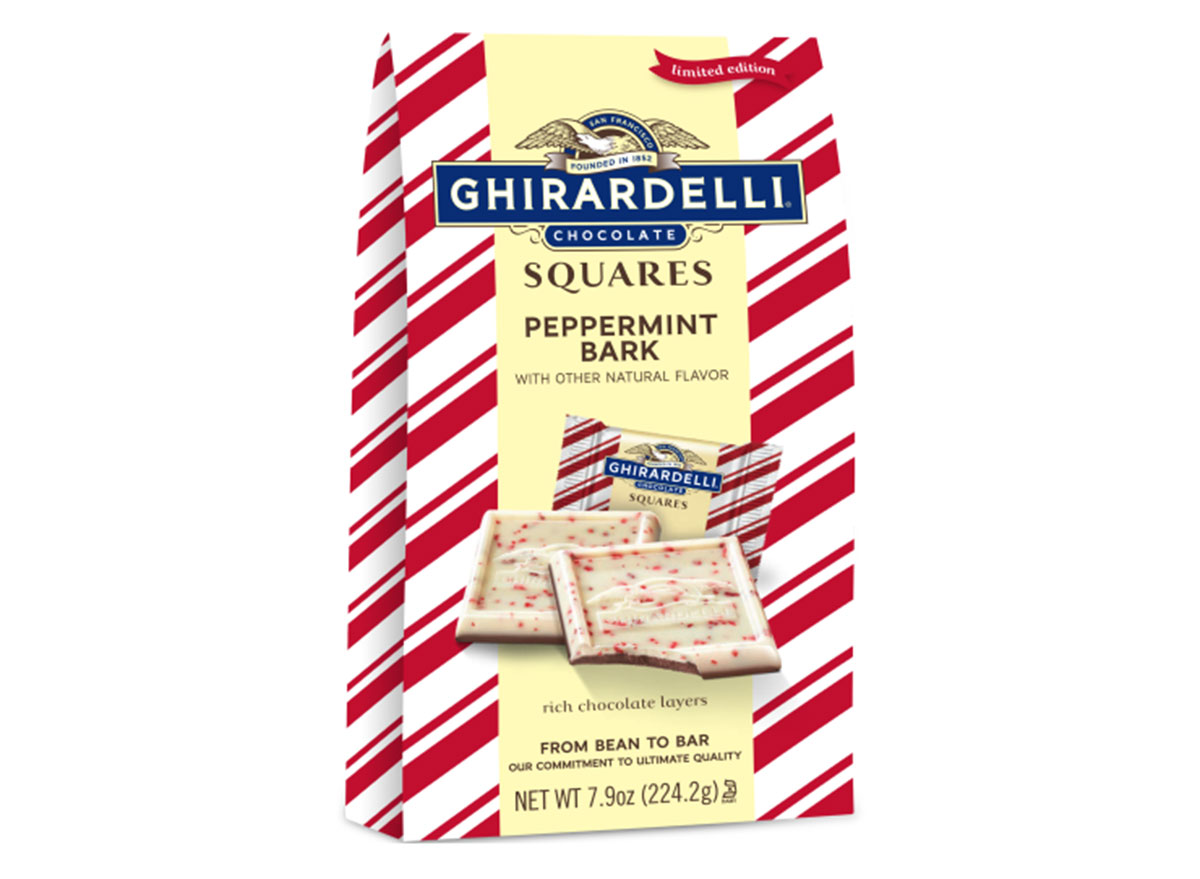 Can't wait to get your hands on some presents? Try passing the days by unwrapping some of these peppermint bark squares from Ghirardelli, which were already spotted in stores by @costco_doesitagain and others. The squares are almost 70 calories each, with just over 4 grams of fat, and 6.3 grams of sugar.
Enjoy a few of these, but file away these 25 healthy food swaps for the holidays.
Advent Wine Calendar
The Advent season officially starts on Nov. 29, but this calendar was seen in Costco this year as early as mid-September. This year's bunch includes Sauvignon Blanc from France, Pino Noir from Moldova, Merlot from Italy, Macabeo from Spain, and more.
Fans around the country have documented sightings of the famous calendars, and fortunately, there's still time to pick one up for $99.99. Once you've secured one for your (gingerbread) house, you can head to wineadvent-ure.com to learn more about the selections.
Did you know there are proven ways to not get a headache after drinking wine? Here are 5 hacks to know!
Häggen-Dazs Cookie Squares Peppermint Bark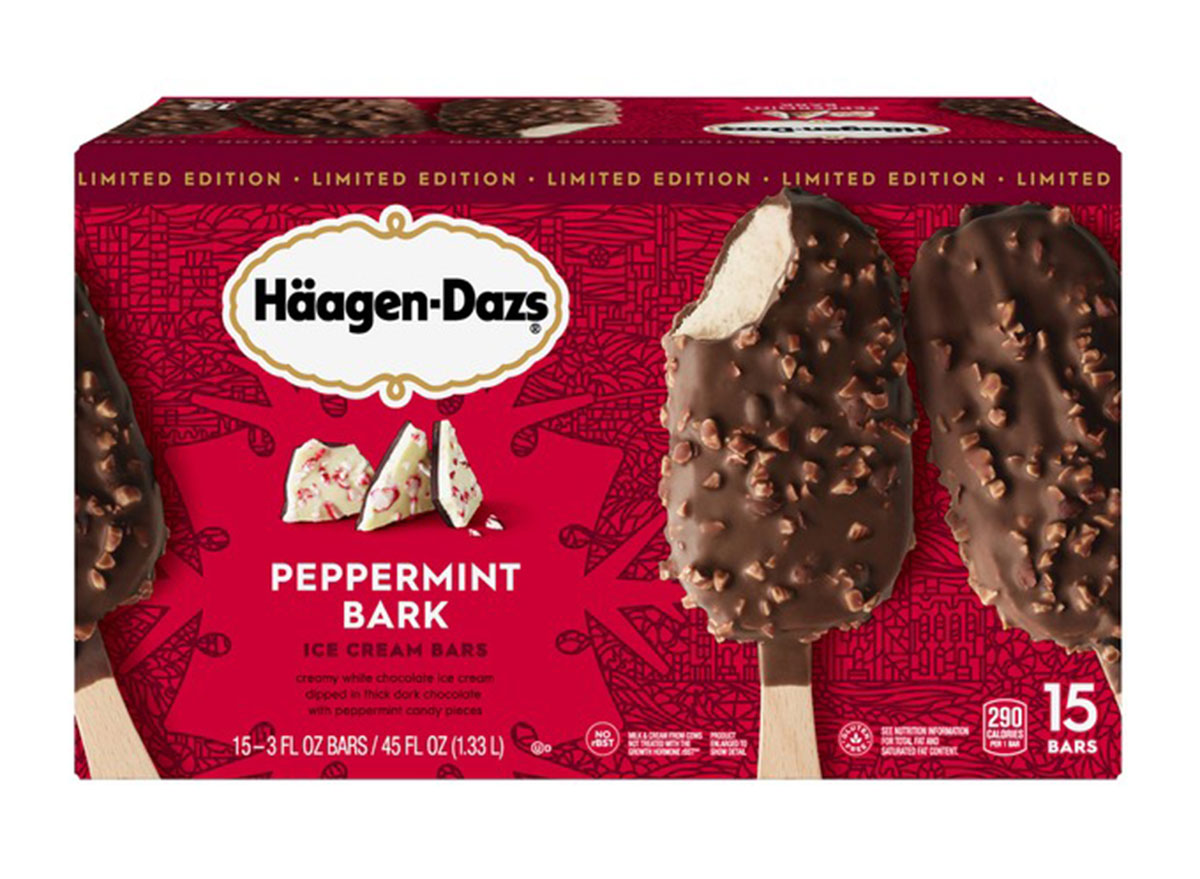 The Instagram account @costcohotfinds spotted these limited-edition boxes of 10 Peppermint Bark Cookie Squares in mid-October. The combo of chocolate, cookies, ice cream, and peppermint is everything a holiday sweet tooth could hope for in a treat with only 300 calories.
At just under $12, this Costco holiday buy will please anyone. "I bought these because of this post, and they are freaking amazing!" one commenter exclaimed. What isn't amazing? The fact that grocery stores are preparing for shortages of these holiday foods.
Suja Spiced Apple Cider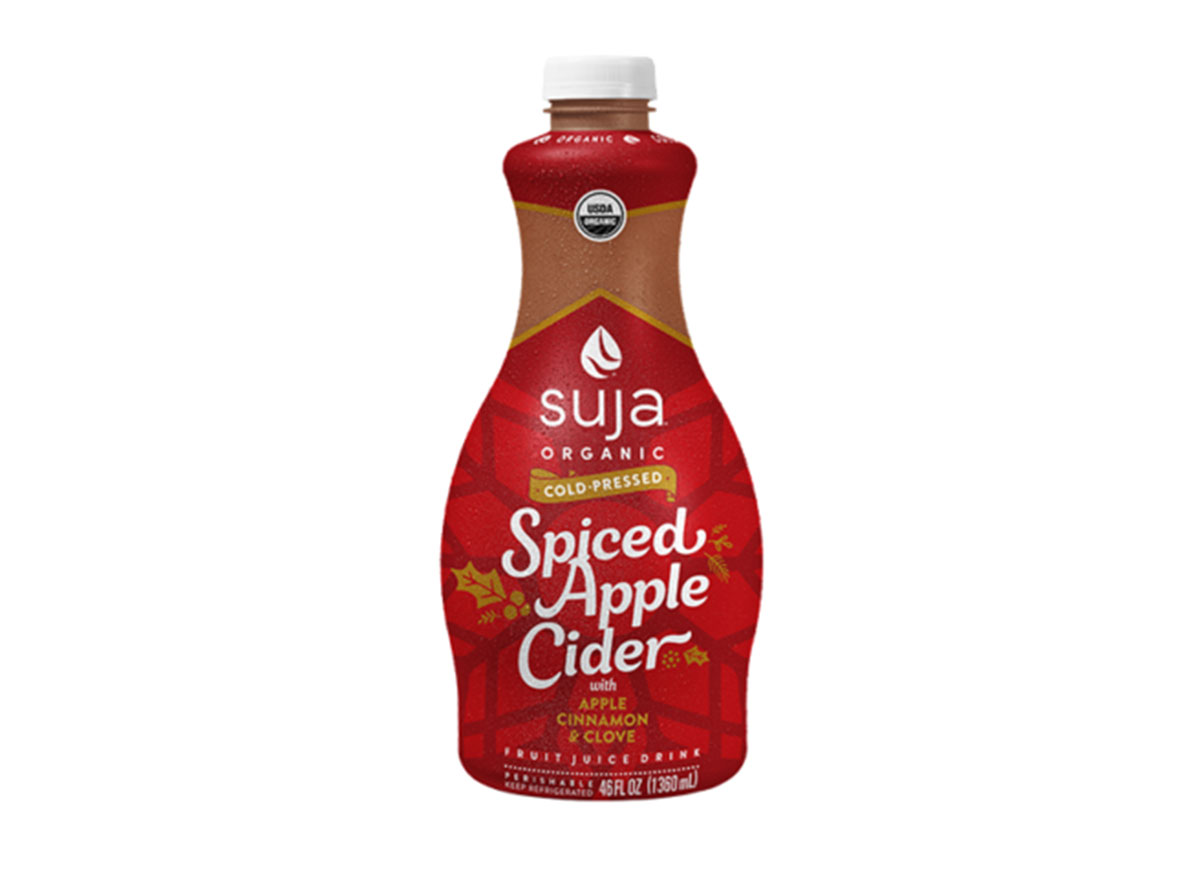 As the weather gets colder, some apple cider by the fireplace will be enough to warm any silent night. This Suja Organic Cold-Pressed Spiced Apple Cider has been seen at the warehouse—and you can spike it like eggnog. These bottles are filled with 59 ounces of only apple juice, ground cinnamon, and clove powder. There are no added sugars, either!
Related: 15 Ways to Avoid Holiday Weight Gain
Gingerbread Mansion
Who doesn't love all of the benefits with none of the hassle? Costco's giant Gingerbread Mansions come pre-built and ready to decorate! The kits come with more than a pound of candy and icing for the young or the young at heart to craft works of food art.
The account @costcobuys posted about the find in late October, but some commenters said they found it in stores a month earlier. Many are just happy to sculpt a winter wonderland without having to start from scratch.
Is gingerbread on our list of 15 Classic American Desserts That Deserve a Comeback? Check the fine print to find out!
Two Minute Mug Cake
A four-pack of these Two Minute Mug Cakes come with everything you need to make four one-serving treats, including the mugs! The red mugs come with dark chocolate cake mix, vanilla frosting, and a Lindor hazelnut milk chocolate truffle. The black-and-white mugs sport vanilla cake mix, dark chocolate icing, and a Lindor milk chocolate truffle.
The set isn't on Costco's website yet, so you'll have to scope your local warehouse for this find like @costcohotfinds. For more quick and easy single-serving snacks, here are 24 Mouthwatering Mug Recipes.
Popcornopolis Holiday Cheer Santa Bag
Costco sells a few different versions of Popcornopolis gift bags every year, but this one that @costco.love found will have you feeling like the Santa himself. It includes caramel, cheddar cheese, cinnamon toast, hot cocoa, kettle, snickerdoodle, and zebra popcorn flavors—all for under $20.
One serving of each flavor is around 150 calories, so it's also a lighter way to treat yourself or a friend. What makes it a better option compared to other sweets? Here's the full nutrition low-down on popcorn.
Starbucks Share The Joy Multi-Gift Set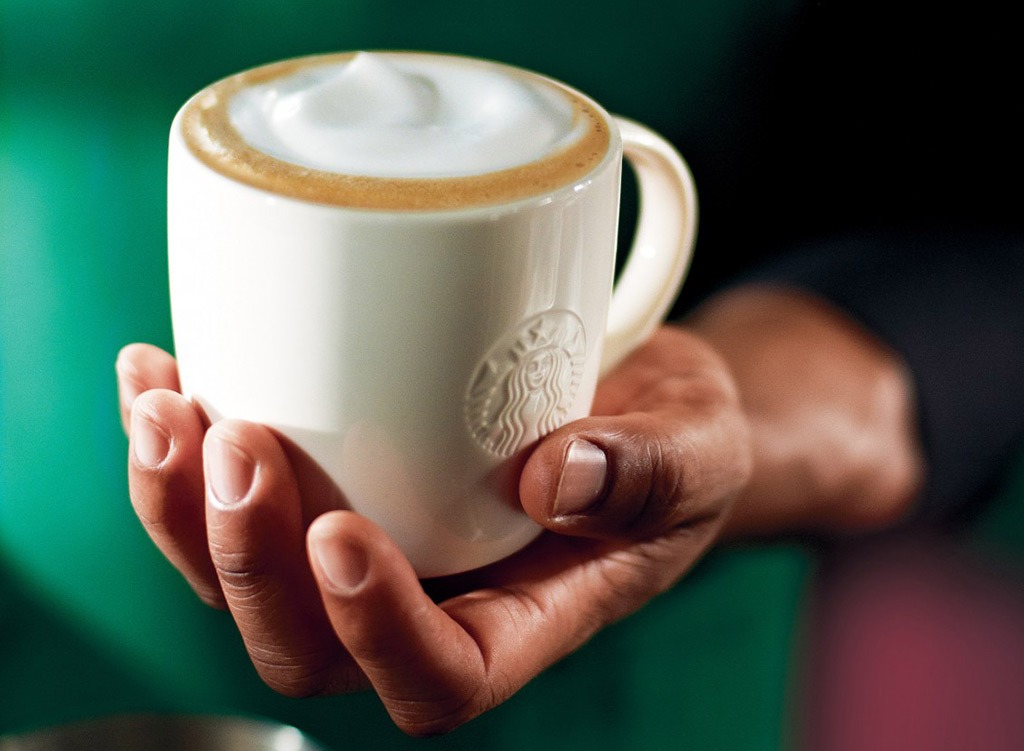 For $23.99, you can get a stainless steel camper mug with a lid and a stainless steel travel mug, plus instant coffee, latte mix, Stroopwafels, and the other trimmings. Each mug is individually wrapped, making for easy gift giving, but keeping one for yourself is perfectly acceptable, too.
This isn't the only holiday Starbucks item at the warehouse, because Costco Is Now Selling This Special Coffee From Starbucks.
Godiva Premium Chocolate Variety Assorted Chocolates
It's not the holiday season without chocolate, and @costcohiddengems already spotted Godiva's iconic gift boxes already on sale at Costco. While the boxes make great gifts, some commenters admitted that they had finished them off all by themselves, including @costcohiddengems who claimed that their family had eaten the box in just three days!
Luckily, the 10-ounce box of assorted chocolates only costs $14.99. There's also a four-pack on Costco's website for $74.99.
Related: The Toxic Ingredient in Chocolate You Need to Know About
Bubbies Holiday Mochi Selection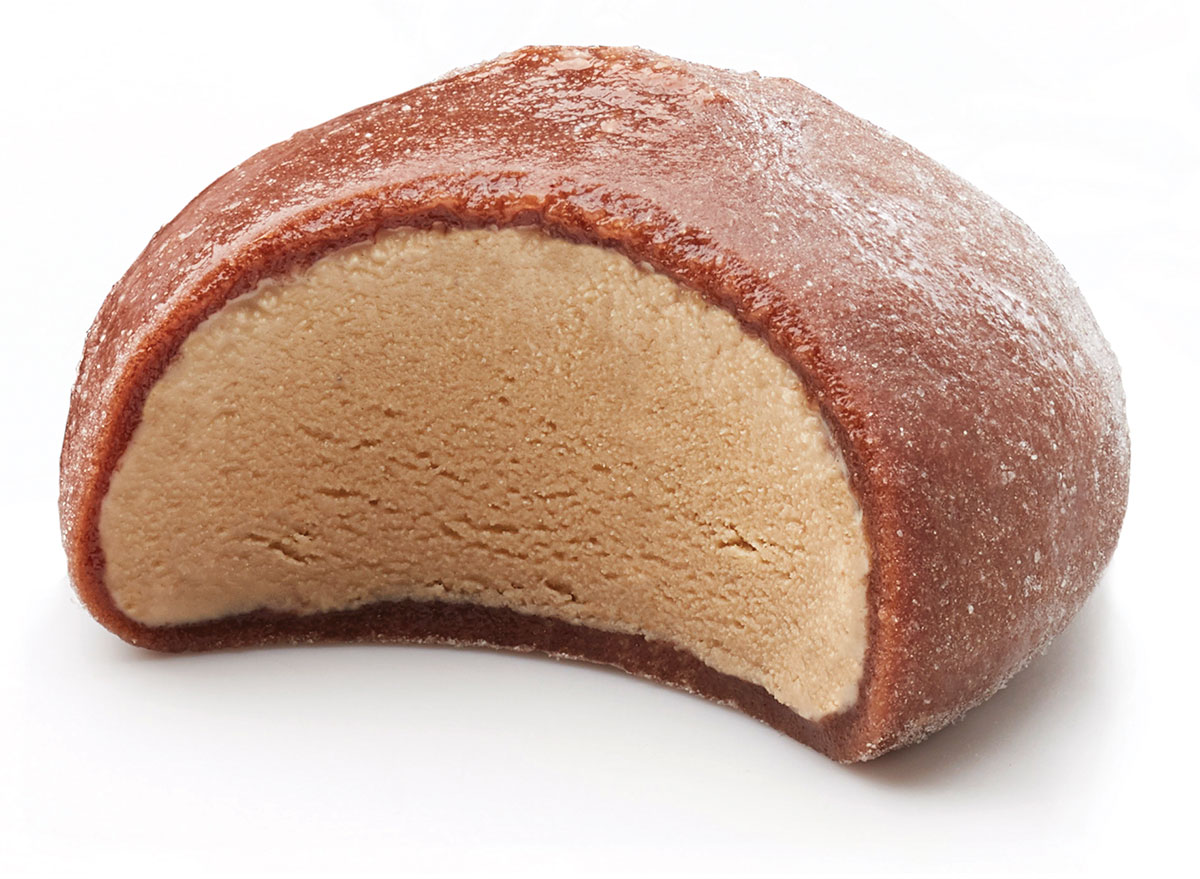 Assorted Mochi form another multi-pack that Costco is offering early and cheap this year. You can get your hands on 18 gingerbread, peppermint candy, and chocolate egg nog Mochi ice creams for $10.99. Munching on any of the three flavors will not only get you in the holiday spirit but also satisfy your sweet tooth in a low-calorie way!
Each treat has 90 calories, between 3-3.5 grams of fat, and either 9 grams or 10 grams of sugar. So go ahead and snack on these from now until December!
For more sweets you don't need to fret over, here are 25 Low-Calorie Desserts to Buy Under 150 Calories.
Kelsen Danish Butter Cookies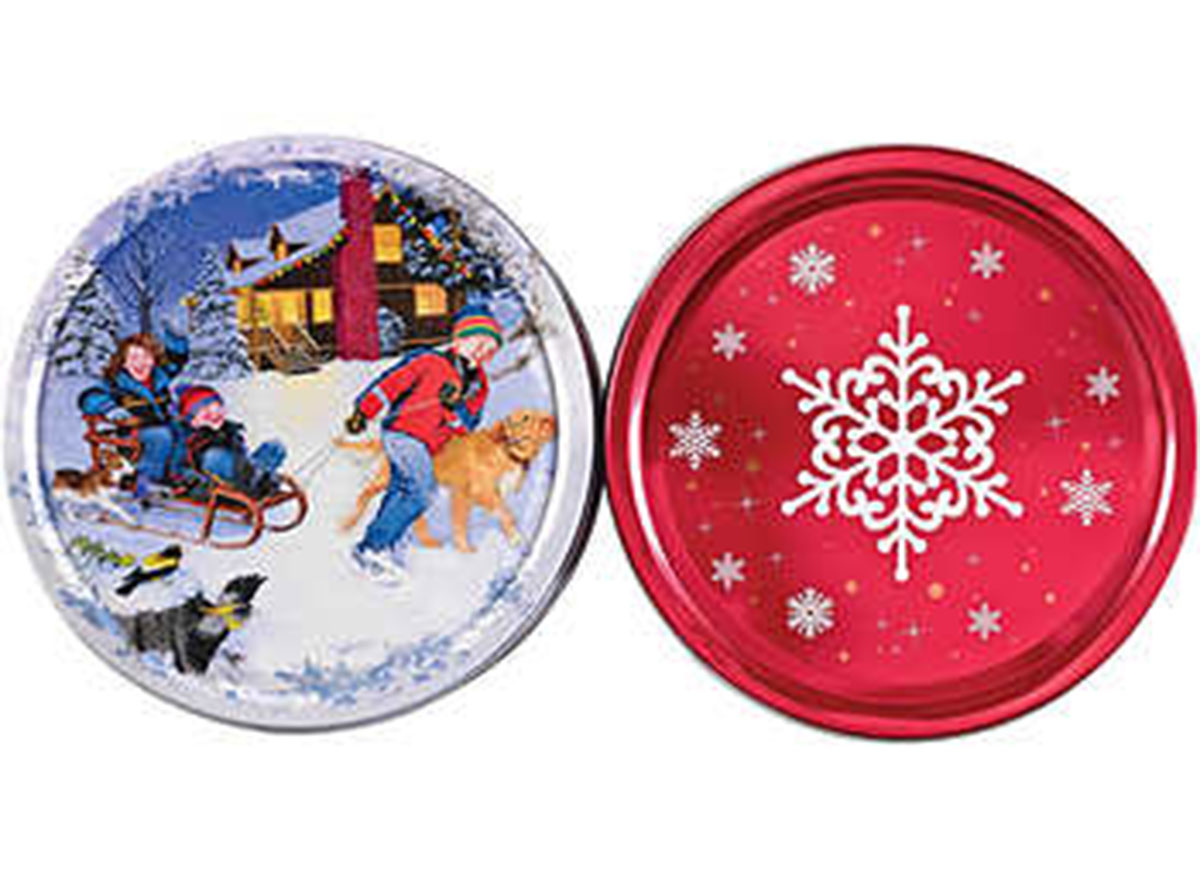 Unlike the tins at your Grandma's, these are actually filled with cookies and not sewing supplies. Instagram user @costcosisters spotted the four-pack in Northridge, Calif., in early October for $12.99. However, it's also available online for a few dollars more.
Want even more Costco holiday food news? Sign up for our daily newsletter to get all the info.—like how this trendy Costco holiday treat is selling out fast—delivered straight to your email inbox!
Amanda McDonald
Amanda has a master's degree in journalism from Northwestern University and a bachelor's degree in digital journalism from Loyola University Chicago.
Read more about Amanda