20+ Healthy Mug Recipes You Can Make in 5 Minutes (or Less!)
The microwave is about to become your new best friend.
Sorry coffee, but breakfast, lunch, dinner, and (most importantly) dessert are all taking over your favorite mugs. Despite its reputation for just heating up leftovers, the microwave can be a quick way to whip up your next meal. Simple instructions, minimal equipment, and blink-and-it's-done cooking time add up for an effortless way to cook up something special, as there really is nothing like a solid mug recipe.
Here's a round-up of some of the best dishes you can make in a mug, ready in minutes. (Plus, don't miss 50 Healthy Recipes to Make in 10-Minutes (or Less)
Breakfast
Egg Omelet
Bold in color and in flavor, this recipe is a simple way to get in a hearty dose of protein without all the added wait time. Egg yolks provide a nutrient called choline that helps fight hunger and is an egg-cellent way to aid weight loss by keeping you satisfied. This is a two-minute breakfast that won't disappoint!
Get the recipe from Joyful Healthy Eats.
Pumpkin Oatmeal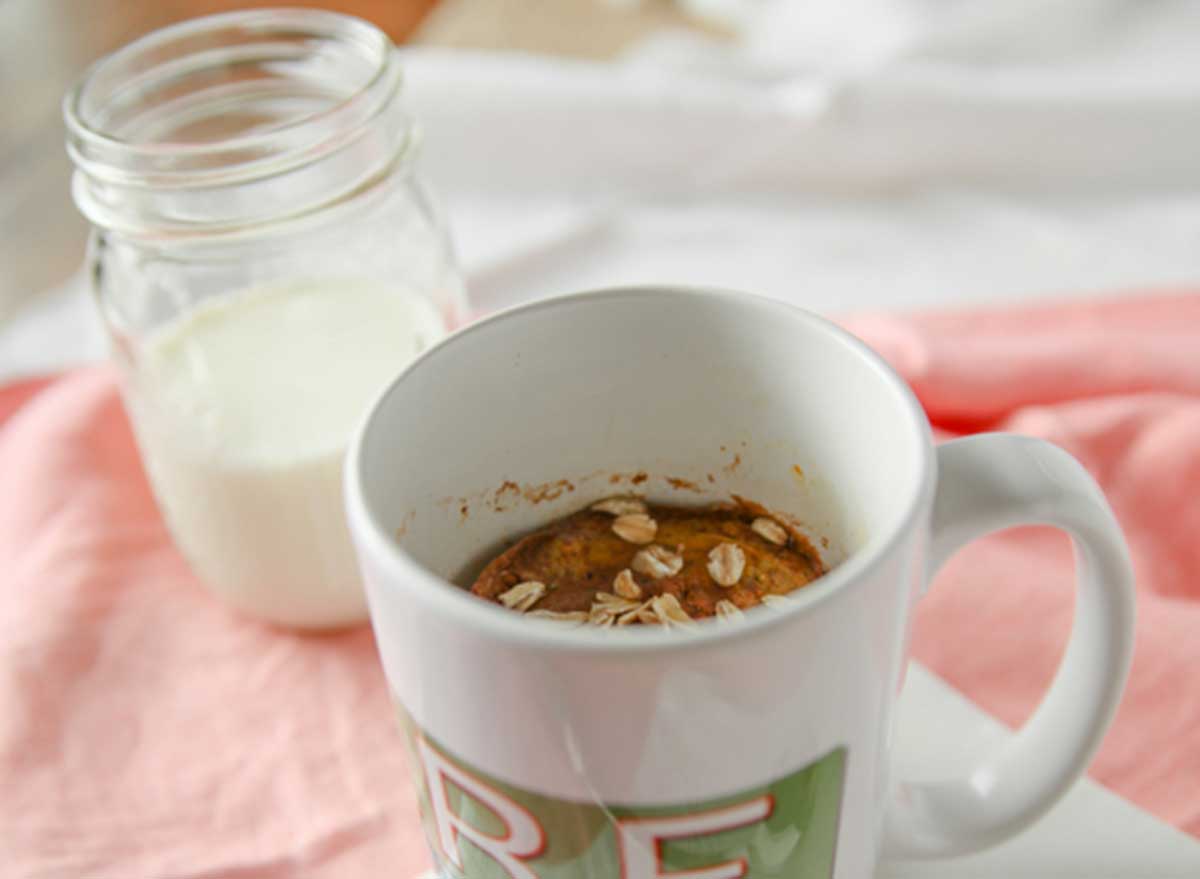 Did you wake up in the mood for something savory and sweet? Here's the perfect fix. This recipe combines fiber-packed oats with protein-rich eggs and the comforting tastes of pumpkin and cinnamon. It's a next-level way to get your nutrients and keep you on track to getting that summer bod!
Get the recipe from Kath Eats.
Quinoa and egg breakfast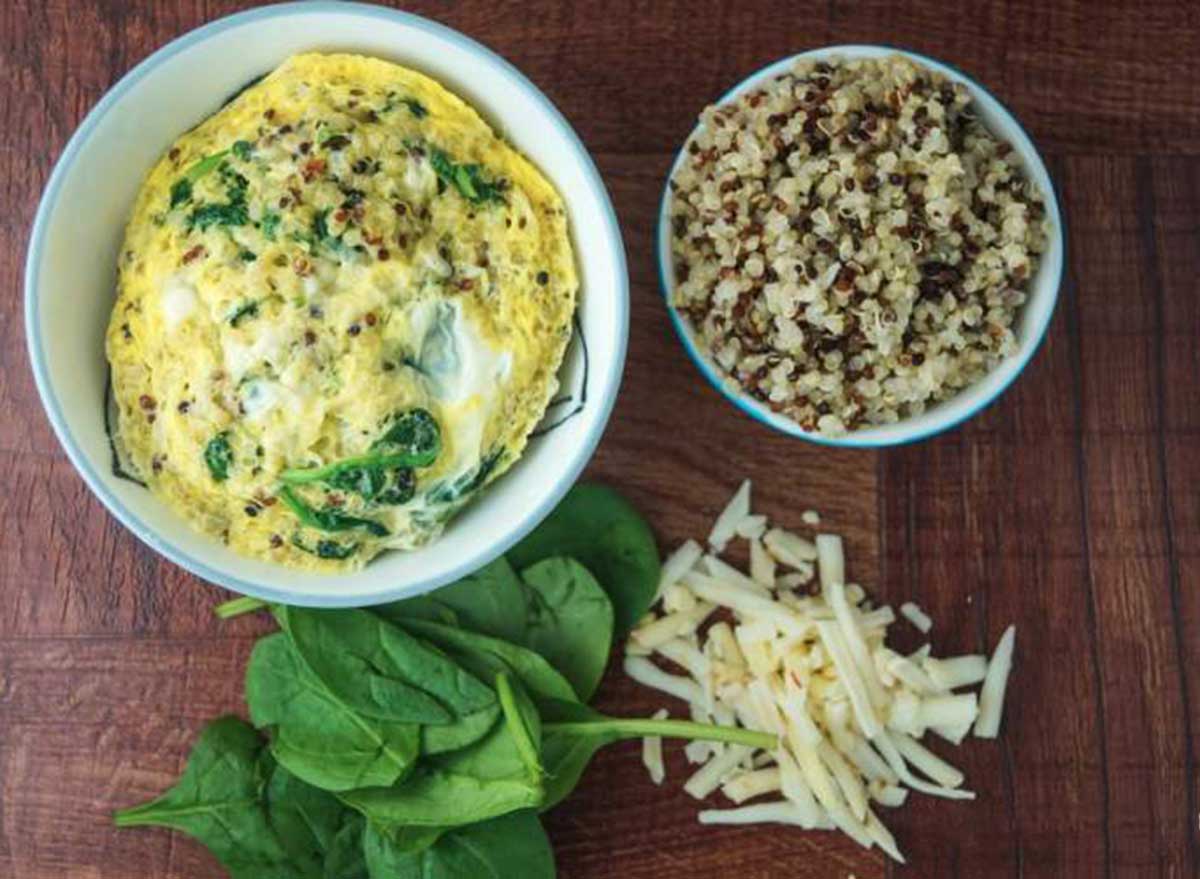 A single serving of this quinoa and egg breakfast has almost 20 grams of protein for the recommended daily amount of 46 grams for women and 56 for men. You can add any veggies you have leftover in your fridge, or keep it simple with just some added spices. The best part about this mug meal is the endless array of options!
Get the recipe from Slender Kitchen.
Blueberry muffin
Skip the coffee shop muffin that's loaded with sugar and go for this one-minute blueberry muffin. The burst of blueberries leaves a tangy flavor that will have your tastebuds cheering. Plus, blueberries are filled with antioxidant properties and belly-blasting nutrients.
Get the recipe from The Big Man's World.
Spinach and cheddar quiche
With that same fluffy consistency of quiche that you're looking for, this mug meal is the ideal savory breakfast that's good for you, too! The healthy amount of spinach in this quiche will amp up your vitamin intake, help build muscle, and aid weight loss.
Get the recipe from Bowl of Delicious.
Egg White Omelet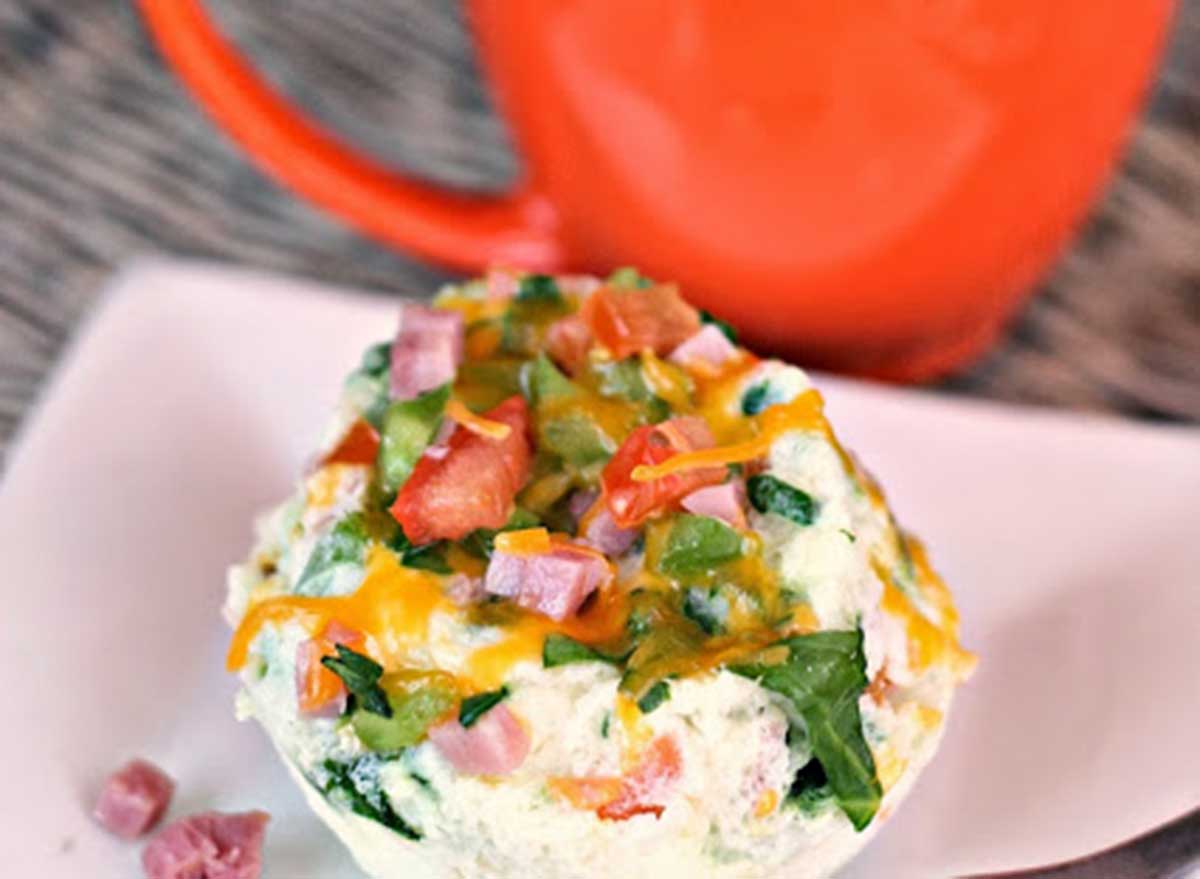 Here's a light, super-low calorie breakfast that still has tons of protein to keep you energized. Go for the center cut pork bacon to assure you're getting the highest quality bacon. For more breakfasts that'll help you shed the pounds, check out 50 Best Breakfast Foods for Weight Loss—Ranked.
Get the recipe from Tone and Tighten.
Lunch/Dinner
Spinach Ricotta Lasagna
This spinach ricotta lasagna is a much simpler way to make the Italian classic. The gooey cheesy filling combined with the fresh spinach, peppers and basil create an irresistible dish that won't have you overindulging. With less than 300 calories, you can't beat it!
Get the recipe from Healthy Nibbles and Bits.
Spicy Pumpkin Meatloaf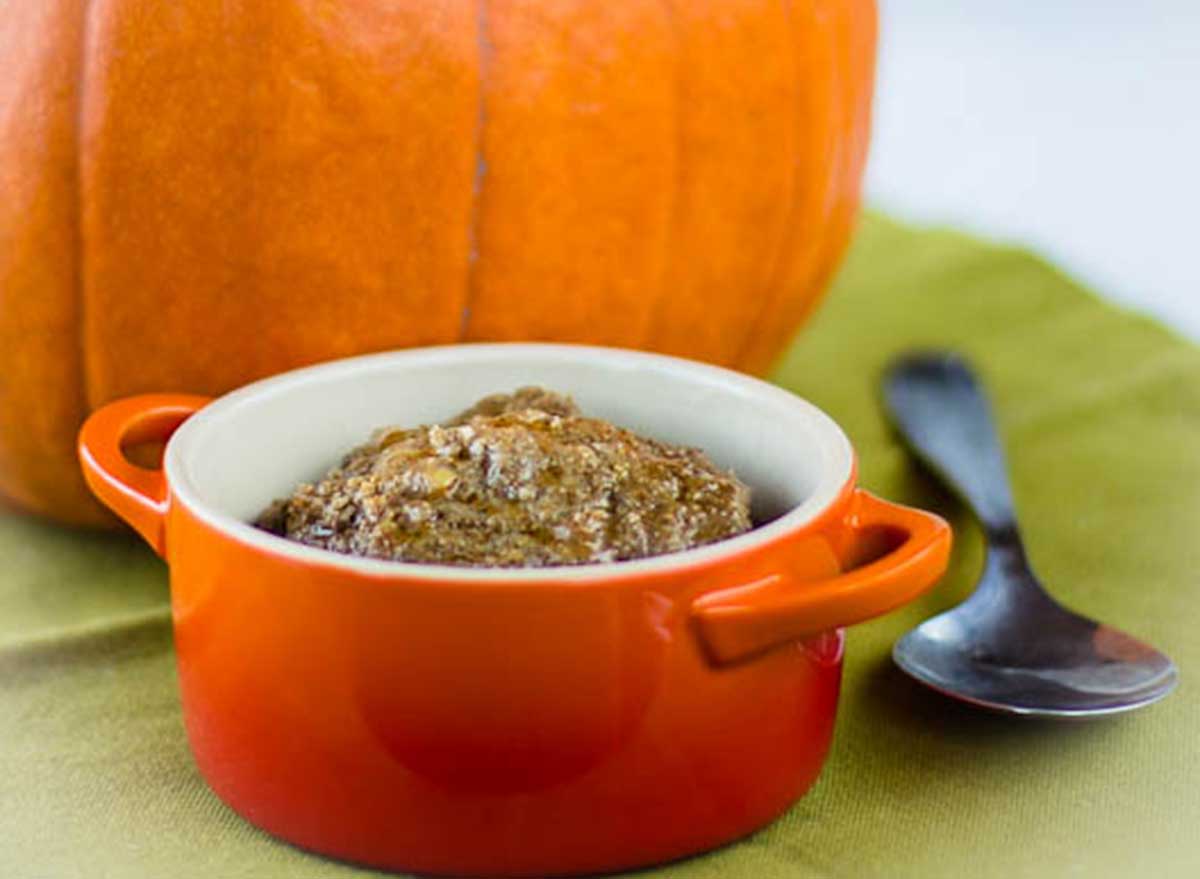 Spicy, pumpkin, and meatloaf may be three words you never thought you'd see next to each other. After you give this recipe a try, though, you'll never think twice about it again. The flavors combine to make a cozy, comforting mug meal that takes less than 10 minutes! Along with being loaded with taste, pumpkin is packed with fiber and is low in calories.
Get the recipe from Low Carb, So Simple!
Lentils with yogurt, almonds, and mint
Lentils are one of the best foods on the planet and so easy to add flavor to. This vegetarian mug meal is raving with protein and fiber. Since they're a resistant starch it makes you feel fuller, longer. Lentils are also on our list of fiber-rich foods for a healthy diet!
Get the recipe from Power Hungry.
Pizza
If you're a pizza fan (and most likely you are) then you know it's hard to resist a slice of that cheesy, saucy goodness—especially when there's a pizza place on every corner. But cut the starchy carbs and go for this easy-to-make, good-for-you version. It still combines all the best parts of the pizza, minus all the napkin blotting.
Get the recipe from Bigger Bolder Baking.
Mac and cheese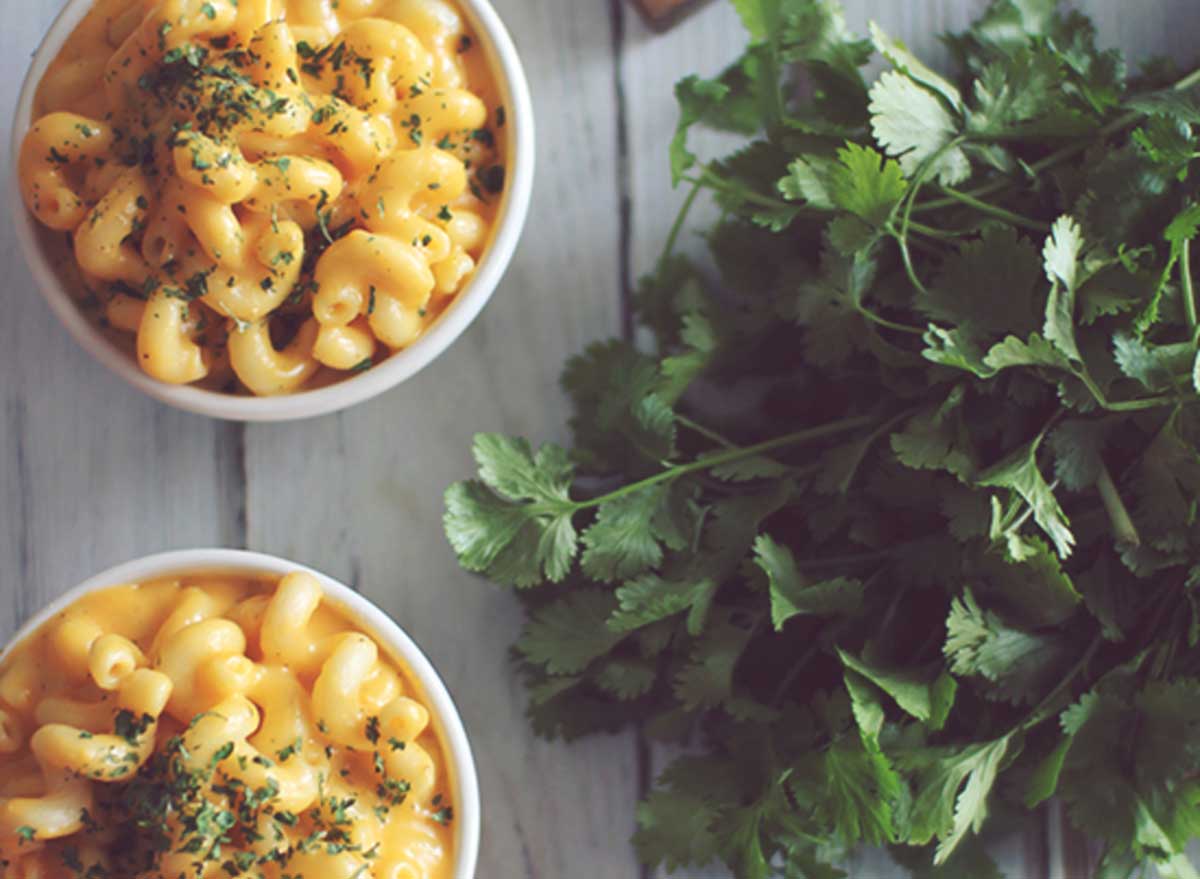 Childhood memories are always associated with mac and cheese because of how exciting it was to come home to a bowl of cheesy noodles. Here's a skinny way to get that same great flavor while cutting out the processed stuff.
Get the recipe from Dashing Dish.
Desserts
S'mores Cake
All you need is five minutes and soon enough, you'll be treated to a chocolate fudge s'mores cake. You don't need a campfire to indulge in this treat!
Get the recipe from How Sweet Eats.
Cinnamon Roll Mug Cake
The best part about this treat is that the eight ingredients needed you most likely already have in your pantry. The secret to this oh-so-light cinnamon roll? The fact that there are no eggs in it!6254a4d1642c605c54bf1cab17d50f1e
Get the recipe from Kim's Cravings.
Oatmeal Cookie Dough
Buying the carton of cookie dough usually has the intention of baking a dozen cookies for the family when in reality it gets eaten with a spoon. So why not just indulge? Here, you still get the creamy texture but don't have to worry about the ill feelings later on. Use cacao nibs to increase the vitamins and bring a richer, chocolatey taste to this mug dessert. Speaking of vitamins, don't miss these 21 Things You Don't Know About Vitamins!
Get the recipe from Running with Spoons.
Chocolate Cake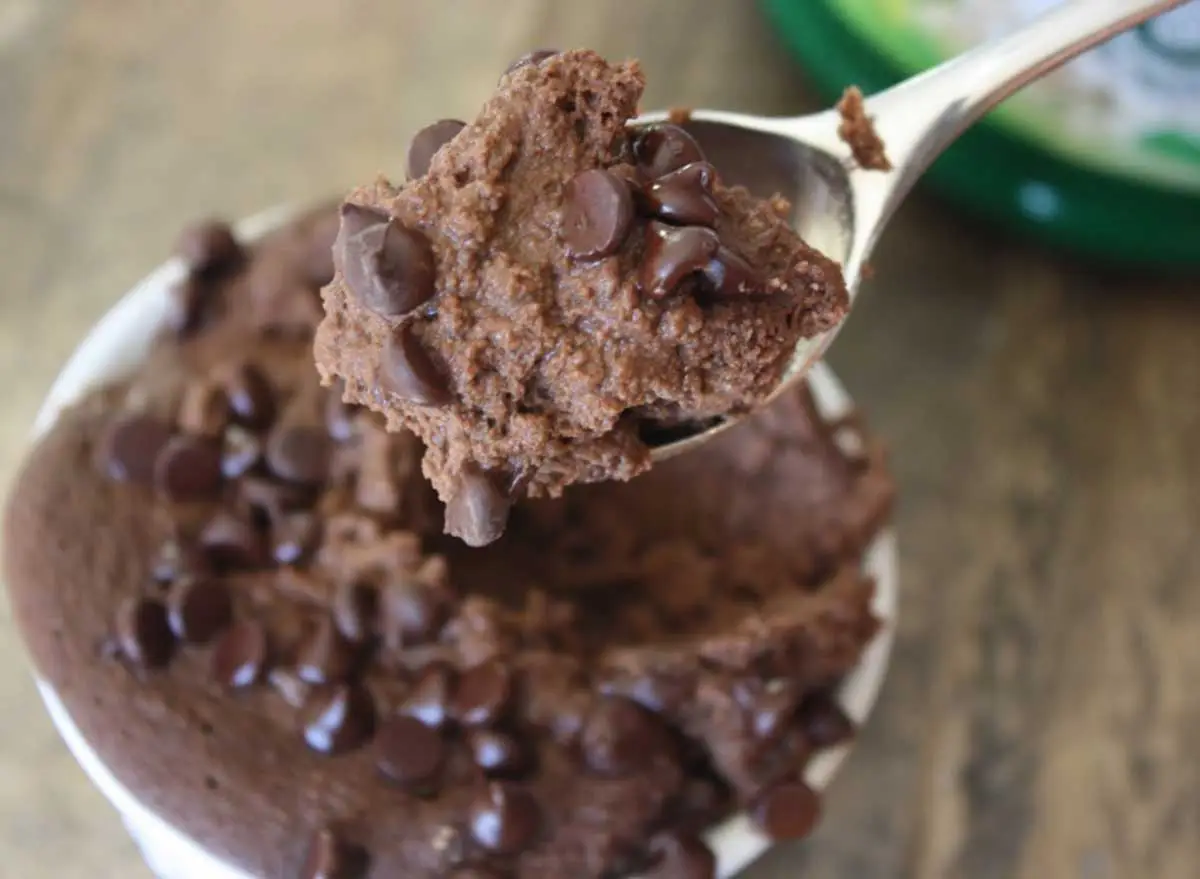 Sink your spoon into this dessert that takes just about two minutes. The ingredients are simple and the directions are even simpler. Cocoa powder gives you a rich flavor that has virtually no sugar and very little fat. A win-win all around!
Get the recipe from Run on Veg.
Strawberry Vanilla Mug Cake with Vanilla Buttercream Glaze
This dessert not only has strawberries but a vanilla buttercream glaze for a truly decadent take on a standard vanilla cake. You're really about to become a top-notch baker, all thanks to your microwave!
Get the recipe from Averie Cooks.
Cake Batter
It's a birthday party in your mouth when you get a bite of this! It tastes just like the local bakery favorite without all the excess sugar.
Get the recipe from Running to the Kitchen.
Jelly Donut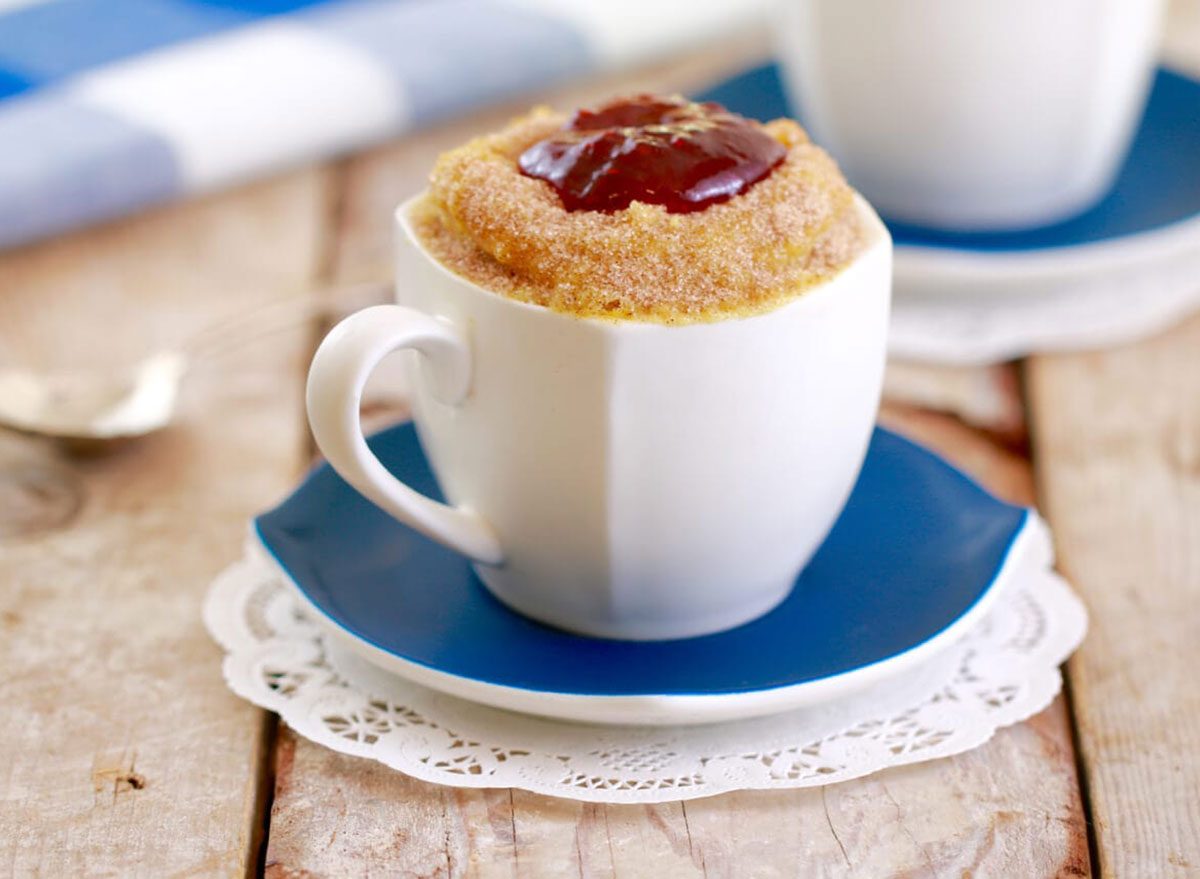 A homemade donut you can whip up, right in a mug? It truly doesn't get any sweeter than that.
Get the recipe from Bigger Bolder Baking. 
Chocolate Chip Cookie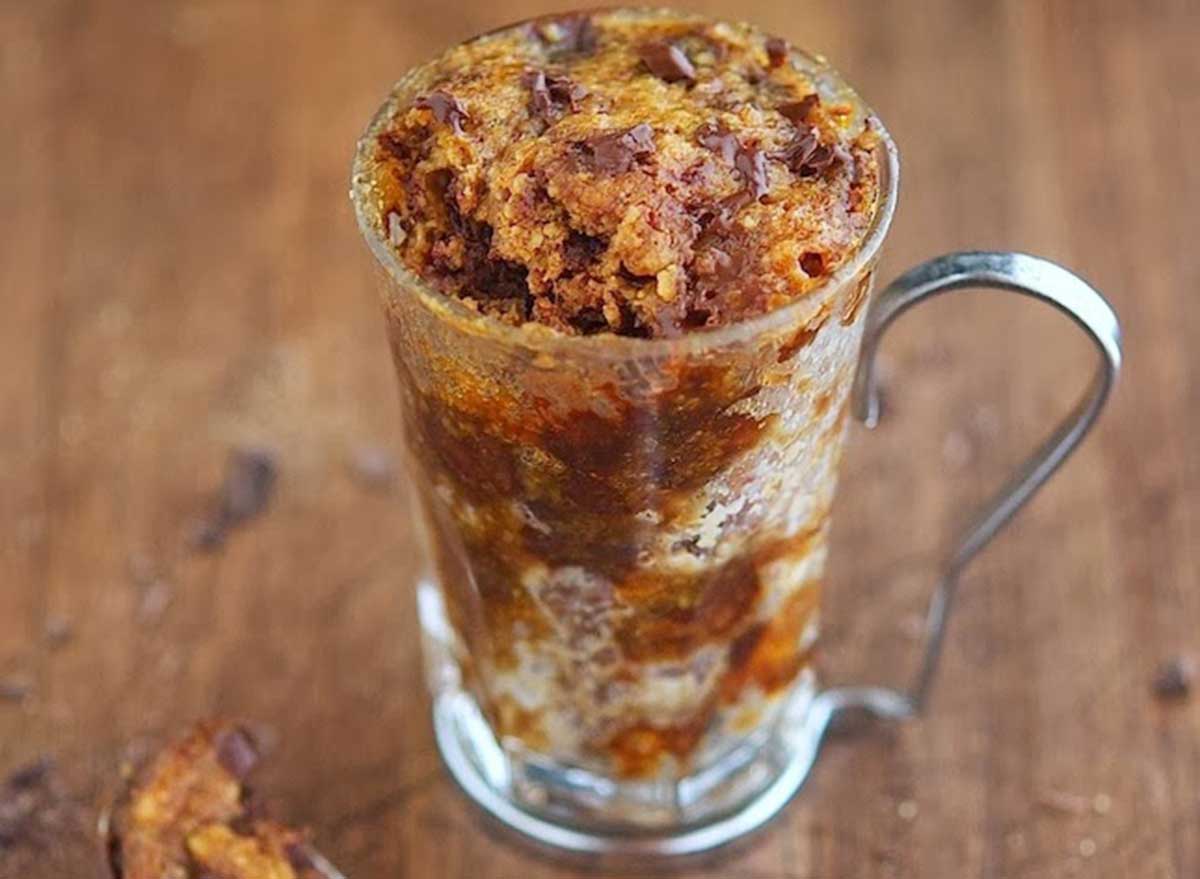 Your tastebuds won't even know the difference, as this is a Paleo chocolate chip cookie. It's just as sweet and so rich and chewy in texture. Pair it with a glass of almond milk to really feel like a kid again!
Get the recipe from The Iron You.
Microwave Mug Sponge Cake
There really is nothing like a sponge cake—each bite is simply pillowy goodness. And now, you can make this treat right in your microwave for a dessert that looks like something you would get in a restaurant.
Get the recipe from Bigger Bolder Baking.
Caramel Apple Mug Cake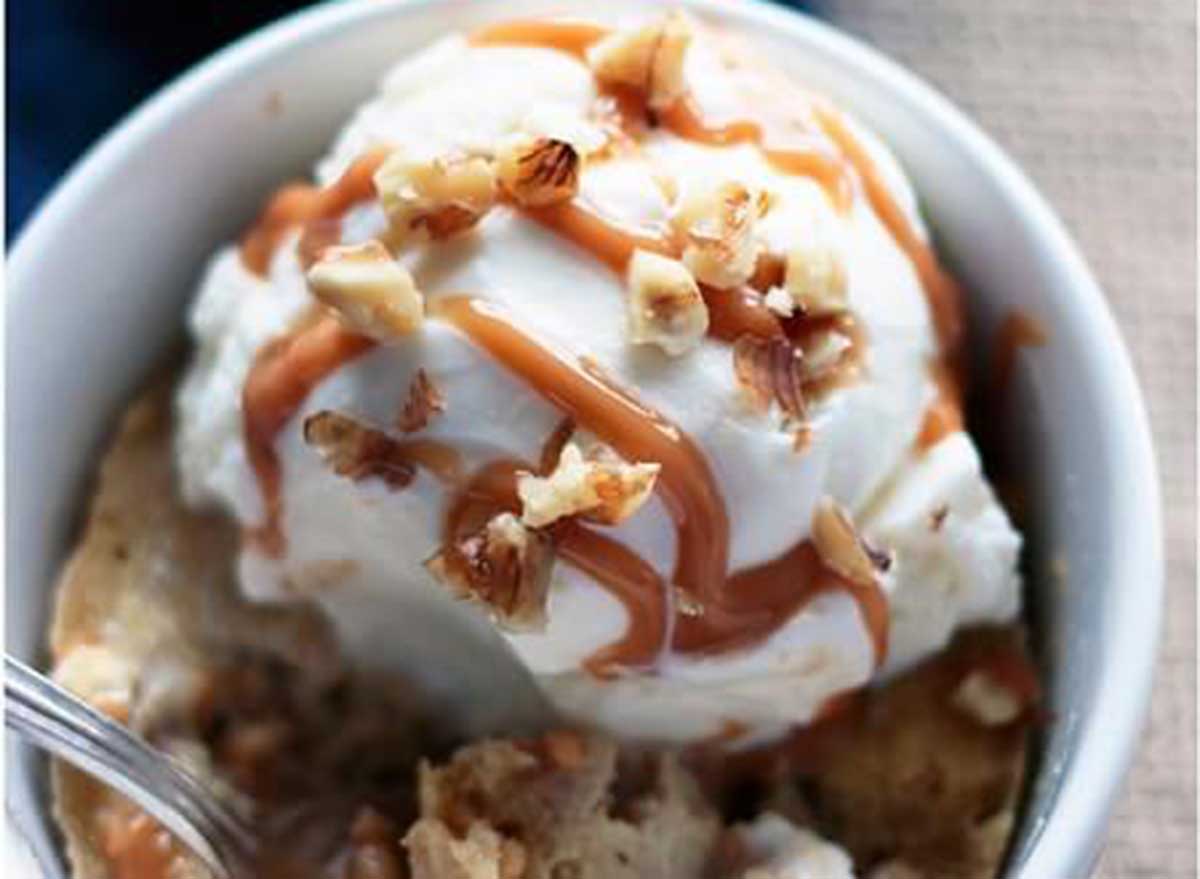 The key to taking this caramel apple mug cake up a notch is adding a scoop of vanilla ice cream and caramel sauce on top once it's baked. Utter bliss.
Get the recipe from I Breathe I'm Hungry.
Red Velvet Mug Cake
This mug cake is a light treat and if you happen to have some beet powder on hand, go ahead and add it to the mix—although it's not a necessity! This cake happens to be naturally gluten and dairy-free, vegan, and works for those who are following a Paleo diet, too.
Get the recipe from The Big Man's World.
Peach Cobbler Mug Cake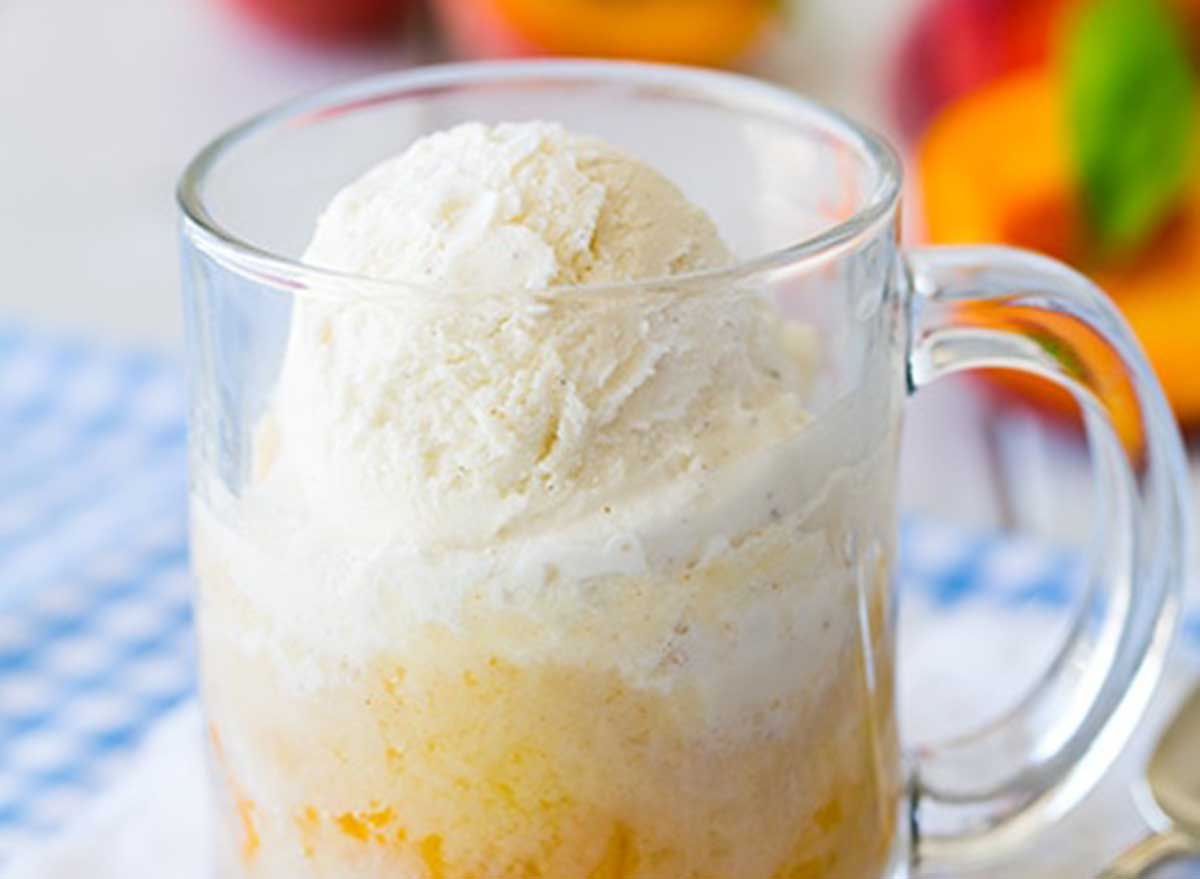 A white cake mix and diced peaches come together to make a peach cobbler ready to eat in five minutes. It's so simple to make, we have a feeling you're going to want to whip up this refreshing dessert a few nights a week. And there's nothing wrong with that, as the mug provides the perfect portion size.
Get the recipe from Cooking Classy.
Snickerdoodle Mug Cake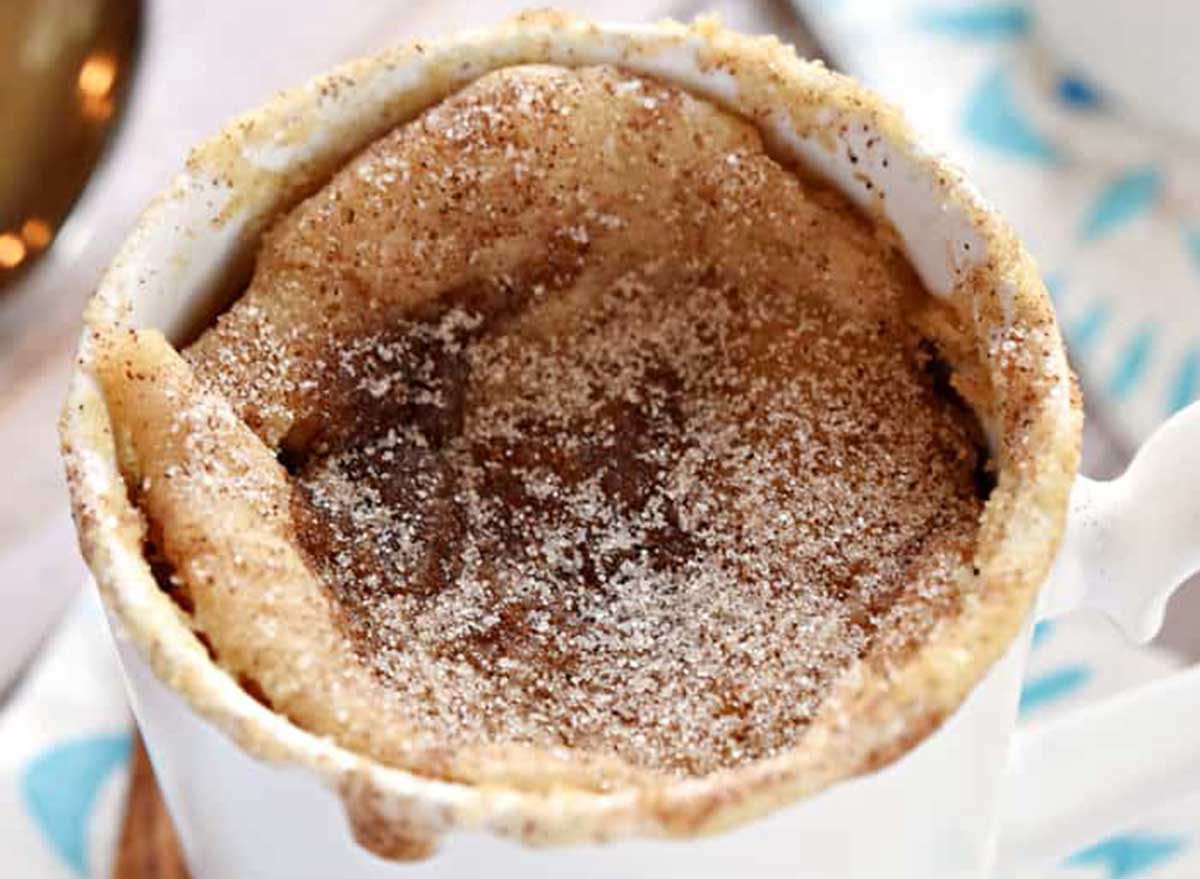 Oh, the snickerdoodle. The cinnamon-sugary goodness that you most likely often find in a cookie form gets a mug cake makeover. One bite and you'll exactly why this cookie-inspired cake is a true delight.
Get the recipe from Five Heart Home.
Now that you know a healthy meal is just a quick zap away, you can enjoy a hot snack or lunch in minutes. The microwave is truly one of the best, untapped appliances in the kitchen. If you are using it just to warm up soup or coffee, you're missing out.
Eat This, Not That!
Inspired by The New York Times best-selling book series, Eat This, Not That! is a brand that's comprised of an award-winning team of journalists and board-certified experts, doctors, nutritionists, chefs, personal trainers, and dietitians who work together to bring you accurate, timely, informative, and actionable content on food, nutrition, dieting, weight loss, health, wellness, and more.
Read more about Eat This