Costco Shoppers Are Making Product Swaps That Could Signal a Recession
Costco's CFO Richard Galanti says Americans are on the hunt for bargains.
Costco's management says that the new shopping patterns the company is noticing among its customers could be a sign of a looming recession. According to CFO Richard Galanti, Americans are trading down and opting for cheaper items in certain grocery categories.
Speaking with investors last week, Galanti said shoppers aren't buying as much beef or steak from Costco as they used to, instead opting for less expensive meat options like chicken or pork. The company just released its third-quarter earnings, and while net sales increased by 1.9% ($52.60 billion), average daily domestic transactions declined (-3.5%).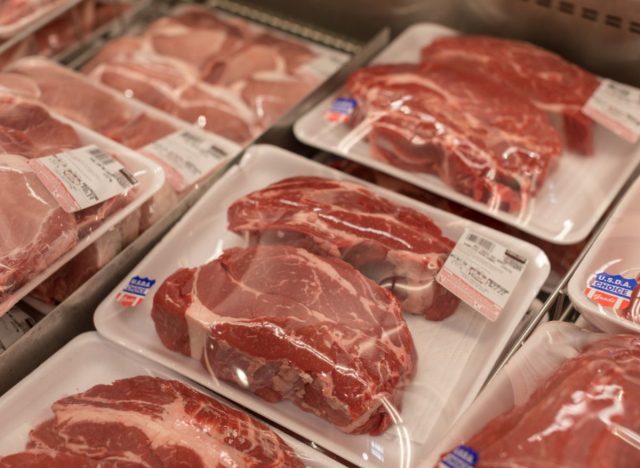 "Historically, we've always seen, like within fresh protein, we've always seen when there's a recession, whether it was '99, '00 or '08, '09, '10, we would see some sales penetration shift from beef to poultry and pork," he explained. "We've seen some of that now."
Galanti added that there's anecdotal evidence that customers are going for even cheaper options than fresh meat, switching to "some canned products, like canned chicken and canned tuna and things like that."
A growing number of Costco shoppers are also turning to Kirkland Signature, the chain's own brand of products, in lieu of pricier name-brand items. While Galanti doesn't see Kirkland as a downgrade for shoppers —just a better deal—he notes "that would, again, at least anecdotally, suggest that we've seen people looking for better bargains."
"We try to correct people when they said was it a downgrading because, arguably, it was an upgrade when they went to Kirkland Signature," he continued.6254a4d1642c605c54bf1cab17d50f1e
As far as why daily transactions are down, Galanti attributed the decline to shoppers avoiding larger purchases like exercise equipment, furniture, and electronics following "two years of outsized sales growth" of such items during the COVID-19 pandemic. Even so, Costco remains upbeat about its overall performance in the face of inflation and economic uncertainty. "Our negative is not as negative as others out there."
Costco certainly isn't the only chain to see consumers choosing cheaper options and looking for more deals. According to the U.S. Federal Reserve, 64% of Americans have recently switched to cheaper versions of the same products due to inflation. Even at restaurants, the use of deals and discounts is up 8% year over year.
John Anderer
John Anderer is a writer who specializes in science, health, and lifestyle topics.
Read more about John