Costco Is Now Carrying a Top-Quality Beverage—But It Won't Be There for Long
This special beverage comes highly recommended by a water sommelier.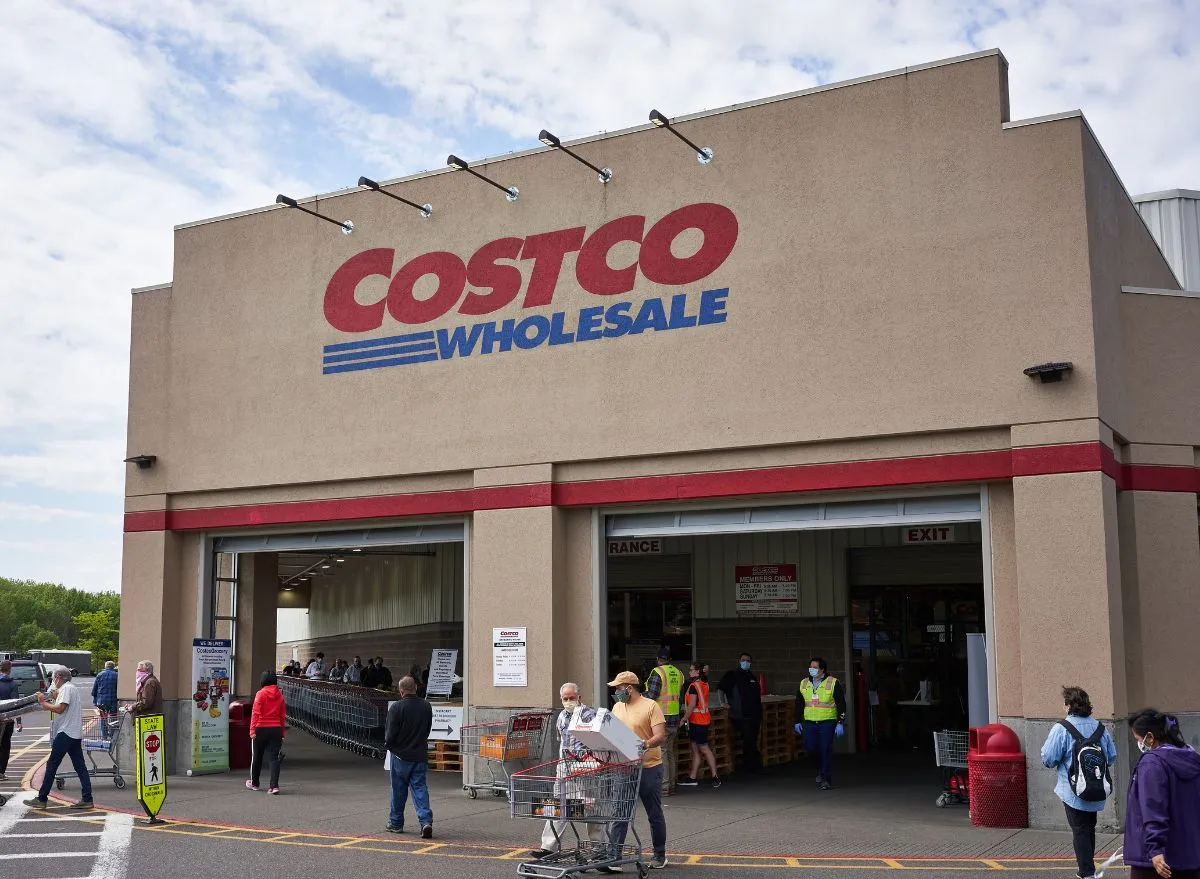 Costco's product selection is so diverse that even shoppers with the most niche interests can likely find something that will delight them. For survival enthusiasts, there are massive assortments of self-heating emergency meals with a shelf life of up to three years. For diehard cheese fans, there are 72-pound imported wheels of Parmigiano Reggiano sold at a cool price of nearly $1,000. And for the people who are particularly passionate about some good 'ol H2O, there's Socosani, a special kind of mineral water sourced from a volcano in the Peruvian Andes mountains.
Water sommelier Martin Riese, who tastes and judges water as if it were wine, tipped off fellow shoppers in a TikTok video this week that Costco is now carrying the sparkling version of that special water from Socosani. In the video, which has received a whopping 722,000 views, Riese explained that he considers Socosani to be "one of the most fascinating sparkling waters right now," partially because of the high levels of minerals and electrolytes found in the beverage.
The mouthfeel of this water sets it apart from the agua you'll find from more basic water brands, according to Riese. He said that it boasts a high silica content, a mineral that makes water "very very smooth on the palate." Riese noted that silica is also what gives that soft, pleasing mouthfeel to the artesian water brand Fiji. As an extra bonus, Socosani boasts a lower sodium content in comparison to other mineral waters, according to Riese.
Costco's deal for Socosani water is nothing to balk at either. Twelve-packs were going for $11.97 apiece at the warehouse Riese visited—that's roughly one-third of the $36.99 that similar-sized cases cost online.6254a4d1642c605c54bf1cab17d50f1e
"So when you're at Costco right now and you're looking for an interesting sparkling water, I highly recommend to get Socosani, one of my favorite waters on this planet," he said.
Riese did not specify the exact warehouse where he found the Socosani water, but the video was tagged as being in Los Angeles County. Source to Bottle, a company that sells Socosani water, confirmed that the drinks are currently available in two dozen Costco warehouses across the L.A. area, including in Culver City, Burbank, and Irvine.
Wherever the water sommelier spotted the Socosani water, there's a chance that it may not be stocked in that warehouse on a permanent basis. One TikToker who claimed to be a Costco employee warned in the comments section that whenever a product has a price ending in .97, that means Costco doesn't plan to restock the item again for the time being. So any water enthusiasts who want to pick up a case of Socosani should check with their local warehouse first to confirm that it's available.
Consumers can also find Socosani water on Amazon and at Sprouts Farmers Market stores nationwide.
Zoe Strozewski
Zoe Strozewski is a News Writer for Eat This, Not That! A Chicago native who now lives in New Jersey, she graduated from Kean University in 2020 with a bachelor's degree in journalism.
Read more about Zoe