6 Items That Costco Shoppers Never Buy at Costco
Costco shoppers say that other chains offer better quality or prices for certain items.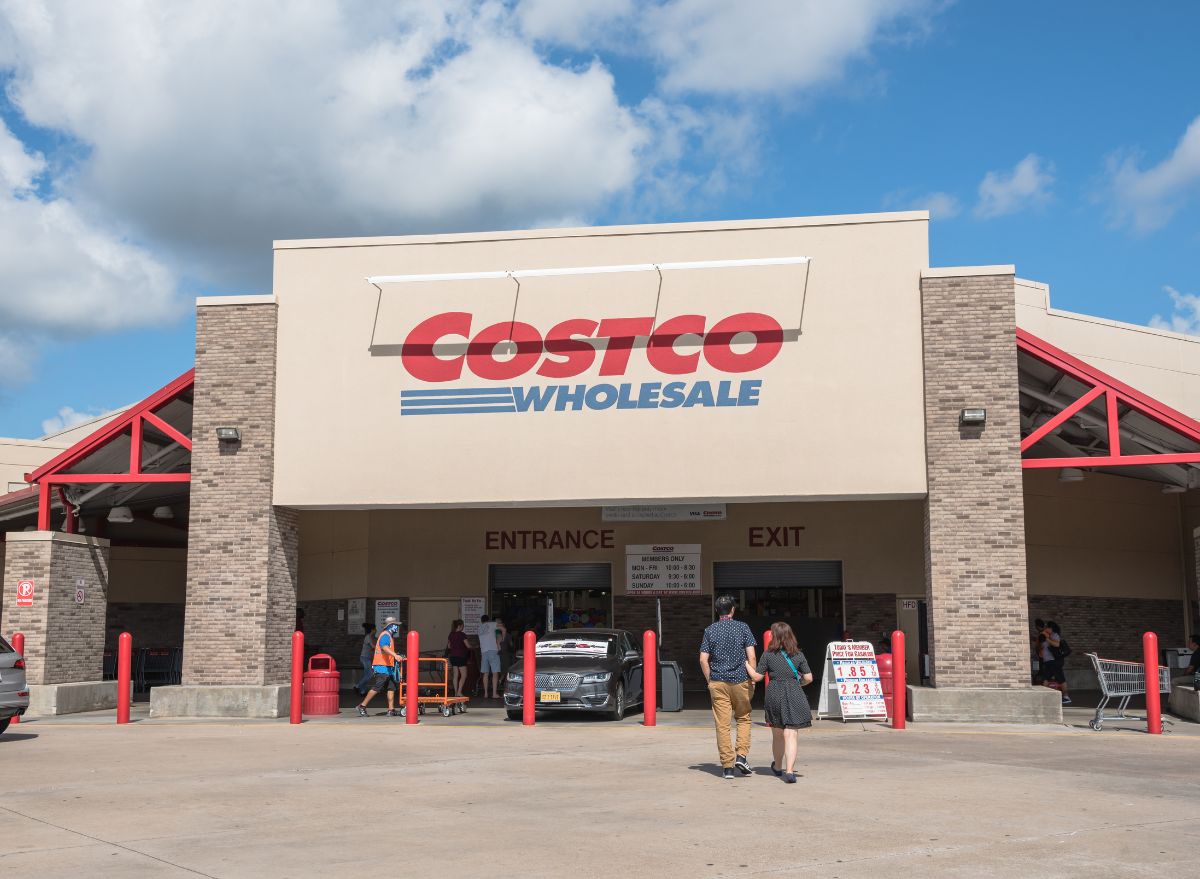 Whether it's because of the attractive prices, free samples, or massive variety of products, America's love for Costco is undeniable. The members-only grocery chain currently boasts a whopping 124.7 million cardholders and 854 warehouses across the world, 587 of which are located in the United States and Puerto Rico. Additionally, Costco was the third-largest retailer in America by sales in 2021, only coming behind Walmart and Amazon, respectively.
Despite Costco's evident popularity and high standing in the grocery industry, even the most diehard Costco fans will admit that not every single item at the retailer is worth purchasing. In fact, in a Reddit thread that has racked up more than 370 comments this week, Costco members listed all of the items that they prefer not to buy at Costco due to quality issues, high prices, or bulk sizes that are just too big for the average consumer.
While the stated reasons to avoid certain products may just come down to personal taste, there were some Costco items that made more than a few appearances in the Reddit thread, indicating that issues with those products are more widespread.
Here are six types of items that customers say they never buy at Costco in favor of superior offerings at other stores.
Milk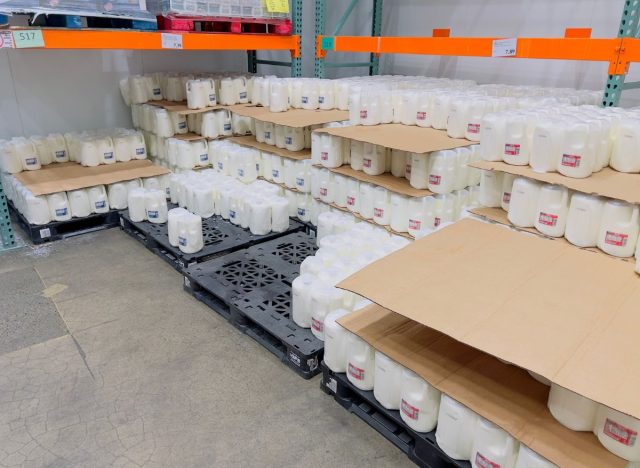 Milk may be one of the quintessential grocery store staples, but members say that there are a couple of issues with Costco's Kirkland Signature version that have led them to buy the dairy product at other stores. For one, some say that it can be a struggle to finish a whole gallon from Costco before it expires. The company only sells its regular Kirkland milk in one-gallon jugs, while the organic Kirkland milk comes in half gallon containers sold three to a pack.
"We do use a lot of it but the Costco milk containers are just too big to handle," wrote one customer who said they buy milk outside of Costco.
Customers also say that the design of Costco's milk jugs is the opposite of user friendly, giving them extra motivation to purchase their milk elsewhere. For the uninitiated, Costco's Kirkland Signature milk comes in jugs that are somewhat square-shaped at the top, a design that customers say makes it much harder to pour milk without spilling.
"I'll stick with my Kroger milk in the regular gallon jug," a member commented.
Soda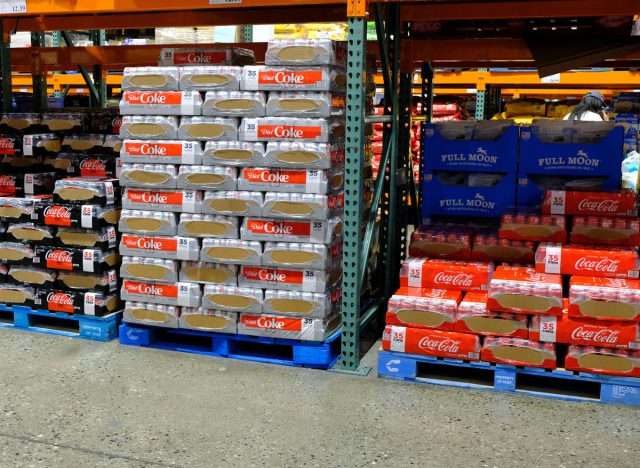 Many Costco shoppers say they're turning to other grocers to satisfy their soda needs lately. The reason? Costco's soft drinks have just become "way too expensive," in the words of one member.6254a4d1642c605c54bf1cab17d50f1e
Grocery prices have soared across the board in recent years due to factors like inflation, supply chain issues, and Russia's invasion of Ukraine. However, Costco members say that soda prices have become so high at the warehouse club that they have better luck buying soft drinks from other grocery stores when they go on sale.
"The price hit my no buy point and most likely won't ever go back to buying it at Costco," one customer wrote.
Certain Baked Goods
Costco has no shortage of fan-favorite bakery items in its roster, from the Tuxedo Chocolate Mousse Cake to the Chocolate Chunk Cookies. Still, that doesn't mean that Costco is members' go-to spot for every single type of baked good.
Several members said that they tend to avoid Costco's bagels both because they're not super "authentic" and they tend to go bad so quickly that it's hard to finish the whole pack, resulting in a waste of food and money.
The latter reason was also why shoppers prefer to buy loaves of regular sandwich bread at grocery stores other than Costco. Many of the breads that Costco sells come in packs of two, so shoppers say they'll end up throwing away whole loaves that go bad before they can eat their way through those bulk size packs.
"I don't eat it quick enough and it molds so quick," one member commented in reference to Costco's bread.
While some customers said they can lengthen the shelf life of Costco's baked goods by storing them in the freezer, others said this wasn't a viable option for them due to a lack of freezer space.
Fresh Produce
Fresh produce was one of the most-mentioned types of products in the Reddit discussion by far, which is really no surprise considering that members have long complained about the retailer's fruits and veggies. Customers said that many types of Costco's produce–from strawberries to potatoes–tend to grow mold or go bad mere days after purchasing them. To make matters worse, Costco sells many fruits and veggies in bulk quantities. This makes it even harder for members, particularly those who come from smaller households, to finish what they buy before it spoils and results in extra food waste.
"The produce is not very good, spoils quickly, and I can't use the quantity," one shopper commented.
Eggs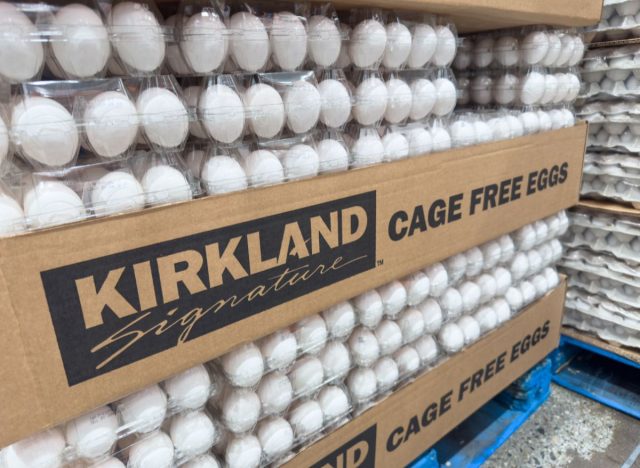 If you're only in the market for the most superb eggs, you may not find them at Costco, according to some members. "I don't think Costco eggs are very high quality compared to the ones I can get at my local grocery store," wrote one shopper. Another complained about the eggs' thin shells and pale yolks.
Quality aside, Costco also seems to be losing to other grocers when it comes to egg prices. Several said that they prefer to take advantage of the "cheaper" egg prices at discount chains like Aldi and Trader Joe's. As an extra bonus, Trader Joe's and Aldi also offer smaller egg quantities than Costco, so customers never have to buy several dozen eggs when they only want a basic carton.
"Recently Trader Joe's has had eggs for way cheaper than Costco. And I don't have to buy 2-4 dozen," a shopper wrote.
Meat
While some Costco grocery items boast super competitive prices, the chain's fresh meat products tend to skew a little more on the pricey side, according to customers. So even though members don't have any major qualms about Costco's meat quality, they said they find much better prices for their fresh proteins at other grocery stores and even their local butchers. This has turned into a major detractor for many customers at a grocery chain best known for offering discount prices on bulk items.
"I love Costco and I love the convenience but let's not kids ourselves, I'm here for the savings," wrote one customer who said they seek out less expensive meat at other stores.
"I can find chicken, beef, pork and lamb cheaper on sale at other grocery stores. I only buy it at Costco if I am in a pinch," another said.
Zoe Strozewski
Zoe Strozewski is a News Writer for Eat This, Not That! A Chicago native who now lives in New Jersey, she graduated from Kean University in 2020 with a bachelor's degree in journalism.
Read more about Zoe