15 Healthy Eating Tips from Dean Sheremet
Dean Sheremet, nationally renowned chef and personal trainer, spills his healthy breakfast ideas, go-to snacks, and more get-fit secrets!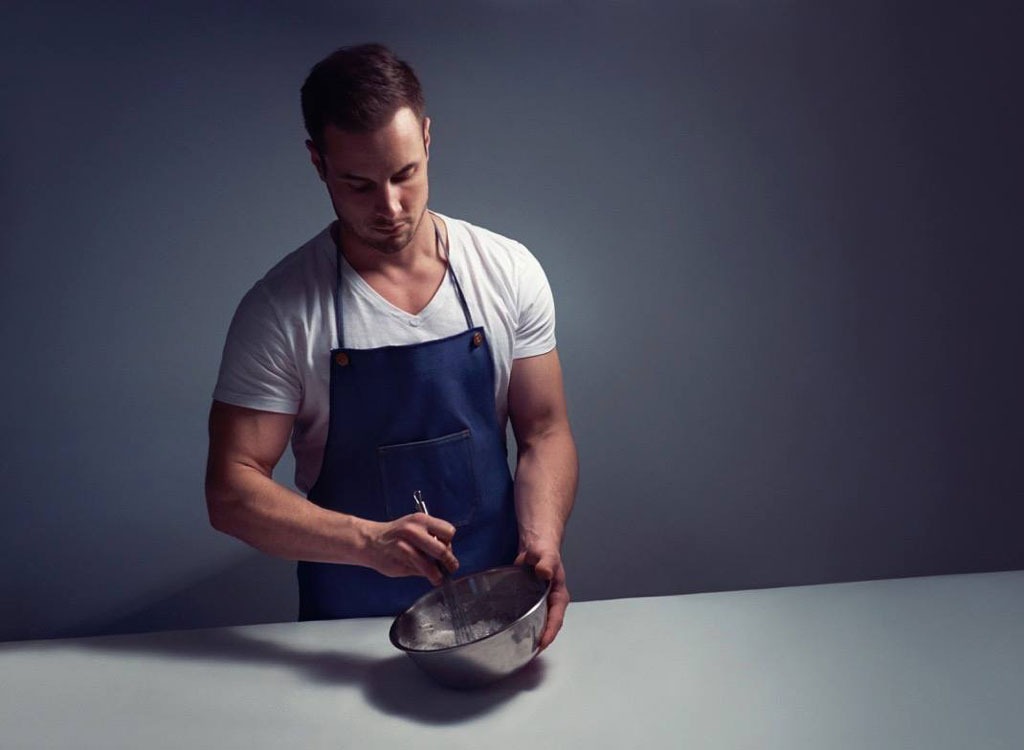 If you follow celeb news, you probably know who Dean Sheremet is—but we'd bet there's a lot about LeAnn Rimes' ex-hubby you don't know. After he separated from Rimes in 2009 (amid reports she was having an affair with now-husband Eddie Cibrian), Sheremet took some much needed "me-time" away from the spotlight. He moved to New York, enrolled in The French Culinary Institute, and graduated at the top of his class. He went on to work at hotspot Nobu 57 and three-Michelin-star restaurant Jean George, which were two culinary experiences that armed him with the skills to pen his first cookbook. The rave-reviewed 2016 Eat Your Heart Out touches on his marriage to LeAnn and comes stocked with ultra-healthy versions of comfort foods, delicious smoothies, and salads that will make your mouth water.
"I went through a very public breakup and found myself again through cooking," Sheremet says of his inspiration to write the book. "My grandmother instilled me with the knowledge to cook long ago but I never dreamt of making it a career until the demise of that relationship."
Dancing was another life-altering skill Sheremet's grandmother encouraged him to hone. She enrolled him in lessons when he was a young boy and it was his passion for movement and choreography that landed him a job as a professional dancer at the Academy of Country Music Awards. It was also what eventually inspired him to become a personal trainer three years ago.
"Being a professional dancer, I've always had an interest in human movement," he says. "I've taught, choreographed, and led groups settings for my whole life—so becoming a personal trainer was a natural fit for me. I love inspiring people and motivating them beyond what they think is possible for themselves."
Since Dean's knowledge of cooking, health, and fitness is a triple-threat skill set you don't come across every day, we were eager for him to share some of his top tips for healthy living—and he didn't disappoint. He has tons of practical weight loss hacks up his sleeve—many of which involve eating delicious food that's easy to make. Read on to discover his go-to healthy meal ideas, smart snacking secrets, and must-know diet tips. And if Sheremet's intel leaves you yearning for more creative ways to lose your gut, be sure to try some of these 25 Tips From The World's Fittest Men!
While most people assume you need to spend hours in the kitchen to create a nutritious meal, that's simply not the case. Even if you only have 15 to 20 minutes to spare, it's possible to get a restaurant-grade healthy meal on the table. "When I'm short on time, my go-to meal is a fattoush salad. It's a traditional Middle Eastern salad with a big, bold vinaigrette. It starts with a store bought rotisserie chicken, which saves loads of time, and is made up of any odds and ends you may have in the fridge," Sheremet tells us. Wanna give it a go? You'll find all the details below. Don't be afraid to swap out some of his suggested ingredients for things you already have stocked in your fridge.
WHAT YOU'LL NEED FOR THE DRESSING
2 teaspoons of sumac
4 tablespoons of fresh lemon juice
1 tablespoon of pomegranate molasses (sold at specialty Asian markets)
½ clove of garlic, minced
1 teaspoon of champagne vinegar
1 teaspoon of dried mint
⅓ cup extra virgin olive oil
WHAT YOU'LL NEED FOR THE SALAD
2 six-inch whole-wheat pitas, halved and ripped into one-inch chunks
½ cup of slivered almonds
3 tablespoons of extra virgin olive oil
6 cherry tomatoes, halved
½ cucumber, sliced into thin rounds
3 cups of Romaine tops, or lettuce of choice, cut into bite-sized pieces
½ cup of fresh mint leaves
1 yellow pepper, thinly sliced
1 cup of parsley leaves
1 scallion, thinly sliced
Rotisserie chicken, shredded
Extra sumac for finishing
Salt
STEP 1
To make the dressing, whisk everything except the oil in a small bowl. Slowly add in the oil until it is all combined. Set aside.
STEP 2
Heat a skillet over medium heat and add the 3 tablespoons of oil; once it's simmering, add the pita and almonds, toast until the pita is crisp and the almonds are golden, and then set aside to drain and cool on a plate lined with paper towel.
STEP 3
Once the chips have cooled slightly, place them in the bottom of a large bowl and cover with the dressing.
STEP 4
Add the tomatoes, cucumber, yellow pepper, and chicken to the bowl. Toss to coat in the dressing. Next, add the greens and cover them evenly with the dressing.
STEP 5
Transfer to a large serving platter and dust the top with some more sumac and a good pinch of salt.
Eat This! Tip
Since making the dressing is the most time-consuming part of this recipe, make it over the weekend so you're prepared with a fast and healthy meal solution during those hectic weeknights. For even more salad hacks, don't miss these 12 Tips to Make Healthy Salad Dressings.
Have Healthy Snacks on Hand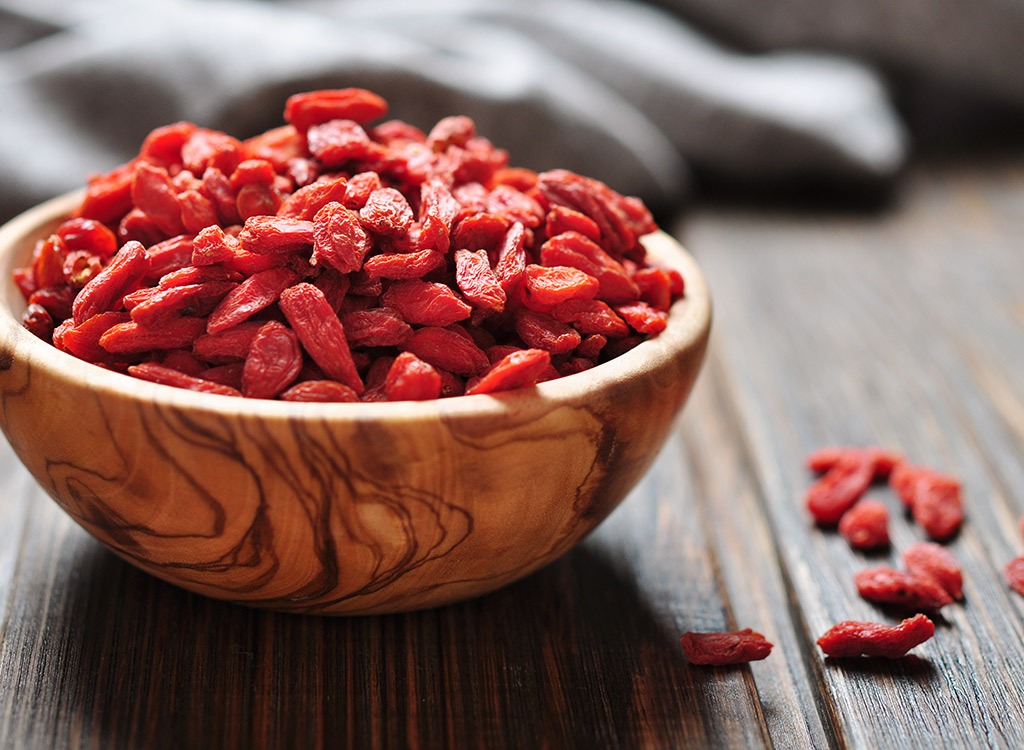 Trainers are busy people, which means their down time doesn't always coincide with normal mealtimes. In turn, you'll often find them sipping a protein shake during sessions or scarfing down a piece of fruit between clients. And Dean is no different. "I always have my homemade high energy goji trail mix nearby. It consists of macadamia nuts, almonds, dark chocolate pieces, goji berries, and pepitas. I'll also tuck a Quest bar or two in my bag in case I forget to prep. I love the s'mores flavor." Stash similar snacks—or any of these delicious high protein snacks—into your desk drawer so you always have something smart to nibble on when hunger strikes.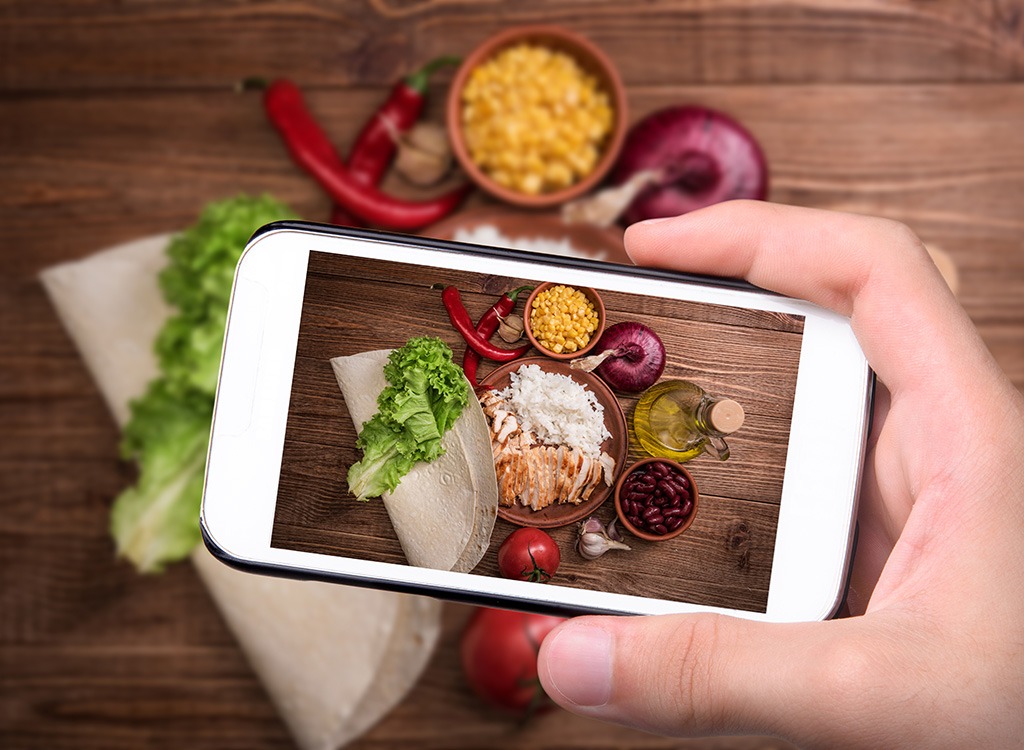 When a client comes to Dean looking to lose weight, he always assesses what they are eating before making any recommendations. "I start by having my clients write down or photograph everything they eat for two weeks," he says. "Then I try and find areas we can improve on." Even if you don't have a pro on speed dial to analyze your diet, you can benefit from this strategy. "When you start to be conscious of what you are putting in your mouth and are cataloging it, you naturally make better choices and eat smaller serving sizes," Dean points out. For more ways to write your way slim, check out these 10 Tips for Keeping a Food Journal for Weight Loss.
Next time you say you "don't have the time" to workout or lose weight, remember this: When there's a will, there's a way. When Sheremet was on the road with LeAnne, for example, he made it a priority to keep her (and himself) in shape. He cooked most of their meals and got her into the gym—which wasn't always an easy task. "When you are traveling on a bus across the world, high-quality food and the hours in which to eat them are not always optimal. I tried my best to keep us on some sort of a normal eating and training schedule," Sheremet tells us. "Everyone likes to complain about not having enough time in their day, but you absolutely have the time if you make healthy living a priority. We all seem to find that extra hour to watch Netflix don't we?" For simple ways to fit healthy hacks into your daily life, check out these 60-Second Weight Loss Tips Celebs Swear By.
Work Veggies Into Your Breakfast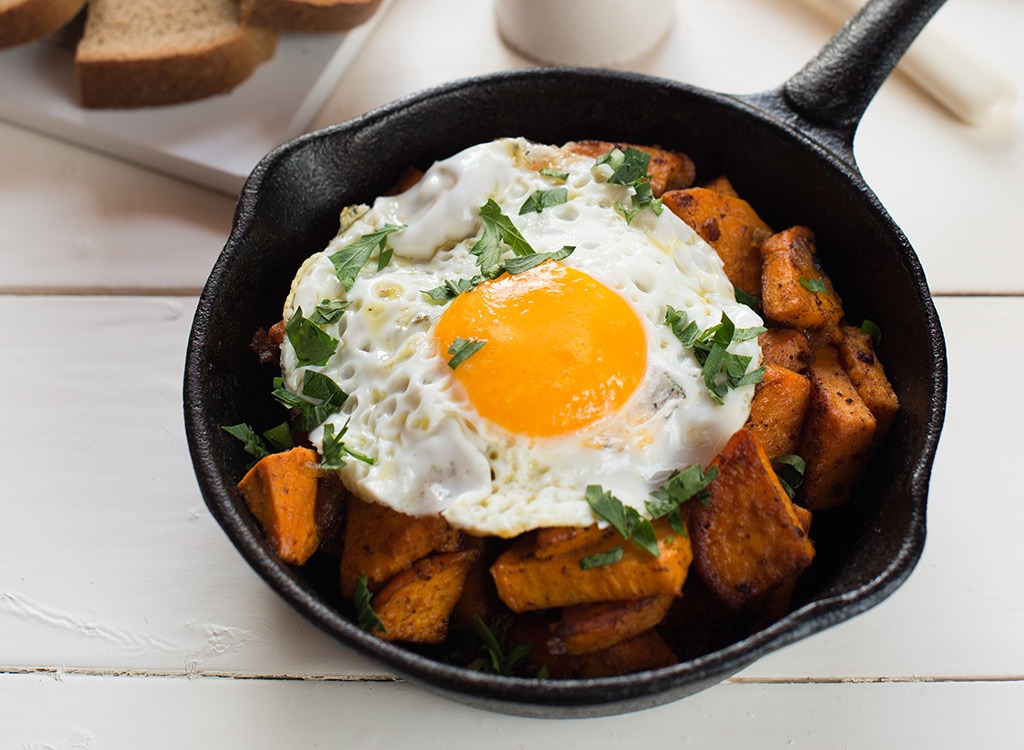 While many popular lunch and dinner dishes revolve around veggies, breakfast is a different beast. Things like breakfast sandwiches, waffles, and even more wholesome choices like oatmeal don't often incorporate veggies. And if you're one of the 283 million Americans who doesn't consume enough vegetables, this may be one of the reasons you can't seem to shake those extra pounds. Veggies are low-cal-yet-filling, making them a vital part of a healthy meal. The more of them you eat, the easier it will be to shed unwanted pounds. With the power of produce in mind, Dean incorporates veggies into his morning meal with a delicious sweet potato hash. "I'll heat up some coconut oil in an iron skillet, grate half a sweet potato in, and make a sort of hash brown. Then, I'll throw in some diced onion, smoked paprika, and kale and let that cook until slightly browned. Finally, I'll stir in three or four eggs and make my version of a breakfast hash." Sounds delish!
Say Sayonara to Sad Desk Lunches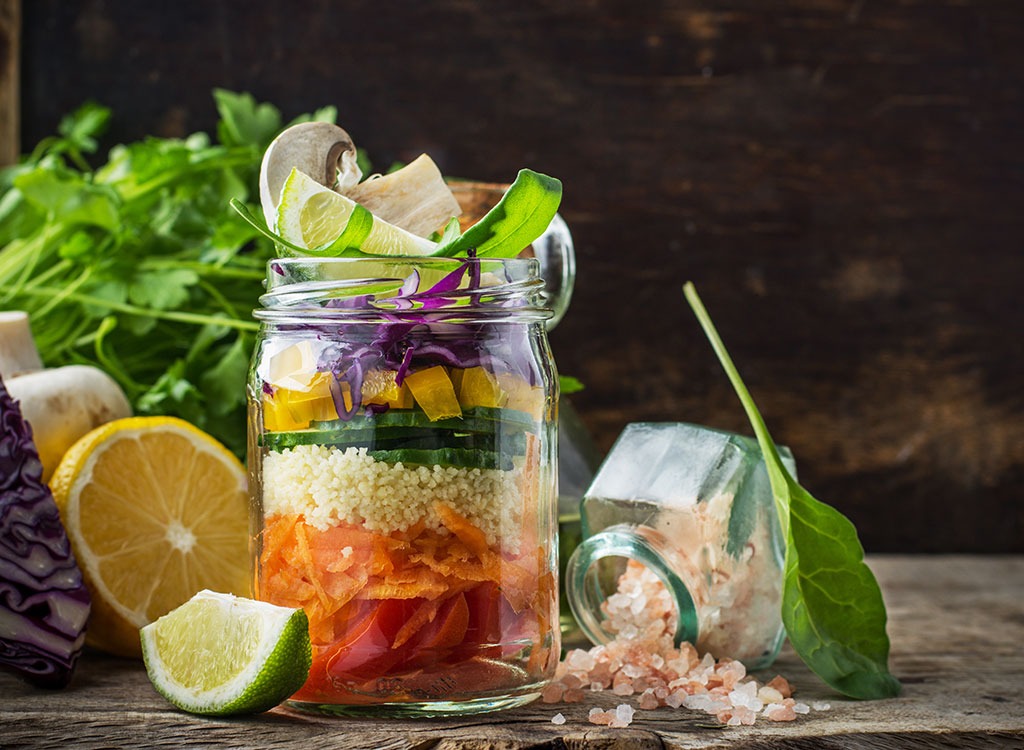 If you rely on take-out grub for lunch every day, you're likely taking in excess calories your body doesn't need. Chefs simply don't care about your health as much as you do, so your best bet is to bring something easy and portable from home. Dean suggests making a colorful mason jar salad that's comprised of a combination of quinoa or brown rice, veggies, protein, and a light drizzle of dressing. For step-by-step instructions on how to craft the perfect jar—as well as some truly mouth-watering ideas—check out these 20 Awesome Mason Jar Salad Recipes.
Keep Healthy Desserts On Hand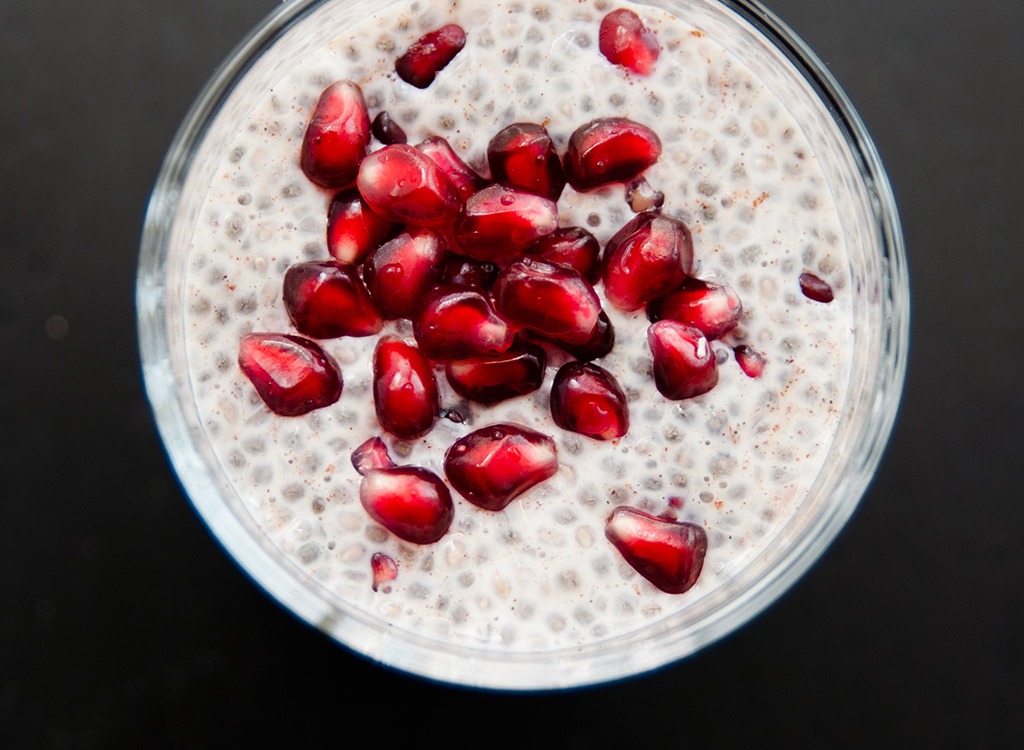 If you keep junk food in the house, you're bound to eat junk food. It's a fact of life. Which is why we suggest keeping some healthier alternatives on hand so you're prepped with a somewhat nutritious treat whenever a pesky sweet tooth craving strikes. Dean's go-to is coconut chia pudding. "It feels indulgent like a dessert, but it's loaded with omegas and other quality fats," he says. When he makes it at home, he likes to sweeten it with fresh berries, a touch of maple syrup, and a pinch of cinnamon. But if you don't have time to whip up a pudding from scratch, The Chia Co. makes a low-sugar coconut chia seed pudding that can easily be amped up with a sprinkle of cinnamon and some fresh fruit. You'll find it in the yogurt section of your local grocery store.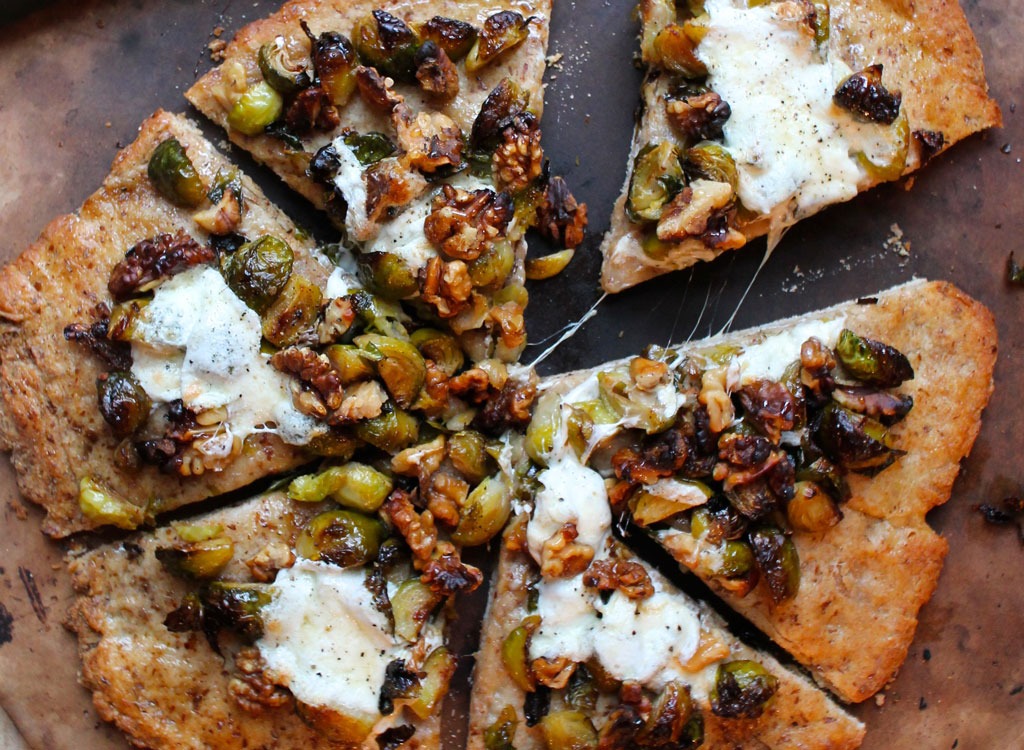 While hosting a party or last minute gathering can be stressful, it's actually good news for your waistline because you'll have total control over the menu. "I always keep homemade whole wheat pizza dough in my freezer for last-minute gatherings. I use it to make my friends a variety of flatbreads. Bread gets such a bad rap these days, but if you pile on the veggies, you have quite a powerhouse meal," Sheremet explains. For some topping inspiration, check out these Healthy Homemade Pizza Recipes.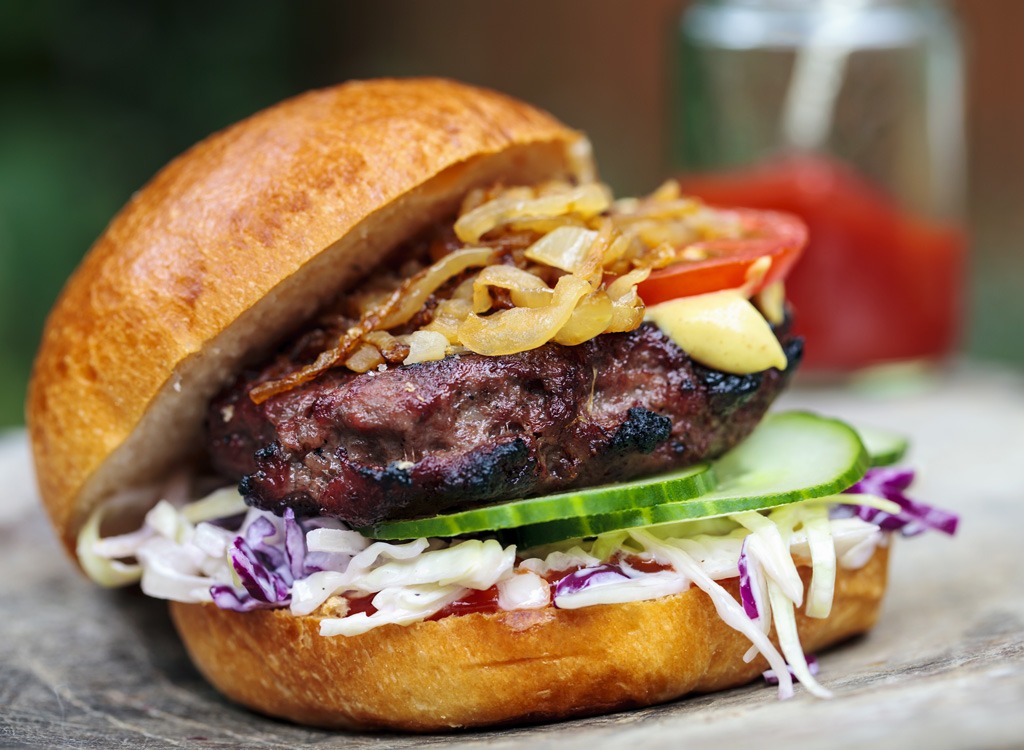 6254a4d1642c605c54bf1cab17d50f1e
Living a healthy life is all about balance and being realistic. And if you're smart and strategic, Sheremet believes you can clean up your diet without feeling too restricted. "I don't like the vilification of food that's happened over the years," he says. "Instead of cutting something out of my diet altogether, I think more about meal timing. For example, I love pasta and carbs as much as the next guy, but if I know I'm going to be sitting all day, I won't have it. It's not going to keep me going. After I finish a two-hour high-intensity workout, though, you better believe I'll have zero guilt crushing a gourmet burger and fries." Dean encourages his clients to have the same realistic approach to life. "Are you so rigid in your diet that you are willing to give up happiness? Would you miss your son or daughter's birthday cake because you're on a diet? Are you going to pass up a celebratory glass of wine when you get that promotion you've been after? You shouldn't. We aren't robots. We're meant to enjoy the pleasures of life."
Put Nutrients Before Calories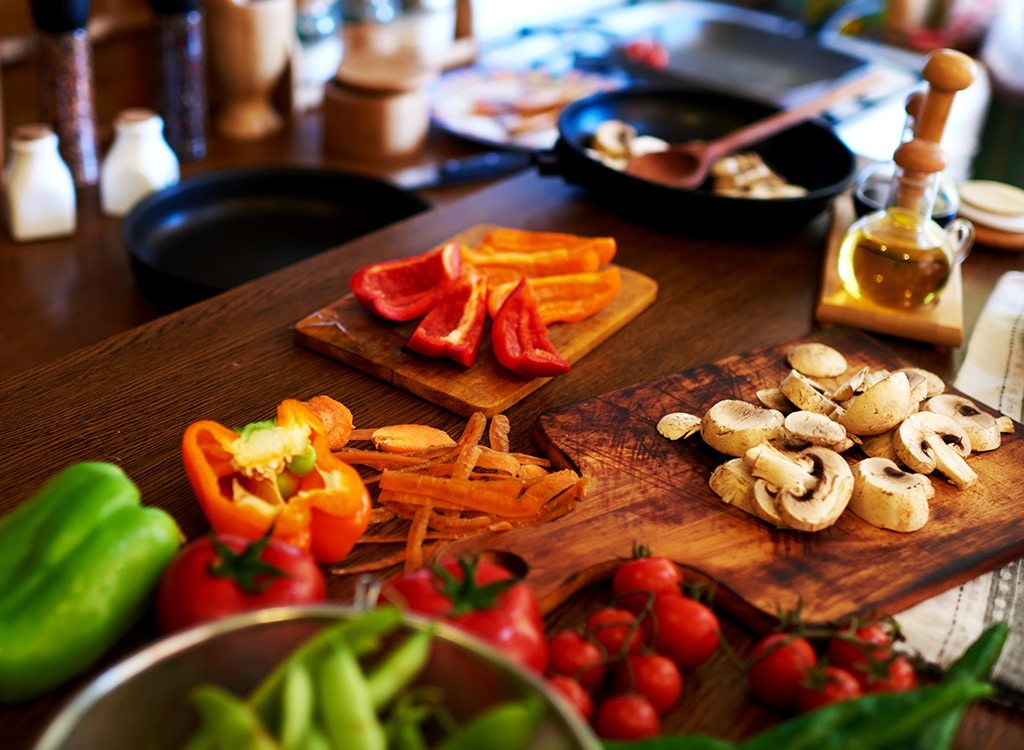 As a personal trainer in the unofficial fitness capitol of the world, Dean meets a ton of people who are looking to improve their bodies. So, of course, we had to ask him whaich mistake he sees his clients making time and time again. His response: Not eating enough food and not eating enough of the right foods. "I see so many people who have screwed up their metabolisms by starving themselves. I've grown up working with dancers who should be indestructible based on their training but end up broken and undernourished. We need to focus on being responsible for what goes in our bodies," says Sheremet. "That means getting in the kitchen and cooking again. You don't have to be a chef to have a few dishes you can pull off. You will save calories, money, and time in the long run." To brush up on some must-know cooking basics so you can cook yourself healthy, study some of these 30 Kitchen Skills Everyone Should Know by 30.
Keep Your Proteins Interesting
Tired of the salad and chicken breast rotation that seems to be the basis of every diet? Dean gives you permission to rebel! "There are so many beautiful protein options in this world to choose from. Bison, turkey, and chicken thighs, for example, are all great options," says Sheremet. To keep the flavor interesting, make Dean's Moroccan-inspired meat rub by combining garlic, cumin, allspice, cinnamon, salt, pepper, and smoked paprika.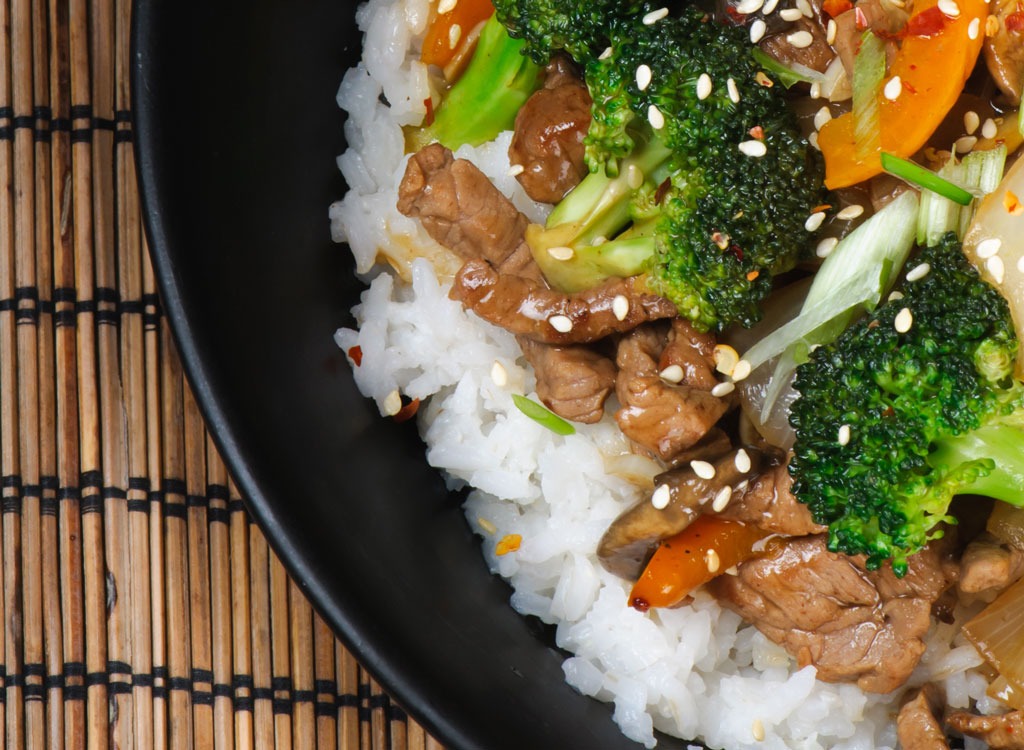 If you spend hours in the gym each week and you're not seeing any noticeable results, your diet is likely to blame. And sometimes, simply avoiding cookies and ice cream isn't enough. In order to get the most out of your regimen, you have to provide your body with the proper fuel, both before and after your sweat session. Dean suggests eating a bowl of oats with some fruit and a touch of maple syrup before hitting the gym. The one thing to avoid: fatty fare like yogurt, avocado, and peanut butter. "If you are less than an hour away from a workout, fats will hang around undigested," warns Dean. "To recover post workout, bring on the carbs! Refuel those depleted glycogen stores and get a good amount of protein in there as well." Quinoa with veggies, and chicken, and a piece of fruit with some almonds are both examples of this powerhouse combo. For even more post-workout meal and snack ideas, check out our special report, 20 Trainers Reveal What They Eat After a Workout.
Know That Diet Trumps Fitness
We all have those crazy hectic weeks where it seems we have to pick between preparing a healthy meal and hitting the gym—and it can be hard to know which option is the smarter one. "Food is the cornerstone of life and will always win," clarifies Dean. "If I know I won't have an opportunity to work out, I'll adjust my diet to fit what I still need to do for life." Simply put, it's more effective to prep healthy meals than it is to hit the gym and re-fuel with processed or store-bought fare that's bound to be more caloric and less wholesome.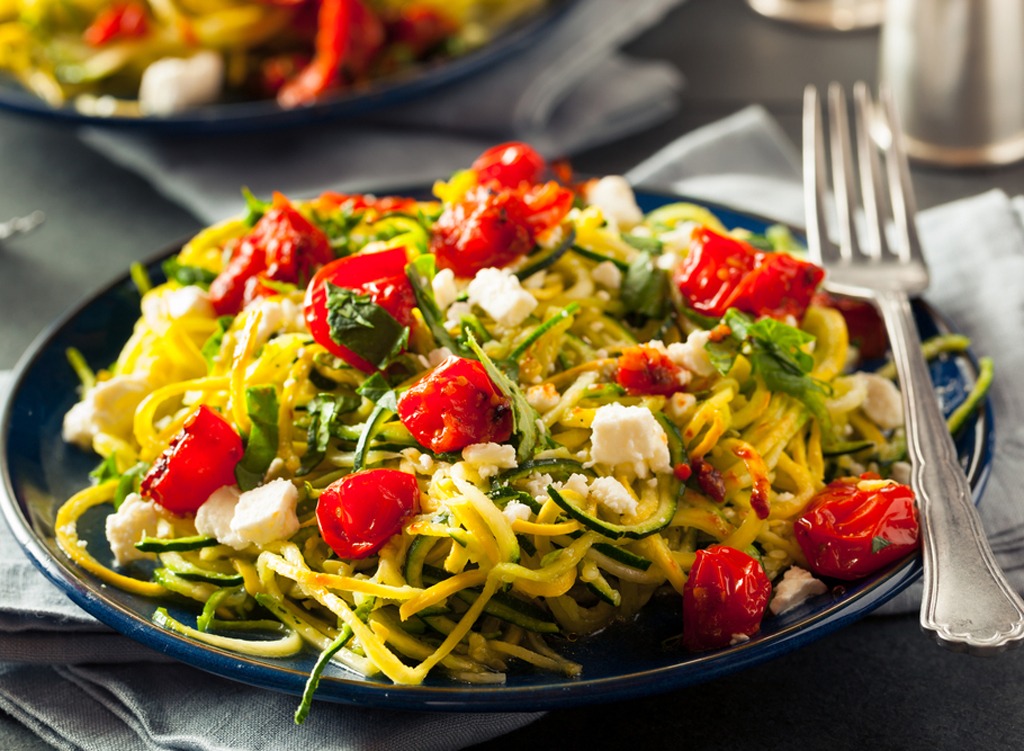 The hottest trend on the diet scene isn't about deprivation or cutting out food groups. It's all about healthified indulgences like swapping spaghetti for zucchini noodles (AKA zoodles), mixing avocado with cocoa to make healthy chocolate pudding, and Dean's favorite: using sliced butternut squash in lieu of lasagna sheets. "It's a two-for-one because it's nutritionally dense and adds an unexpected flavor," he says of his healthy cooking hack. And the options for healthy substitutions are practically endless. For some delicious better-for-you versions of nuggets, burgers ,spring rolls, and more, check out these 20 Homemade, Healthy "Fast Food" Recipes.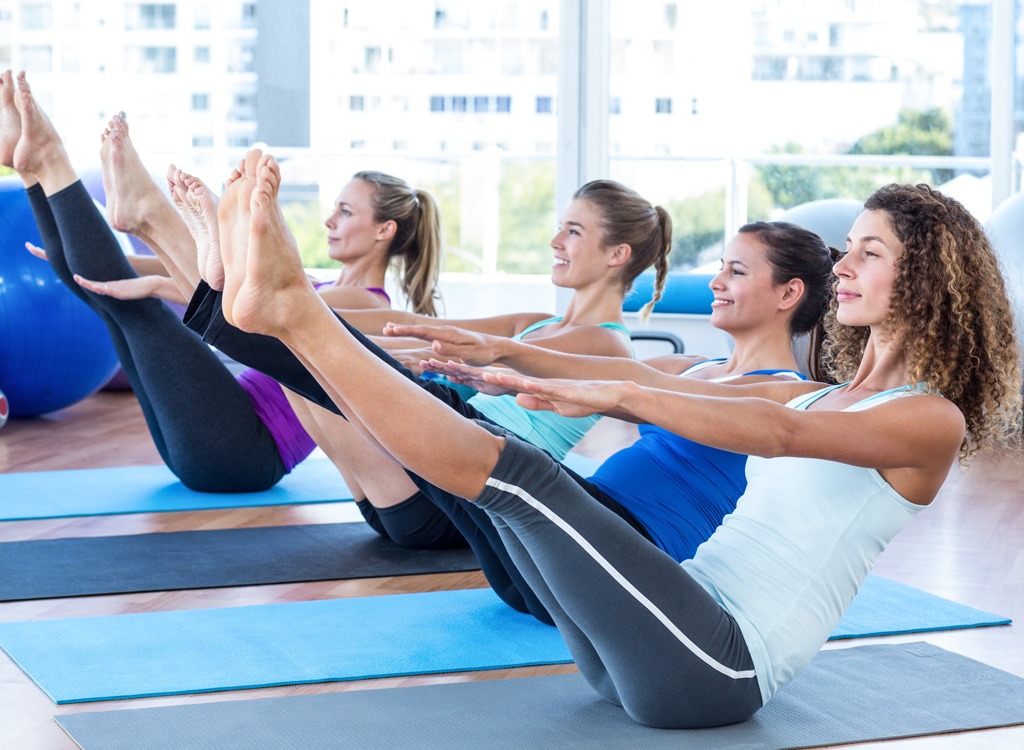 As a member of the fitness community, people ask Sheremet about weight loss all the time. While different strategies work for different people, Sheremet believes the process should be an enjoyable one. Yes, that's right, losing weight doesn't have to make you miserable. "I had a client ask if she could lose 10 pounds in a month. I told her that while it was possible, the process would leave her feeling miserable, hungry, and overtrained. She didn't look pleased. I told her that the healthy way to reach her goal is to chip away at the weight slowly. This will allow her to enjoy life and actually think of working out as a pleasure. At the end of the day, what's the point of losing 10 pounds if you aren't going to enjoy or the process or be happy?"