25 Popular Fast-Food Orders You Can Make at Home
French fries, chicken nuggets, cinnamon rolls, and more!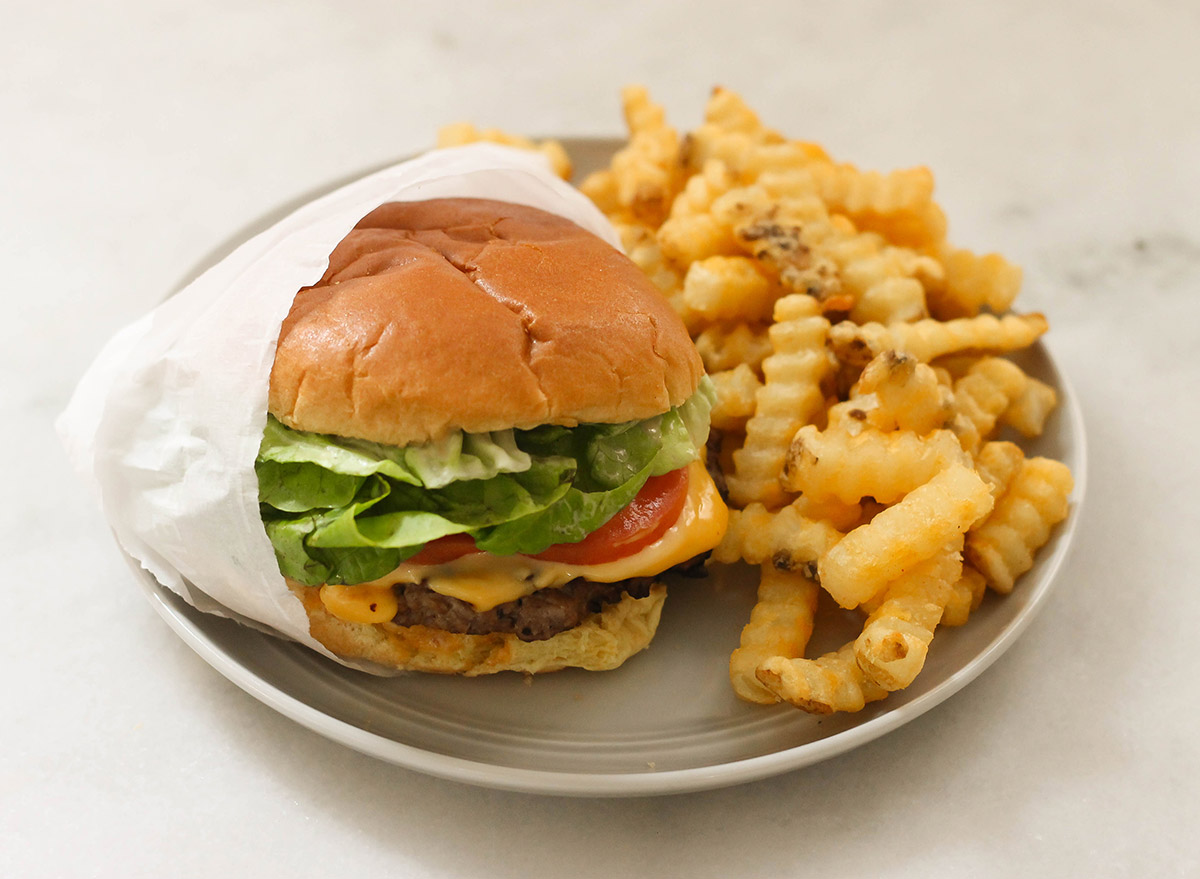 While many of your favorite fast-food drive-thrus are open for takeout during the coronavirus pandemic, should you really be eating fast food during the coronavirus? Experts say it's OK, but there are some precautions you'll need to take. Instead of risking it outside the house, you can still eat your favorite copycat fast-food recipes from the comfort of your home.
That's why we've rounded up recipes that flawlessly mimic your guilty pleasures but won't require you to leave the house. And for more, check out these 15 Classic American Desserts That Deserve a Comeback.
Copycat Wendy's Chili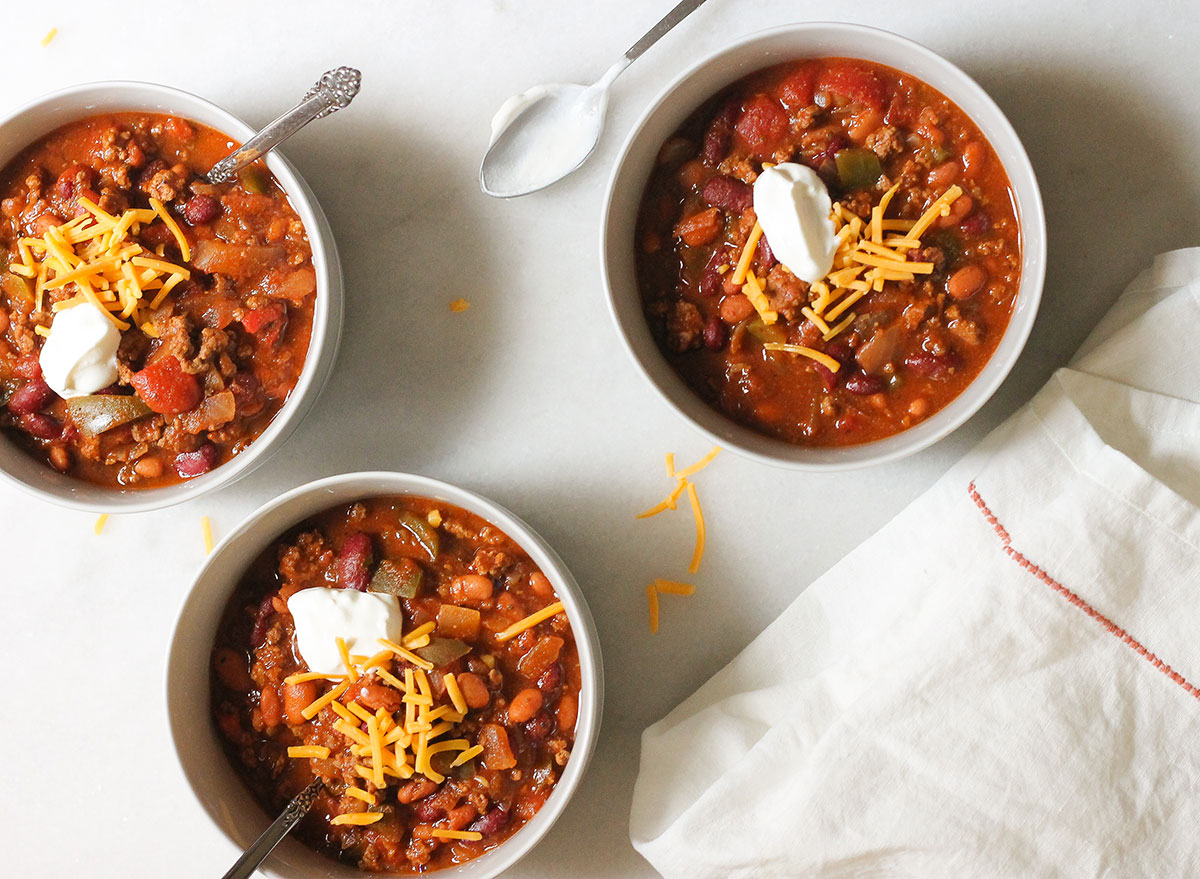 Thanks to a clear list of ingredients on Wendy's website, this was one of the easiest copycat recipes to put together. According to the list, Wendy's chili has a chili base, tomatoes, chili beans, pink beans, kidney beans, onions, celery, green peppers, ground beef, chili pepper, garlic powder, and spices. While the chain's recipe also has sugar and modified corn starch in it, we knew you can have a delicious chili without either of those additives, so this version does not include them.
Get our recipe for Copycat Wendy's Chili.
And for more food news and recipe ideas, be sure to sign up for our newsletter.
Copycat Shake Shack Burger & Sauce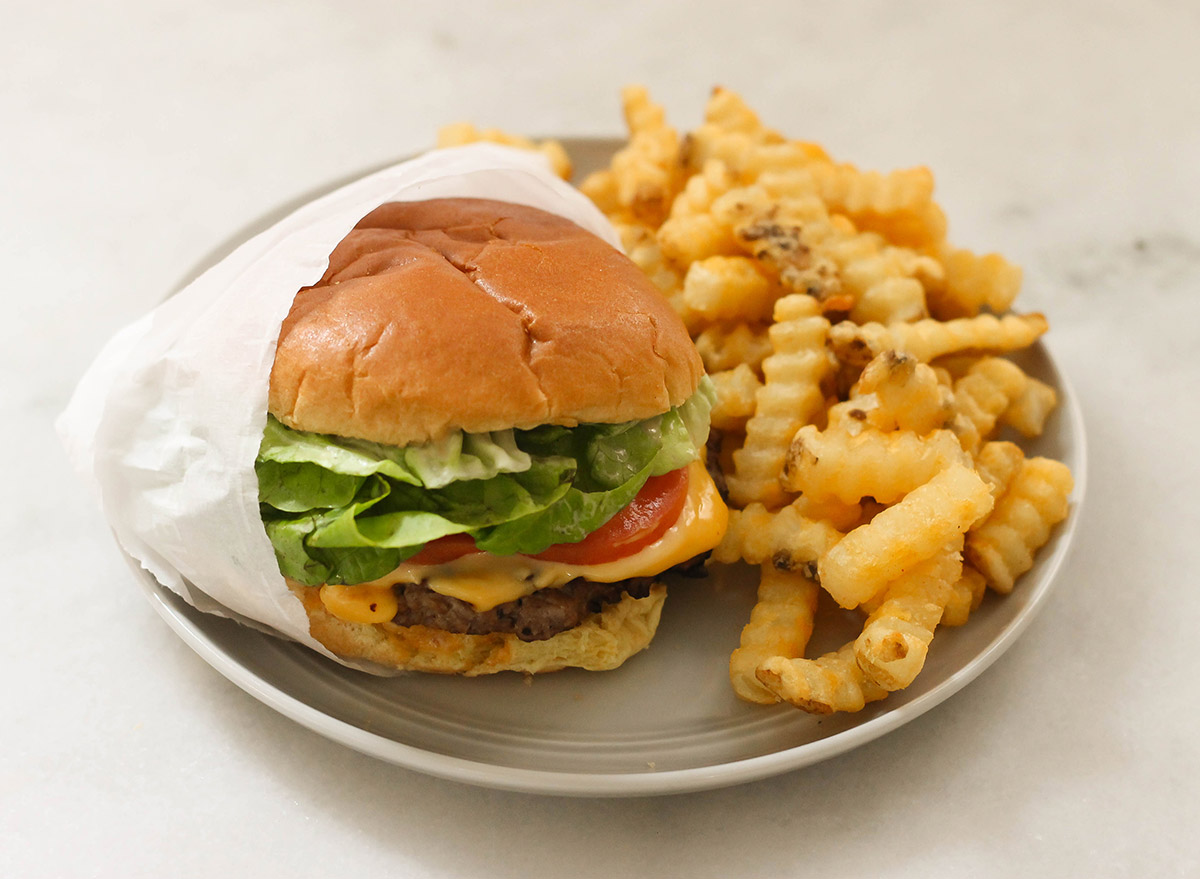 After doing some personal investigating, we were able to develop a burger identical to the ones that you'd see at Shake Shack—sauce included! What's the trick to perfect Shake Shack sauce? Pickle brine!
Get our recipe for Copycat Shake Shack Sauce.
Copycat Panera Broccoli Cheddar Soup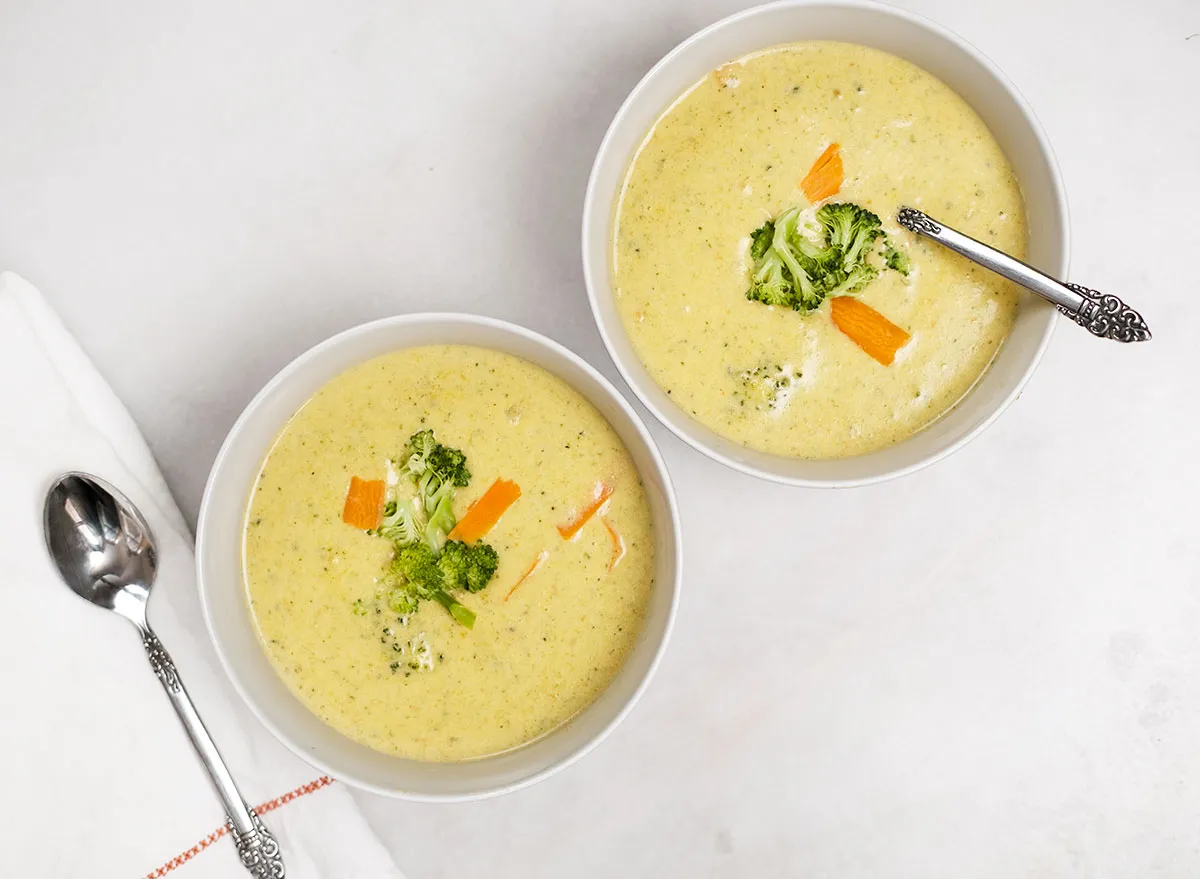 Don't have the time (or the budget) to head to Panera for a bowl of broccoli cheddar soup? Make your own version at home! The best part? You can make the entire copycat recipe in one pot, and it makes at least four servings—perfect for your lunch meal prep! Like the idea of using and cleaning only one pot? Don't miss these 30 Quick & Easy One-Pot Meals.
Get our recipe for Copycat Panera Broccoli Cheddar Soup.
Copycat McDonald's Big Mac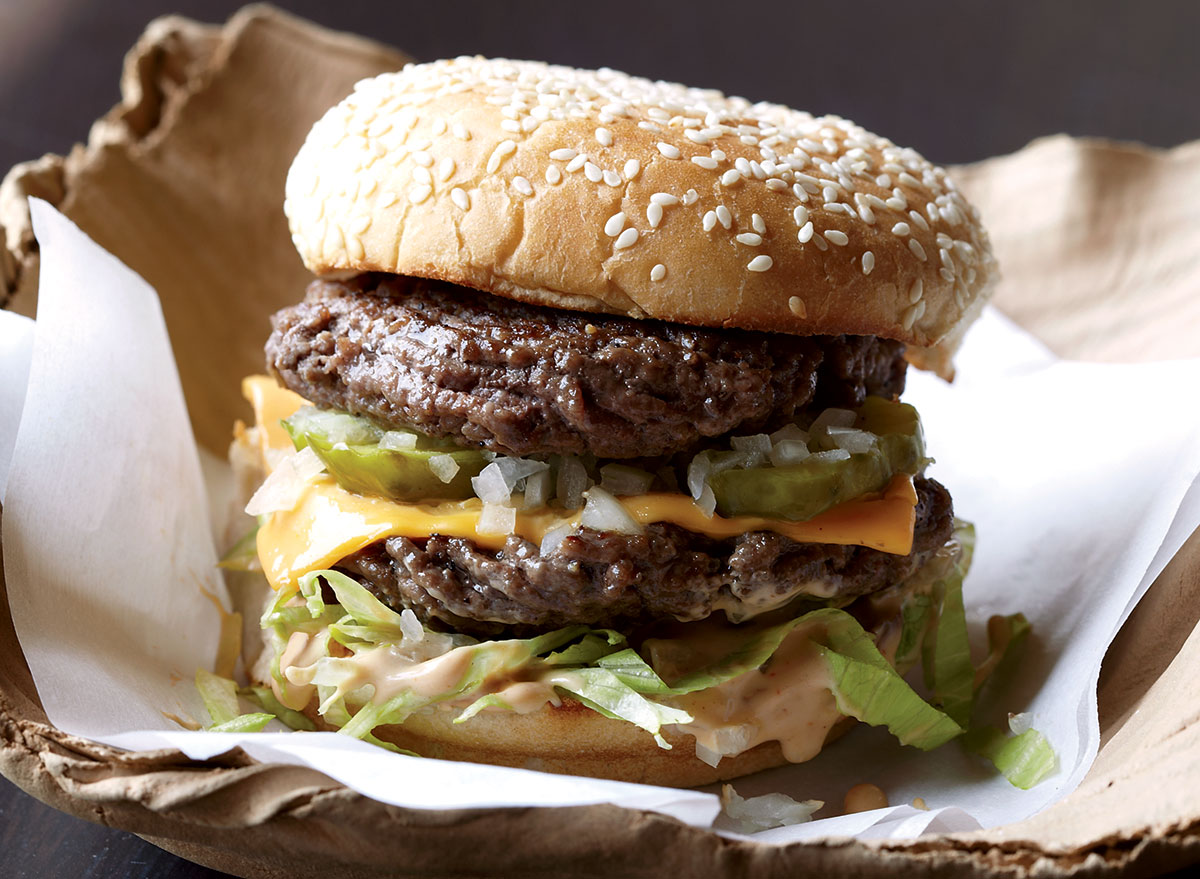 There are two main issues with the Big Mac as it stands: The quality of the ingredients is subpar, and the middle bun is absolutely superfluous. We replace the mystery meat with lean ground sirloin, sear it in a cast-iron skillet until beautifully browned, then bring the classic ingredients together inside a single, squishy sesame seed bun. It's one of our favorite copycat recipes to date.
Get our recipe for The Best Copycat Big Mac Recipe.
Copycat Taco Bell Chili Cheese Burrito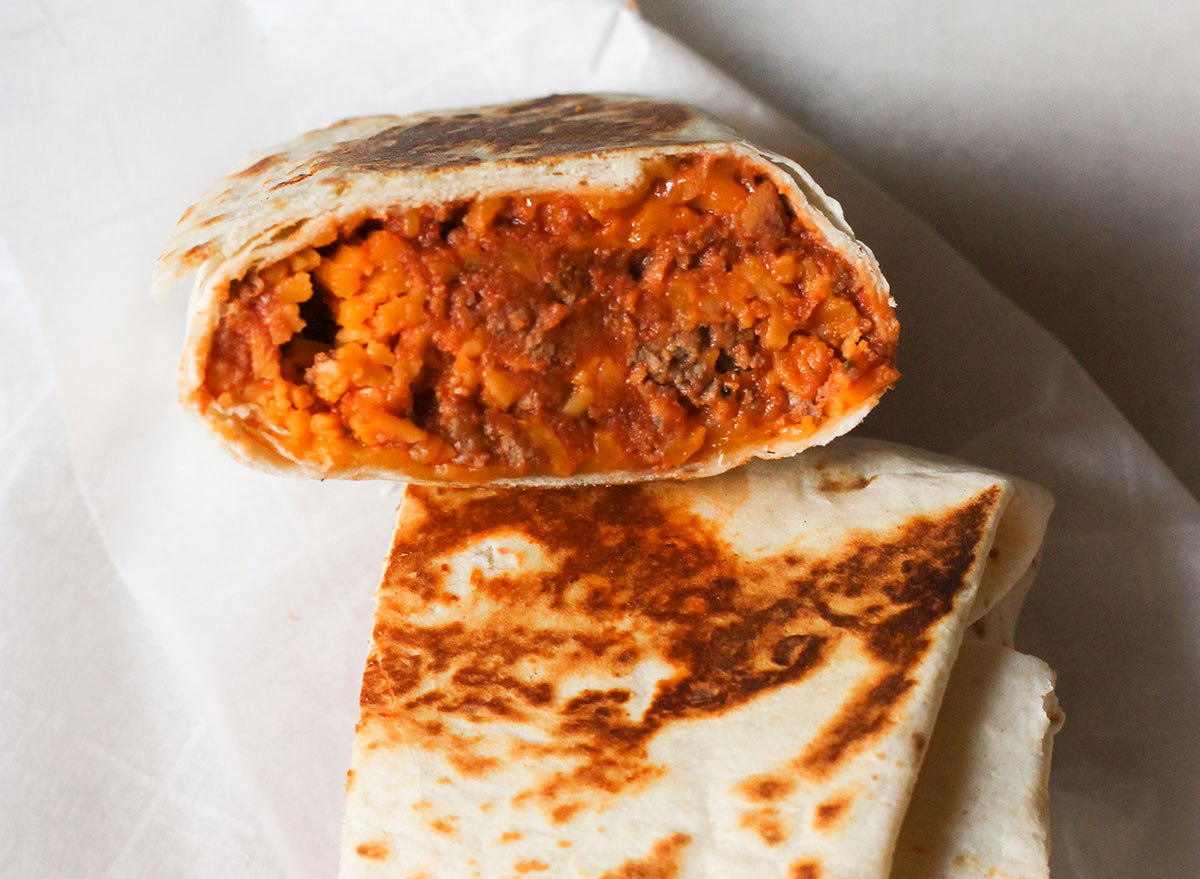 If you haven't heard of the chili cheese burrito from Taco Bell, there's a reason for it: It's not even on the menu anymore! While this iconic Taco Bell menu item has created quite the following, it's not something you can get at any ol' Taco Bell anymore. That's why we made a copycat version of it!
Get our recipe for Copycat Taco Bell Chili Cheese Burrito.
Copycat Burger King Steakhouse King Burger
While this burger may not be on the menu anymore, the Steakhouse King was a double quarter-pounder with thick-cut bacon, A.1 sauce, crispy onions, and melted American cheese. Make your own healthier version of it with our Smashed A.1. Swiss Burger recipe for only a third of the calories of Burger King's version.
Get our recipe for an A1 Swiss Burger.
Copycat Smoothie King Strawberry Smoothie
Don't live near a Smoothie King? Get the same taste from their Gladiator Strawberry smoothie with this easy strawberry smoothie recipe.
Get our recipe for Creamy Strawberry Smoothies.
Copycat McDonald's Yogurt Parfait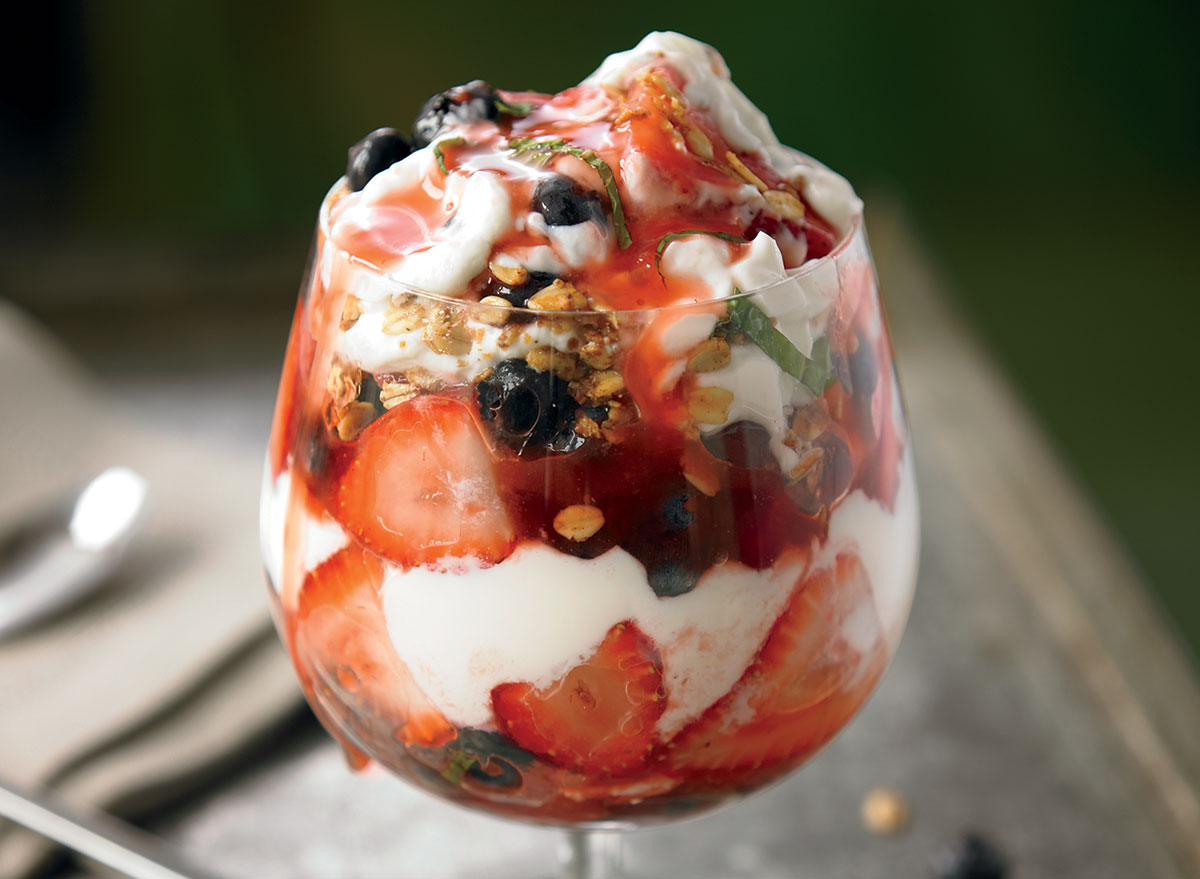 The yogurt parfaits at McDonald's are easy for a quick grab in the morning, so why not prep your own versions of it at home? This indulgent parfait is decadent enough to be a dessert, but with exactly what you need to start your day or snack: a mix of protein and fiber.
Get our recipe for Yogurt Parfaits.
Copycat Arby's Traditional Greek Gyros
Are you a super fan of Arby's Greek gyros, but don't live close to an Arby's currently? Get the same great taste thanks to one of our easiest copycat recipes. Don't feel like putting in that much effort into meals? You're going to want to read up on these 51+ Easy Weeknight Dinners You Can Throw Together in Minutes.
Get our recipe for Grilled Greek Lamb Gyros.
Copycat Zaxby's Brownie
Zaxby's is popularly known for its chicken, but the true fans know that the brownies are the real prize of this establishment. If you don't live near a Zaxby's, make a homemade version of their fudgy brownie at home with our copycat recipe.
Get our recipe for Fudge Brownies.
Copycat Arby's Stuffed Jalapeño Bites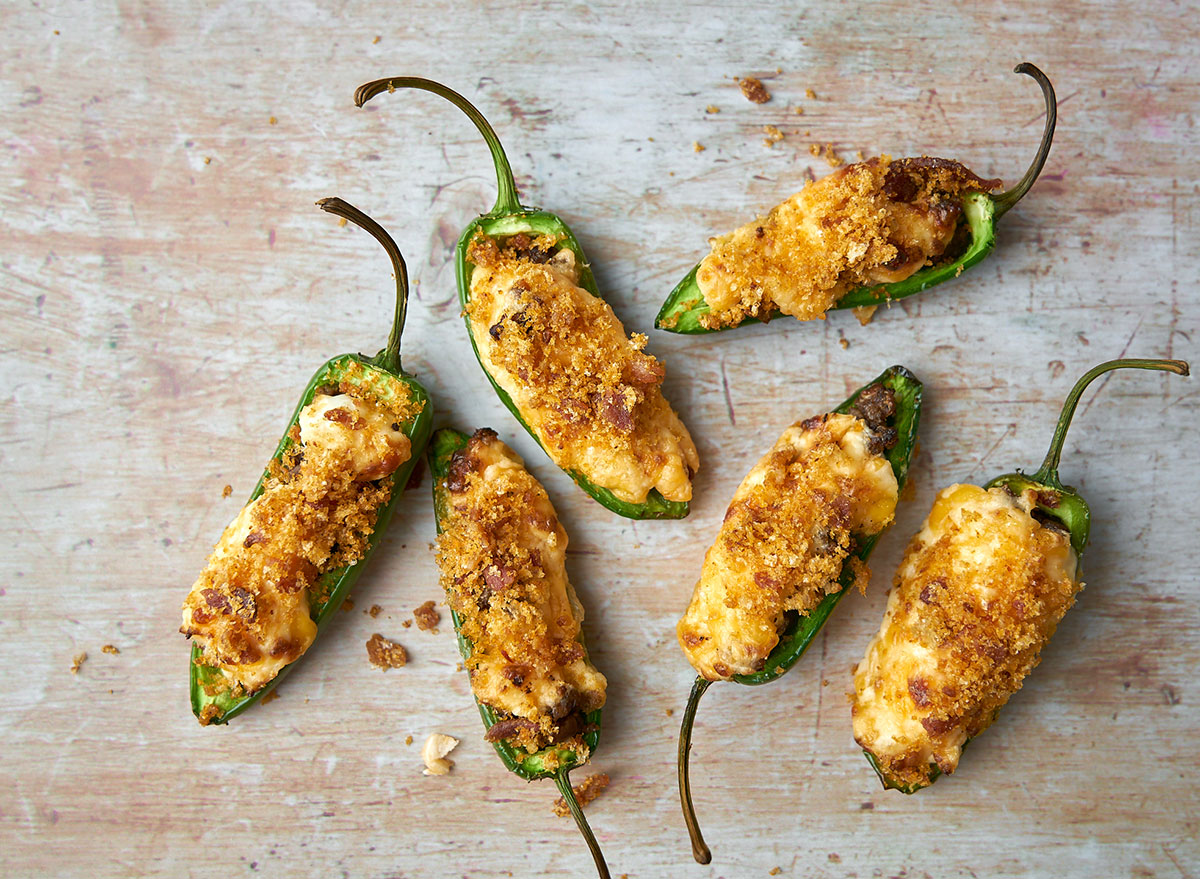 Looking to go low-carb, but craving a basket of Arby's stuffed Jalapeño bites? Well with one of our delicious copycat recipes, you get the best of both worlds! These are stuffed with ground beef and a full-fat, creamy cheese filling, then topped off with a combo of crispy bacon and pork rinds for extra flavor.
Get our recipe for Stuffed Jalapeño Bites.
Copycat Wendy's Bacon Cheese Baked Potatoes
If you're not in the mood for fries and you would rather something heartier, Wendy's Bacon Cheese Baked Potatoes are an easy choice to make your meal even more filling. So why not do the same at home with our twice baked potato recipe? It's topped with cheese, bacon, and green onions, and we make it lighter by swapping out the sour cream with Greek yogurt.
Get our recipe for Twice-Baked Potatoes.
Copycat Chipotle Guacamole
Why pay extra for guac when you can make your own? Indulge in a bowl of guacamole with chips, or atop a homemade burrito, for no extra charge.
Get our recipe for Guacamole.
Copycat Subway Chocolate Chip Cookies
Those chocolate chip cookies at the Subway checkout sure do look tempting, but skip them! Why? Because you can have your own version of them—for fewer calories—waiting for you right at home. Don't worry, these cookies still have butter and chocolate! We just use less of it so you can get the same delicious taste for fewer calories.
Get our recipe for Chocolate Chip Cookies.
Copycat Domino's Deluxe Pizza
While our version of sausage pizza is slightly different, we have a feeling you'll love this homemade pizza as much as you love the Domino's version. Domino's Deluxe Pizza includes pepperoni, Italian sausage, peppers, onions, mushrooms, and onions. Our pizza still has Italian sausage and peppers, but we lighten it up on the meat by skipping on the pepperoni and add spinach instead.
Pizza fan? How many of these 20 Crucial Mistakes That Are Killing Your Homemade Pizza are you committing?
Get our recipe for Sausage and Pepper Pizza.
Copycat Shamrock Shake Recipe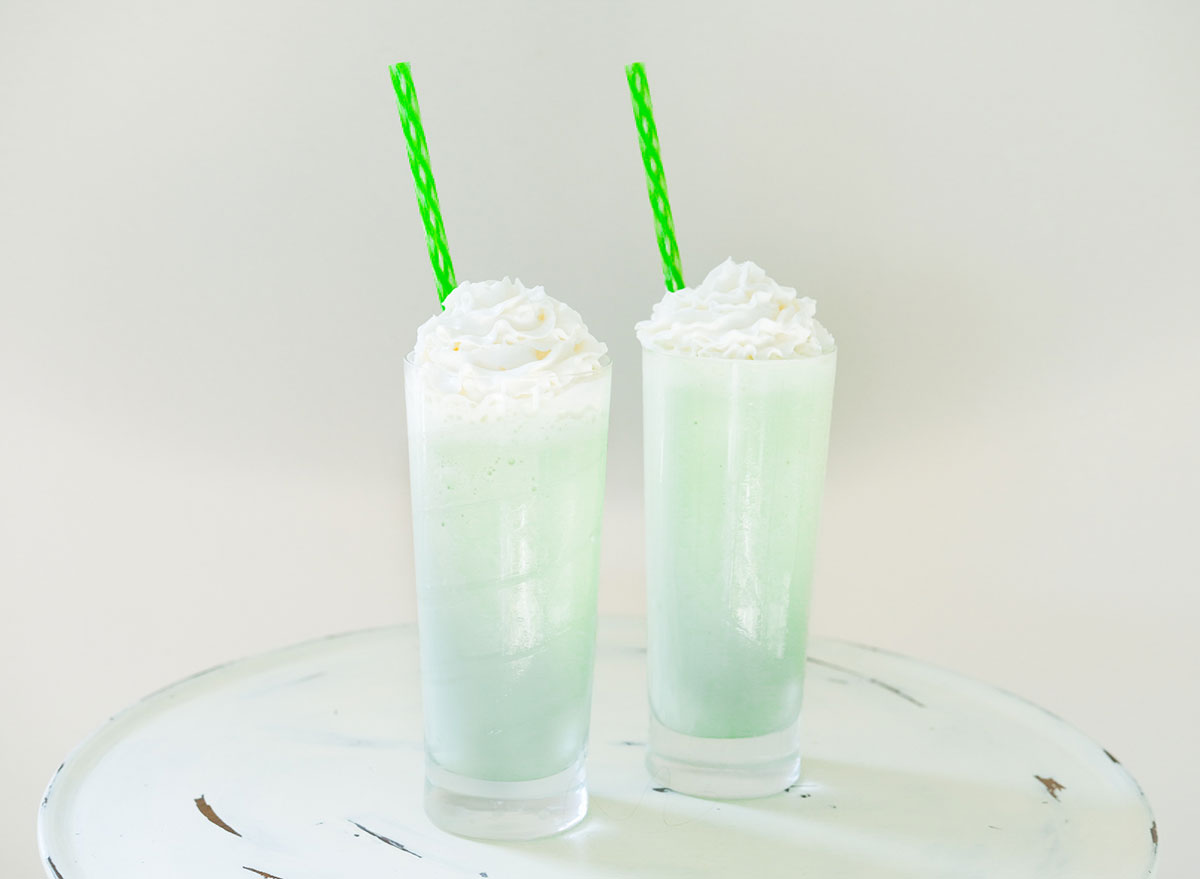 Get the same taste of the real thing with this easy-to-make recipe, which follows our old-fashioned milkshake recipe, then adds a little something extra to give it that shamrock shake look and flavor that we all know. It's an indulgent treat, so make sure to save it for a special occasion!
Get our recipe for Copycat Shamrock Shake Recipe.
Copycat Starbucks Caramel Frappuccino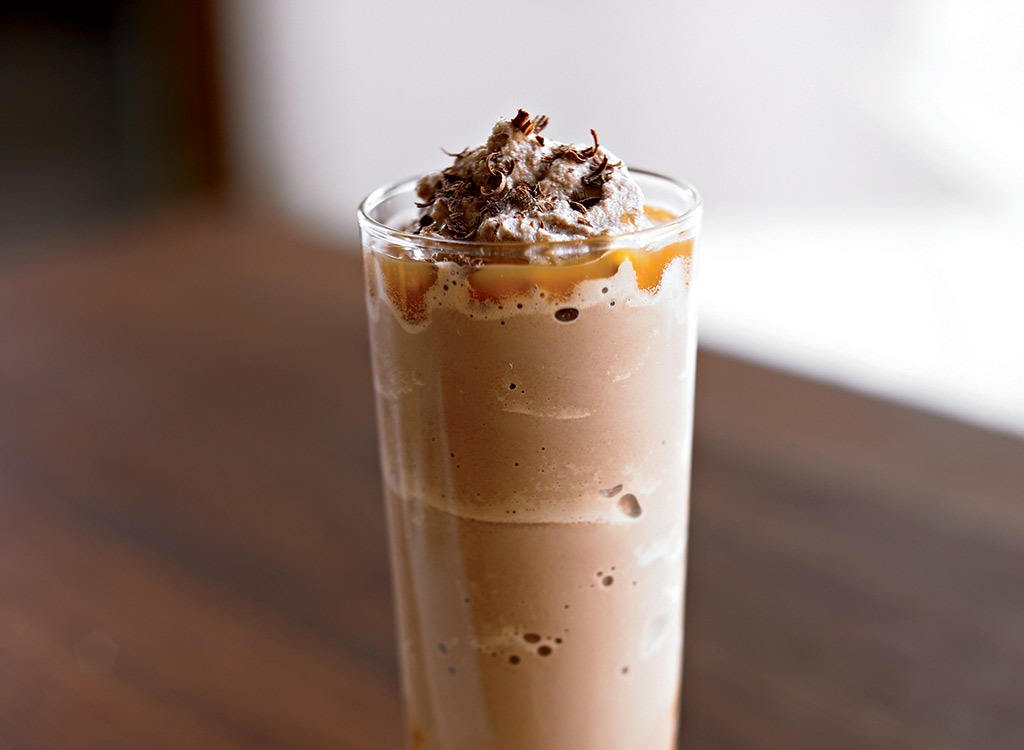 Skip the excess sugar that comes from those Starbucks Frappuccinos and make your own version of it! Enjoy a sweet treat without completely going over your calorie budget for the day with one of our favorite copycat recipes.6254a4d1642c605c54bf1cab17d50f1e
Get our recipe for Copycat Starbucks Caramel Frappuccino.
Copycat Chipotle Pico de Gallo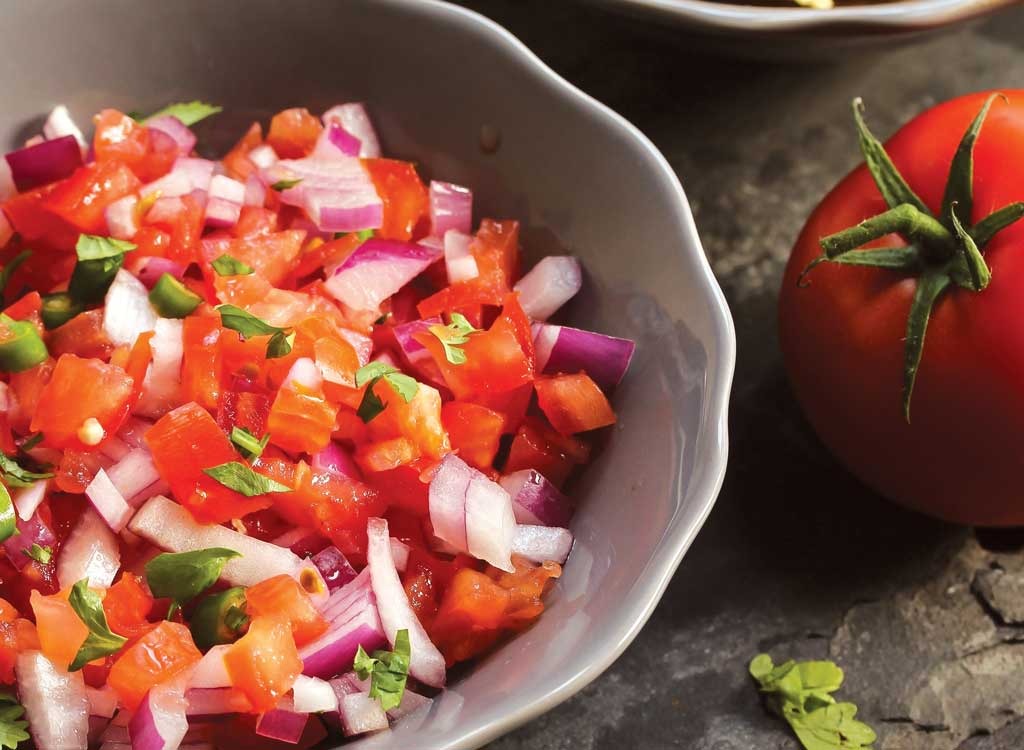 While the guacamole is a coveted topping at Chipotle, their Pico de Gallo is also a customer favorite. Plus, it's all healthy vegetables! Make a large bowl of it and throw it on all kinds of meals this week. Chicken? Sure! Salads? Why not! The possibilities are endless.
Get our recipe for Pico de Gallo.
Copycat Dunkin' Ham, Egg & Cheese Sandwich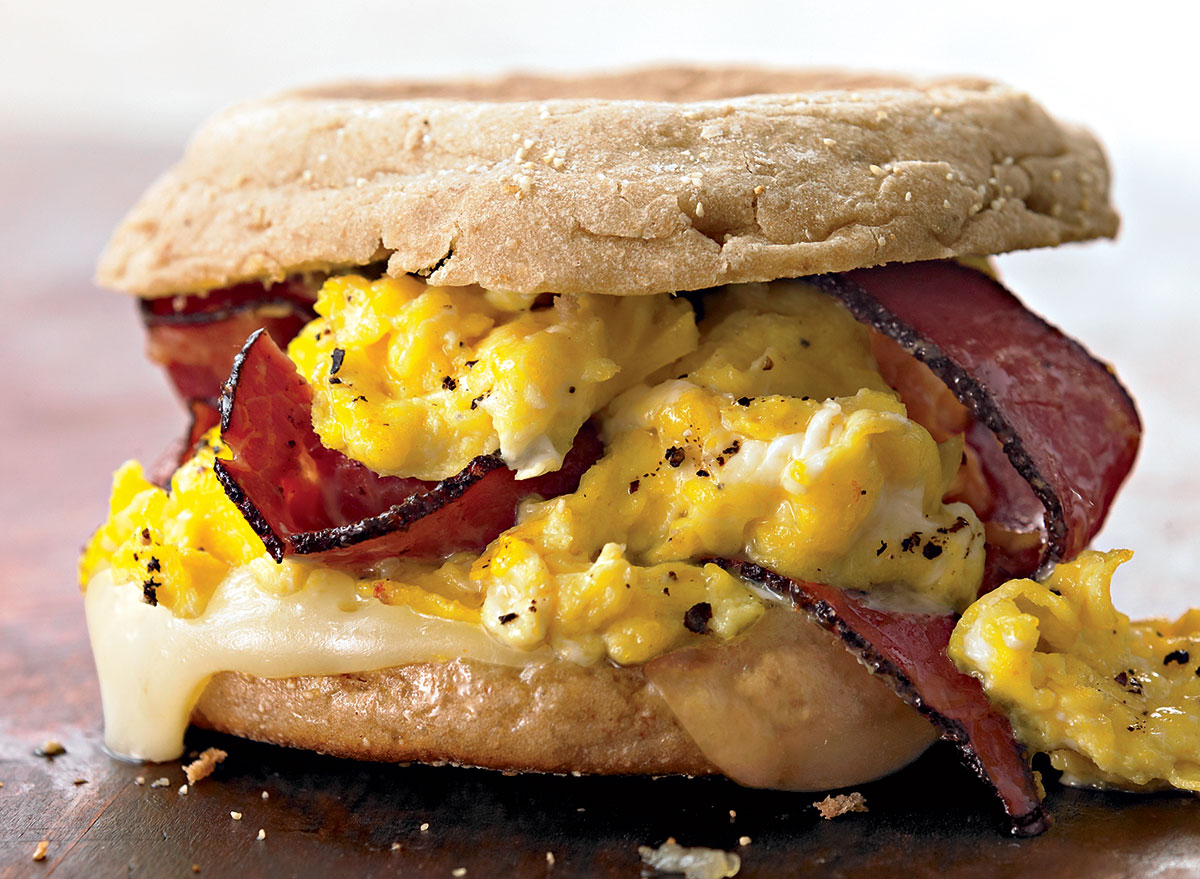 Making this egg sandwich may not be as convenient as grabbing a Dunkin' Ham, Egg & Cheese, but we promise it will be worth the work. Our egg sandwich is made with pastrami and Swiss cheese, giving this sandwich an eclectic taste that you're going to love.
Get our recipe for an Egg Sandwich With Pastrami and Swiss.
Copycat Dairy Queen Milkshakes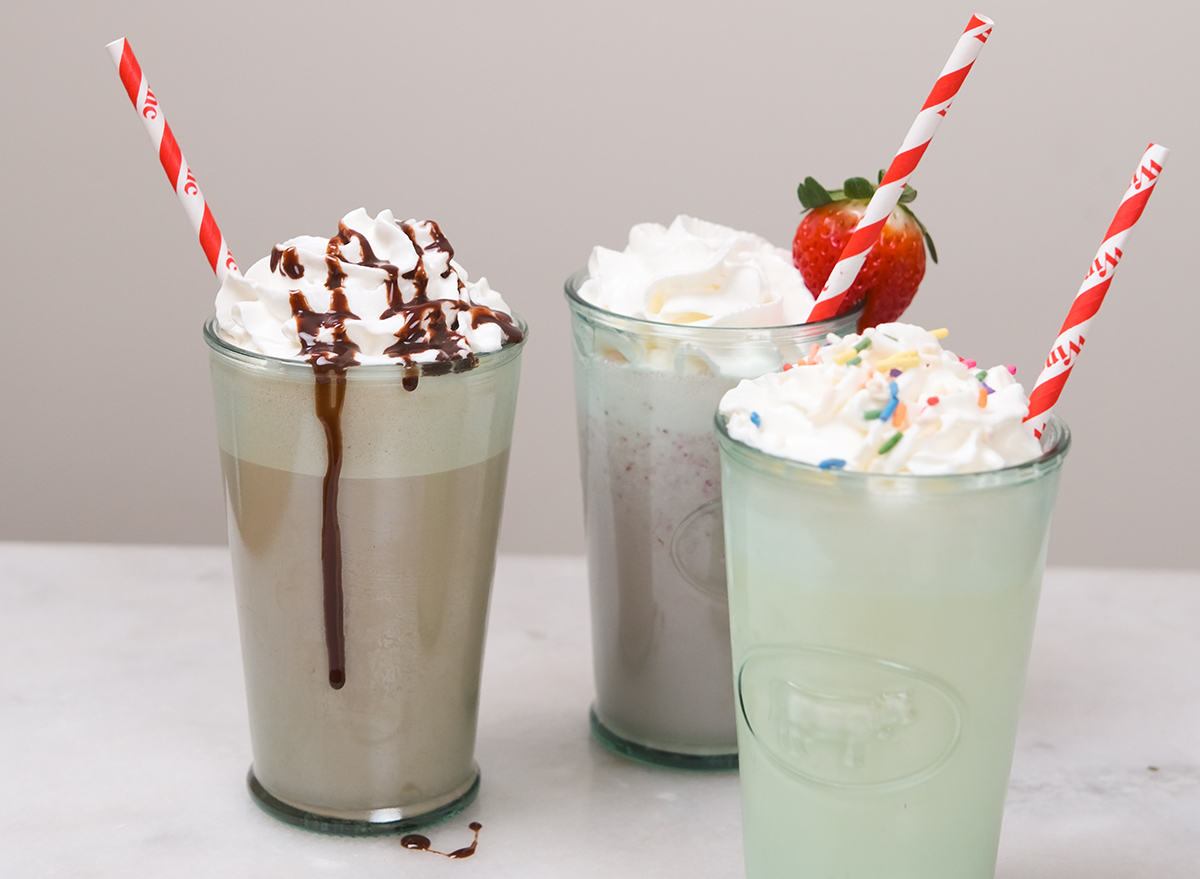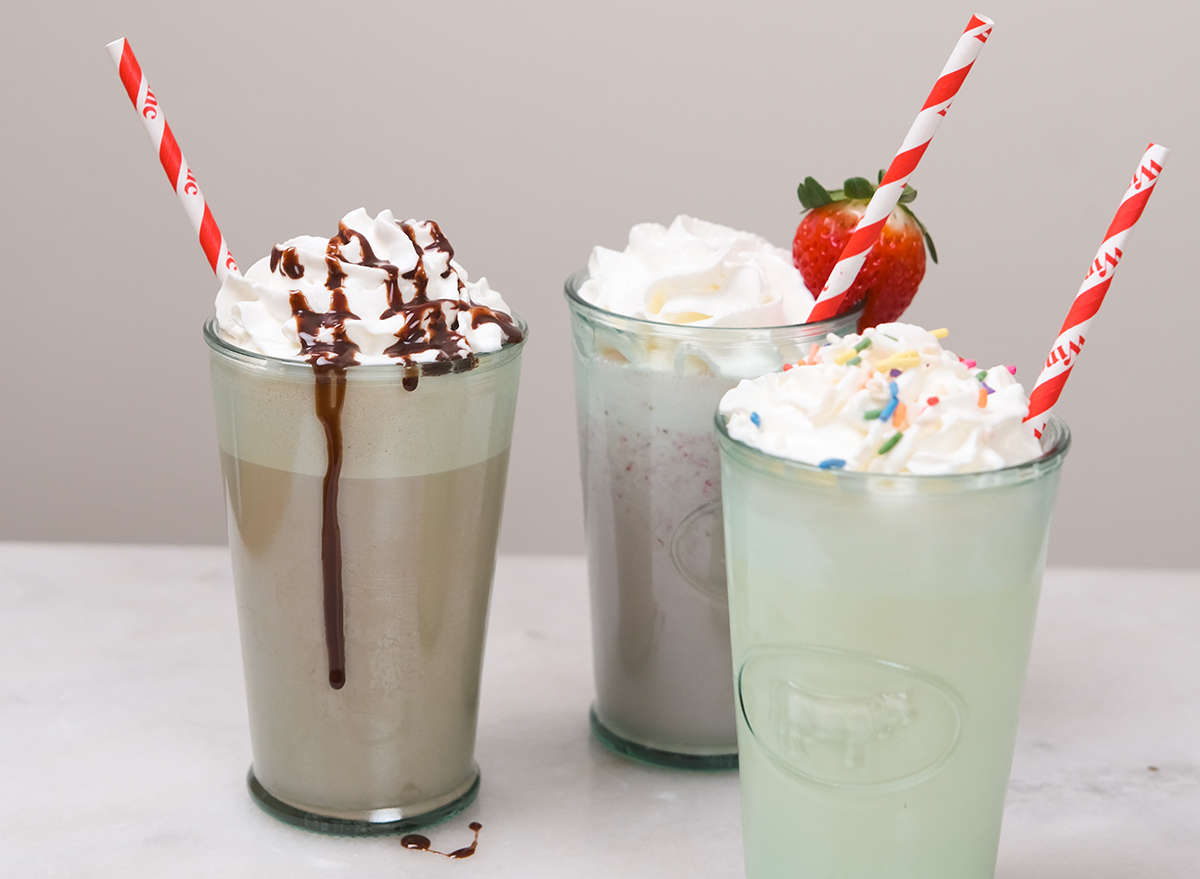 You don't need to go to Dairy Queen for a creamy milkshake! Thanks to our easy tutorial, you can enjoy an old-fashioned milkshake at home for fewer calories. Plus, you can make it with whatever flavors you want!
Get our recipe for Copycat Dairy Queen Milkshakes.
Copycat KFC Fried Chicken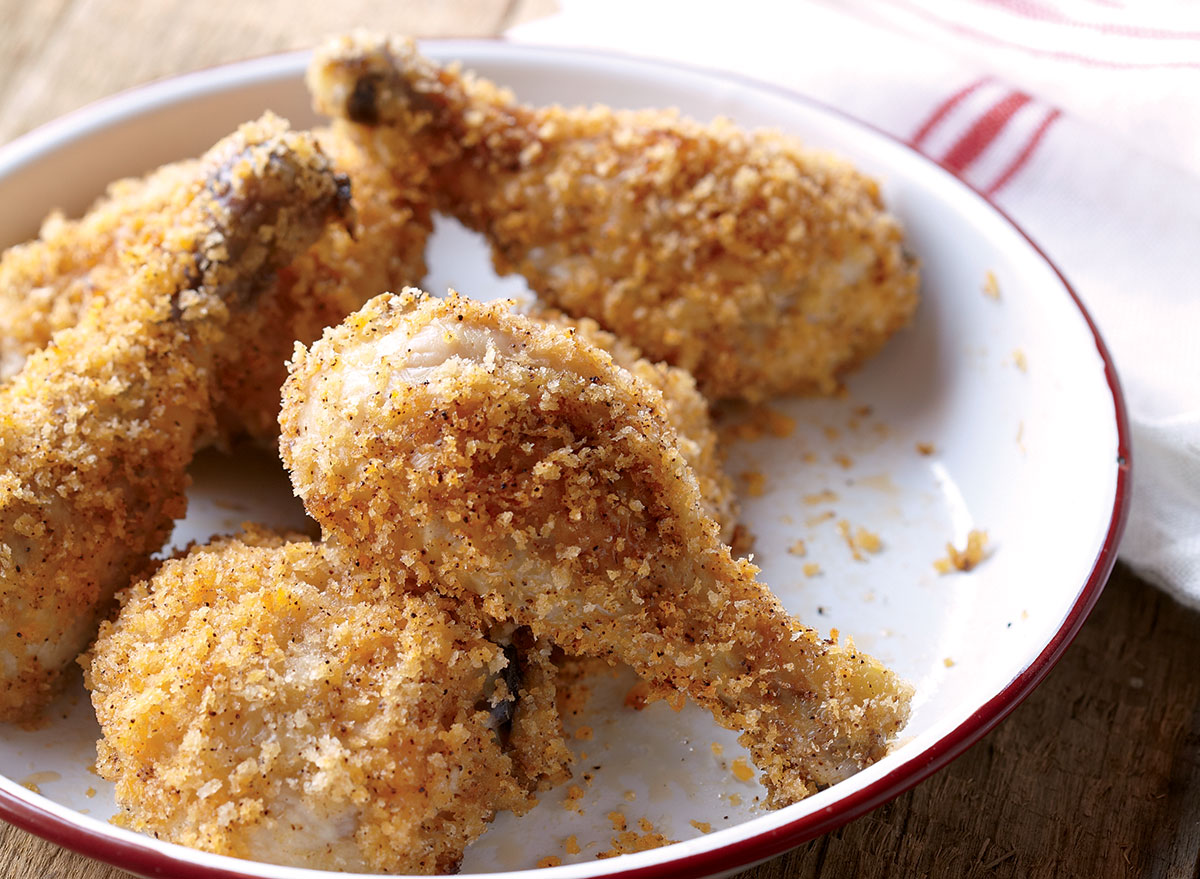 We'll be the first to admit that the idea of oven-fried chicken rubs us the wrong way. Usually, the chicken comes out dry and the crust soggy or non-existent, leaving your need to eat crispy, juicy food unfulfilled. But this version of the oven-fried chicken recipe defies all expectations. The result? The juiciest, crispiest oven-fried chicken ever.
Get our recipe for Oven-Fried Chicken.
Copycat Panera Chicken Noodle Soup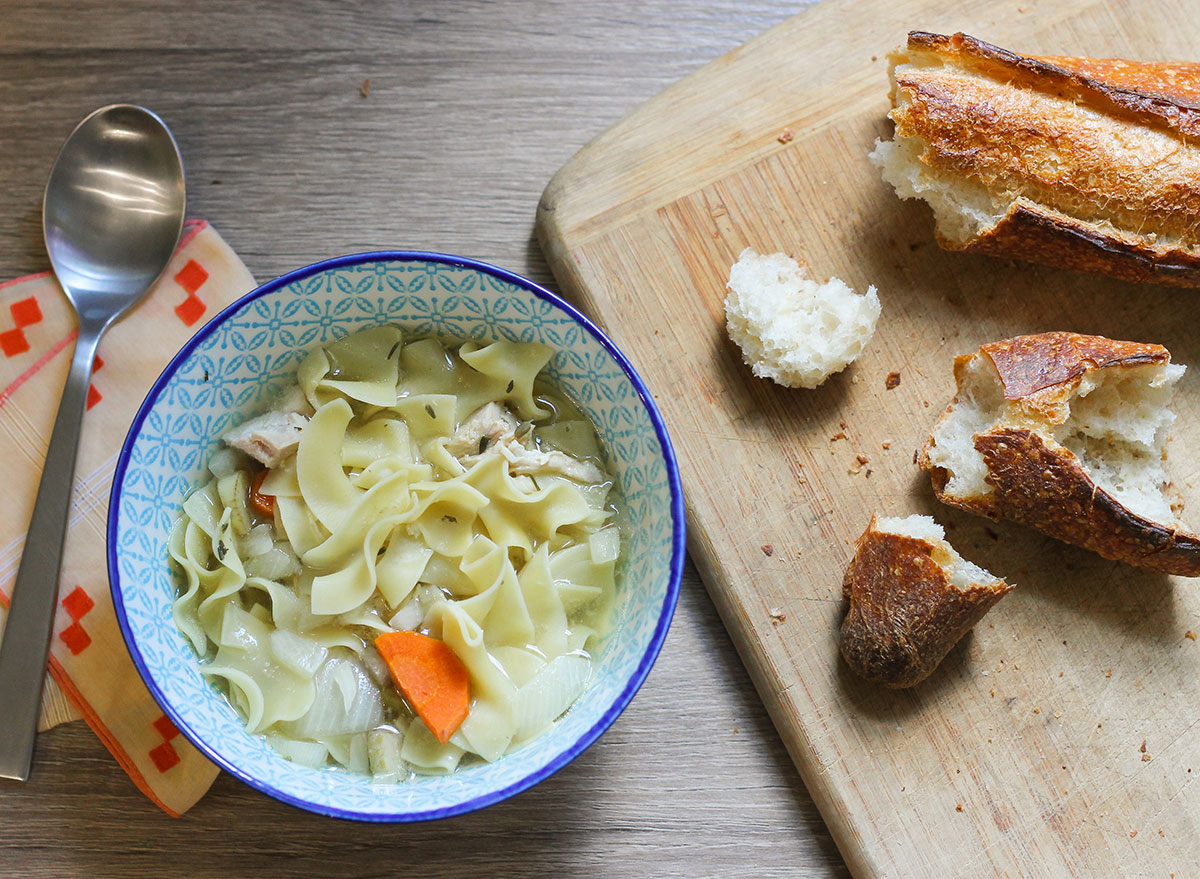 Chicken noodle soup in a bread bowl sure is a comforting meal but can leave you feeling drowsy afterward thanks to all of those carbs. Lighten it up with your own chicken noodle soup—which you can easily prep in a Crock-Pot—with some fresh crusty bread on the side.
Get our recipe for Crock-Pot Chicken Noodle Soup.
Copycat Culver's North Atlantic Cod Dinner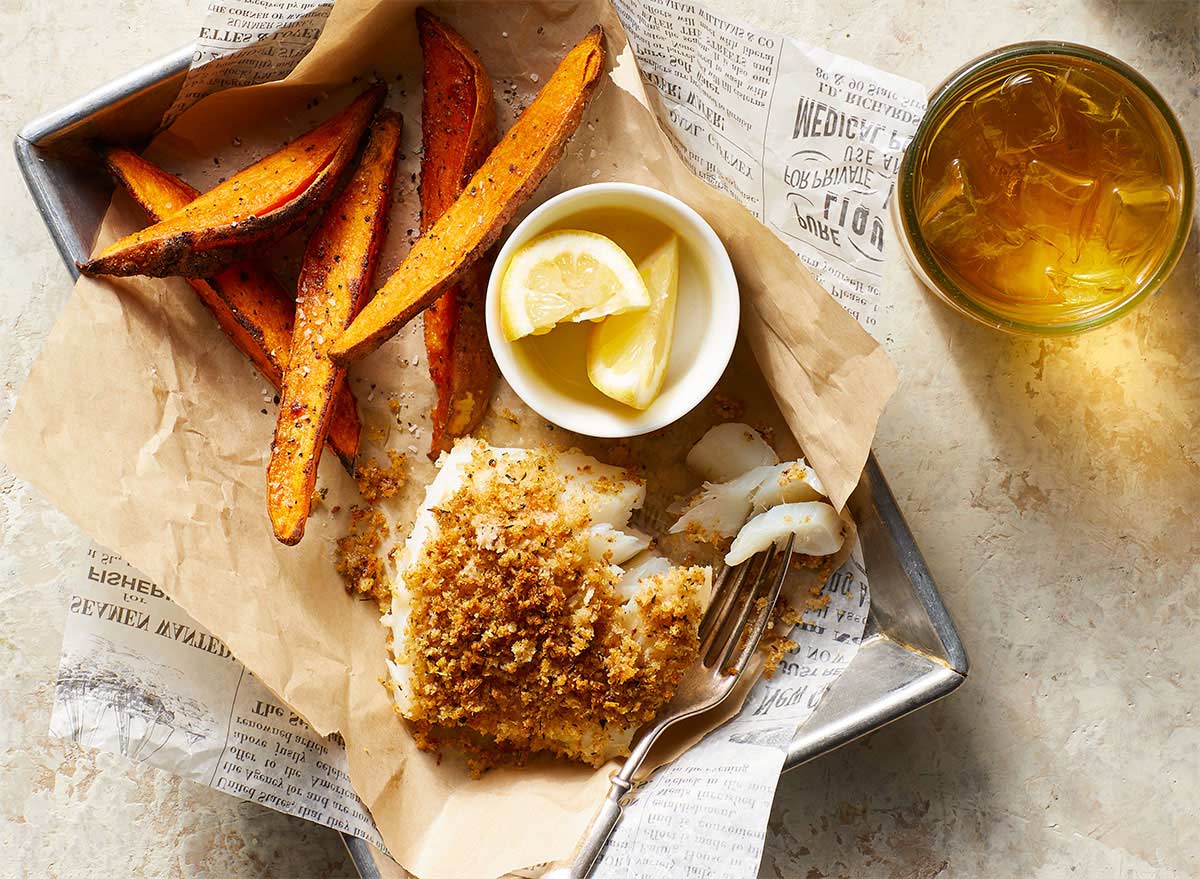 Skip the fried fish and opt for baked fish instead! With this crispy cod—served with sweet potato fries—you won't even miss the fried version.
Get our recipe for Crispy Cod with Sweet Potato Fries.
Copycat Chick-fil-A Nuggets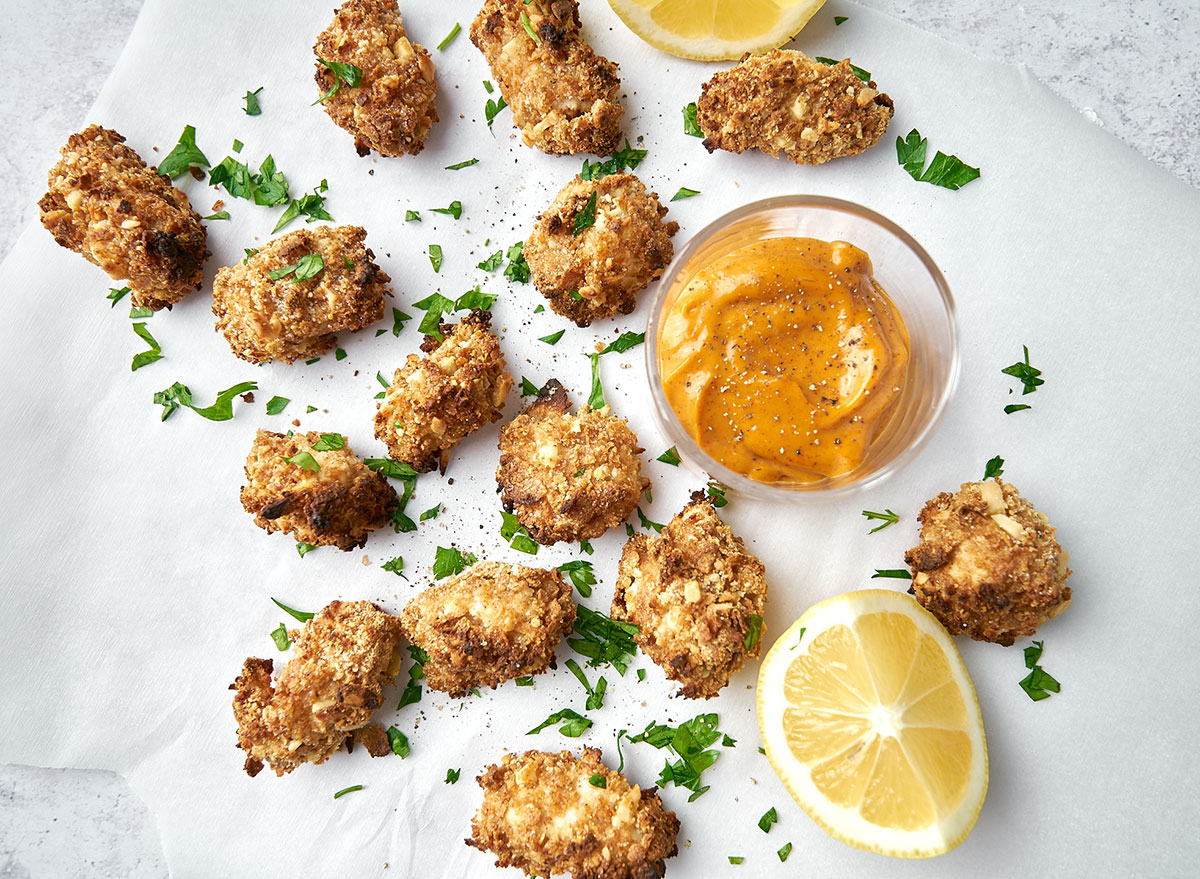 Think you can't eat chicken nuggets while you're on a low-carb diet? Think again! This ultra-crunchy, oven-baked chicken recipe begins and ends with a very special, keto breaded crust. We use almond flour, chopped almonds, and a flaky spelt cereal to create a unique crunchy combo that adheres beautifully to little pieces of chicken.
Get our recipe for Popcorn Chicken Nuggets.
Copycat Wendy's Chicken Nuggets
These golden nuggets are crusted with almonds, one of the best nuts for a lower BMI. In fact, a 2003 study in the American Journal of Clinical Nutrition demonstrated that munching on these nuts gave dieters left dieters more satisfied and less likely to overeat, thus increasing weight loss.
Get the recipe from Gimme Some Oven.
For more, check out these 108 most popular sodas ranked by how toxic they are.
Eat This, Not That!
Inspired by The New York Times best-selling book series, Eat This, Not That! is a brand that's comprised of an award-winning team of journalists and board-certified experts, doctors, nutritionists, chefs, personal trainers, and dietitians who work together to bring you accurate, timely, informative, and actionable content on food, nutrition, dieting, weight loss, health, wellness, and more.
Read more about Eat This