18 Teas That Taste Like Dessert
Since dessert is a once-in-awhile indulgence, drink these calorie-free teas, instead!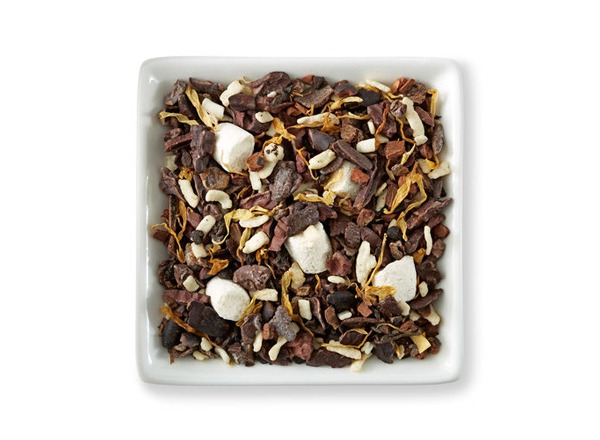 Although there might always be room for dessert, sometimes it's best to skip out on the diet-derailing post-meal indulgence. Instead of loading up on unnecessary calories, sugars, and fat, opt for a sweet and decadent dessert tea. With tons of flavor and health benefits, they're the perfect alternative for if you're looking to lose weight, reduce stress, and feel better overall.
Almond Sugar Cookie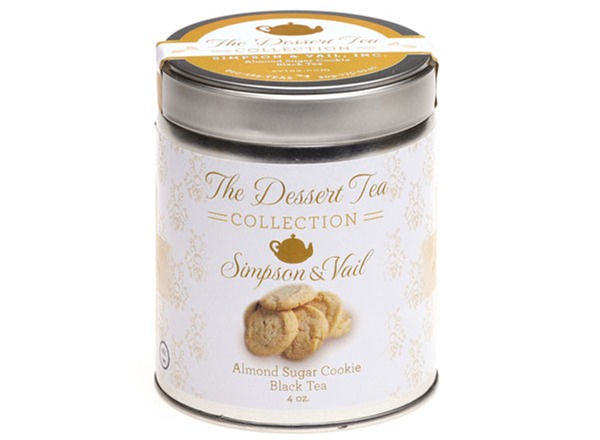 Black Tea
Complete with real almonds, brewing this dessert tea will fill your kitchen with such a warm, delicious aroma, people might think you actually baked a batch of cookies!
Cocoa Mint Mate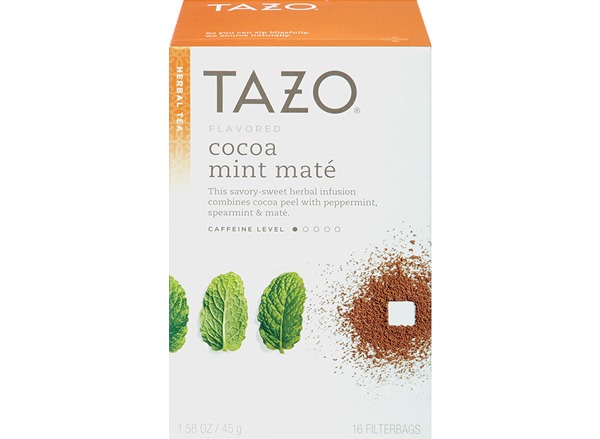 Yerba mate, Peppermint, Honeybush, Spearmint
Reminiscent of the oh-so-famous Girl Scout Thin Mints, this tea blends together cocoa peels, yerba mate, peppermint, honeybush, and spearmint forming a delicious and waist trimming cup of tea. One study published in the Neurogastroenterology & Motility journal found that peppermint suppresses appetite, so sipping this decaf blend after dinner will help you curb those midnight snack cravings and keep you on track for those better-body goals. Check out these other teas that stop snacking.
Strawberry Cuppa Chocolate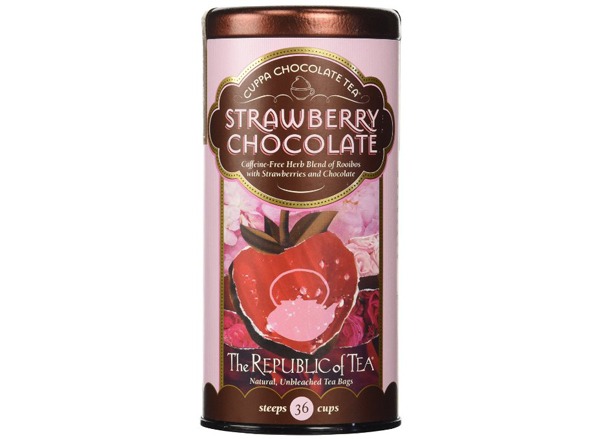 Roobois
Republic of Tea's Strawberry Cuppa Chocolate Tea was actually featured on NBC Today Show as one of the top 10 Skinny Foods all dieters should try, and with good reason. Tthis decadent brew features rooibos tea, one of the best teas for weight loss. Rooibos contains a unique and powerful flavonoid called Aspalathin, which has been proven to reduce stress hormones that trigger hunger and fat storage and are linked to hypertension, metabolic syndrome, cardiovascular disease, insulin resistance, and type 2 diabetes. All that and it tastes delicious? Okay, we're impressed.
Red Velvet Cake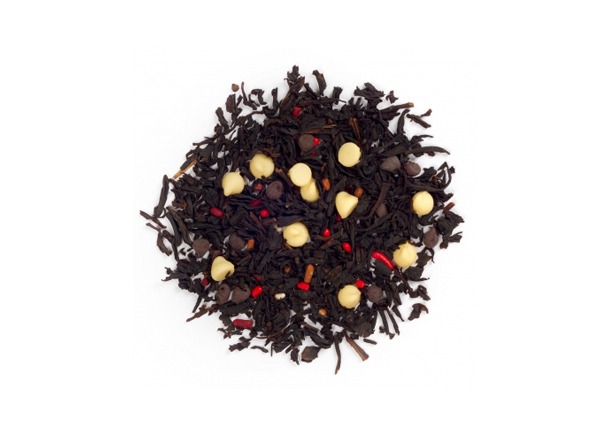 Black Tea
Who doesn't love red velvet cake? Its chocolaty flavor and vibrant red color are sometimes almost too hard to pass on. Well, we have the perfect, calorie-free alternative for you. This slightly sweet and creamy black tea blend with a touch of semi-sweet and white chocolate chips and beetroot will help you stay trim and satisfy your cake craving.
Buy it here!
Chocolate Monkey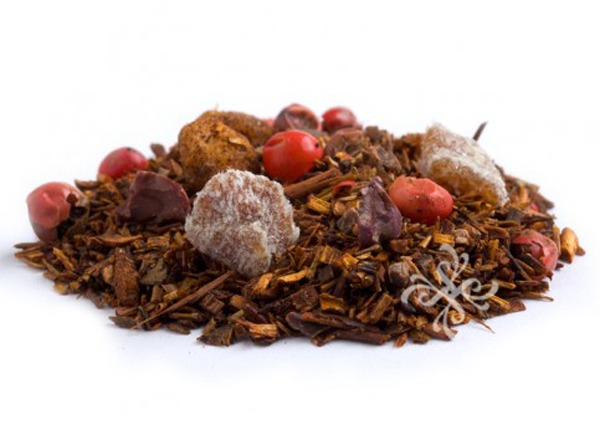 Roobois, Honeybush
We're totally convinced that chocolate and banana were made for each other—and this tea blend brings the flavors together once more in a perfect symphony of rich and smooth goodness. It gets better: this dessert tea features Rooibos and Honeybush, two blends known for their flat-busting powers. Sip on this at work when you're sweet tooth is calling and you'll have no problem saying no to those tempting vending machine chocolate bars.
Blueberry Cheesecake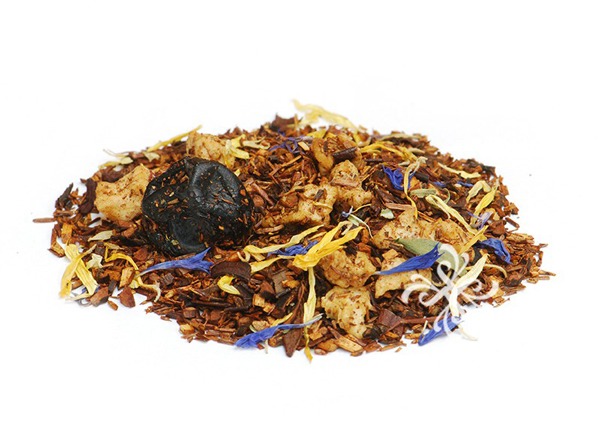 Rooibos, Honeybush
Blueberry cheesecake in the form of a tea sounds too good to be true. Well, The Art of Tea figured out the perfect combination of teas and flavors to achieve a delicious alternative to the famous confection that does the exact opposite of make you gain weight. With organic rooibos, honeybush, and blueberries, this anxiety-banishing tea actually helps you stay trim by reducing the stress hormones that trigger hunger and fat storage.
Organic Baked Cinnamon Apple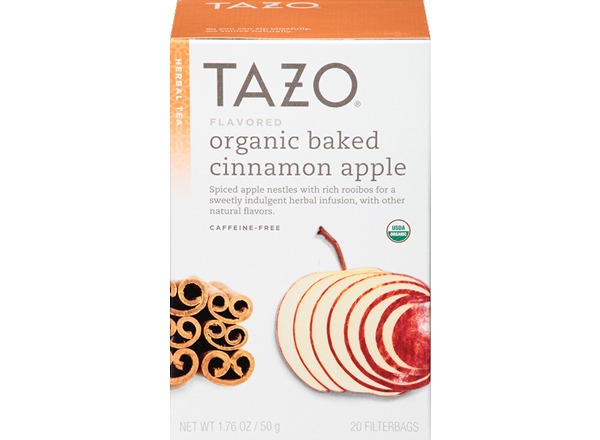 *Rooibos-Chamomille
Craving controlling cinnamon and fat-fighting apples join forces to amp up the flavor of this rooibos-chamomille tea blend, creating a wonderfully sweet and satisfying beverage reminiscent of America's favorite pie. Sip on this one to relax after a long day at work and enjoy and it soothes your mind and body.
Buy it here!
S'mores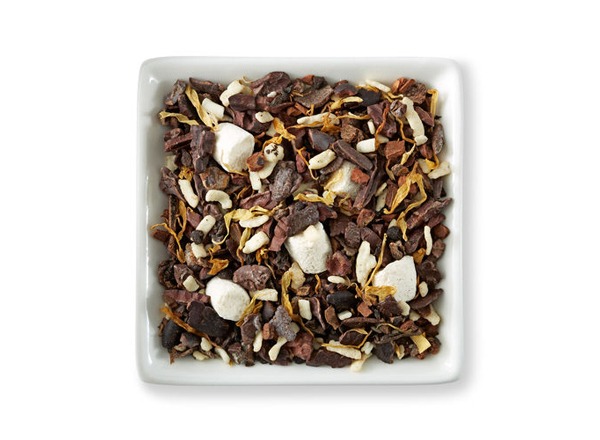 Oolong
A campfire in a cup, this indulgent tea features toasty marshmallow pieces, sweet graham and rich chocolate creating a delectable but still very low-calorie treat that will help naturally help you shed pounds–the oolong leaves in this blend contain catechins, which have been proven to promote weight loss. A study in the Chinese Journal of Integrative Medicine found that participants who sipped the stuff regularly lost over two pounds without changing their diet!
Buy it here!
CocoCaramel Sea Salt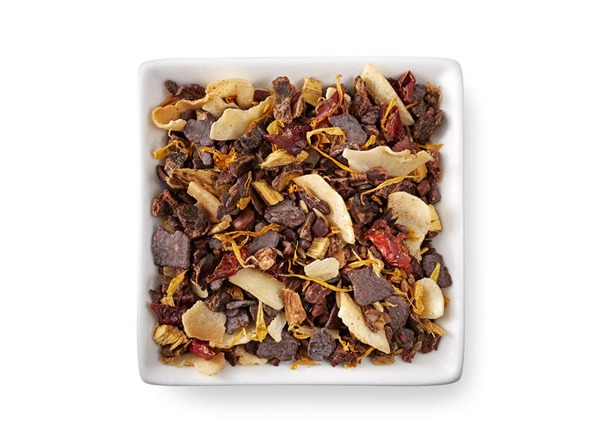 Herbal Tea
Chocolate lovers trying to cut down on sugar and calories will be big fans of this sweet and salty, chocolate-shop inspired infusion. Though technically this one is not a tea at all, it's still a great, low-calorie option when you're craving something sweet and satisfying.
Buy it here!
Creme Brule
Black Tea
Close your eyes and let your taste buds feast on this simple caramel-y black tea. Warm, sweet and relaxing, this creme brulee pick by The Dessert Tea is the perfect cup to sip on while reading a good book.
Buy it here!
Vanilla Cuppa Cake Tea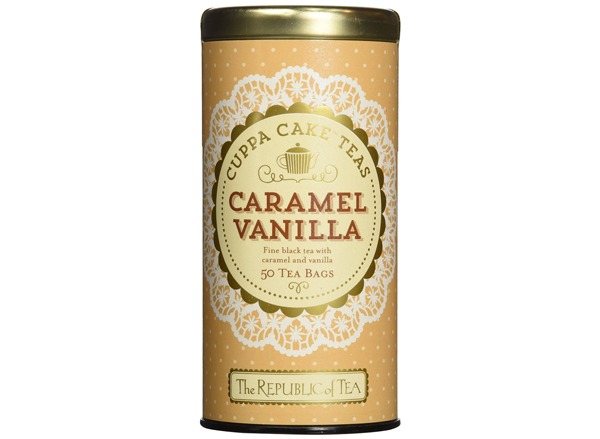 Black Tea
This tea tastes like the old-fashioned Southern yellow cake you used to have as a kid, but without any of the calories of course. Smooth and caramel-y, this tea is the perfect after-lunch office treat, helping you to de-stress and keeping you awake for the rest of the day.
Lemon Chiffon Cupa Cake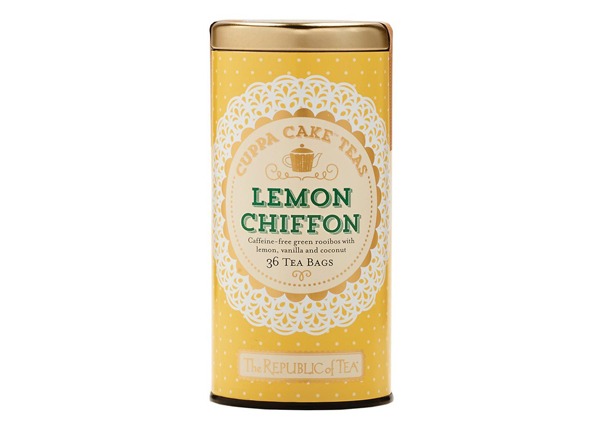 6254a4d1642c605c54bf1cab17d50f1e
Green Rooibos
This lemony herbal green rooibos blend will taste just like a light and airy chiffon cake topped off with lemon icing and sweet, crisp coconut. With notes of lemongrass and vanilla and no caffeine, it's the perfect tea to sip on before bed.
Buy it here!
Coconut Creme Pie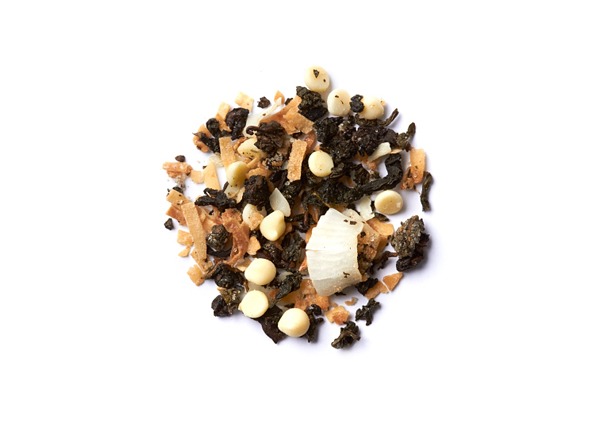 Oolong Tea
Coconut lovers will fall head-over-heals for this rich, sweet blend. And with smooth pound-shredding oolong tea as its base, this tea is a total winner. Brew yourself a cup of this metabolism boosting loose leaf tea in the morning and you'll set yourself up for a day of belly blasting victory.
Buy it here!
Banana Dulce
Rooibos
With its delightful notes of ripe banana and sweet coconut, this tea leaves you feeling a lot better than any banana bread ever would. Not only does this blend feature rooibos, but it also includes chamomile and lavender. A study in the Journal of Advanced Nursing found that chamomile helps reduce levels of depression as well as aids sleep
Chocolate Hazelnut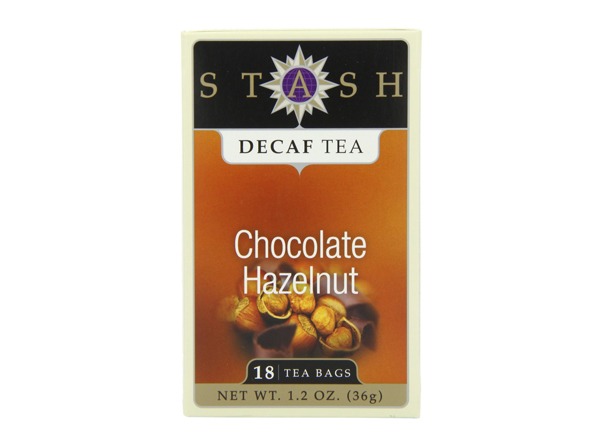 Black Tea
Do you tend to emotionally eat when you're stressed out? Ditch the Nutella and reach for this blend of full-bodied black teas with natural rich flavors of chocolate and hazelnuts instead. Research shows that black tea can help you calm down quicker and bring your cortisol levels back to normal, ultimately helping you to stay trim.
Buy it here!
Carrot Cake Cupcake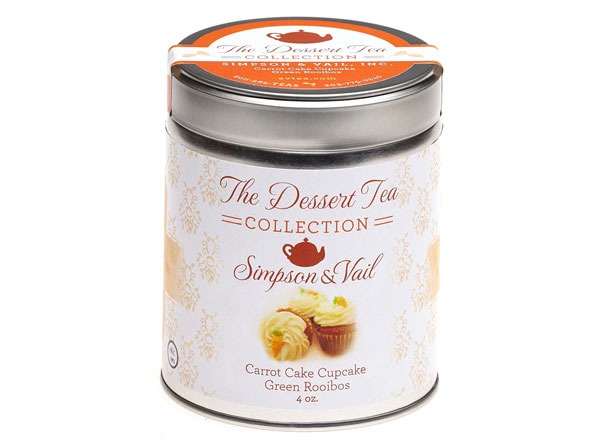 Green Rooibos
Though we agree that they're delicious, carrot cake is anything but healthy. This dessert tea version, however, is full of spice and flavor while helping you shred pounds thanks to the green rooibos.
Buy it here!
Almond Sugar Cookie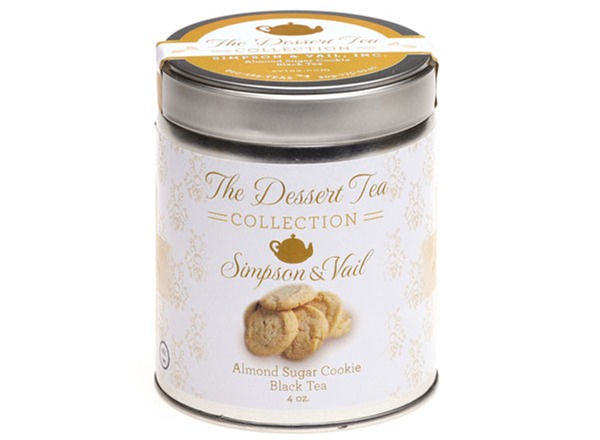 Black Tea
Complete with real almonds, brewing this tea will fill your kitchen with such a warm, delicious aroma, people might think you actually baked a batch of cookies!
Buy it here!
Organic Peach Cobbler
Black Tea
With a good punch of caffeine, this tea is perfect for kick-starting your morning—and who doesn't love dessert for breakfast? This perfectly sweet, peachy tea is like sipping summer from a mug!
Buy it here!