A Smoky Deviled Eggs With Bacon Recipe
A snack that's actually satisfying in-between meals? Deviled eggs are always a good idea.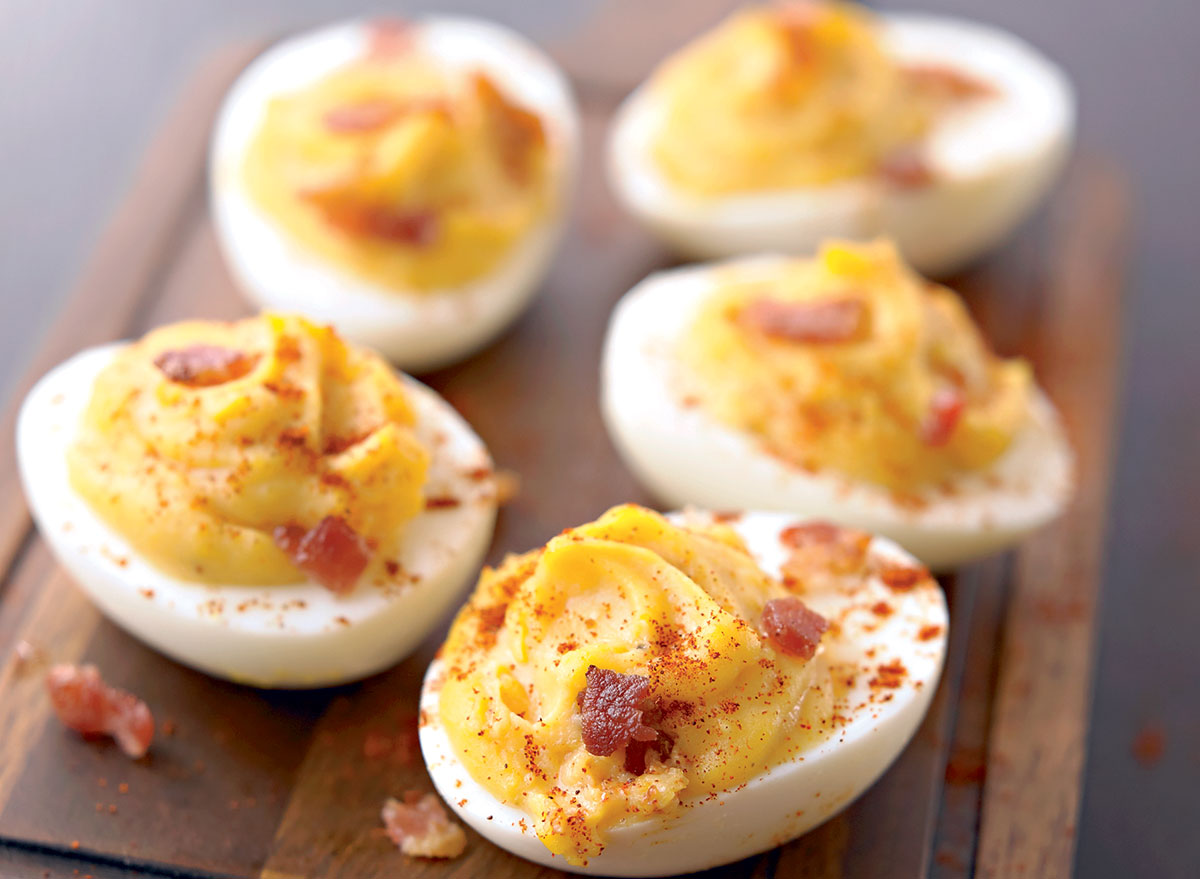 We have an affinity for the humble egg, and this is why: the egg is not only delicious, but it's packed with all sorts of healthy nutrients you'd be hard-pressed to find in another food. Beyond being a nearly perfect nutritional substance (ignore what antiquated nutritionists tell you about cholesterol—nearly all of the current research will show you that eggs have no true effect on your overall cholesterol), no food is so versatile. Think about it, the egg is capable of being fried, poached, baked, boiled, scrambled, and emulsified. And, of course, as this recipe states, the egg can also be deviled. Yes, a deviled eggs recipe is not perhaps the healthiest of ways you can eat an egg (if you're looking for the healthiest, we would go to boiling or poaching instead), but in terms of snacks and finger food and satisfying cravings in between meals, this Southern specialty is one of the healthier choices you can make. And as you know (or as you will see once you make this amazing deviled eggs recipe), the dish is hard to beat!
Nutrition: 220 calories, 17 g fat (4 g saturated), 370 mg sodium
Serves 4
You'll Need
8 eggs
1⁄4 cup olive oil mayonnaise
1⁄2 Tbsp Dijon mustard
2 tsp canned chipotle pepper
Salt and black pepper to taste
Paprika (preferably the smoked Spanish-style paprika called pimentón)
2 strips bacon, cooked and finely crumbled
How to Make It
Bring a pot or large saucepan of water to a full boil.
Carefully lower the eggs into the water and cook for 8 minutes.
Drain and immediately place in a bowl of ice water. When the eggs have cooled, peel them while still in the water (the water helps the shell slide off).
Cut the eggs in half and scoop out the yolks.
Combine the yolks with the mayo, mustard, chipotle, and a good pinch of salt and pepper.
Stir to combine thoroughly.
Scoop the mixture into a sealable plastic bag, pushing it all the way into one corner.
Cut a small hole in the corner.
Squeeze to pipe the yolk mixture back into the whites.
Top each with a sprinkle of paprika and a bit of crumbled bacon.
This recipe (and hundreds more!) came from one of our Cook This, Not That! books. For more easy cooking ideas, you can also buy the book!6254a4d1642c605c54bf1cab17d50f1e