21 Southern Chef-Approved Tricks for Making the Perfect Deviled Eggs
Hacks on how to pick perfect eggs, cook them to perfection, and create the perfect creamy filling.
Ask any Southerner, and they'll tell you that deviled eggs are one of their top foods of all time. The velvety, whipped yolk nestled in a perfectly-cooked white makes for a delicious appetizer, brunch dish base, or potluck staple.
While the Southern delicacy is often crafted with a base mixture of egg yolk, mayonnaise, mustard, and spices, serving the perfect deviled egg largely depends on your prepping and cooking techniques. And who would know how to ace the recipe better than true Southern chefs who have been deviling eggs for years? To help you make the perfect deviled egg dish—from choosing the right egg to expertly garnishing the finished product—we consulted nationally-recognized chefs and restaurateurs on their go-to hacks for making this popular dish. Check out their expert tips below to whip 'em up like a pro. Now, let's get crackin'!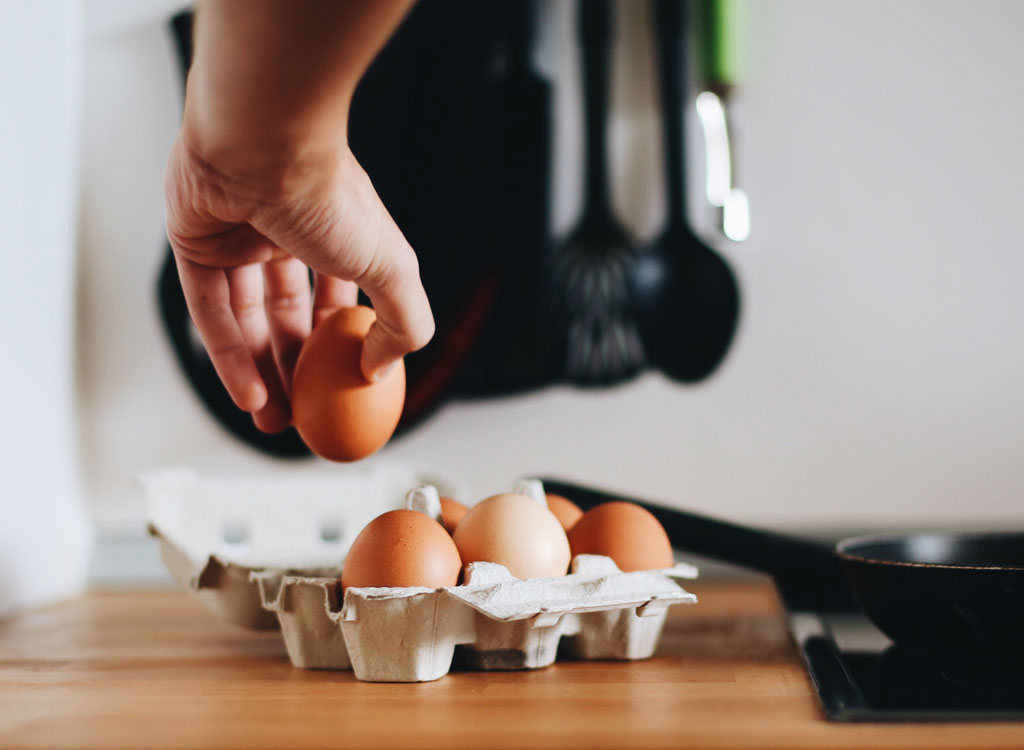 "Use older eggs that are closer to their expiration date, as you'll find them easier to peel."
— Chef Andrea LeTard, Mississippi native and author of the Southern-inspired cookbook Andrea's Cooktails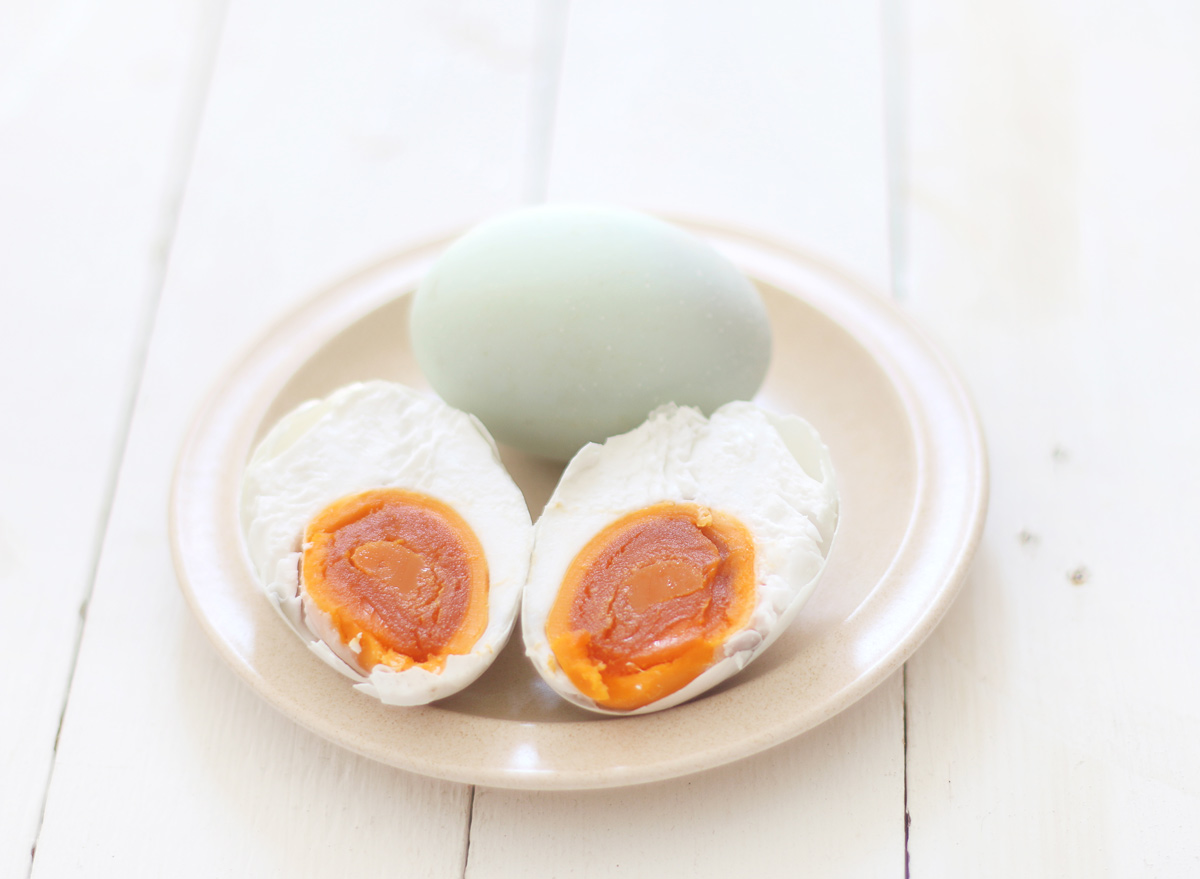 "When making deviled eggs, I always use duck eggs. They add an enhanced richness to the overall dish and make all the flavors pop more than a traditional [chicken] egg."
— Chef Quinnton Austin of Cinclare Restaurant in Louisiana and The Culinary Institute of New Orleans graduate
Poke a Hole In The Egg Before Boiling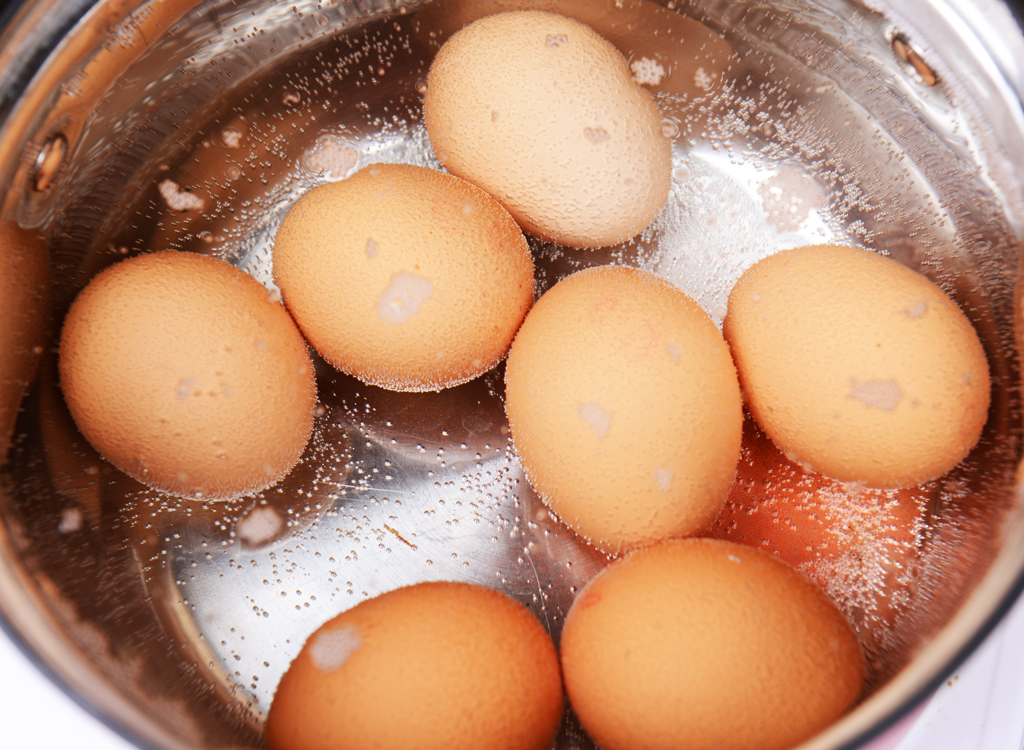 "Poke a small hole in the bottom of each egg before boiling. Using a pushpin (like one from a bulletin board) works best for this. You want to break the shell, but not puncture the membrane around the egg. The way it works: water floods the space between the shell and the membrane, and then dissolves the membrane, making the egg much easier to peel."
— Chef Chis Coleman of Stoke restaurant in Charlotte, North Carolina
"Cover the eggs with cold water, not hot. When cooking hard-boiled eggs, we want the water covering the eggs to heat from cold to boiling. By starting with cold water and not hot, the temperature rises slower, preventing the risk of shells cracking and promoting even cooking."
— Chef Juliana Peterson, private chef and former owner of R&J Southern Homecooking in Norwalk, California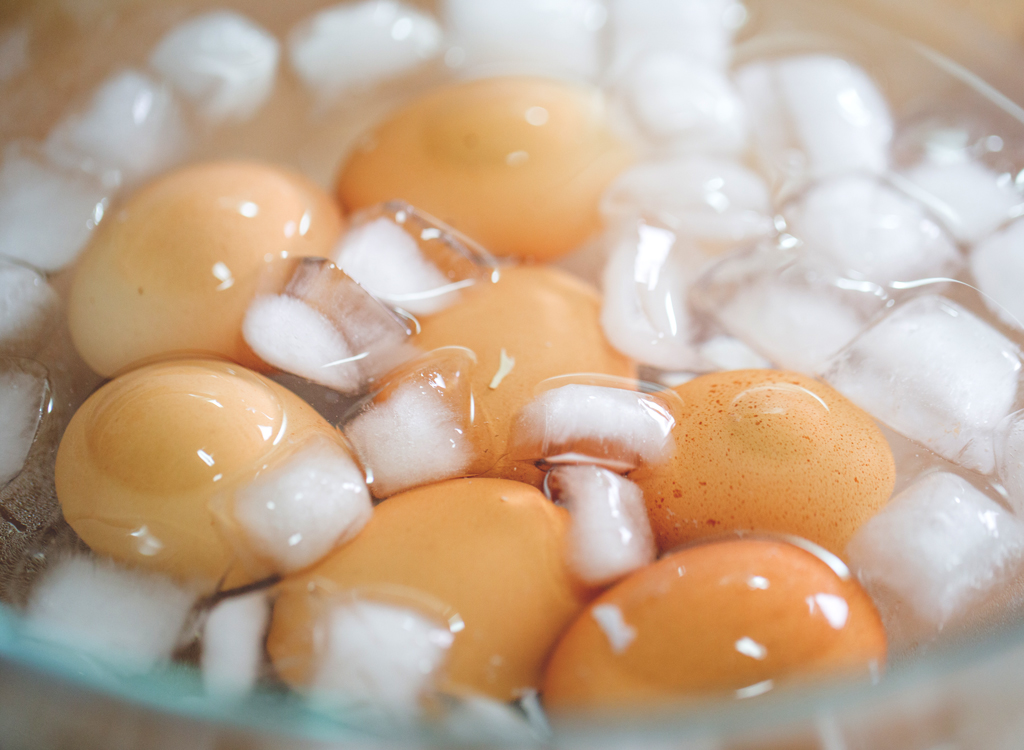 "To perfectly cook those eggs, put your eggs in a pot and fill with water (and a little baking soda) about one inch over the tops of the eggs. Bring to a boil and let it sit for one minute. Then, remove from heat, cover the pot, and let sit for 12 minutes. Then, transfer the eggs to an ice bath. That will perfectly hard-boil your eggs."
— LeTard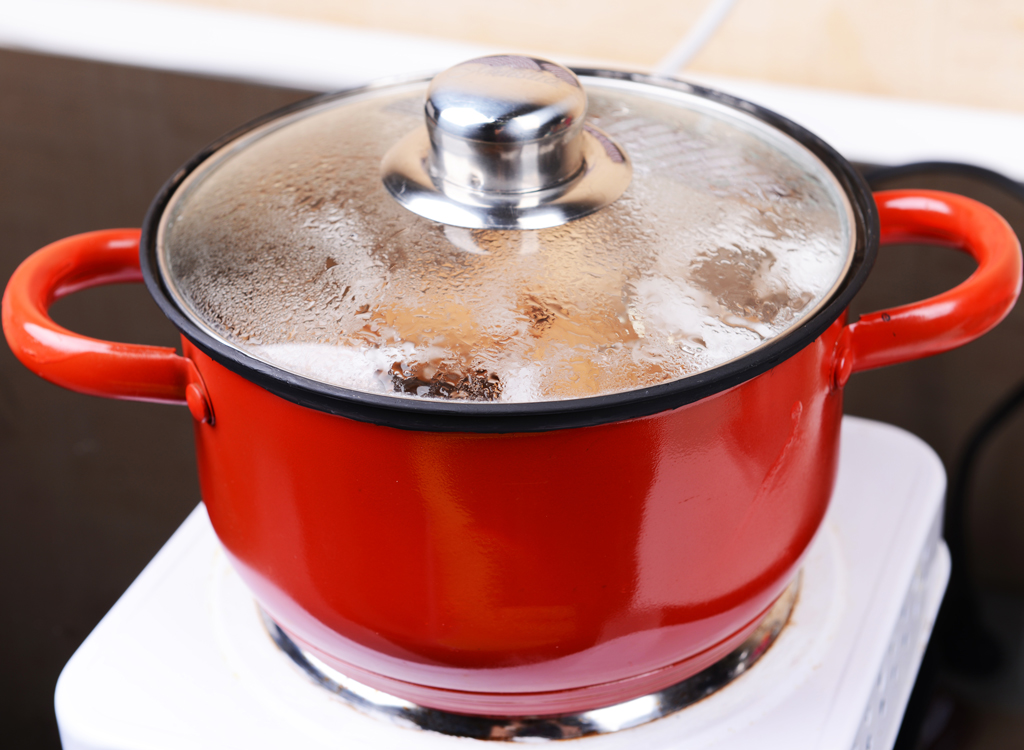 "Overcooked yolks turn a grayish color and emit a slight sulfurous odor, making them unappetizing and unpleasant to smell and look at."
— Chef Charlie McKenna of Lillie's Q, Southern restaurant, two-time World BBQ Champion, and BBQ brand

"When peeling your eggs, gently crack around the entire egg. Then, roll the egg in between your hands to break the membrane between the egg and shell. With this trick, the egg should peel easily."
— Chef Brooke Smith of Southern bistro Esquire Tavern in San Antonio, Texas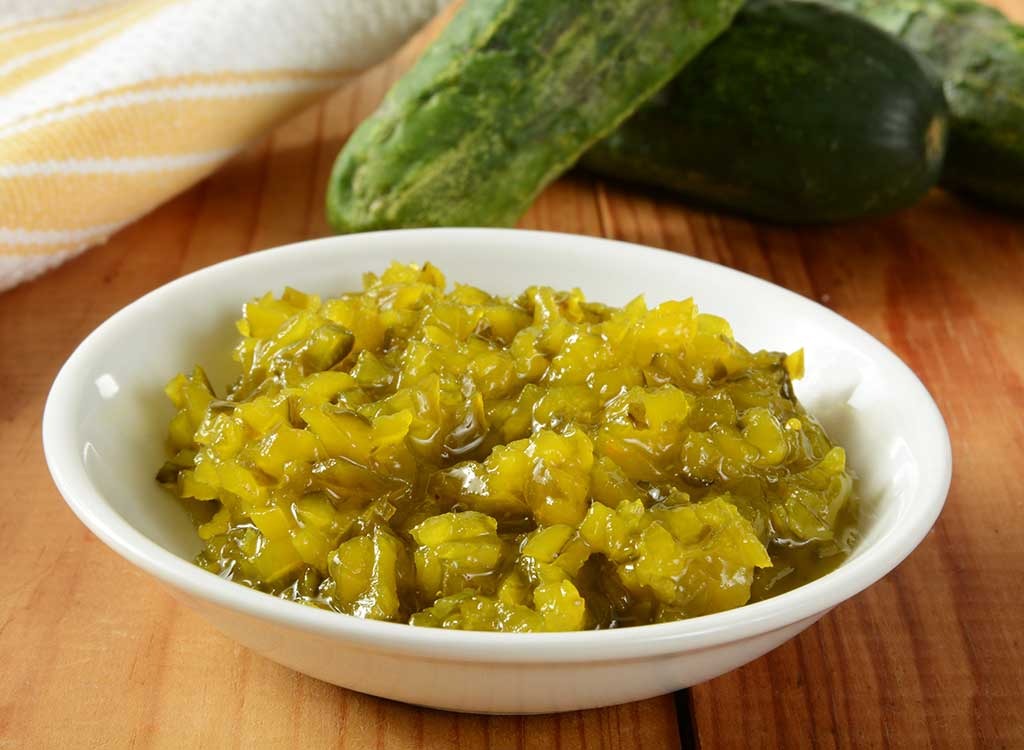 "Seasoning is key! A lot of deviled eggs are bland, and they can get a bad rap. At Frontier [restaurant], we mix pretty standard ingredients into the egg yolk: mustard, mayo, salt, and pepper—but what makes them stand out a bit more is sweet relish. All the ingredients together make for deviled eggs that are far from bland."
— Chef Brian Jupiter, New Orleans native, owner and executive chef of Ina Mae Tavern & Packaged Goods and Frontier
"There are really only two branded products that I'd ever use in making deviled eggs. First is Slawsa. It is an amazing cabbage-based relish with spicy undertones that's usually put atop hot dogs and burgers, but it seriously is the best secret ingredient anyone can have in their deviled eggs. It adds that zip to your filling that people can't quite put their finger on, [and people] will eat them up in a heartbeat. It's made in North Carolina, and while it is in some grocery stores, I know all Lowe's Home Improvement stores carry Original in the grilling section, and all their flavors can be bought on their website. They have a habanero flavor if you really want to make your eggs devilish. The Slawsa is a no-brainer add-in if you don't want to take time [using] tons of ingredients: the yolk, Slawsa, and a dab of mayo will do it. Likewise, if I use a dab of mayo in my filing, it has to be Duke's. No Southerner would use anything else."
— LeTard
"For the smoothest smashed yolks, use a fork, and don't add any other ingredients until yolks are well-smashed. Then, use a hand-held or stand mixer for an extra-smooth filling. Whip ingredients together until smooth."
— LeTard
Don't Cut The Eggs Vertically
"Most [people] tend to cut the egg length-wise or vertically, however, I feel that there is a disadvantage to doing it this way. This does not allow the egg to be eaten in one bite, and the egg does not sit upright when it is filled. To avoid these issues, I like to cut the egg horizontally and cut off the ends so that [they have] a flat bottom. This makes the deviled egg look [presentable], and allows it to be easily eaten in one bite!"
— Chefs Thomas Dunklin and Kyle Rourke, owners of New Orleans-inspired restaurant The Waiting Room
Prep the Filling a Day Before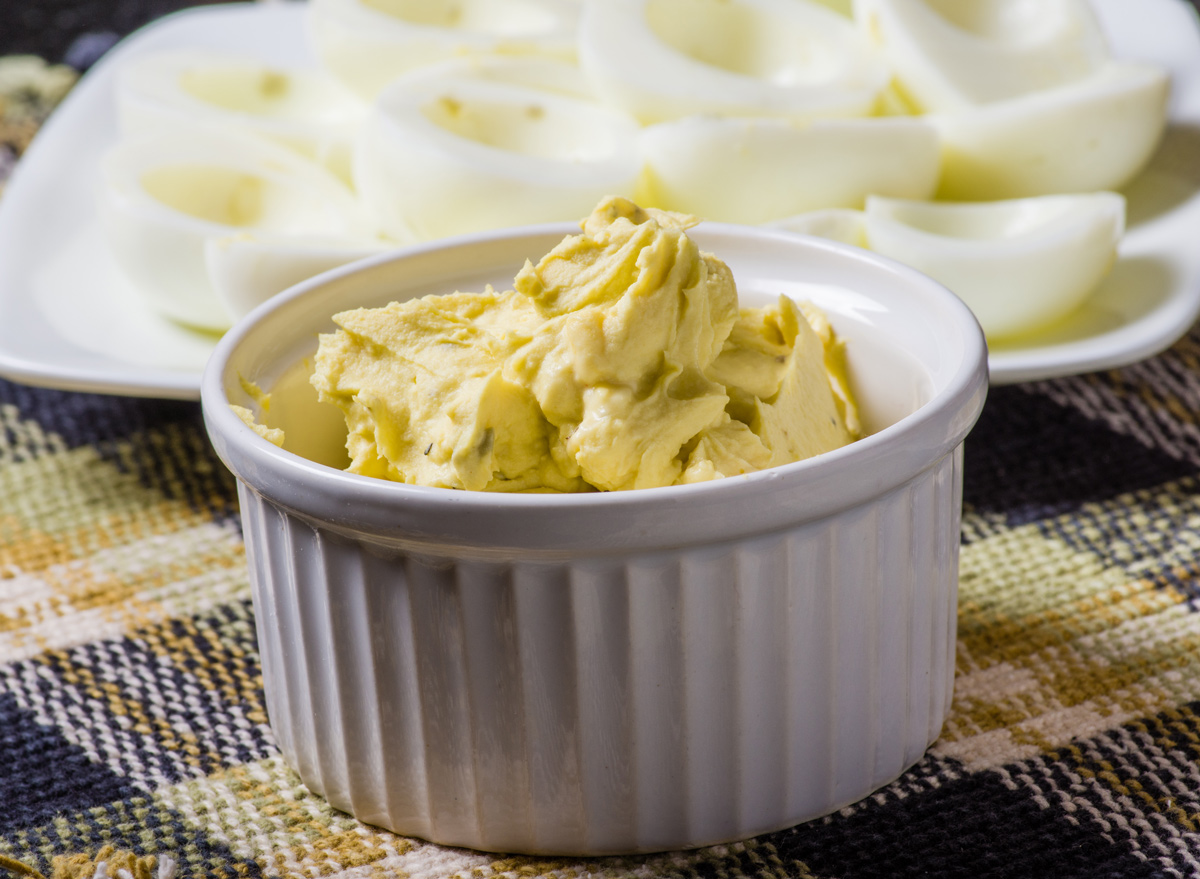 6254a4d1642c605c54bf1cab17d50f1e
"Make life easier by boiling the eggs and making the filling the day before, then refrigerate. I like to store my whites in an air-tight plastic container and my filling in a piping bag or plastic bag. On the day I want to make the deviled eggs, all I have to do is pipe the mixture into the egg—easy peasy!"
— LeTard
"After you have separated the yolks from the whites, process your yolks in a food processor and season. Then, place the processed egg yolks in a large bowl and paddle in aioli or mayonnaise with a rubber spatula, making sure to work out any lumps. The final step is to fold in a hard, peaked whipped cream. The whipped cream will mellow out your seasoning and add air to the final product."
— Smith
Don't Overwhip Your Filling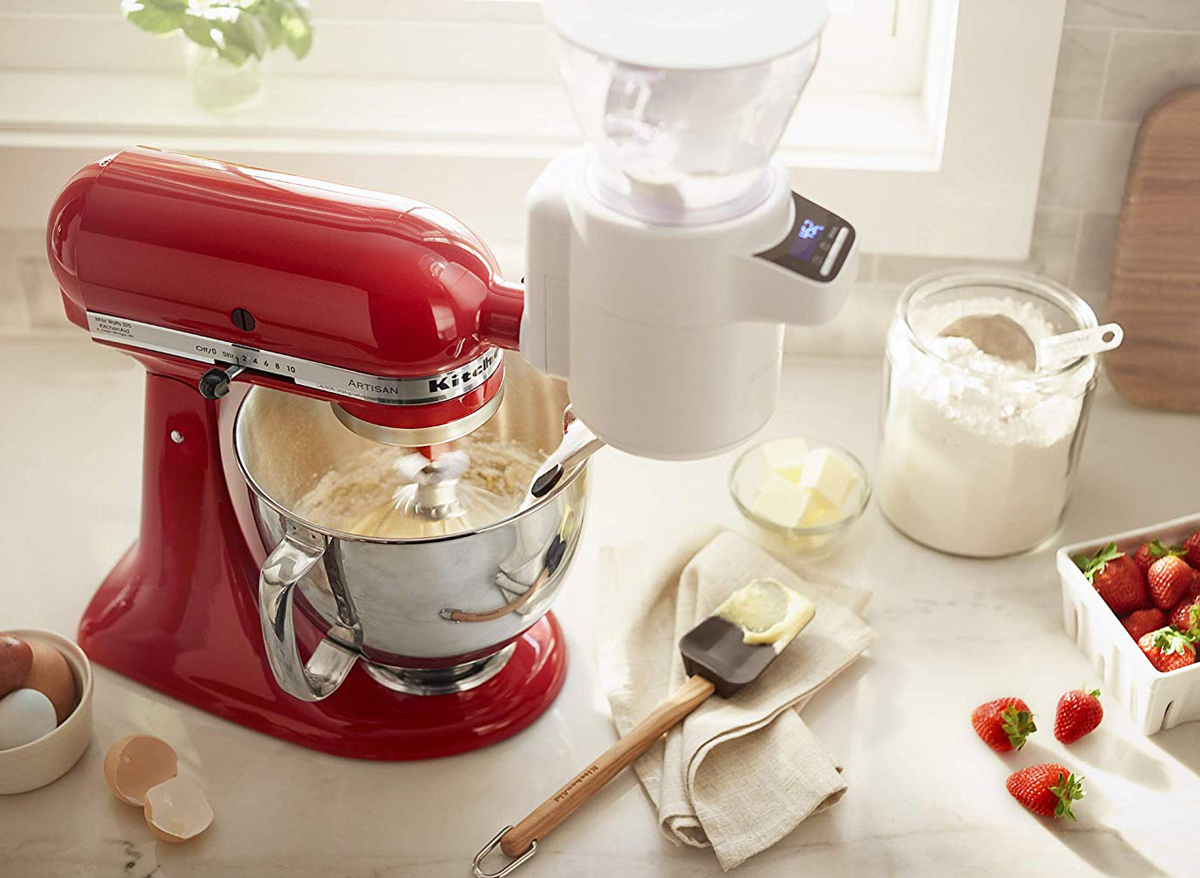 "When whipping the filling, whip it in the KitchenAid and don't overwhip it. If you do, the texture will become gum-like."
— Chef Bobby Hodge, executive chef at Oak Steakhouse in downtown Nashville, Tennessee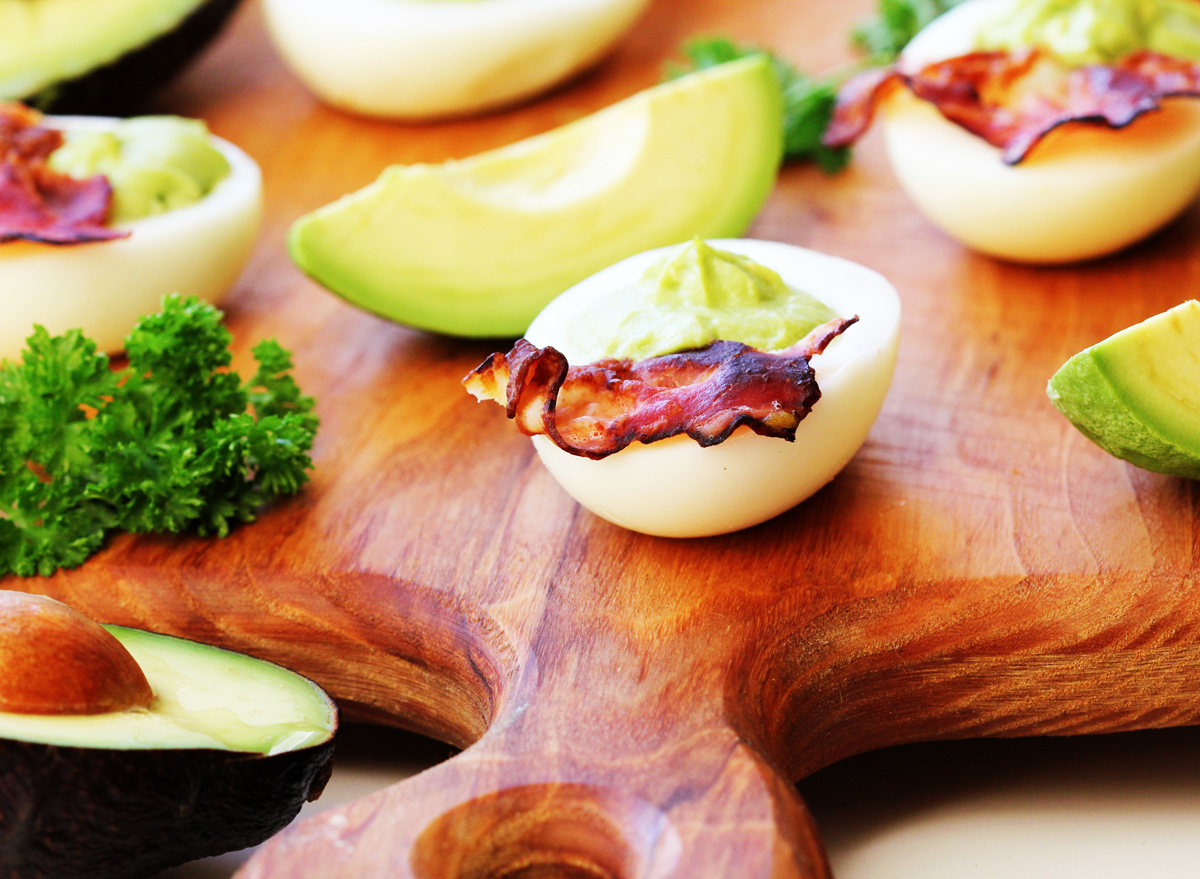 "Whip the cooked egg yolks with fresh pieces of avocado for texture and flavor."
— Glenn Rolnick, Director of Culinary Operations at Virgil's Real BBQ
Add Creme Fraiche & Use a Drum Sieve For Creaminess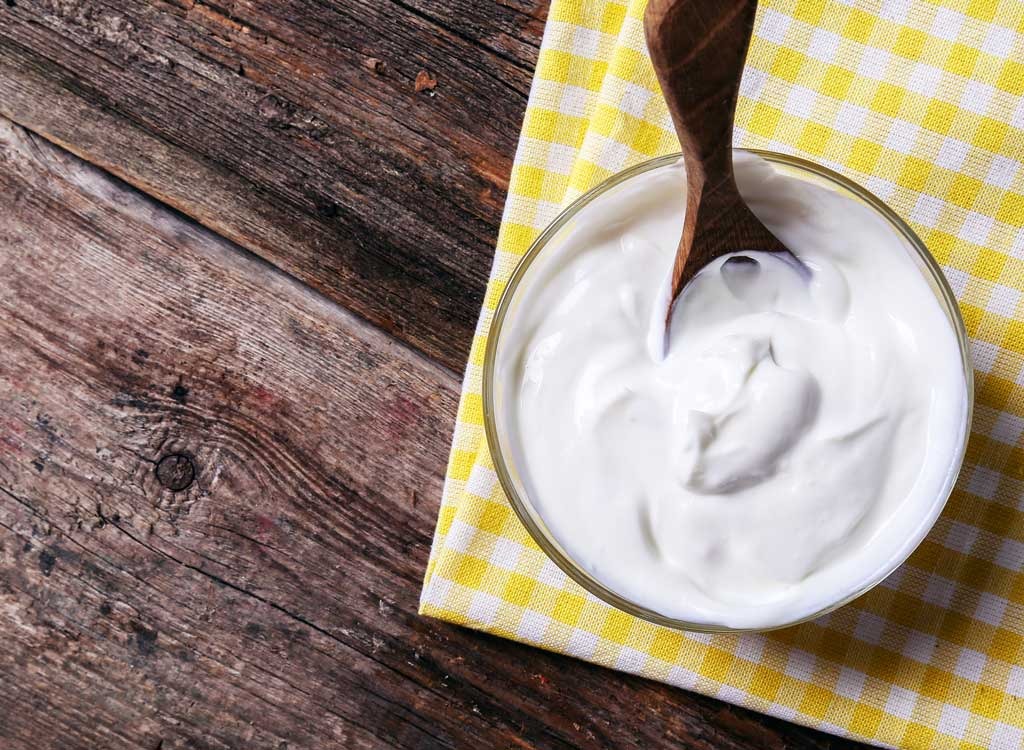 "We use Creme Fraiche for the filling, as it adds a dense creaminess and is much easier to control the level of salt and allows for the other flavors to shine through. We also like to pass the filling through a drum sieve. This ensures that the egg mixture is creamy and never grainy."
— Chef Jeff Balfour of SoutherleighFine Food & Brewery in San Antonio, Texas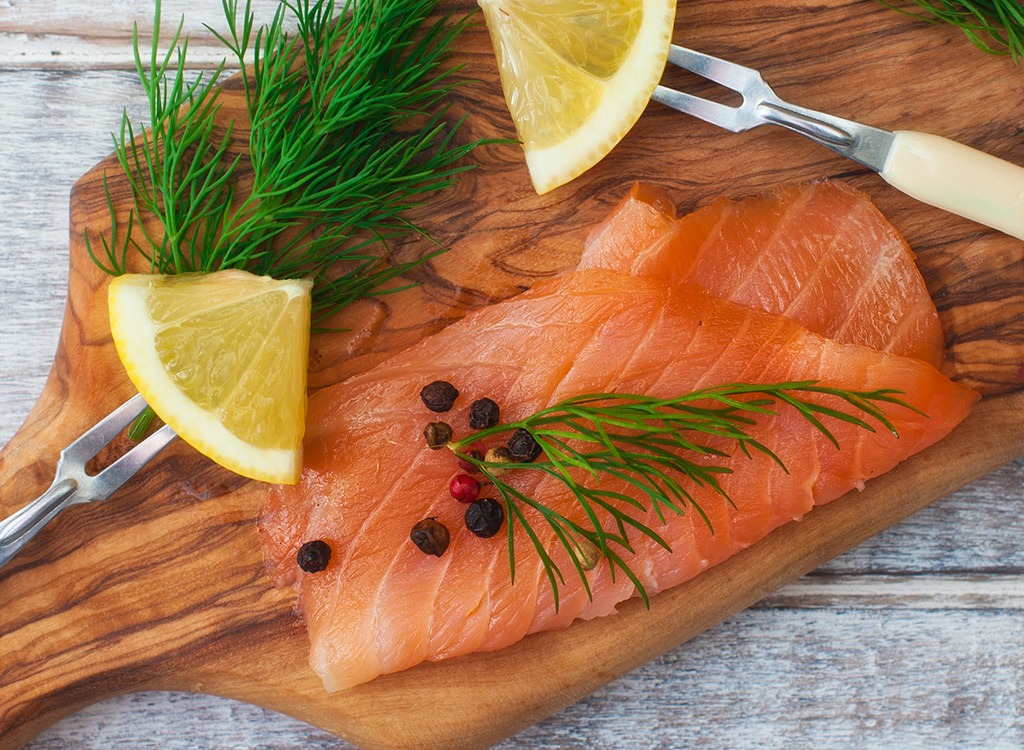 "Who says deviled eggs have to be made of egg yolks, mayonnaise, and mustard? Try a filling of Pimento Cheese or a Lox & Everything Bagel Deviled Egg, where the egg yolk is mixed with cream cheese, smoked salmon, capers, and garnished with a toasted bagel chip. Yum!"
— Chef Jennifer Booker, Georgia Grown Executive Chef and author of Dinner Deja Vu: Southern Tonight, French Tomorrow 
Use Both Dill and Sweet Pickles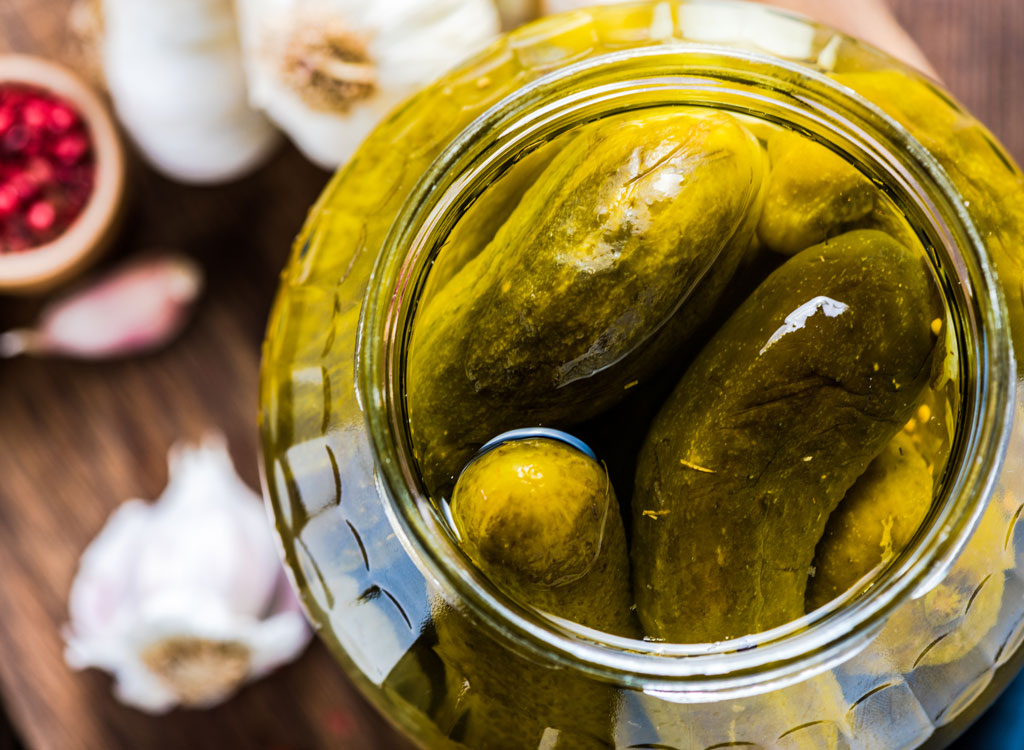 "The most divisive critique of a deviled egg seems to be whether to use dill or sweet pickles—so we use both! We incorporate dill pickle green tomato puree into our filling and top each egg with a nice round slice of a sweet bread & butter pickle. The flavor combination of sweet and salty pleases all palates."
— Chef Mimi Maumus, New Orleans native and owner of Home.made restaurant in Athens, Georgia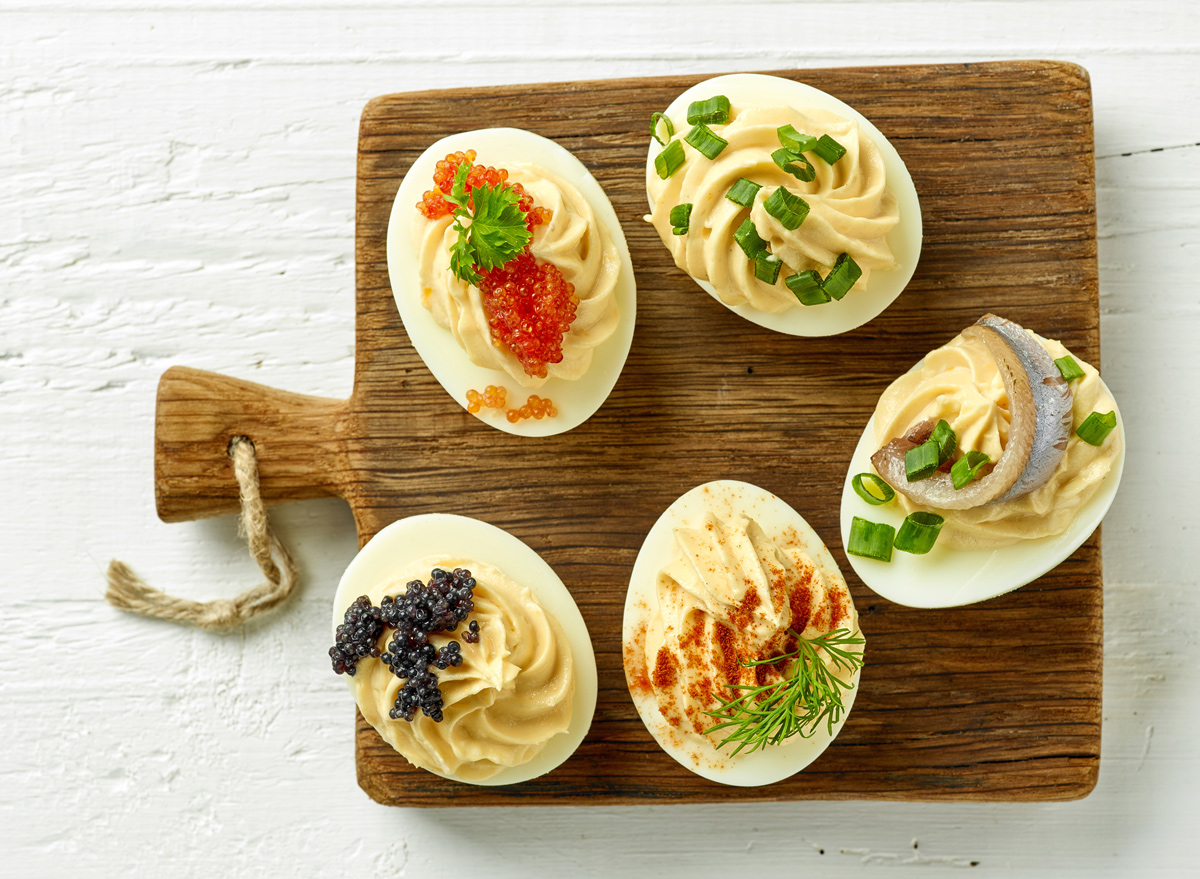 "Garnish is where you can play around to make the eggs visually appealing. Try out some pork belly on top or the fan favorite, a fried oyster. Then, instead of paprika, which is pretty standard, use Espelette pepper, chive, and scallions."
— Hodge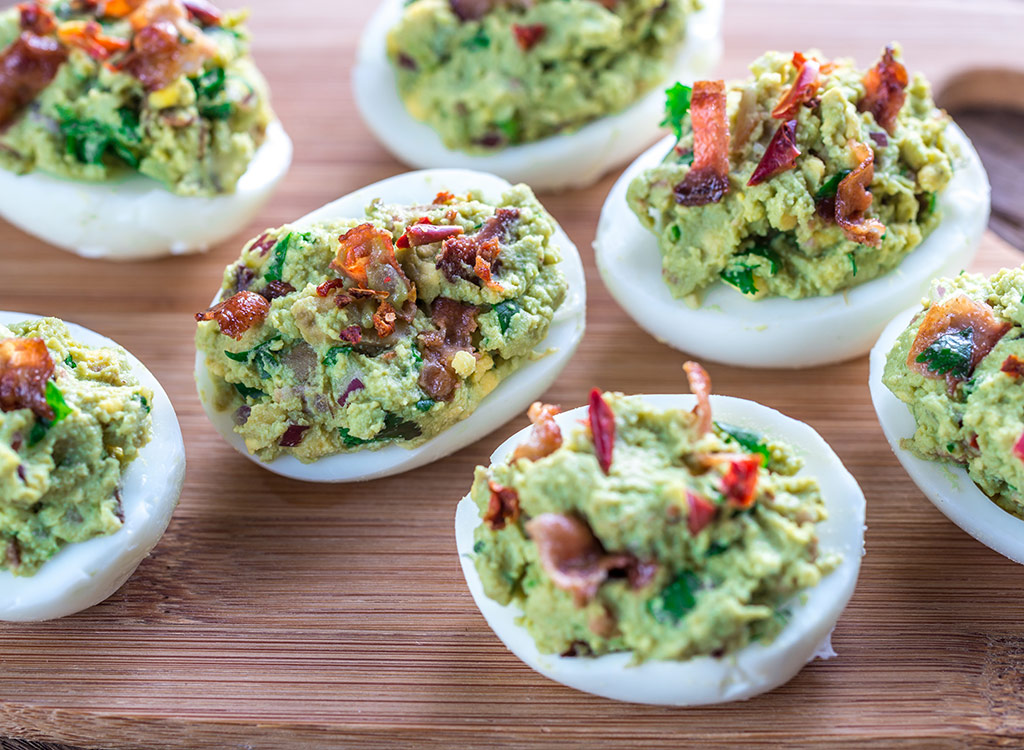 "Garnishing is all about texture. I love using pickled mustard seeds for extra flavor and texture, rather than bacon. The concept is to use something that has a different mouthfeel than the creaminess of the egg, so you want something crunchy."
— McKenna
Try Marinating the Eggs For Extra Color
"If you want to get really fancy, marinate the cooked eggs in vegetable juice to add color and flavor to the white. Examples include beet juice and carrot juice."
— Chef Rodney Freidank of Soby's New South Cuisine in Greenville, South Carolina
April Benshosan
April is a born-and-raised Brooklynite who has a passion for all things health, wellness, and tastebud-related.
Read more about April