The Real Difference Between Brown and Sweet Potatoes
And what about purple and blue spuds? Here's the explanation so you don't confuse them again.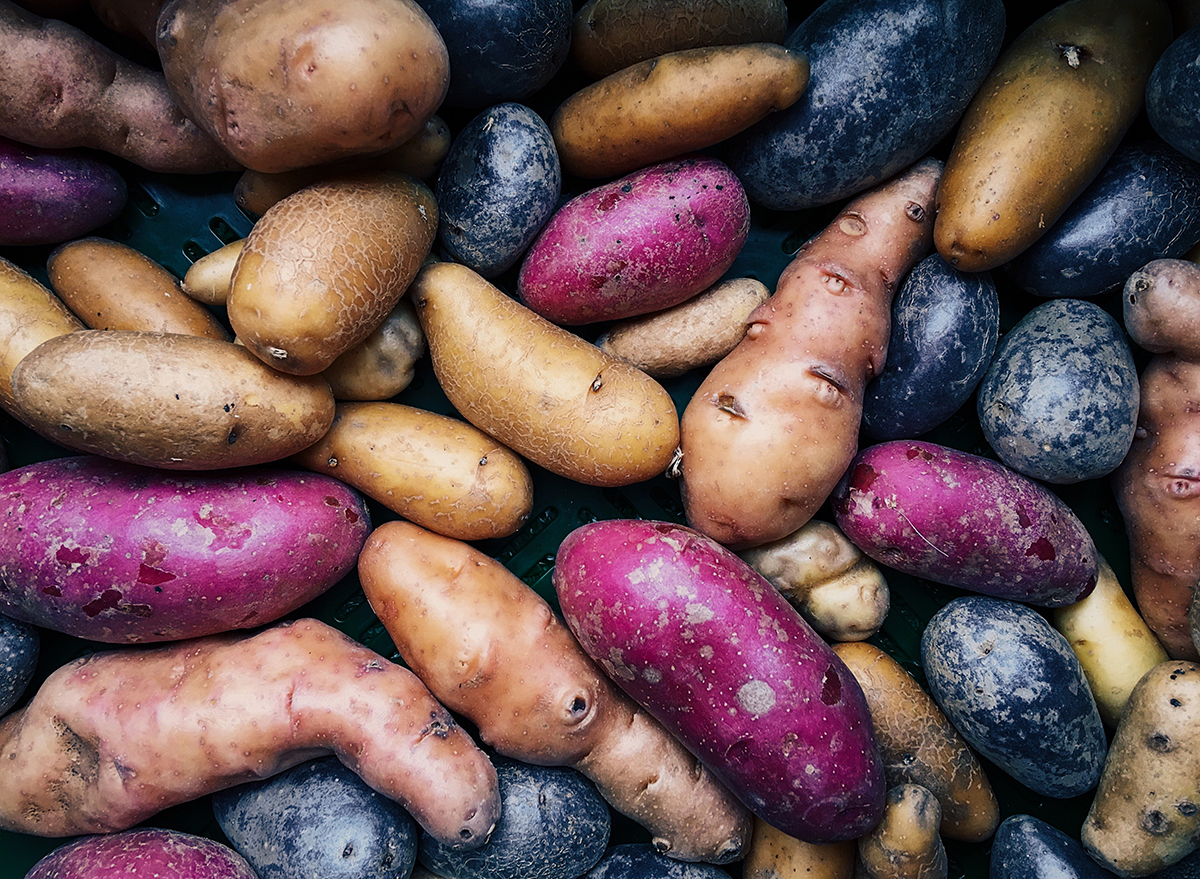 It's obvious that brown-skinned potatoes are different from sweet potatoes—which either have a light brown or orangish-red tinted skin—but how they're different may not be as clear-cut as you think. Head chef of Hello Fresh, Claudia Sidoti, and executive chef of Wall Street Grill in Manhattan, Joseph Paulino, help break down the differences between the two popular types of potatoes as well as two other lesser-known varieties.
What are the main differences between brown and sweet potatoes?
The difference that is most noticeable aside from appearance is the taste. Sweet potatoes are sweeter and not as starchy as regular brown potatoes. The flesh of a sweet potato is orange, whereas the flesh of a normal potato is often white.
"Regular potatoes are usually lower in fat and sugar, while sweet potatoes have fewer carbs and calories," says Sidoti.
The sugar content in the potato actually affects the way the potato browns as it's cooking.
"The biggest difference between brown potatoes and sweet potatoes is the sugar content, which affects the caramelization of the potato," Paulino says. "Idaho or brown potatoes are best for baking and French fries. Sweet potatoes are best when roasted whole and then whipped for mashed potatoes."
Sweet potatoes carmelize better because of their higher sugar content. Sweet potatoes also provide more vitamins and minerals than brown potatoes do.
Sweet potatoes provide a good source of the following vitamins and minerals:
Vitamin A
Vitamin C
Vitamin B6
Manganese
Potassium
Next time you cook a steak, ditch the brown potatoes and opt for a baked sweet potato instead!
How are sweet potatoes different from purple and blue potatoes?
Sidoti describes the flavor of a purple potato as similar to what you would taste in a red-skinned potato, but nuttier.
"They are small to medium in size, have a higher starch content, and taste earthy and nutty," she says. "You can cook purple potatoes three ways: roasted, boiled, or sautéed."
Paulino says purple-skinned potatoes also work well in a mashed potato dish. Imagine telling your friends you're whipping up a bowl of mashed potatoes and when they arrive, they see a bowl of a fluffy, vibrant purple food. Purple potatoes are especially rich in antioxidants as well.6254a4d1642c605c54bf1cab17d50f1e
Aside from the color, Sidoti says another distinctive characteristic of blue potatoes is their odd shape. The skin of blue potatoes is thin and has a dark pigment, while the flesh, when raw, has a purple hue. Once heat is applied during the cooking process, though, it becomes blue. These kinds of potatoes are also rich in antioxidants.
Paulino says blue potatoes are very versatile, meaning the texture will be ideal whether it's roasted, baked, or sautéed. He even says you can slice the potatoes ultra-thin and make potato chips. Sidoti adds that blue potatoes pair well with fresh herbs and garlic, as well as pork and various cheeses.
Now you have a general idea of the differences between various kinds of potatoes. So what are you waiting for—get cooking!