12 Fast Food Menu Items You'll Never See Again
You won't see these foods anymore, but it was good while it lasted.
There's nothing that triggers nostalgia like food. Whether it's the smell of a strawberry rhubarb pie that takes you straight back to childhood summers at grandma's house, the first bite of a hearty steak sandwich that reminds you of going to lunch with your dad, or the warm bubbly cheese of takeout pizza transporting you back to high school movie nights, we all know that warm, familiar feeling.
For some of us, the foods that bring back our strongest memories are the old-fashioned items we grew up ordering at big fast-food chains like McDonald's and Wendy's, where they always tasted the same no matter what. Unfortunately, whether your favorite childhood chain has closed forever or a special menu item has been permanently discontinued, many of the classic foods we once delighted in are gone for good. But while you can't always go back, you can reminisce…or, just keep reading to get your belly rumbling for fast food menu items you may never see again.
Wendy's Bacon and Blue Burger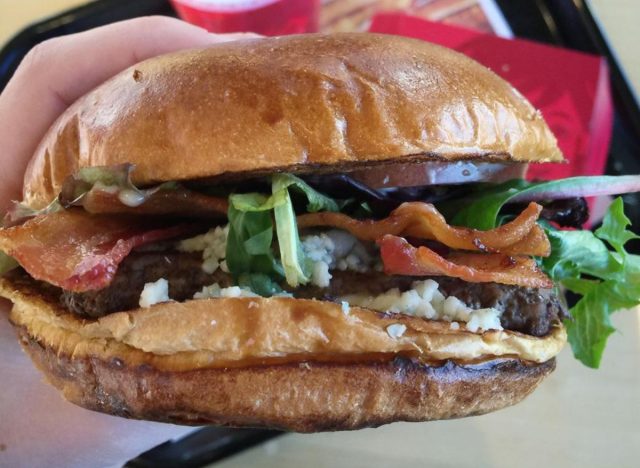 Back in 2010, Wendy's rolled out a deliciously messy quarter-pound gourmet burger topped with four strips of applewood-smoked bacon, blue cheese crumbles, sauteed onions, and steakhouse sauce. Unfortunately, the sandwich's messiness may have been its demise, as hungry diners complained of the toppings spilling all over and making a mess in their cars. At least that leaves hope that it could eventually be revived in a version that's easier to eat!
Popeye's Big Easy Chicken Bowl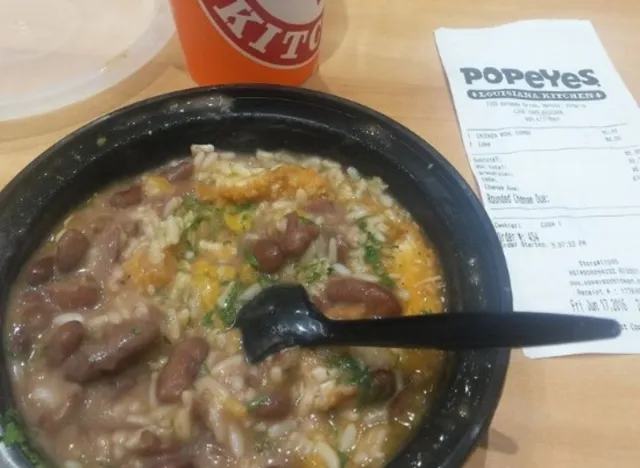 Love that chicken from Popeyes? How about in bowl form? Introduced in 2008, this big, messy bowl combined white meat chicken with spicy Cajun gravy, red beans, rice, and shredded cheese. You could customize this gut bomb with optional hot sauce and sour cream. Sadly, the Big Easy bowl, which is not easy to duplicate at home, left Popeye's menu forever in 2013. R.I.P.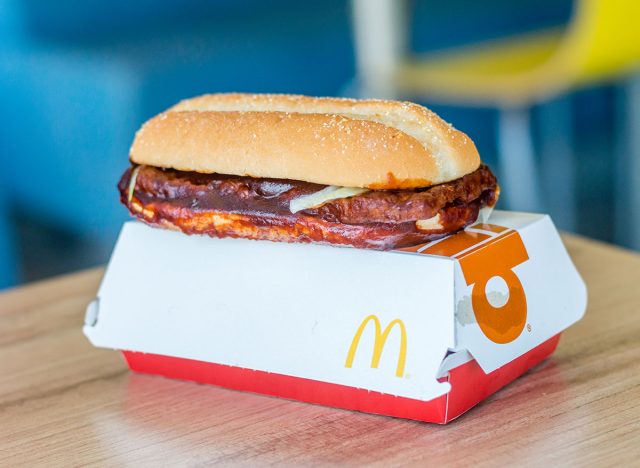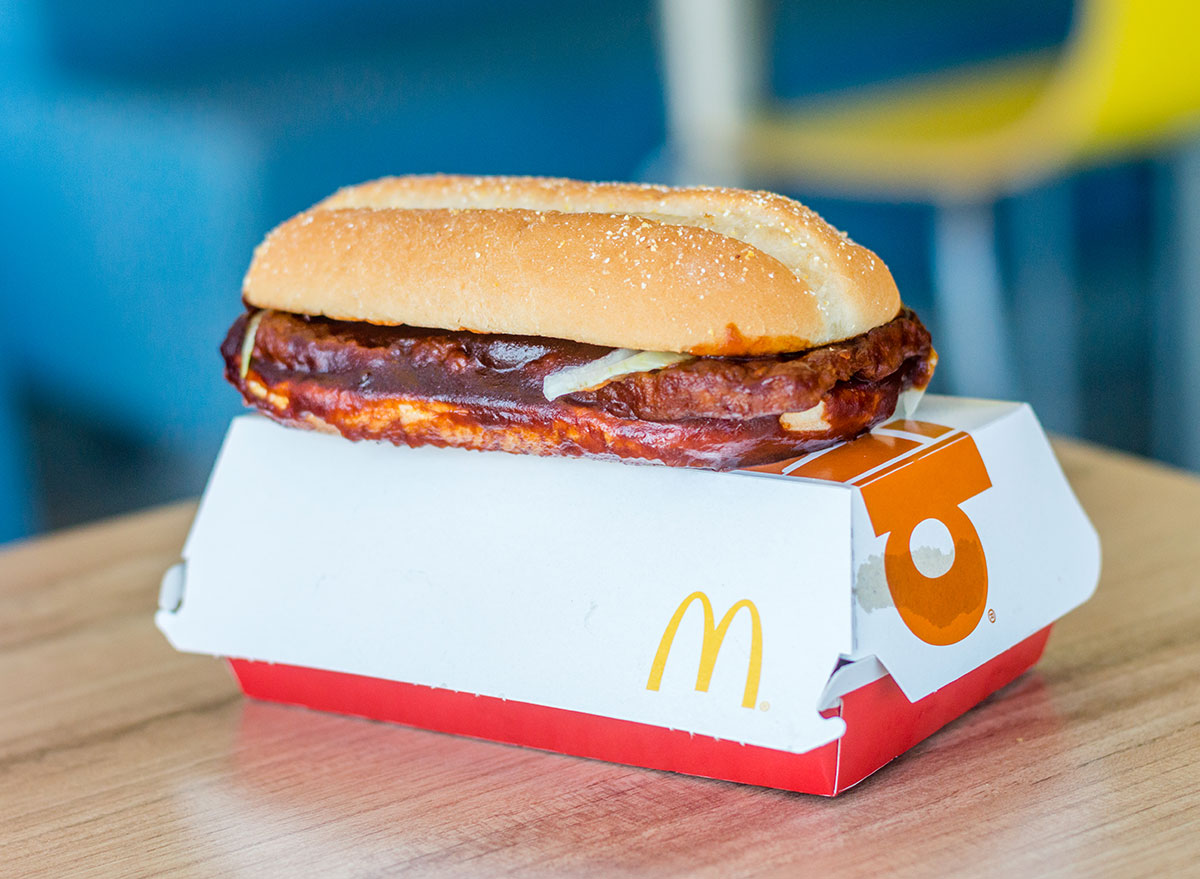 To be quite honest, we can't promise you'll never see this bizarre, beloved sandwich that debuted in 1981 again, because the Golden Arches likes to play with our hearts and stomachs. A pork patty shaped like a rack of ribs served on a long bun and smothered with onions and bbq sauce, the famous and much-memed McRib comes and goes, seemingly at the whims of the chain. Or, more likely, McDonald's knows that scarcity leads to demand.
Way back in the 1970s, Burger Chef was second in popularity to McDonald's in the U.S., and their marquee menu item, the Big Shef, was beloved. Between the buns were two flame-broiled burgers with special sauce. Burger Chef closed in 1996, with Hardee's buying the remaining locations. For a while, some locations offered the Big Shef as a special, but alas, it hasn't been seen or heard from since 2007.
McDonald's Szechuan Sauce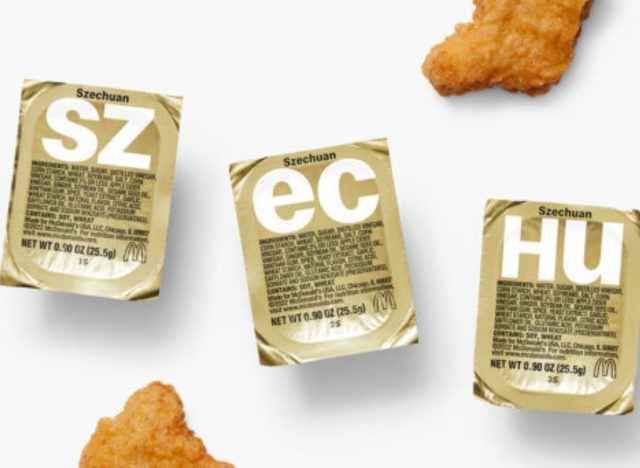 This one still hurts. Fans of McDonald's sauces fell hard for the sweet and tangy Szechuan McNuggets dipping sauce that the chain created to celebrate the release of Disney's Mulan in 1998. That association—and the ad campaign, which was perceived as racially insensitive—led to its demise, but 19 years later, in 2017, McDonald's brought the sauce back for one day only, creating long lines and complete chaos. It has made several returns since then though, usually accompanied by heavy promotion, and available only "while supplies last," which is never very long.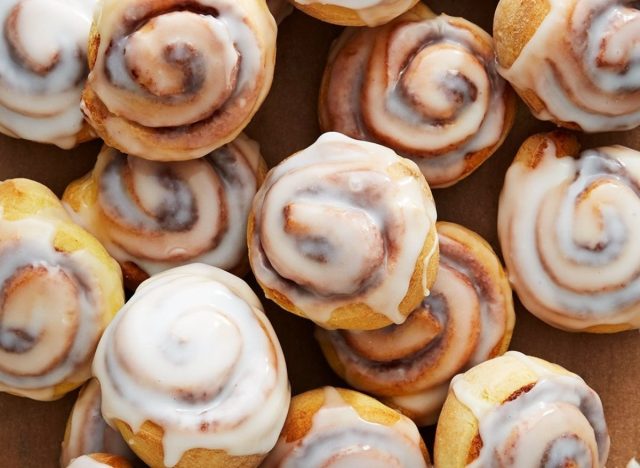 Children of the '90s, if you didn't gobble up these bite-sized cinnamon rolls served with an icing dipping sauce while wandering the mall, were you even living? A Dollar Menu special that was a collaboration with Pillsbury, the miniature cinnamon buns made a brief return in 2018, only to disappear again.
McDonald's Fried Apple Pie
Literal decades after Mcdonald's switched their fried apple pie, which was phased out in the '90s, for a "healthier" baked version, fans still beg the chain to bring the original back with multiple petitions. However, the only way you can get this crispy sweet treat is to leave the United States – it's available in the UK, Mexico, Brazil, Greece, and many other places.
Lum's Beer Steamed Hot Dogs
Launched in the 1950s, Lum's at one point had over 400 locations in the U.S. and was well known for its unique beer steamed hot dogs. You could get the dog plain, or topped with sherry-flavored sauerkraut (!). Unfortunately, the business closed shop in 1983, so this hot dog only lives on in our memories (or imaginations).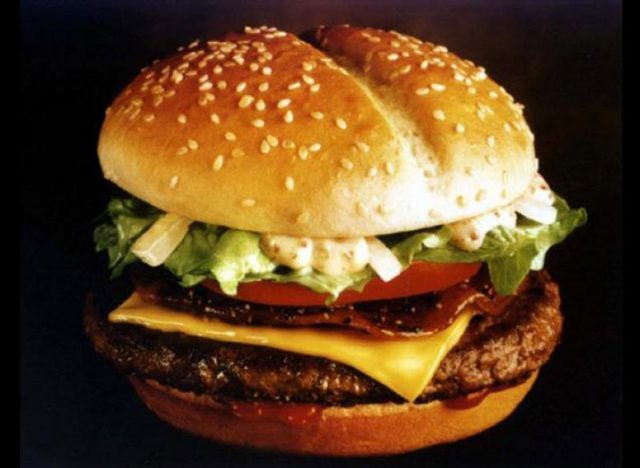 This adult-oriented (no, not like that!) burger debuted in 1996, and was crafted to appeal to more sophisticated tastes, meaning you wouldn't find it in a Happy Meal. Unfortunately, it turned out that people weren't interested in going to Mickey D's for more elevated meals. Between that and the (then-high) $2.49 price tag, the Arch Deluxe was a tough sell. It was quickly discontinued.
Going in the opposite direction of the Arch Deluxe to appeal to adults, McDonald's Salad Shakers might be the pinnacle of fast-food salads—they were a literal cup of salad you shook up to mix and eat. Available in garden, cobb, and Caesar varieties, these salad shakers were introduced in the early aughts and didn't last long. (To their credit, they do kind of feel like the O.G. version of the mason jar salads that became popular in the last decade.)
Wendy's Chicken Caesar Pita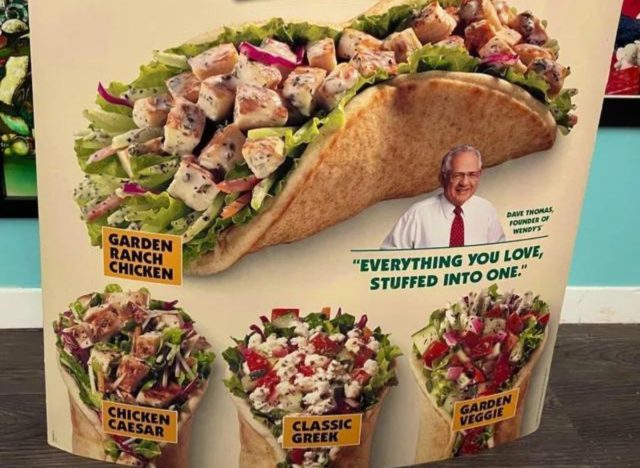 The wrap sandwich craze of the late '90s hit Wendy's in the form of a chicken Caesar salad with low-fat dressing, wrapped in a warm piece of bread. Supposedly healthy (we'd probably go with healthy-ish), the sandwich only stayed on the menu for a few years, but even now, fans are still trying to recreate it at home.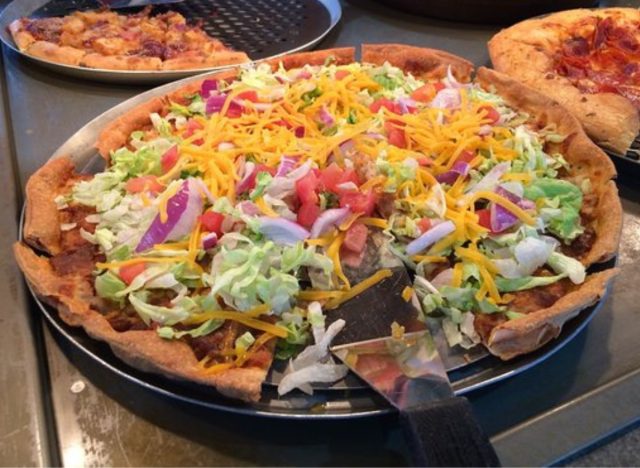 Before Taco Bell's Mexican Pizza, there was Pizza Hut's Taco Pizza. Introduced in the late 70s, it was apparently a "pizza-looking, taco-tasting pizza" according to the classic vintage ad. It's been discontinued for decades, but this early version of today's popular fast food mash-ups will live in infamy forever.
Tanya Edwards
Tanya Edwards is a seasoned food and health journalist, who has held roles at Yahoo Health as Managing Editor and at Food Network as Programming Director.
Read more about Tanya