50 Old-Fashioned Recipes You Should Make Now
These classic recipes have stood the test of time.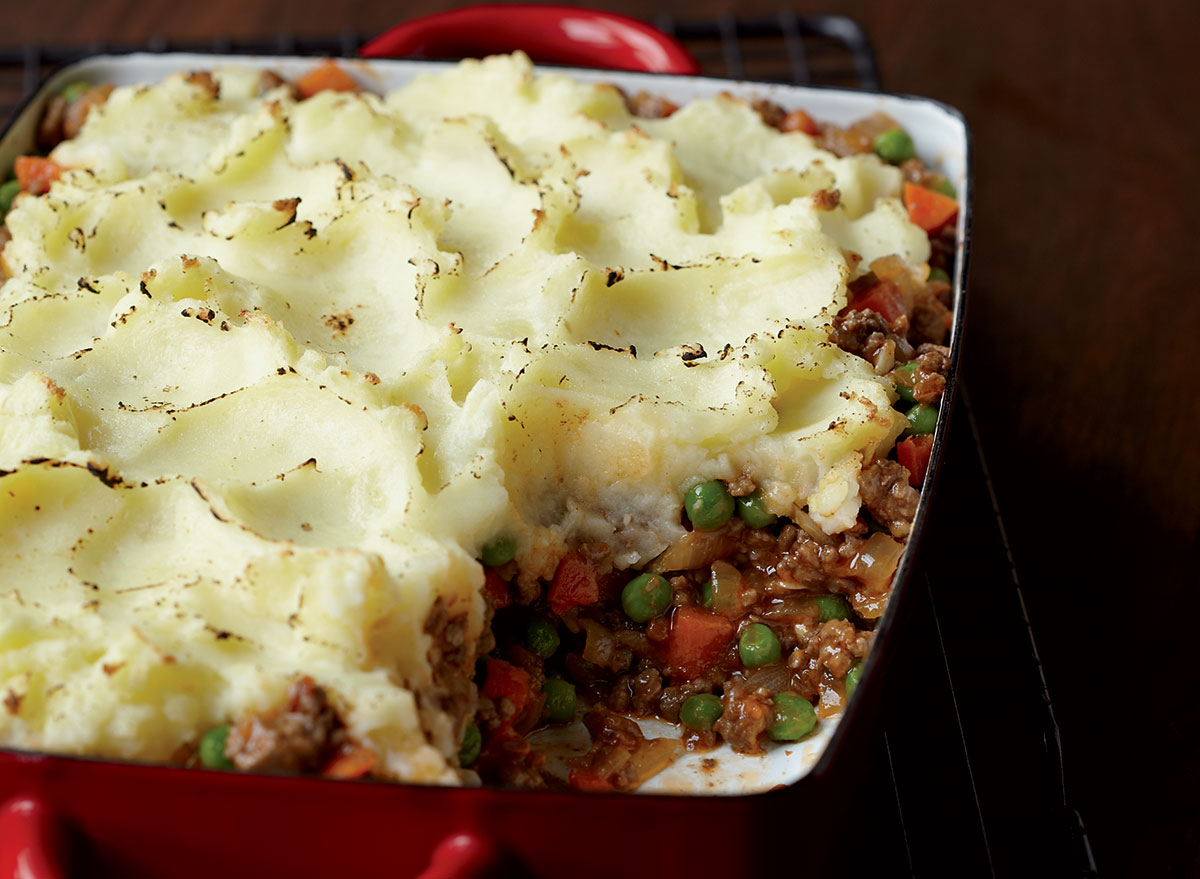 Take a step outside, and you'll know it's a strange new world we've been living in since the pandemic began. Folks are wearing surgical masks and greeting one another with awkward elbow bumps. There are plastic partitions between you and your pharmacist and an eerie absence of cars on the road. It's gotten us feeling downright nostalgic—not just for the smörgåsbord of free samples at Costco (although, who doesn't feel that ache?), but for buffets and potluck dinners, and the old-fashioned casseroles and other divine, crowd-pleasing vittles you knew would be waiting for you on the line. And don't even get us started on fondues, sundae bars, Korean barbecue, and good ole s'mores—all those delights of the pre-pandemic era that presumed at least a minimum of mingling.
But just because the buffet may have gone the way of the Dodo doesn't mean we have to turn our backs on the foods we associate with the days before social distancing. Certainly not when we have all of these wonderful recipes for old-fashioned foods we still love. And for more, check out these 22 Meals to Melt Belly Fat in 2022.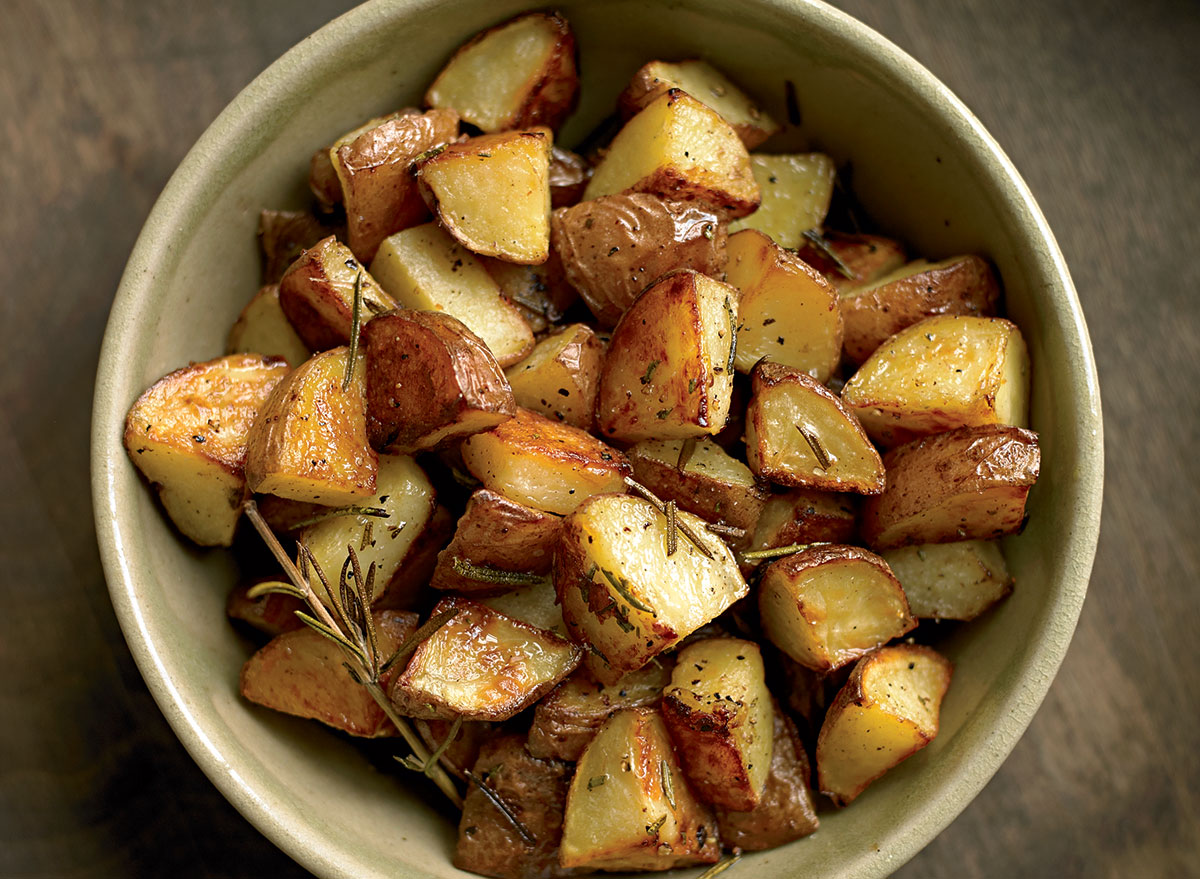 The practice of roasting and eating plant starches goes back 120,000 years, so it doesn't get much more old-fashioned than good old roasted potatoes. This version crisps up in the oven with just a hint of olive oil and fresh chopped rosemary. Don't miss the single best way to store potatoes, too.
Get our recipe for Crispy Roasted Potatoes. 
The practice of simmering meat in liquid over a fire goes back at least 5,000 years and perhaps as many as 20,000, so stew is another beloved dish that puts the "old" in "old-fashioned." Any kind of meat will do, but a beef stew is always a favorite.
Our recipe for the classic American version uses red wine for deep flavor (psst…here are five tips for cooking with wine) and might just be the reason slow cookers exist.
Get our recipe for Classic Beef Stew. 
Various cultures have made beef stew their own by tweaking the particular herbs, spices, potatoes, and vegetables that make up the stew, along with the beef. This one gets its Mediterranean flavor from smoked paprika (aka pimiento), as well as from olives, which have been around since Neanderthals walked the Earth. Here are 20 more spicy recipes to fire up your metabolism.
Get our recipe for Smoky Spanish Beef Stew.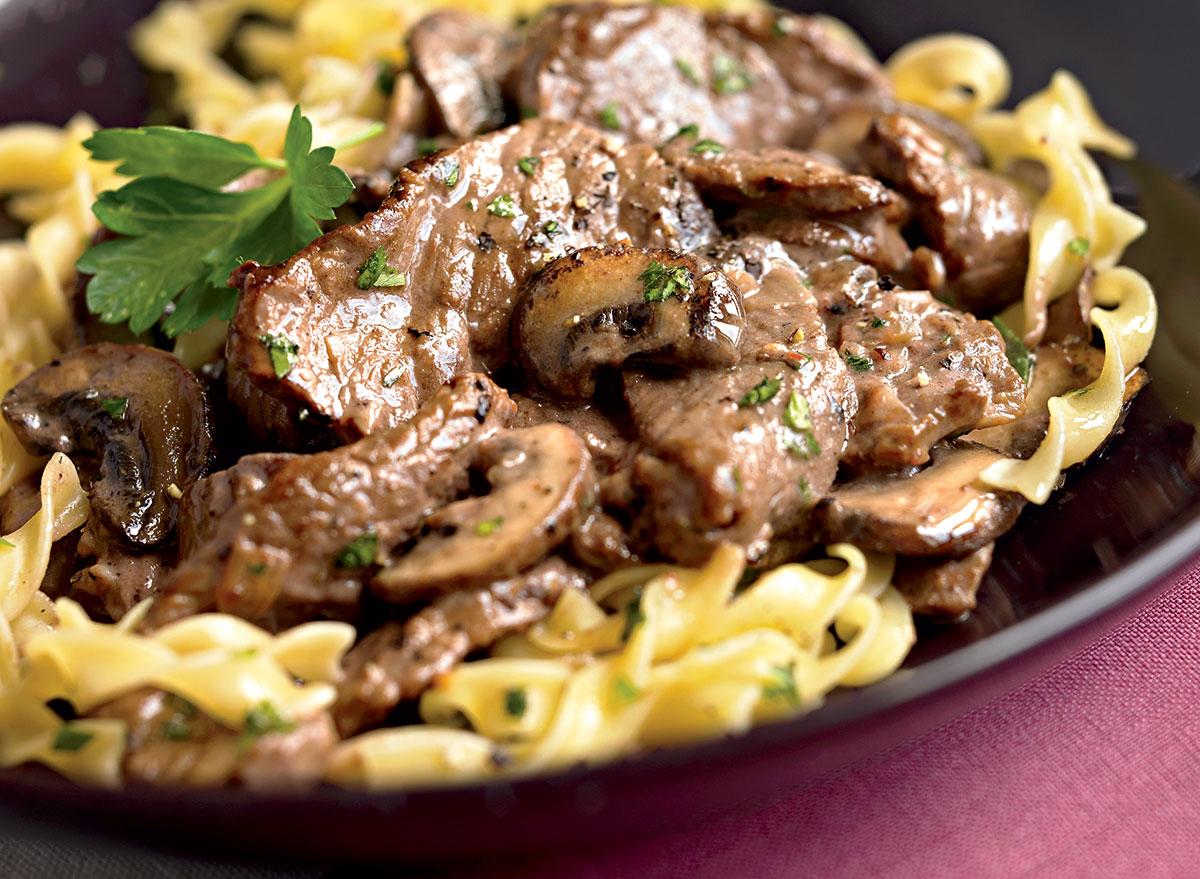 Stroganoff is a Russian take on beef stew, and there's reason to believe it's been on the menu in what is now Petrograd since the mid 19th century (here's how it got its name, along with 39 other famous foods). Its primary distinguishing feature is that sour cream is stirred into the sauce at the last second. But the sour cream need not be "sour cream." Our version uses Greek yogurt, which is high in protein and makes this dish vkusnyye (that's "delicious" in Russian).
Get our recipe for Beef Stroganoff.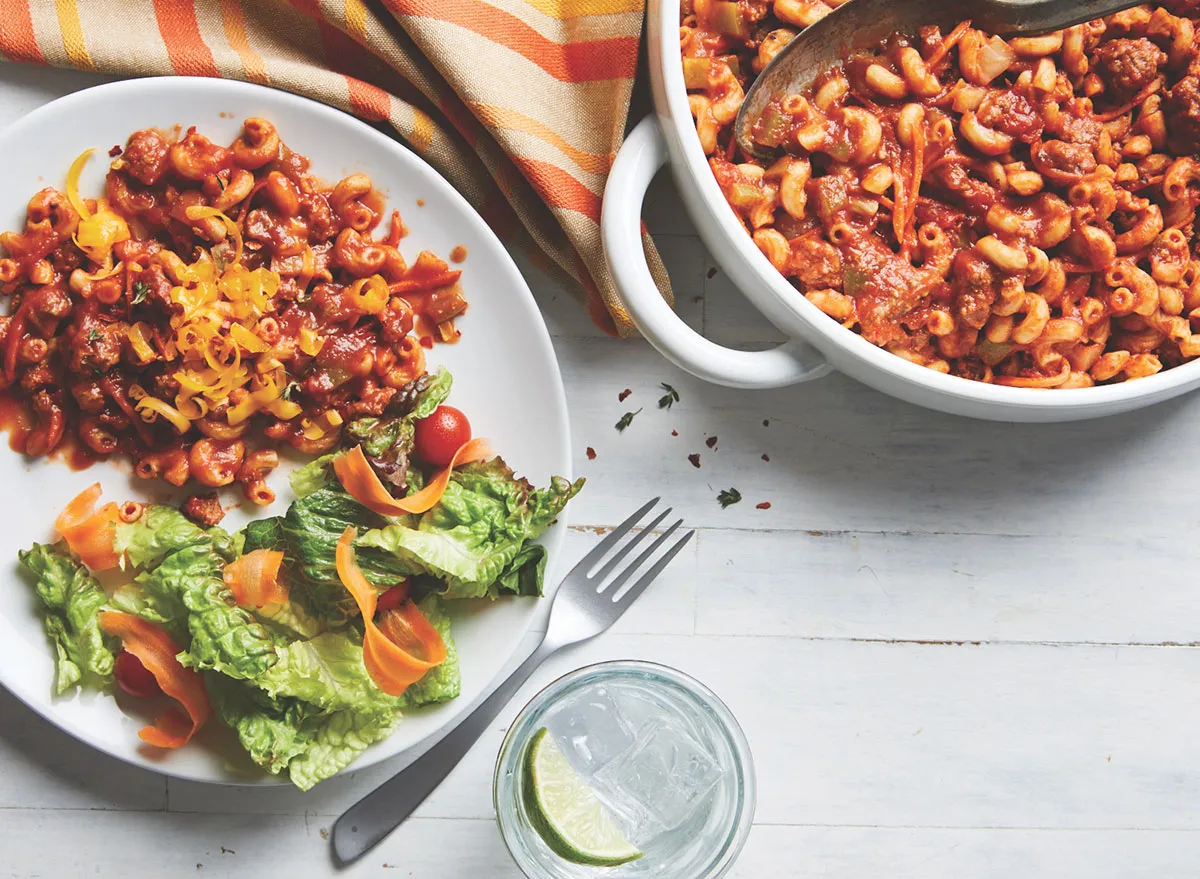 Hungarian goulash was developed during the middle ages by eastern European shepherds in need of a reliable, long-lasting energy boost. When it made its way to America, what it lost in traditional smoky flavor (which came from paprika), it gained in noodles, making it one of America's classic, hearty "square meals in a pot." Here are 34 other healthy recipes you can make with a can of tomatoes.
Get our recipe for Beef Goulash.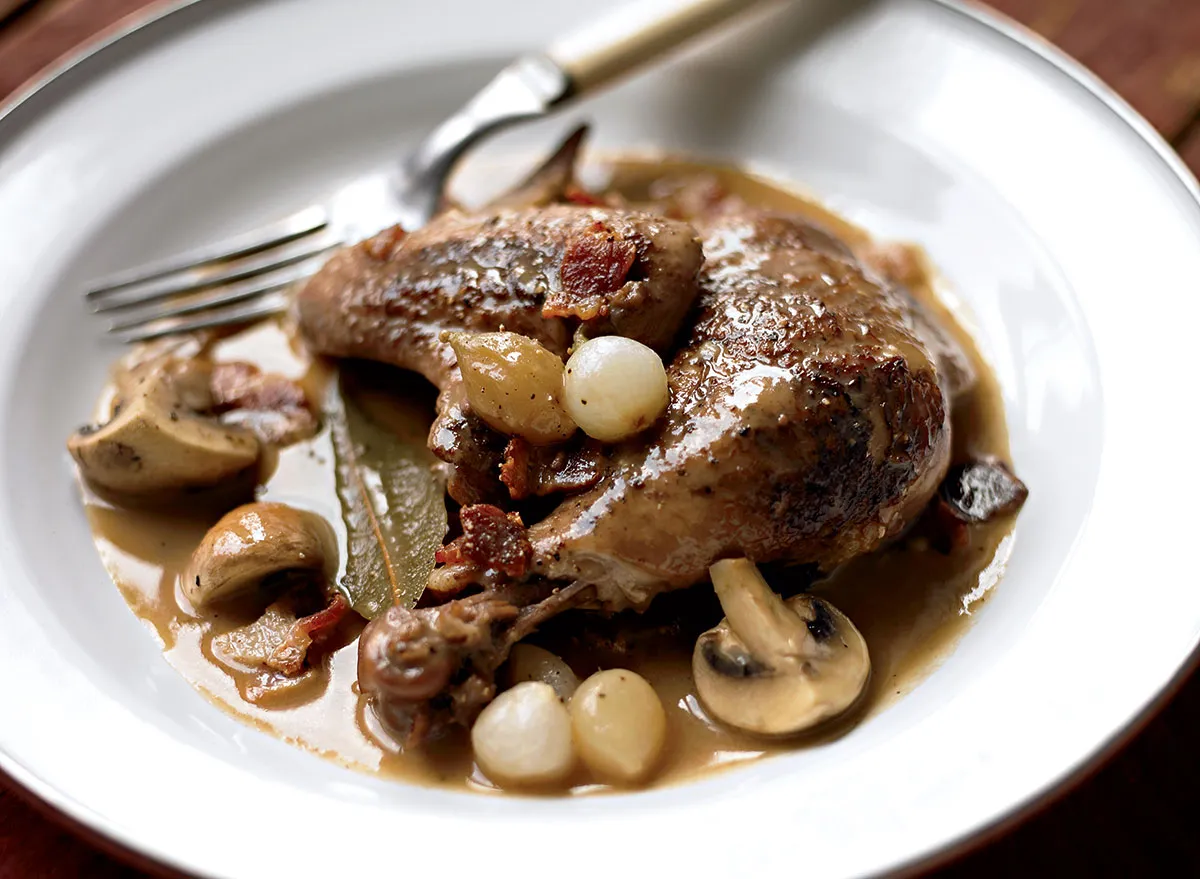 As we noted before, stews don't have to be made with beef. Chicken has long been an important ingredient in the stews of some cultures, including the French, whose tradition is to stew their chicken in red wine ("coq" means chicken and "au vin" means with wine). So, how do the French stay so slim while eating such wonderfully rich foods? It could be that they tend to make this a habit.
Get our recipe for Chicken in Red Wine.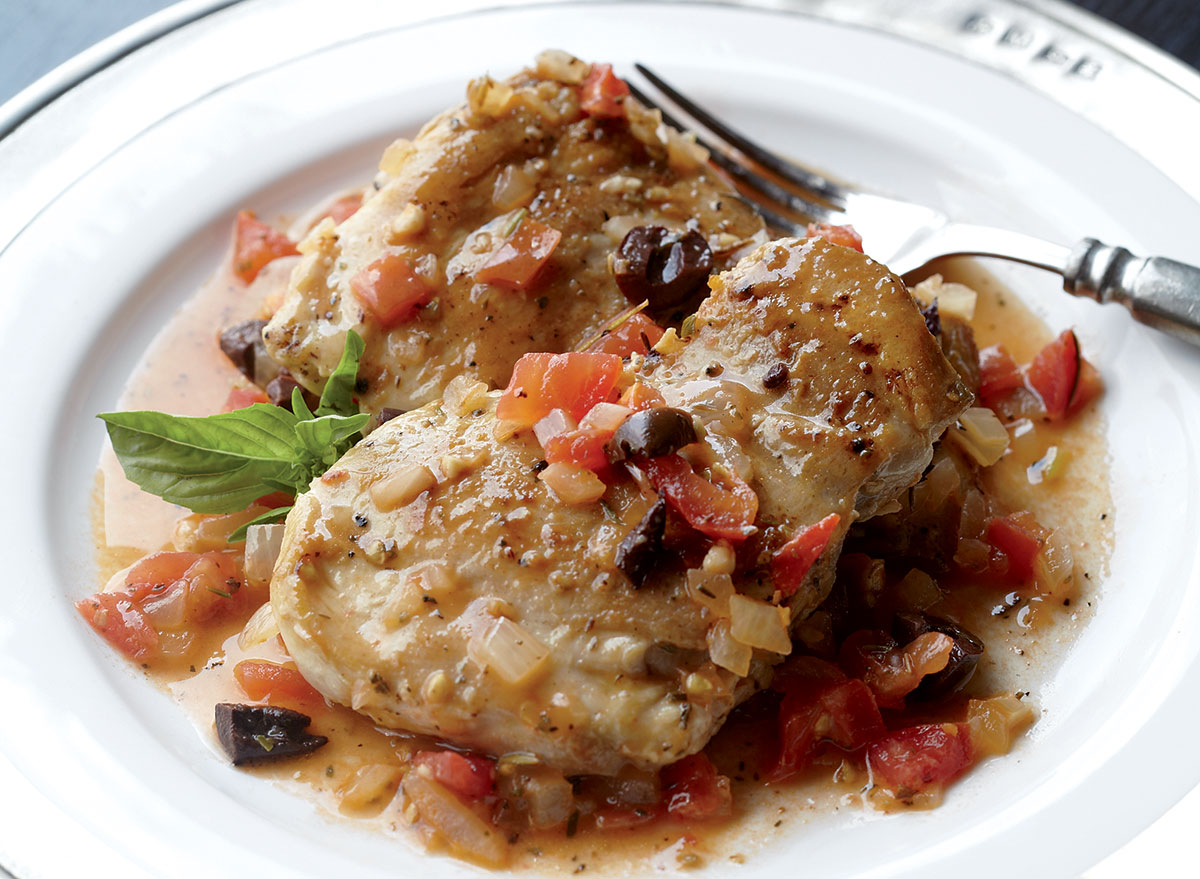 Chicken Provençal refers to chicken flavored with herbs de Provence, a savory, almost floral mixture of green herbs like marjoram, rosemary, thyme, oregano, and sometimes lavender. Although Mediterranean cooks have been making use of this fragrant combo for ages, it didn't come into popular usage in the U.S. until Julia Child brought attention to it in the 1970s on her television show, The French Chef. Here's a French classic that you should never order in a restaurant, although our version is nutritionist-approved.
Get our recipe for Chicken Provençal.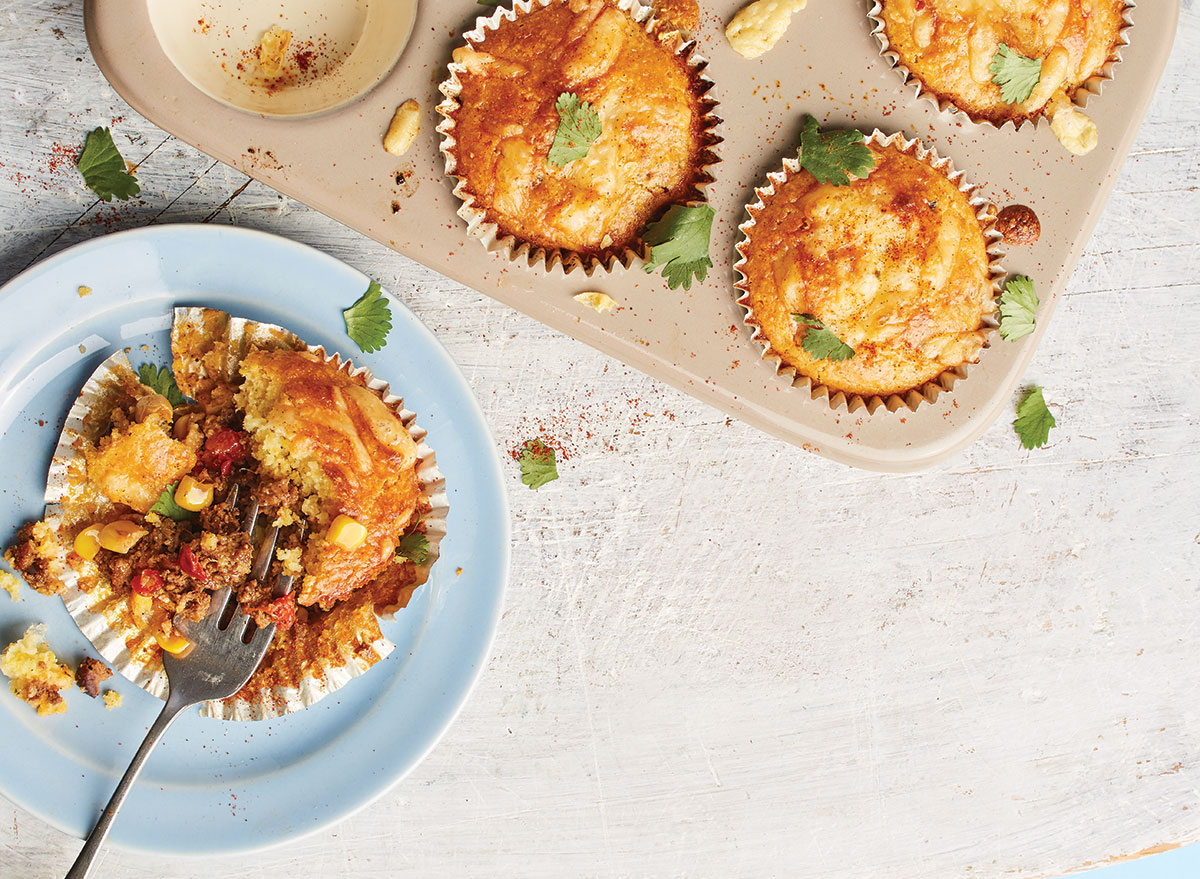 Tamales, if you've never tried them, are one of the world's first portable foods, consisting of corn-based dough wrapped around spiced and stewed meats and vegetables, then steamed in a banana leaf parcel. Although tamales have been eaten by warriors and other travelers since as far back as 8,000 B.C., we thought it might be fun to make them even more portable by turning them into teeny tiny pies. Here are 6 "Mexican" dishes that Mexicans don't eat, at least not traditionally.
Get our recipe for Teeny Tiny Tamale Pies.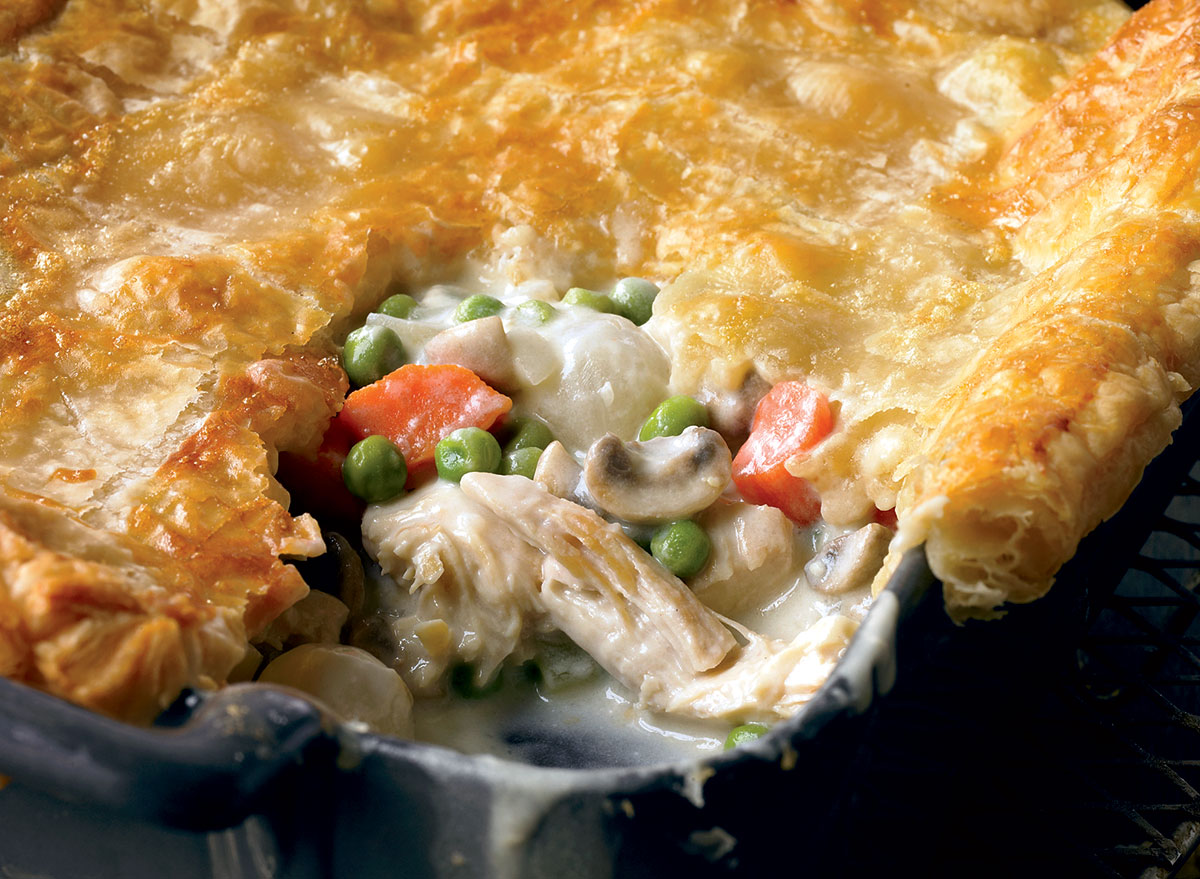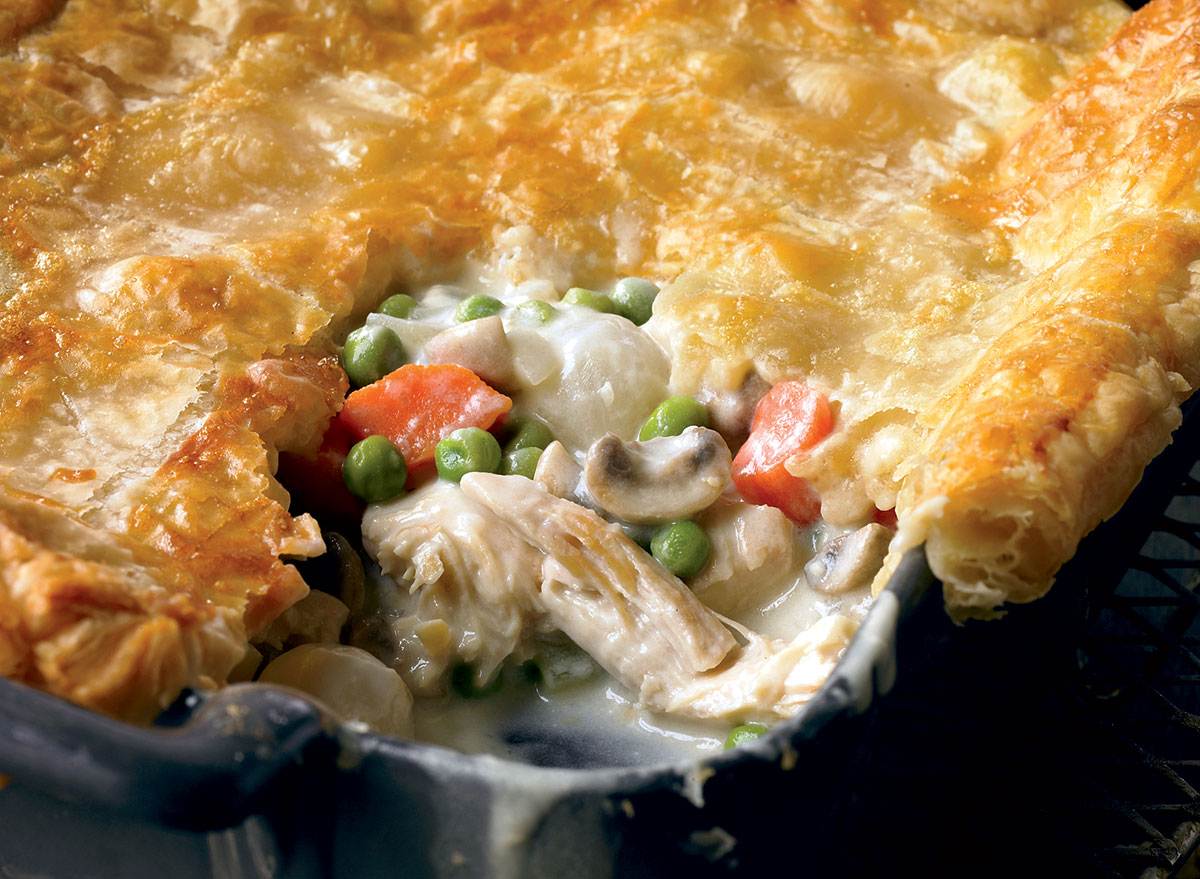 Known as one of America's favorite comfort foods, pot pies appear to have origins in Greece with a vegetarian version, spanakopita. An early American version dates back to the first half of the 19th century, featuring potatoes, carrots, and onions and topped with a crust. Our version reduces the fat content by about half (and here are 13 other healthy versions of chicken pot pie for you to try).
Get our recipe for Chicken Pot Pie. 
Shepherd's pies are another classic meat pie, but instead of a pastry crust on top, they're topped with a whipped potato crust. Traditionally, the meat inside is lamb, which is why that's an option in our healthier version.
Get our recipe for Shepherd's Pie. 
Compared to stew and meat pies, burgers, which date back to the 19th century, are practically newbies in the food world. Still, it's safe to say these burgers are old-fashioned, especially with the addition of A-1 sauce, whose peppery, Worcestershire-like flavor is like a time machine right back to the 1820s when it was invented for the U.K.'s King George V. Just one thing before you get cooking: Please don't make these mistakes when grilling your burgers.
Get our recipe for A1 Swiss Burgers.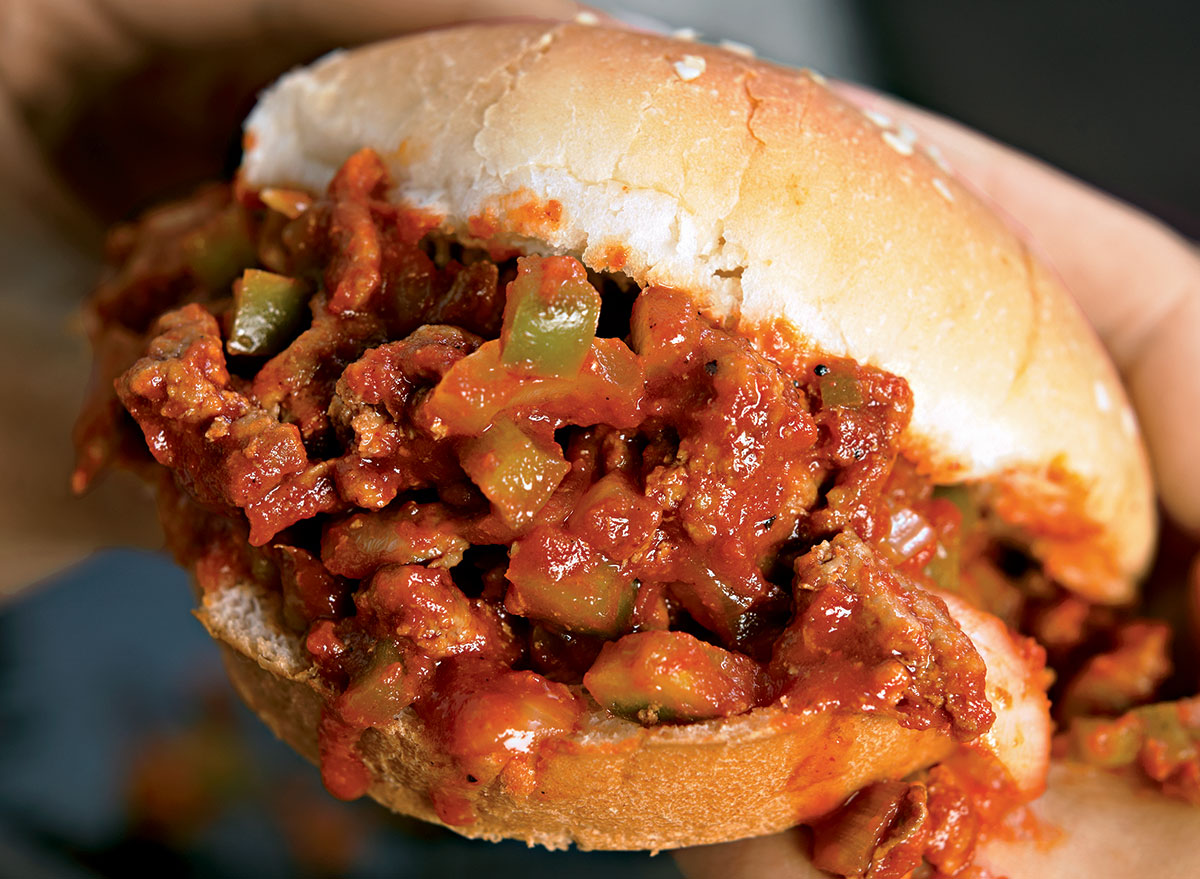 Depending on who you ask, Sloppy Joe sandwiches date back to a bar in Havana by the same name that opened in 1918, or to a post-Prohibition Key West joint frequented by Ernest Hemingway in the 1930s, or to the rise of dishes during the 1950s that were designed to stretch meat further. Whichever theory you subscribe to, ground beef- and tomato-sauce-based Sloppy Joes are a hearty classic (unless you're from New Jersey, in which case Sloppy Joe refers to a triple-decker meat, cheese, and coleslaw sandwich topped with Russian dressing). And if they were once a candidate for the 7 best American classics no one ever eats anymore, we think it's time for a recount.
Get our recipe for Turkey Sloppy Joe Sandwiches.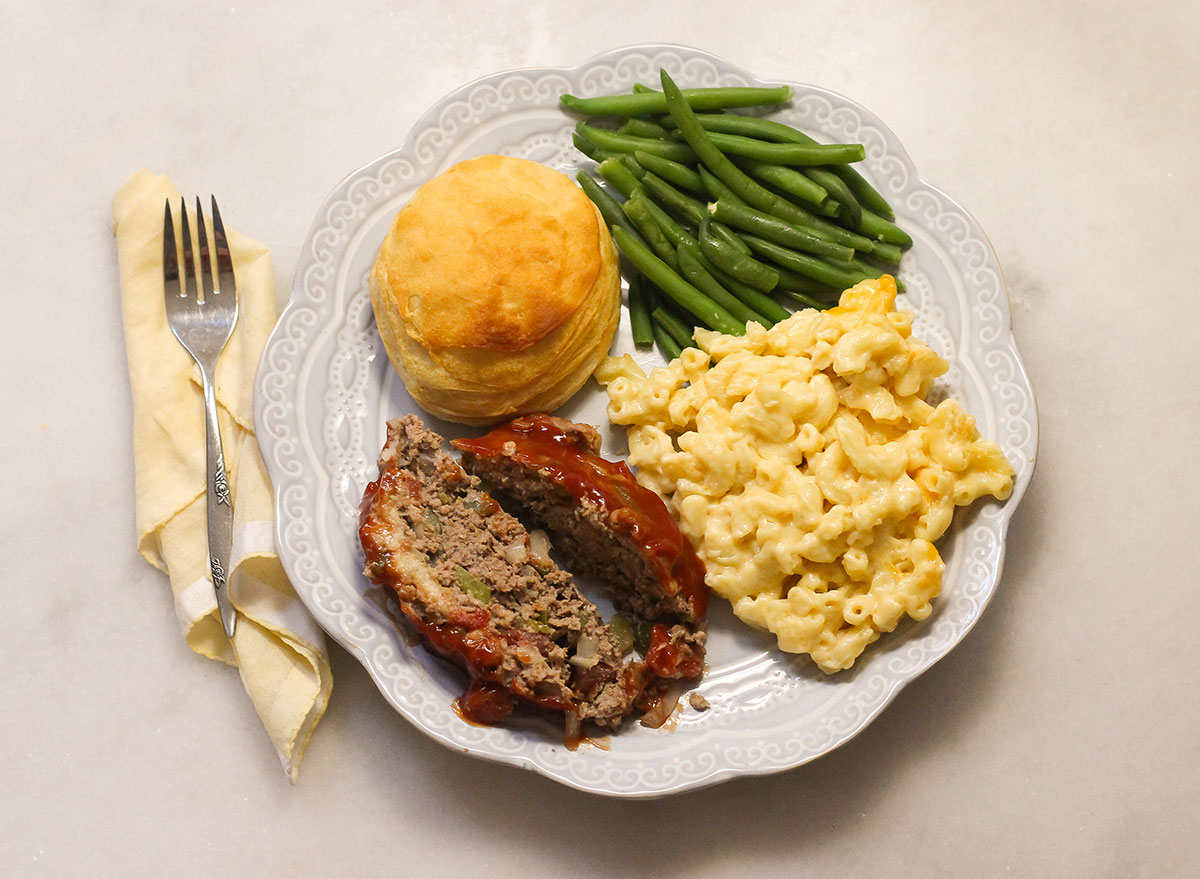 Meatloaf, with its flexible mix of meats and mix-ins (like eggs, ketchup, breadcrumbs, and diced veggies), is as delicious as it is utilitarian. With roots in Germany and other parts of Europe, meatloaf became an American classic long before its loose-meat cousin, the Sloppy Joe. If you want a real taste of Americana, just dive into our Cracker Barrel copycat version, but make sure you read up on how to avoid these 14 meatloaf mishaps first.
Get our recipe for Copycat Cracker Barrel Meatloaf.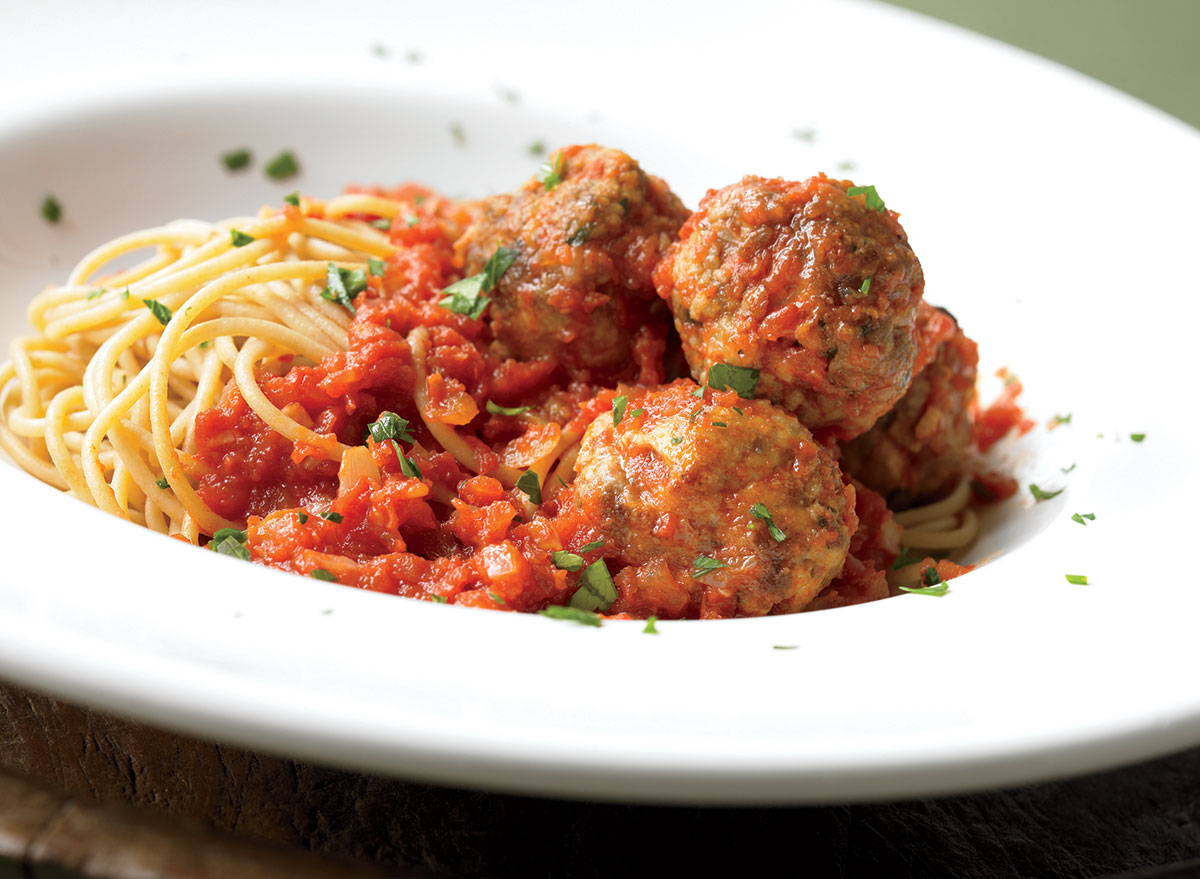 Spaghetti and meatballs were developed alongside meatloaf in the U.S. as Italian immigrants found ways to invoke the food of their homeland while still saving money by stretching their meat further with mix-ins, and spaghetti was often the only pasta available across the Atlantic. The thing is, traditional meatballs emphasized packing in the calories (to provide adequate sustenance for those eating them), but we get the same classic flavor with a few genius substitutions and a lot fewer calories and fat grams. Just don't try to find this dish in Italy.
Get our recipe for Spaghetti and Meatballs.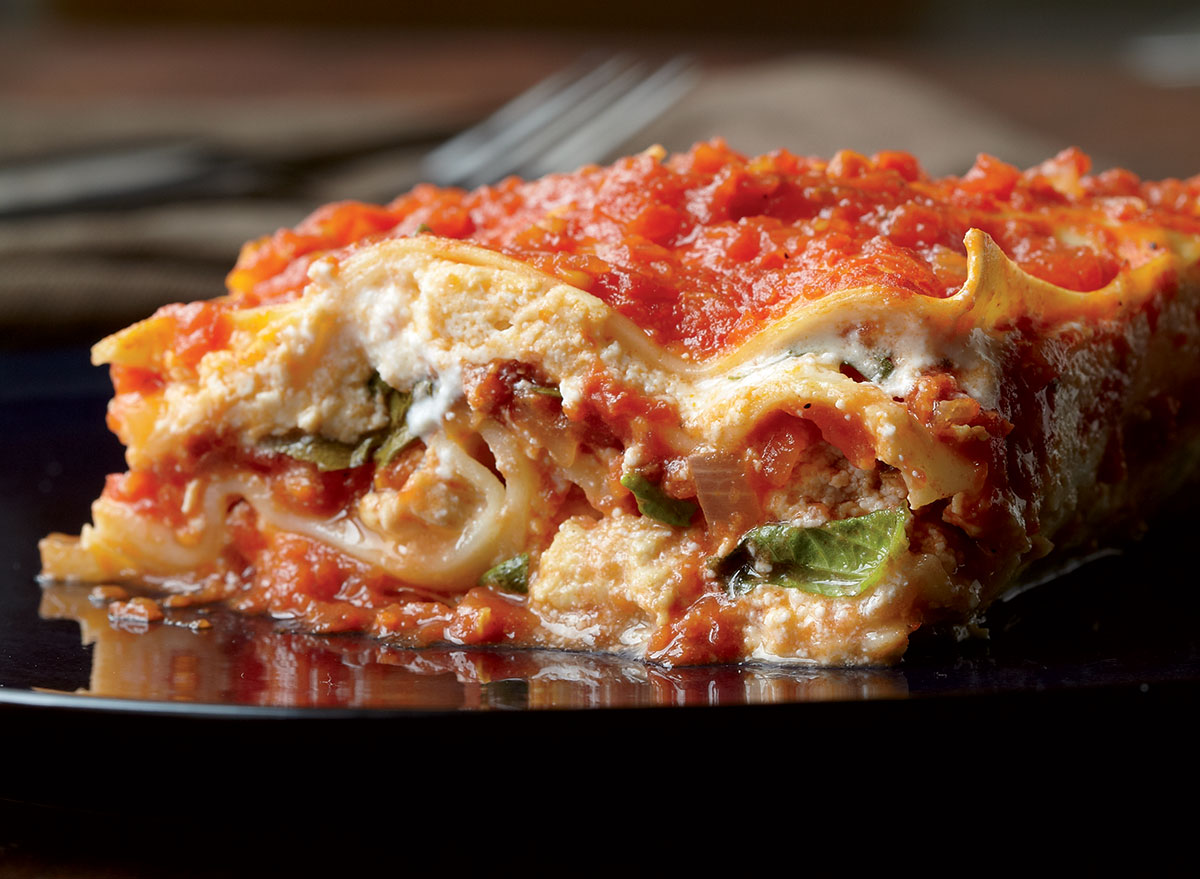 If you thought lasagna was, like spaghetti and meatballs, an American casserole version of the Italian past, you might be interested to know that lasagna has been around since the Middle Ages. It was a favorite back then and has only grown more beloved, and more complex, over time. Our version is closer to what is "classic" in lasagna, using cheese instead of bechamel sauce, which didn't make it into the recipe until it was invented during the Renaissance.
Get our recipe for Chicken Sausage Lasagna.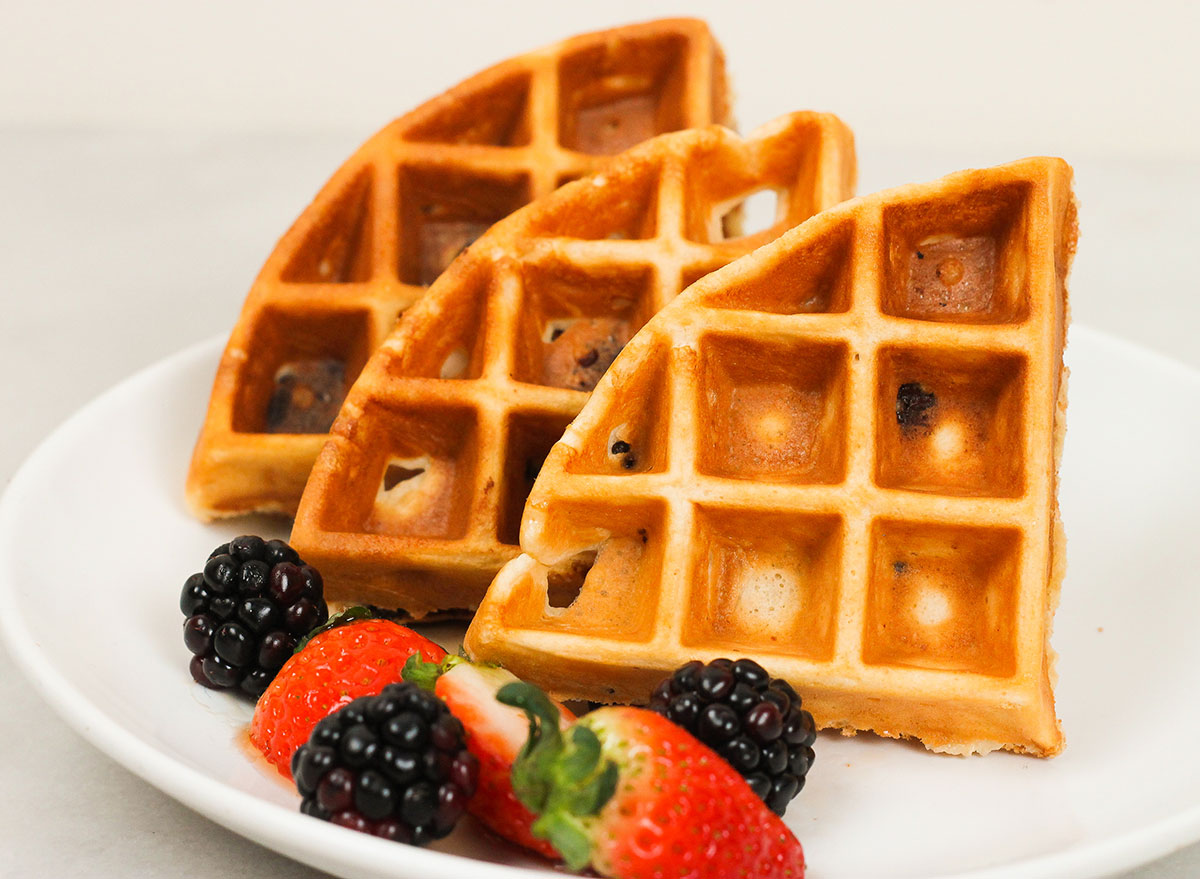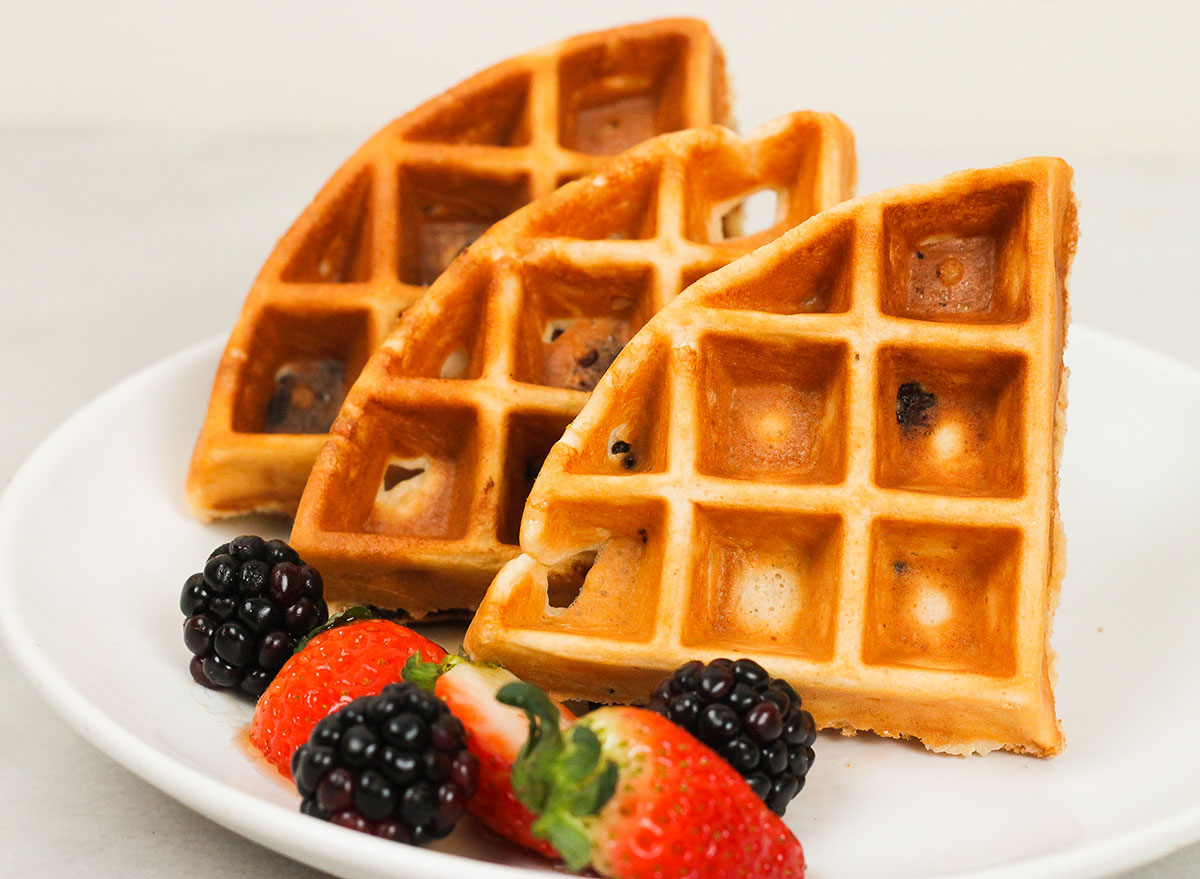 Waffles have a long history dating back to Europe before they made their way to America with Dutch settlers in the early 1600s. By the 1920s, they were such a part of the American breakfast experience that waffle makers were being manufactured to sit on the breakfast table, along with the plates and coffee cups. Our recipe offers everything great about the classic, including those crispy caramelized edges, but with a surprising and welcome boost of protein.
Get our recipe for Protein-Packed Waffles.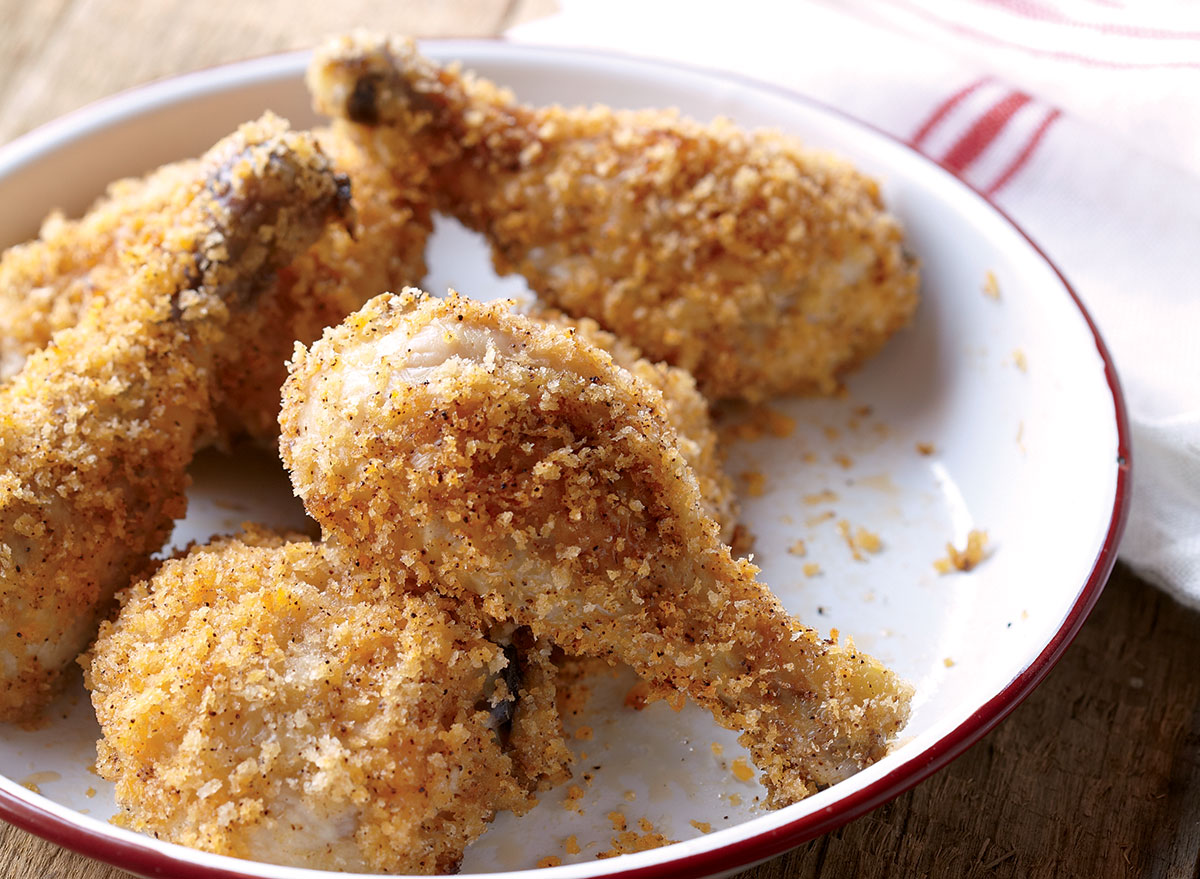 Fried chicken is one of the best examples of vintage Southern cuisine, and even though we don't deep-fry our version, we believe we can call it the real McCoy because it starts with a nice, long dip in a pool of seasoned buttermilk. Enjoy it with a classic drizzle of honey, or serve over waffles, a tradition that dates back to Harlem in the 1930s.
Get our recipe for Fried Chicken.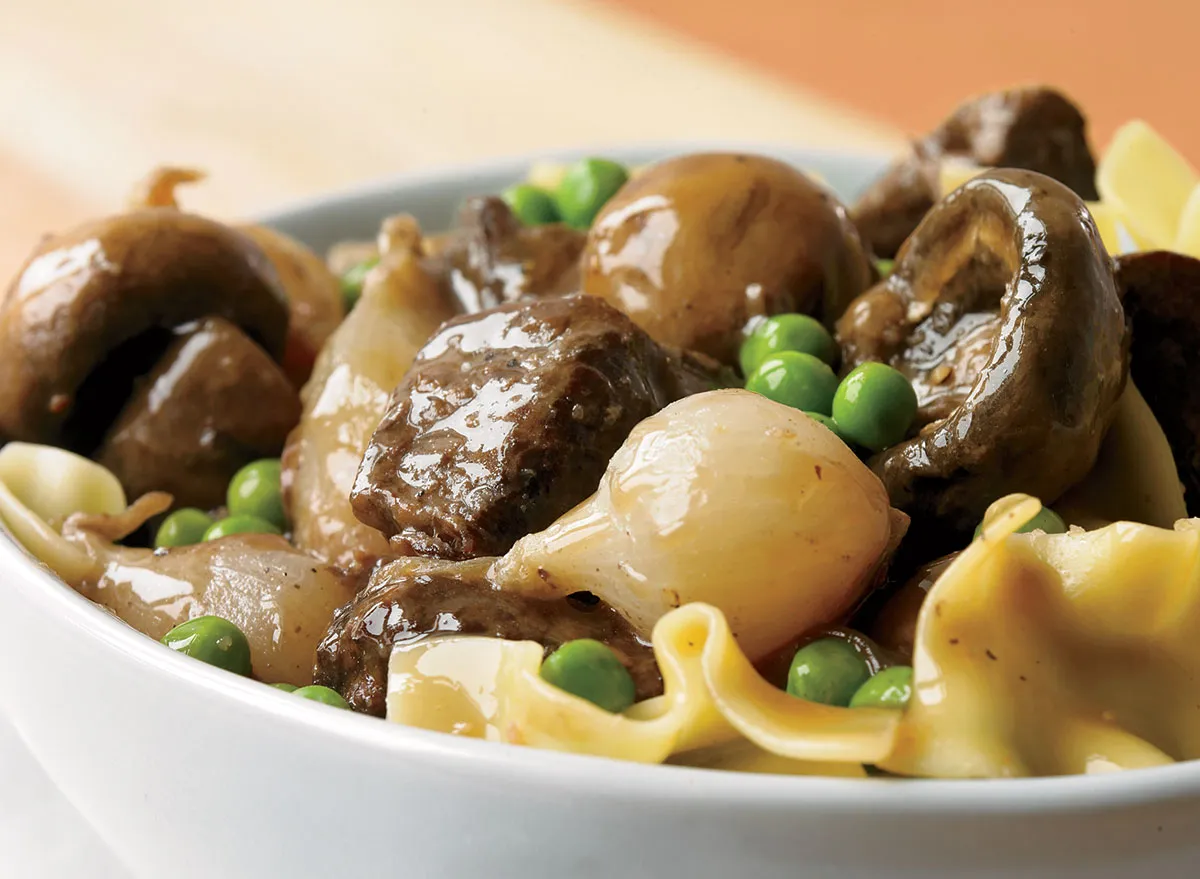 Pot roast, as the name suggests, is a roast cut of meat braised in a pot, rather than roasted in the oven. It likely has its roots in a stew, although classic pot roast, which originated in New England, includes vegetables, whereas classic stew did not necessarily. Our version uses peas and pearl onions and makes perfect use of your slow cooker (just be sure not to make one of these 15 common slow cooker mistakes).
Get our recipe for Pot Roast.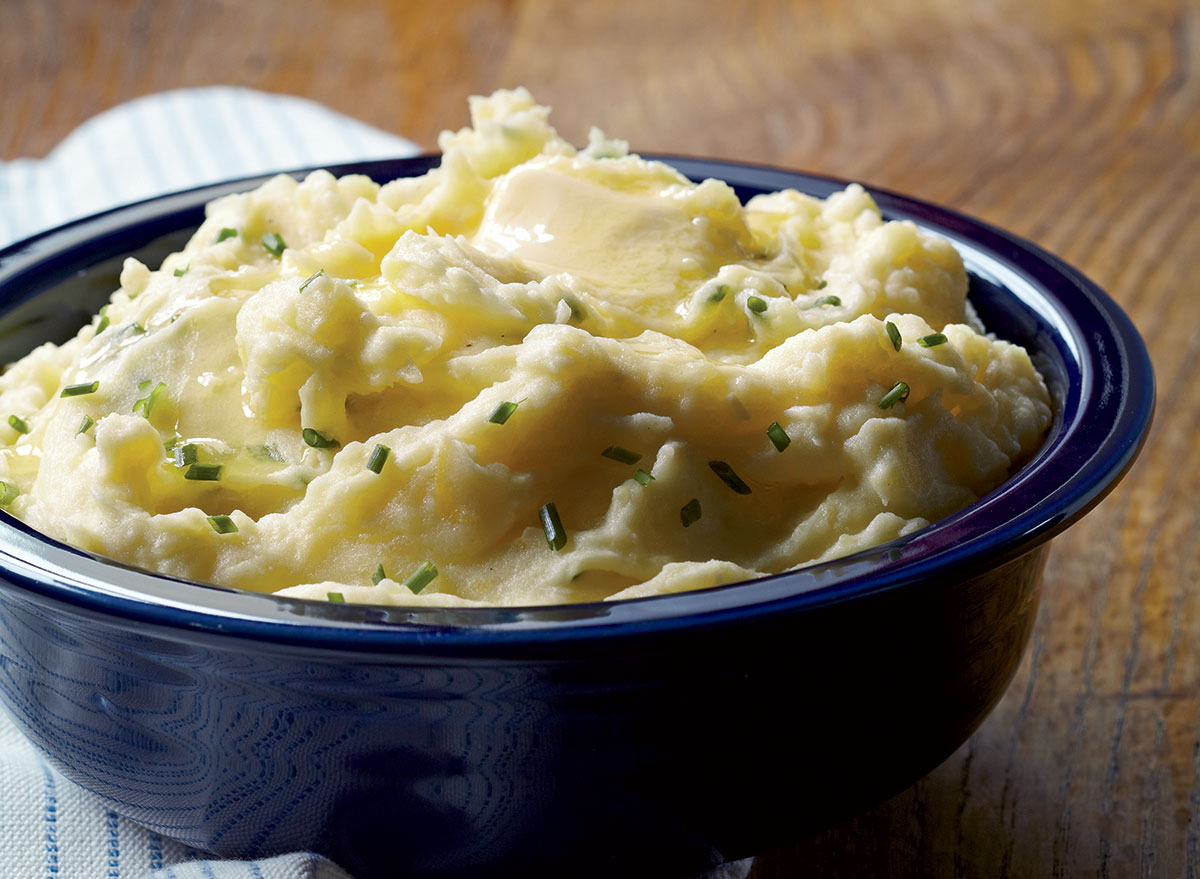 With potatoes being a belly basic since the beginning of recorded cooking, you might find it surprising to learn that mashed potatoes didn't become a thing until at least the 1600s. Still, they've been around for a long time, and certainly long enough and ubiquitously enough to carry with them all the expectations of basically everyone's childhood. That's why when you make mashed potatoes, you'll need a fool-proof crowd-pleaser like our garlic-mashed version.
Get our recipe for Garlic Mashed Potatoes.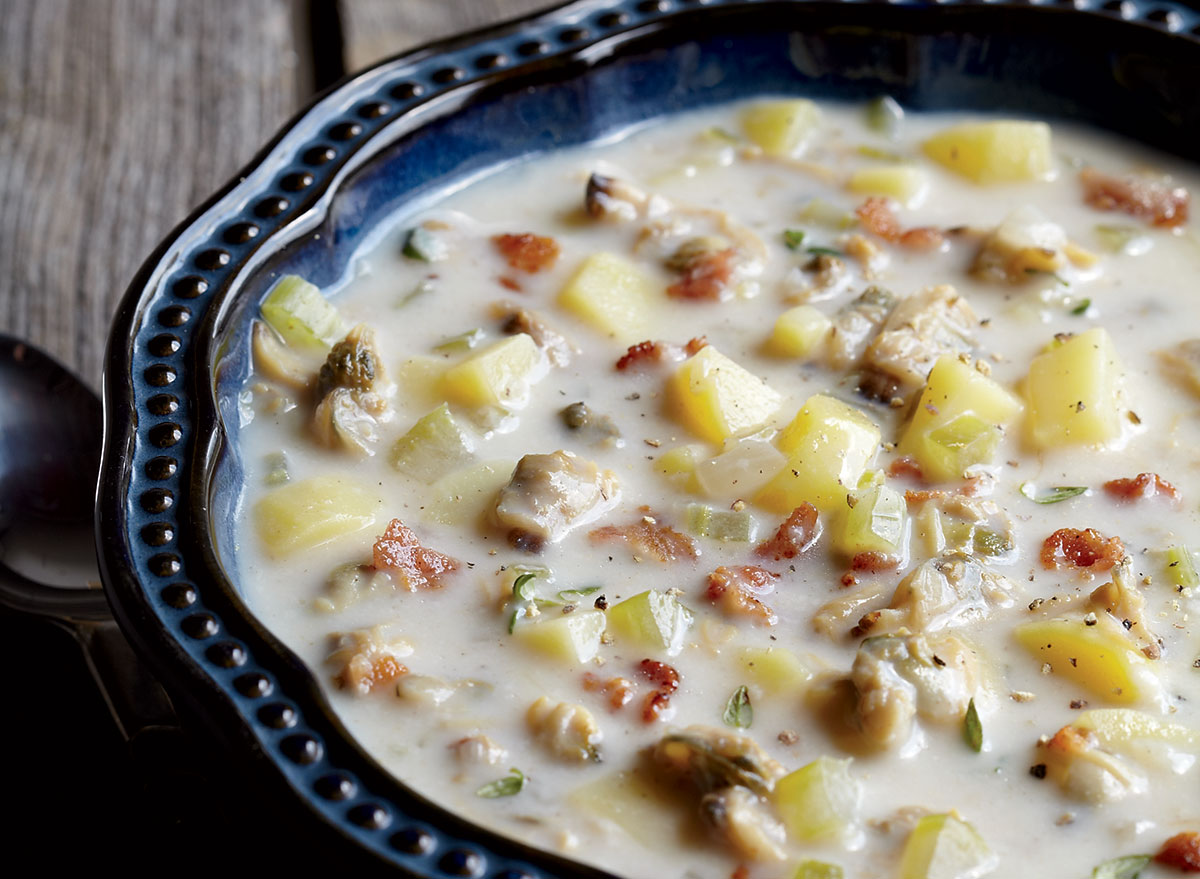 If you're from New England, we apologize for calling this clam chowder "New England," when you know full well that clam chowder is, by definition, the kind made in New England. That is to say: Tomatoes are not welcome in this dish. But if you're from anywhere else, we hope the name makes clear that this is the creamy kind of clam chowder—the true classic that turns tiny little clams and plain old potatoes into a sturdy, hearty meal.
Get our recipe for New England Clam Chowder. 
While the origins of tortilla soup are a bit mysterious, what is known is that it is classic comfort food with a particular style that depends on where you're enjoying it. For example, in Mexico, it has a chicken soup base. In California, you've got roasted tomatoes in the mix. Ours is a little of both, but what it does not have is 86% of your daily sodium needs, as many restaurant versions do. And that makes it some truly buena comida!
Get our recipe for Tortilla Soup. 
Fish with Herbed Breadcrumbs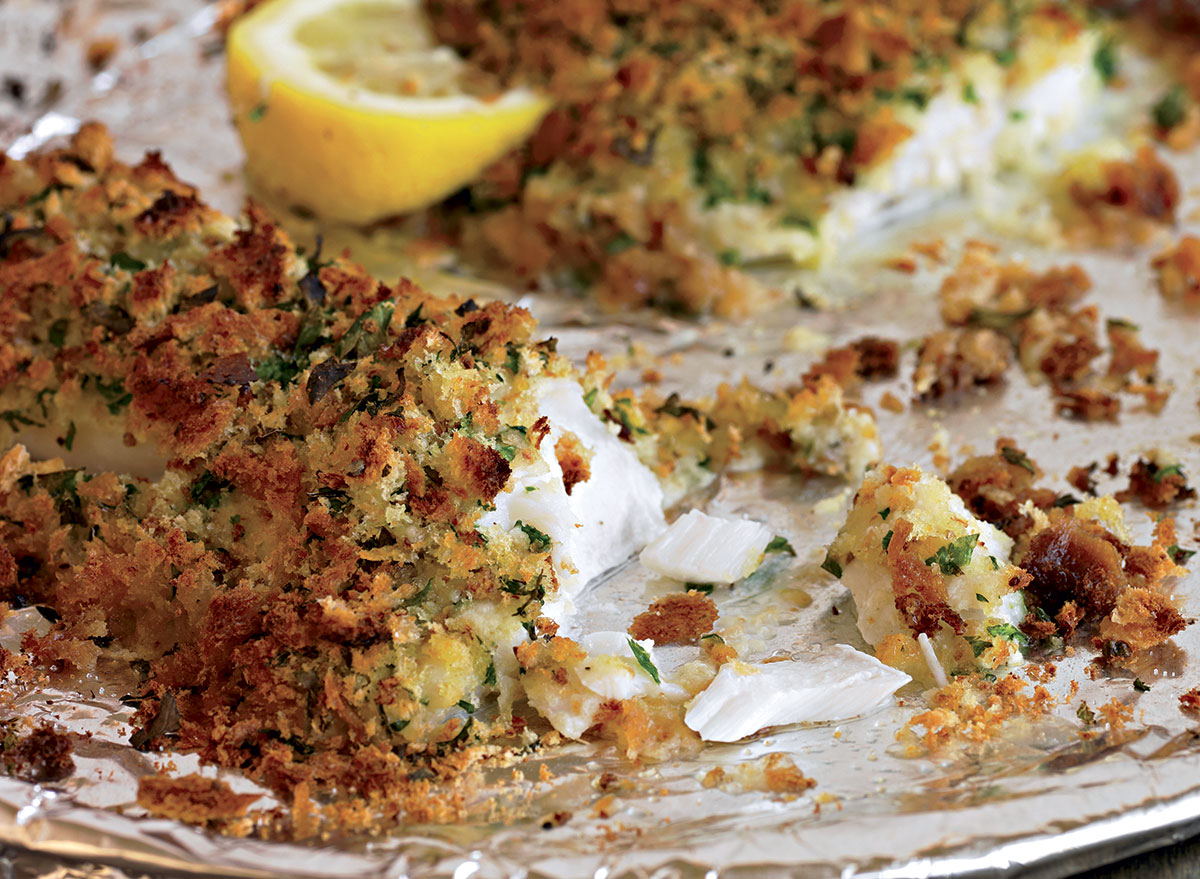 You'll find fried seafood in many cultures throughout the world, and we especially love the fried clams that are a New England tradition. But the thing is, you don't need to deep-fry seafood to get that golden crispy effect. And this is especially true when it comes to fish fillets. A dredge in breadcrumbs and herbs and 20 minutes in a hot oven brings out that same flavor, not to mention a deep, herbaceous aroma. Serve with tartar sauce for a true classic.
Get our recipe for Fish with Herbed Breadcrumbs.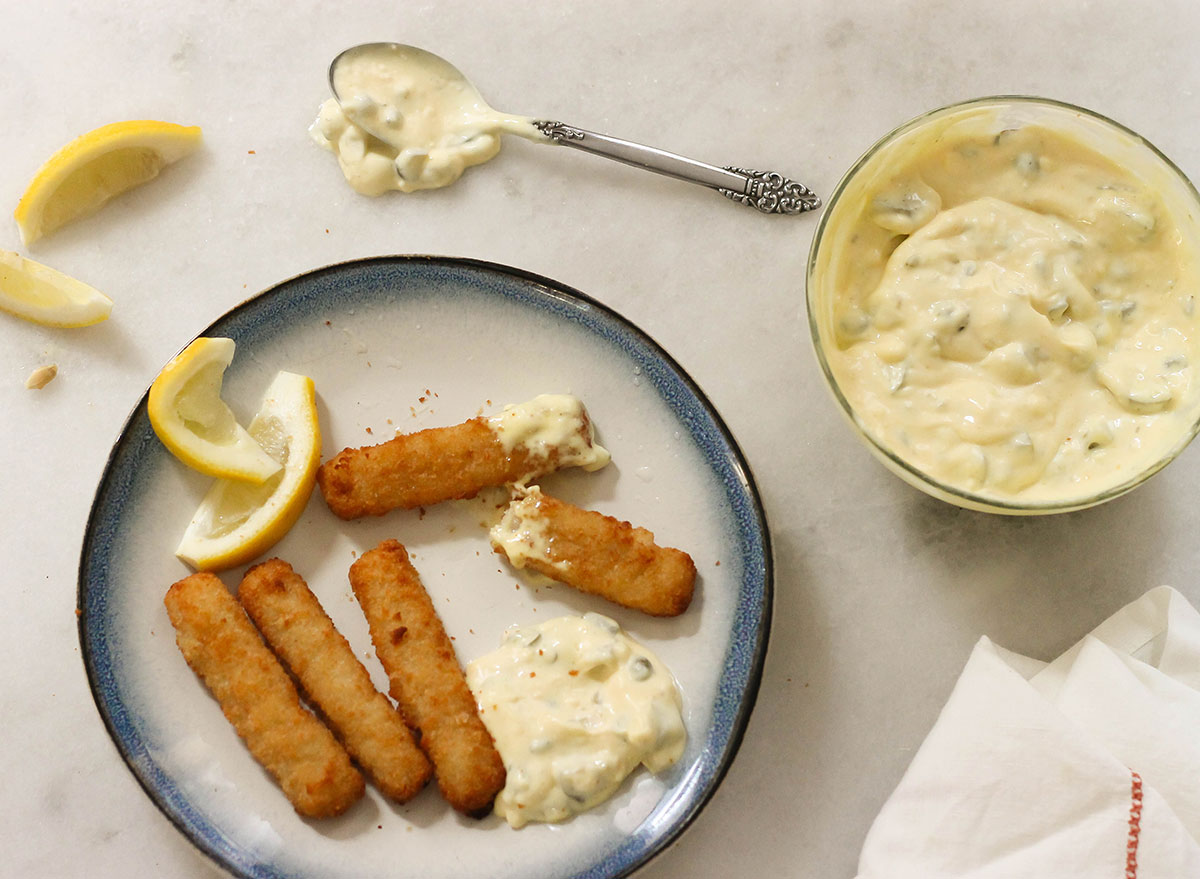 Some believe that this creamy, tangy, and slightly umami condiment for fried seafood derives from France, but it may have roots that go much further east. What we can say for certain is that Hellman's introduced its jarred Tartar Sauce in the roaring '20s, and Americans have been spooning it onto crunch-coated seafood ever since.
Our version also starts with mayo and is studded with pickles and capers, making it a perfect contrast to our aforementioned fish with herbed breadcrumbs. If it's fried crustacean you crave, then try this sauce as a dip for our air fryer coconut shrimp.
Get our recipe for Old-Fashioned Tartar Sauce.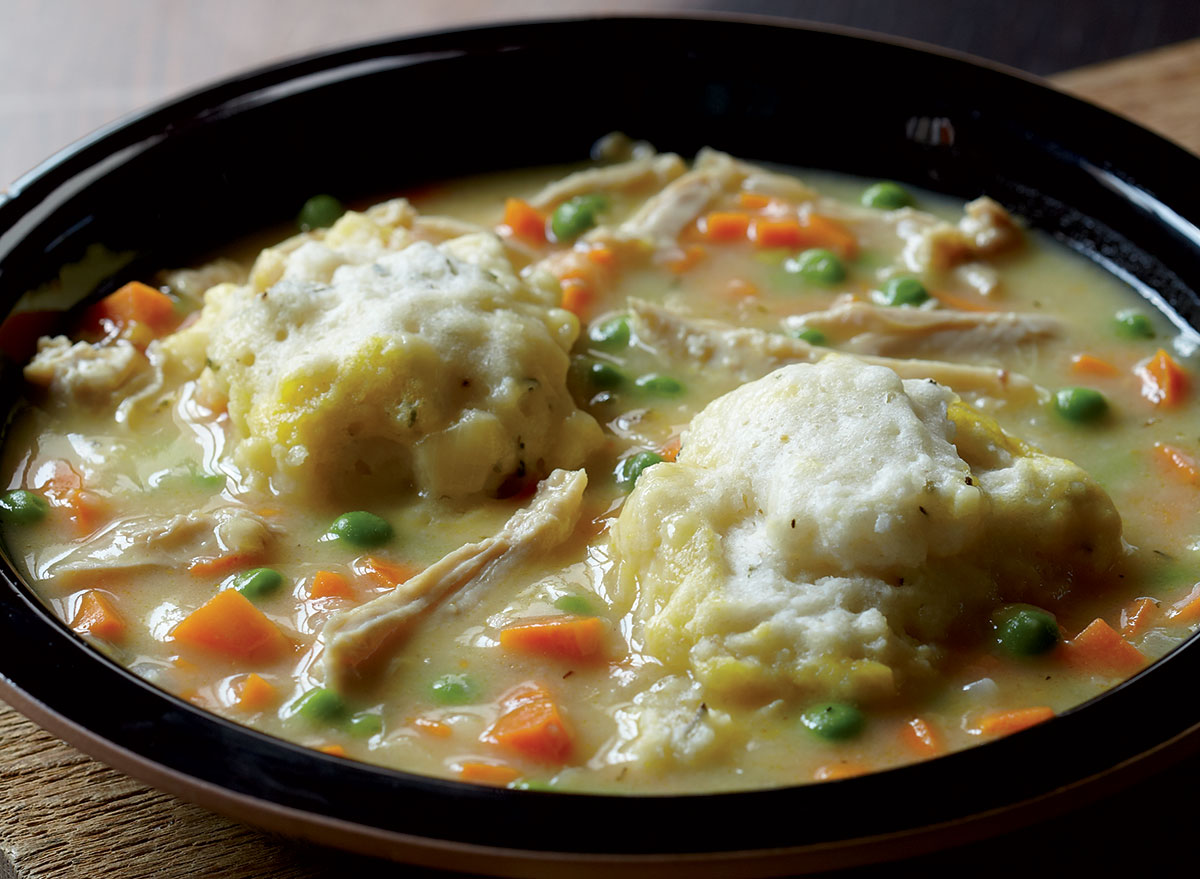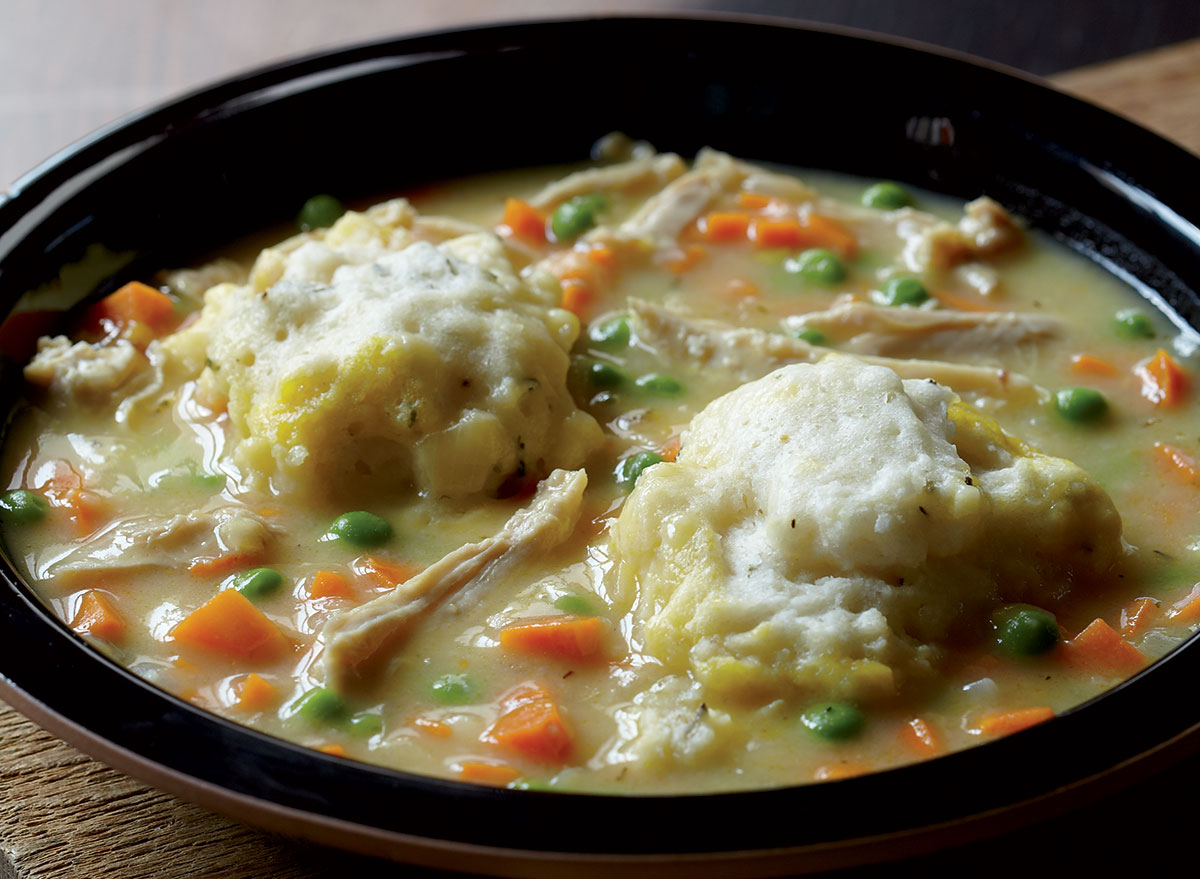 The quintessential Southern comfort food, chicken and dumplings is surprisingly easy to make. It's also quite forgiving because the dumplings can be any shape or size you want them to be. So, go ahead and let your kids help you out. You might just be starting a family tradition.
Get our recipe for Chicken and Dumplings.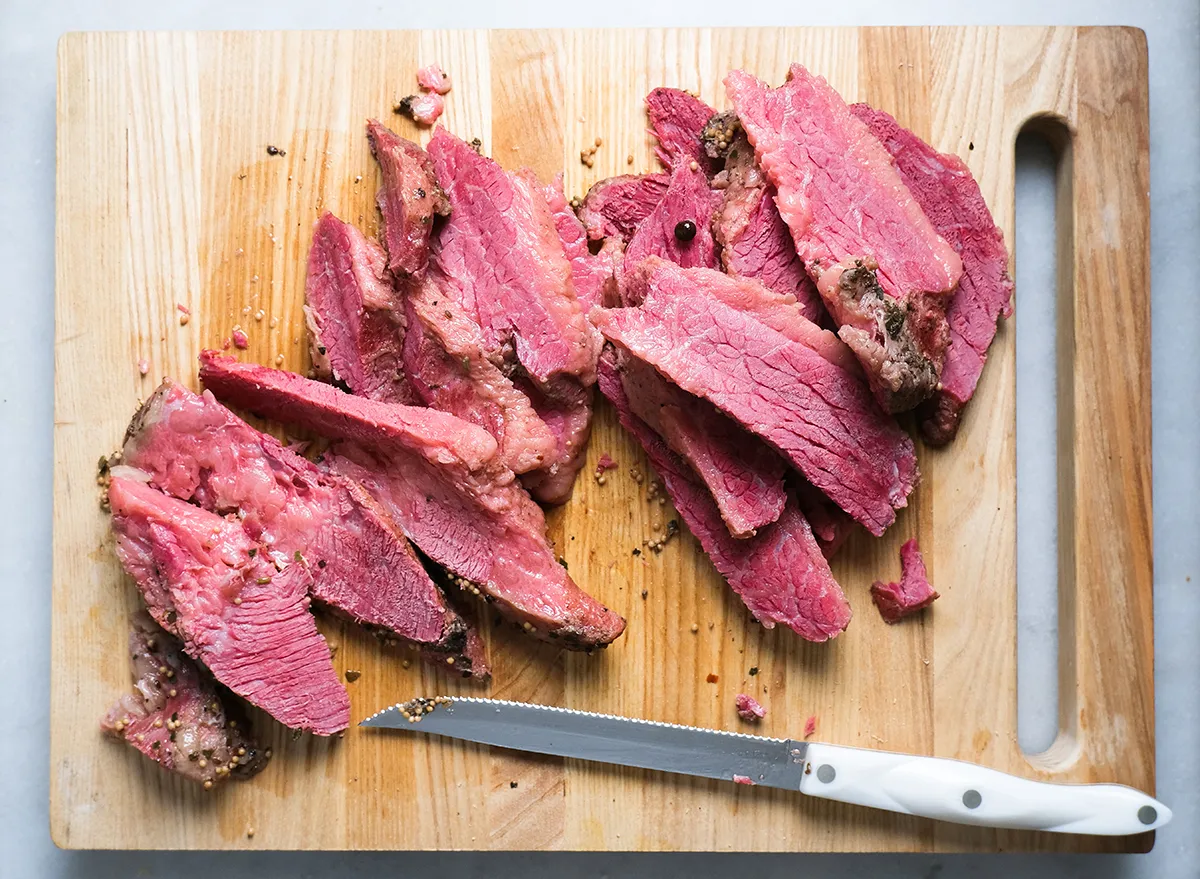 Ever wonder how the traditional St. Patrick's Day entrée got its name? According to Smithsonian magazine, the word "corned" refers to the corn-kernel-sized salt crystals used to brine the meat before cooking it. But here's something even more unexpected: The dish isn't an Irish tradition, after all, having been invented in the U.K. Nevertheless, here's what you'll want to be eating next St. Paddy's Day.
Get our recipe for Corned Beef.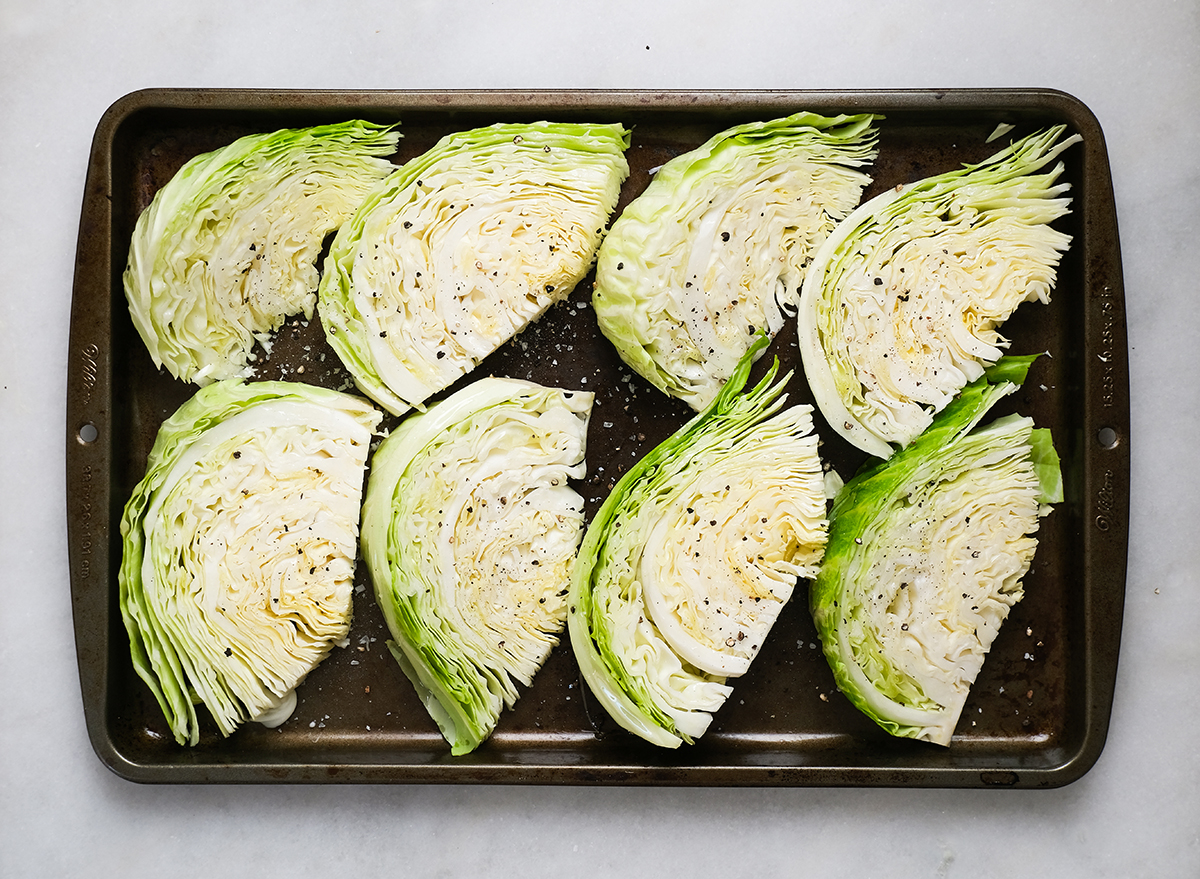 If your least favorite part of your St. Patrick's Day meal has always been the droopy, boiled cabbage, you're not alone. Corned beef's bland accompaniment was always such a letdown that it inspired us to reinvent it. Et voila, we stumbled on the idea of roasting the cabbage. Try it, and you might find yourself looking at cabbage in a whole new light.
Get our recipe for Roast Cabbage.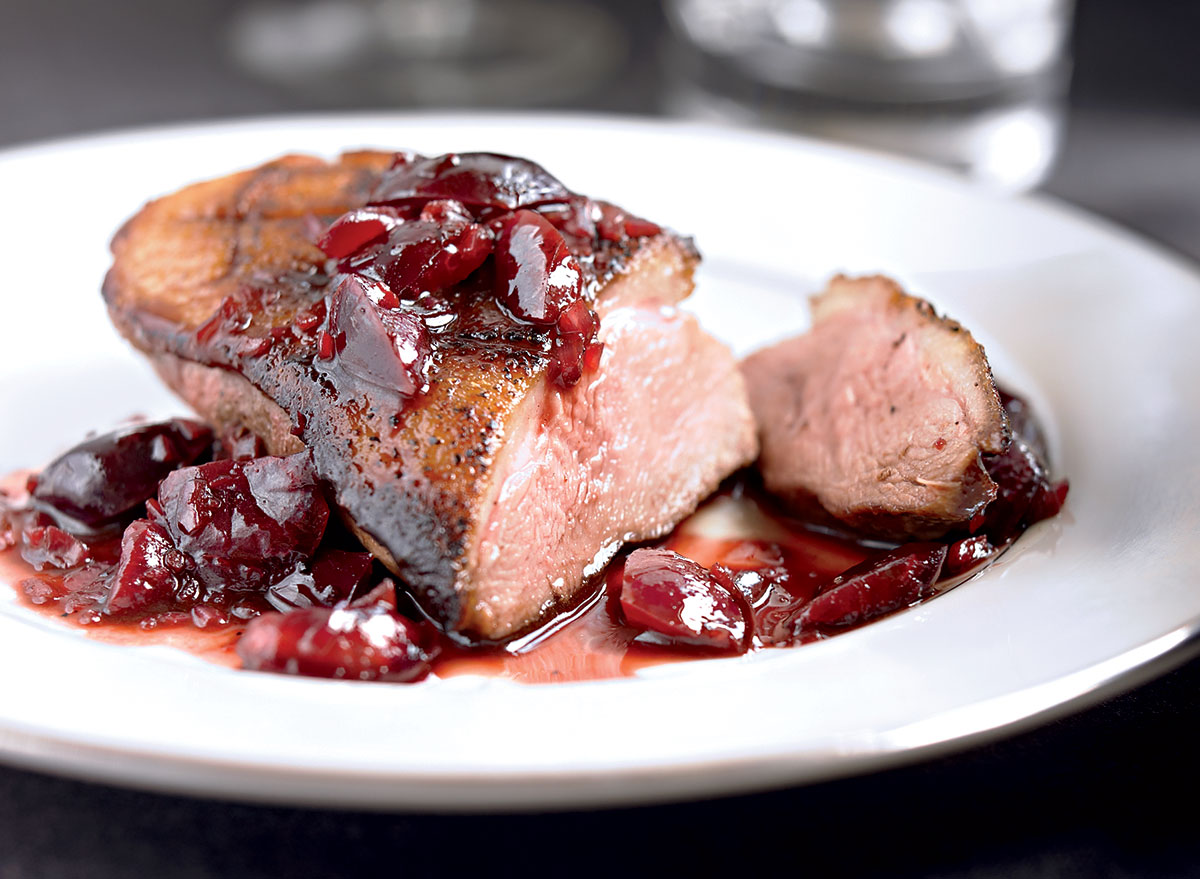 By now, the 1970s are half a century in the rearview. While we don't miss the "Me Decade" all that much, we do have a deep respect for the invention of nouvelle cuisine, which gave us such revelations as canard au cerises (aka duck with cherry sauce). Going out for fancy food in the '70s and '80s, you'd inevitably see some version of this dish on the menu. If you ordered it, you'd be delighted when it arrived at the table, plated perfectly–slices of medium-rare bird fanned out artistically over a bright, tangy sauce. But the best part was that while it was definitely "French," it wasn't weighed down with flour and butter, very much like our version of the old-fashioned classic.
Get our recipe for Duck Breast with Cherries and Balsamic.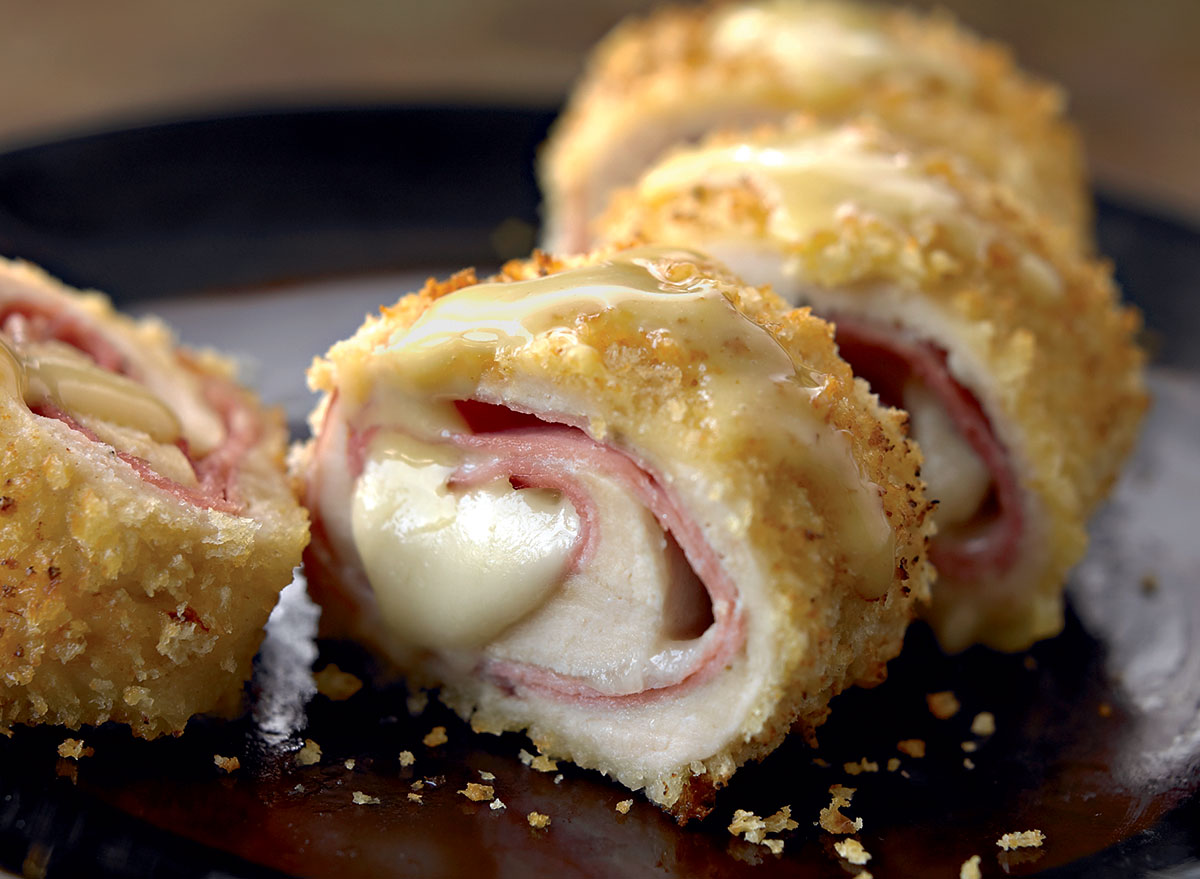 Before duck, chicken wrapped around cheese and ham and dubbed "cordon bleu" had staked its claim in high-end eating. Its origins were in Switzerland, where veal was used. In either case, the deep-fried, jelly-roll-esque package delighted diners but contributed to coronary artery disease. Not our version, however, which makes genius us of the Maillard Reaction to create that crispy outside while leaving the inside delightfully gooey.
Get our recipe for Chicken Cordon Bleu.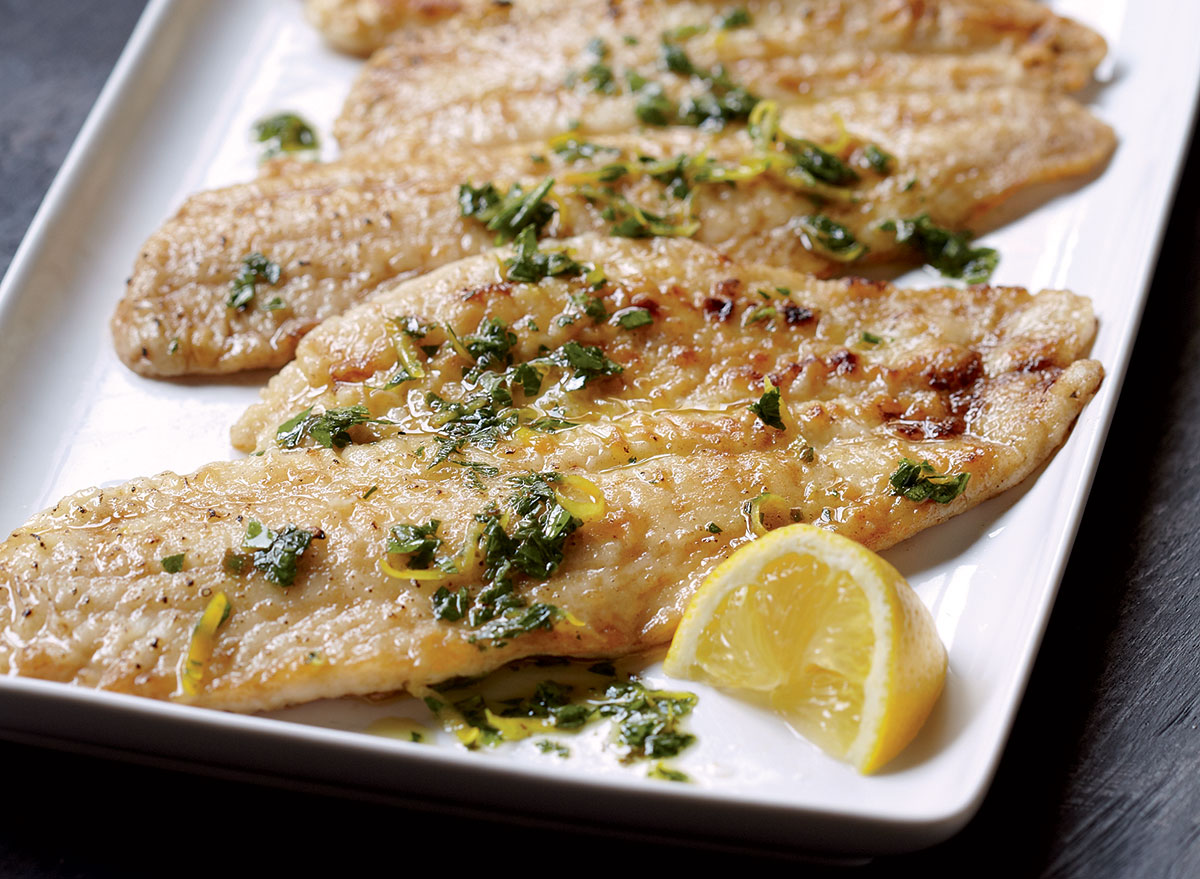 Another dish featured prominently in the fine dining establishments during the second half of the 20th century was sole meunière. But the dish, which means "sole dredged in flour" was popular long before that, and especially in the court of good King Louis XIV of France, whose 72-year reign is one of the most celebrated in European history. Our recipe is completely authentic if a bit restrained (we use measured amounts of flour and butter to reign things in just a bit).
Get our recipe for Sole Meunière. 
Cold Sesame Noodles with Chicken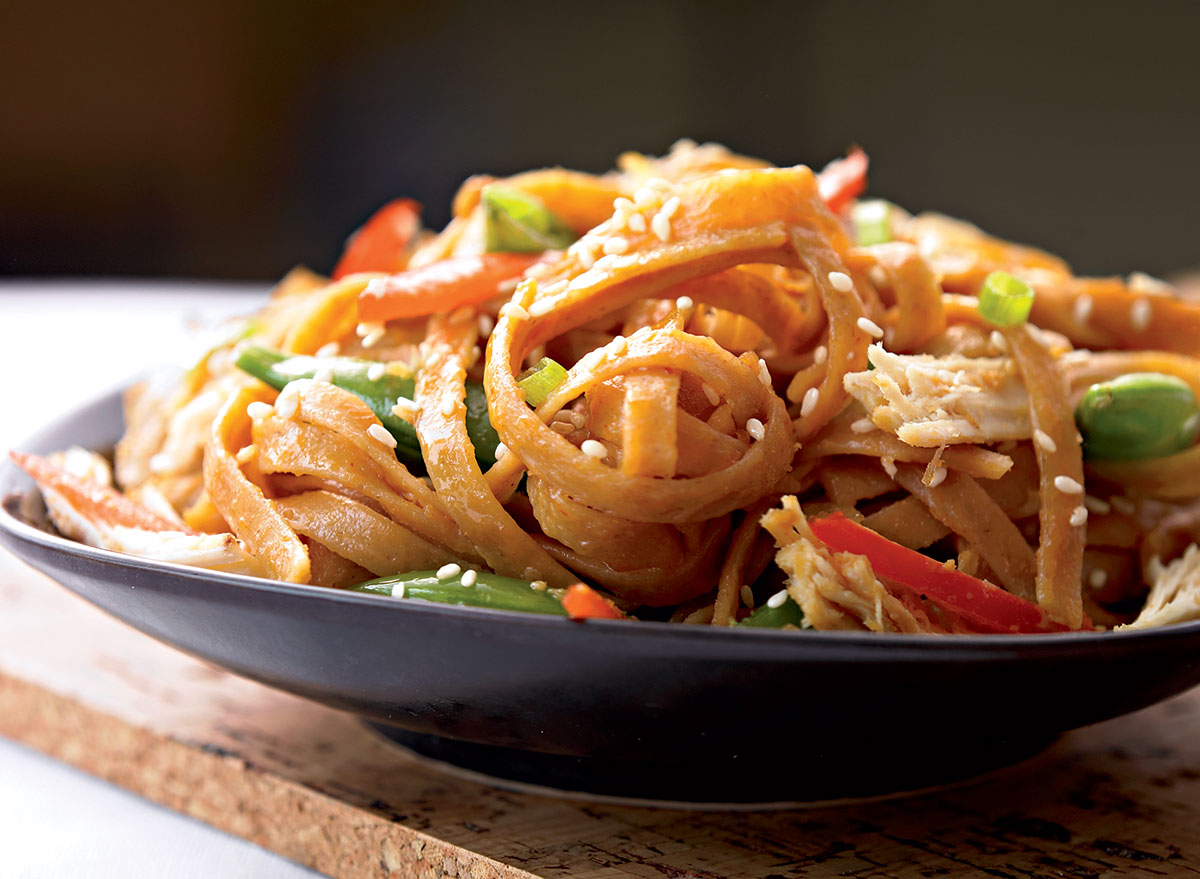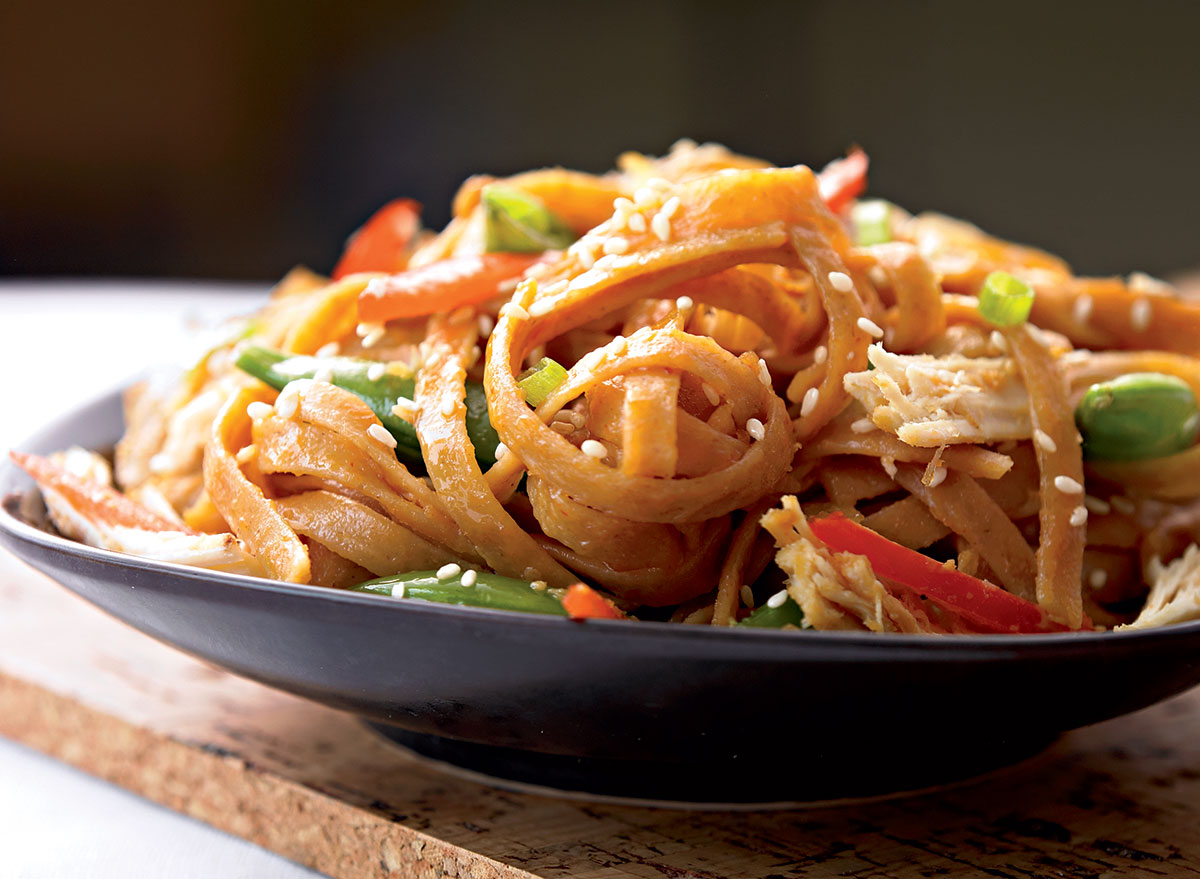 If you were kicking around New York City anytime from the 1980s through the turn of the millennium, you couldn't walk a block without being beckoned by the intoxicating scent of sesame noodles. Usually, they were served cold, with julienned cucumber and sliced chicken breast. Americans were addicted to the intensely tangy sauce, and no one even minded when it came out that the pivotal ingredient was…peanut butter. Spoiler alert: It still is, and our version ups the game by going "chunky" to offer added heft to the dish, but not your waistline. Serve it cold while streaming Tom Hanks in Bonfire of the Vanities.
Get our recipe for Sesame Noodles with Chicken. 
Sweet and sour chicken has long been a Chinese-American takeout staple, but its origins are in 18th century China. When it made its way to the U.S. in the early 20th century, it briefly confused Americans into thinking Chinese food was synonymous with deep-fried bits of dark meat poultry, drowning in a fruity electric pink sauce. We know better now, but we still love the taste of Asian-inspired chicken served with a fruity, tangy sauce.
Get our recipe for Orange Chicken. 
Although shrimp lo mein is a Chinese take-out classic, it's truly authentic Chinese cooking, too. Our version is a nod to the way the Chinese have been eating their lo mein for centuries: lightly fried, flavorfully sauced, and with an emphasis on the cooked vegetables.
Get our recipe for Shrimp Lo Mein.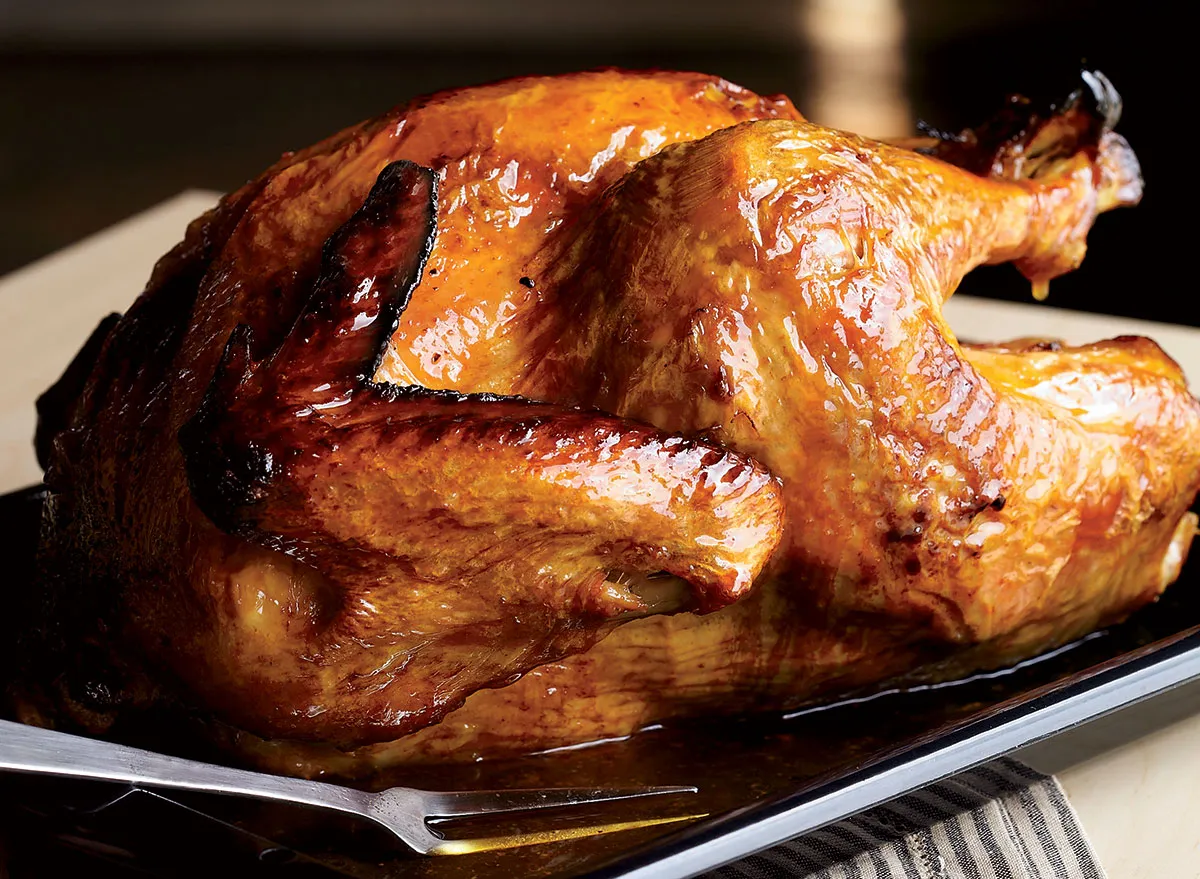 Fans of roast turkey might wonder why we save this wonderful bird for Thanksgiving and other big holidays. It wasn't always this way, however. Turkey has been on the table since at least as far back as the first century B.C.E., with Aztecs learning to raise them as livestock sometime between 10 B.C.E. and 10 C.E. Perhaps the issue is how large turkeys are these days, which makes them take so long to cook through? Well, we've got that covered in our version, which will take a mere 90 minutes.6254a4d1642c605c54bf1cab17d50f1e
Get our recipe for 90-Minute Roast Turkey. 
For those of us who grew up thinking stuffing without sausage is just a moist heap of stale bread, this recipe will take you right back to every Thanksgiving ever. For everyone else, you'll have to take our word that this turkey accompaniment is way better when there's meat involved.
Get our recipe for Apple Sausage Stuffing.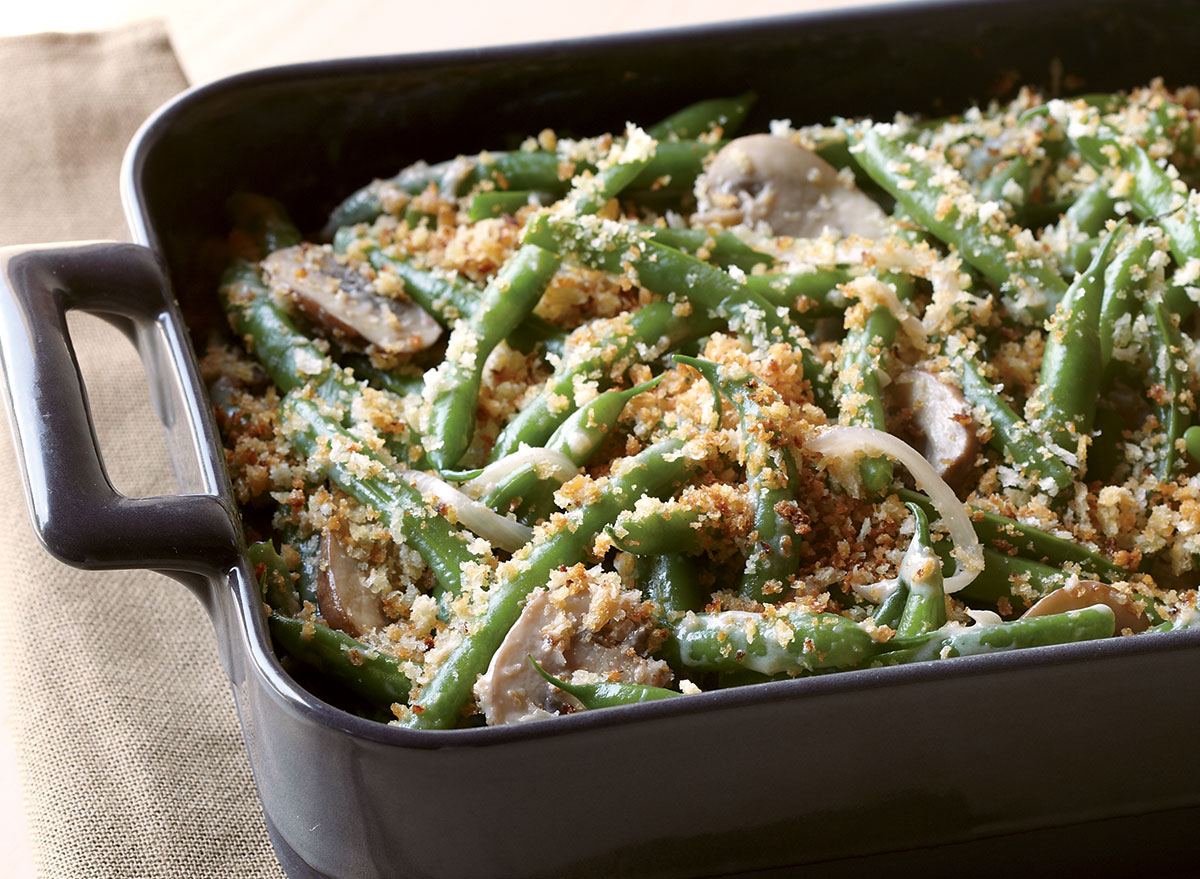 Whatever the Campbell's company was trying to do to us circa 1950 when they invented their green bean casserole—a heady mixture of frozen green beans, cream of mushroom soup, and fried onion twizzles—we both love and hate them for it. Love, because green bean casserole is the real reason we couldn't wait to get to the Thanksgiving table back before we realized how awesome roast turkey is with gravy and cranberry sauce. Hate (albeit playfully) because as written, the soup company's recipe had no redeeming nutritional value. Happily, we found a compromise, using fresh green beans, fresh mushrooms, caramelized onions, and chicken stock.
Get our recipe for Healthy Green Bean Casserole. 
Remember the delicious combo of tomatoes stuffed with tuna salad? Or tomatoes stuffed with rice? Have you noticed how hard it is to find stuffed tomatoes on a restaurant menu these days? While we can't solve that problem, we can help put an easy, delicious stuffed tomato dish right on your table.
Get our recipe for Vegetarian Stuffed Tomatoes.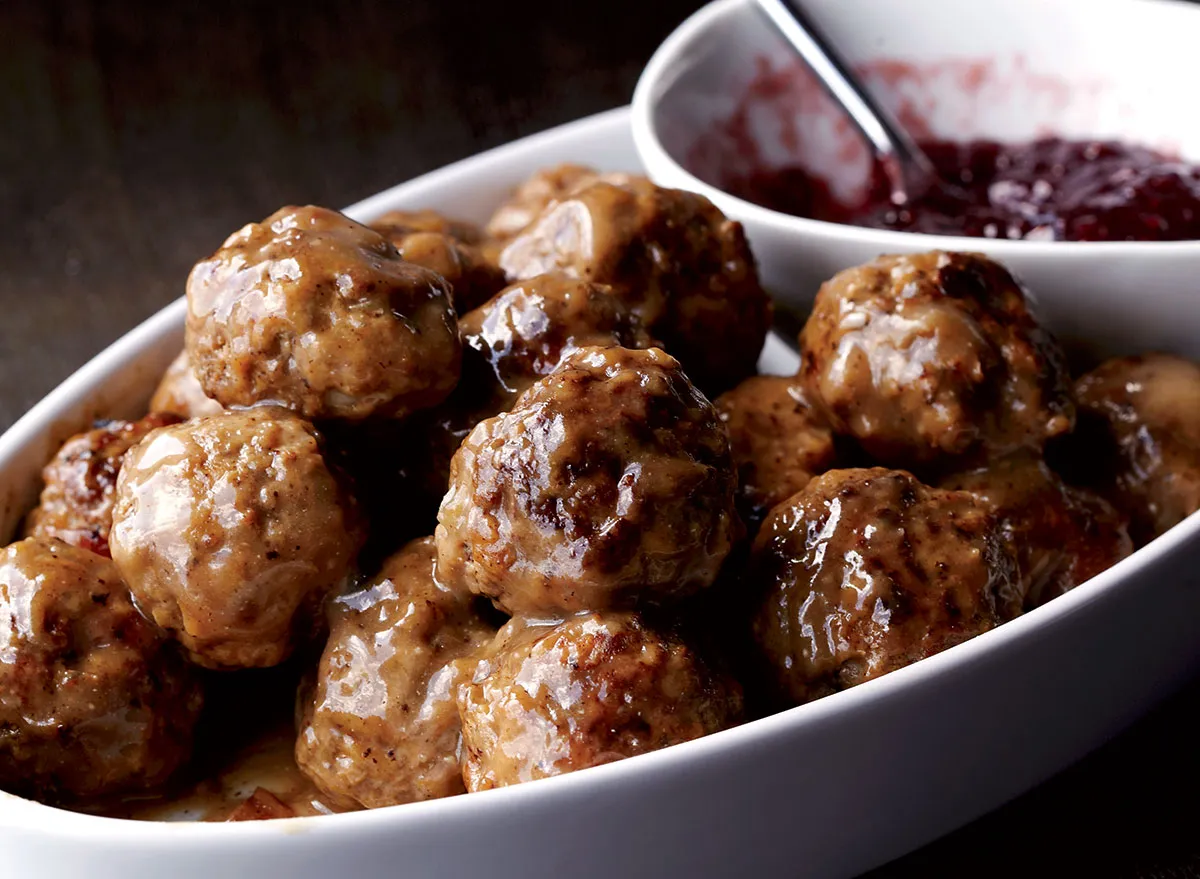 A child of the 1970s, I remember whenever my parents had "company," as having people over was called back then, my mom always put out a rectangular hors d'oeuvres dish divided into four smaller rectangles. One rectangle would hold caponata straight out of a can. One would hold marinated artichokes straight from the jar. One would hold rumaki, which I never understood until I learned about bacon-wrapped dates. But none of those held any interest for me. The one that did? Swedish Meatballs. These need to make a comeback, along with these other classic hors d'oeuvres.
Get our recipe for Turkey Swedish Meatballs. 
Bacon-Wrapped Stuffed Dates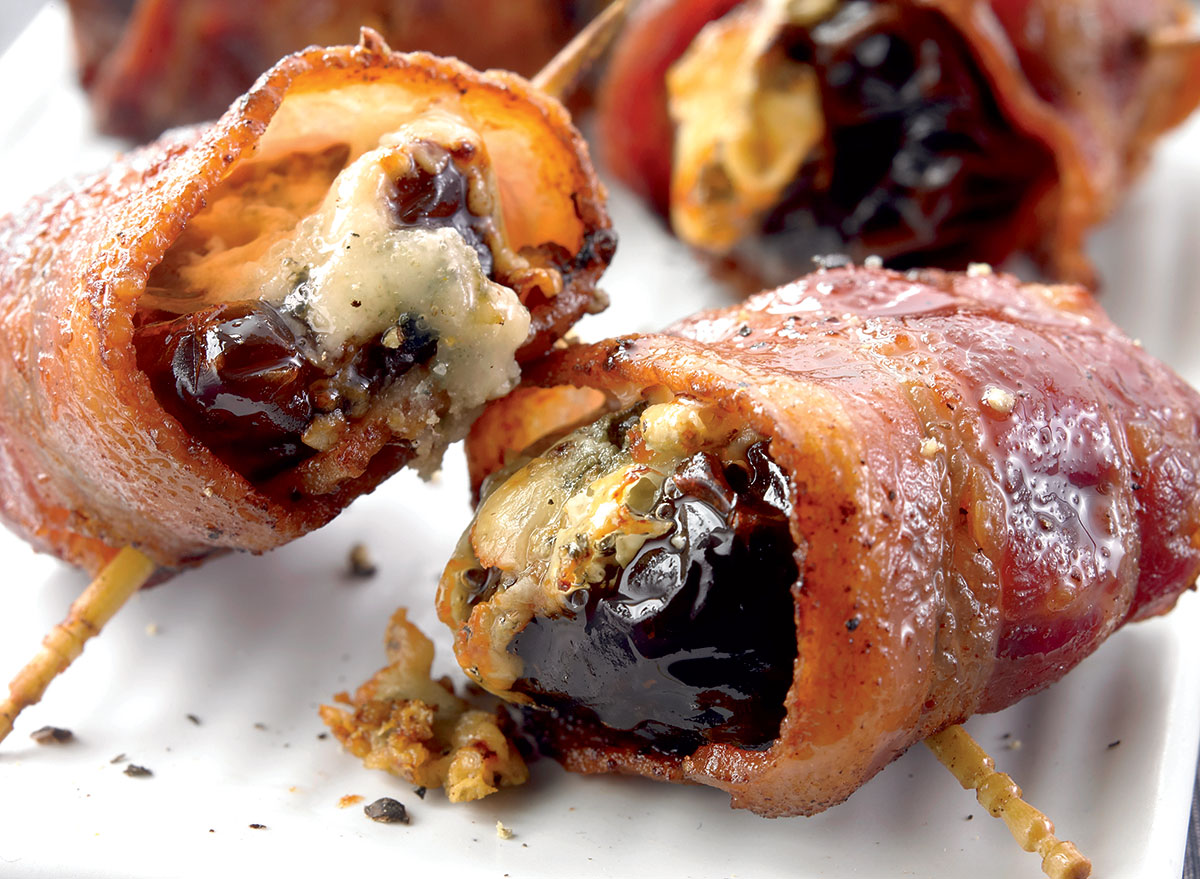 Rumaki, which is a bacon-wrapped water chestnut or bacon-wrapped chicken liver, depending on whom you ask, arose out of the Polynesian cuisine craze of the 1970s (when Trader Vic's ruled supreme). As much as bacon is always a win, it never made much sense to me to wrap it around something as bland as water chestnuts, or, conversely, something as audaciously flavored as chicken liver. But then bleu-cheese-stuffed dates came into the picture. Now that's something I can wrap my bacon—I mean, arms—around.
Get our recipe for Bacon-Wrapped Stuffed Dates. 
Grilled Ratatouille Salad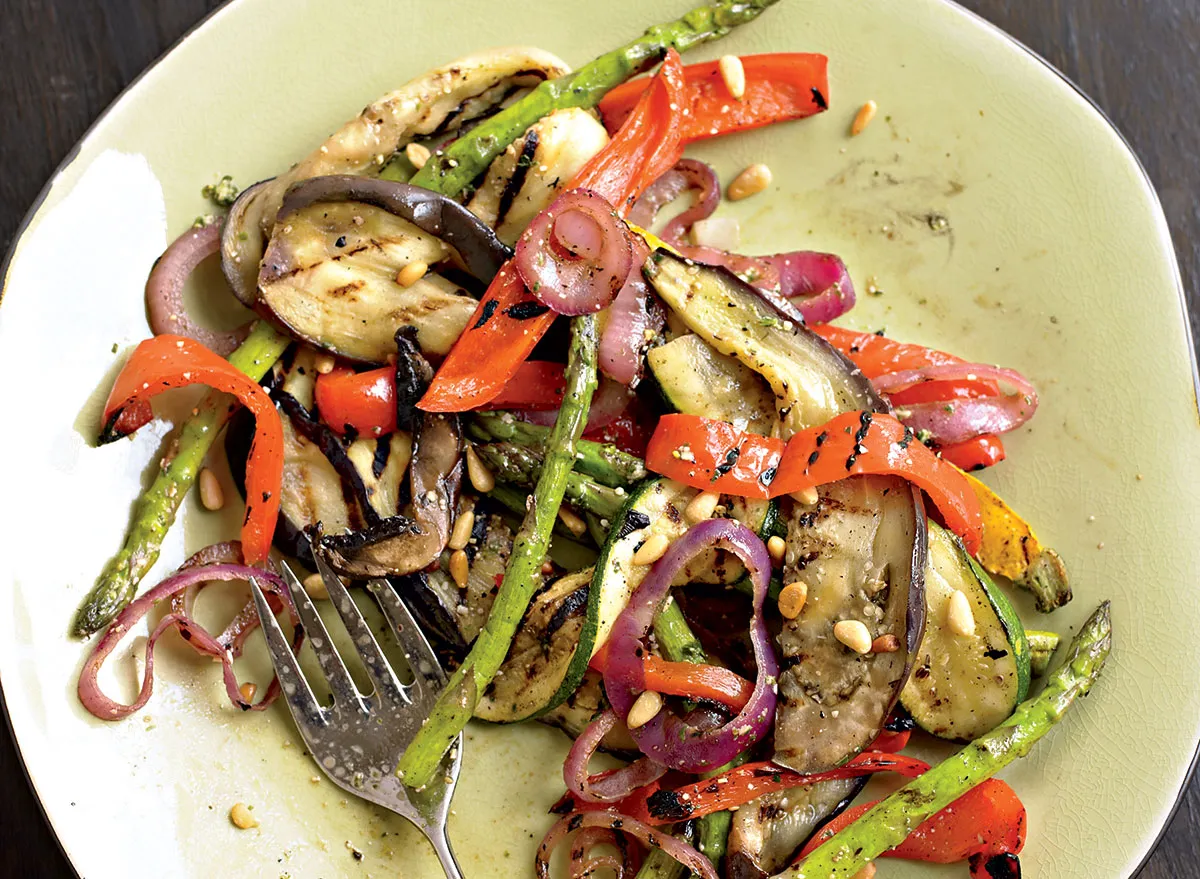 Although ratatouille saw a recent surge in popularity thanks to a certain Pixar movie, this healthy and delicious vegetable salad, whose name translates from the French to "a motley stew," goes back considerably further.
Get our recipe for Grilled Ratatouille Salad. 
Whether biscuits and gravy hark to the post-Revolutionary War years or Southern Appalachia in the late 19th century, the fact is that biscuits, especially when served with gravy, are pure Americana. And we steadfastly maintain that does not change even when we swap out the shortening and swap in the buttermilk.
Get our recipe for Southern-Style Biscuits.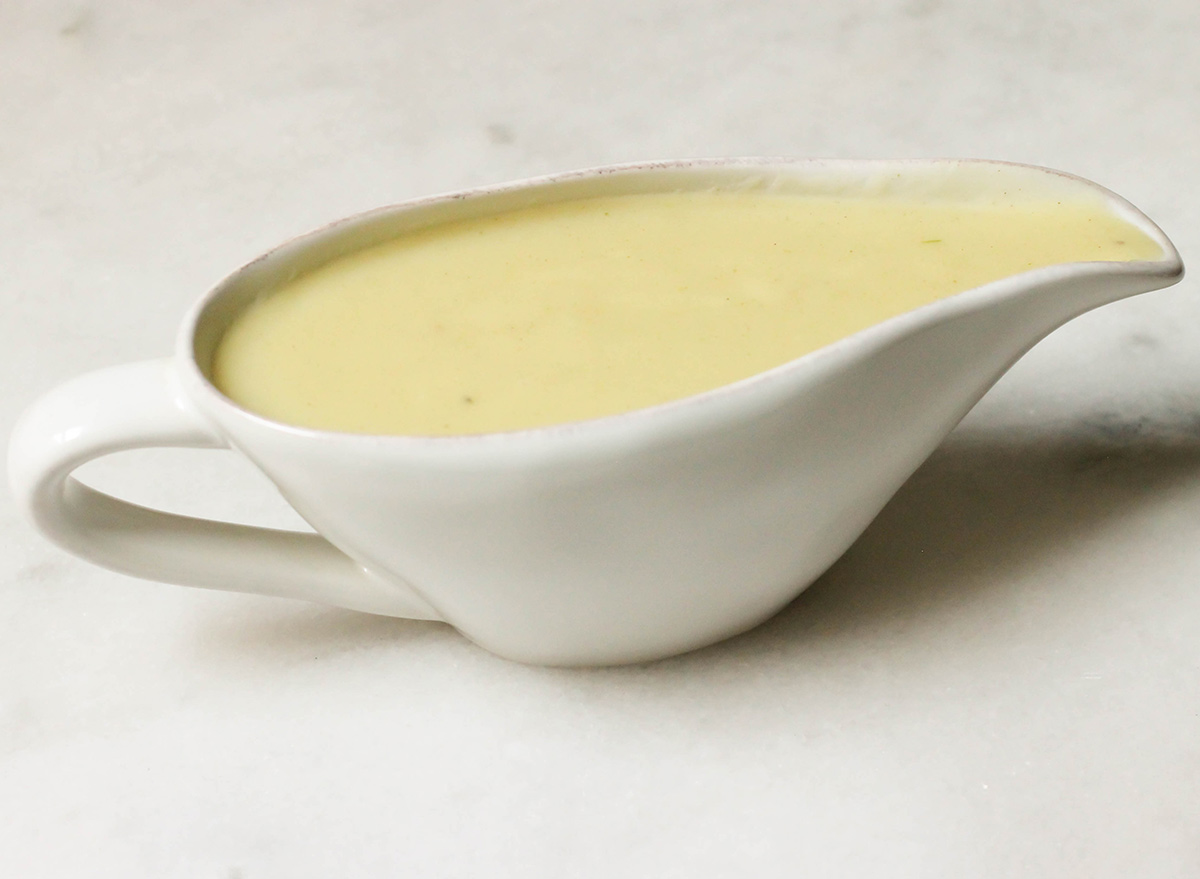 Traditionally, the gravy served with classic biscuits and gravy is made with sausage. But that's just one way you can go. And because the key to a really good gravy is starting with freshly rendered drippings, how you decide to go ultimately depends on what you've been cooking. So, if you've been cooking turkey, then you can use the drippings to make this version of homemade gravy. But feel free to experiment by swapping out beef drippings and beef stock, chicken drippings and chicken stock, etc.
Get our recipe for the Best Homemade Gravy. 
French Toast and Bananas Foster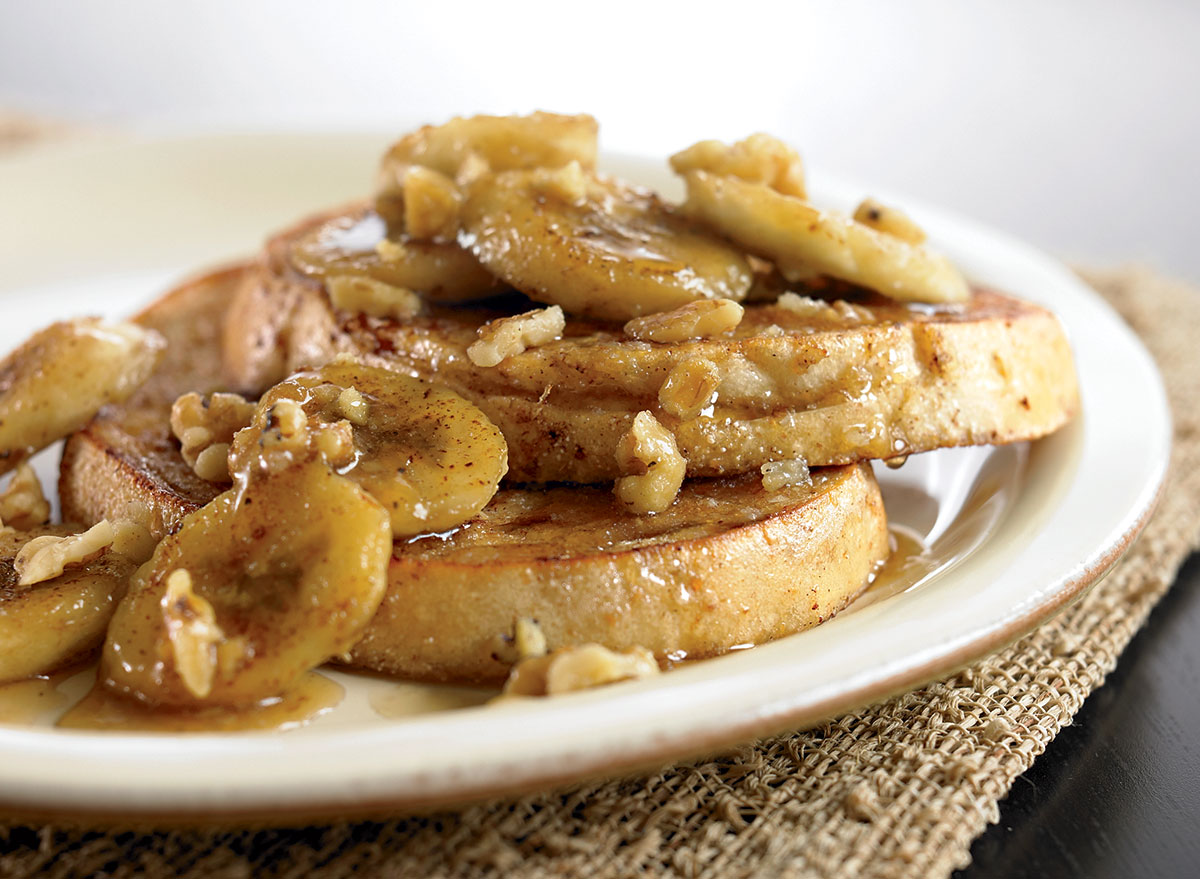 Our Banana Walnut Bourbon French Toast is precisely what you need if you find yourself missing either French toast or Bananas Foster, both of which are old favorites that have been, sadly, out of the spotlight in recent years. Is it breakfast? Is it dessert? Does it matter when it's this good?
Get our recipe for Banana Walnut Bourbon French Toast.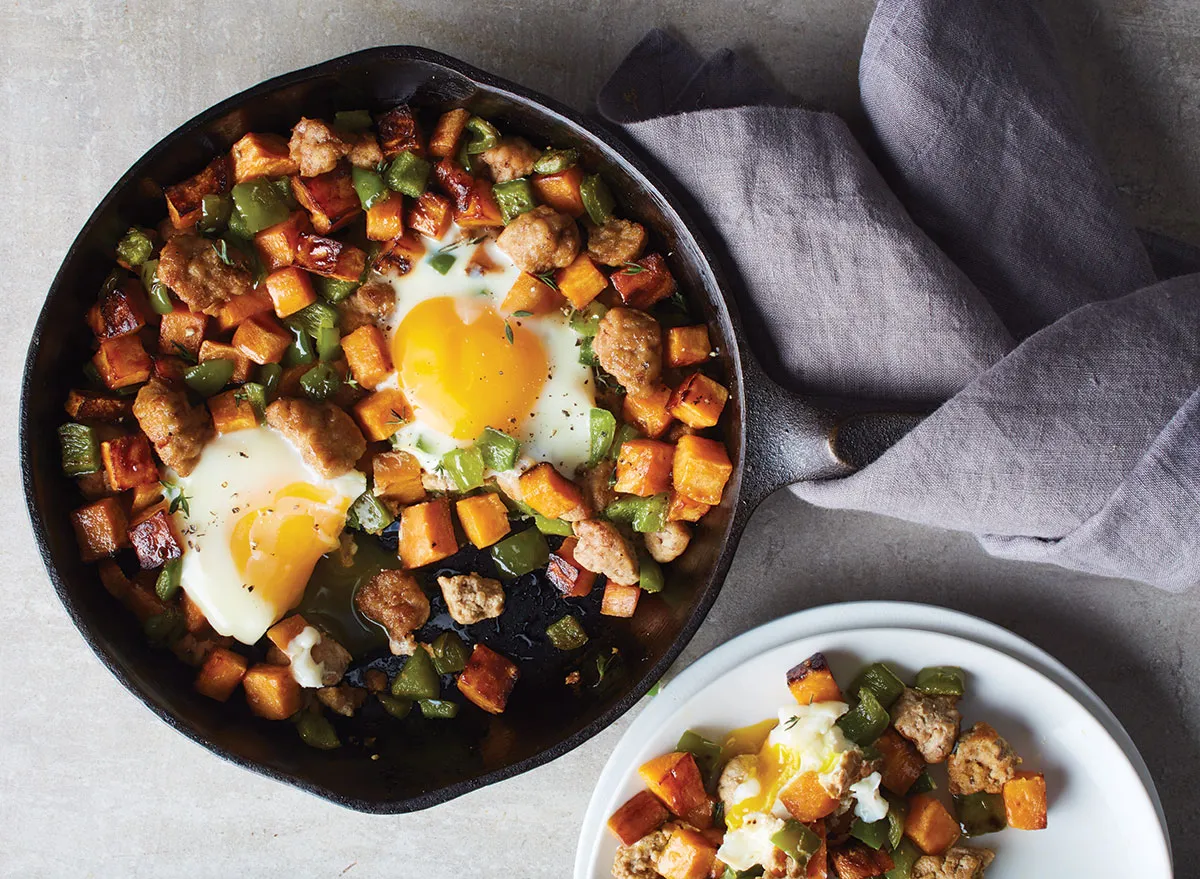 Hash has its origins in home economics. Traditionally made from chopped potatoes, onion, and meat, hash was a smart way to make breakfast out of leftover dinner. It still is, and it's still a delicious accompaniment to eggs. But there's no reason why you can't turn this version, made with turkey sausage, sweet potatoes, and bell peppers, into a dinner entrée on its own.
Get our recipe for Sausage, Peppers, and Sweet Potato Breakfast Hash. 
Loveable and indulgent, banana bread is also a product of basic home economics. You bring home a bunch of bananas on Sunday, and by Thursday, the two that remain are already brown enough so that no one wants to eat them. We've got 20 healthy banana bread recipes here, but this one takes the cake because it's chock full of healthy stuff like Greek yogurt and walnuts.
Get our recipe for Healthy Greek Yogurt Banana Bread. 
Yet another dish that proves necessity is the mother of invention, cream pies came into being as a delicious and smart way to use up excess eggs, milk, and cream produced on the family farm. Although chocolate was likely the first cream pie (it was easy and economical to stir in a couple of spoonfuls of shelf-stable unsweetened cocoa), coconut came into the picture with full force in the late 1800s when coconuts imported from the Caribbean became more readily available. Not to brag, but our version manages to get the job done without a drop of cream.
Get our recipe for Triple Coconut Cream Pie. 
Fudgy, moist chocolate brownies are an old-fashioned treat, whether eaten plain or with a spoon as a delivery system for a hot fudge sundae. But did you know the very first official brownie recipe contained no chocolate at all? Thankfully, that was rectified with the first chocolate brownie recipe in 1904. Our version, featuring chopped dark chocolate and cocoa powder, is twice as chocolatey.
Get our recipe for Fudgy Brownies. 
Molten Chocolate Lava Cake
Molten chocolate lava cake, as the name suggests, resembles a volcano made entirely of chocolate cake that "erupts" into a pool of molten chocolate lava when lightly cracked by a fork. It hasn't been around as long as, say, chocolate brownies, but anything that features chocolate, more chocolate, and a whole it's-ok-to-play-with-your-food vibe was destined to be an instant classic. You don't see lava cake around much anymore, but we hope that changes. In the meantime, there's our version, which we figured out how to make using a pressure cooker.
Get our recipe for Molten Lava Chocolate Cherry Cake.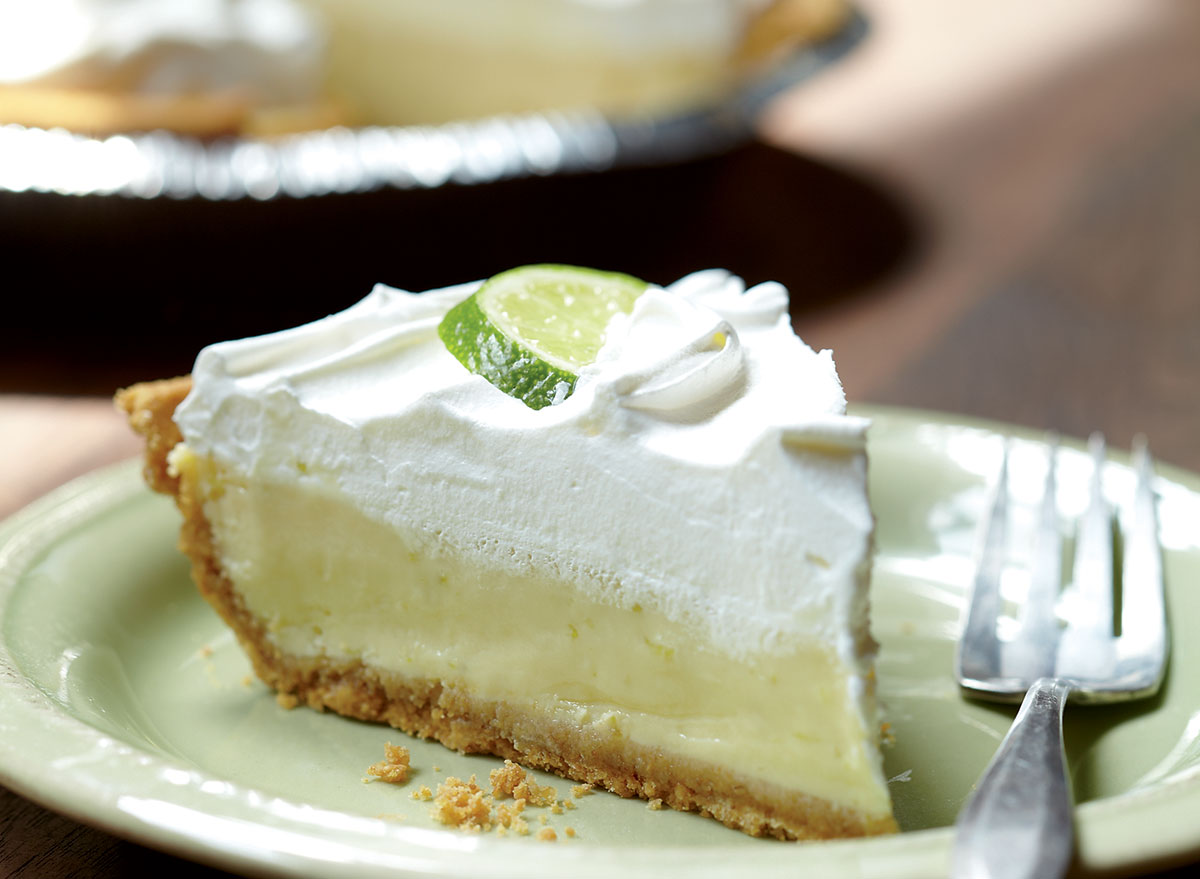 The origins of this tangy, sweet, creamy fruit-juice based pie go back so far that it's no longer clear exactly how far back they go. What we can tell you for certain is that it has been a Southern classic since at least as far back as the 1960s, which is when a Florida congressman introduced legislation calling for a hefty fine to be levied against anyone who advertised a key lime pie not made with key limes (it didn't pass). Let it be stated for the record that our version calls for key limes.
Get our recipe for Key Lime Pie.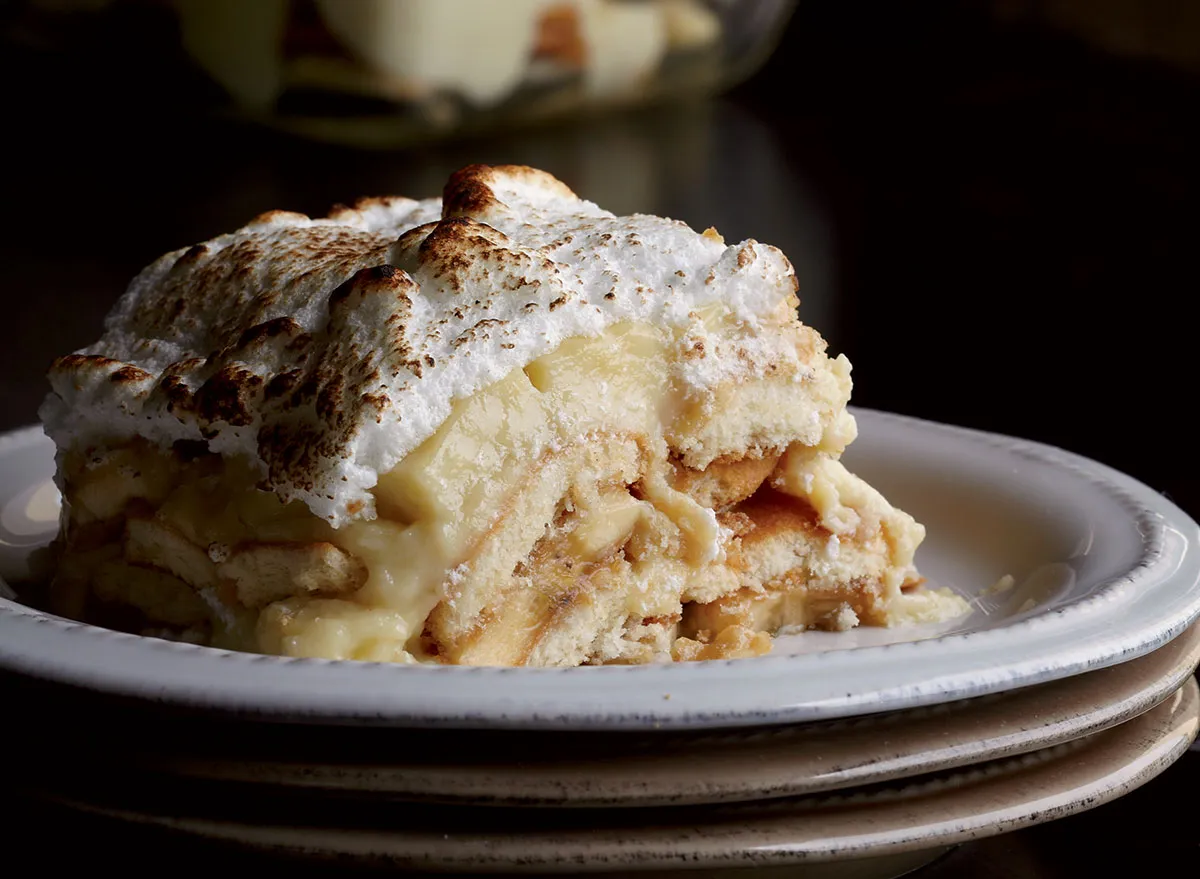 If you're from the South, banana pudding requires no introduction. If you're not, then you might want to know that its name is a bit misleading. First, it's made with custard, not pudding (custard uses no starch for thickening). Second, it's not banana-flavored but rather features sliced bananas. As such, it's more like a pie than a pudding. But instead of a crust, it uses store-bought vanilla wafers (which get nice and soft and moist after spending a bit of time adjacent to the custard), and, it's arranged not so much like a pie, but in layers, like tiramisu.
The important thing is that it's a classic, you'll never try anything quite like it, and it's best when you make it yourself, which we encourage you to do with this easy recipe.
Get our recipe for Banana Pudding.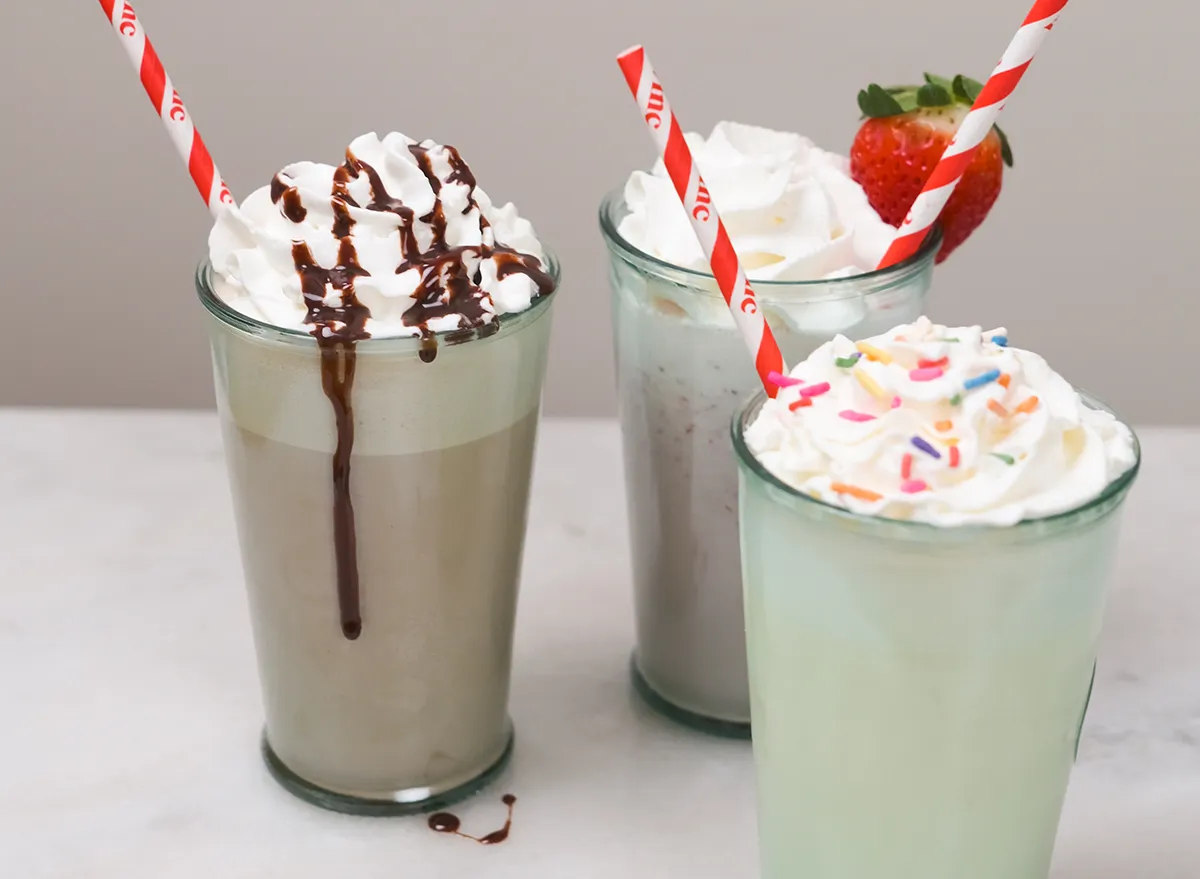 Whatever happened to the old fashioned soda shops of yore (or, at least the first half of the 20th century), where one could sit at the counter and watch as the "soda jerk" whipped up your milkshake with an old fashioned milkshake machine, using vanilla ice cream and the flavored syrup of your choice? A few remain, including Lexington Candy Shop, but if you're hankering for a true old-fashioned milkshake, odds are you're going to have to make it yourself.
Get our recipe for Old Fashioned Milkshakes. 
And if you're shopping at Costco for these recipe ingredients, don't miss the 30 Cheap Costco Buys That Make the Membership Worth It.
Lauren Cahn
Lauren Cahn is a food, health, and culture writer whose work has appeared online and in print for Reader's Digest as well as Health Digest, Huffington Post, Taste of Home, and others.
Read more about Lauren