16 Energizing, Immunity-Boosting Drink Recipes
Sipping on these healthy drinks is exactly what your body needs!
There's a simple fix to eliminating more sugar and fat from your diet that's easier than you might imagine: Cut out those sneaky liquid calories coming from your daily drinks. The grocery store shelves are stocked with tons of zero-calorie energy drinks and diet sodas, all with one thing in common—a long list of ingredients too hard to pronounce with no nutrients.
Sure, it might take a little longer to make your own healthy drinks at home, but it will be worth it. And if you happen to have a lot of time on your hands at the moment, why not channel your attention to making something truly good for you? Here, we've rounded up delicious and immune-boosting drinks for you to sip on that will have you feeling great, too.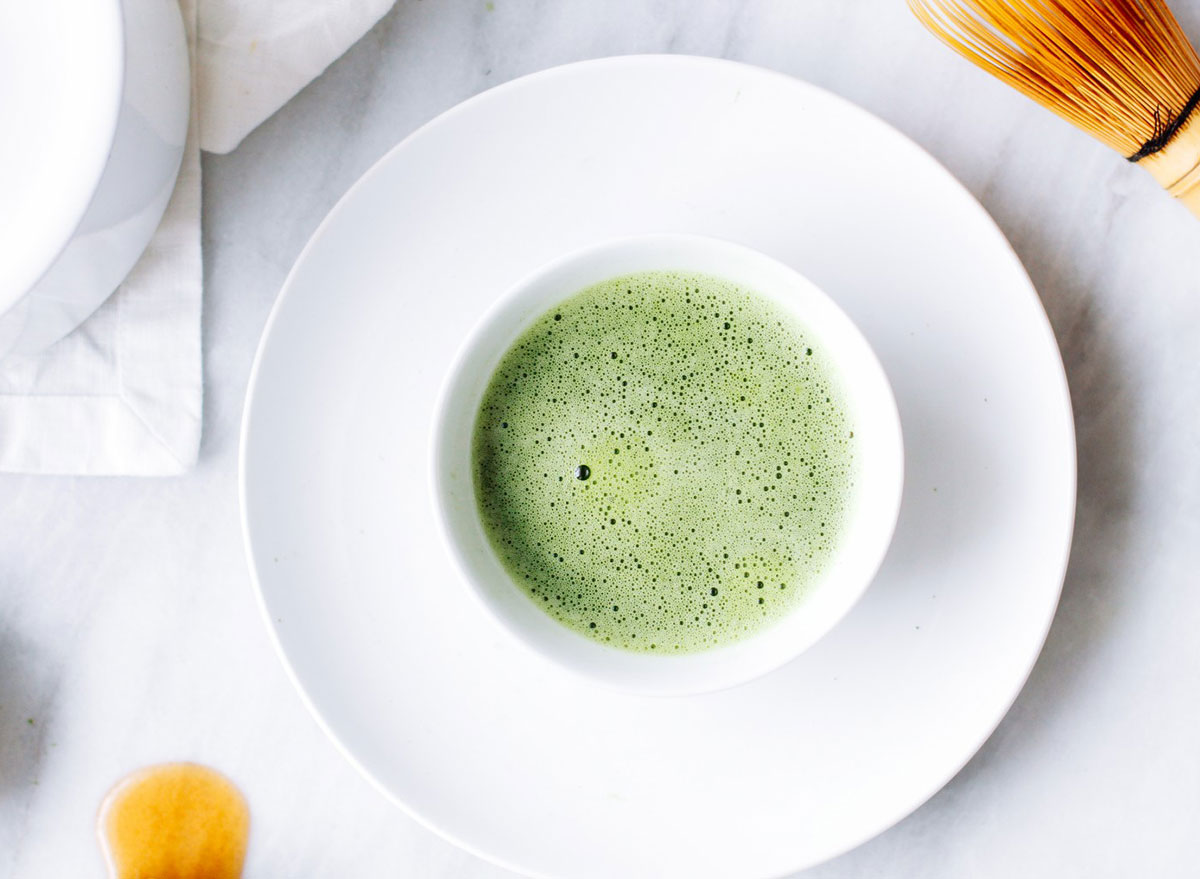 Coconut milk and matcha green tea powder are a matcha made in heaven! This bright green powder is an antioxidant-rich tea that packs in as much nutrition as 10 cups of your average cup of green tea. Matcha is a metabolism-boosting super powder that can be combined with the healthy fat of coconut milk for a latte and will do more than just wake you up! Adding a touch of natural sweetener like maple syrup or honey gives it the perfect amount of sweetness without causing your blood sugar to drop later.
Get the recipe from Nutrition Stripped.
Fermented food and drinks are an easy, gut-friendly way to add probiotics to your diet without having to purchase those pricey supplements. Fermentation also creates tons of beneficial enzymes, B vitamins, and omega-3 fatty acids that help your digestive system and make it easier to absorb nutrients from other foods. If this sounds good to you (and it should!), don't miss these 14 Fermented Foods to Fit Into Your Diet.
Get the recipe from Nourished Kitchen.
This vegan latte skips the belly-bloating dairy and is made with a homemade Chai spice that has those warm flavors to get you feeling all fuzzy inside: cinnamon, ginger, cardamom, allspice, cloves, and nutmeg. These spices not only taste amazing but they aid weight loss from their metabolism-revving properties. Have this in the A.M. to start your day right or as a post-dinner treat; either way, it's a simple way to add a healthy dose of nutrients to your day!
Get the recipe from Emilie Eats.
Strawberry lime cucumber mint water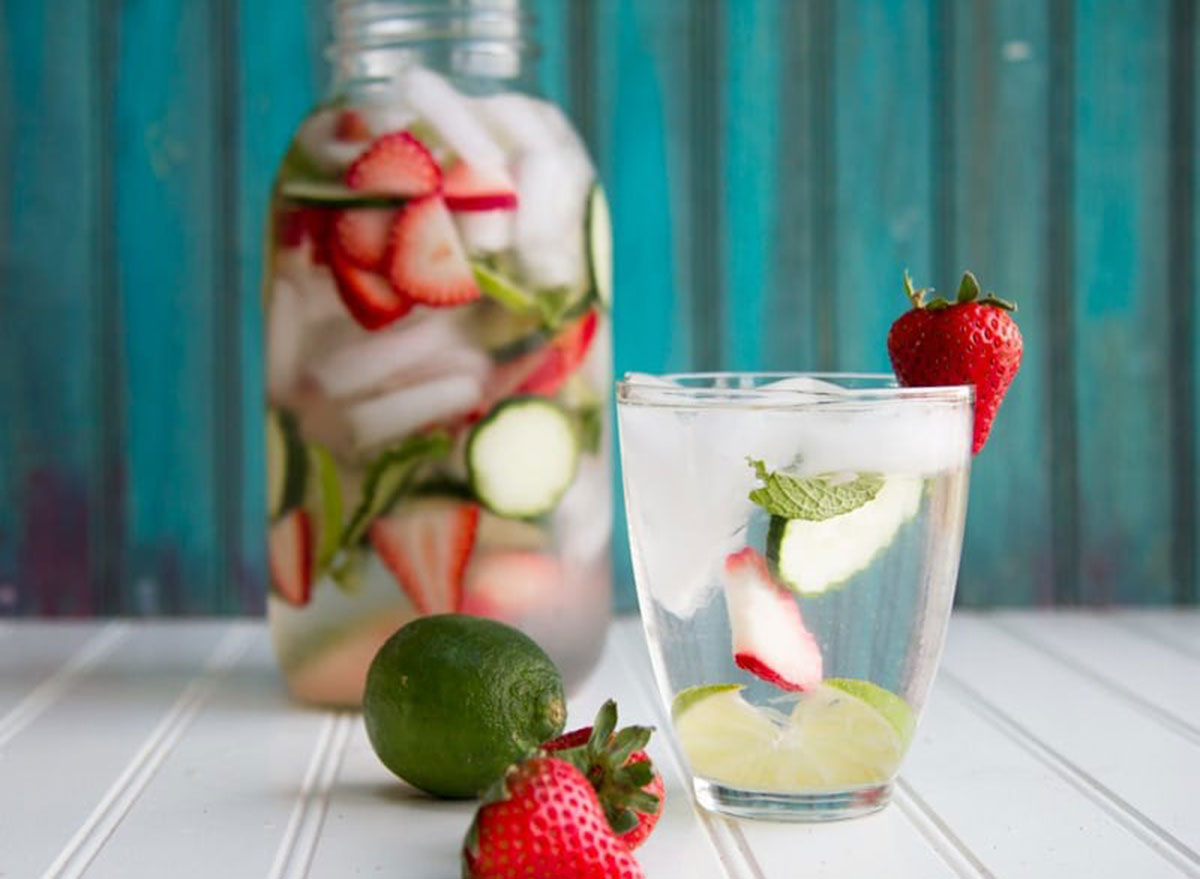 Getting your recommended daily intake of water isn't as easy as it sounds. When you go to grab a drink from the fridge and your decision falls between a sugar heavy soda or a bottle of water, it takes a little more effort to grab the water. But you don't have to be bored with your average H20; instead, add in some vitamin-rich ingredients to make a beverage you're excited to drink! Naturally flavoring your water with fruits, veggies, and herbs is a great way to liven up that glass without any artificial additives or fake sugars!
Get the recipe from Wholefully.
If you're a health nut like a few of us around here, you've probably heard of the powerhouse drink: Golden milk. Here's a spin on the highly-talked about drink. While it's also the perfect trendy drink to order at brunch on the weekend for a great Instagram picture, it's also one of the best beverages out there for your health, too. While it's gleaming with a yellow-orange color, it's also gleaming with some of the bodies most necessary nutrients! Ingredients like turmeric, cinnamon, and ginger are all spices that have anti-inflammatory properties and help build a strong immune system. This is a flavorful frothy drink that's the perfect replacement those sugar-filled fraps you're getting from the coffee shop!
Get the recipe from Fooduzzi.
Almond milk hot chocolate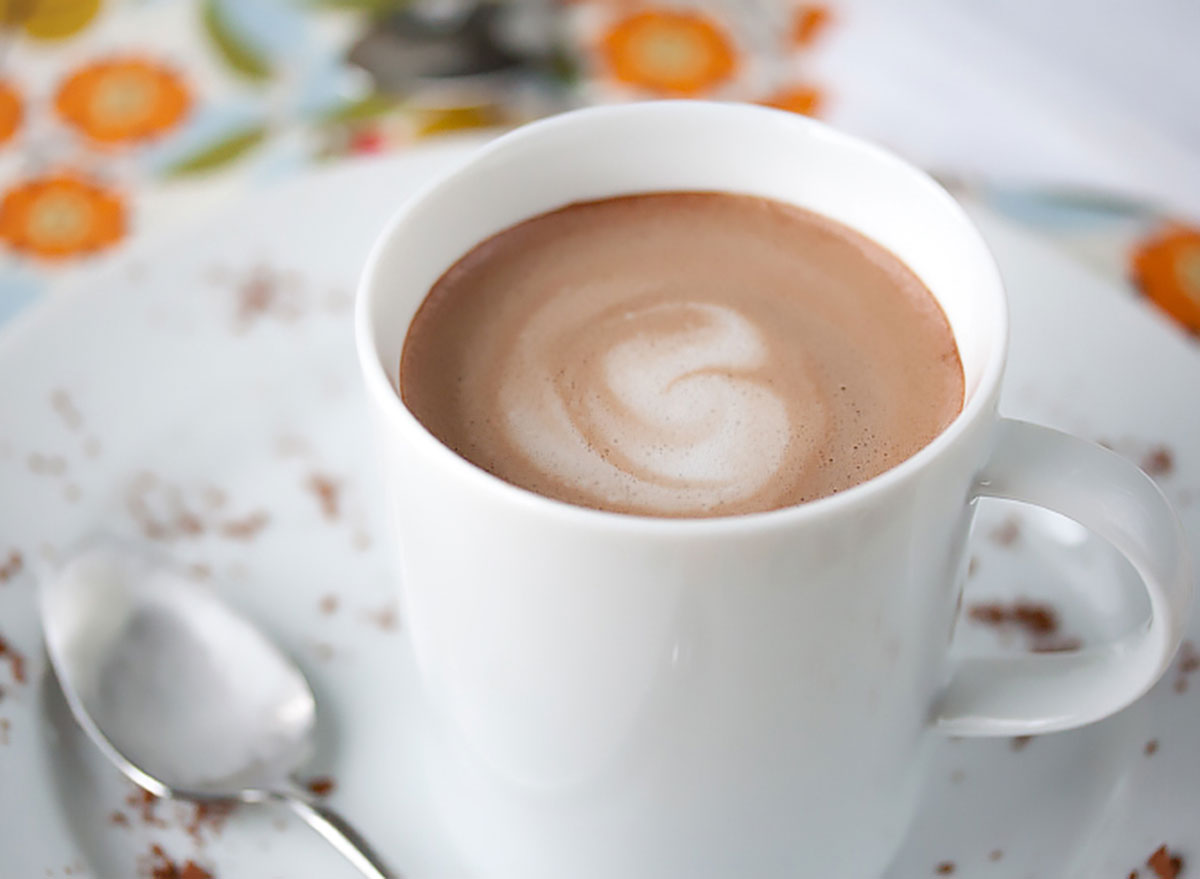 Hot chocolate is the classic cozy drink to cuddle up with on a chilly night. So, whether you're getting warm by the fire or simply craving a sweet treat, this is your go-to option! This version is made with unsweetened almond milk and cocoa powder to give it a rich, chocolatey flavor that keeps it low in calories and high in antioxidants. Add in a sweetener for your liking, but steer clear of those fake artificial ones!
Get the recipe from Veggie Quest.
Kombucha is an ancient beverage that has been around for over 2,000 years and offers some of the most vital health benefits for your body. Along with being an excellent source of probiotics, it has that same fizzy feeling as soda—but without all the fake sugars and chemicals! This blogger shows that it can be made with a variety of different fruits like berries, pineapple, or fresh ginger for whatever your taste buds may prefer. Yum!
Get the recipe from Natural Fit Foodie.
Fight the winter weather with this immune-boosting beverage. This warm and soothing drink can be made in a crock pot or over the stove with ingredients that are most known for their cold-curing benefits. Lemon, ginger, cinnamon, apple cider vinegar, honey, and tea are all it takes for this natural sickness fighting remedy to take effect! If you perked up at the idea of apple cider vinegar, then you'll love these 8 Apple Cider Vinegar Detox Drinks!
Get the recipe from The Paleo Mama.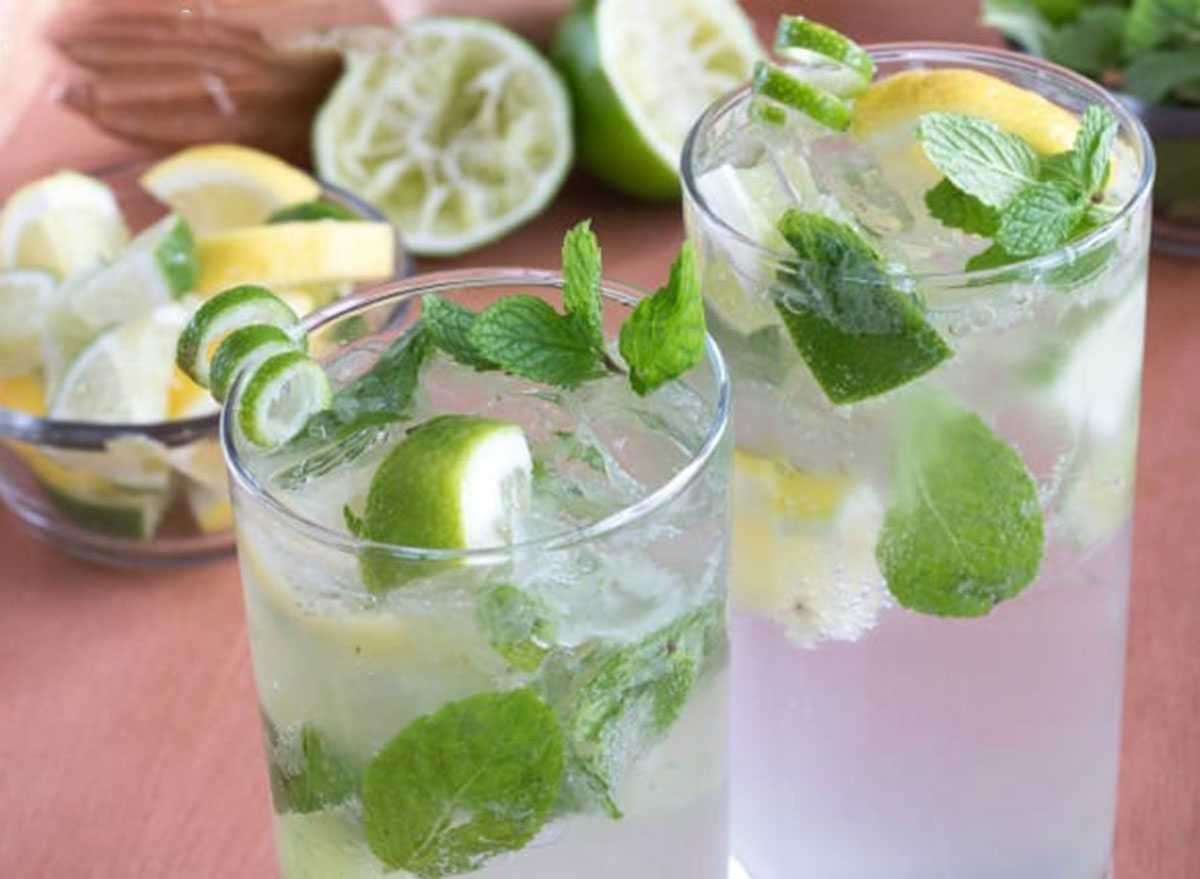 If you love a refreshing Mojito but you're looking to cut back on the alcohol and calories, this one's for you! It's an easy mocktail to make at home and has a great flavor that will put you right on an island with the sun in your hair and sand in your toes. Fresh mint, lemon or lime juice and sparkling water with a touch of agave are all the ingredients it takes to make this relaxing treat.
Get the recipe from In Katrinas Kitchen.
Ginger lemon and pomegranate detox drink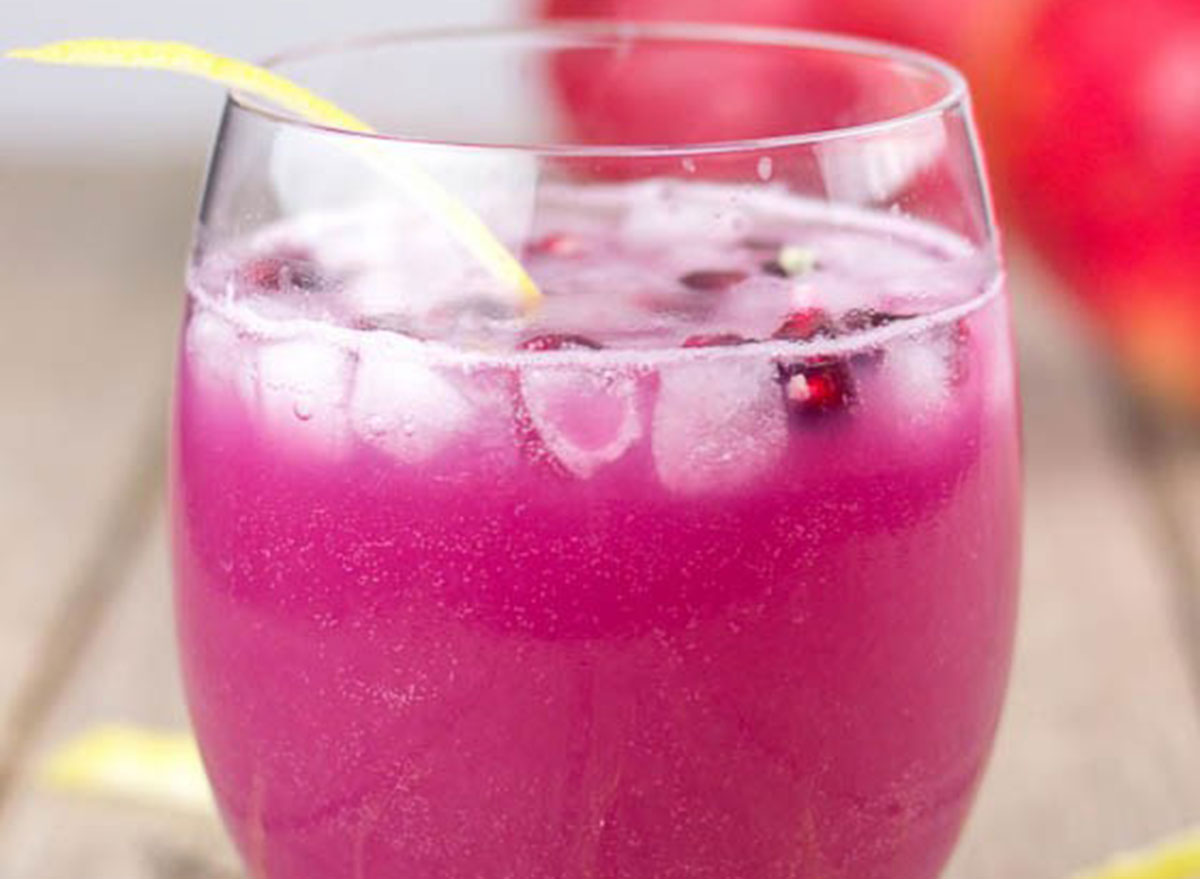 This bright drink is not only gleaming in color, it's gleaming in nutrients, too. The detoxifying properties of lemon and ginger join the high amounts of vitamins from pomegranate to create a simple and satisfying drink for any season. This weight loss wonder is bubbly and sweet without going too far. It's a great way to compliment dinner or to just enjoy by itself.6254a4d1642c605c54bf1cab17d50f1e
Get the recipe from Amazingly Tasty.
Iced almond macadamia milk latte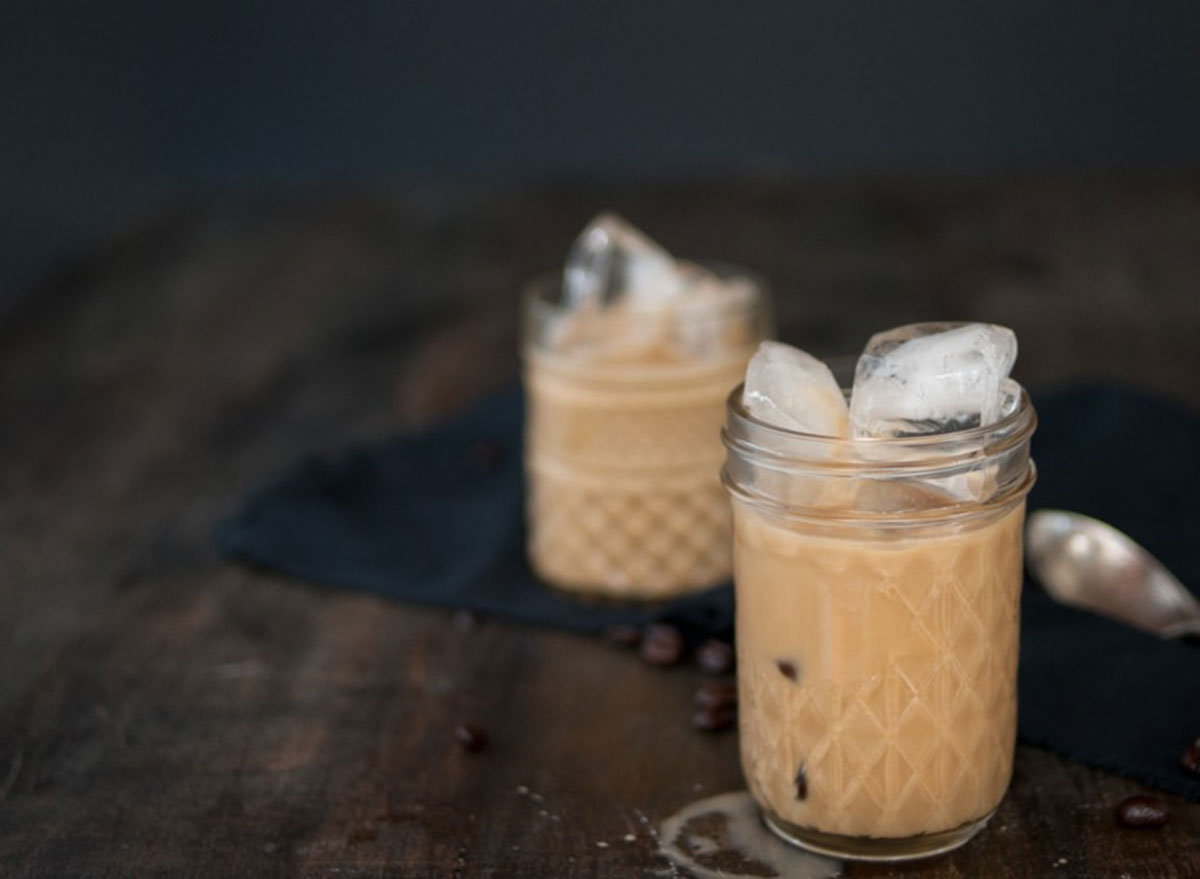 When you get bored with your same ol' morning mocha, try this Iced Almond Macadamia Milk Latte. Dates naturally sweeten up this drink without any of the chemical-filled syrups or sugars that the coffee houses use. The almonds and macadamias create a silky, smooth milk that can be combined with espresso to make this a creamy latte you'll be eager to wake up for.
Get the recipe from Some Kitchen Stories.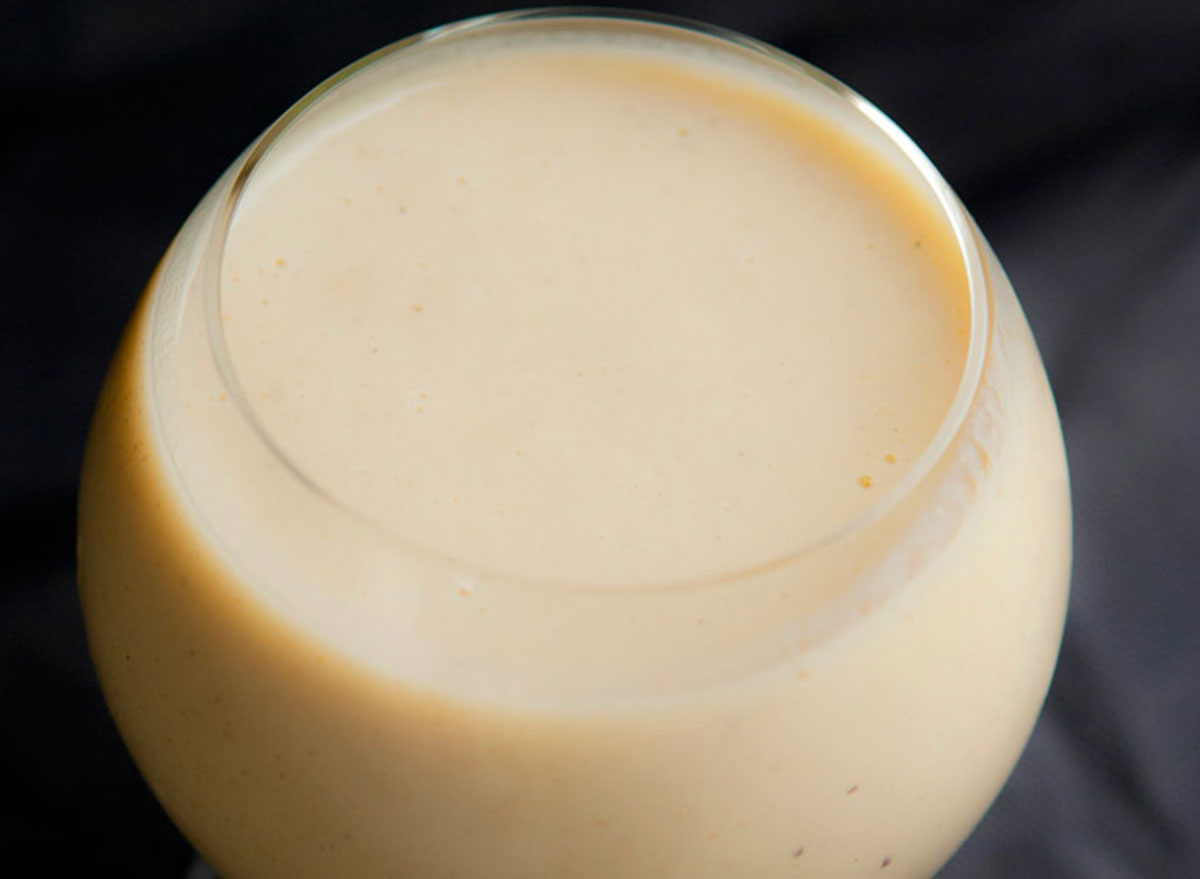 You'd typically find eggnog in your fridge over the holidays and it's normally that super sweet drink that you can only take a few sips of because of its heavy ingredients and filling consistency. Forget that! Take a spin on the classic by making your own at home with completely clean ingredients; this recipe allows for you to use a milk of your choice and honey to sweeten it up naturally. Honey not only comes straight from Mother Earth herself, it aids in reducing the risk of congestion and contains flavonoids that help to prevent heart disease.
Get the recipe from The Gracious Pantry.
Coconut lime watermelon slushie
The juiciness of a watermelon is simply begging to be made into a drink! All this recipe takes is watermelon (frozen and juice), the juice of a lime, and coconut milk. Blend them all together to get a tropical slushy that will quench your thirst and satisfy your taste buds! This recipe skips the unnecessary sugar that you would usually find in a slushy and uses maple syrup or honey instead. Since watermelon is already a super sweet fruit that has enough to cut your cravings, there's really no need for much of it. And speaking of sweet fruits, discover the 25 Popular Fruits—Ranked by Sugar Content!.
Get the recipe from Minimalist Baker.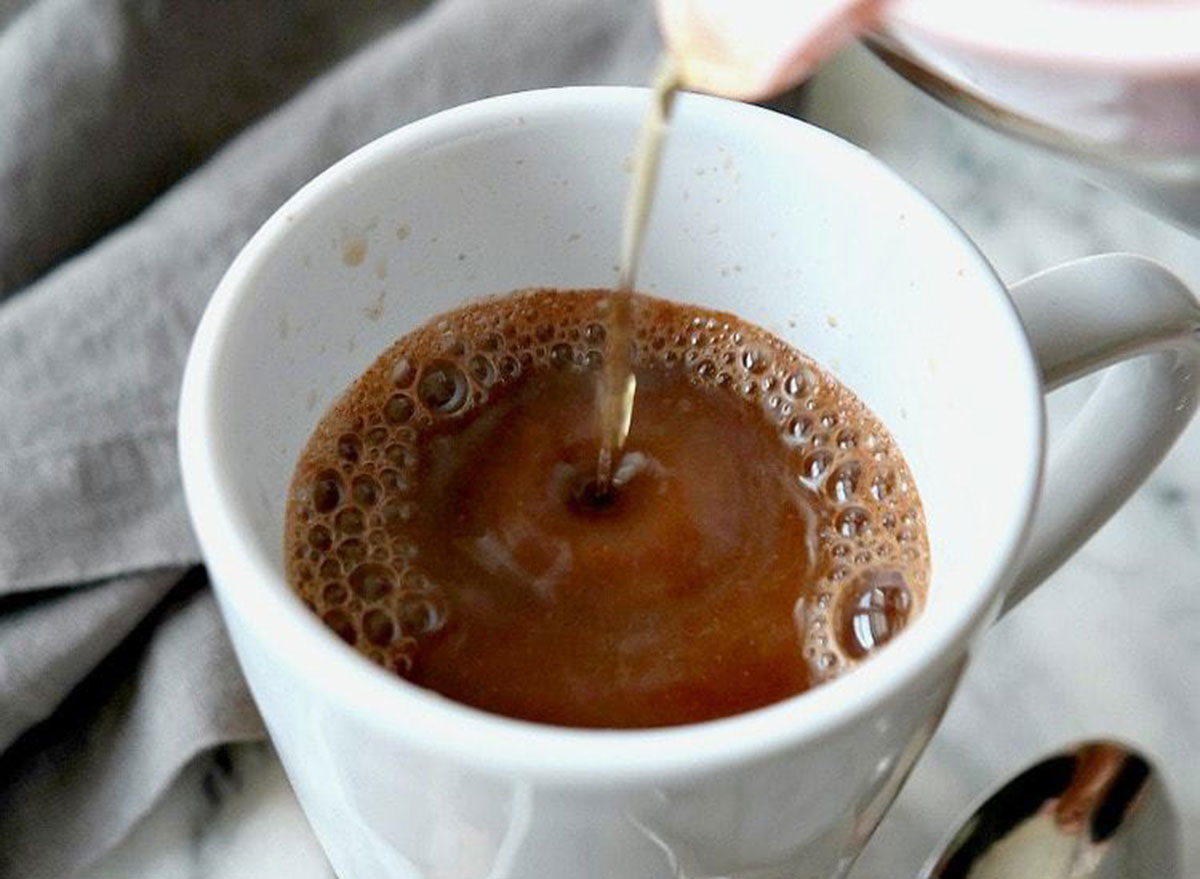 This drink is anything but your average cup of Joe! You get the immense health benefits coming from different ingredients like cacao, maca, cinnamon, and turmeric, as well as an extra energizing kick of ginger, black pepper, and cayenne. Not only are you getting a great-tasting burst of caffeine, you'll be getting all the necessary nutrients for total body wellness.
Get the recipe from The Glowing Fridge.
Sparkling apple pear cider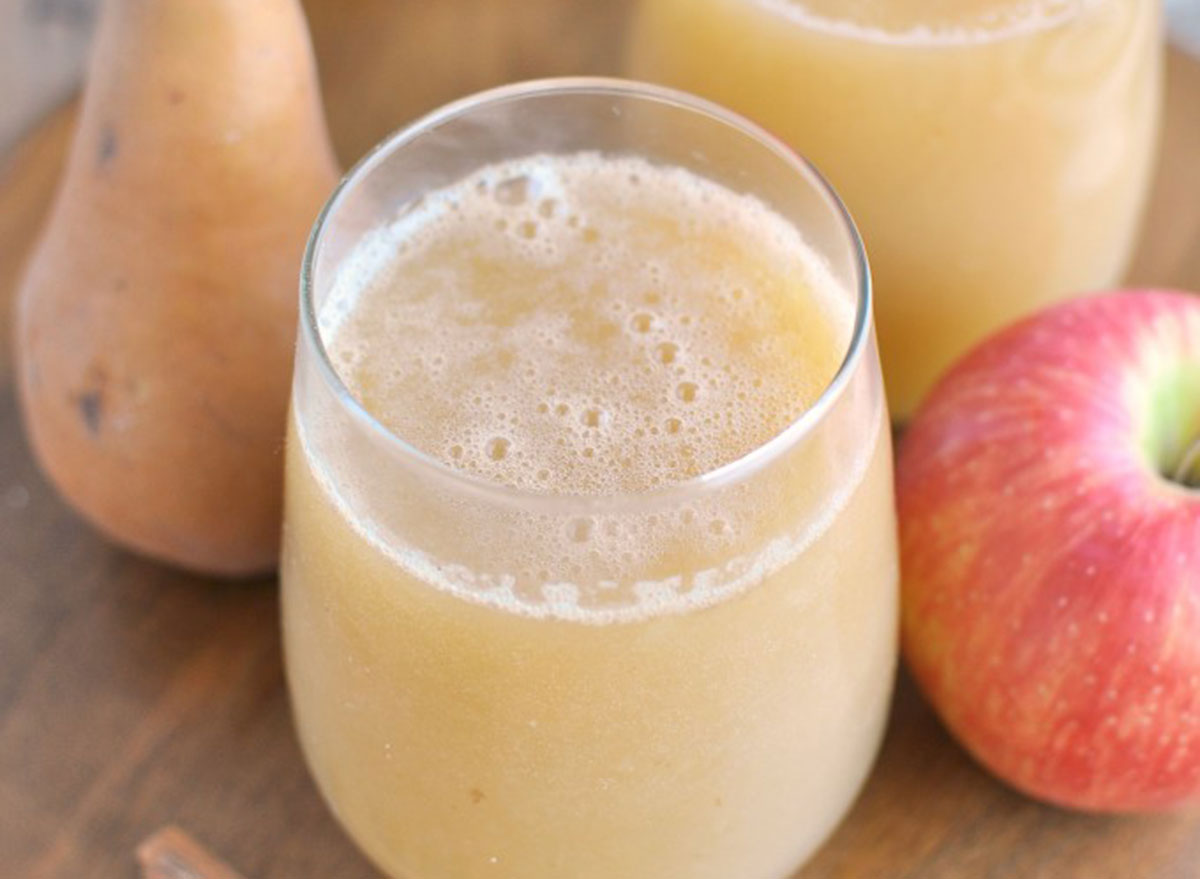 Nix any artificial sweeteners and preservatives from the store-bought ciders and instead make one that you know exactly what's gone into it. This apple cider amplifies the cider game by adding in juice from pear. Pear gives it an additional touch of sweetness, as well as an added source of dietary fiber. Apples and pears are both loaded with vitamins and nutrients to keep you feeling awake and energized!
Get the recipe from The Organic Dietitian.
Toss that sugar-laden energy drink in the trash and whip up this treat that's perfect to take down before or after your hard workout! It's made with only a few ingredients and is super simple to throw together. Chia seeds are the star of the show for this drink and for good reason; they are packing in omega-3 fatty acids, protein, fiber and vitamins to give you all the energy you need. This recipe uses lime juice and agave or honey to give it flavor, but try out different fruits and see what works for you!
Get the recipe from Hurry The Food Up.
Eat This, Not That!
Inspired by The New York Times best-selling book series, Eat This, Not That! is a brand that's comprised of an award-winning team of journalists and board-certified experts, doctors, nutritionists, chefs, personal trainers, and dietitians who work together to bring you accurate, timely, informative, and actionable content on food, nutrition, dieting, weight loss, health, wellness, and more.
Read more about Eat This