The Best Coconut Milks, According to Nutritionists
If you're looking for a non-dairy beverage for your smoothie, chia pudding, or overnight oatmeal, you're going to want to start with the best coconut milk.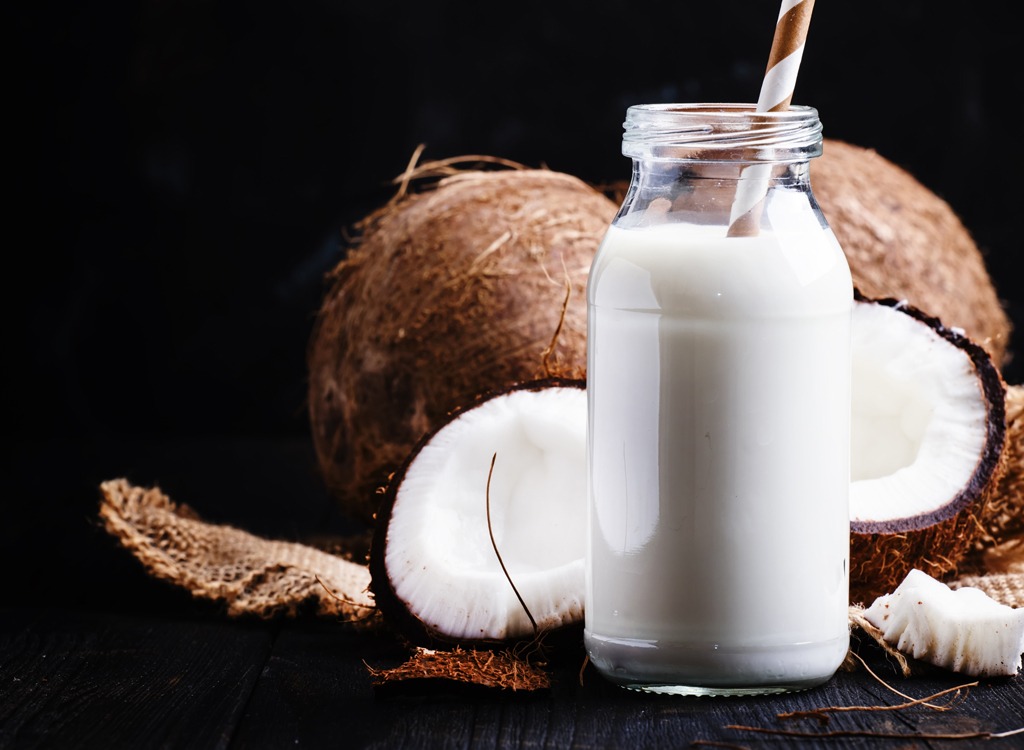 There are so many uses for a coconut milk beverage: smoothies, coffee, cereal, overnight oatmeal, or to drink as is. Because there are tons of different types of coconut milks and beverages, it can be tricky to differentiate them from each other to find the best coconut milk for your needs.
"It's important to remember there is a difference between coconut milk, coconut cream, and coconut water," says Amber Pankonin, MS, RD, LMNT, registered dietitian and owner of Stirlist.
"You definitely want to look for coconut milk and ideally, look for coconut milk that is either in the refrigerated section or boxed varieties available on the shelf. Canned coconut milk is best left for cooking and not for drinking as they are very high in fat and calories."
Like most plant-based alternative milks, the coconut drink is experiencing a renaissance. According to a 2019 study, experts estimated that total coconut milk sales in the US were $880 million. And with popularity comes more and more labels on the market, which can make it hard to determine which one you should buy.
That's why we consulted dietitian nutritionists to put together this guide to choosing the best coconut milk.
What is coconut milk?
"Coconut milk is made from shredded coconut that has been pureed, strained, and then mixed with water and other additives including certain vitamins," says Pankonin.
While coconut milk is creamy in texture like dairy, it doesn't come with the lactose (great for those with lactose sensitivities). Plus, it's plant-based, so if you're vegan or looking to try a plant-based diet, it also can be an excellent alternative.
The benefits of drinking coconut milk.
It's dairy free. "One benefit is that it is non-dairy. This is beneficial for folks who are looking to hydrate with non-dairy alternatives," says Pankonin.
Many beverages are fortified with nutrients that many plant-based dieters are lacking. "Another benefit is that most are fortified with vitamin B12, which could be beneficial for individuals who do not consume any meat or animal products," says Pankonin. Sammi Haber Brondo, MS, RD, CDN, registered dietitian nutritionist and author of The Essential Vegetable Cookbook adds that "coconut milk is also usually a good source of essential nutrients like calcium and vitamins A, E and D."
It contains healthy fats. Coconut's unique fat content and type also make it a go-to drink for people on the keto diet. "It's high in medium chain triglycerides (or MCT's), which are often seen as a beneficial source of saturated fat as they contain important fatty acids and are converted into energy more efficiently than other sources of saturated fat," says Haber Brondo. "Coconut milk is also higher in fat compared to other non-dairy alternatives, which might be more filling or create a greater sense of satiety," says Pankonin.
How can you choose the best coconut milk?
We asked dietitians to share the nutritional criteria they look at when choosing healthy coconut milks.
Added sugars are one major thing to watch out for when it comes to choosing the healthiest coconut milk. "When it comes to boxed and refrigerated varieties, I would encourage folks to look for the unsweetened varieties or ones that have been sweetened with Stevia, which are about 45-50 calories per serving," says Pankonin.
Flavor enhancers: Another thing to look out for are any addition flavor enhancers. "Many coconut milks will also contain 'natural flavors', which are extracts from plants and animal products that serve as flavor enhancers," says Haber Brondo. "But they're also often combined with various other additives that can be either natural or synthetic. While the FDA does not regulate the term 'natural', Flavor and Extract Manufacturers Association (FEMA) Expert Panel confirms that natural flavors meet their safety standards. Overall, natural flavors on the ingredient list are probably safe, but it boils down to personal preference."
One thing to note is that these beverages typically contain "additional stabilizers and thickeners for freshness and texture purposes," says Haber Brondo. "You'll see these on the label as gums or acids, but they're nothing to worry about."
The best coconut milks you can buy.
In no particular order, dietitians share their top picks for healthy coconut milk brands.
Silk Unsweet Coconut Milk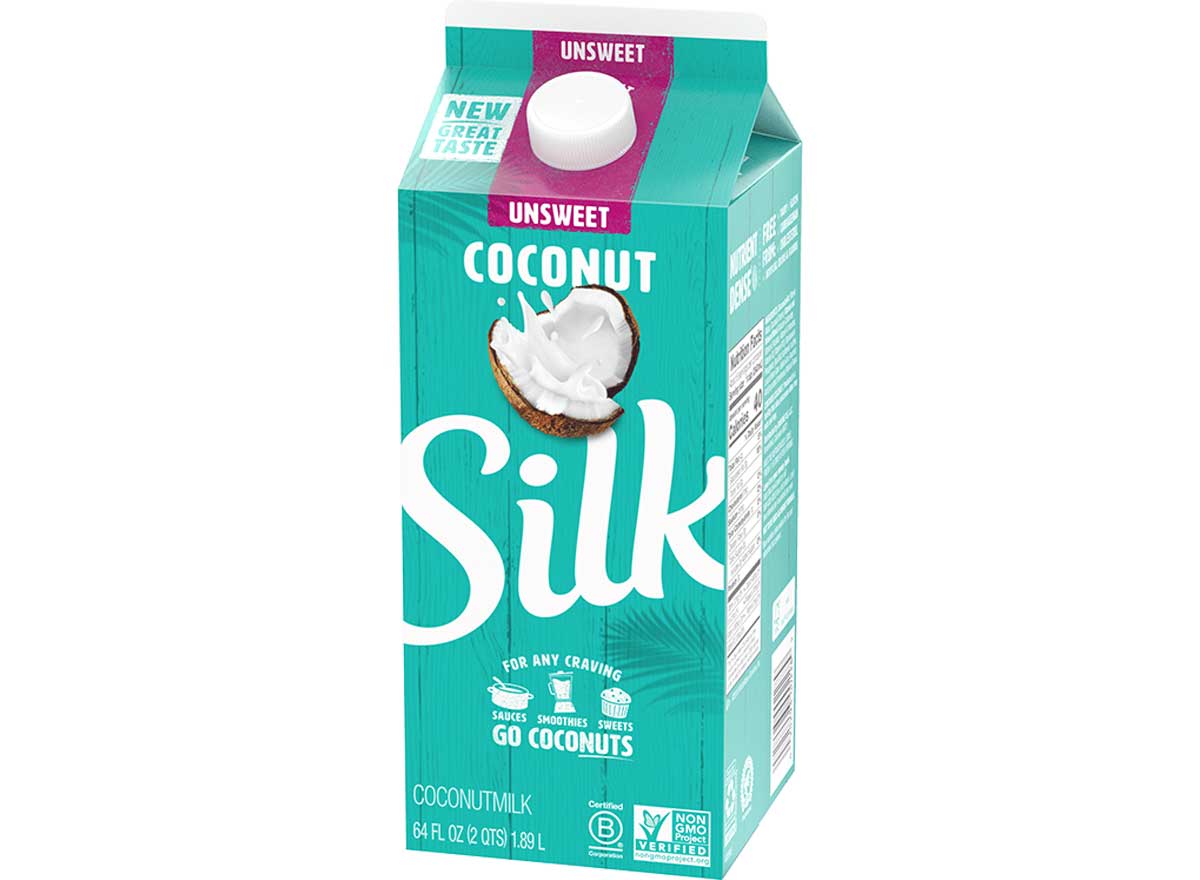 "Silk's coconut milk also has a similar ingredient list to the others: water, coconut cream, gums and added vitamins and minerals. I like that this one has a few different vitamins and minerals added," says Haber Brondo. "A one cup serving has: 35% of the recommended daily amount of calcium, 35% of the recommended amount of vitamin B12, 20% of the recommended amount of vitamin A, and 20% of the recommended amount of vitamin E. Because it's so rich in so many different nutrients, this coconut milk is a great replacement for dairy milk. It's just a good, nutrient-dense, plant-based option overall you should include in your diet."
SO Delicious Organic Coconut, Unsweetened Vanilla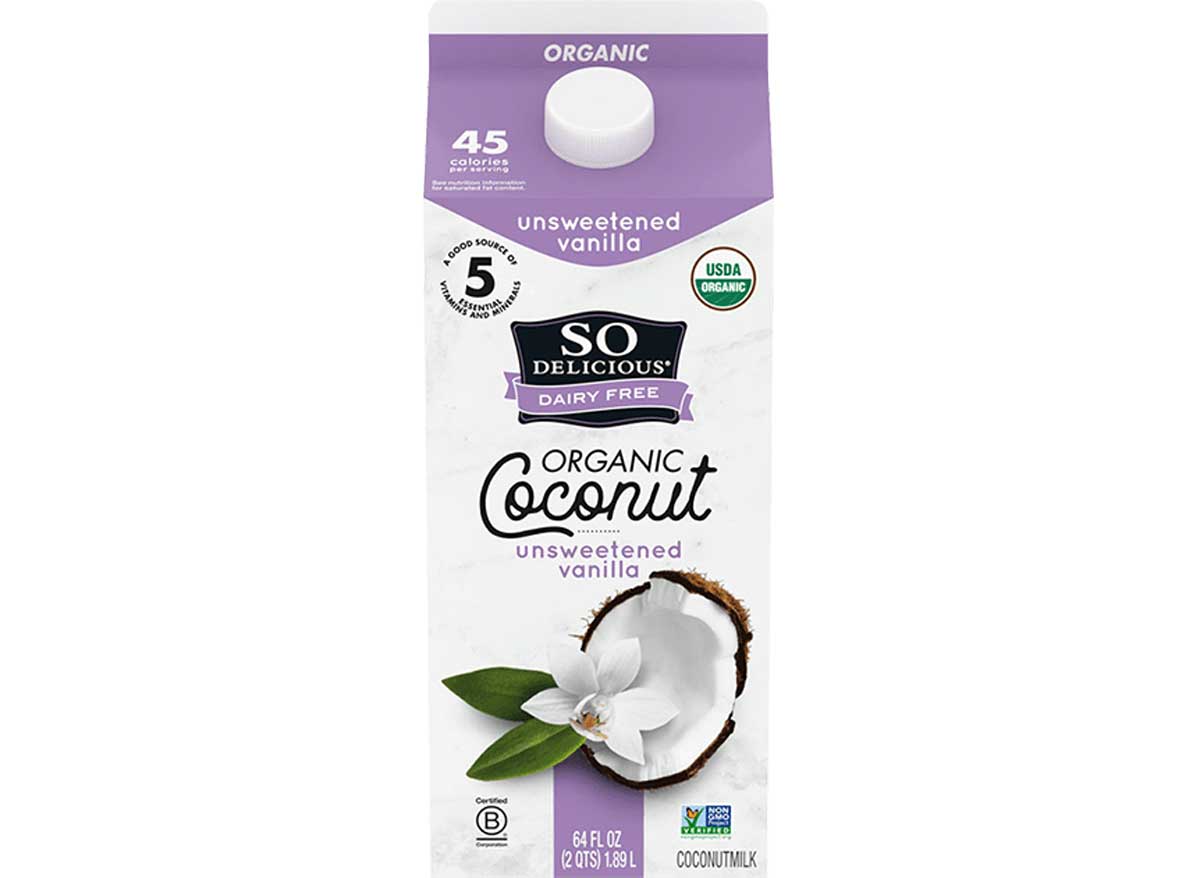 "The vanilla adds just a hint of flavor," says Pankonin. "In terms of calories, this option is the lowest in calories at 45 calories per 8 fluid ounces. It also contains half your percent daily value of Vitamin B12, 30% daily value of Vitamin D, and 10% daily value of calcium."
Trader Joe's Unsweetened Original Coconut Beverage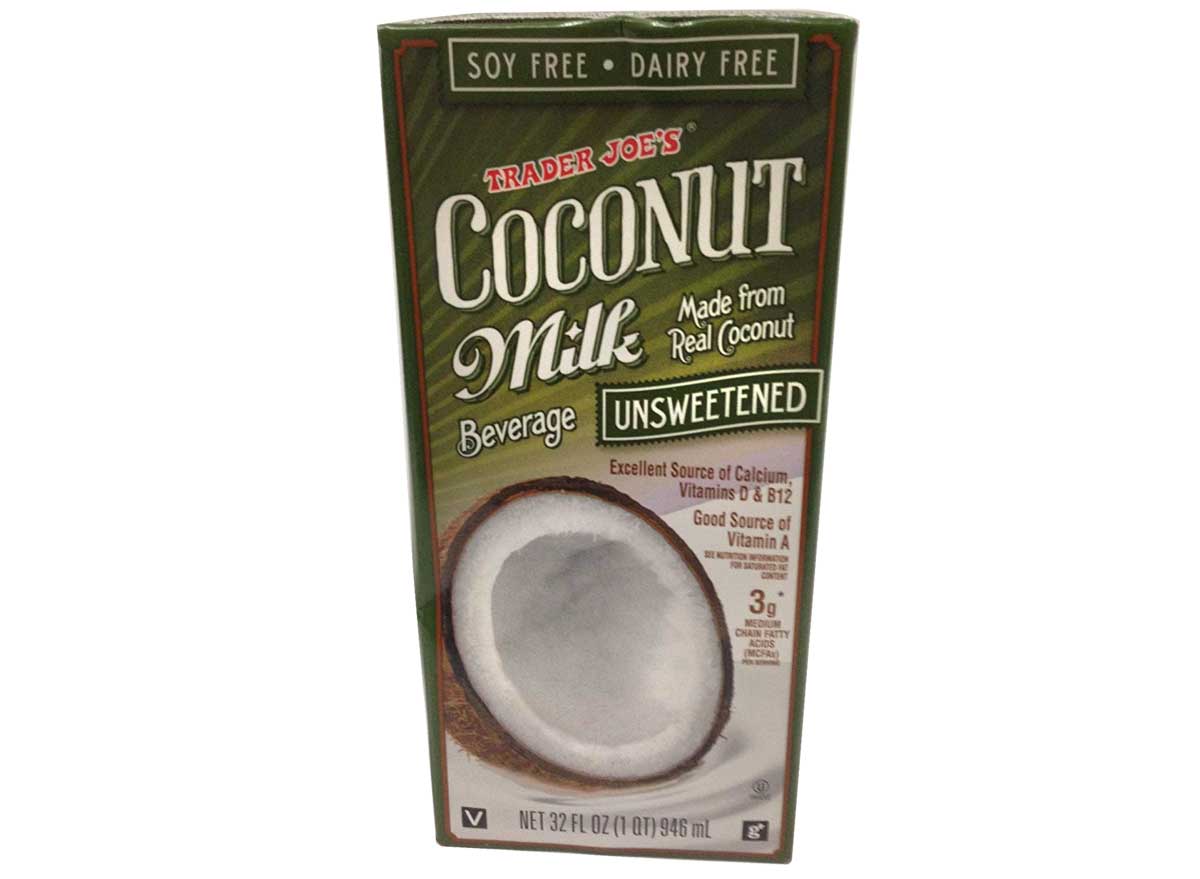 "This coconut milk has no preservatives or carrageenan in this drinkable coconut milk (see next section for more on carrageenan)," says Charlotte Martin, MS, RDN, registered dietitian nutritionist and owner of Shaped by Charlotte. "Plus, it's fortified with vitamins and minerals like calcium and vitamins A, D, and B12. Dairy products are one of the best sources of calcium, so if you're avoiding them it can be more difficult to meet your calcium needs, which is where supplementation comes in handy."
SO Delicious Dairy Free Coconut Milk Chocolate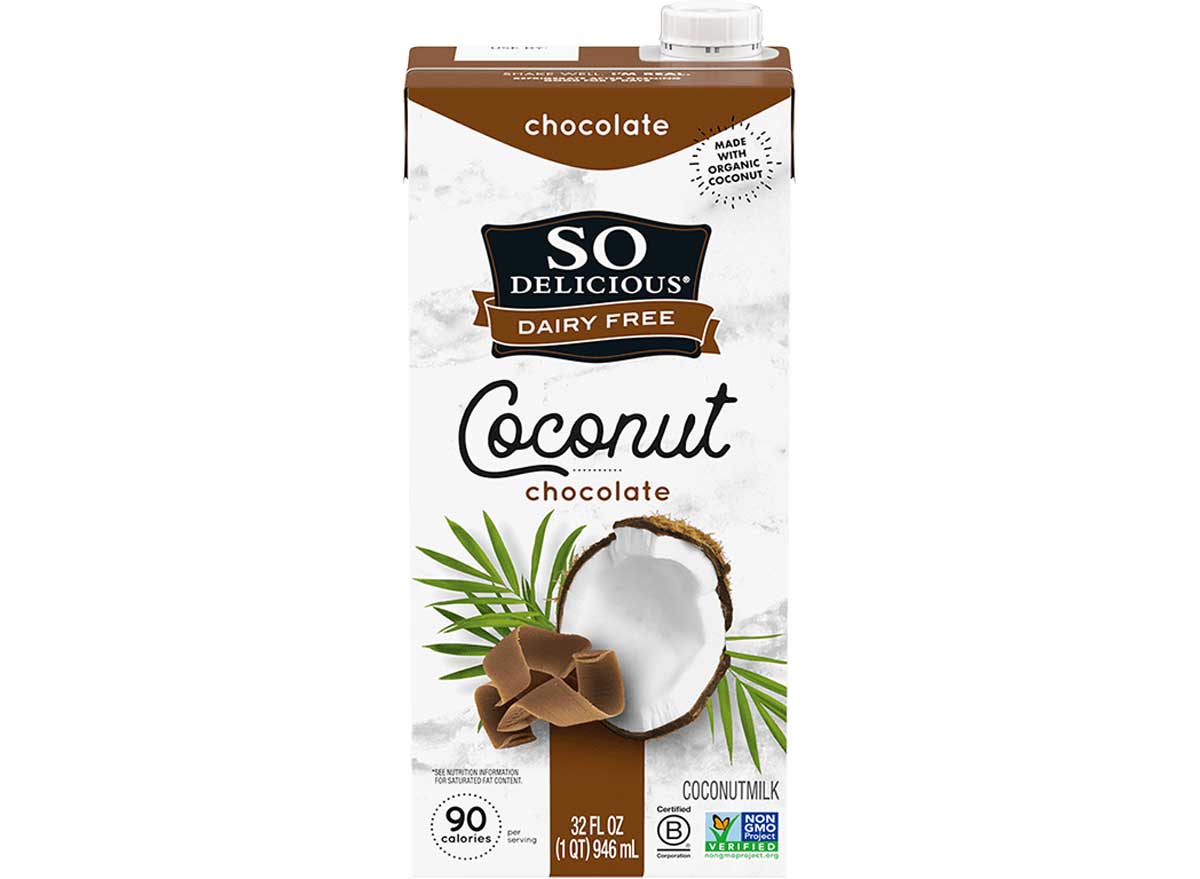 "If you are looking for a sweeter option or maybe a recovery drink, this would be a good option," says Pankonin. "It is about 90 calories per 8 oz serving and in addition to containing Vitamin B12, Vitamin D and calcium, it also contains about 200 milligrams of potassium and 160 milligrams of sodium which can be beneficial for those looking to replace electrolytes after a workout."
365 Everyday Organic Unsweetened Coconut Milk, Vanilla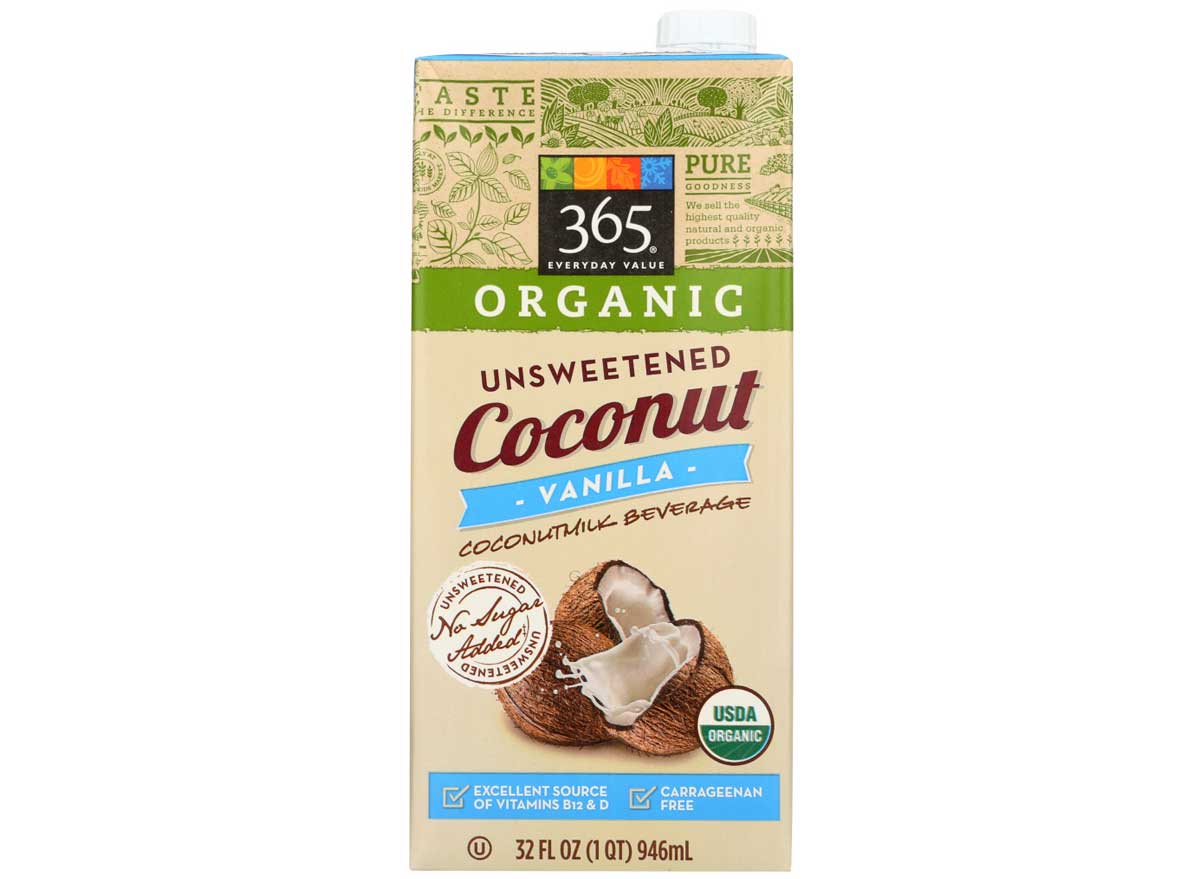 "Again the vanilla adds just a hint of flavor," says Pankonin. "In terms of calories and fat, this coconutmilk beverage is about 50 calories per 8-ounce serving, contains half your percent daily value of Vitamin B12, 25% daily value of Vitamin D, and 10% daily value of calcium."
SO Delicious Dairy Free Unsweetened Coconut Milk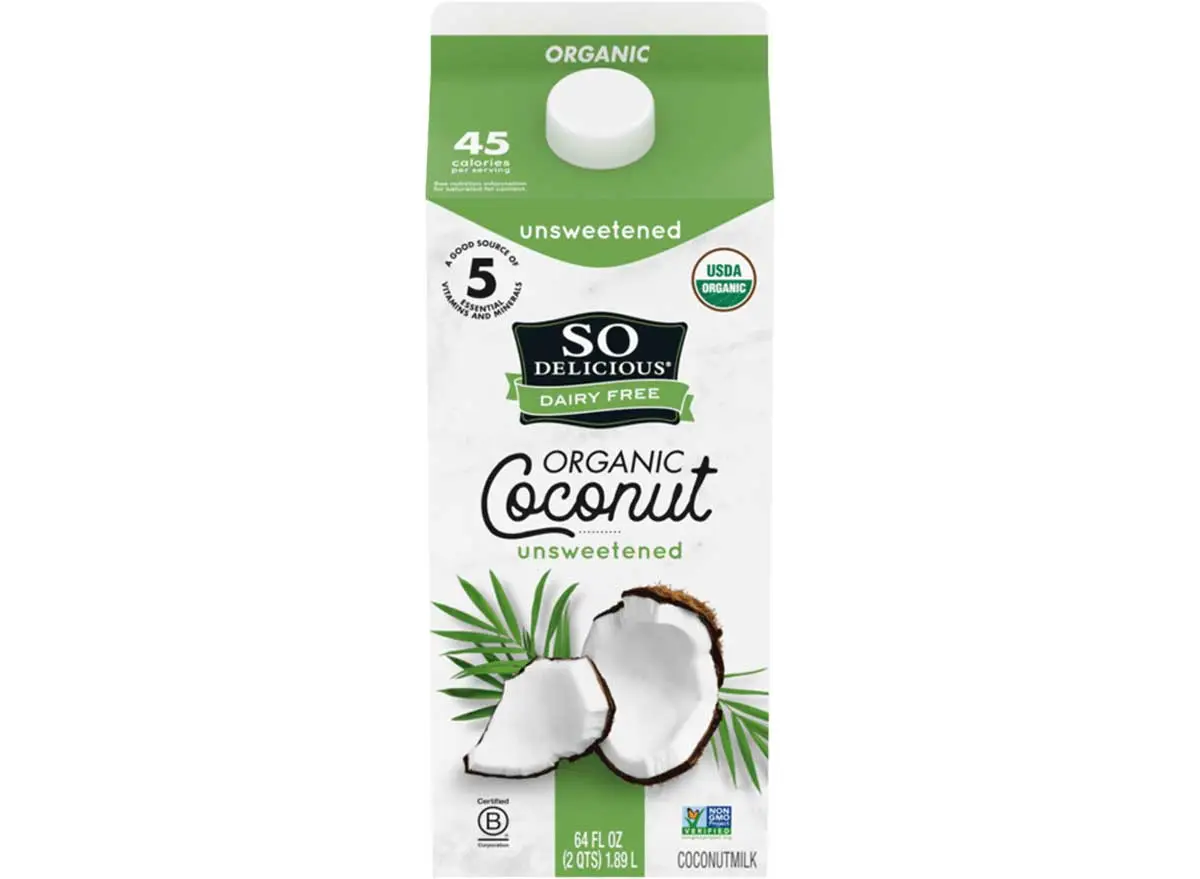 "This beverage is low-calorie at 45 calories and next lowest in saturated fat," says Catherine Perez, MS, RD, a registered dietitian at The Charge Group. "It has the highest amount of fortified B12 in the lot, which is great to have for those that need the extra fortification from fortified foods and beverages. It also has some Vitamin D and Calcium added in as well. Bonus: SO Delicious adds some selenium and zinc as well. These nutrients are great as an addition considering many fall short on these minerals."
365 Everyday Organic Unsweetened Coconut Milk, Original
"This is a great drinking option for the exact same reasons as the Trader Joe's Coconut Beverage, they have almost identical nutritional profile. The big differentiation is that the TJ's one is shelf stable whereas the WF one is refrigerated," says Martin. "Also, this one is double the size (64 oz vs 32 oz), so it will last you longer."
The worst coconut milk you can buy.
Dietitians shared that there are no coconut beverages you should avoid entirely. That being said, the best coconut milks are better than the following options. So, if an item on the list above is available along with the following drinks, you should opt for the best option instead.
Pacific Foods Organic Coconut Milk, Original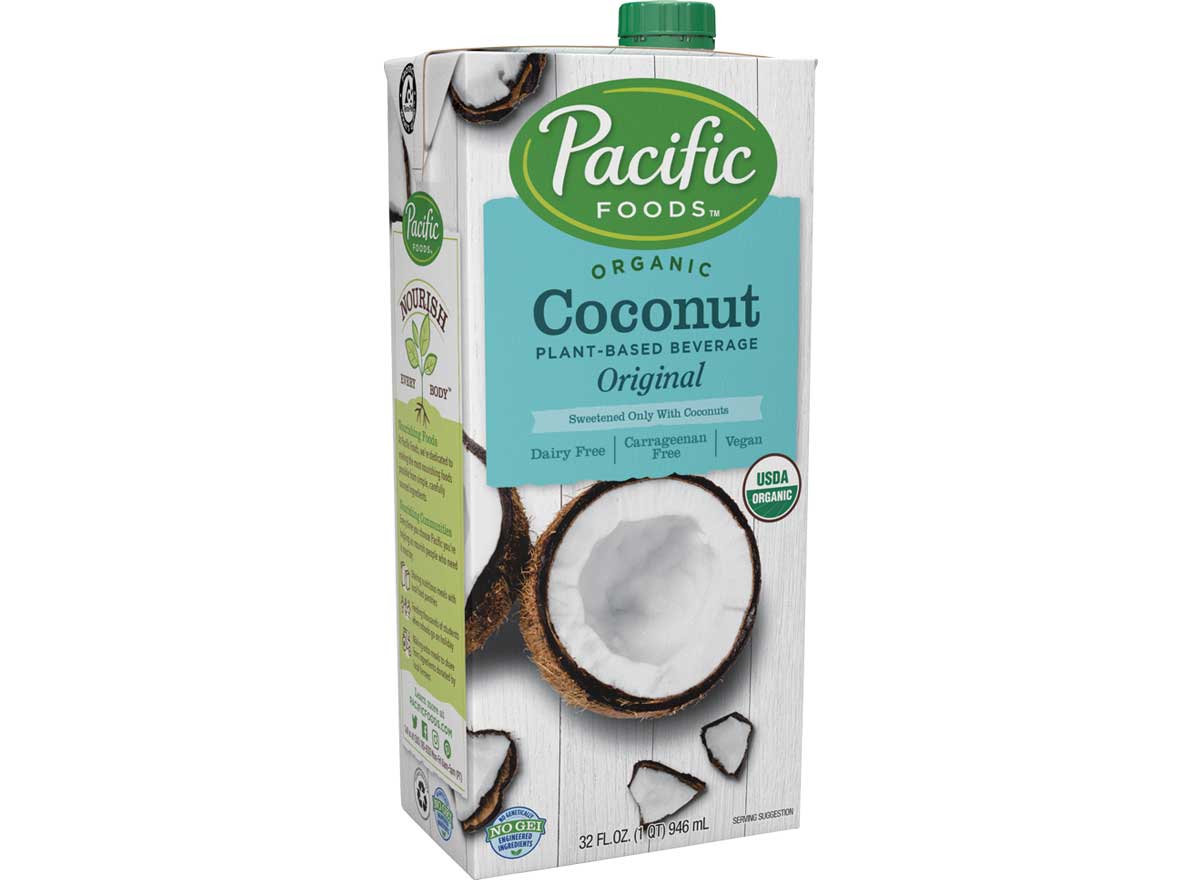 6254a4d1642c605c54bf1cab17d50f1e
"There's nothing inherently wrong with Pacific Foods' coconut milk. Its ingredient list is similar to the rest with water, coconut cream and gums. But, this coconut milk has the least amount of nutrients added to it," says Haber Brondo. "It only has a little vitamin D added, as well as a trace amount of calcium. If you're eating a diet rich in other nutrient-dense foods, like fruit, veggies and whole grains, you don't necessarily need extra vitamins and minerals added to your coconut milk. But, if you're looking for the brand that's going to give you the most bang for your buck, other brands will be a much better source of many essential nutrients."
Coconut Dream Coconut Milk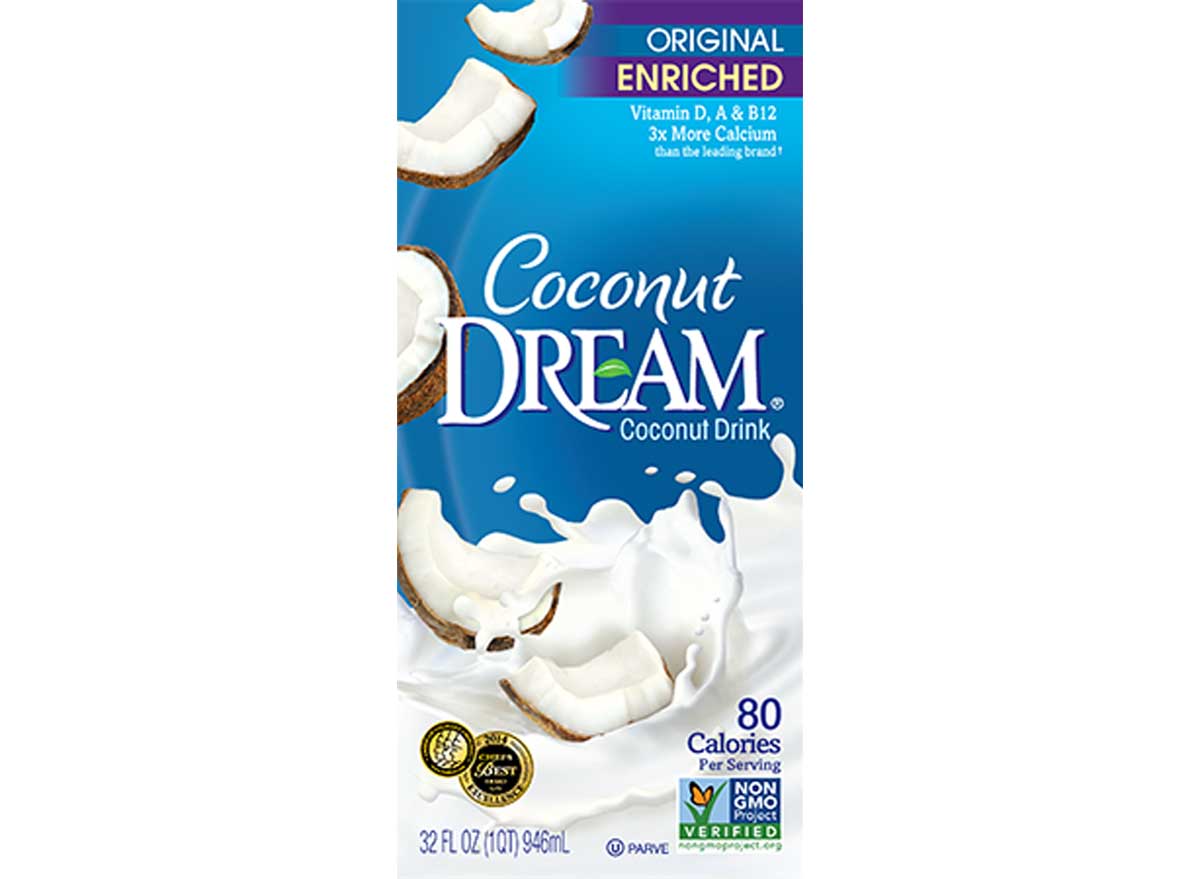 "This coconut milk contains a highly controversial ingredient: carrageenan. Manufacturers add carrageenan to some food products as a thickener and emulsifier," says Martin. "Some evidence suggests carrageenan triggers inflammation and digestive issues; however, we have limited research on this. Luckily, most other brands have removed this controversial ingredient from their products so it's pretty easy to avoid this brand in favor of another."
Califia Farms Go Coconut Coconut Milk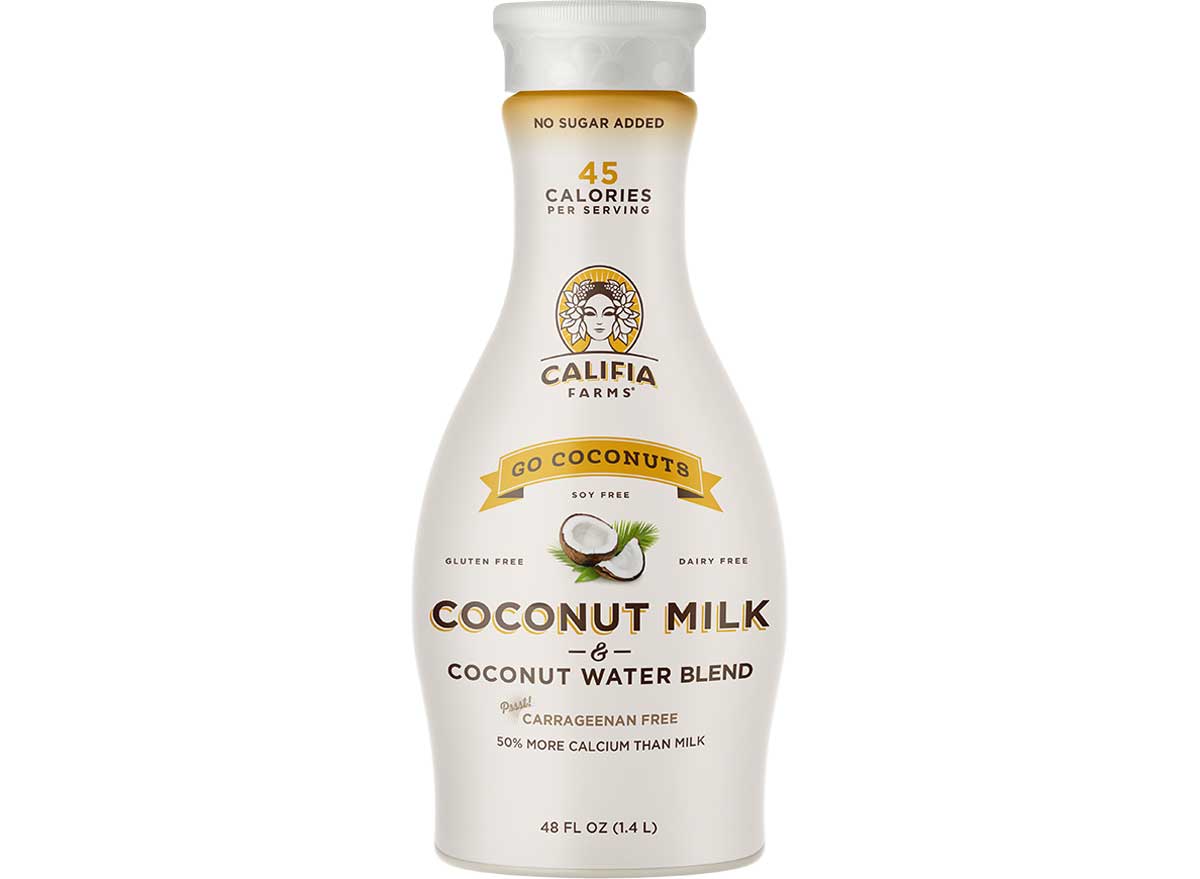 "This coconut milk isn't bad, it's just not as great as the others. It has the same ingredient list, but is lacking in added nutrients; it's a good source of calcium, and that's pretty much it," says Haber Brondo. "If we're nitpicking, it's the only unsweetened version that has sugar in it. (To be fair, it's only one gram.) It has the highest amount of sodium of all the coconut milks I compared: 180 milligrams in one cup, versus only about 50 milligrams in most other brands. Again, there's nothing super wrong with this coconut milk, but if you have to choose, the other options have a few benefits over it."
Adds Perez, "While this milk has no sugar added, it also seems to be missing some important fortified nutrients. The only added nutrient is calcium (35% Daily Value), no B12 and no vitamin D."
So Delicious Organic Coconut, Original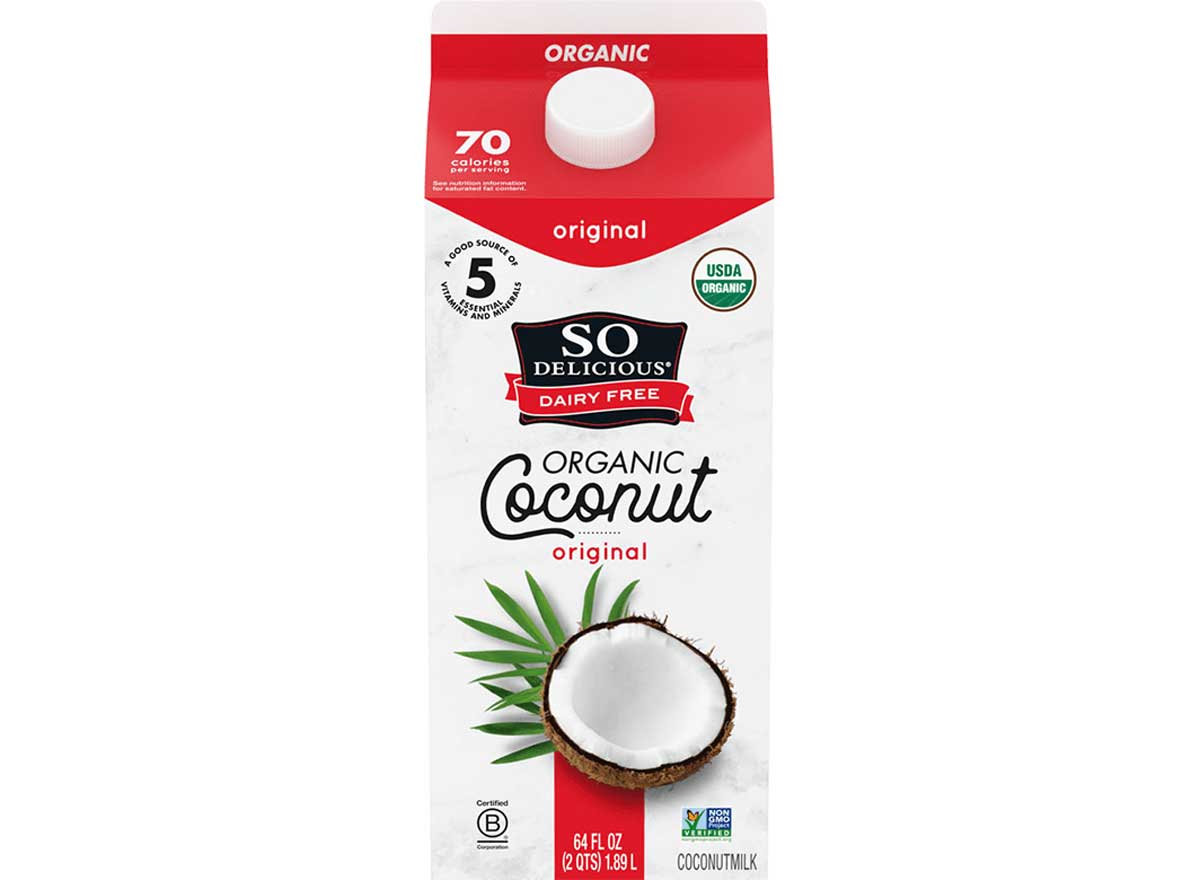 "This drinkable sweetened coconut milk has 7 grams of sugar per serving, which is more than I've seen in most other sweetened versions," says Martin. "I personally feel you don't need added sugar in your milk, especially if you're pouring it over sweetened cereal. Be sure to look for unsweetened drinkable varieties, which SO Delicious does offer."