18 Easiest Baking Recipes That Even Beginners Can Make
Just because you've never baked before doesn't mean you can't create some delicious sweet and savory treats from your oven.
With many of us home during this time of social distancing and self-isolation due to the Coronavirus, an easy, fun, and delicious way to pass the time is to start baking. And just because you've never baked before doesn't mean you can't create some delicious sweet and savory treats from your oven. There are countless easy baking recipes that you can master the first time you make them — and we found the 18 best.
Before you bake, here are 5 tips for beginner bakers before you start baking.
1. Read the recipe thoroughly before starting and plan ahead.
"This way you'll know what you need, what condition each ingredient needs to be in when you start making the recipe and how long to plan for it to take from start to finish," says Maegan Brown, owner of The Baker Mama. "You want to be aware if a recipe calls for refrigerating the dough for 24 hours or softening the butter ahead of time."
2. Use cookie dough scoops to portion your cookie dough, muffin batter, and cupcakes.
"Cookie dough scoops ensure perfectly even portions every time," says Brown. "Baked goods will be more uniform and bake evenly."
3. Line your baking pans with parchment paper or a silicone baking mat.
"Parchment paper or silicone baking mats create a no-stick barrier between your baked goods and the pan. They're more reliable than greasing your pan and allow you to transfer cookies, breads and cakes without them tearing or falling apart," says Brown. "On a greased baking sheet, baked good bottoms can over-brown, but on parchment or silicone they tend to bake better. Cutting parchment paper to fit loaf pans and cake pans also allows for easy lifting from the pan once the baked goods have cooled."
4. Get to know your oven
"Oven temperatures vary greatly so check your baked goods often to make sure they don't over-bake. If you notice that your baked goods are baking sooner than what is called for in most recipes, just be sure to always start checking sooner than the instructions state," says Brown. "If your oven takes longer to bake than the recipe instructions recommend, then just know you'll probably have to allow for more time for most of your goodies to bake correctly. You can always put an oven thermometer in your oven to test it if you think your oven temperature is off."
5. Always test your quick breads, muffins and cakes with a toothpick for doneness
"When you think your baked goods are close to being done, insert a toothpick into the center of it to determine whether it is finished baking or needs more time in the oven. If there is wet batter still on the toothpick, it needs to bake longer," says Brown. "But if it comes out clean or with a few crumbs on it, it's done! If the top of your baked good looks finished but the inside needs more time, tint the baked good with foil and let it continue to bake until the center is cooked all the way through."
And here are 18 super easy baking recipes you need to try if you're a beginner baker.
Classic Banana Bread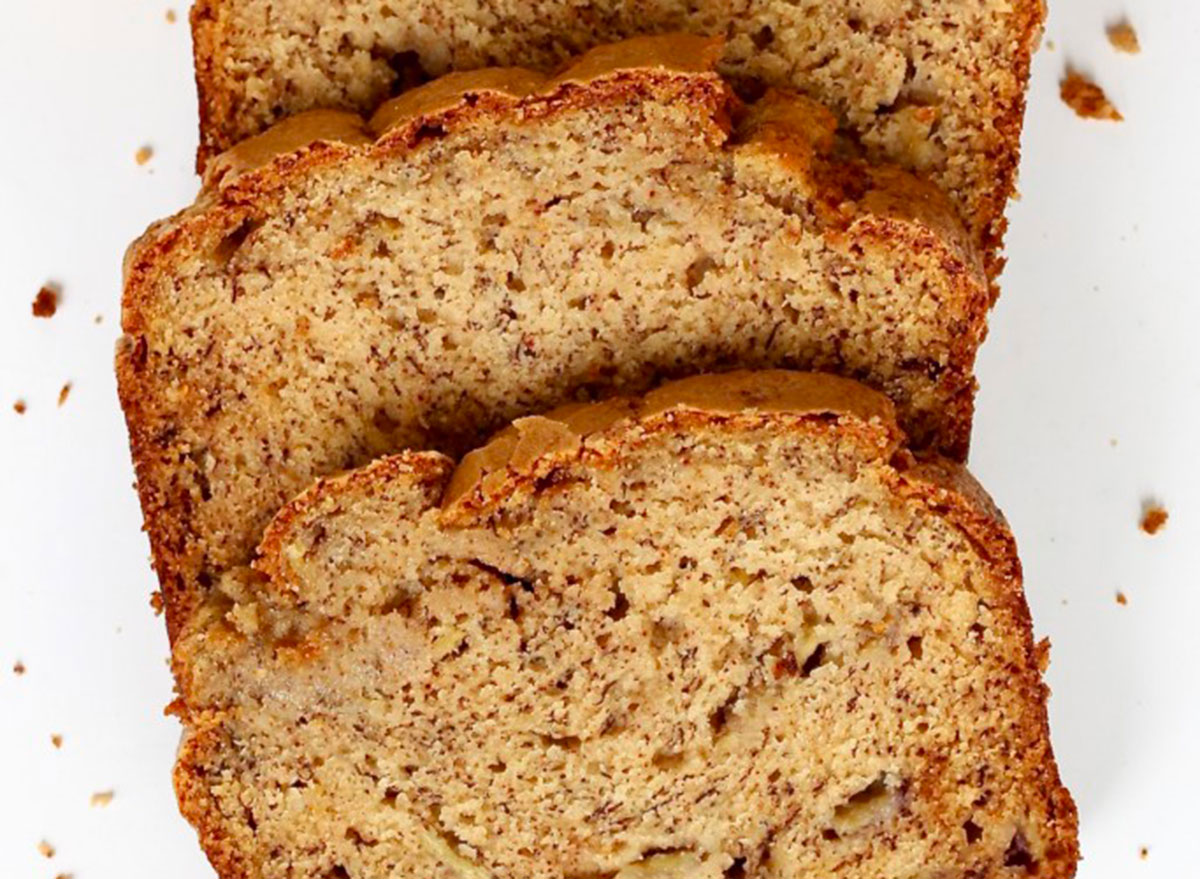 Banana bread recipes are the queens of easy baking recipes. "Banana bread can be baked anytime and anywhere with simple and convenient ingredients. You can really use any type of pan to bake it in: loaf pan, muffin pan, cake pan," says Brown. "Most banana bread batters take just minutes to make as there's no dough rising required. And you can mix the batter in an electric stand mixer or in a mixing bowl with a spoon. The only requirement is that you use ripe bananas. The riper the better! Banana bread is also great to know how to bake because it can easily be modified with what you have on hand."
Get the recipe from The Baker Mama. 
Sea Salt Chocolate Chunk Cookies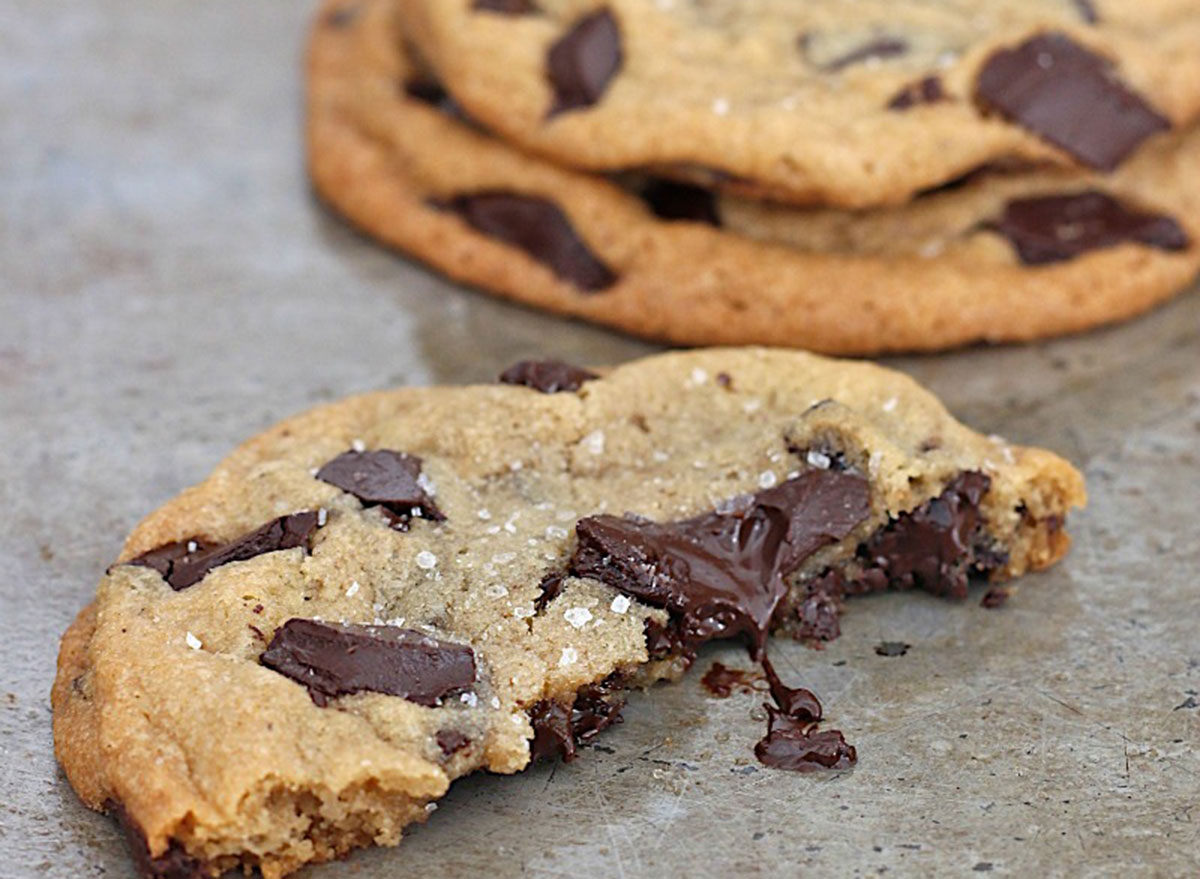 "Baking an impressive chocolate chip cookie should be fun and of course the delicious results are a nice reward," says Brown. "Chocolate chip cookies are a great way to practice your baking skills. Practice makes perfect, so they say! Making sure you prep and measure your ingredients correctly, separating the dry and wet ingredients first, chilling the dough, measuring the cookie dough evenly, getting to know how your oven bakes best, checking the cookies for ideal doneness, and letting the cookies cool on the pan are all best practices that come with baking chocolate chips cookies."6254a4d1642c605c54bf1cab17d50f1e
Get the recipe from The Baker Mama. 
Blueberry Streusel Muffins
"Muffins are so quick and relatively simple to make. Most quick bread and cake recipes can be baked into muffins. The most important thing to remember is not to over mix the batter or overfill your muffin cups," says Brown. "You want your muffins to be tender yet moist and rise beautifully in the pan. You can get really imaginative with muffins. They can be savory or sweet and can hold up to delicious additions like fresh fruits, dried fruits, nuts, spreads, grains, cheese, and so much more! The options are endless which makes baking muffins so fun!"
Get the recipe from The Baker Mama. 
Almond Flour Cookies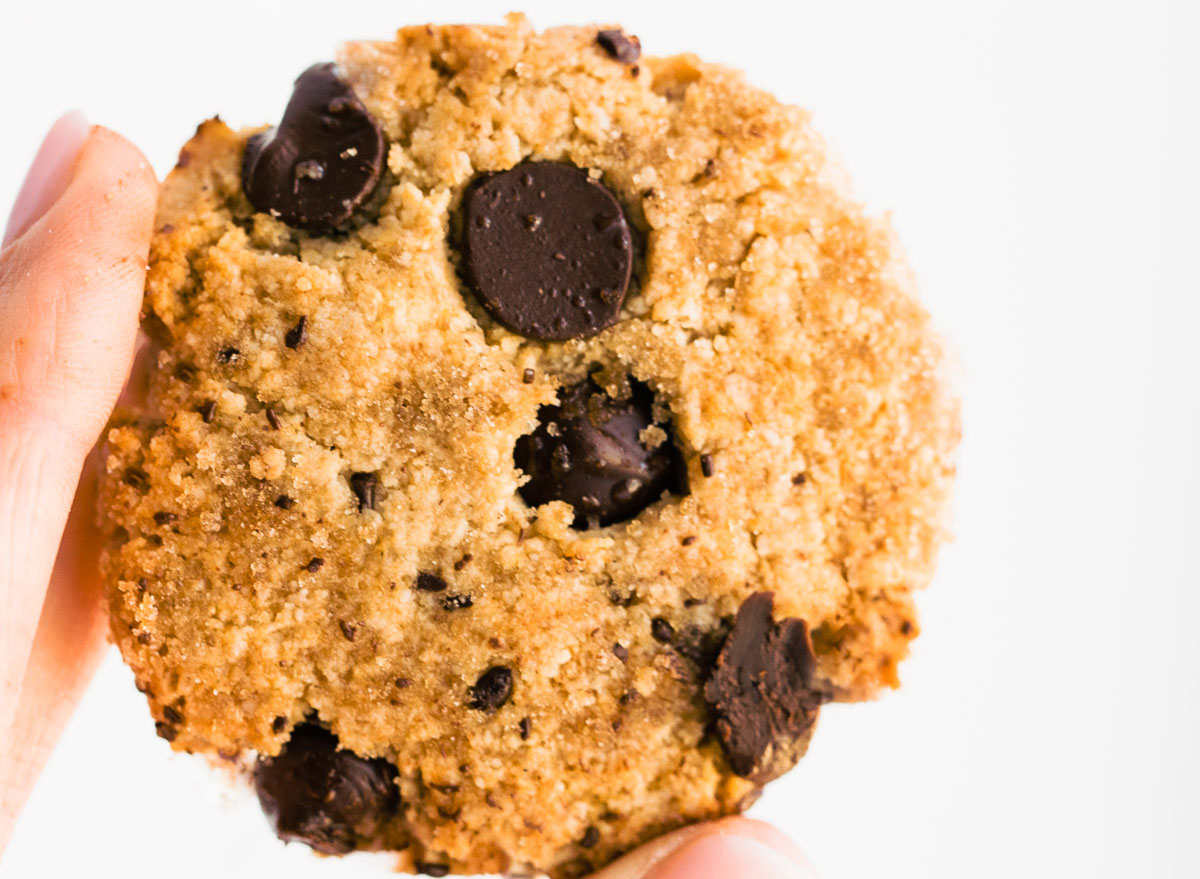 "This recipe is super easy because you only need 6 ingredients, no sifting of the flours, and no eggs!" says Lindsay Cotter, host of Foodie Bootcamp Workshops and cookbook author/photographer for Nourishing Superfood Bowls. "Also, if you mess it up, you can just eat the batter. Problem solved!"
Get the recipe from Cotter Crunch. 
Flourless Banana Bread Bars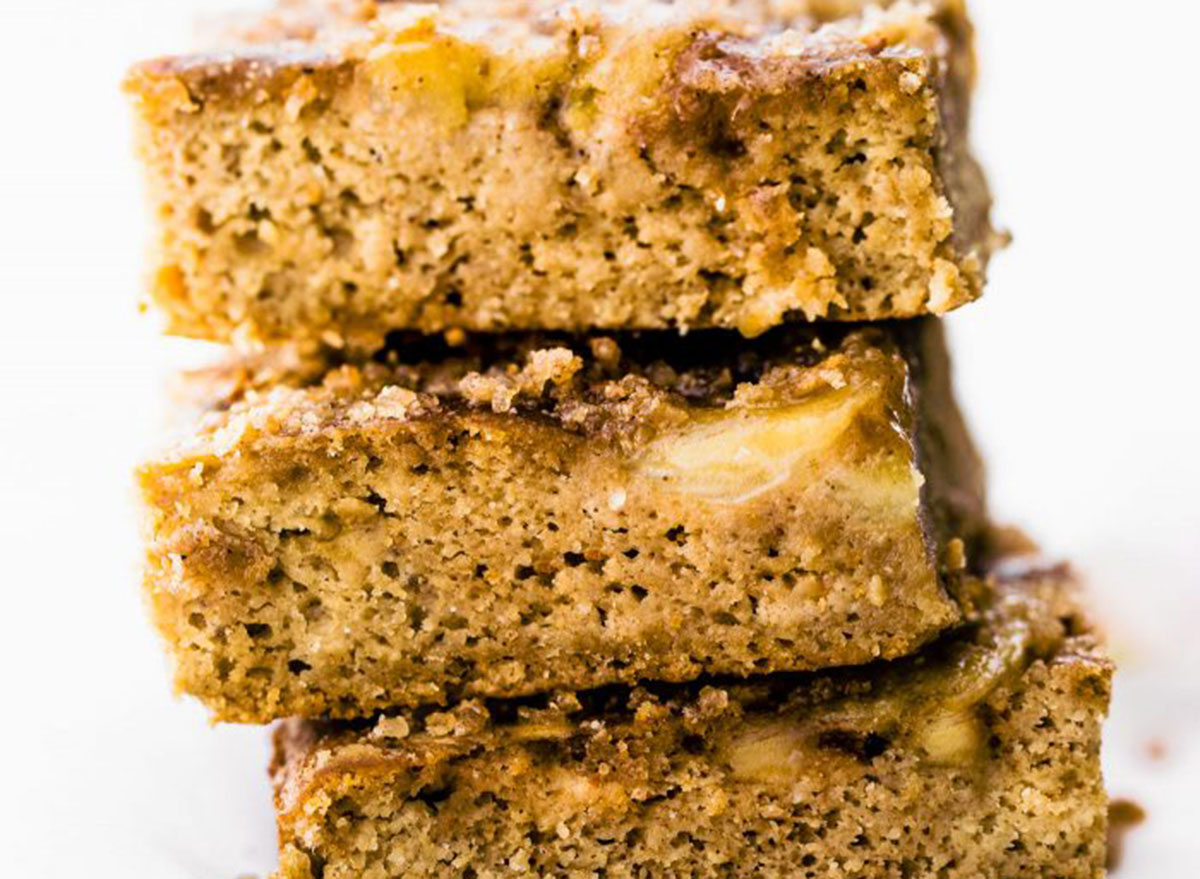 "I love this recipe because you don't need real flour," says Cotter. "Simple ingredients like oats, almond, banana, yogurt, and eggs. Plus, you learn how to make your own oat flour!"
Get the recipe from Cotter Crunch. 
Multiseed Homemade Crackers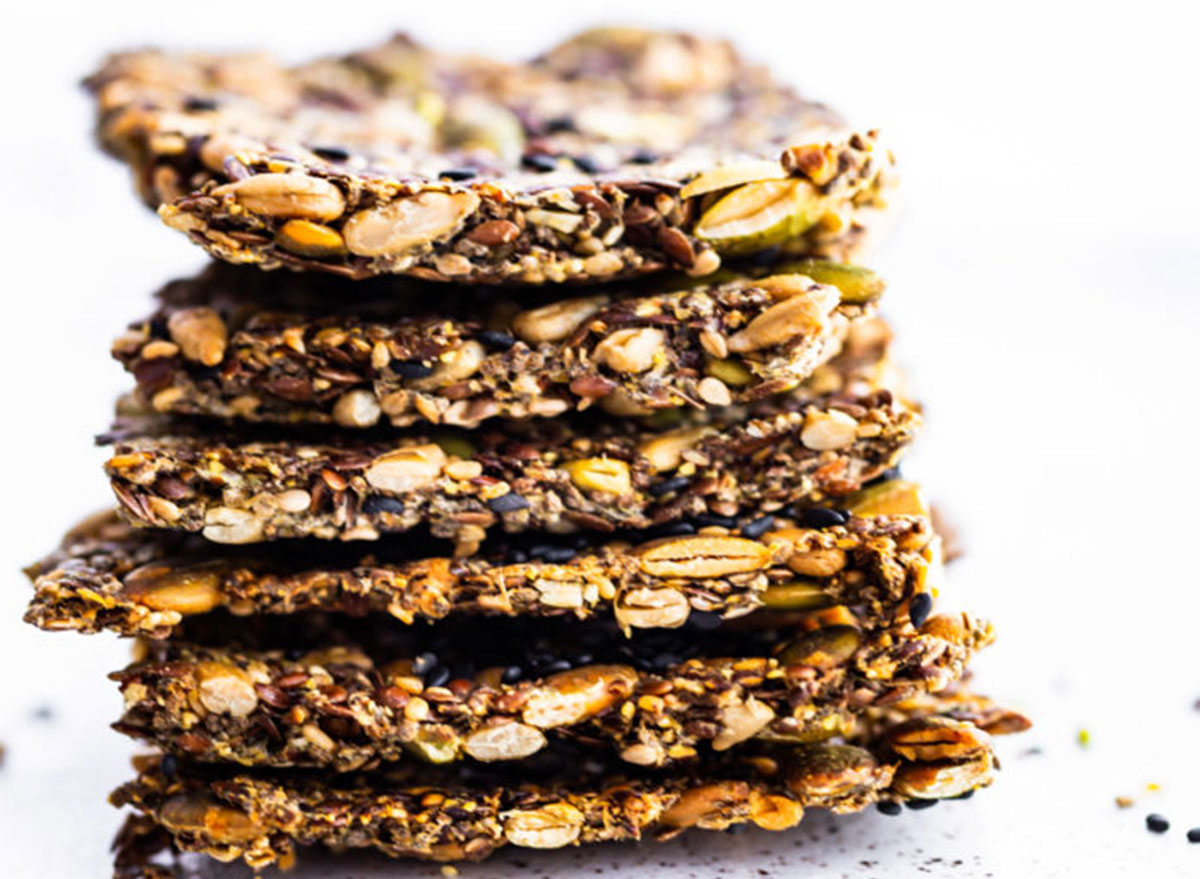 "Homemade crackers have never been so easy to make! Simply combine with seasoning, herbs, water, soak, mix, wait 10 minutes, and then spread on the pan to bake," says Cotter. "The chia and flaxseed hold everything together for you! Your job is to be patient while they bake."
Get the recipe from Cotter Crunch. 
Flourless Chocolate Chip Peanut Butter Cookies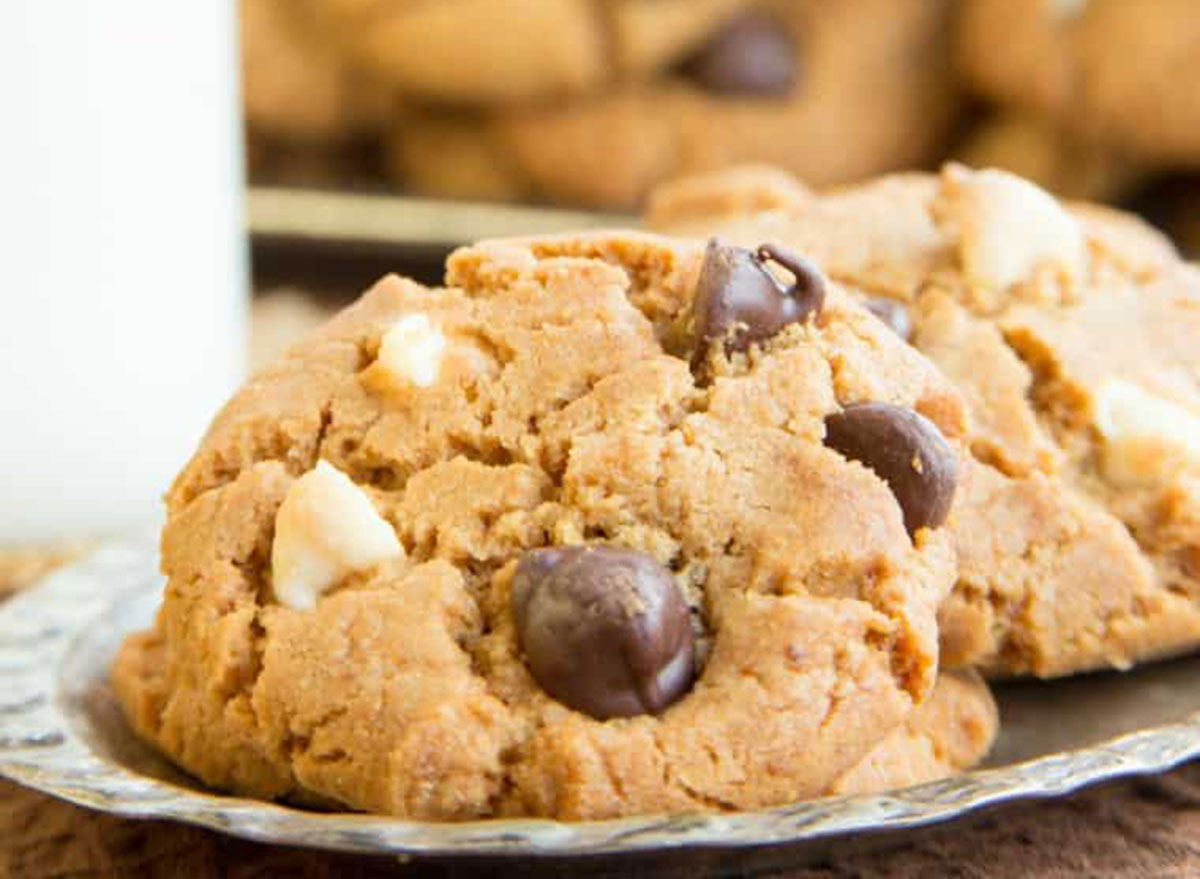 "With only a few basic ingredients and no flour, there's no need to buy and special supplies or worry about overmixing or chilling your dough," says Brianne Izzo, recipe developer and publisher of Cupcakes & Kale Chips. "Just mix everything together, add whatever chocolate chips you have on hand, scoop, and bake. Tons of peanut butter flavor made even better with chocolate."
Get the recipe from Cupcakes and Kale Chips. 
Monster Cookie Bars
"It doesn't get any easier than bar cookies. Mix these together in one bowl, press into a pan, and bake," says Izzo. "You'll end up with a fully-loaded treat that is crisp on the outside, chewy on the inside, and filled with peanut butter, oats, chocolate chips, and M&M's."
Get the recipe from Cupcakes and Kale Chips. 
Mini Crinkle Brownie Bites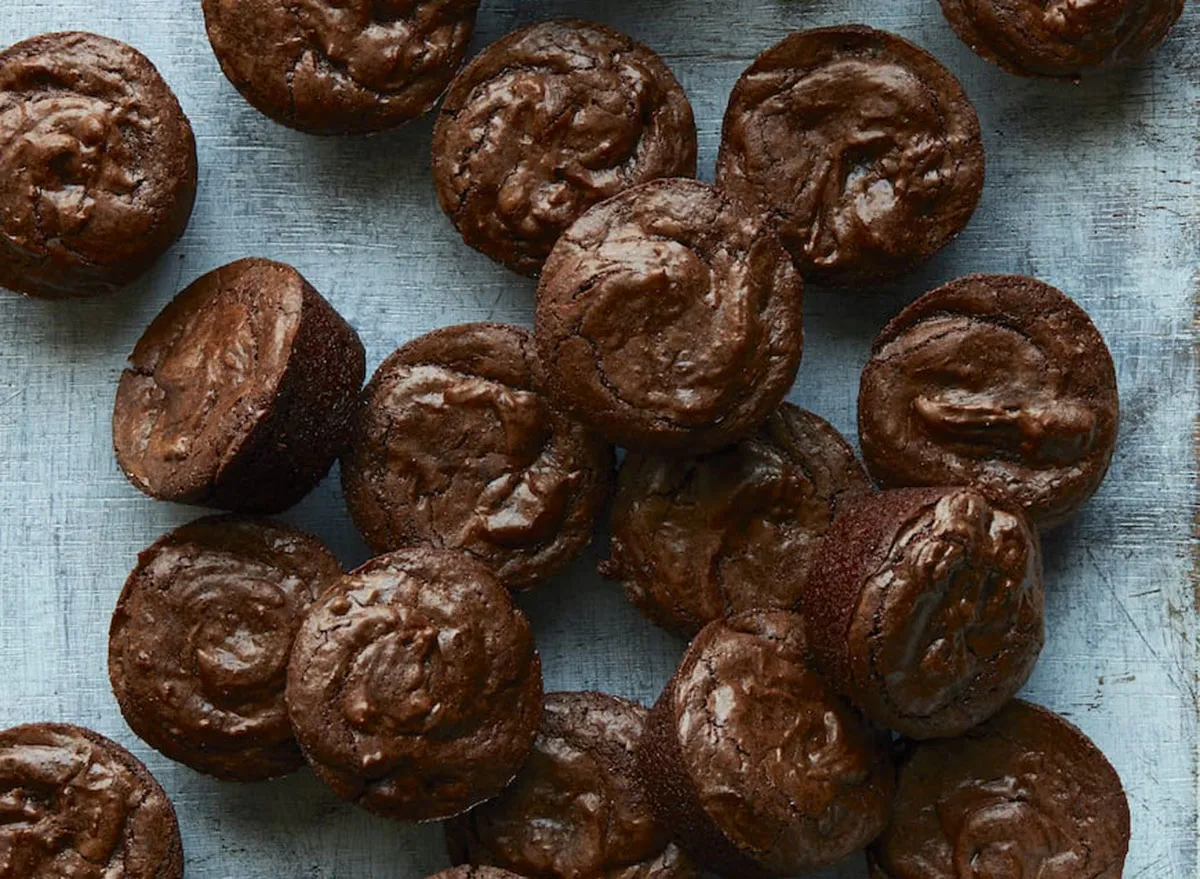 "These mini brownie bites are the ultimate comfort food!" says Gaby Dalkin, publisher of What's Gaby Cooking. "Just pop a few in your mouth and you're set. Bonus, they take almost no time to whip up!"
Get the recipe from What's Gaby Cooking. 
Snickerdoodle Blondies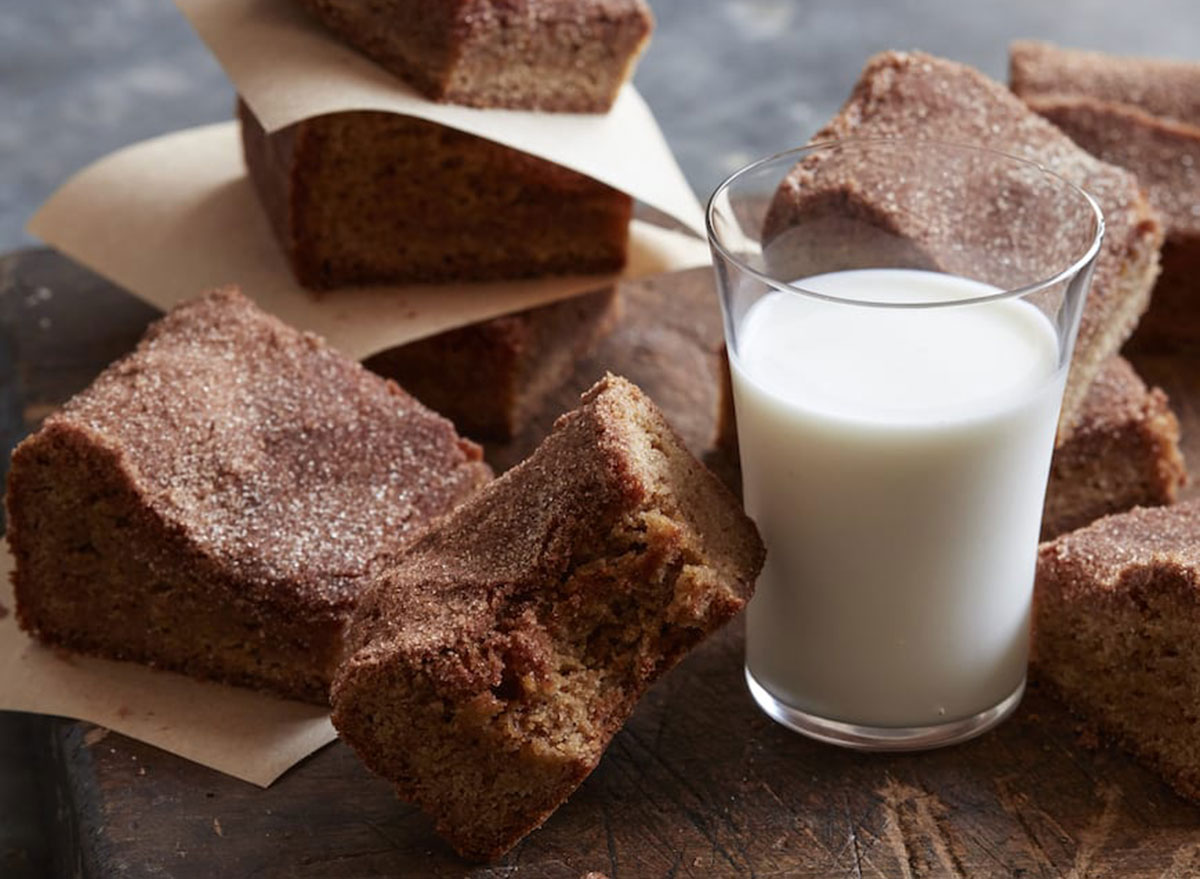 "You know the classic snickerdoodle cookies, these are them in blondie form! It's 1 pan, super easy and incredibly addictive," says Dalkin.
Get the recipe from What's Gaby Cooking. 
Flourless Black Bean Brownies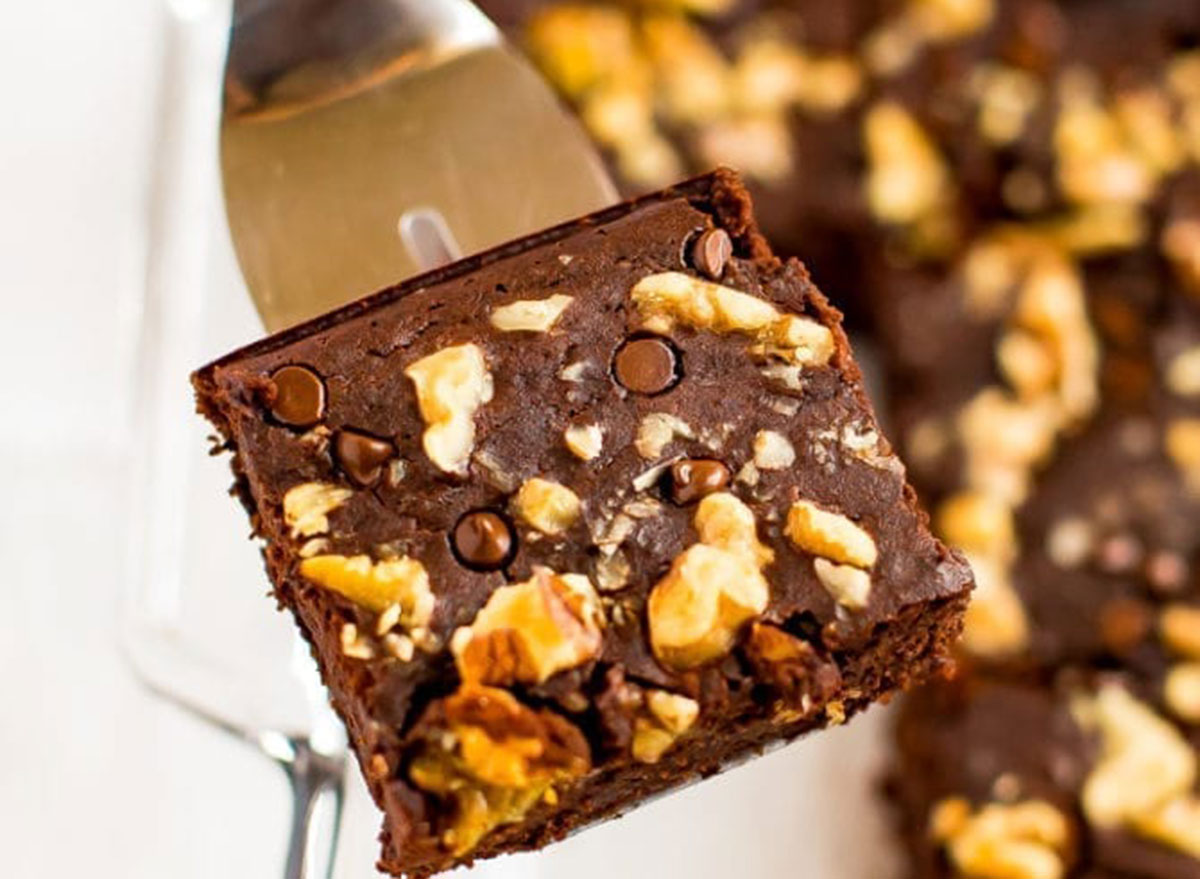 What makes easy baking recipes? How about the fact that it's almost completely hands-off? "This recipe mixes up in a food processor or blender," says Brittany Mullins, publisher of Eating Bird Food. "Simply add all ingredients, mix, pour into a baking dish and bake! The perfect recipe for a beginner baker."
Get the recipe from Eating Bird Food. 
Peanut Butter Chocolate Chip Cookies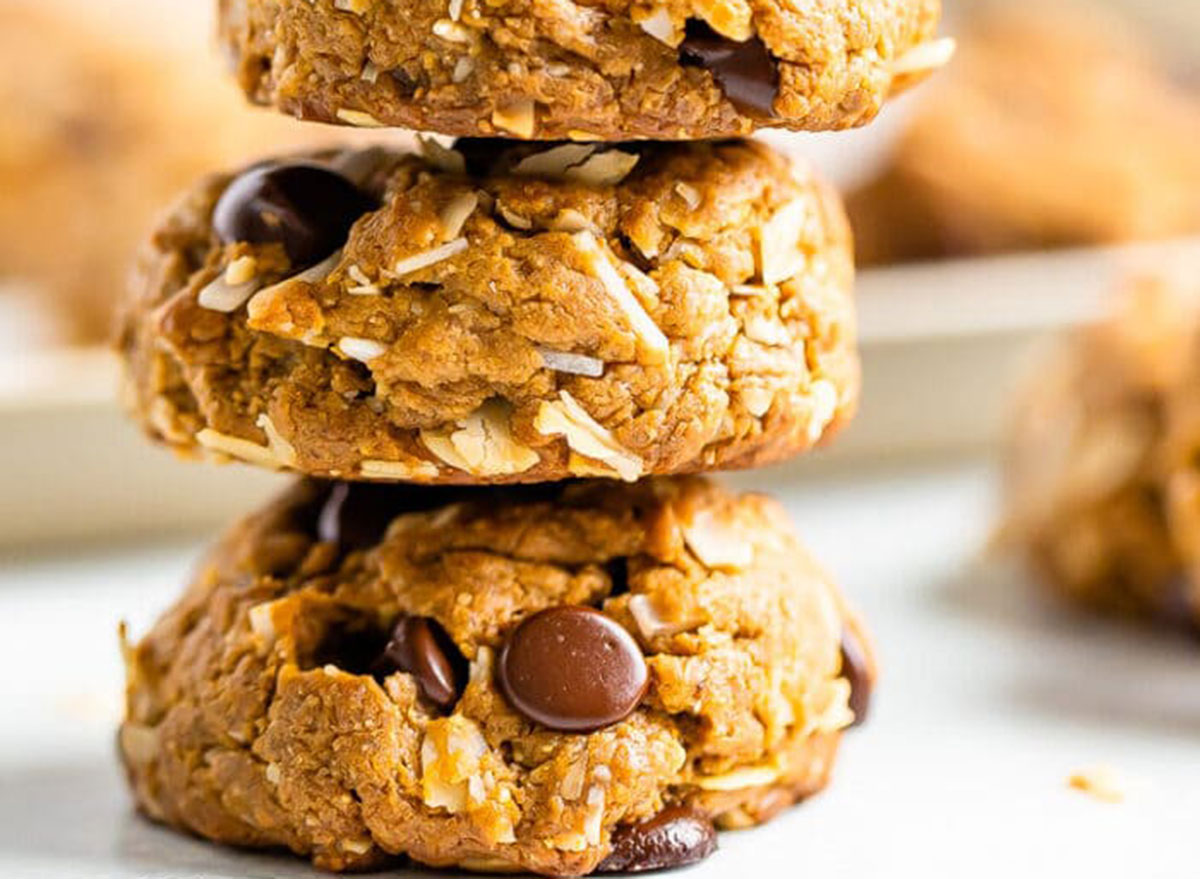 "Made with just 10 ingredients, in one bowl – these cookies are a fan favorite!" says Mullins.
Get the recipe from Eating Bird Food. 
Easy Homemade Rolls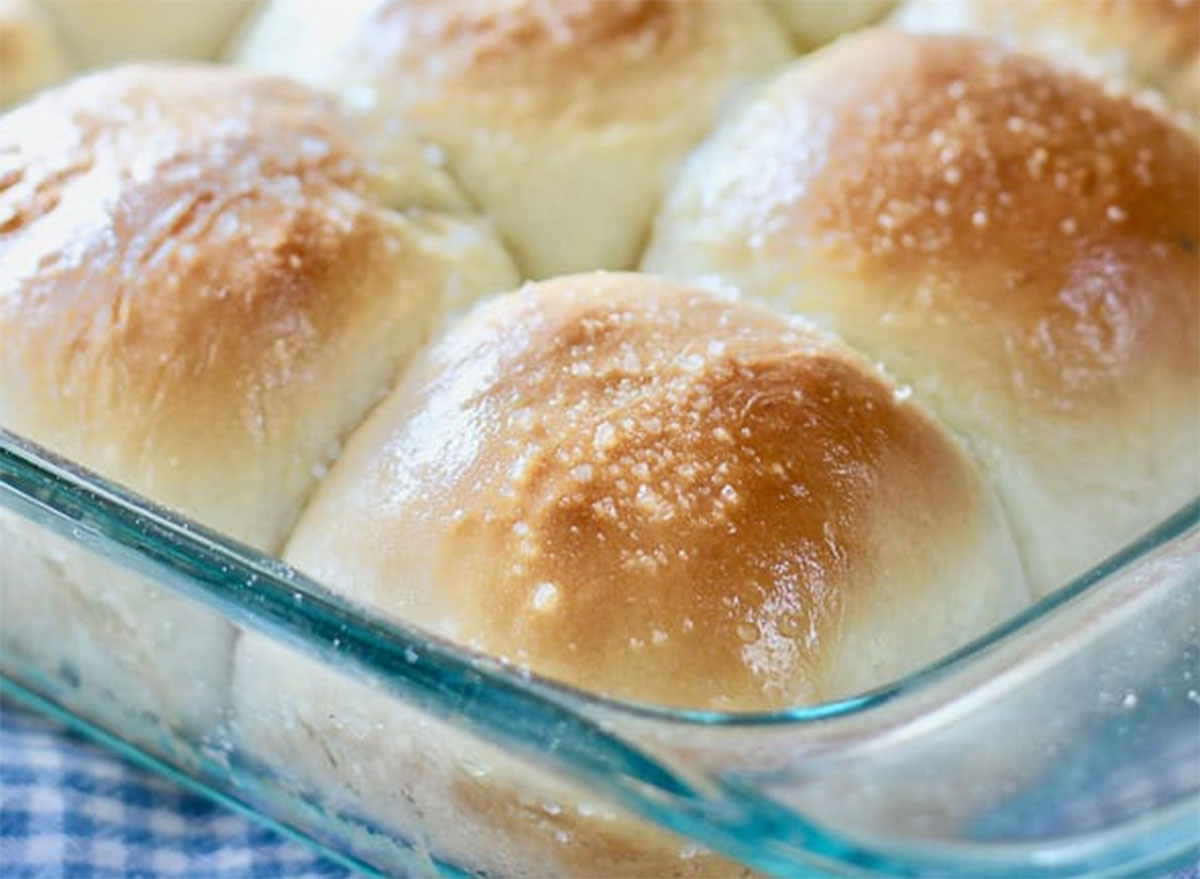 "The rolls rise and then bake at the same time, no separate rising time required," say Kathi and Rachel Kirk, publishers of Laughing Spatula. "They are foolproof!" Phew — an easy baking recipe for bread that you can try for the first time!
Get the recipe from Laughing Spatula.
Blueberry Pie Bars
"The crust and crumble topping are one in the same so no unnecessary steps are required," say the Kirks. "It features classic ingredients that you most likely have on hand."
Get the recipe from Laughing Spatula. 
Cinnamon Sugar Pretzel Bites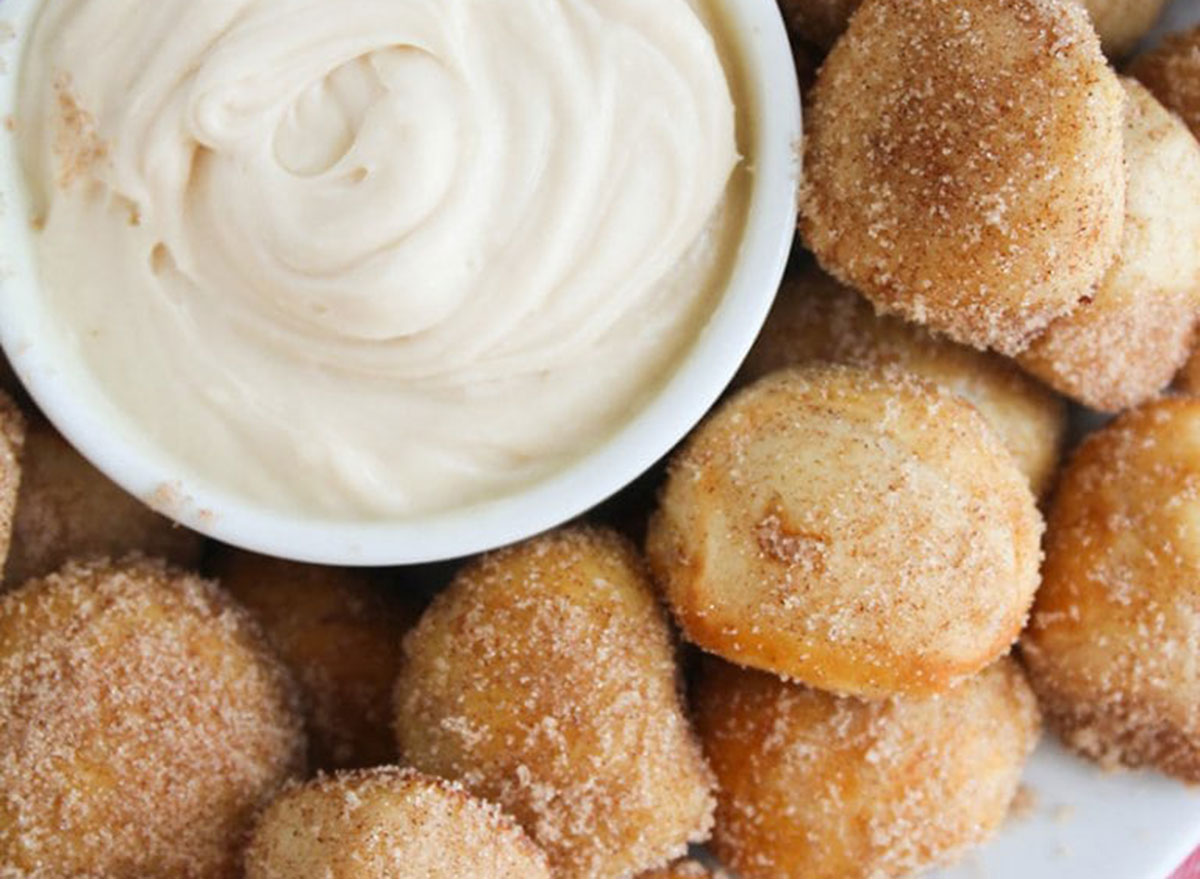 "If you're a beginner with yeast, no worries! This recipe is pretty much foolproof," says Kristyn Merkley, publisher of Lil Luna, about her recipe.
Get the recipe from Lil Luna. 
Pecan Scones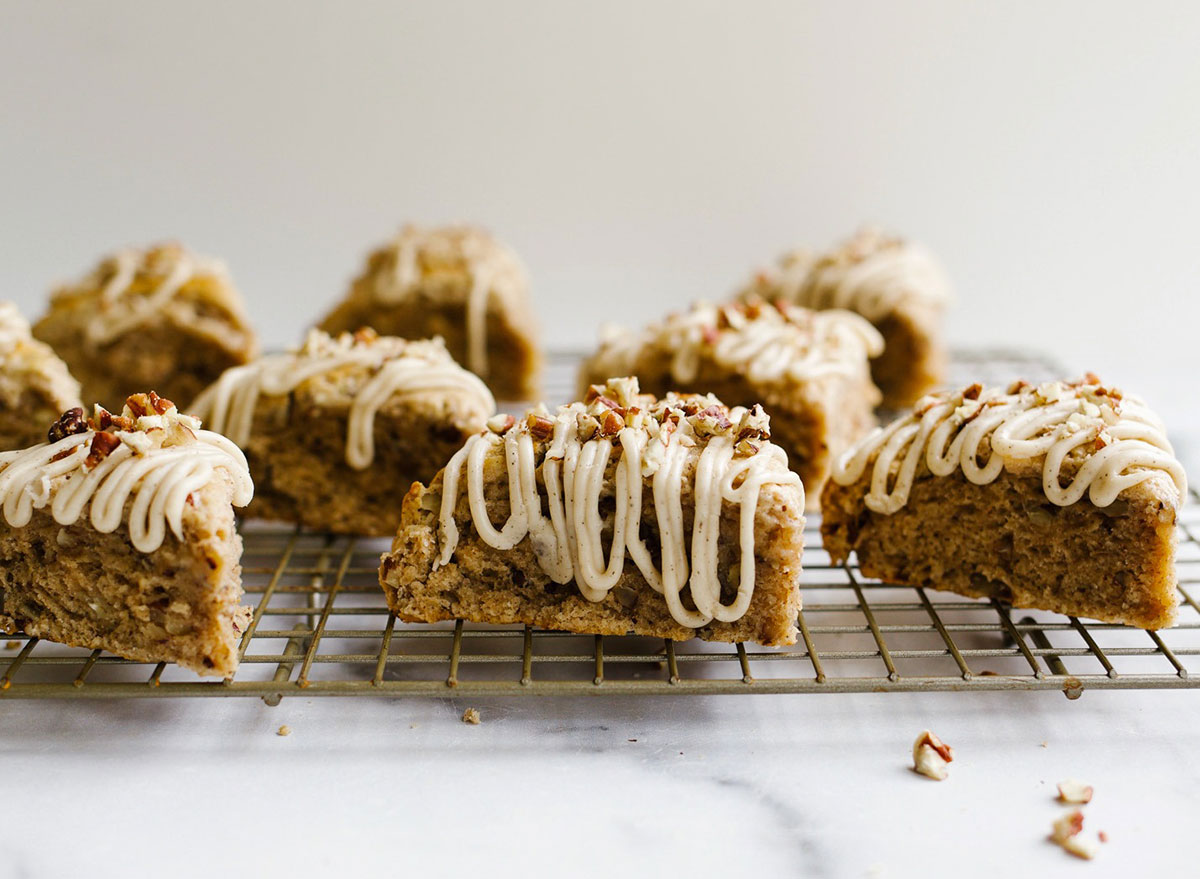 Scones, particularly cream scones like these pecan ones, are shockingly simple. Here, a pecan-studded base is topped with a brown butter glaze that is intensely delicious. Browning butter is a great cooking skill to acquire, and this is a great recipe to practice with.
Get the recipe from The Wood and Spoon. 
Toffee Espresso Chocolate Chip Cookies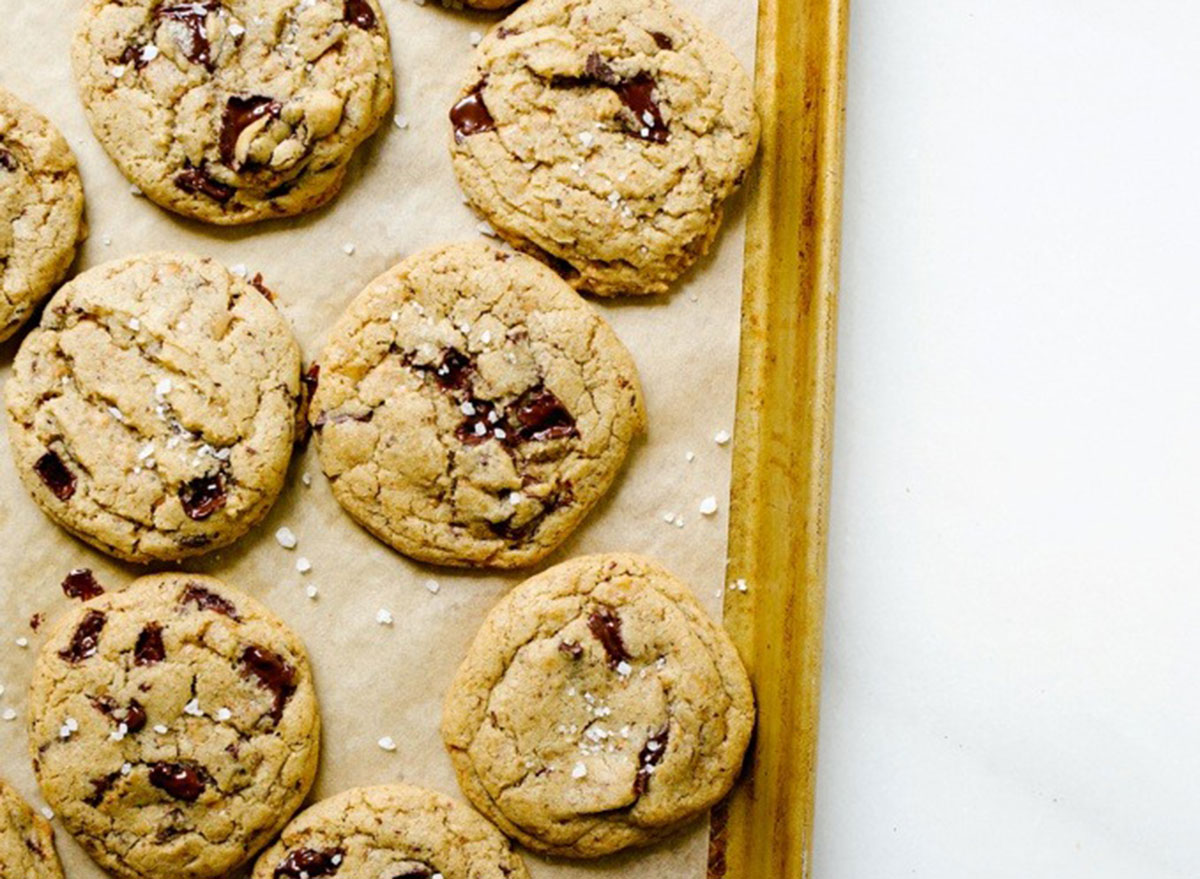 Everyone loves chocolate chip cookies… like, EVERYONE. Which makes these cookies some of the best easy baking recipes to try when you're just starting off. These are made a little extra special with the addition of espresso and toffee bits. You'll be really proud to share these with friends, and they're pretty simple to make. Bonus: they freeze really well!
Get the recipe from The Wood and Spoon. 
Strawberry Pretzel Tart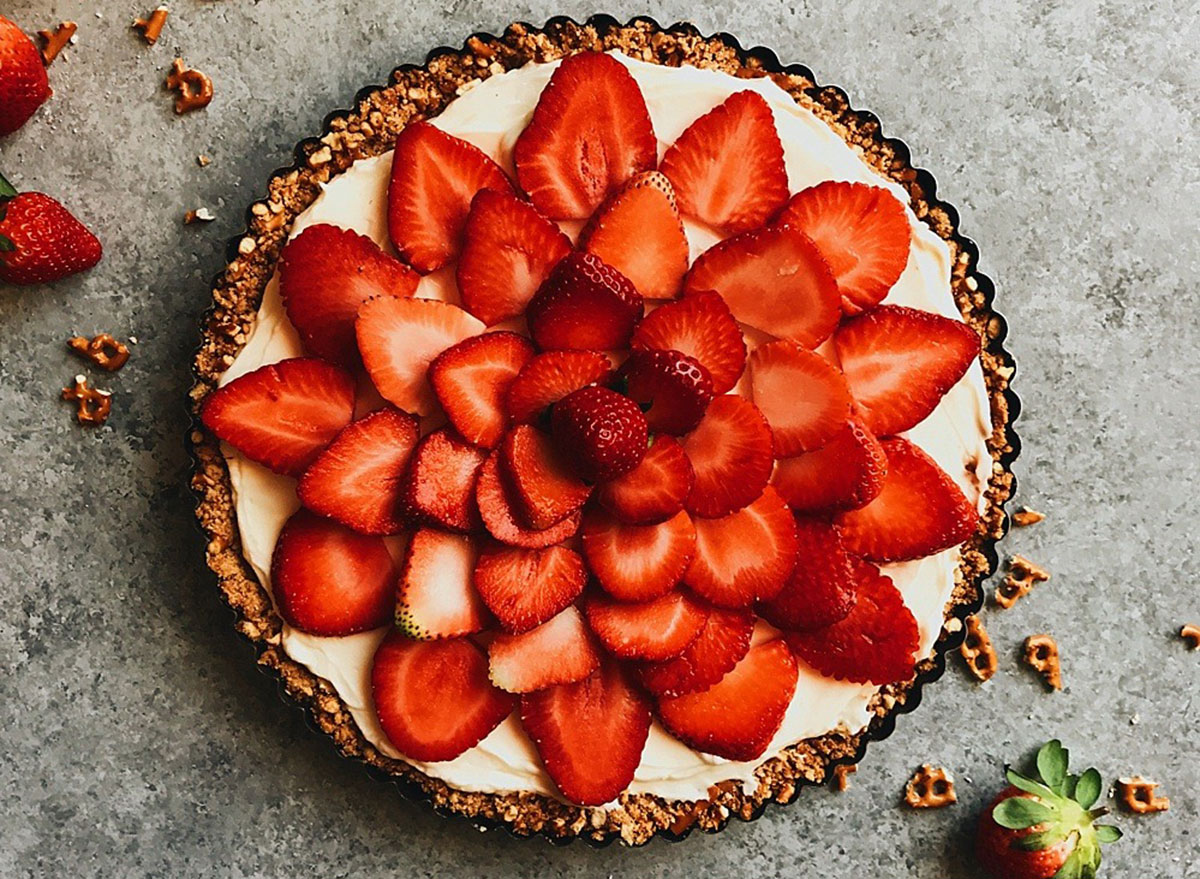 This tart is stunning and requires very little effort given the end result. You can use the crust and filling recipe with basically any fresh fruit you have on hand. Easy baking recipes like this are great to have up your sleeve any time of year!
Get the recipe from The Wood and Spoon.