This Eating Habit May Drastically Reduce the Risk of Fatal Parkinson's Disease
A new study sheds light on the connection between eating habits and mortality rates in Parkinson's disease.
Parkinson's disease (PD) may be an issue that stems from the health and function of your brain, according to the National Institute on Aging. However, a new study recently published by JAMA Network Open also reveals a connection between eating habits and mortality rates for those with PD.
In a study titled "Association of Diet and Physical Activity With All-Cause Mortality Among Adults With Parkinson Disease," researchers took a look at 1,251 participants who were previously diagnosed with Parkinson's disease and involved in either the Health Professionals Follow-up Study, which spanned from 1986–2012, and the Nurses' Health Study from 1984–2012. Of the reported participants, 52.1% were men who were diagnosed with Parkinson's disease at a median age of 73.4 years old.
By looking at the National Death Index, the study's researchers discovered that 942 total participants had died over the course of the 32–34 years following the initial research. All participants' physical activity and diet were also analyzed relative to the Alternative Healthy Eating Index (AHEI).
"[The AHEI] looks at how certain combinations of food choices may potentially lead to the development of conditions such as cancer, chronic kidney disease, cardiovascular disease, or diabetes," Dr. Laura Purdy, MD, MBA, told Eat This, Not That! "There is a scoring system based on the types and quantities of certain foods, and then the score is correlated with a likelihood or unlikely chance of developing chronic diseases."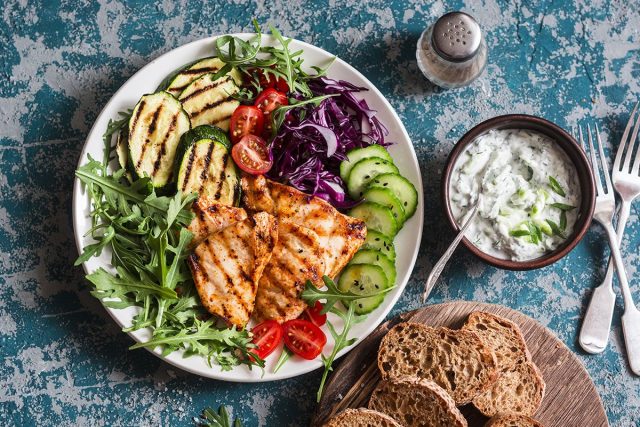 The study found that those who were earning the highest scores and eating healthier diets before they had been diagnosed with Parkinson's disease had a 31% lower mortality risk. Those who began eating a healthier diet after being diagnosed had a 43% lower mortality risk. Those percentages were even higher for participants who included physical activity in their regular routine.6254a4d1642c605c54bf1cab17d50f1e
RELATED: The #1 Cause of Parkinson's, According to Science
"We found that diet and physical activity levels before Parkinson's disease clinical onset were associated with the risk of mortality afterwards, which means lifestyle habits could have a long-term effect on human health," lead investigator Xinyuan Zhang, Ph.D., a postdoctoral fellow at Brigham and Women's Hospital and Harvard Medical School, reportedly told Medscape Medical News. Zhang later added that when it comes to making positive changes to your diet, "It is never too late to start."
At the same time, more research may be needed, as UCLA researchers Beate R. Ritz, MD, Ph.D., and Kimberly C. Paul, Ph.D., reportedly noted in a supplementary editorial published by Jama Network Open, "Recommending Healthy Diet and Exercise to Patients With Parkinson Disease—No Reason to Hold Back." According to their analysis of Zhang's research, it's still unclear if the related health-affirming lifestyle changes "are beneficial in reducing PD-specific progression to disability and mortality or simply act as a better control for common comorbidities, such as hypertension, diabetes, and hypercholesterolemia, in older adults in general."
"The fundamental principle of the Alternative Healthy Eating Index is that a wide variety is important," advises Dr. Purdy with regard to specific healthy eating habits to consider. "It is important to include foods from a variety of sources such as vegetables, fruits, whole grains, nuts, legumes, fish, and fats in moderation. If this sounds familiar, it may be because this is very similar to the Mediterranean diet, which has also been shown to lower the risk of cardiovascular disease."
Desirée O
Desirée O is a freelance writer who covers lifestyle, food, and nutrition news among other topics.
Read more about Desirée