8 Healthy Eating Habits Molly Yeh Swears By
The Food Network star knows how to keep it healthy.
The Food Network star Molly Yeh is known for her love of cake, sprinkles, and dough. So between fairy french toast casserole, funfetti cake, and pretzel challah, how does she stay so slim?
Well, sweets & treats aren't the only things that the food blogger is surrounded by. Molly lives on a farm with her family, where she gets farm-fresh ingredients.
"During the summer, it is amazing to be able to go outside, and I'll get a tomato, a cucumber, herbs, and maybe an onion…I love being able to have all this food right outside my door," she told Lynn Chen on The Actor's Diet podcast.
So how does Molly choose cucumbers over cakes? "It really is an obvious question to see these cakes on Instagram, and then to wonder about how somebody stays healthy by doing that," she said on The Actor's Diet podcast. But being a food blogger since 2009, the Girl Meets Farm host has learned a thing or two about what foods are best for her body. Spoiler alert: she does not snack on sprinkles all day.
Read on to find out Molly Yeh's healthy eating habits, and next, check out Justin Bieber's Exact Breakfast, Lunch, and Dinner.
She eats a lot of dry beans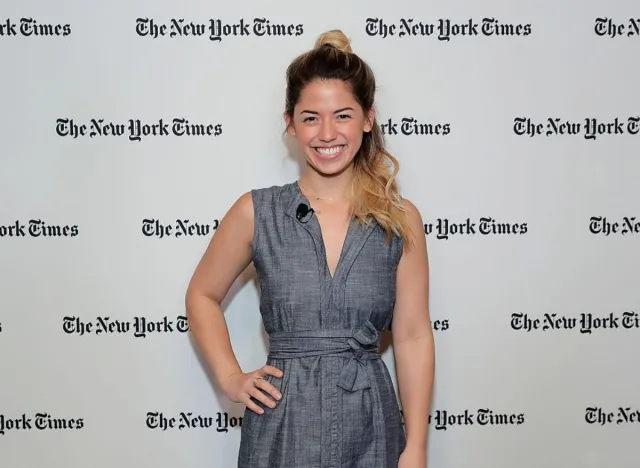 Dry beans are Molly's go-to ingredient for healthy eating. She always reaches for dried beans over canned. "I keep dry beans on hand at all times because they are so versatile," she told EatingWell. "I put them in soups, casseroles, stews—and between their nutrition benefits and creamy dreamy flavor, I feel so great about eating them all the time." She told MarthaStewart.com that she recommends soaking the beans in water the night before you use them. One of Molly's favorite dried bean recipes? Hummus! Her Creamy Homemade Hummus uses 1 cup of dried chickpeas.6254a4d1642c605c54bf1cab17d50f1e
She keeps her breakfast light & clean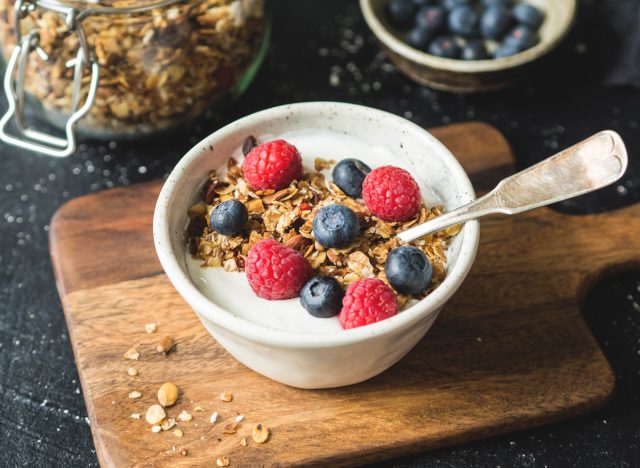 Molly's morning meal is light so that she can prep for her food adventures during the day. "Breakfast is almost always a fruit and veggie smoothie or yogurt and granola," she told EatingWell. The Food Network star often has to test-taste sweet recipes, so starting with a small, healthy breakfast allows her to fit in a few bites of cake here and there. Molly also loves to explore new food scenes when she's traveling, so a trip to San Francisco will surely entail having "a green juice for breakfast," she told Lynn Chen on The Actor's Diet podcast, "so that later in the day [she] can go to Craftsmen and Wolves and order everything."
She puts a healthy spin on her cravings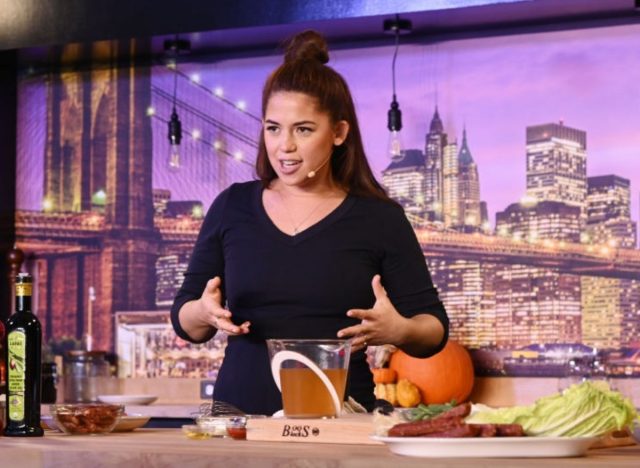 The Girl Meets Farm host is all about enjoying food, so she comes up with pretty creative ways to turn carb-heavy dishes into balanced meals. Molly sneaks in greens when indulging in one of her favorite Italian dinners: "I love salad on my pizza. It gives it crunch. Pour my salad onto my pizza and that is a delicious thing," she told The Food Network. She'll even whip up her Pizza Parlor Salad recipe when she's craving a slice, which skips the dough in favor of crispy ranch chickpeas, romaine, tomatoes, olives, salami, mozzarella, and black pepper, all tossed in a red wine vinegar-based dressing.
The celebrity chef will even put a healthy spin on her snacks. Molly turned the classic buttery popcorn into a veggie-loaded dish with her Crunch Snap Pea Popcorn Salad. The recipe has snap peas, carrots, celery, shallots, watercress, and, of course, popcorn.
She makes sure to get her veggies in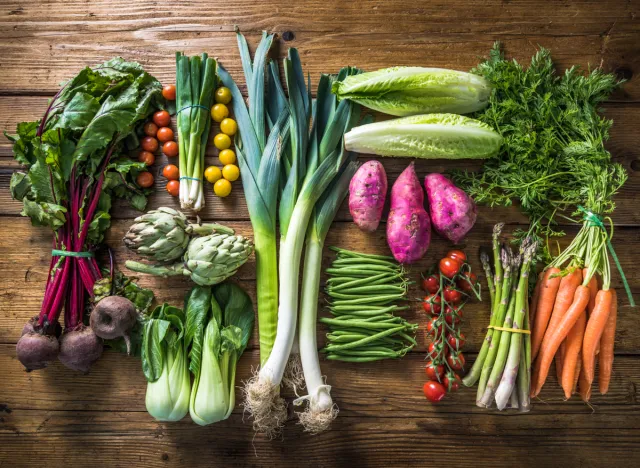 Whether fresh from the farm in the summer or bought at the grocery store in the off-season, Molly makes vegetables a priority. Her Instagram may be crowded with cakes, but behind the scenes, the Girl Meets Farm star trades sprinkles for spinach. "On a day to day basis, I'm all about the vegetables," she said on Lynn Chen's The Actor's Diet podcast. Not only does Molly want to stay fit, but she told Thrive Global that veggies keep her energized throughout the day. And between writing cookbooks, mothering her little ones, and hosting her show, she could certainly use the boost of energy.
Her go-to way to make veggies taste delicious? A salad with cheese and croutons. "Any pile of fresh vegetables instantly becomes craveable to me when it's topped with torn fresh mozzarella or loads of feta and lightly fried pita or sourdough croutons. It's an easy, balanced, satisfying dinner," she told MarthaStewart.com.
She preps simple, balanced dinners
Simplicity is key for Molly's busy days. She's a big fan of making a meal that does it all so she doesn't have to worry about sides. The food blogger told MarthaStewart.com that one of her favorite family-friendly dinners is a hotdish: "It's a full meal in a casserole and it contains all of the food groups so (there's) no need for any sides. It's also the queen of being able to be prepped-ahead, so whenever I make hotdish I make a few to stick in the freezer."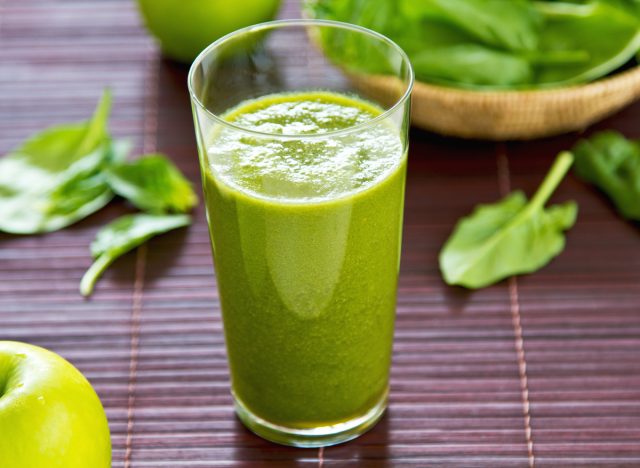 Molly swears by green juices to keep her body feeling healthy and energized. "I'm sipping a green juice right now," she said on Lynn Chen's The Actor's Diet podcast. Her juice had "celery, cucumbers, spinach, mustard greens, collard greens, kale, and parsley." Given how obsessed she is with this drink, it's no surprise that she has her own recipe for it. Molly's Apple and Peanut Butter Green Smoothie blends together Honeycrisp apples, lemon juice, unsweetened peanut butter, spinach, and kale.
She relies on her knowledge of food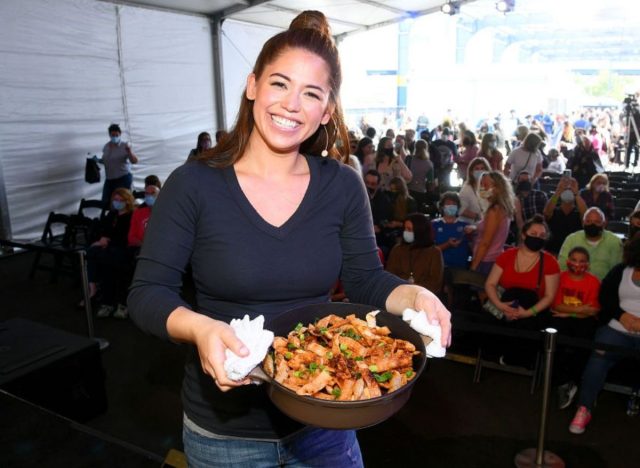 Being surrounded by dough and cake batter all day is tempting, but Molly uses what she knows about food to guide her eating habits. "I think it's actually all part of being in the food world, and being a food blogger or writer, and knowing food…even though we are making the cakes, we also know that it's important to have a ton of vegetables and to have these whole foods and we know what to do with them," she told Lynn Chen on The Actor's Diet podcast. The Food Network host carefully thinks about the food that she puts in her body, and she's always coming up with new ways to make healthy foods taste better.
She treats herself to cake on special occasions
Of course Molly has to taste-test her food, but she does her best to save cake for special days. "For me, making cakes is really fun, and I know that there is a time and place for a celebration, for a slice of cake," she said on Lynn Chen's The Actor's Diet podcast. Yes, Molly loves a spoonful of frosting, but she enjoys spreading that frosting on the cake a whole lot more. It's safe to say that, contrary to Molly's sprinkled-filled Instagram, she does not eat cake every day.
Want to read more about healthy eating habits from celebs? Check out 4 Healthy Habits Simone Ashley Followed For a Flat Belly in "Bridgerton".
Mia Salas
Mia is a freelance writer for several publications and a soon-to-be graduate from Princeton University with a degree in English.
Read more about Mia