9 Fast-Food Chains That Serve the Best Turkey Sandwiches
These chains prove that a simple turkey sandwich can actually be an exciting lunch.
Turkey is the unsung hero of the sandwich world. Sliced turkey breast has been ranked by some surveys as the most popular sandwich meat—right above ham, while the sandwich is one of the most popular sandwiches, right after the comfort-food classic grilled cheese and the beloved grilled chicken. A mainstay at numerous deli and sandwich chains, turkey is the healthy choice people can't stop ordering.
At worst it's an old standby, a bit bland but easy to zhuzh up; at its best, though, it can really shine. And while, of course, a turkey sandwich is easy to make at home, plenty of fast-food sandwich chains are building turkey sandwiches you just can't miss.
While you can buy decent sliced turkey at your supermarket deli, some chains are going beyond that and roasting their own turkey. Others are slicing premium cold cuts by hand, adding crunchy bacon, avocado, or unique cheeses—like smoked Gouda and Brie—and serving it on fresh-baked bread made in-house daily. If you're looking for a turkey sandwich that goes way beyond boring, check out these nine fast-food sandwich chains doing it right.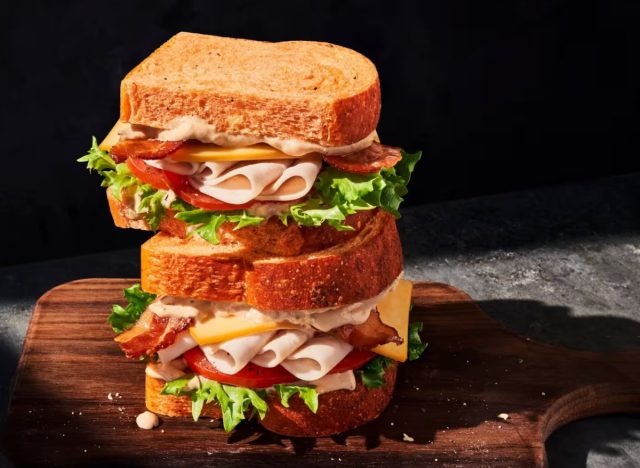 If you want the healthiest and best quality turkey sandwiches, Panera is the place to go. The chain has three different turkey sandwiches to choose from on the menu. Each one is made with roast turkey that is raised without antibiotics and is served on the chain's fresh-baked bread.
The most basic option—and one with the fewest calories—is the Deli Turkey Sandwich. This is a simple, but tasty, combo of greens, tomatoes, red onions, mayonnaise, and spicy mustard on Country Rustic Sourdough. The calorie count is 600 for a whole or 300 for a half. A step up is the Roasted Turkey and Avocado BLT which adds Applewood-smoked bacon and avocado to the classic sandwich. A whole is 940 calories, while a half is 470.
The Cadillac of turkey sandwiches on the Panera menu is the Bacon Turkey Bravo Sandwich which has Applewood-smoked bacon, smoked Gouda, greens, tomatoes, and a signature sauce on Tomato Basil bread. You might want to stick to a half size here which is 500 calories, the whole packs in 1,000 calories, and 41 grams of fat.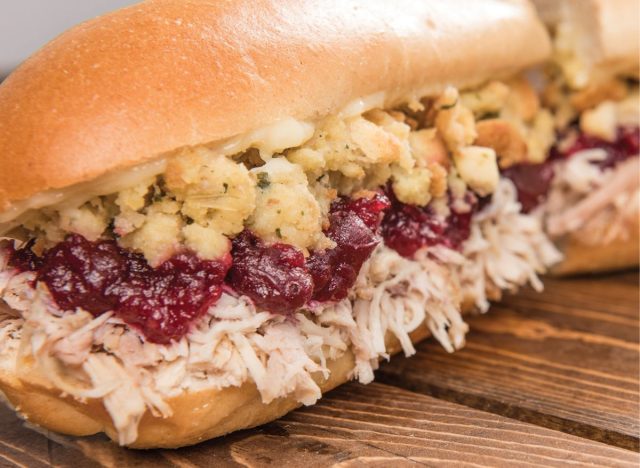 You can't talk turkey sandwiches without talking about Capriotti's, which has been slow-roasting whole turkeys since 1976 just to make killer sandwiches out of them. Capriotti's, which has 175 locations in 27 states, takes turkey seriously, even dedicating a portion of its menu to its four turkey subs.
The Homemade Turkey sandwich showcases the hand-sliced, slow-roasted turkey on a roll of your chosen size topped with provolone cheese, lettuce, tomato, onion, and mayo. The Cole Turkey combines cole slaw, provolone cheese, Russian dressing, and mayo. If you're feeling festive try The Bobbie, pronounced bAHb-ee, which is served either hot or cold and features slow-roasted turkey topped with cranberry sauce, handmade stuffing, and mayo.
Capriotti's serves its sandwiches in four sizes: the 5-inch Rookie, 8-inch Beloved, 10-inch Always Right, and massive 18-inch Notorious. The size you choose, and any extras, will affect the final calorie count, which you can check out here. The Cole starts at 520 calories for a Rookie and goes up to 1,180 for the Notorious.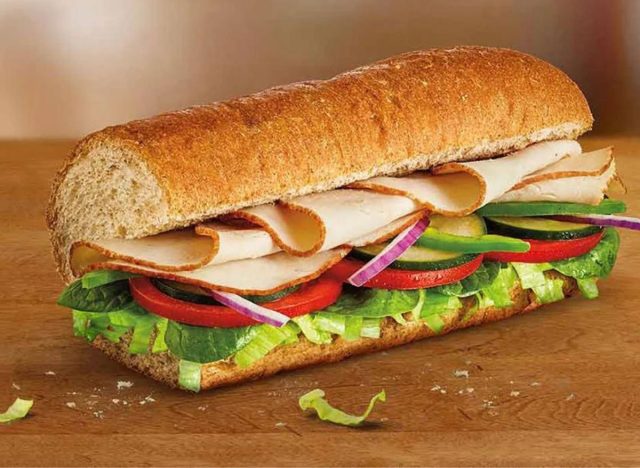 Subway has what all the other sandwich chains don't and that is an insane number of nationwide locations. While Subway might not slice its meat right in front of you, there sure are a lot of ways to customize your Oven-Roasted Turkey sandwich to your liking. Plus, the chain is adding meat slicers to more locations so that freshly sliced meat can join the chain's fresh-baked bread.
Speaking of bread, you can choose from the chain's Heary Multigrain, Artisan Italian, Toasted Artisan Flatbread, and Italian Herbs and Cheese. Or you can opt for a wrap. Then, add one of four different kinds of cheeses: American, Provolone, Pepper Jack, or Monterey Cheddar. Plus, pile your sandwich high with lettuce, spinach, tomatoes, cucumbers, or other crisp veggies and lightly dress it with one of the chain's 11 sauces. The combinations are virtually endless. Plus, the six-inch oven-Roasted Turkey sub starts at just 240 calories. Of course, the calorie count will change depending on the toppings and dressings, so think light and fresh.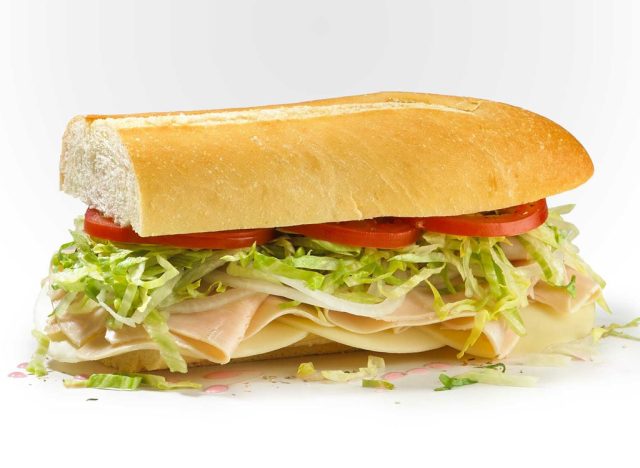 Jersey Mike's is one of the most popular sandwich chains, thanks to its fresh-baked bread, premium hand-sliced meats, and brilliant advertising featuring Danny Devito. Plus, it gets super high marks for customer satisfaction. It also makes a mean Turkey and Provolone sandwich, which you can customize.
First, choose from three different breads: white, wheat, or rosemary-parmesan. Then, you could get mayo, lettuce, and tomato added, but try it Mike's Way at least once. The combo of sliced onions, shredded lettuce, thinly sliced tomatoes, red wine vinegar, olive oil, oregano, and salt is simply divine.
Everyone knows that turkey and avocado are a match made in heaven. Smooth, creamy avocado lends great texture to the low-fat meat. Jimmy John's Beach Club sandwich has an avocado spread that makes a simple turkey and provolone sandwich sing, especially when served on the chain's fresh-baked bread. The Beach Club sandwich also has lettuce, tomato, thinly sliced cucumbers, and mayo. Depending on the size, this sandwich ranges from 501 calories to over 1,700—so choose wisely.
If bacon is more your thing, try the chain's Club Lulu sandwich which features the same hand-sliced turkey plus Applewood-smoked bacon, lettuce, and tomato. In terms of size, you can get either sandwich in the regular size on 8-inch French bread, sliced wheat, or wrapped in lettuce or you can order a giant on 16-inch French bread. Club Lulu starts at 310 calories, but the size, bread, and toppings all factor into the final tally.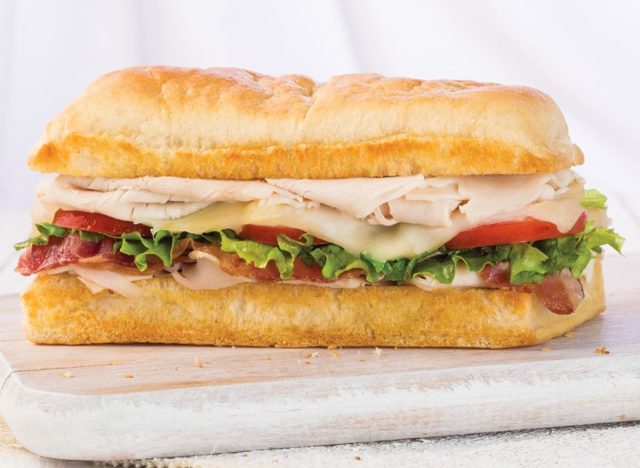 Earl of Sandwich has 33 locations spread across the United States, with the most in California. The chain has a few delicious turkey-centric menu items. The Earl's Club is a traditional turkey sandwich with sliced turkey, bacon, Swiss cheese, lettuce, tomato, and the chain's signature sauce.
If you want to celebrate Thanksgiving in June, you can try the Holiday Turkey, which features turkey, cornbread stuffing, gravy, cranberry sauce & mayonnaise. For a limited time, the chain is also offering a Turkey, Apple, and Brie Sandwich with sliced turkey, thin slices of green apple, gooey melted brie, cranberry sauce, and Earl's mustard on a fresh-baked wheat or white roll.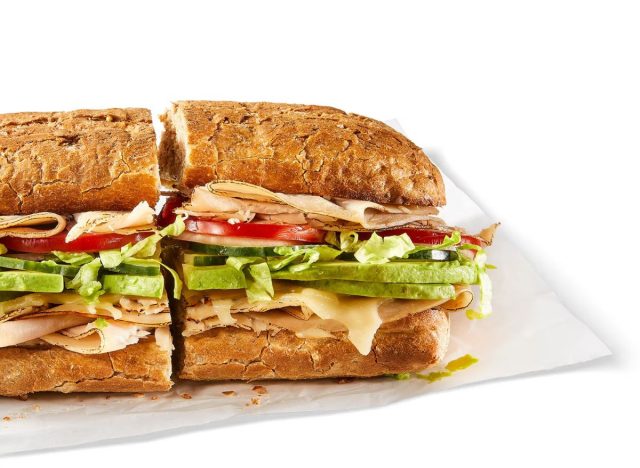 Sandwich chain Potbelly had a few difficult years during and after the pandemic as reduced foot traffic in urban areas all but sank its sales. But after adopting a multifaceted approach to returning to profitability, including upgrading its app, website, online ordering system, and loyalty program, the chain has started seeing results. The return of at least some workers to offices and airports has also helped. Potbelly's creative menu has also kept it on sandwich fans' radars.6254a4d1642c605c54bf1cab17d50f1e
In terms of turkey sandwiches, the chain offers two. The simply named Turkey Breast is made with hand-sliced turkey breast and Swiss cheese and starts at 520 calories depending on toppings. The Turkey Avo adds avocado plus slices of cucumber and starts at 640 calories. You can order your sandwich in Skinny, Regular, or Big sizes and on multigrain, white, or flatbread, plus you also have the option to have it thin-cut. These choices will all affect the final calorie count so use the chain's handy nutrition calculator when you craft your sandwich.
McAlister's Deli boasts some 550 locations across 29 states. The chain serves many different types of sandwiches, soups, over-packed baked potatoes it calls Giant Spuds, and craveable sides. Plus, it's famous for its sweet tea.
It has several sandwiches that incorporate sliced turkey, but the one you need to try is the Rachel, a play on the Reuben. It has all the iconic Reuben elements—marble rye bread, sauerkraut, Swiss cheese, and a generous spread of Thousand Island dressing—but it swaps the corned beef for turkey. As you can see on its nutrition calculator, the swap from corned beef to smoked turkey will save you 200 calories!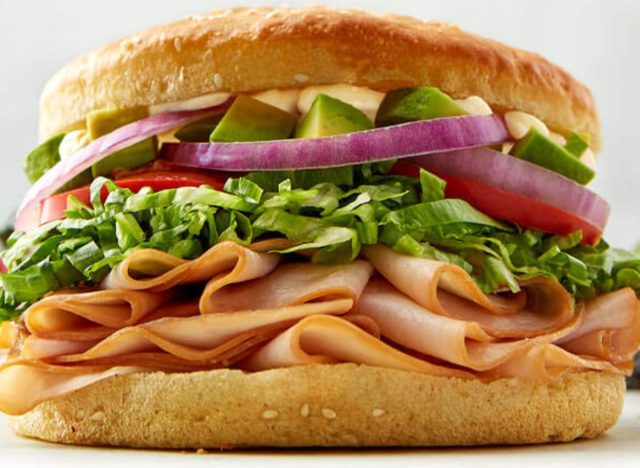 This chain of sandwich shops has been serving hand-crafted sandwiches on bread and rolls that are made in-house for over 50 years. With just over 335 locations in 25 states—most located in Texas—chances are there's one near you. In addition to sandwiches, Schlotzsky's also makes pizza, soup, salads, and calzones.
The chain has three sandwiches where turkey is the star: the Turkey Bacon Club, Smoked Turkey Breast, and Smoked Turkey Avocado. They can be ordered in small, medium, and giant sizes, or as a wrap. You can also order the chain's Fiesta sandwich with smoked turkey. This veggie-packed favorite features cheese, olives, roasted red peppers, lettuce, red & green onions, tomato, and chipotle mayo in the size of your choosing.