8 Fast-Food Chains That Serve the Best Veggie Burgers
Nowadays, you can grab a meatless burger just about anywhere, but a really good one is a much rarer find.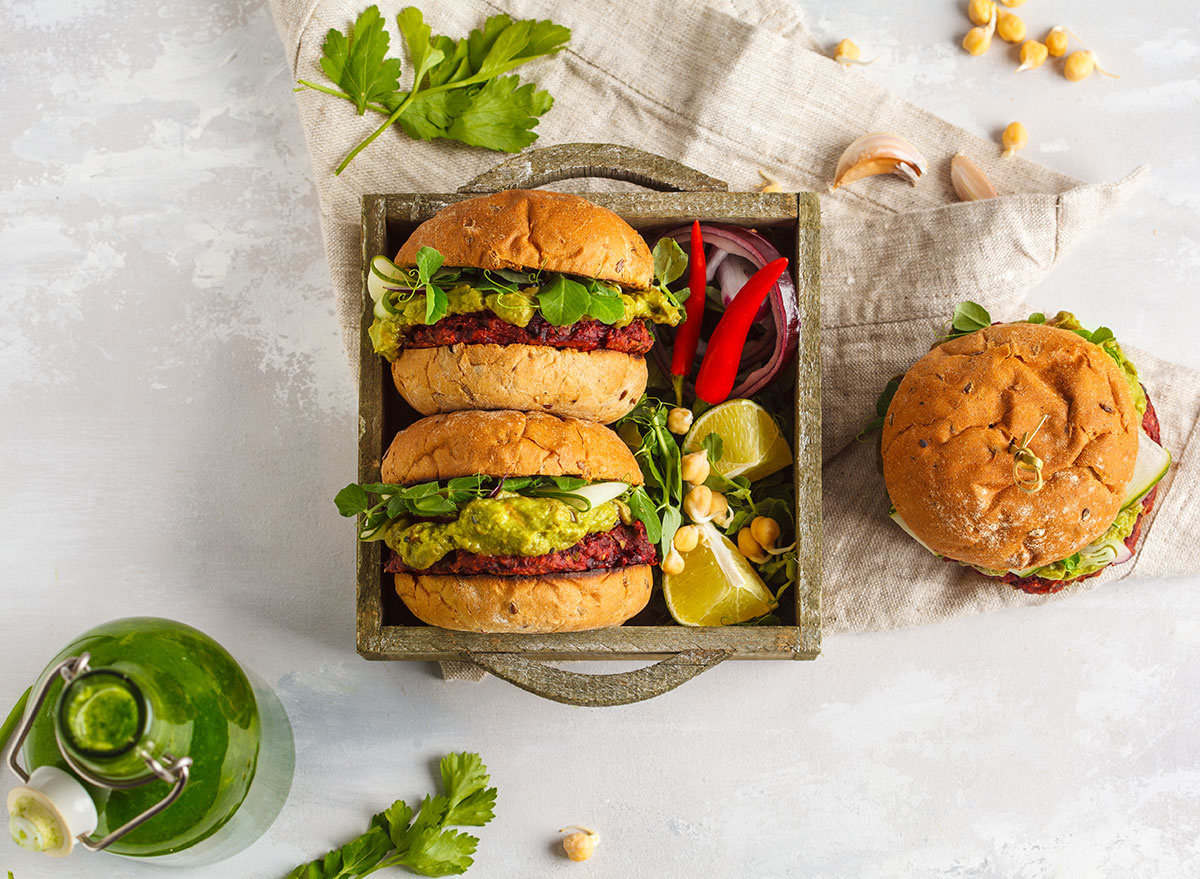 The product recommendations in this post are recommendations by the writer and/or expert(s) interviewed and do not contain affiliate links. Meaning: If you use these links to buy something, we will not earn a commission.
Times have changed pretty drastically since the early days of fast-food burger chains. Not only do the burgers no longer cost five cents a piece as they did in the beginning—they're also now made to appeal to a much wider range of dietary needs. In particular, veggie burgers have proliferated across chains in recent years to the delight of vegetarians, vegans, and environmentalists alike.
However, most fast-food veggie burgers—including those at Burger King and McDonald's—are made with highly processed plant-based meat substitutes instead of whole ingredients such as grains and vegetables. It's rare to find a fast-food veggie burger made from things you can actually pronounce.
The good news? There are still a few quick service spots with great veggie burgers on the menu that give you options beyond Impossible Burgers and Beyond Meat patties. Read on to find out which fast-food chains get the veggie burger right, with fresh ingredients and mouth watering flavors that don't imitate—but still rival—a classic beef burger.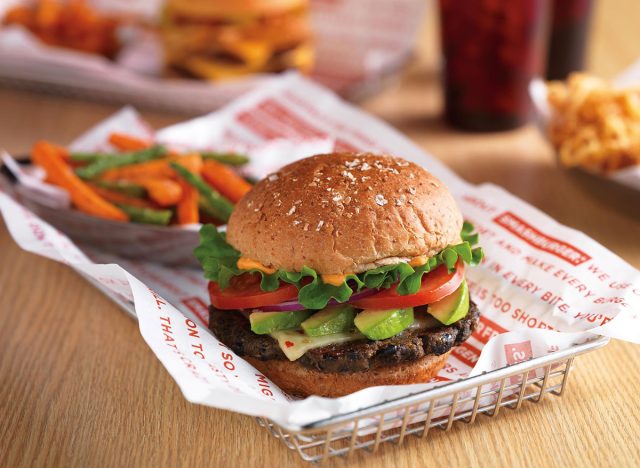 Smashburger is a popular fast-food chain with over 220 locations nationally—but originally, it got its start in the Centennial state, Colorado. That's why, when the company set out to make its plant-based burger, Smashburger decided to use vegan jackfruit patties produced by its same-state neighbors, Jack & Annie's.
The chain's plant-based offerings stand apart from other fast food veggie burgers thanks to their ample array of menu options—you can request the vegan patty on any style of burger from the menu, from the Classic Smash Burger to the Truffle Mushroom Swiss Plant-Based Burger. For an uncommon twist, "flexitarians" can enjoy the BBQ Bacon Cheddar Plant-Based Burger, which pairs the jackfruit patty with real applewood smoked bacon, lightly fried onions, and barbeque sauce on a toasted bun.
Bareburger is known for its 100% grass-fed hamburgers, but the vegan options also pack a plant-based punch. In addition to two Impossible burger options, the chain offers a vegan cilantro black bean burger topped with avocado, pickled red onion, tomato, mixed greens, and a tasty citrus dijon sauce.
For an even heartier take on the veggie burger, try "My Sunshine." It's got a vegetable patty made with sweet potato, kale, and wild rice, and is loaded up with avocado, tomato, greens, and a green goddess dressing that's perfectly tangy and spicy.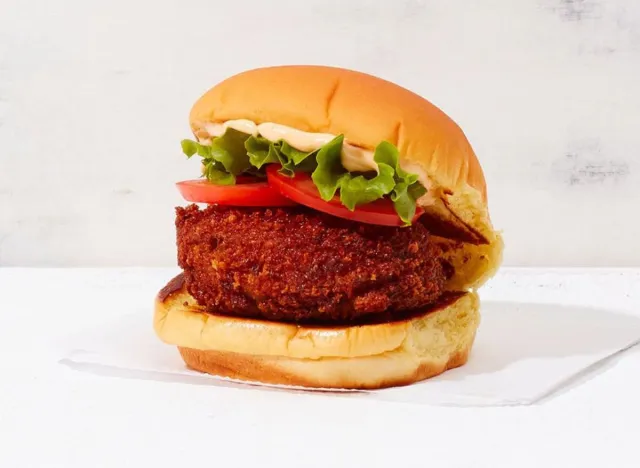 Shake Shake is beloved for its old-school fare, and loyalists love that its Shackburger and crinkle fries stick closely to the classics. However, the vegetarian option, the Shroom Burger, bucks tradition in more ways than one—and many people sing its praises for offering something decidedly new to the menu.
The Shroom Burger is built around a crispy, breaded portobello mushroom which has been fried and stuffed with melted cheddar and muenster cheese. It's then topped with lettuce, tomato, and the chain's signature Shack Sauce for added flavor and crunch.
Beatnic is a smaller chain with just nine locations across New York City and Boston, but it has an advantage over most other fast-food restaurants: everything on the menu is 100% vegan and plant-based.
In addition to salads, sandwiches, and vegan sides, the restaurant offers three satisfying burgers—the Classic Burger, the Guac Burger, and the BCB Burger. Each one features a veggie patty made of black beans, mushrooms, and brown rice, as well as lettuce and tomato. The Gauc Burger then goes above and beyond by adding corn salsa, tortilla strips, and chipotle aioli, while the BCB Burger tops things off with vegan cheddar cheese, crunchy shitake mushroom crumble, and a special sauce.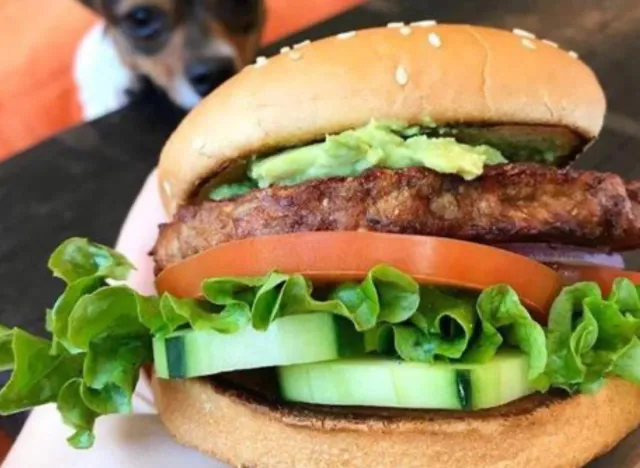 First launched as a family business in Southern California, the Habit Burger Grill now has over 350 locations across America. Though its beef burgers are the most popular menu item—the Charburger was declared the best hamburger in the U.S. by Consumer Reports in 2014—the vegetarian option has also earned them some attention.
The Habit's Veggie Burger includes an all-veggie Morning Star patty topped with lettuce, melted cheese, tomatoes, cucumbers, onions, and drizzled-on sweet mustard dressing. Request to add sliced avocado to help it stick to your ribs.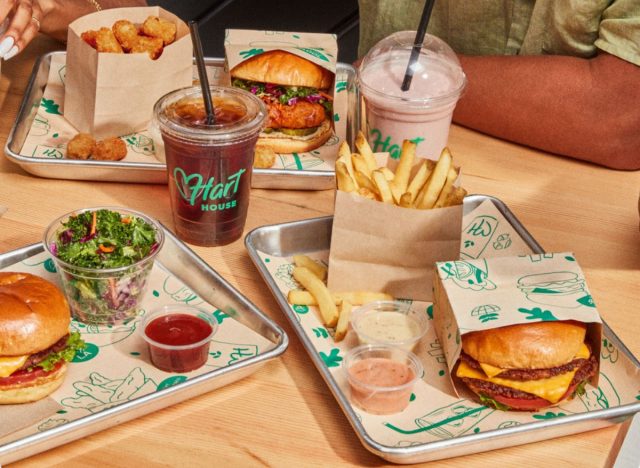 Brand new on the fast food scene is Hart House, the brainchild and passion project of the comedian and actor Kevin Hart. Having opened its flagship restaurant in Los Angeles in May, the brand quickly followed up with three more outlets in the area with high hopes of transforming the concept of quick-service restaurants into something sustainable, plant-based, and made with "real" ingredients. The operators promise food that's free from cholesterol, antibiotics, hormones, artificial colors, preservatives, high-fructose corn syrup, or trans fats—a far cry from your standard drive-thru.
Hart House currently offers two takes on a plant-based burger—the classic Double Burg'r and a summer special BBQ Burg'r. Both come with a double helping of housemade vegetable patties and two slices of cheese, but the BBQ Burg'r is deliciously topped off with crispy fried onions, pickles, barbecue sauce, and vegan mayo.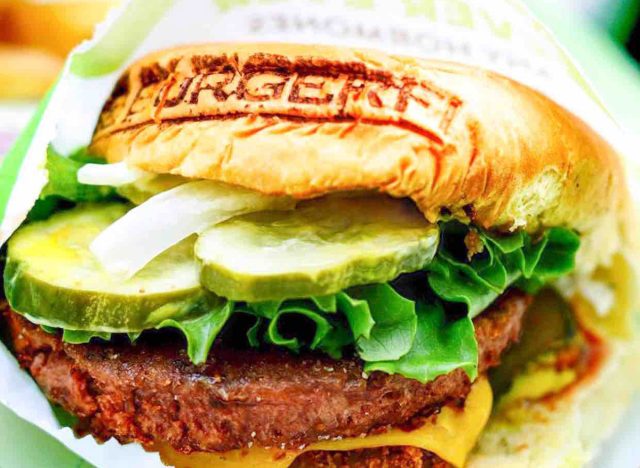 BurgerFi prides itself on "ridiculously high standards" when it comes to its ingredients. The VegeFi veggie burger is no exception, made with a quinoa and veggie blend burger, optional white cheddar cheese, lettuce, tomato, and Fi Sauce on a vegan multigrain bun. 6254a4d1642c605c54bf1cab17d50f1e
This new menu addition replaces the brand's chopped zucchini and lentil recipe, which contained parmesan and fontina cheese, as well as eggs. Vegans will be happy to hear that when you opt for the VegeFi without cheddar, it contains no animal products whatsoever.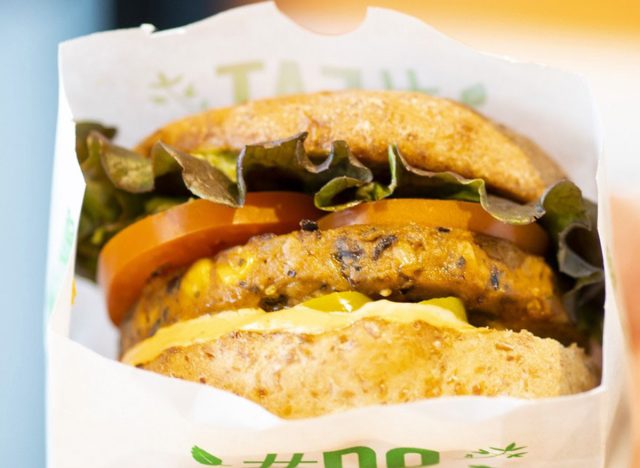 Founded in 2014, Next Level Burger was America's first-ever 100% plant-based burger chain. Nearly 10 years later, the chain still boasts a full menu of fast food-style items made with sustainable, non-GMO, organic veggies.
Because the company focuses full-time on vegan fare, it offers over 10 veggie burger options on the menu. These include several different housemade patties as protein—for instance, the Blue BBQ Burger features a patty made of organic quinoa and mushroom, while the Chipotle Burger is made with a savory black bean patty.