I Tried 6 Store-Bought Veggie Burgers & This Is the Best One
Not all veggie burgers taste the same. Only one comes close to the real thing.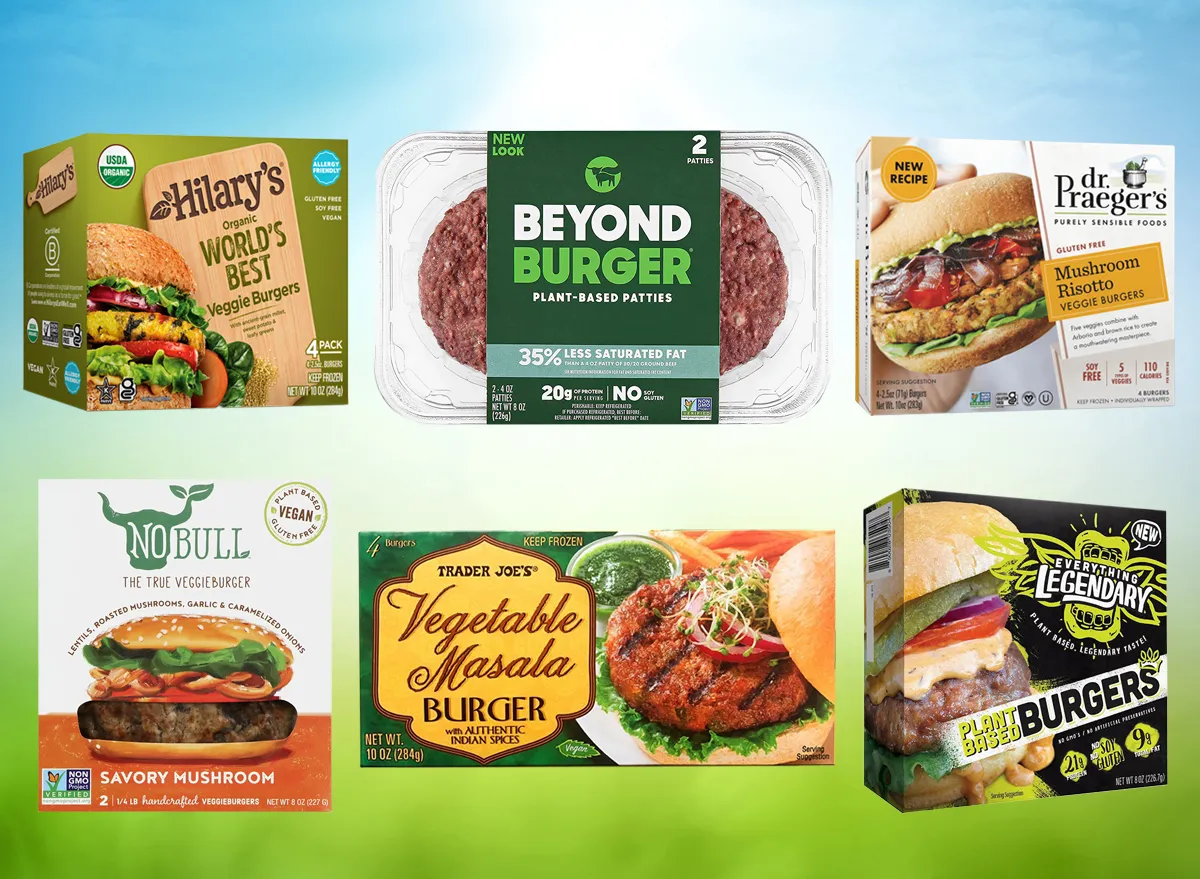 The product recommendations in this post are recommendations by the writer and/or expert(s) interviewed and do not contain affiliate links. Meaning: If you use these links to buy something, we will not earn a commission.
Veggie burgers have truly come a long way since their inception in 1982. According to Smithsonian, the first commercially sold veggie burger came in a packet of dry mix that was meant to be rehydrated, formed into a patty, and cooked.
Even if you don't recall buying veggie burger packets, your earliest memories of veggie burgers might be the grain, vegetable, or black-bean burgers of the '90s. But companies like Beyond Meat and Impossible Food changed the game in 2016 with their burgers made to look and taste like actual meat.
Now, when you walk into a grocery store looking for a meat-free burger option, you're confronted with a ton of different options. You can opt for a pink, meat-like Beyond Burger, a classic black bean burger, a patty made primarily from veggies, or a burger with a unique flavor profile like Morningstar's Tomato & Basil Pizza Burger or Dr. Praeger's Mushroom Risotto Burger.
If you're shopping for yourself, you can think about what you're in the mood for and what ingredients you enjoy—or, try to avoid. But if you're shopping for a friend, or preparing for a barbecue and hoping to provide an option for one of the 5% of U.S. adults that consider themselves vegetarian, it's hard to know what kind of veggie burger to purchase.
I recently rounded up six unique veggie burger options from my favorite grocery stores—Trader Joe's, Whole Foods, Target, and Gelson's—in search of the best-tasting one. I chose two burgers that are made to look (and taste) like real beef, and four that fit more into the traditional veggie burger mold. I cooked all of these burgers on the stove, because while I am a veggie burger connoisseur, I am sadly not a grill master (or possessor). Here's how they compared, ranked in descending order.
NoBull Savory Mushroom Burger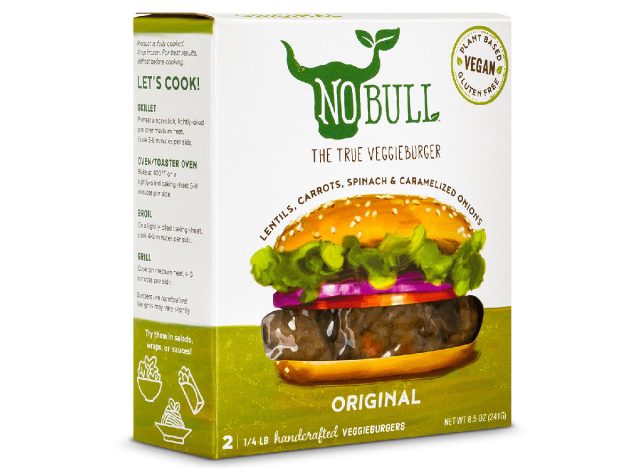 Per Serving (1 burger)
: 180 cal, 2.5 g fat (0 g saturated fat), 320 mg sodium, 31 g carbs, 2 g sugar, 10 g protein
I liked the packaging of NoBull's Savory Mushroom Burger when I spotted it in the frozen aisle at Whole Foods—not only because I love a cheeky name, but also because I try to avoid ingredients that I can't pronounce. When I saw that NoBull's burgers are also sold at Erewhon, LA's fanciest grocery store ($9.20 for a pack of two burgers), it further solidified my preconceived notions that this burger would be delectable.
Unfortunately, my first bite left me disappointed. The texture was on the soggy side, and while I could taste the lentils, I couldn't really taste the mushroom flavor that was promised on the packaging. I felt like I could've saved money by purchasing lentils and putting them on a bun for the same flavor and better texture. It's not that the burger tasted bad, it just didn't taste much like anything. And, while that may be because this burger prioritized healthy ingredients, it still had 180 calories per burger, which was more than a few of the other options I tried.
Everything Legendary Burger
Per Serving (1 patty)
: 200 cal, 9 g fat (4 g saturated fat), 470 mg sodium, 6 g carbs, 1 g sugar, 21 g protein
The Everything Legendary Burger's website reads: "Not meat. Not trying to fake it either." This was confusing, because when I picked up a box of two at my local Target for $6.35, the impression I got from the packaging and ingredients was that this burger fell into the category of "meat-imitation burgers" (rather than a bean, lentil, or true veggie burger).
When the founders brought their creation to TV's "Shark Tank," the so-called "sharks" seemed pleased with the flavor. Barbara Corcoran commented that it tasted "just like a burger, but the texture's much softer." Mark Cuban said it was the "best burger I've ever had that's plant-based," and agreed to invest $300,000 for a 22% stake.
When I tried the Everything Legendary Burger myself, I'm not sure I agreed with the sharks. The packaging said that you can cook the burgers from fresh or frozen, but when I cooked them from "fresh"—that is, thawed out in the fridge—the soft texture of the burgers made it difficult to extract them out of the packaging. I'm not even sure you'd be able to cook these on a grill without making a mess. Flavor-wise, my taste buds were overpowered by an aftertaste that reminded me that I was eating a burger "made in a lab." Even when I layered on the ketchup, onions, lettuce, and bun, the aftertaste still lingered. That being said, these patties are big and pack 15 grams of protein. If your taste buds aren't as sensitive as mine, or you can cook them from frozen, it's not a terrible option. Still, it's far from the best.
Trader Joe's Vegetable Masala Burger with Authentic Indian Spices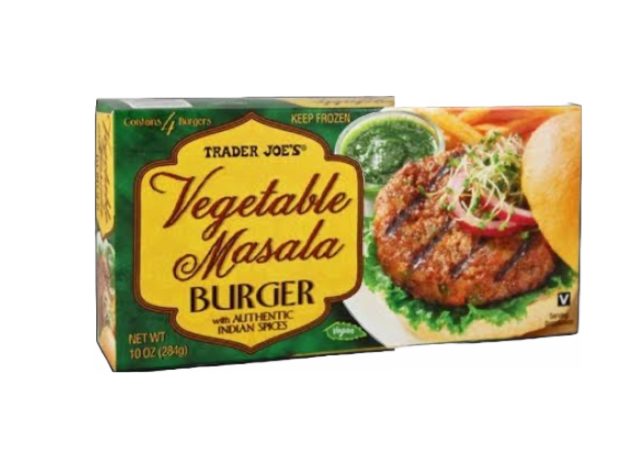 Per Serving (1 burger)
: 140 cal, 8 g fat (0.5 g saturated fat), 390 mg sodium, 17 g carbs, 1 g sugar (o.5 g added sugar), 2 g protein
Trader Joe's knows what it's doing when it comes to veggie burgers. The cult-favorite grocery chain offers many different options of meat-free patties, from its Quinoa Cowboy Veggie Burgers to its Protein Patties.
But French blogger Petit Chef has declared Trader Joe's Vegetable Masala Burger their "absolute favorite," and I can see why. The texture is perfectly soft on the inside and crispy on the outside, the flavor profile is slightly sweet, slightly savory, and very well-seasoned. Plus, it's the cheapest ($3.49 for a box of four) and quickest to cook out of all the burgers I tried—just 3-4 minutes on each side is more than enough.
The only reason this 140-calorie burger didn't make it higher on the list is that it doesn't taste like a traditional burger patty. Its primary ingredient is potatoes, and while absolutely delicious, it definitely tastes like a potato patty, not all-American beef. If you're game to swap mango chutney for ketchup at your next barbecue, this is an awesome option, but you're not going to fool anyone into thinking this is a regular burger.
Dr. Praeger's Mushroom Risotto Burger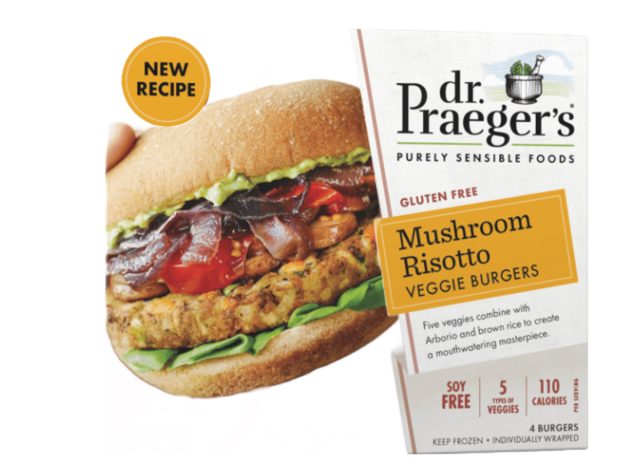 Per Serving (1 burger)
: 110 cal, 4.5 g fat (0.5 g saturated fat), 280 mg sodium, 18 g carbs, <1 g sugar, 2 g protein
Dr. Praeger's burgers have always been my go-to option for a low-calorie, gluten-free, soy-free, whole-ingredient veggie burger, but mostly just because they are sold at Trader Joe's (where I typically do my grocery shopping). The burger boasts five types of veggies in its ingredients list, and is the lowest-calorie option on the list at 110 calories per burger.
In addition to its healthiness, the Mushroom Risotto Burger is also pretty freaking tasty. I got four for $5.59 at Gelson's, and the burger got nice and crispy on the outside while staying soft on the inside. Even though the flavor sounds more appropriate for an Italian dinner party than for a barbecue, this burger honestly tasted more like a burger than some of the meat-imitation options on the list.
Hilary's Organic World's Best Veggie Burgers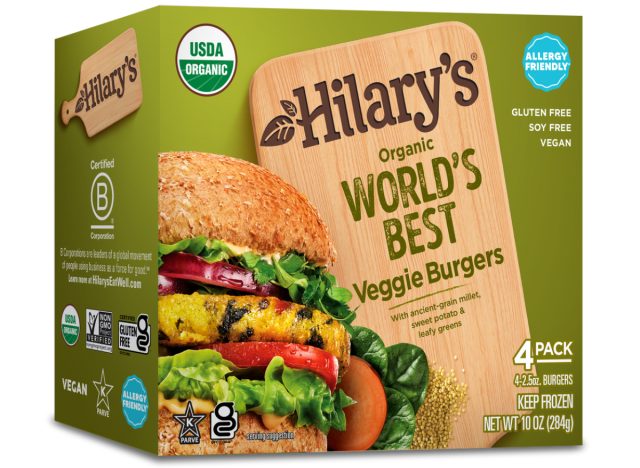 Per Serving (1 burger)
: 160 cal, 8 g fat (1 g saturated fat), 220 mg sodium, 20 g carbs, <1 g sugar, 4 g protein
When I saw the bold proclamation of "world's best veggie burgers" on the shelf at Gelson's for $6.49, I was skeptical. But, Hilary's Organic World's Best Veggie Burgers are very impressive. The texture is great—perfectly crispy on the outside and soft on the inside without being soggy—and it tastes delicious, too, although I found it to be a bit more reminiscent of chicken than beef.6254a4d1642c605c54bf1cab17d50f1e
If you're shopping for a party and not sure how to please your vegan guests, this would be a very solid option. It's free of allergens, made with whole ingredients, flavorful without getting too fancy, and its preferred method of cooking (according to the packaging) is in the oven, so you don't have to watch them over the stove or grill while you're entertaining guests. That being said, I cooked mine on the stove according to the packaging, and it turned out great, too.
Beyond Burger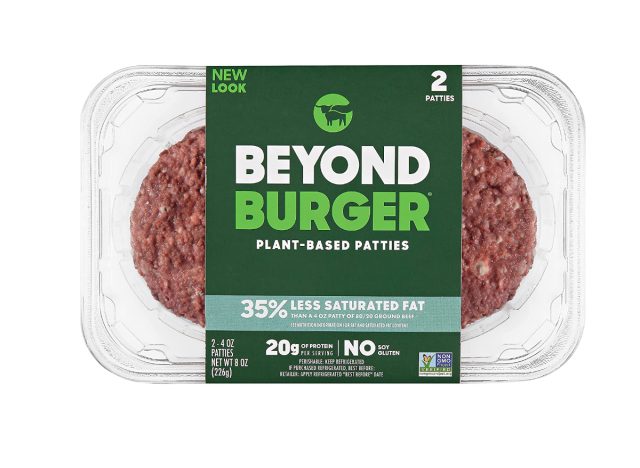 Per Serving (1 burger)
: 160 cal, 8 g fat (1 g saturated fat), 220 mg sodium, 20 g carbs, <1 g sugar, 4 g protein
Beyond Burger took the world by storm when it launched in 2016, and when you taste these patties, you can see why. The burgers are a great size, have a realistic consistency and meaty flavor, plus they even "bleed" when you put them on the pan or grill.
My notoriously picky, meat-eating friend only eats veggie burgers if they're Beyond, saying: "It's not real meat flavor, but it's decently close." As a non-meat eater, Beyond Burgers are one of my favorites when you're looking for real meat flavor. Unlike its leading competitor, Impossible, Beyond Burgers are soy-free. Plus, the brand upgraded its burgers in 2021 to be juicier and full of "beef flavor." I got a pack of two for $7.49 at Southern California grocery chain Gelson's, but you can also find them cheaper at retailers like Target ($5.49), Ralph's ($3.99), and many others.
The only downside of Beyond Burgers, which have 35% less total saturated fat than 80/20 ground beef, is that they take longer to cook than you might expect. The instructions on the packaging say four minutes per side, but we had to cook them for closer to six minutes per side. I've run into this issue at barbecues as well.
When my Beyond Burgers are put on the grill at the same time as the real beef burgers, I'm always the last one to get my meal. But as long as you have the time and patience, this is a great option so that vegetarians can feel like they're partaking in the summer tradition of biting into a meaty burger without worrying about the health detriments of red meat.
Ashley Uzer
Ashley Uzer is a Los Angeles-based freelance writer that focuses on food, relationships, and wellness.
Read more about Ashley