I Tried Chicken Tenders From 5 Major Fast-Food Chains & These Packed the Biggest Flavor
The winner blew me away on both taste and texture.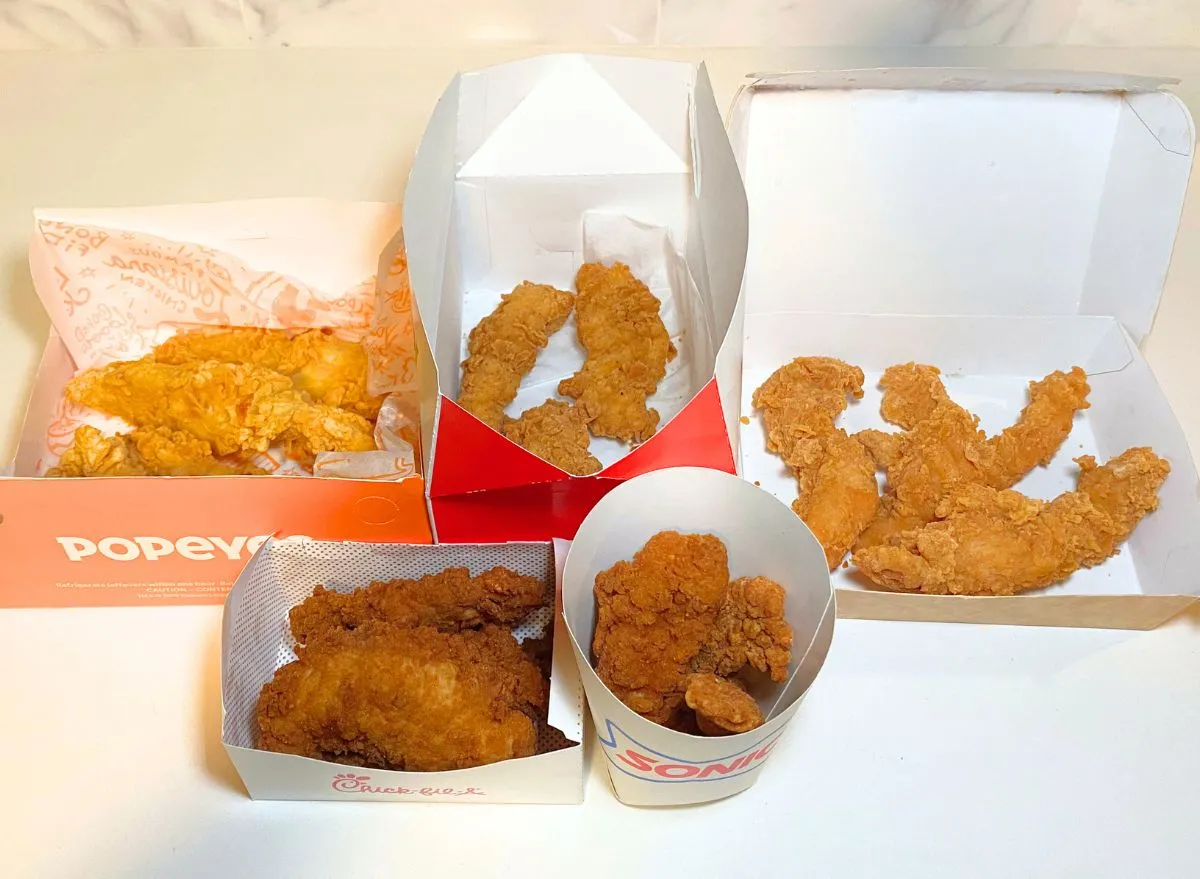 The product recommendations in this post are recommendations by the writer and/or expert(s) interviewed and do not contain affiliate links. Meaning: If you use these links to buy something, we will not earn a commission.
Chicken tenders have garnered a reputation as a fallback meal for picky eaters, but true fans know that they're so much more than that. When executed just right, chicken tenders become a seriously tasty meal, complete with crispy breading, savory flavors, and tons of dipping sauce possibilities. They have nearly all the best qualities of bone-in fried chicken, but come with a fraction of the mess.
You can find chicken tenders on fast-food menus all across the United States when you need to cure your cravings. But any tender aficionado knows that not all fast-food tenders are created equal.
So, in order to find the absolute best of the best, I tried the chicken tenders from every major fast-food chain near me that serves them: KFC, Popeyes, Chick-fil-A, Sonic, and Jollibee. (Because I'm located in New Jersey, I wasn't close enough to any regional chains like Raising Cane's or Church's Texas Chicken to include them in this taste test.)
As with any fast-food item, I rated the tenders from each chain on both taste and texture. When I eat a tender, I want it to be super well-seasoned and flavorful enough that I don't need a sauce in order to enjoy it. I also want the breading itself to be crispy and completely cover the whole piece of chicken, while the interior should be moist and easy to bite through.
After trying the tenders from each chain, it was clear that one fast-food joint is a step above the rest when it comes to both texture and flavor.
Here's what I thought about each option, ranked from my least favorite to the outright top tender!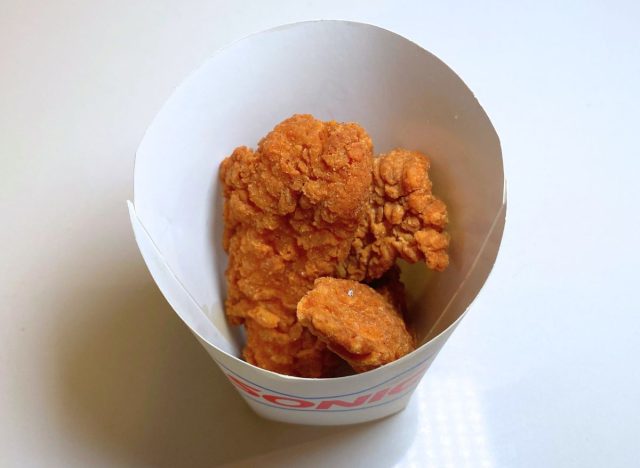 Per three-piece order
: 350
cal, 18 g fat (2 g saturated fat), 1,010 mg sodium, 26 g carbs (2 g fiber, 8 g sugar), 21 g protein
Sonic's Crispy Tenders are made with 100% all-white meat chicken. I got a three-piece order for $4.59.
The look: While Sonic's chicken tenders didn't necessarily look bad, they did look a little sad in comparison to the other ones I tried. They were hands-down the smallest out of all the tenders, though it sort of balances out when you consider that they were also the cheapest. While I appreciated their deep golden brown color, Sonic's tenders also just looked a little more manufactured than the others.
The taste: Sonic's chicken tenders were like the absolute best version of the school cafeteria chicken tenders you might have endured as a kid. On the positive side, they were salty, decently crispy, and easy enough to bite through. On the negative side, they were slightly dry and the layer of breading was almost as thick as the actual chicken. I do typically enjoy a thick layer of breading, but it completely overwhelmed the taste and texture of the actual poultry in Sonic's case. Next to all of the other tenders I tried, Sonic's version just seemed like a step down in quality.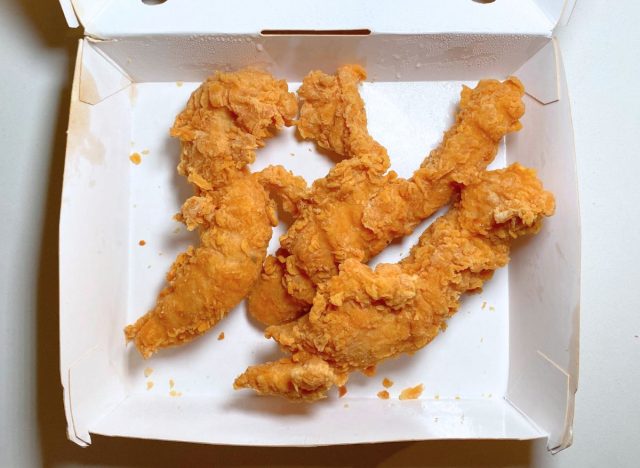 Per tender
: 180
cal, 11 g fat (1 g saturated fat), 420 mg sodium, 13 g carbs (6 g fiber, 0 g sugar), 9 g protein
Jollibee's Chicken Tenders are hand-breaded and made with all white meat. I got a three-piece order for $6.99.
The look: I had never tried Jollibee's food before this taste test, and I was very pleasantly surprised when I cracked open the box. These were some of the biggest tenders from the entire taste test (second only to Popeyes). The coating was super even on all the chicken pieces, plus I could immediately tell that they were hand-breaded because of the irregular crispy bits of breading.
The taste: Jollibee serves a perfectly fine chicken tender, but I think there are better options out there for fast-food fans. The breading had some nice crispy spots and the chicken was very moist, though it wasn't quite as easy to bite through out as some of the other tenders. The flavor was mostly where Jollibee missed the mark. I could taste lots of black pepper and the smallest suggestion of heat, but the tenders sorely needed more salt and other seasonings. I just don't think these have enough flavor to enjoy them without dousing them in Jollibee's famous gravy or dipping sauces.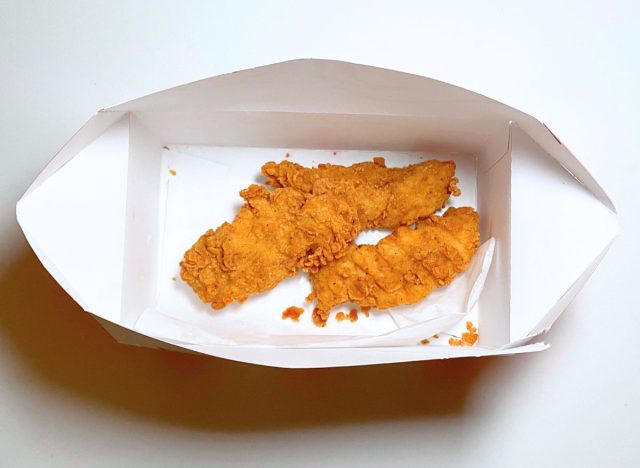 Per tender
: 140
cal, 7 g fat (1 g saturated fat), 320 mg sodium, 8 g carbs (0 g fiber, 0 g sugar), 10 g protein
KFC prepares its seasoned Chicken Tenders with its "Extra Crispy" recipe. I got a three-piece meal (which also includes a side, dipping sauce, biscuit, and medium drink) for $8.69. KFC did not give me the option to order the tenders without turning it into a meal.
The look: Maybe it was just the luck of the draw, but I was surprised to see that KFC had some of the smallest tenders out of all the chains. That being said, they still looked super attractive and appetizing. The breading was deeply browned and covered every inch of the chicken. The outside also looked like it would be pretty crispy, thanks to all of the craggly bits of breading.
The taste: KFC serves a really solid chicken tender, which is no surprise considering that fried chicken is Colonel Sanders' forte. The breading was impressively crispy—though not crispy all the way around—and the chicken wasn't dry in the slightest. The main factor that pushed KFC ahead of Jollibee was the taste. It didn't pack quite as much flavor as the top two performers in this taste test, but it definitely had more of an oomph, thanks to KFC's famous 11 herbs and spices. They were peppery, salty, and had the slightest spicy zing.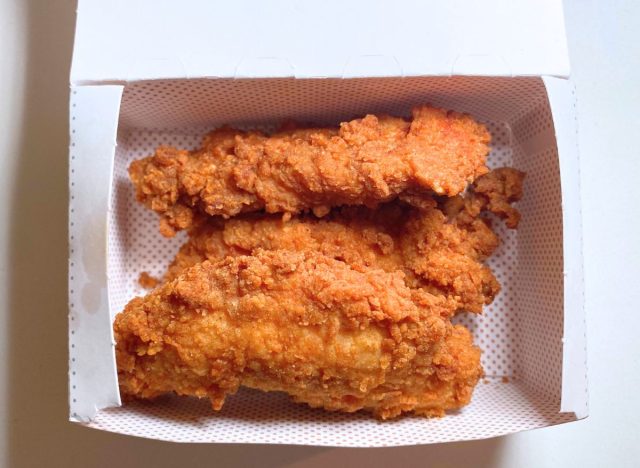 Per three-piece order
: 310
cal, 14 g fat (2.5 g saturated fat), 870 mg sodium, 16 g carbs (0 g fiber, 2 g sugar), 29 g protein
Chick-fil-A's Chick-n-Strips feature boneless chicken tenders that are seasoned, breaded, and pressure cooked in 100% refined peanut oil. I got a three-piece order for $5.75.
The look: While Chick-fil-A's tenders weren't quite as big as the ones from Popeyes or Jollibee, they do win points for being one of the cheapest. My only complaint about the look was that there were a few small spots where the breading was a little sparse or uneven. Otherwise, the tenders looked super golden brown, crispy, and inviting.
The taste: It's really no surprise that Chick-fil-A has been America's favorite fast-food chain for nine consecutive years. The brand never ceases to impress me with the stellar quality and taste of its chicken. These tenders were so incredibly flavorful and well-salted that I didn't need a dipping sauce to wholeheartedly enjoy them (though I know from experience that they pair great with the famous Chick-fil-A sauce). The textures were also pretty much perfect, with crispy breading on the outside and tender, juicy chicken on the inside. These very nearly claimed the top spot in this taste test, but the real winner blew me away just a little more in terms of taste, size, and texture.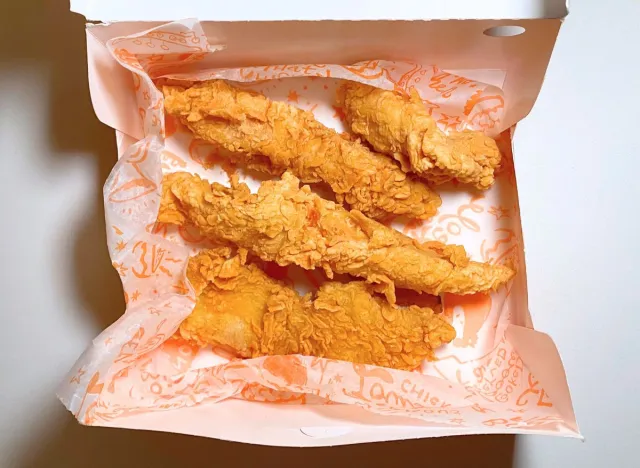 Per three-piece order
: 460
cal, 20 g fat (8 g saturated fat, 1 g trans fat), 1,820 mg sodium, 35 g carbs (1 g fiber, 0 g sugar), 38 g protein
Popeyes' Tenders are marinated in Louisiana herbs and seasonings, hand battered and breaded in a crunchy southern coating, and fried until golden brown. I got a three-piece combo meal (which also includes a side, biscuit, and small drink) for $13.99. Like KFC, Popeyes also didn't give the option to order tenders without turning it into a meal.6254a4d1642c605c54bf1cab17d50f1e
The look: While Popeyes was the most expensive out of all the chains, I did feel like I was getting a lot of bang for my buck. These were the biggest tenders out of all the options I tried, plus Popeyes gave me a fourth tender when I only ordered three. All of the pieces were super well-breaded and golden brown, with tons of craggly bits of crispy breading.
The taste: Popeyes has been getting a lot of attention for its wildly popular chicken sandwich over the last few years, but don't let that distract you from its chicken tenders. These tenders completely blew me away on every aspect of my criteria. The breading was super crispy and stayed that way even an hour after I picked them up from the store. The chicken pieces were big, juicy, and very easy to bite through. And the taste was so multi-faceted and satisfying, especially compared to the other tenders I tried.
Chick-fil-A's tenders, for example, were perfectly salted. But the flavor of Popeyes's tenders just felt bigger. Not only were they perfectly salty, but they were also peppery, herby, and a little garlicky. Coupled with their stellar texture and size, I can confidently say that these were the absolute best fast-food chicken tenders.
Zoe Strozewski
Zoe Strozewski is a News Writer for Eat This, Not That! A Chicago native who now lives in New Jersey, she graduated from Kean University in 2020 with a bachelor's degree in journalism.
Read more about Zoe