I Tried 5 Fast-Food Chocolate Chip Cookies & The Best Has a Surprising Ingredient
You can get a decent chocolate chip cookie at many fast-food joints, but which one tastes the best?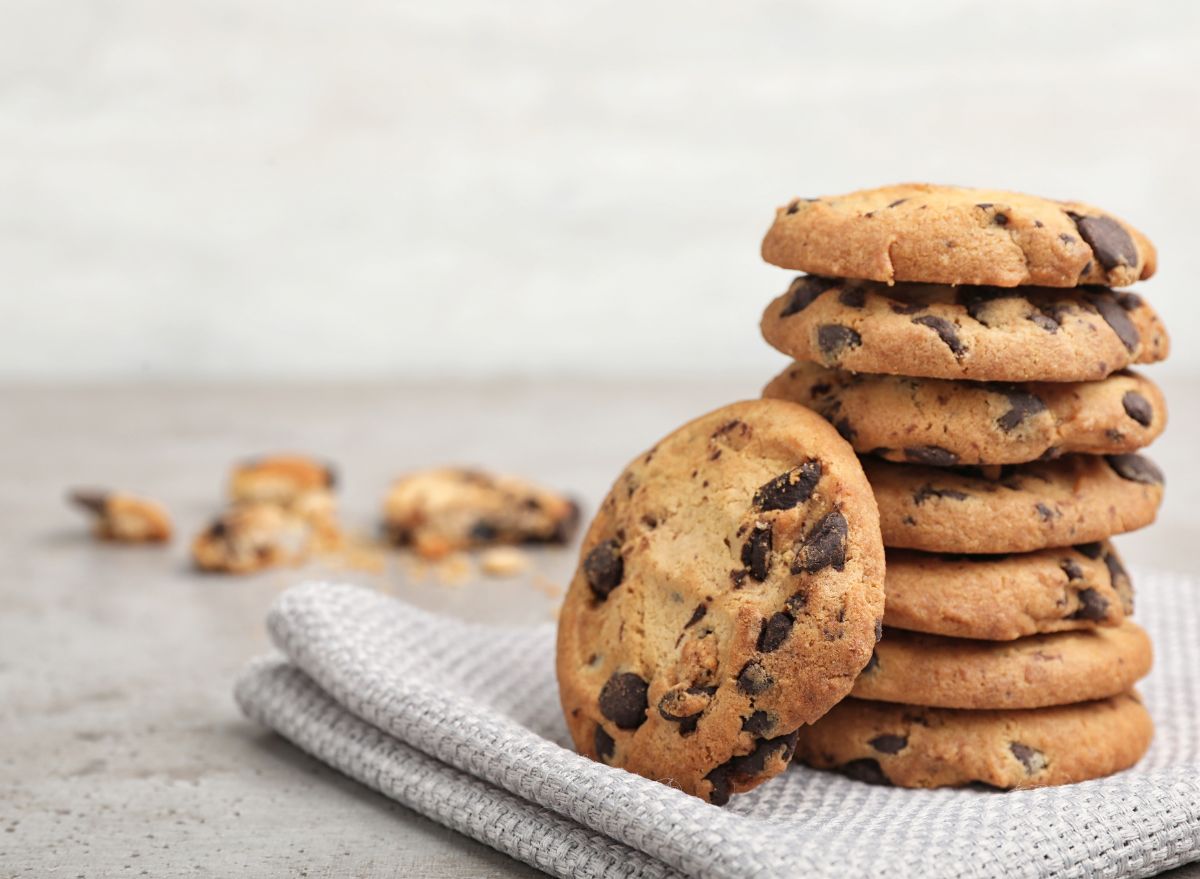 The product recommendations in this post are recommendations by the writer and/or expert(s) interviewed and do not contain affiliate links. Meaning: If you use these links to buy something, we will not earn a commission.
A great chocolate chip cookie is the perfect snack or dessert. Whether you're enjoying it alone, at the end of a meal, or with a tall glass of icy milk—or even iced coffee!—there's nothing better than biting into a cookie that's crispy on the outside, chewy in the middle, and dotted with delicious bits of chocolate.
While some fast-food chains are known for having great chocolate chip cookies, I wanted to find out which place had the best one—and I was surprised by the results!
In order to carry out my taste test I ordered a cookie at each restaurant and ate it right there on the spot. I judged each chocolate chip cookie on its appearance, texture, and taste. In the end, there were only two out of the five that I'd ever order again, but the number one cookie was just too good—and interestingly, something I didn't even know that this chain sold!
It should be noted that all of these treats are high in calories, fat and sugar, and like TV's Cookie Monster says, I'd only eat them as a "sometime food." But if you're going to indulge, go forearmed with the knowledge of which cookie is really worth it and which ones to skip. Read on for my recs, ranked from worst to best.
Subway Chocolate Chip Cookie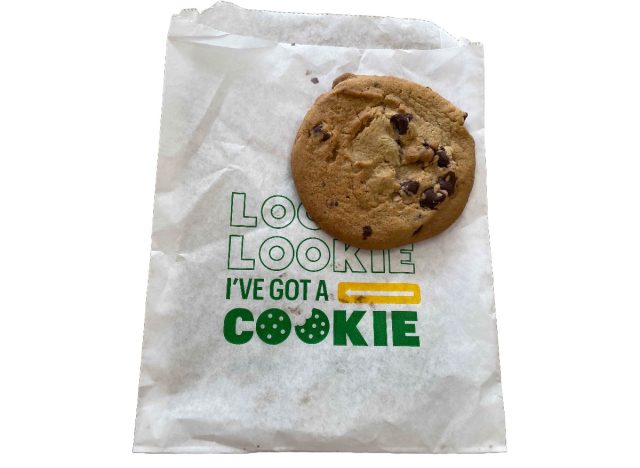 Per serving (1 cookie)
: 228 cal, 10.8 g fat (5.6 g saturated fat), 165 mg sodium, 31.4 g carbs (1.2 g fiber, 19.3 g sugar), 2.1 g protein
I've always loved the chocolate chip cookies at Subway and thought of them as the perfect dessert to go along with a turkey sandwich. It had been years since I'd gotten a cookie from the chain, but I remembered them being soft and chewy and just absolutely delicious. Sadly, after biting into this Subway cookie, those good memories were tarnished more than the former Subway spokesperson's reputation. The cookie tasted like a pre-packaged, store-brand cookie, and though soft and chewy, it was overly sweet. I had honestly thought going in that this would be my favorite cookie of the bunch, but it just wasn't worth the calories.
Rating: 4/10
Starbucks Chocolate Chip Cookie
Per serving (1 cookie)
: 370 cal, 19 g fat (11 g saturated fat), 230 mg sodium, 47 g carbs (2 g fiber, 31 g sugar), 5 g protein
Described by Starbucks as a "thick, chewy cookie," this chocolate chip treat was large and had a more homemade look to it, although the fact that it came wrapped in plastic with a "discard by" date made it slightly less appealing. The look of this cookie was not too tempting as the chips were mostly hidden, and the ones I could see were lighter in color. Biting in, the cookie was indeed chewy and the distribution of semisweet chocolate chips was good, but the flavor was way too buttery.
Rating: 6/10
Panera Chocolate Chipper Cookie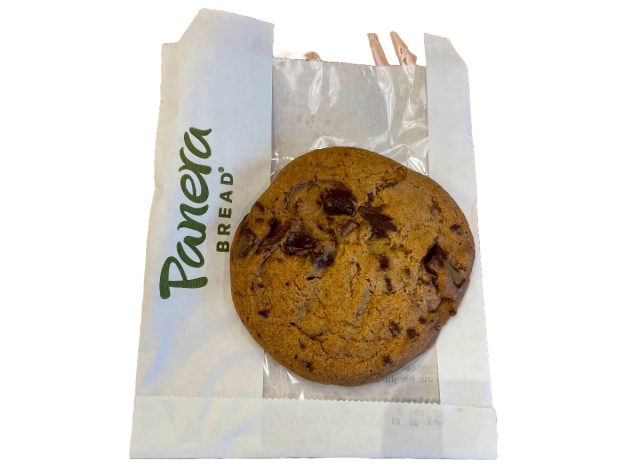 Per serving (1 cookie)
: 390 cal, 19 g fat (11 g saturated fat), 290 mg sodium, 52 g carbs (2 g fiber, 31 g sugar), 4 g protein
Panera says its cookie is "freshly baked and made with semi-sweet chocolate chunks and milk chocolate flakes." The cookie looked very appealing with lots of visible dark chips and an appetizing brown hue. When broken in half, the chips were nice and gooey. Biting in, the cookie had a homemade taste that was less buttery than Starbucks. Still, this cookie was the most caloric of all the ones I tried, and though it was okay, in the future I'd save my dessert calories for something else.
Rating: 7/10
McDonald's Chocolate Chip Cookie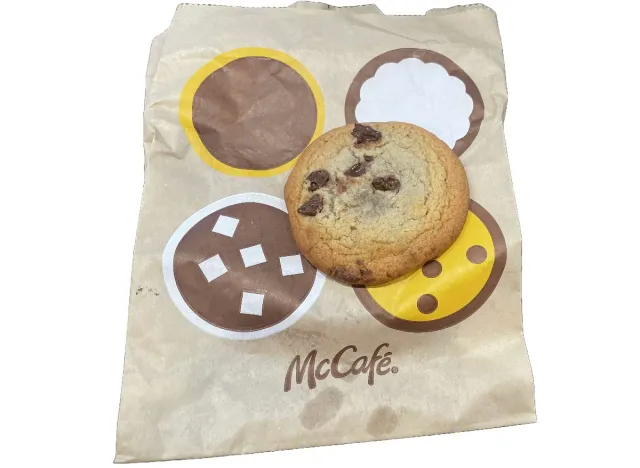 Per serving (1 cookie)
: 170 cal, 8 g fat (4 g saturated fat, 0 g trans fat), 95 mg sodium, 22 g carbs (1 g fiber, 15 g sugar), 2 g protein
The smallest of the ones I tried, this chocolate chip cookie was surprisingly yummy! Served warm, it had lots of gooey chips and was a soft and chewy treat. Visually, this cookie looked crispy on the edges and chewy on the inside, and after trying it, I could see why you might order this for dessert—especially if the infamous McDonald's soft serve is out of order. Even so, there's another cookie that I liked even better!6254a4d1642c605c54bf1cab17d50f1e
Rating: 8/10
Chick-fil-A Chocolate Chunk Cookie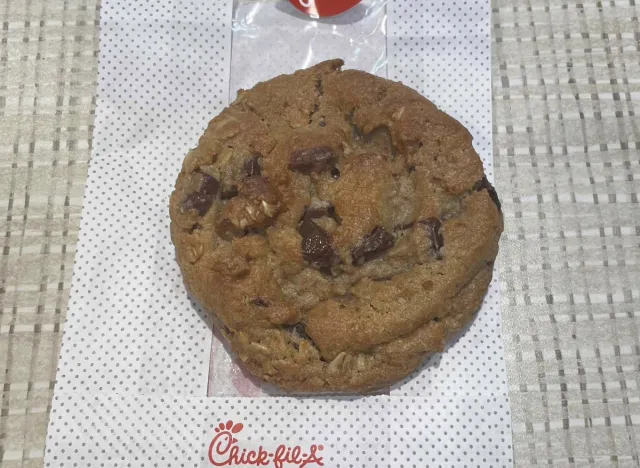 Per serving (1 cookie)
: 370 cal, 17 g fat (9 g saturated fat), 230 mg sodium, 49 g carbs (3 g fiber, 26 g sugar), 5 g protein
This awesome chocolate chunk cookie from Chick-fil-A was ooey gooey with semi-sweet dark and milk chocolate chunks and irresistibly delicious. I was trying to figure out what set this cookie apart from the rest and realized it is the addition of oats! This surprising ingredient gives the cookie a better texture and homemade taste. Now, I have yet another reason to go to Chick-fil-A! The company says its cookies are baked fresh on site, and it's no wonder that fans try to make copycat versions. When it comes to a chocolate chip cookie taste test, chunks beat chips hands down!
Rating: 10/10
Ronnie Koenig
Ronnie Koenig has written about food, drink, travel and culture for The New York Times, TODAY, The Atlantic and many others.
Read more about Ronnie