9 Fast-Food Chains With the Freshest Baked Goods
if you're looking for fresh bread, cookies, and donuts, head to these popular spots.
The word "fresh" is usually not top-of-mind when it comes to fast-food restaurants—with some notable exceptions. Wendy's is fanatical about the fresh and never-frozen beef used in its burgers. In-N-Out and Five Guys have fresh beef too and also take pride in their fresh-cut fries which are made daily. But, in many cases, the foods you are served were partially prepped elsewhere, frozen, and reheated in some way in a fast-food kitchen. In terms of the baked goods in a fast-food restaurant, it's rare you'll find the freshest available.
The buns, breads, donuts, and biscuits you'll find at the fast-food restaurants noted here, however, are actually baked right in the restaurant where they are served. Granted, some of these fast-food baked goods are frozen in their raw state initially, but the final prep and actual cooking all happen only a few feet away from where hey are served. So if you like your baked goods baked fresh, then these are the fast-food chains to frequent.
McDonald's – Donuts
Recently, McDonald's expanded the number of locations offering fresh Krispy Kreme donuts. What began as a test at just a handful of McD's in Kentucky in 2022 has now expanded to 160 locations around the state. If it's a success there, donuts should soon be available at thousands of locations nationwide. The donuts are delivered fresh from a nearby Krispy Kreme hub daily.
Panera Bread's – Bread and Pastries
"Panera" is a Latin word for breadbasket, which makes it pretty clear that this chain is all about the classic baked good. All Panera locations really do bake all those delightful breads on site, plus, a variety of cookies and pastries. However, employees have revealed that the dough arrives fresh or frozen from a central bakery.
The newest sandwiches at Panera are offered on its iconic baguette and are available in Green Goddess Caprese, Pepperoni Mozzarella, and Smoky Buffalo Chicken varieties.
Subway – Bread and Cookies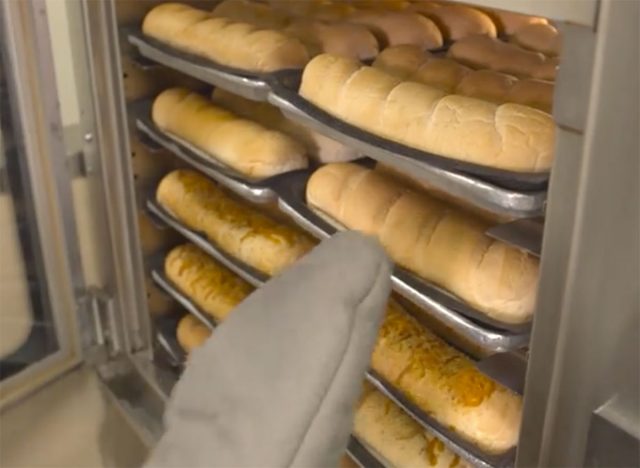 Subway's bread for its sandwiches arrives in frozen form but the rolls are proofed and then baked fresh at each location—usually twice a day. While the bread used to make those sandwiches may not be made from scratch on location, it really is baked there. Another thing baked fresh on-site is the chain's cookies, which come in five varieties: chocolate chip, double chocolate, white chip macadamia nut, oatmeal raising, and raspberry cheesecake.
Hopdoddy – Buns
If you have spent much time in Texas or parts of the South or Southwest, you may have tried a burger or sandwich from Hopdoddy, a chain with a few dozen locations and counting. And when you tried that burger, you may have noticed that the bun was impressively tasty. That's because the buns at a Hopdoddy are baked fresh on location every day. And that's all three different kinds of buns the chain offers, FYI.
Schlotzsky's Bread
The bread at Schlotzsky's sandwich shops is an essential part of its business, as only thick, robust bread could possibly support all of the ingredients that come piled on the sandwiches. Heavily concentrated in Texas and the South, there are 345 Schlotzsky's locations serving sandwiches on their "fresh-from-scratch baked bread." The chain also baked up fresh pizza and huge calzones.
Bojangles – Biscuits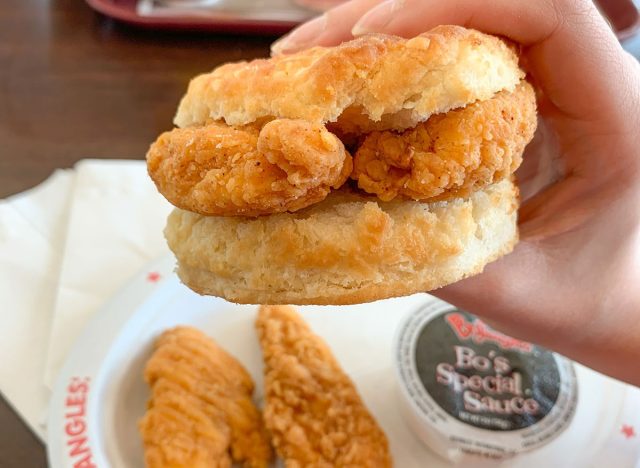 If you can only order one thing from a Bojangles restaurant, make it the biscuits. Not the chicken. Not the sides. Not the iced tea. The biscuits. These delightful baked goods are baked fresh in the restaurant each and every day. And the company's site claims they are "baked via a carefully curated, 49-step proprietary process … by a certified Master Biscuit Maker who has undergone rigorous instruction and training to earn the status."
Jersey Mike's Bread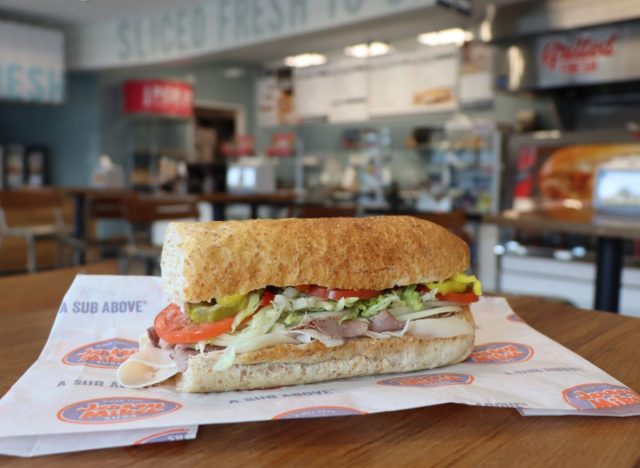 Sure, that whole "Eat Fresh!" thing was a Subway slogan, but Subway competitor Jersey Mike's is pretty serious about using fresh ingredients. From the veggies to the cheeses to the meats, Jersey Mike's sub sandwiches are made with fresh foods whenever possible, and those foods are loaded onto freshly baked bread. Also, try the fresh-baked chocolate chip cookies, also available gluten-free!
Church's Chicken's Biscuits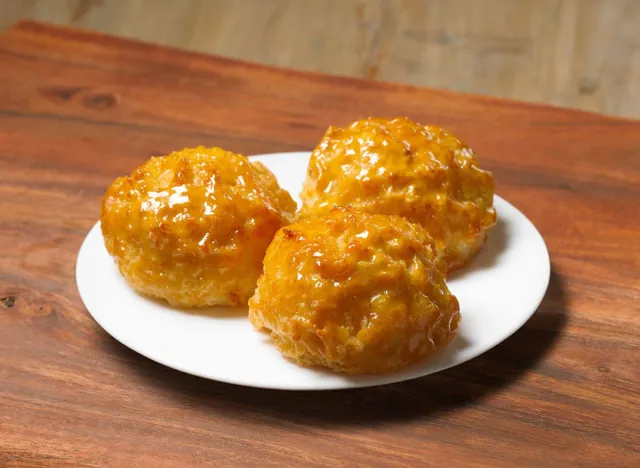 Watch out, Bojangles, because there's biscuit competition down the way at Church's Chicken. Also a mainstay of the South, and slightly larger than Bojangles with 816 locations, Church's Chicken is another great spot to get a truly fresh biscuit. The chain's Honey-Butter Biscuits are made "fresh from scratch throughout the day in small batches." You can also get them frosted if you want something a little sweeter.
Fuddruckers – Buns and Desserts
Fuddruckers is another burger restaurant that takes every aspect of the burger seriously, even baking the buns fresh in-house every day. The original restaurant opened in San Antonio, Texas in 1979 and the chain has expanded to about 100 locations across the world. The availability varies at locations but the chain in general serves a variety of burgers—including bison and Kobe—chicken sandwiches, wings, and salads. If you're into a fresh-baked dessert try the chains cookies and brownies.
Steven John
Steven John is a freelancer writer for
Eat This, Not That!
based just outside New York City.
Read more about Steven