13 Secrets You Never Knew About Five Guys
Sure, their burgers can't be beat, but all those free extras add up!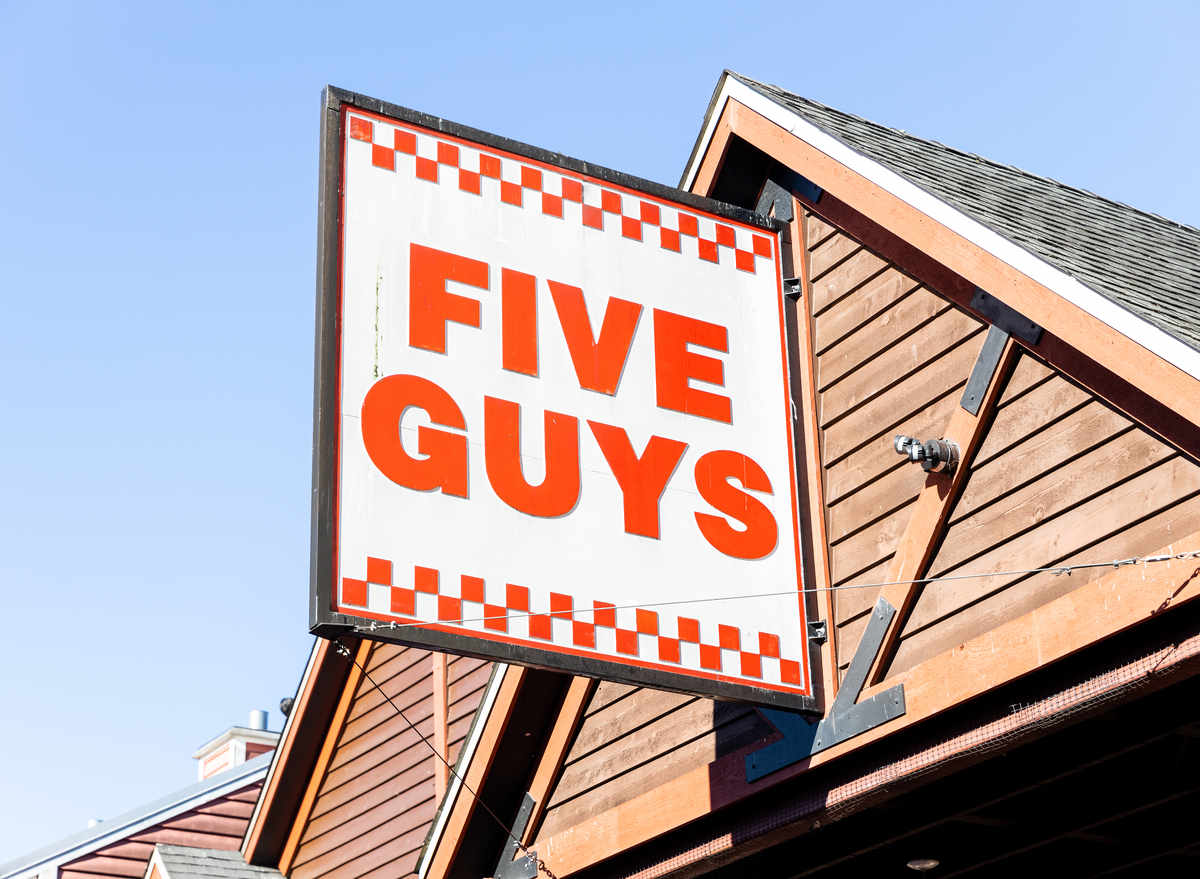 Five Guys Burgers & Fries began back in 1986 as a family-run spot founded by the Murrell family, including husband-and-wife team Jerry and Janie Murrell and their four sons in Arlington, Virginia. 35 years later, the multi-million dollar company has hundreds of franchises around the country and serves delicious meals to hungry burger lovers.
They have secret methods for cooking and topping their burgers, great menu hacks, and a few things they might not want you to know. So, before you enjoy your beautiful juicy burger, there are some secrets about Five Guys you should know before bellying up to the counter to order.
There are actually six guys.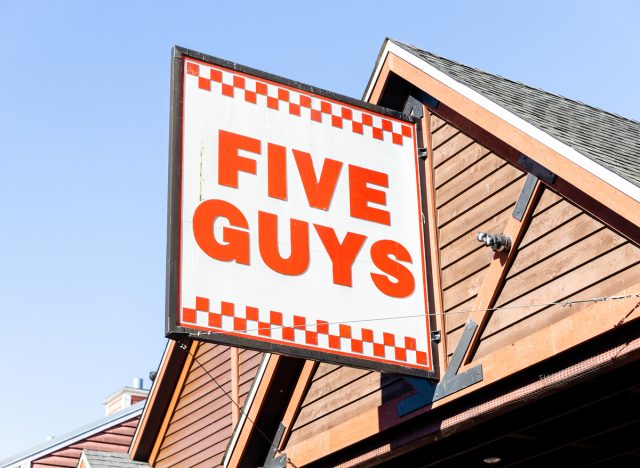 Five Guys was founded by Jerry and Janie Murrell, who named the restaurant after their four sons: Jim, Matt, Chad, and Ben. However, according to Thrillist, right after the first restaurant opened, he had another son named Tyler. Whoops! Jerry Murrell now says that the "Five Guys" name only refers to his sons, excluding himself from the namesake.
The money to fund the restaurant was supposed to be used for college.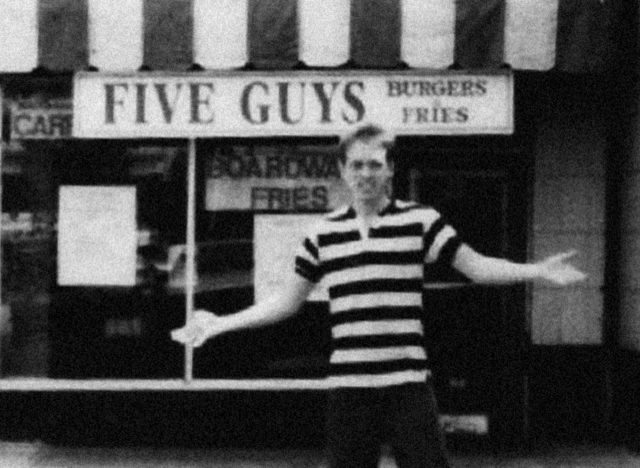 In 1986, the two eldest Murrell brothers had a choice between using their college savings account for college or to start a business. They ended up using the $70,000 to open Five Guys and the rest is history.6254a4d1642c605c54bf1cab17d50f1e
The 'big' small fries are a calculated illusion.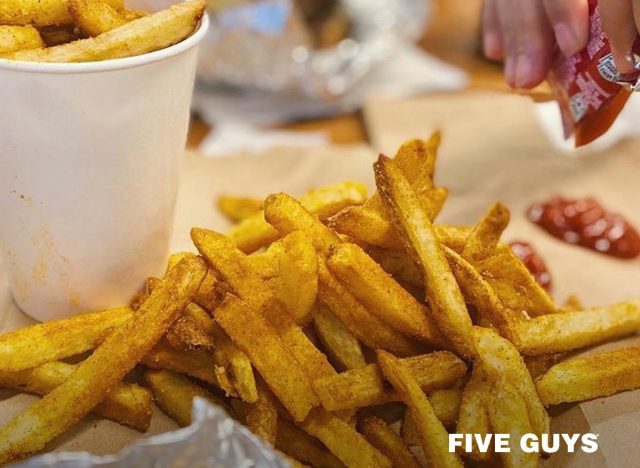 When you order fries at Five Guys, they put a small fry cup in a bag and seemingly pour a ton of fries in with a scoop. According to a former employee on Reddit, it's a bit of an illusion. "When you order a small fry you are paying for all of the fries that go into the bag. That 'extra' scoop is kind of an illusion, they told us during training that it's to make customers think they're getting a big bargain. And you can ask for the cup with no topper if you want, you can do that." But beware, they still have 528 calories and 23 grams of fat.
It's not the place for people allergic to peanuts.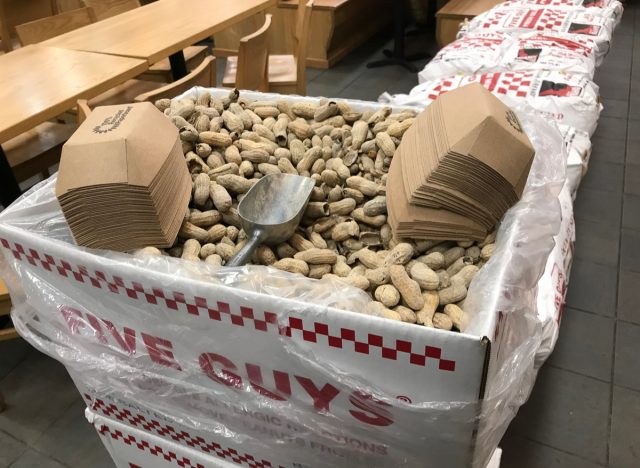 Anyone with a peanut allergy is not going to have a good time at Five Guys. Everything on the menu is cooked in 100 percent peanut oil and the restaurants offer free bins of peanuts to snack on while you wait for your order. Due to the pandemic, though, they are no longer sitting out. You have to ask for them, though Facebook comments to the above post indicate the peanuts might have quietly disappeared in many locations.
They don't have plans for a plant-based burger.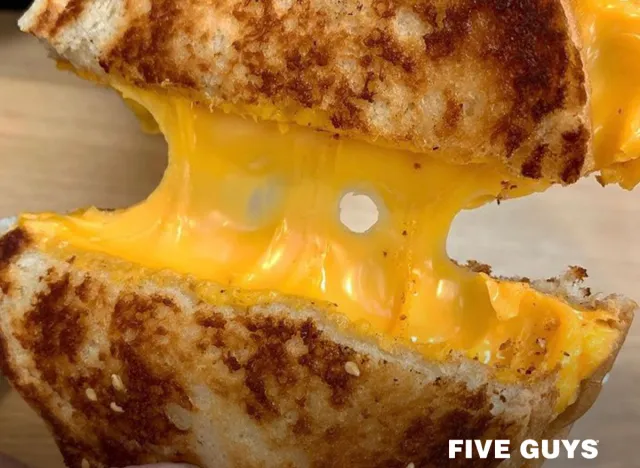 Unlike some of their competitors, such as Burger King's Impossible Whopper and Panda Express trying out a plant-based orange chicken with Beyond Meat products, Five Guys doesn't have any meat alternatives on the menu. However, vegetarians aren't left out of the yums, the chain offers a veggie sandwich, a cheese veggie sandwich, and a grilled cheese.
Beware the all-you-can-add toppings.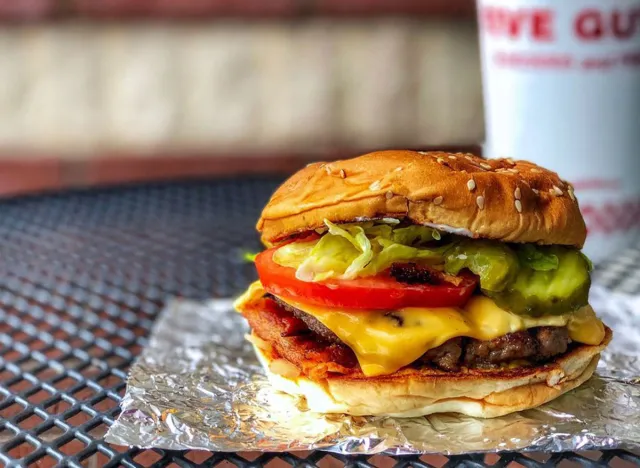 The traditional two-patty hamburger already has 840 calories. If you add bacon, cheese, and mayo that burger has over 1,200 calories. Sticking to one patty and adding fresh veggies and pickles will cut the calories in half!
Calories in the famous shakes can also quickly add up.
The base of the delicious shake already has 670 calories. If you add Oreo pieces, peanut butter, and chocolate you could have a shake with well over 1,000 calories.
You can hack a patty melt.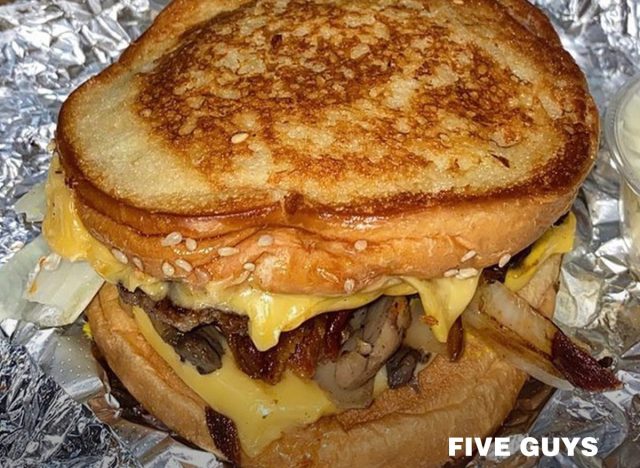 Trust us on this one! The Five Guys grilled cheese is a burger bun inside out, buttered, with cheese. Just ask to add a burger patty, grilled onions, and BBQ sauce and you have an absolutely decadent patty melt.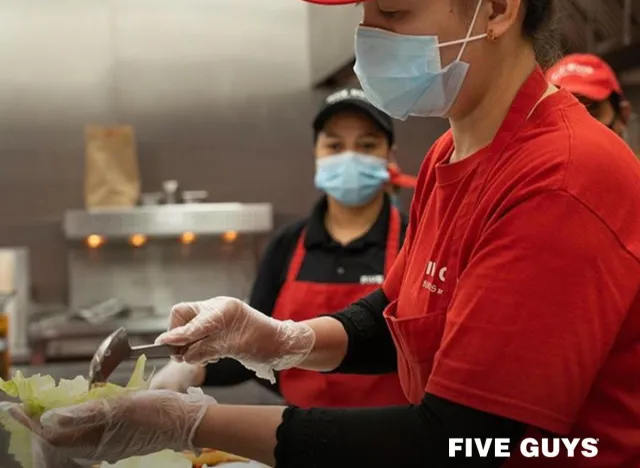 Five Guys have some unusual rules in the kitchen for a fast-food restaurant, and one of them includes no timers in the kitchen–because good cooks should know when food is done. Plus, the French fries must be shaken 15 times exactly, and onion and bacon go below the patty while pickles and tomato go above.
Your order is always to-go
No need to ask. The restaurant staff serves everything in paper bags, even if they put it on a tray. Apparently, some people who dine in complain about the waste, but it's their thing. They also have a strict no-delivery policy.
You can customize that enormous order of fries.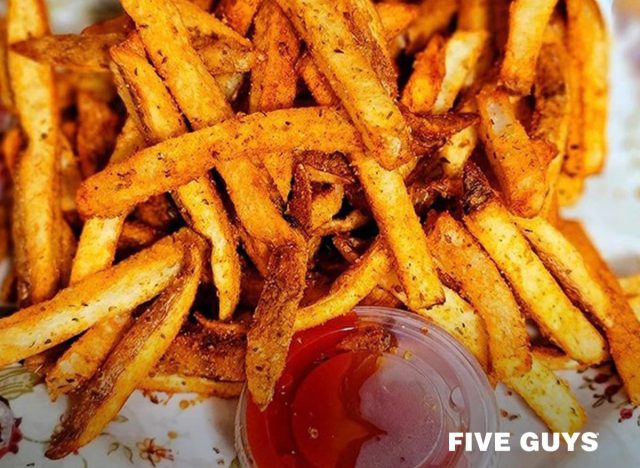 With all those free toppings, it's no surprise you can max out your fry order with tons of toppings. One employee wrote on Reddit to try "confetti fries," which have BBQ sauce, mayo, and cajun spices added on top before being tossed in the bag to lightly coat the crispy potatoes. Or ask for a bit of cheese on your fries when you order, and you'll get a nice order of cheese fries. But remember those toppings add up!
The buns are squishy on purpose.
At the restaurant's early locations, the buns came from Brenner's, an Alexandria, Virginia bakery that was a favorite of Janie Murrell. The bakery created a sweet, squishy bun, but they eventually closed and Five Guys started making their own buns. Eventually, there was no way they could keep making the buns, so they contracted out.
They spend tons of money on mystery shoppers.
According to AdAge, Five Guys spends the money most chains would spend on advertising on mystery shoppers who visit the restaurants to make sure they're up to snuff. That's why you rarely see Five Guys commercials or billboards, and that's because they use that cash to hire third-party companies to visit their restaurants and do a full evaluation.
A previous version of this article was published on January 12, 2022.
Tanya Edwards
Tanya Edwards is a seasoned food and health journalist, who has held roles at Yahoo Health as Managing Editor and at Food Network as Programming Director.
Read more about Tanya