We Tried Fatburger's Impossible Burger. Here's Our Review.
We took a bite into this famous west coast burger joint's Impossible Burger, and it was genuinely delicious.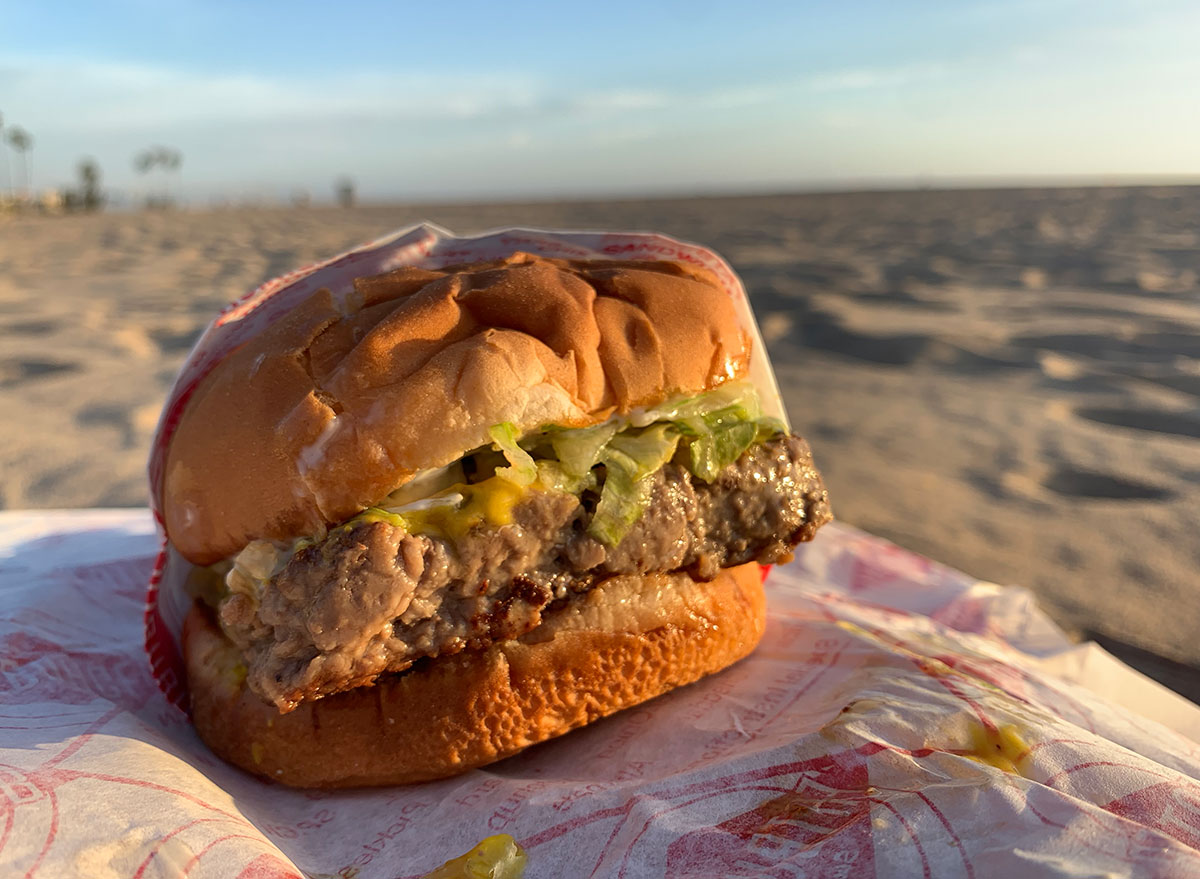 Fatburger, along with its west-coast rivals In n' Out, Carl's Jr and Jack in the Box, has joints plopped up and down the Pacific Coast Highway, across the 405, and on every corner in Santa Monica. While they are all known for serving delicious burgers and fries, only a few have tried delving into the trend of plant-based foods. Carl's Jr has attempted it, and now Fatburger is serving a plant-based burger option: The Fatburger Impossible Burger.
Fatburger's Impossible Burger is where those two inherent opposites meet. It's everything a "good" fast food option should be in Los Angeles: Quick, eco-friendly, and healthy enough not to undo your last cleanse.
If you haven't heard of Impossible Meat yet, let me give you a refresher. Basically, it's a new vegetarian meat made completely out of plants, and it's everywhere. Tacos, meatballs, baos, you name it, someone has probably tried making a dish with it. Burger King has the Impossible Whopper, McDonald's has the P.L.T, and now Fatburger has the Impossible Burger.
The first time I tried plant-based meat (in a taco at a work party), I announced that, honestly, I might as well just put myself on a plant-based diet now. I'd truly never even considered a plant-based diet before that moment. But Impossible is that convincingly meaty. So I was eager to try Fatburger's take on the Impossible.
Does the Fatburger Impossible Burger look the same as the others?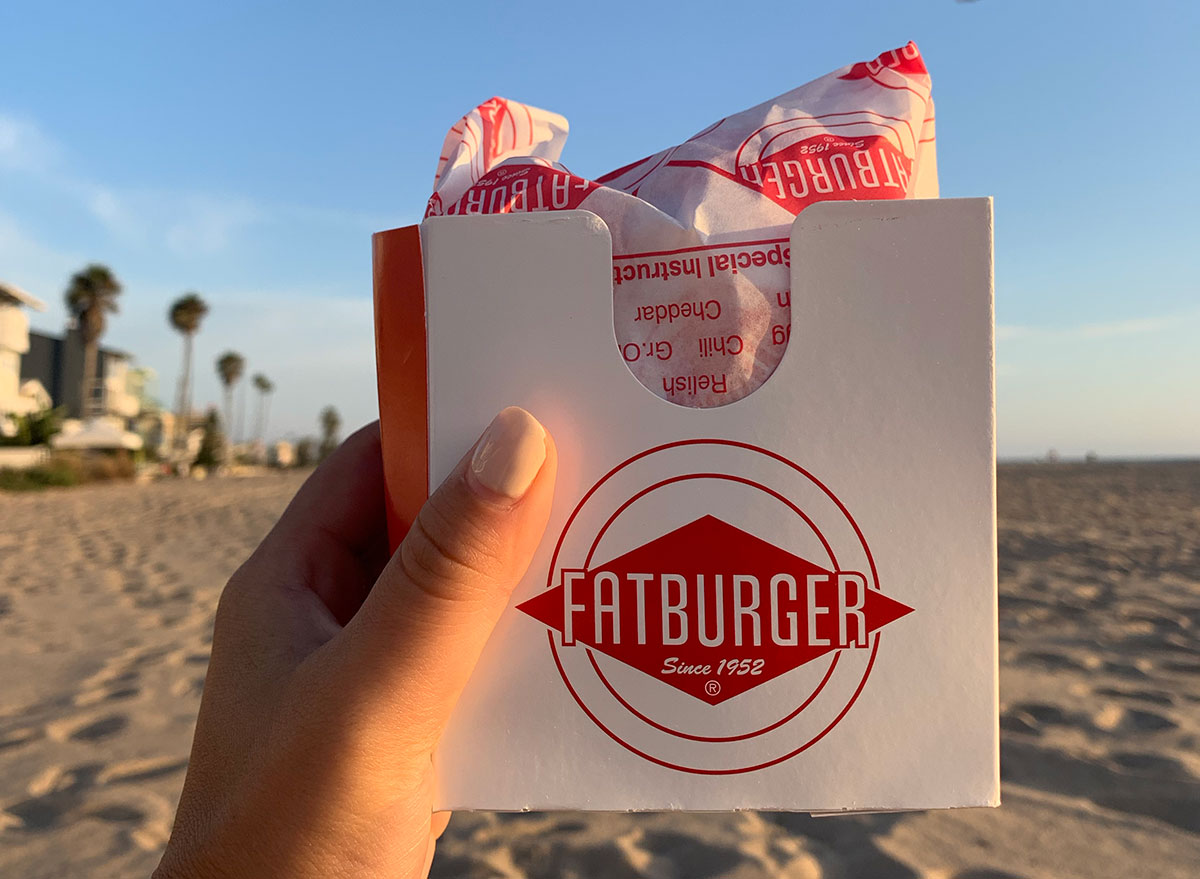 6254a4d1642c605c54bf1cab17d50f1e
Ordering the Fatburger Impossible Burger is similar to ordering any other burger or sandwich at Fatburger. The 1952 burger joint is known for its copious and diverse topping array. If you go enough, you could nail down a strong signature spread. But if you're a first-timer like me, they've got you covered with a classic line-up called "The Works," which includes mustard, relish, onions, pickles, tomato, lettuce, mayo. I went with "The Works" on my Fatburger Impossible Burger to keep the order classic and consistent.
The non-meat patty sizzled on the grill and I waited between the aluminum kitchen and bright red coca-cola sign. The waitress offered me a water cup, still not completely sure why I was taking photos of the place. And then, just as I was getting lost in the gallery wall of black-and-white photos that look like they're from Fatburger's first five years, the cook flipped my Impossible burger into the to-go packaging and sent me on my way.
The best way to eat anything in California is on the beach, so I took a stroll over to the sand. I unwrapped the burger quickly and bit in with an open mind.
How does it taste?
The first impression? That's thick. The second? Pickles.
This burger is made for big, messy bites—it's definitely a fat Impossible burger. And, maybe it's something about the way the Impossible meat is made, but I've never tasted each topping so flavorfully. The combination was perfect and juicy and so overpowering that it took me a second to even remember there was a patty flavor to pay attention to, too.
The patty itself was perfectly—impossibly?—pink in the middle, and fell apart in my mouth. It was salty and dense and retained that grill flavor, the one that real burgers are famous for, and veggie burgers famously lack. It was so distractingly good and I was so consumed by my plant-based consumption that it took me until the final bite to notice the mayo drop on my leg.
The only critique I'd offer of the Impossible Fatburger is that there was a lot of bread, especially for a burger that could easily be branded a healthier alternative. This was partially user-error because some Fatburger locations do offer gluten-free bun options, and all offer Skinnyburgers, which is a burger sans bun. But I bet the Impossible burger would get more traction if Fatburger automatically served it as a no-bun option. Then they'd have a no-red-meat, low-carb staple on the menu. Easy and accessible, the Fatburger Impossible Burger is the perfect "good" fast food that LA's craving.