Former Smoker? This Eating Habit May Reduce Your Risk of Death by 27%
If you've successfully quit smoking, congratulations—you've already done the hardest part.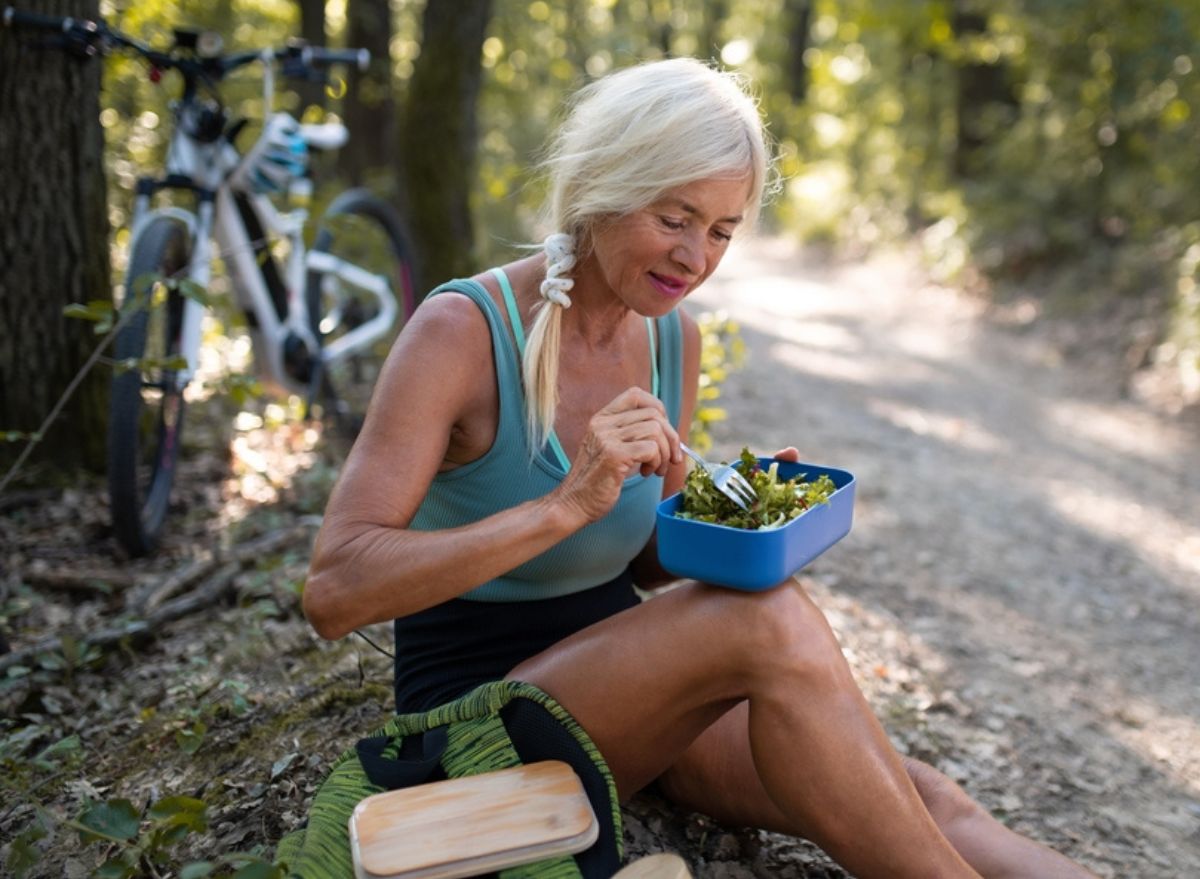 There are plenty of reasons to quit smoking, including the fact that ridding yourself of this particularly harmful habit can add as much as a decade to your life expectancy, according to the American Cancer Society. If smoking is already something that you've proudly left in the past, then you should know that according to a new study, you can further reduce your risk of death by eating a healthy diet.
In the study, which was conducted by researchers from the National Cancer Institute (NCI) and published in JAMA Network Open, analysis was done on data from 159,937 former smokers who were involved in the NIH-AARP Diet and Health Study in 1995 and 1996. The participants, who were an average of 62.6 years old, were asked to answer questions about their lifestyle at the beginning of the study. Researchers then followed up with those participants approximately 19 years later, during which time, 86,127 of them had died.
Those behind the study also compared the dietary habits of the participants to the Healthy Eating Index 2015. This index shows how food stands up to the recommendations provided by the Dietary Guidelines for Americans. The participants whose diets scored the highest on the index had a 27% lower risk of death than those whose scores were the lowest. In simple terms, the findings suggest that ex-smokers who practice healthy eating may live longer than ex-smokers who don't. 
Breaking things down further, the researchers noted that those with the highest scores also had a 24% lower chance of dying from cancer, a 28% lower chance of dying from cardiovascular disease, and a 30% lower chance of dying from respiratory disease.
"Maintaining a healthy lifestyle, as recommended by many national organizations, tends to include the same or similar healthy eating and physical activity recommendations in order to improve overall health and protect against the onset of many chronic diseases," Kiran Campbell, RD, tells Eat This, Not That!
RELATED: This is the #1 Cause of Dying Too Soon, Science Shows
As for what kind of healthy diet might be best for former smokers, Campbell explains that the 2015 to 2020 Dietary Guidelines for Americans' "recommendation for a healthy diet includes an adequate amount of fruits, vegetables, greens and beans, whole grains, dairy, total protein, seafood and plant protein, and foods containing fatty acids." On top of that, "the recommendation also includes some limitations [such as] limiting the intake of refined grains, sodium, added sugars, and saturated fats."6254a4d1642c605c54bf1cab17d50f1e
Campbell also points out that "there are several nutrients that smokers and former smokers may need to replete in their system."
"For example, vitamin C is one nutrient that smokers need more of compared to those that refrain from smoking," Campbell says. "Smoking has been shown to lower levels of beta-carotene, selenium, zinc, vitamin E, and several B vitamins. This is predominantly due to the harmful carcinogens present in cigarettes and the smoke inhaled by them. It has an oxidative effect on the body and decreases the bioavailability of these nutrients. The reference also points out that smokers are less likely to consume fruits and vegetables, particularly ones higher in vitamin C and carotenes."
Desirée O
Desirée O is a freelance writer who covers lifestyle, food, and nutrition news among other topics.
Read more about Desirée