New Survey Reveals the #1 Burger Spot In the U.S.—and You've Probably Never Heard of It
Yelp just released a ranking of the best burger joints in the country based on guest reviews.
America has no shortage of great burger joints, from small mom-and-pop restaurants to major chains like McDonald's and Wendy's. While having so many options at our disposal is great for consumers who crave a wide range of choices, the myriad of restaurants might seem overwhelming to sort through when you're searching for the absolute best burger spots.
Thankfully, review site Yelp did all that labor-intensive work for consumers in a new study that identified the country's most highly-rated and beloved burger joints. Just in time for National Burger Day on May 28, Yelp has compiled those findings into a new list of the top 100 burger spots in America, giving consumers insight into where they can find the tastiest, most popular burgers.
Yelp created this list by identifying businesses and restaurants across America that had a "large concentration" of Yelp reviews mentioning burgers. The site then ranked all of those spots using factors like the total number of reviews and the ratings they received in the reviews.
Here are the five highest-ranked burger spots in America from the Yelp list, starting with the fifth and ending with the first-place winner. Unless you live in the Atlanta, Ga., area or have traveled there before, you may not have even heard of the top-ranked burger joint.
Father's Office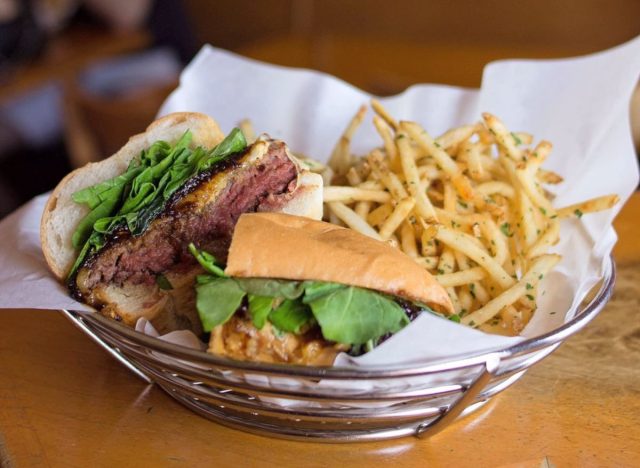 Los Angeles gastropub Father's Office is so confident in its menu that the staff refuses to make any modifications or substitutions. This policy extends to the one and only burger on the menu, but fans don't seem to be turned off by the rigid rule. Yelp gave it the fifth highest ranking in the list of the top burger joints in the country.
Customers rave about The Office burger–which features caramelized onions, bacon, gruyere cheese, Maytag Blue Cheese, and arugula–and most agree that it's perfect exactly as the chef designed it.
"In my opinion, if the chef wants you to experience their food in a certain way I'm all for it and the burger served as-is is delicious," a Yelper wrote. "You got high-quality meat and you got delicious complementary flavors from the cheese and caramelized onions. The bacon adds a crisp and saltiness while the arugula adds some earthiness to balance the burger out. I'm a fan."
Gordon Ramsay Burger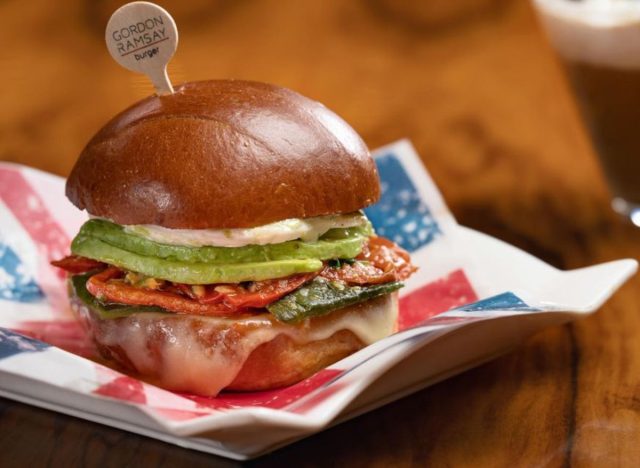 Gordon Ramsay is one of the most famous celebrity chefs and restaurateurs of current times, so it's no surprise that he serves up some dang good burgers. In fact, burgers are the star of the show at his aptly-named Las Vegas restaurant "Burger."  The more than 2,000 5-star reviews for this acclaimed burger joint helped it claim the fourth-highest spot on Yelp's ranking of the best burger spots in America.
The menu at Burger is short but impactful, ranging from classics with American cheese and pickles to more interesting options like the Truffle Burger, which features truffle-infused goat cheese, bacon, truffle butter, frisée, pickled shallot, fried egg, and truffle aioli.
Customers have specifically raved about the "incredible" veggie burger and Hell's Kitchen Burger (which features asadero cheese, roasted jalapeños and tomatoes, avocado, and spicy jalapeño aioli). Some say the whole menu is so good that you can't go wrong no matter what you choose.
"My partner and I come to this spot at least once or twice almost every Vegas trip. All burgers are a must-try. [They're] moist, come with a lot of flavor [and] melty cheese," a Yelper wrote.
Slutty Vegan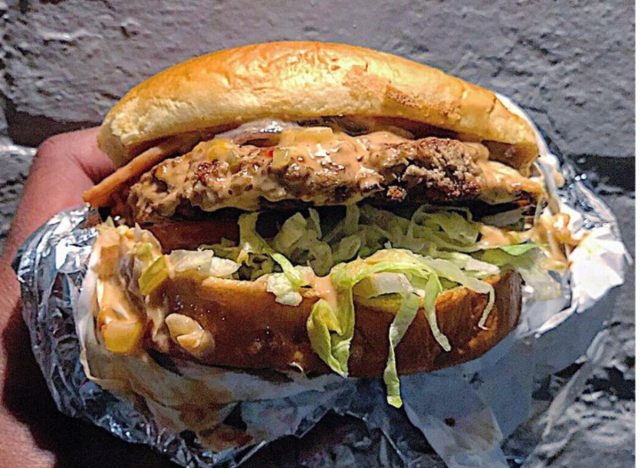 A plant-based burger restaurant would have to be pretty stellar to be ranked as one of the best burger spots in America, especially alongside so many joints with crave-worthy meat options. However, Slutty Vegan has risen to this grand occasion with its wildly popular burgers.
Slutty Vegan is a restaurant chain with more than 10 locations across Georgia, New York, Alabama, and Texas. It serves up a menu of vegan takes on classic comfort foods, like chicken sandwiches, cheesesteaks, chili, and of course, burgers. While there are several popular burger options at Slutty Vegan, Yelp found that customers have a particular penchant for the One Night Stand Burger, which features a plant-based patty, vegan bacon, vegan cheese, caramelized onions, lettuce, tomato, and the signature Slut Sauce on a vegan Hawaiian bun.
Customers say this option is so good that it's easily mistaken for an actual beef burger.
"Upon first bite, I seriously looked at the burger and said, 'This isn't meat?!' The patty was so tender and juicy, and the bacon tasted just like meat as well," a Yelper wrote.
Minetta Tavern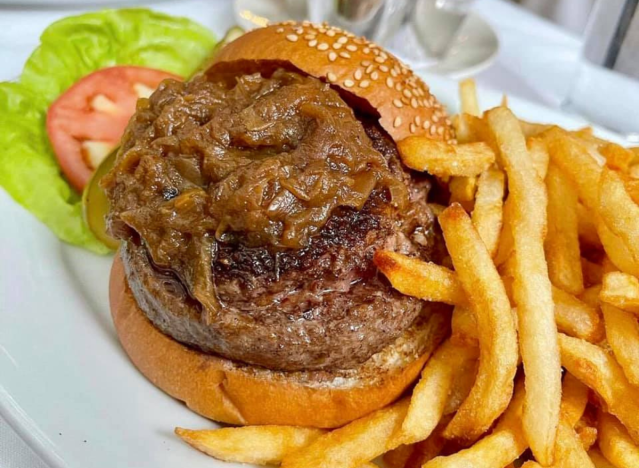 Would you pay a whopping $38 for a single burger? If you're dining at the legendary Minetta Tavern in New York City, Yelpers say that astronomical price tag is worth it.
This pricey sandwich, the Black Label Burger, helped Minetta Tavern secure the runner-up spot in Yelp's ranking of the best burgers in America. It features a thick burger patty made with cuts of prime dry-aged beef plus caramelized onions and a side of pommes frites, or fries.
Though reservations at this French restaurant are a hot commodity and the price tag is high, Americans still have a major appetite for these fancy burgers.
"I made a reservation one month in advance to pay $50 (after taxes and tip) for a hamburger. Worth it? 100%. It was large, juicy, flavorful, and unlike any burger I've had before," a Yelper wrote.
Fox Bros. Bar-B-Q
Surprisingly, the top-ranked restaurant in Yelp's study isn't actually a burger joint, but a barbecue restaurant in Atlanta, Ga. Fox Bros. Bar-B-Q doesn't even use an actual burger patty as the base for its wildly popular "Burger." Instead, it sandwiches chopped Angus beef brisket, bacon, tomato, red onions, pickles, jalapeño mayo, and pimento cheese between a brioche bun.
Customers' love for this flavorful sandwich—as well as nearly 2,500 5-star reviews on Yelp—helped it nab the crown as America's best burger in the new study.
One Yelper raved in a February 2023 review that it was one of the "best burgers I've ever had" and called the flavor "incredible."
You'll only find this burger at the Fox Bros. Bar-B-Q location on Dekalb Ave. since the brothers left the item off menus at their handful of other locations in the Atlanta area.
Zoe Strozewski
Zoe Strozewski is a News Writer for Eat This, Not That! A Chicago native who now lives in New Jersey, she graduated from Kean University in 2020 with a bachelor's degree in journalism.
Read more about Zoe