8 Burger Chains That Make Their Burger Patties Fresh On-Site
Hand-pressed and then thrown on the grill!
When you are craving a juicy hamburger, nothing can kill the mood faster than hearing that your favorite burger joint is heating up patties that were delivered frozen on a truck from some facility hundreds of miles away. Many restaurant chains have been turning to never-frozen patties as their mode of operation, but even then you will find that many of those patties are delivered pre-formed and pre-pressed. Thankfully, you still have options if you're on a mission to find the freshest burger possible, made fresh every day.
Fresh patties made from real ingredients matter a lot to customers. As much as we would rather not admit it, hamburgers can come with a myriad of additives or fillers, not to mention hormones or steroids. Plus, McDonald's once admitted that their mass-produced beef burgers could potentially contain meat from up to 100 cows! So when you dine somewhere that hand-makes their own patties, you can rest assured that what you are about to eat is made with only real ingredients.
There are a number of burger chains across America that do make their patties by hand on-site. The result is often a delicious product made with high-quality ingredients (and none of those unnecessary ones). It is perhaps no coincidence then that all of the burger chains on this list that hand-make each patty are often so highly rated by their customers. Here's where you'll find burgers made from fresh beef on-site.
Smashburger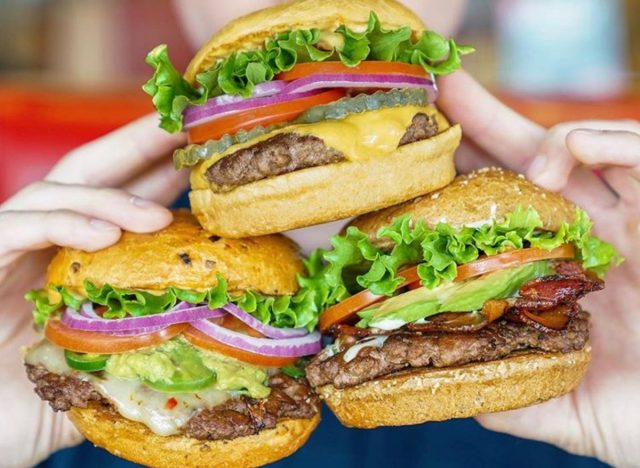 As the name implies, the patties at Smashburger are "hand-smashed to order" according to the burger chain's website. It all starts with 100% Certified Angus Beef that is hand-packed and hand-pressed right onto the grill using Smashburger's customized metal smasher. You can also order chicken, turkey, or black bean burgers as a substitute.6254a4d1642c605c54bf1cab17d50f1e
Fuddruckers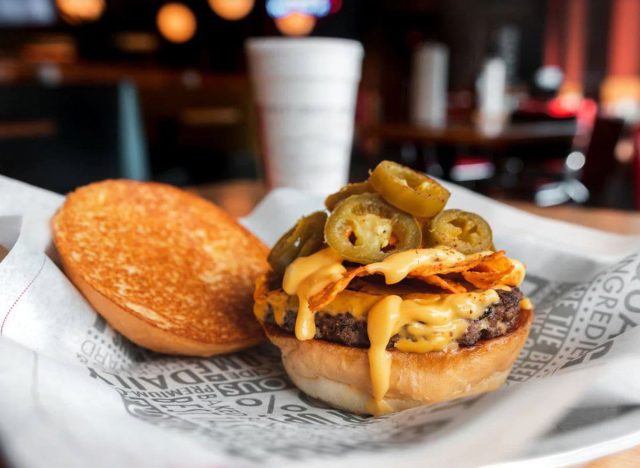 According to Fuddruckers, everything is prepared on-site, and that includes their patties. Nothing is grilled until an order is placed, and once it's time to prepare your burger, Fuddruckers uses never-frozen beef. To top it all off, even its burger buns are baked on-site, so everything you bite into is as fresh as it gets.
The Counter Custom Burgers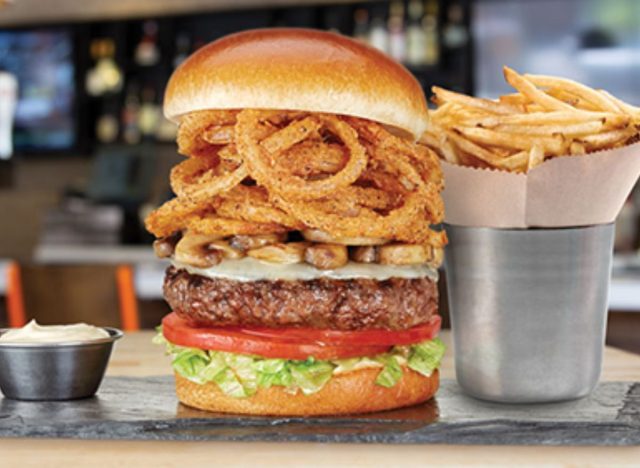 It does not get more custom than at The Counter Custom Burgers. Here, your burger is hand-built and made to order using only 11 ingredients (via PR Newswire). Whether it is a beef, chicken, turkey, or vegan veggie burger, The Counter Custom Burgers warns that "they can take a little longer" to make, but that's what comes with a pattie that is custom-made with each order.
Five Guys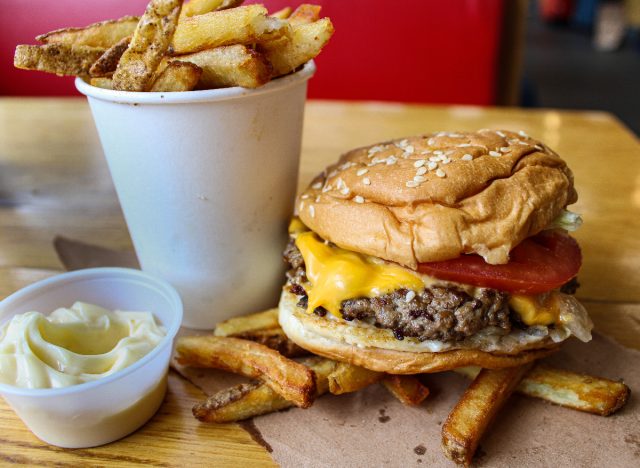 From its inception in 1986, Five Guys has been grilling hand-formed burgers for its customers. That practice has continued over the years, and a trip behind the counter will reveal that the chain still practices what it preaches by making the patties in-house every day (via Insider). To drive the point home, Five Guys boasts that customers will not see a single freezer in any of its restaurants, proving that its ingredients are among the freshest you will find.
Fatburger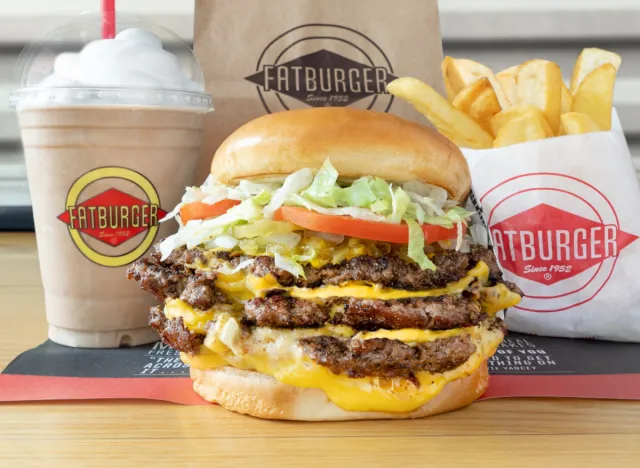 The recipe for Fatburger's success is the same today as it was when its founder Lovie Yancey established her very own business back in 1952. That includes patties that are hand-pressed and never frozen, according to Fatburger's website. This approach to fresh ingredients extends throughout the menu, all the way to the hand-scooped ice cream used in the milkshakes.
Hopdoddy
This smaller burger chain is all about quality ingredients, and as they say themselves, "handmade burgers are our thing." When you order a burger from Hopdoddy, you can rest assured that they cook with Verified All-Natural beef and 100% grass-fed, regenerative bison that is never frozen.
Culver's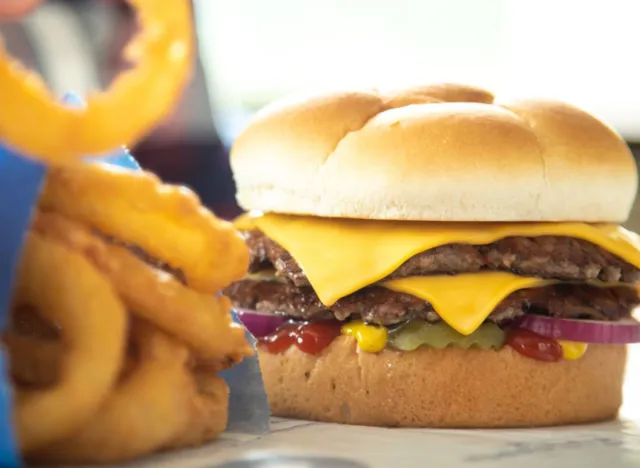 Culver's only uses fresh, never-frozen beef when grilling its signature Butter Burger, with each patty hand-pressed on-site after each order comes in. Each and every burger is made-to-order with all kinds of customizable options that customers can choose from.
Steak 'n Shake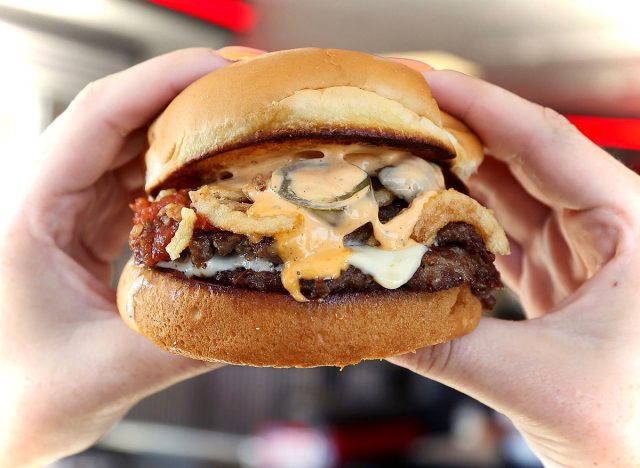 When Steak 'n Shake first opened in 1934, its founder Gus Belt would actually grind the meat in front of customers to make the patties that would then become a signature "Steakburger." That process is not done today, but Steak 'n Shake still hand-presses each and every burger patty with its classic combo of round, sirloin, and T-bone steak (hence the name 'steakburger').
Carly Neil
Carly Neil is a freelance writer specializing in all things food, travel, Disney, and theme parks.
Read more about Carly