I Tried 6 Frozen French Fry Brands & One Is Just Perfect
Freezer fries are easy and convenient to make, but which brands taste the best?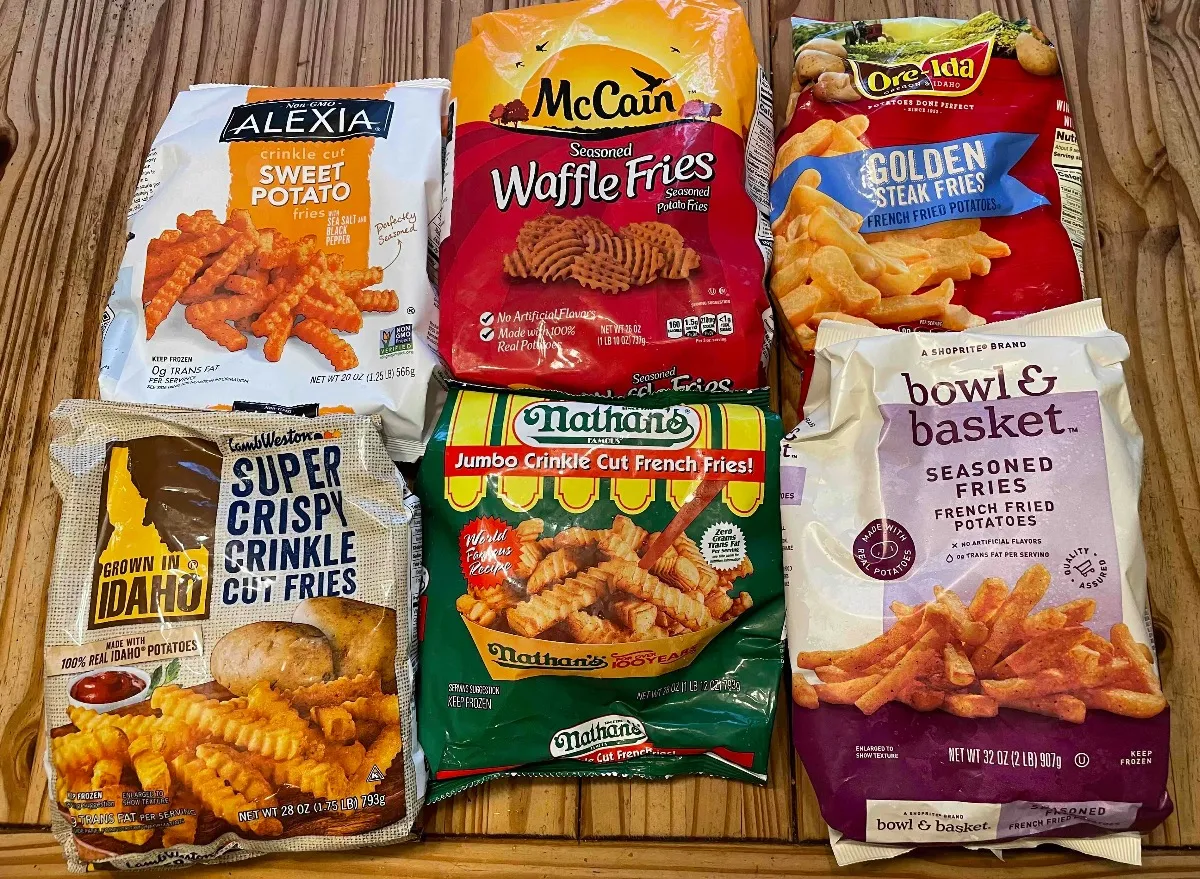 The product recommendations in this post are recommendations by the writer and/or expert(s) interviewed and do not contain affiliate links. Meaning: If you use these links to buy something, we will not earn a commission.
If you're a French fry fan—and really, who isn't?—then frozen fries from the grocery store are probably one of your go-to side dishes. The convenience of frozen French fries can't be beat. For most brands, all you need to do is pop them in the oven on a baking sheet.
Frozen fries may not qualify as health food, but the nice part about them is that you can count out the portion you want to eat or serve, then stick the rest back in the freezer for next time. With so many varieties, shapes and sizes of fries available at the grocery store, there's something to please everyone. But, which ones are the best and which ones should you pass up?
For my French fry taste test, I chose six popular brands from the grocery store freezer and cooked them all according to the instructions on the package in a conventional oven. Sure, I dipped each fry in some ketchup, but other than that, I did not alter the fries in any way. Spoiler alert: there were a couple of brands that were downright fantastic and one or two that I'd never buy again.
Read on for the top frozen fries money can buy—ranked from my least favorite to the absolute best—and see which ones are so lackluster that even a load of ketchup can't make taste good.
Bowl & Basket Seasoned Fries
Per serving (3 ounces): 140 cal, 7 g fat (1 g saturated fat), 240 mg sodium, 20 g carbs (2 g fiber, <1 g sugar), 2 g protein
The ShopRite brand of French fries demonstrated what can go wrong when selling a product pre-seasoned. Although there was clearly some stuff sprinkled on these fries, they were surprisingly bland. The fries were nice and long, so my kids could have a contest to see who had the longest fry, but beyond measuring these potatoes, I did not have any use for them.
Rating 3/10
Lamb Weston Super Crispy Crinkle Cut Fries
Per serving (3 ounces): 150 cal, 7 g fat  (2 g saturated fat), 330 mg sodium, 21 g carbs (2 g fiber, 1 g sugar), 2 g protein
I had never heard of Lamb Weston before, but I've since learned that it's a huge company headquartered in Idaho that specializes in potato products. These French fries baked up to an unappealing yellow color. They were super crunchy out of the oven and while edible, they were not particularly tasty and reminded me of some fries you'd get at an amusement park or the bowling alley.
Rating 4/10
Nathan's Famous Jumbo Crinkle Cut French Fries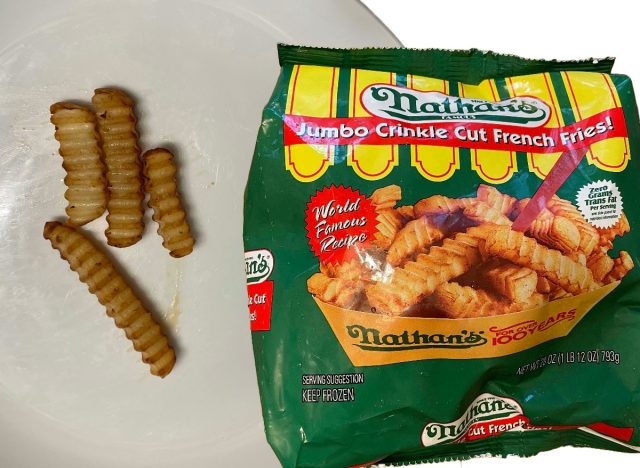 Per serving (3 ounces): 100 cal, 3 g fat (1 g saturated fat), 20 mg sodium, 17 g carbs (2 g fiber, 1 g sugar), 2 g protein[/nutrinfo-black]
Sometimes a restaurant brand has trouble translating its product into the grocery store while keeping the original taste the same, but these <a rel="noopener noreferrer external" href="https
://nathansfranks.sfdbrands.com/en-us/products/snacks-and-appetizers/jumbo-crinkle-cut-french-fries-28-oz-bag/" target="_blank">crinkle cut fries from Nathan's Famous made me feel like I was on the boardwalk at Coney Island, ready to ride the Cyclone! (OK, maybe I'd do that
before
eating the fries.) In any case, these fries cooked up slightly greasy but had a nice "meaty" potato taste. My kids agreed that we should buy them again.
Rating
: 7/10 [slidetitle num="3"]Ore-Ida Golden Steak Fries[/slidetitle]
://www.eatthis.com/wp-content/uploads/sites/4/2023/08/ore-ida-fries.jpeg?quality=82&strip=all&w=640" alt="ore-ida fries" width="640" height="469" />
Photo by Ronnie Koenig / Art by Jené Sena for Eat This, Not That!
[nutrinfo-black]Per serving (3 ounces)
: 90 cal, 3 g fat (0.5 g saturated fat), 290 mg sodium, 14 g carbs (1 g fiber, <1 g sugar), 2 g protein
Thick, wedge cut fries are so good that they almost feel like a meal themselves, and these fries from Ore-Ida deliver big on taste. These babies baked up to a golden-brown color and are the perfect vehicle for ketchup or any dipping sauce of your choosing. I love how they are very potato-y but still full of flavor—and one serving is surprising low in calories!
Rating: 8/10
Alexia Crinkle Cut Sweet Potato Fries
Per serving (3 ounces): 140 cal, 5 g fat (0 g saturated fat), 240 mg sodium, 22 g carbs (2 g fiber, 8 g sugar), 2 g protein

6254a4d1642c605c54bf1cab17d50f1e

I love sweet potato fries and will always choose them on a menu if it's an option, and I buy these from Alexia on the regular. (I've tried almost all the Alexia varieties and this one is my fave). These fries are seasoned and have a nice kick to them. One caveat is that you have to cook them precisely and check them from time to time, lest you undercook and end up with a soggy fry, or overcook them and end up with something burnt. But if you get the timing right, these fries are pretty much perfection.

Rating: 9/10
McCain Seasoned Waffle Fries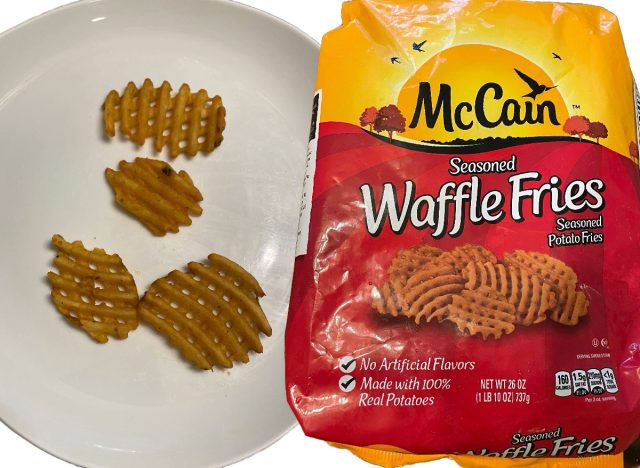 Per serving (3 ounces), 160 cal, 10 g fat (1.5 g saturated fat), 210 mg sodium, 19 g carbs (1 g fiber, < 1 g sugar), 2 g protein
While the fries in this package vary in size, most of them are big and they are just delicious to bite into. A waffle fry gives you great texture and lots of space for ketchup to seep in as you ferry the fry to your mouth. While some seasoned fries just taste overly salty, the seasoning on McCain Waffles Fries is just perfect—a little salty, slightly spicy, and downright yummy. Even my husband, who doesn't love French fries, commented, "I like these fries."
Rating: 10/10
Ronnie Koenig
Ronnie Koenig has written about food, drink, travel and culture for The New York Times, TODAY, The Atlantic and many others.
Read more about Ronnie