The Best French Fries in Every State
Who's up for a french fry road trip?
Shoestring. Crinkle-cut. Curly. Waffle. No matter how you like your fries, there's no denying that fried potatoes are one of the most classic American side dishes out there. And while the fries from places like McDonald's and Shake Shack are great, sometimes you want a spud that's a little more off the beaten path. Don't worry: We have you covered.
We've rounded up some of the best French fries in every state, and you just might plan a road trip after reading this list.
But if you're indulging in fries, be sure to avoid the 8 Worst Fast-Food Burgers to Stay Away From Right Now.
ALABAMA: The Southern Kitchen and Bar in Birmingham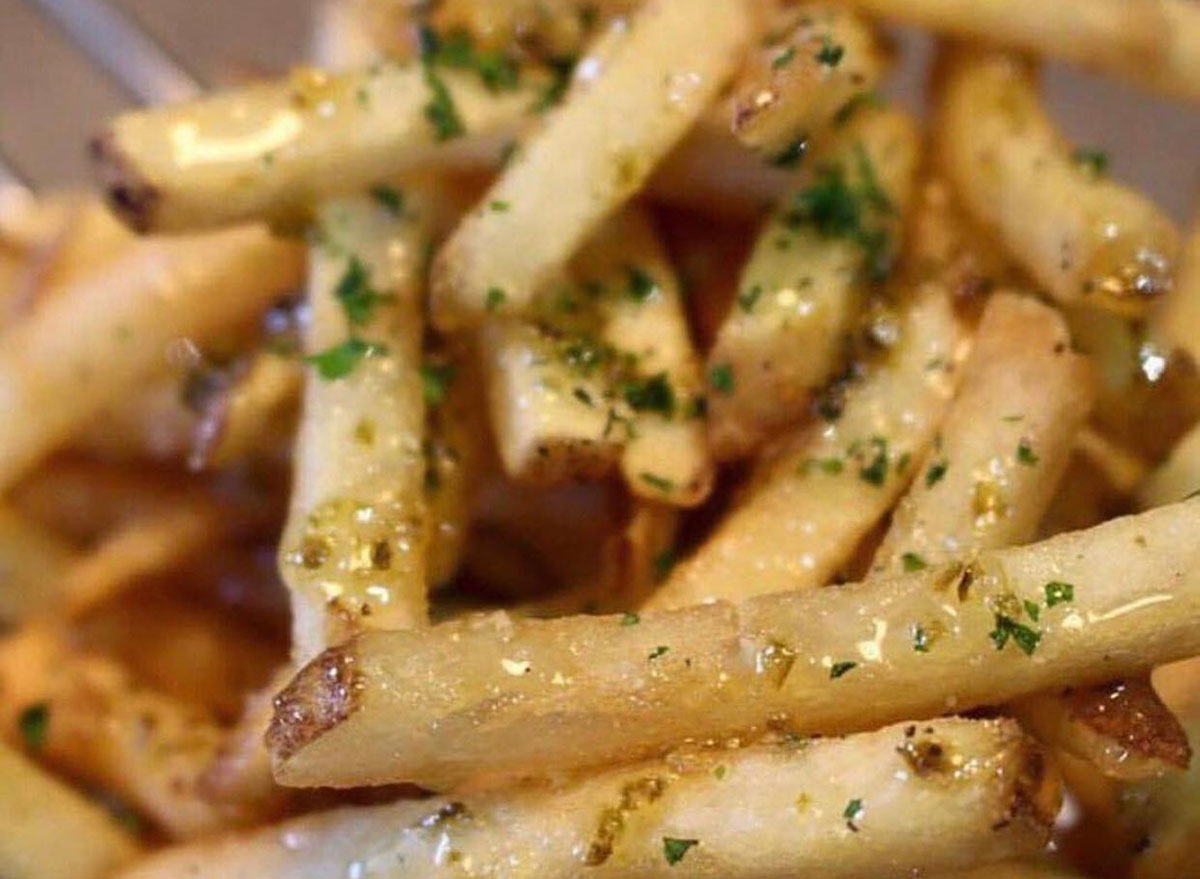 Just looking at the menu at this Alabama family-style restaurant makes you hungry. When it comes to fries, they are at the top of their game. They start with thin-cut, super crispy potatoes and drizzle jalapeño-honey sauce over the top for a kick. Incredible!
ALASKA: International House of Hot Dogs in Anchorage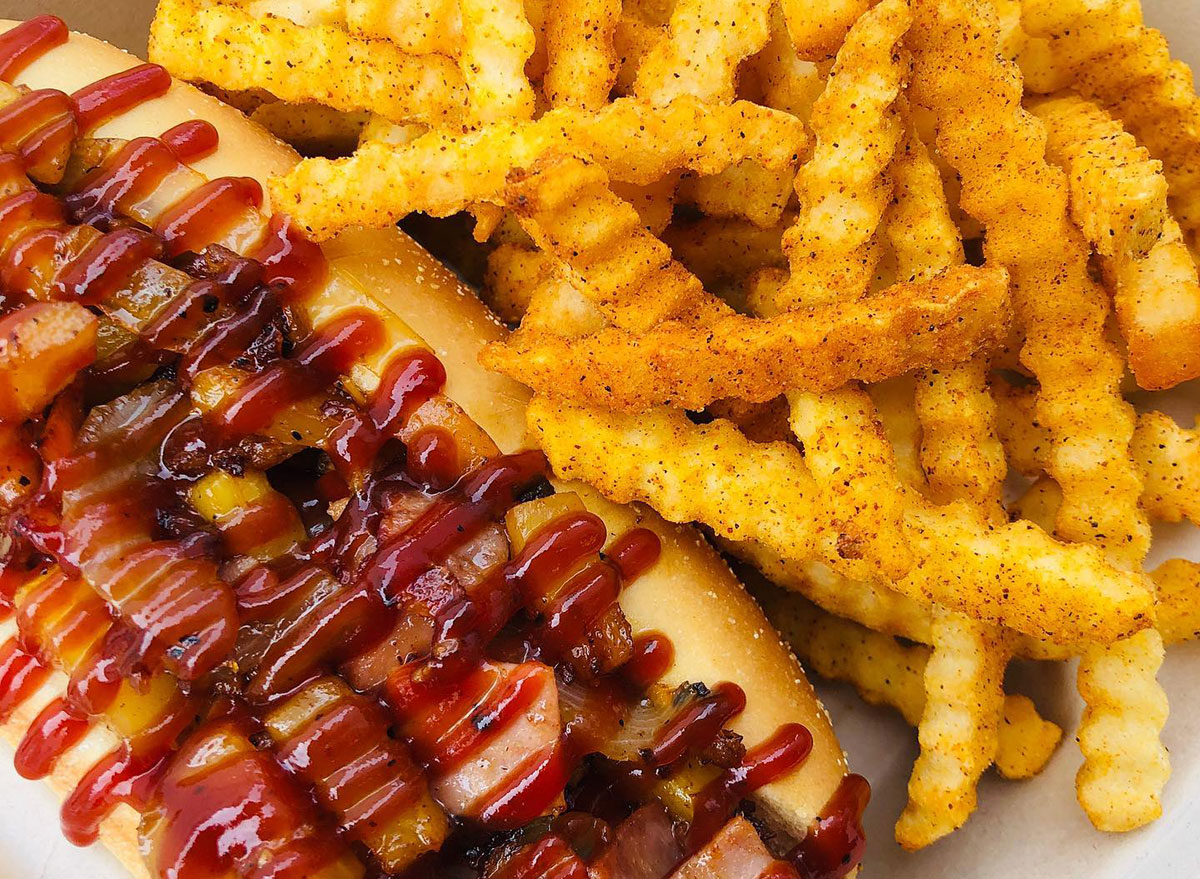 Cilantro fries are offered with a whole horde of hot dog choices at International House of Hot Dogs. There's even a vegan dog! The fries are chunky and crisped and served with chipotle sauce for extra heat.
ARIZONA: Diablo Burger in Flagstaff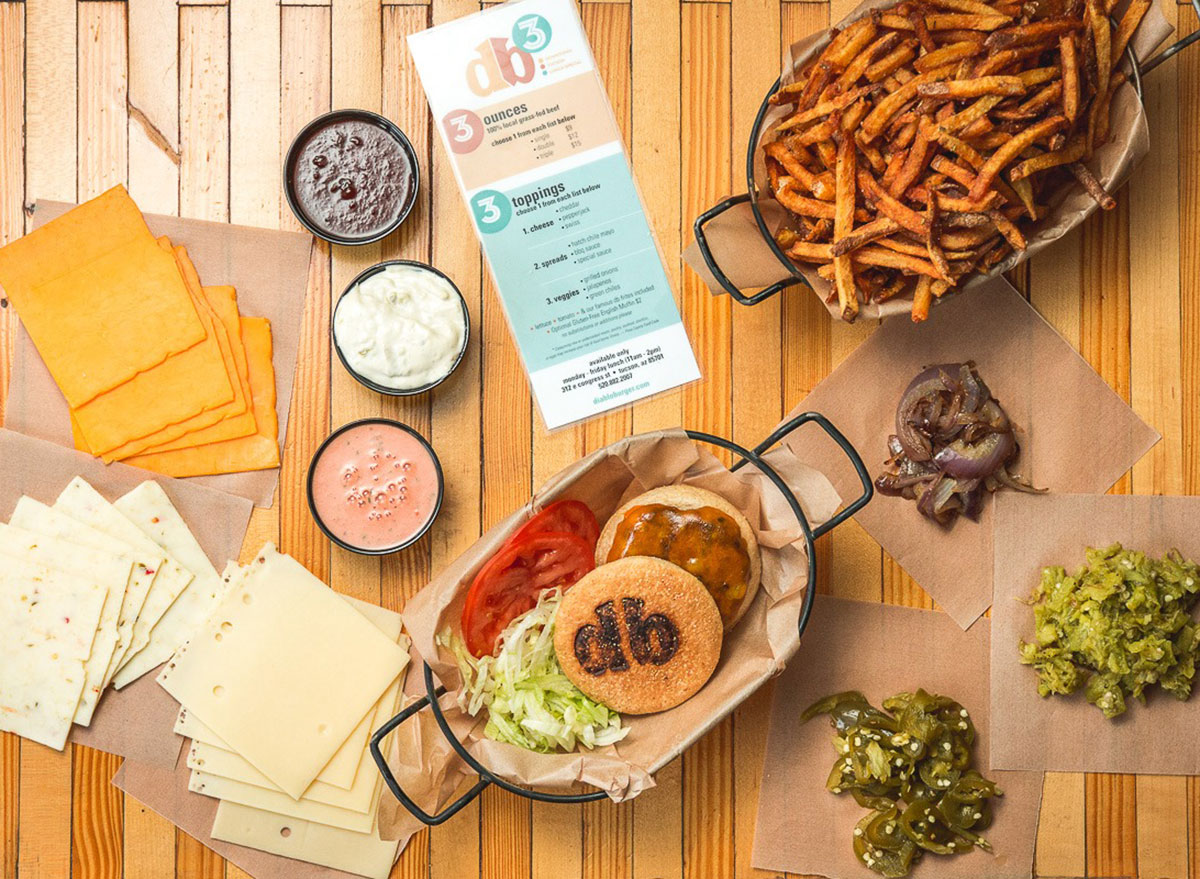 This local restaurant specializes in Belgian fries. The method requires the potatoes to be fried, sit and cool for several hours, and then be fried again. The potatoes are cut thicker but don't lose any crispness with their size. Diablo serves these culinary works of art with your choice of seven dipping sauces, including hatch chile mayo or spicy honey mustard.
ARKANSAS: Hubcap Burger Company in Little Rock
Somewhere between a chip and a fry, these potato planks have fans all over the state. Try them with the Hubcap dipping sauce, the recipe a closely guarded secret. You won't be disappointed!
CALIFORNIA: The Hat in Alhambra
It's all about the loaded fries in Los Angeles. Diners are hard-pressed to pick a favorite, but The Hat offers a few versions that will make your taste buds sing and fill you up for the day. Try your fries "wet" with gravy or topped with a generous portion of chipped pastrami with chili cheese.
COLORADO: Will Call Bar & Restaurant in Denver
We can't write an ode to the best fries in the country without mentioning the sweet potato version, and in Colorado, Will Call is famous for just that. Cut into thick wedges and skillfully made crispy, they are finished off with a balsamic reduction drizzle. So good.
CONNECTICUT: Super Duper Weenie in Fairfield
The fries at Super Duper Weenie have many fans, probably due to being freshly cut from carefully selected potatoes and fried to perfect crispness. Simply adorned with fresh black pepper and salt, these fries have a delicious simplicity.
DELAWARE: Matt's Fish Camp in Bethany Beach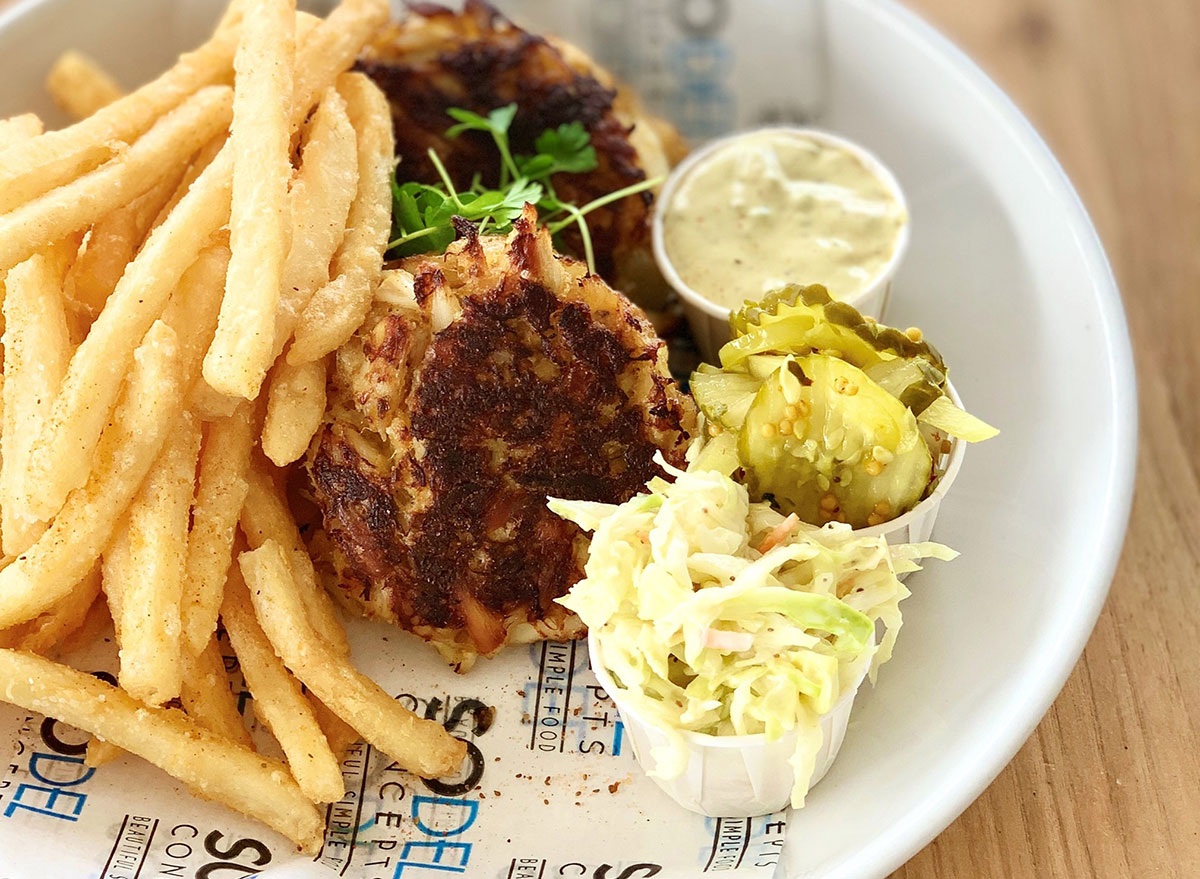 There's no doubt that Delaware's coastline provides restaurants with great seafood choices. It's Matt's Fish Camp that makes a crab and fry combination that's so good, it's sinful. Fresh potatoes are topped with a creamy crab and old bay sauce. Order them as a side for the lobster roll, and you won't be disappointed.
FLORIDA: Best French Fries Food Truck in West Palm Beach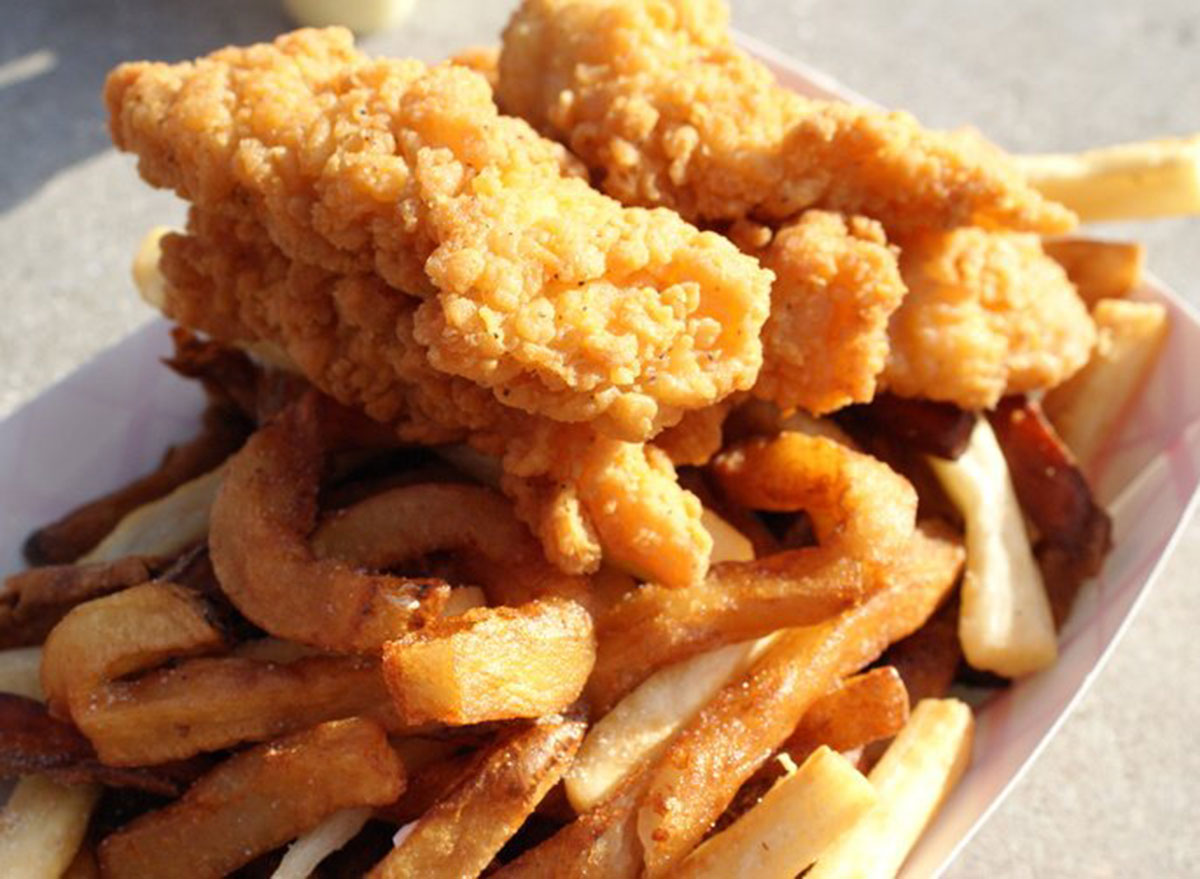 When you specialize in one thing, you become an expert. BFF Food Truck is an expert on fries. Idaho potatoes, hand-cut, are fried golden brown and served hot in a fry cone with two dipping sauces. Prepare to make decisions, as you have about sixteen dips to choose from, many from scratch. Try sour cream, sriracha, or even chocolate!
GEORGIA: Spanky's Pizza Galley & Saloon in Savannah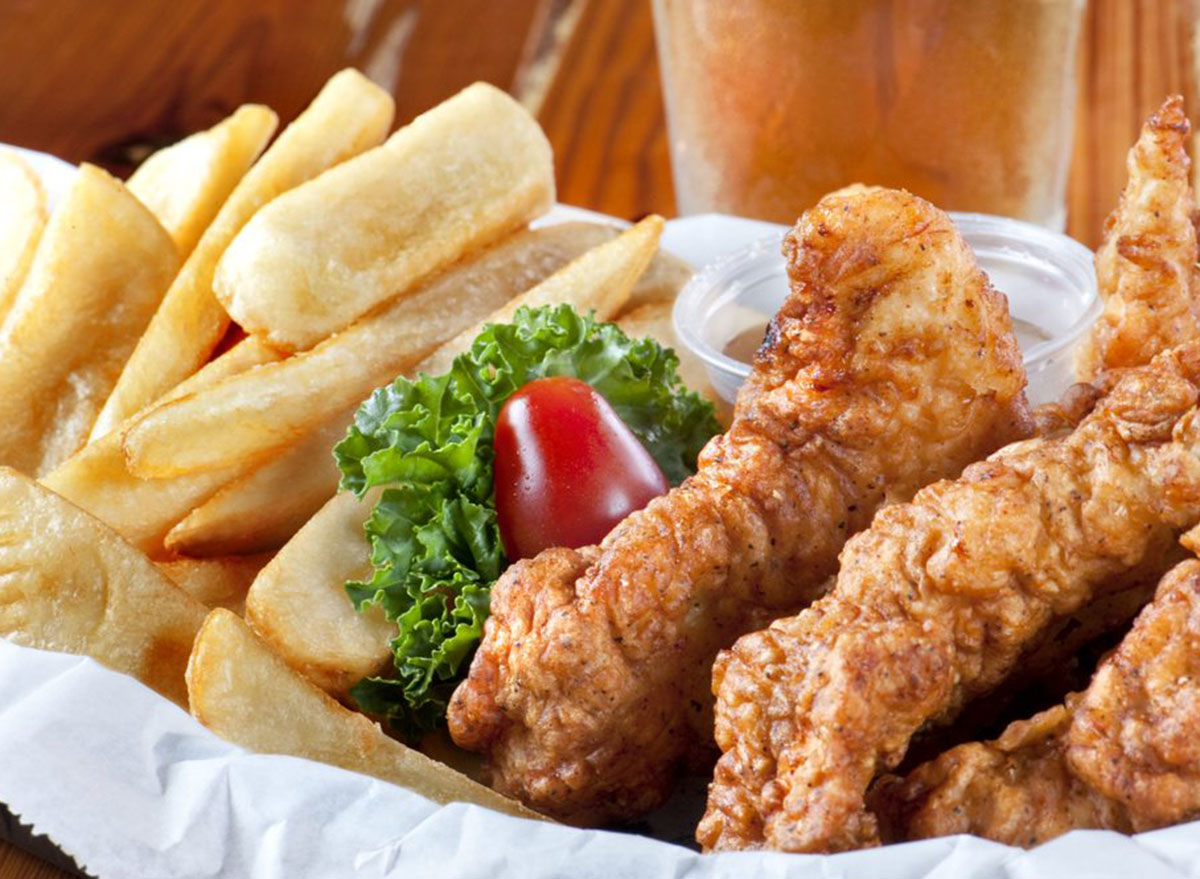 Spanky's has been a local institution for years, serving up chicken fingers and hearty bar food to diners at several locations. They are known for their unique fry style called spuds, a sliced potato that's beer-battered, fried, and served with a spicy honey horseradish dip that's so good you could bathe in it. All the restaurants in the group have these on the menu, but Spanky's River Street comes with a view of the river that can't be beaten.
HAWAII: Honolulu Burger Company in Honolulu
Pair grass-fed beef burgers with truffle fries, and you've got a win. Honolulu Burger Company has an innovative menu. Burger versions include the Buta Kau Kau burger with kalua pig, ham, and bacon, or, on the opposite end of the spectrum, the Portobello Veggie Burger. There are tons of versions of fries: garlic, poutine, chili. Visitors rave about the Truffle Fries.
IDAHO: Boise Fry Company in Boise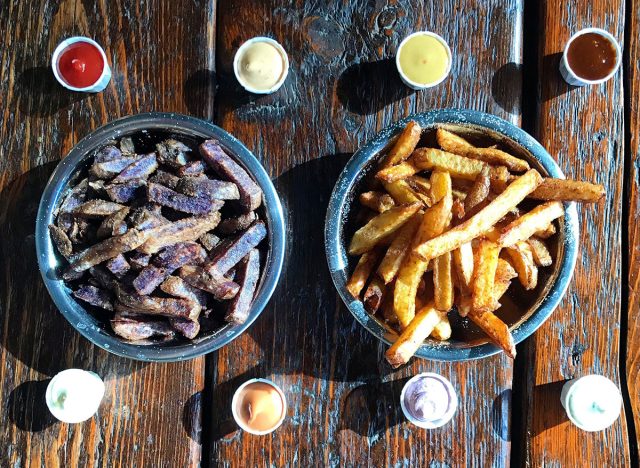 The best fries in Idaho have to come from Idaho potatoes. The Boise Fry Company has five locations to serve locals with potato appetites. Start by choosing the type of potato from russet, purple, gold, and more, and your choice is fried in sunflower oil. More choices are offered with multiple seasonings and dipping sauces to suit every palate.
ILLINOIS: Edzo's Burger Shop in Evanston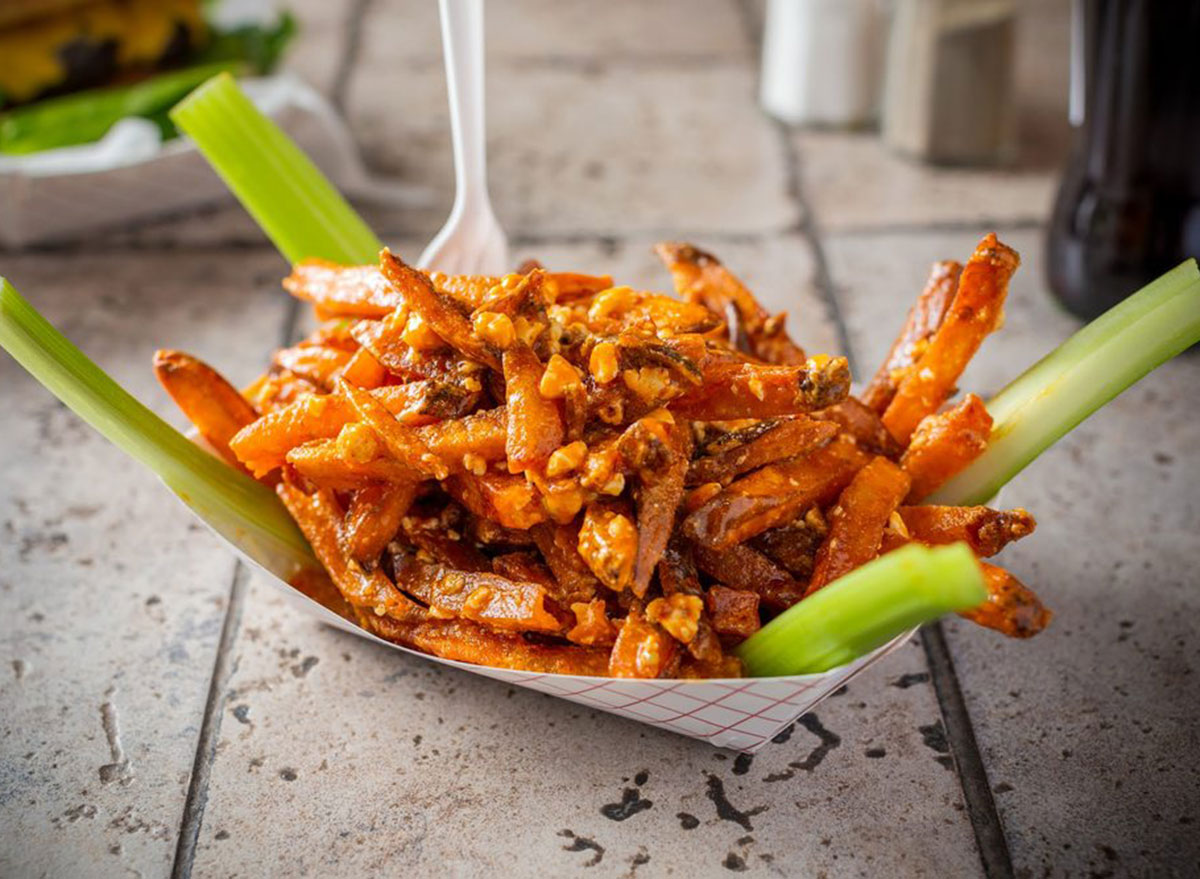 Pick from Angry Fries, Crazy Fries, or multiple other choices at this burger joint. They have truffle, lobster, garlic, buffalo, and cheese as toppings, to name a few.
INDIANA: Ziffles Rib Bar in Fort Wayne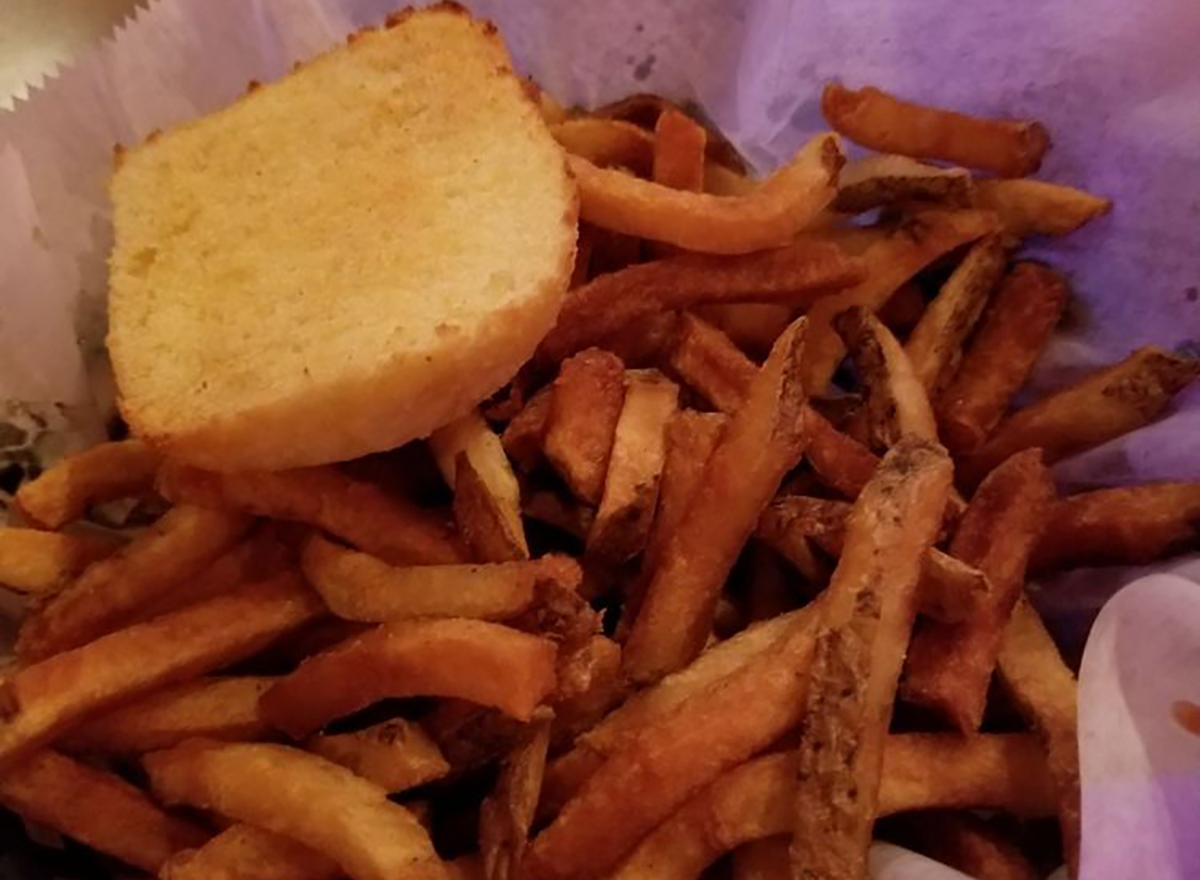 Ziffles' Cheezy Fries can be topped with pretty much any meat and vegetable you can think of.
IOWA: Saucy Focaccia in Cedar Rapids
Bacon Mac and Cheese Fries? Yes, please! One of the choices for Saucy Focaccia's famously delicious fries is a topping of fried macaroni and creamy cheese. There are many other choices, like Mexi-fries with jalapeño, tomato, sour cream, cheesy sauce, and the crowd-pleasing chili fries. Every week, the restaurant comes up with a new combo for a special, so one trip to this spot is not enough.
KANSAS: The Burger Stand at the Casbah in Lawrence
This burger joint makes the list for their duck-fat fries. They are a decadent indulgence with a deep rich flavor that makes your taste buds sing. Get a side, or commit to a whole basket.
KENTUCKY: The Village Anchor Pub & Roost in Anchorage
Southern-American is the specialty dining offered in this Kentucky bistro. The fries come with a Southern flair. Try the sweet potato version with marshmallow dipping sauce, and you'll satisfy your sweet tooth!
LOUISIANA: The Harbor Bar & Grill in Metairie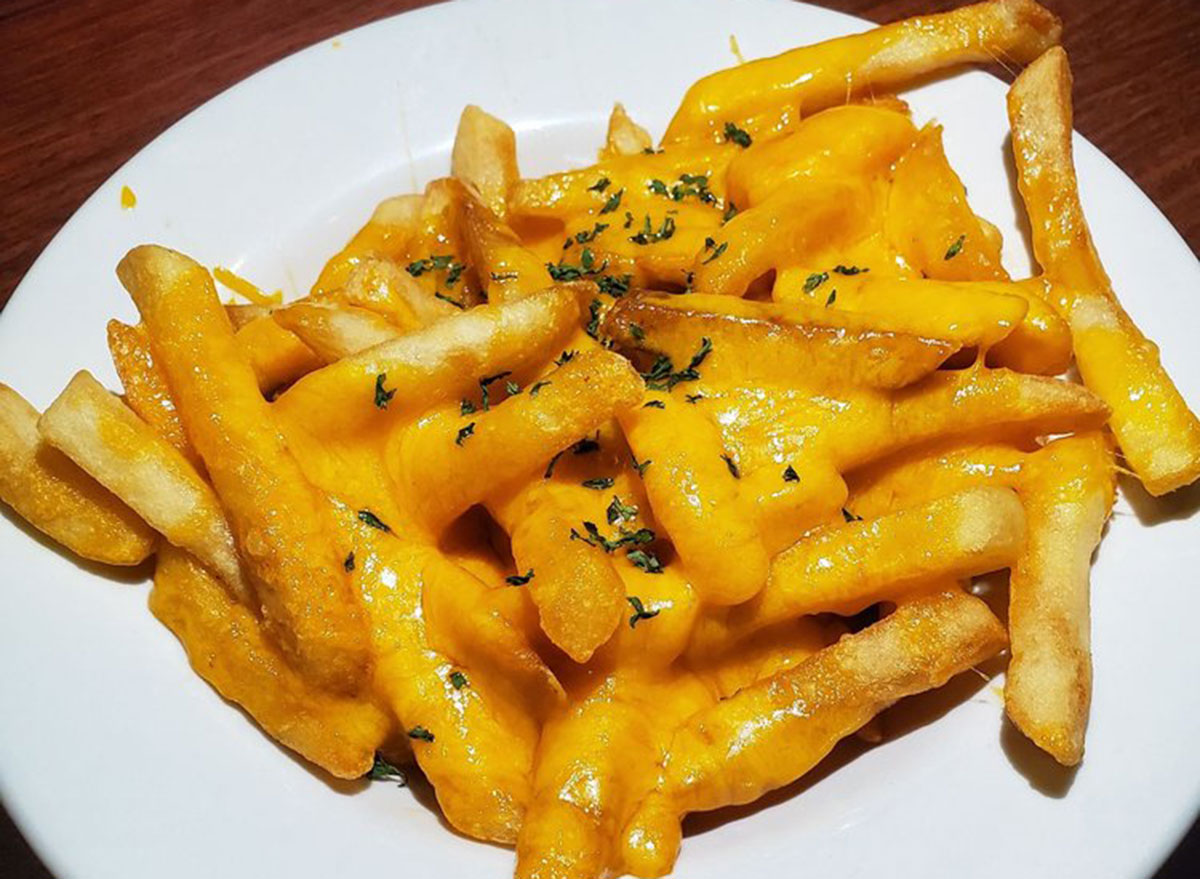 Revelers truly appreciate the late-night cheese fries, the favorite item on the menu at The Harbor Bar & Grill. The sauce is a blend of three cheeses topped with green onions. Served up in a paper boat with a fork to shovel them in, the hangovers in Louisiana are improved with this treat.
MAINE: Duckfat in Portland
With a name like Duckfat, you have to expect that the fries are good. Yes, they are cooked in duck fat, and yes, they are delicious. Eat the hand-cut Belgian fries with a flight of sauces: truffle ketchup, Thai chili mayo, curry mayo, horseradish mayo, and garlic mayo.
MARYLAND: Thrasher's French Fries in Ocean City
Thrasher's claims to have the "best french fries on the planet," and quite a few visitors to their food stand agree. In fact, Thrasher's has been serving their secret recipe since 1929 with the lines stretching down the boardwalk as proof of their delicious taste.
MASSACHUSETTS: The Fix Burger Bar in Worcester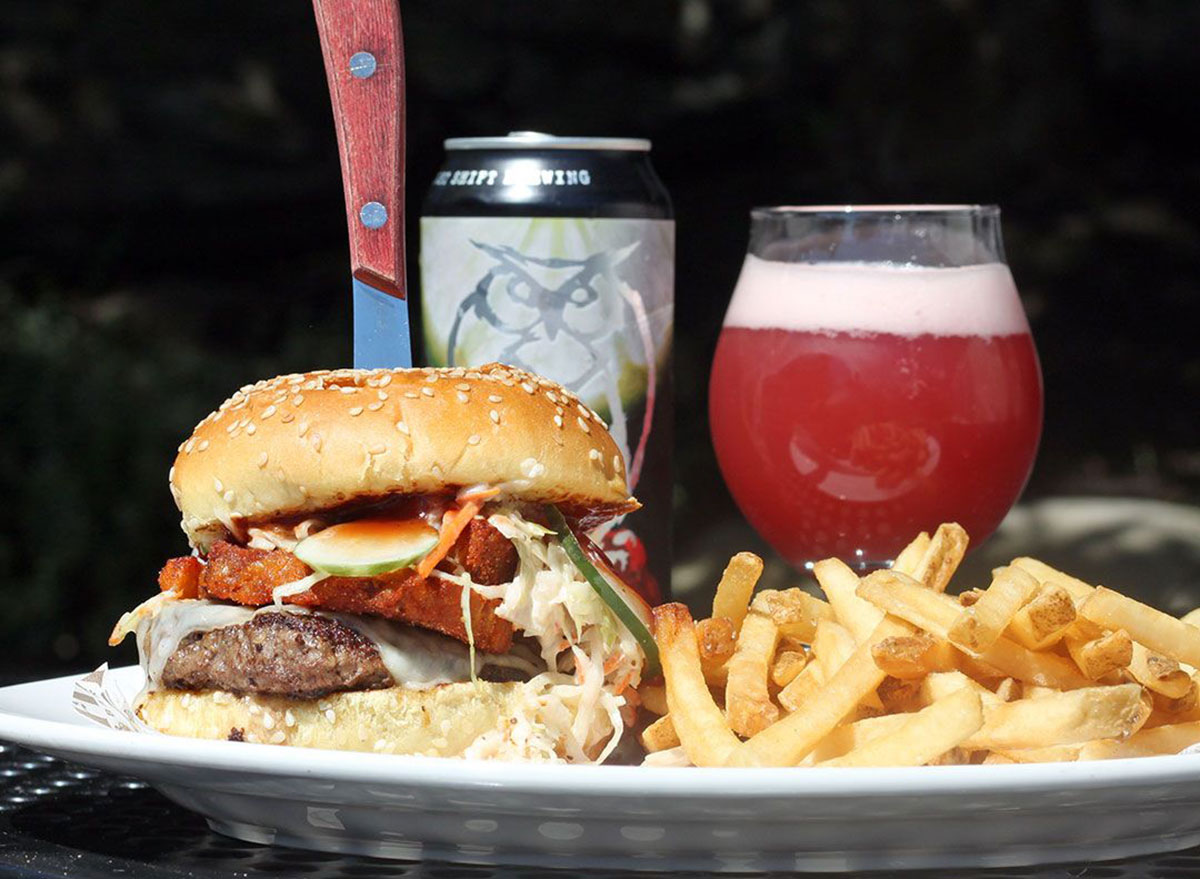 Not only does this burger bar have deliciously crisp fries to compliment the vast selection of sandwiches, but it also offers vegetable fries. The restaurant rounds out your meal choices with a great beer selection to wash down those yummy fried potatoes.
MICHIGAN: Hopcat in East Lansing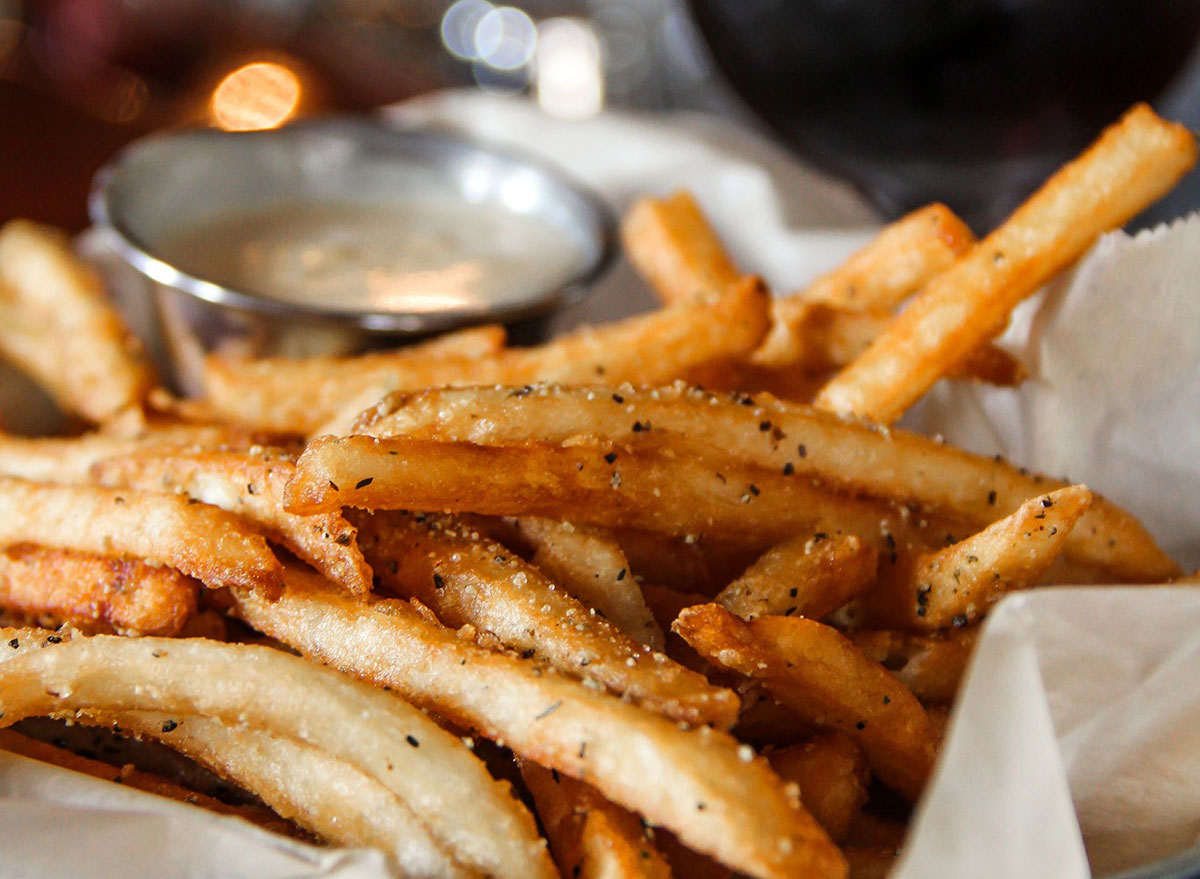 The Food Network put this place on the map for being in the top ten fries in America. What makes these fries special? The original version is beer-battered and then fried and served with a special cracked black peppers seasoning. On the side, diners get a dish of warm cheese sauce. Amazingly good.
MINNESOTA: Tilia in Minneapolis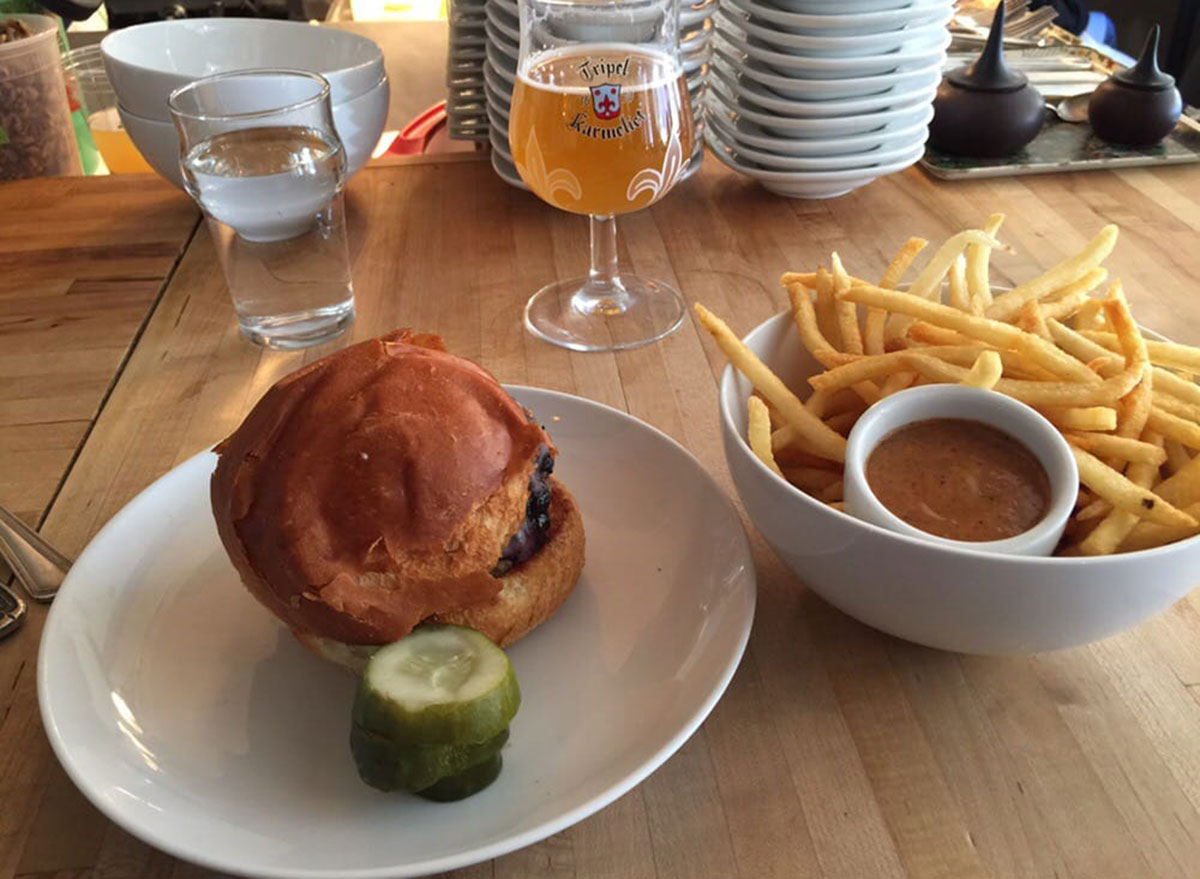 If you're looking for a load of fries to satisfy even the biggest appetite, look no further than Tilia. The restaurant's take on the side dish is delicate, crispy, and served with a tomato-based fry sauce.
MISSISSIPPI: Belgicans Fries in Biloxi
Country fries, bacon cheeseburger, taco, seafood delight, surf and turf, and even apple turnover fries—these are only a few of the list of fry choices at this mall favorite. Their motto is "It's not just fries, it's a meal," and they mean it.
MISSOURI: Aviary Cafe in Springfield
The beautiful menu at the Aviary Cafe has so much to be recommended, but when it comes to fries, this restaurant knows how to make a tasty spud. They make a classic pomme frites version, which is double-fried in truffle oil, dusted with sea salt, and served with garlic aioli.
MONTANA: Mooyah in Billings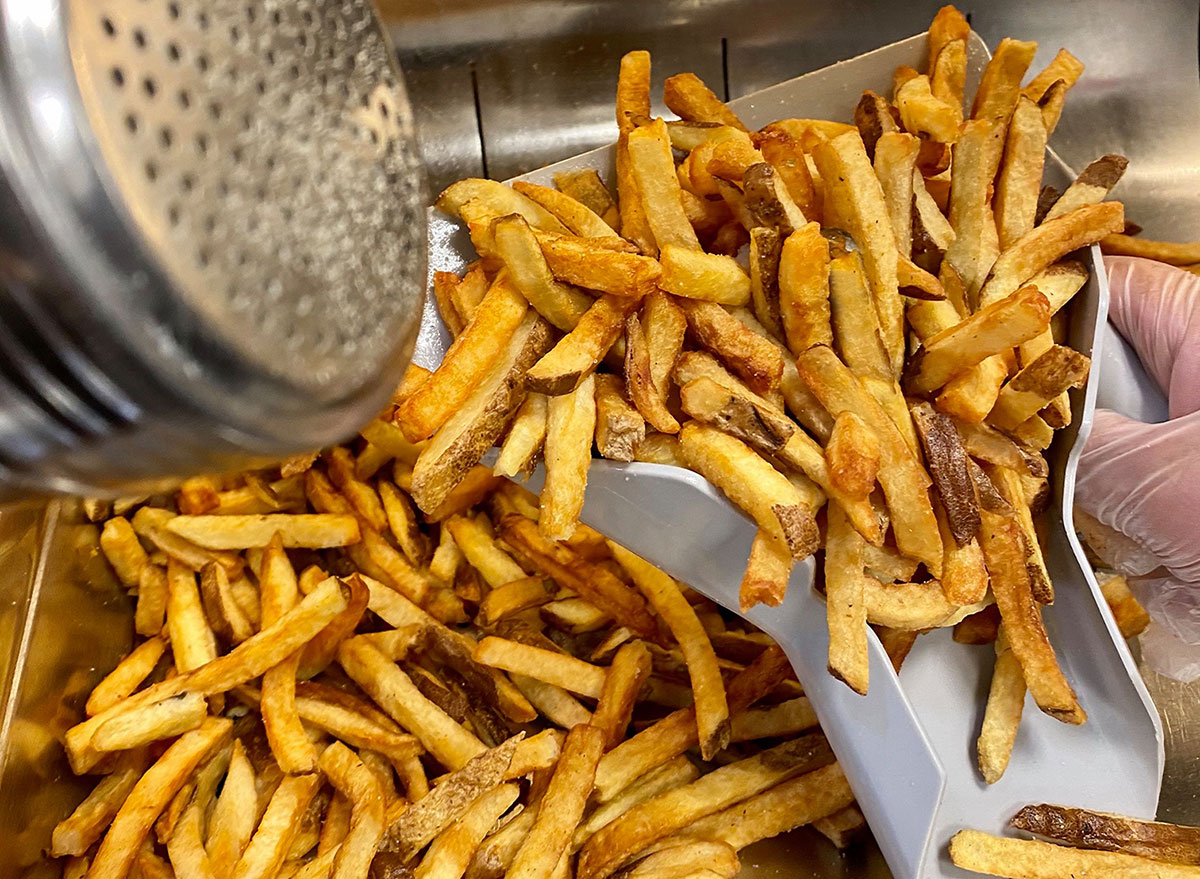 Mooyah dishes up burgers, fries, and shakes with authority. The fresh-cut fries are offered in ample portions and served with fry sauce and ranch. This place is known for having the taste of a real old-school burger joint!
NEBRASKA: Bronco's in Omaha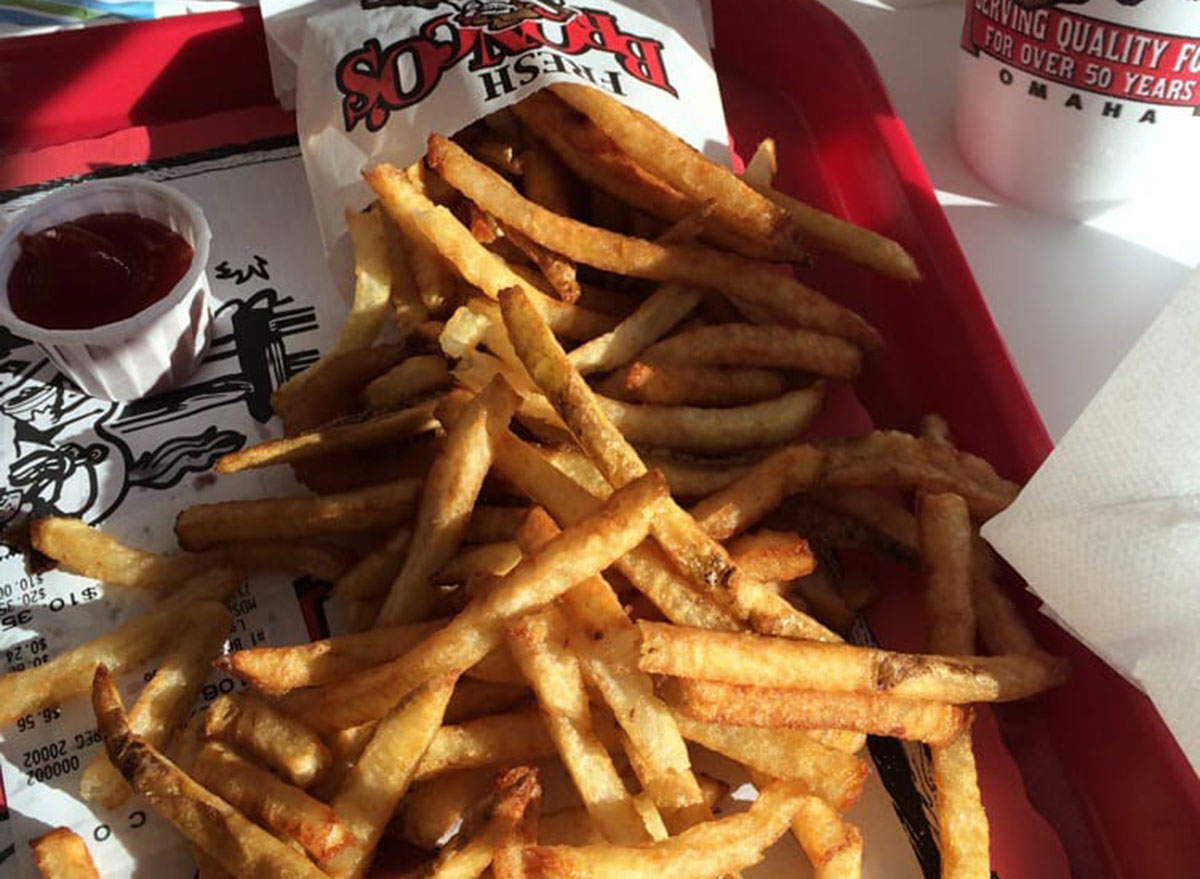 Diners recommend dunking these salty potatoes in Bronco's handmade shakes. They can be ordered extra crispy and are fresh and plentiful. They've perfected their recipe since 1959, and their claim to fame is that there is only one ingredient that goes into making them: potatoes.
NEVADA: Potato Corner in Las Vegas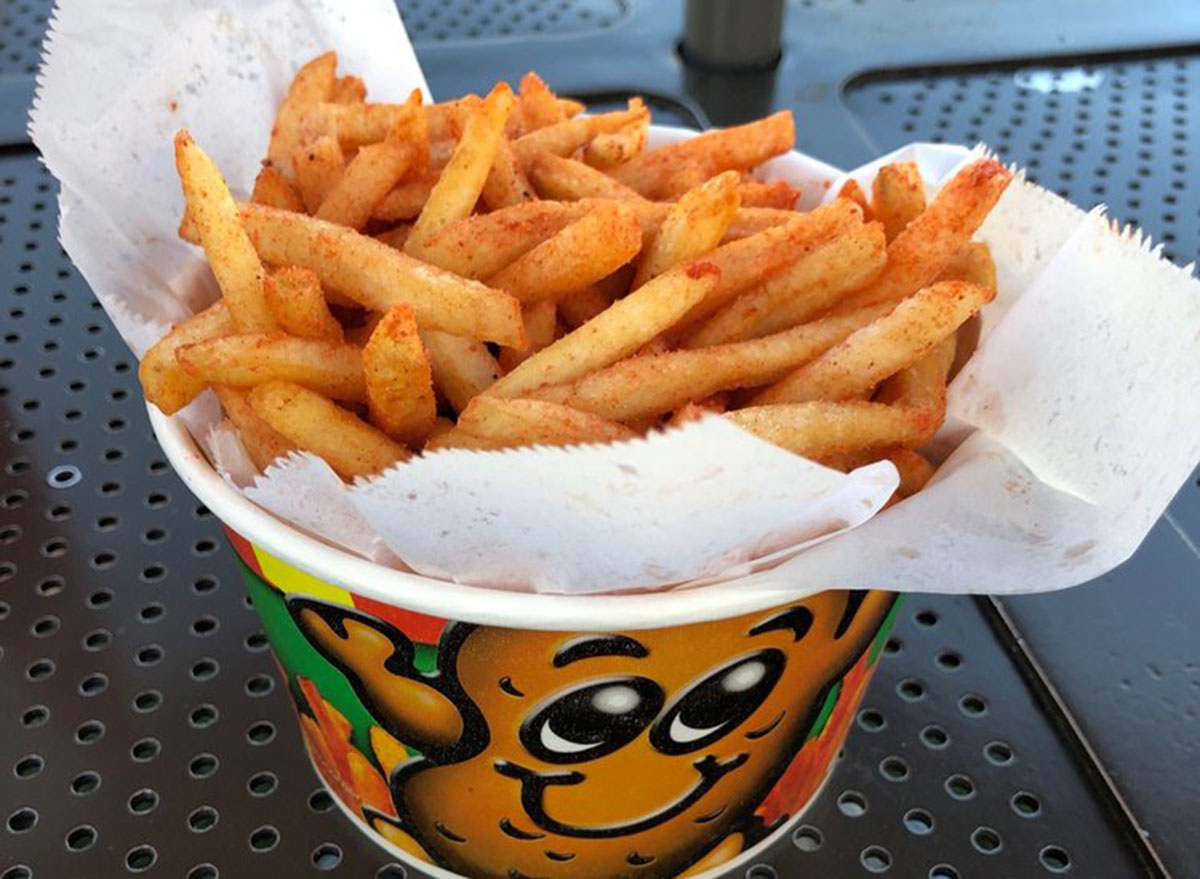 Potato Corner not only has a crispy texture to its fry recipe, but the restaurant also has what they consider the best-flavored fry around. Start by picking a size, jumbo, mega, or giga, and then pick your flavor. Visitors love the Chili BBQ style, but you shouldn't miss the cinnamon and sugar, just for the novelty.
NEW HAMPSHIRE: Fritz in Keene
For Belgian fries, you can't beat this casual eatery. This version is hand-cut and prepared with a two-step process. Fritz has a large collection of dipping sauces to choose from: peanut satay, curry ketchup, lemon dill, and sweet mango, just to name a few.
NEW JERSEY: Hot Dog Johnny's in Buttzville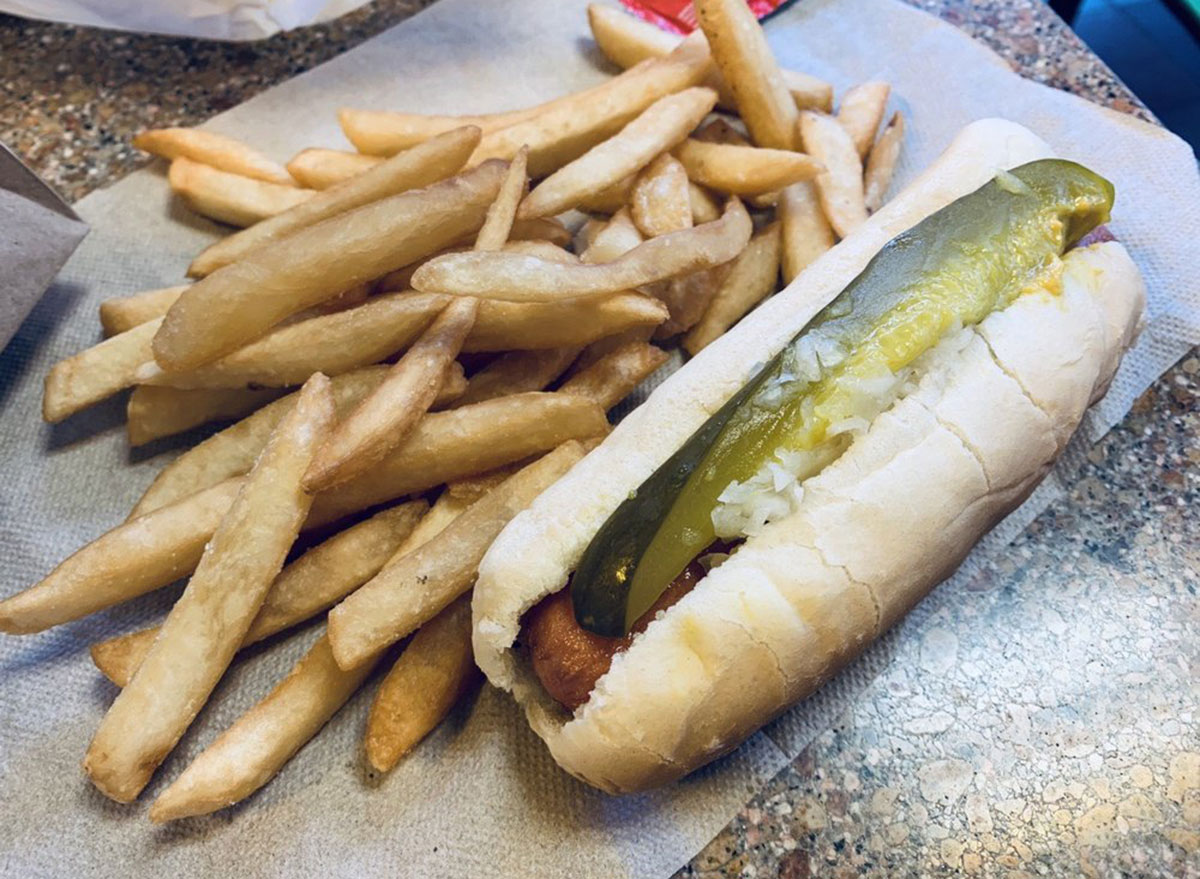 Look for the big hot dog on the roof of this roadside restaurant to find the best fries in New Jersey. The fries are super fresh and just plain delicious on their own. You won't find any gourmet versions or different sauces here. They specialize in just plain fries and do it well. Wash it all down with some freshly made birch beer.
NEW MEXICO: Holy Burger in Albuquerque
Hand-cut fries from fresh potatoes make the best french fries. The regular version served at Holy Burger is delicious, just the right thickness, tender center, and crisped outside. If you want to be adventurous, try the parmesan zucchini or sweet potato fries.
NEW YORK: 4 Charles Prime Rib in New York City
This New York hot spot has a wait for reservations, and for good reason. The intimate decor sets the stage for a decadent and hearty meal. Though it might not seem the place for fries, these are cooked in beef tallow to a pleasant consistency, thickly cut and tasty.
NORTH CAROLINA: Picnic in Durham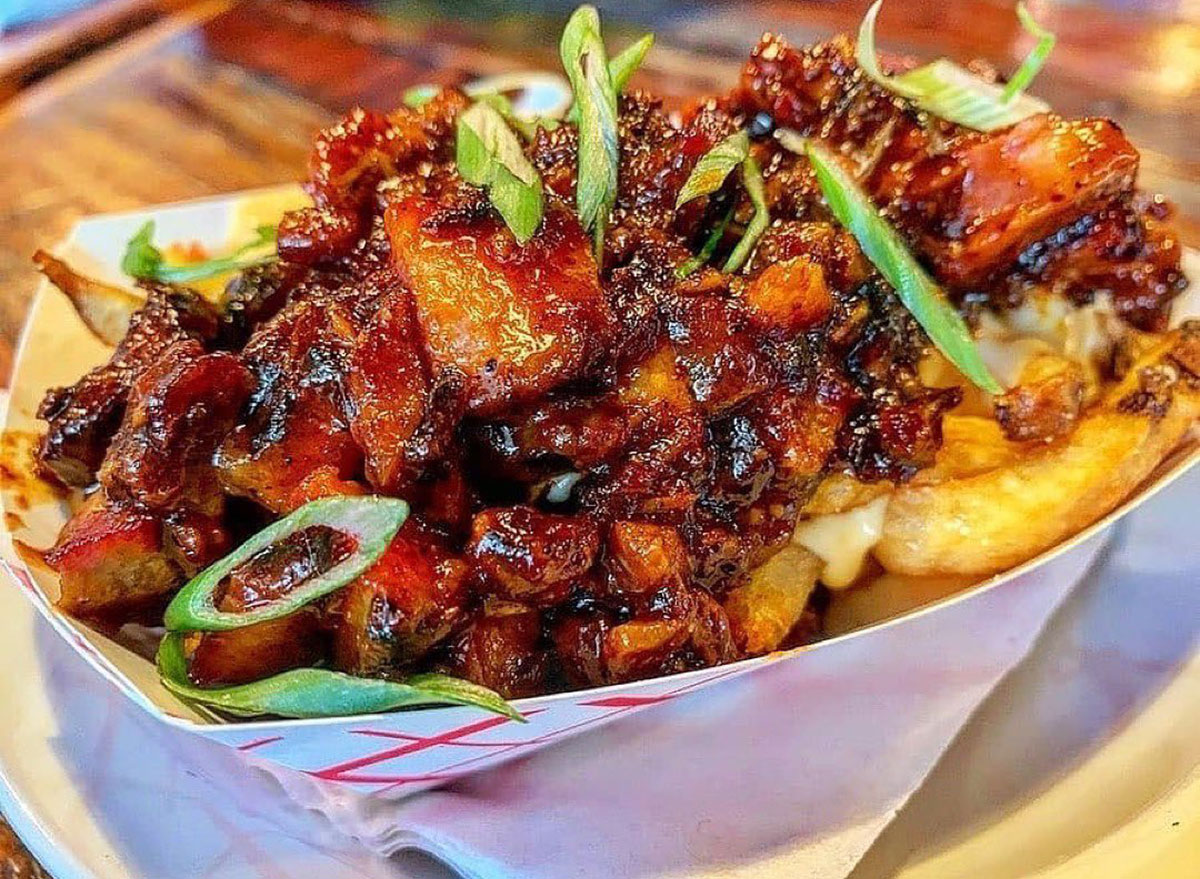 All the menu items that you'd love to see in a BBQ joint are at Picnic, a celebration of North Carolina barbecue. Start with deviled eggs, try some ribs, and eat your fries smothered with pulled pork and barbecue sauce.
NORTH DAKOTA: Herd & Horns in Fargo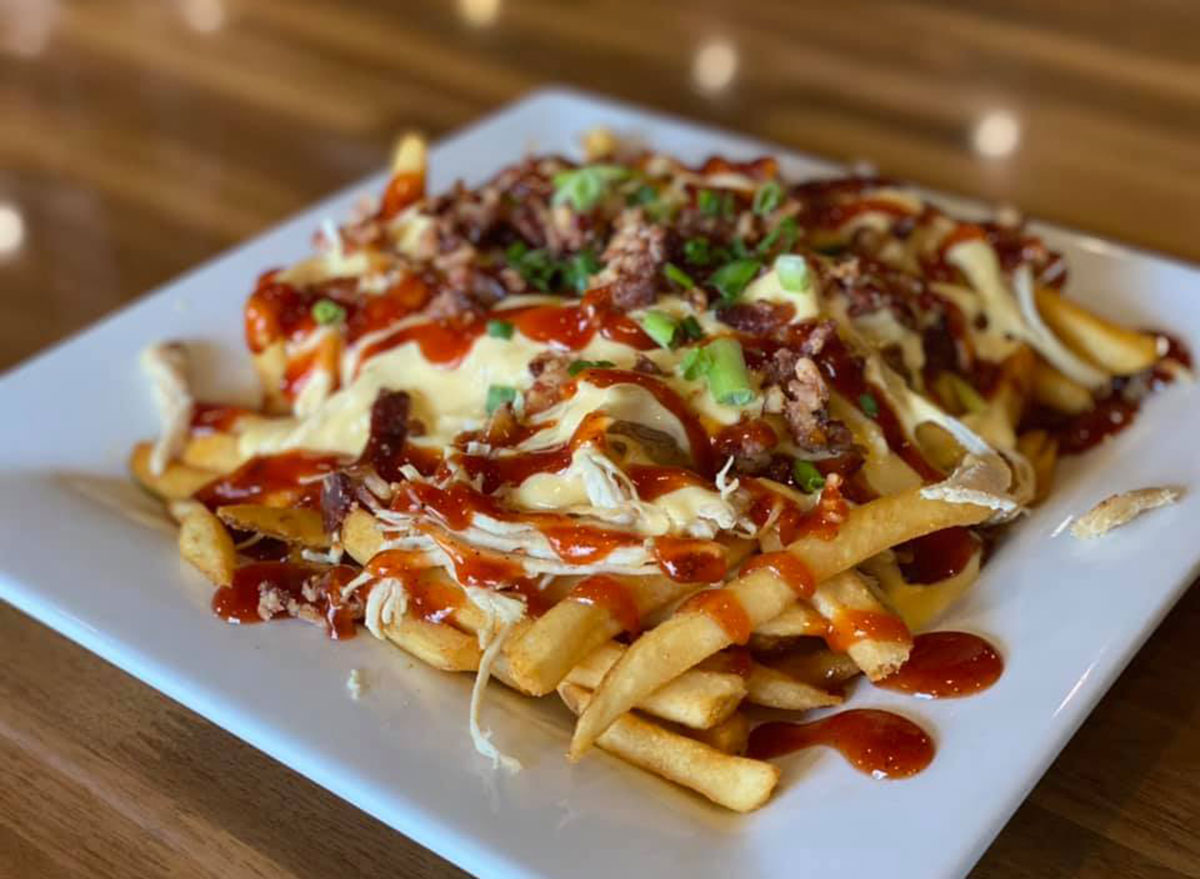 Basic fries are upgraded at this bar and grill. The sweet potato fries are served with a maple bacon cream cheese dip and the buffalo fries are topped with buffalo sauce, bleu cheese, tomato, celery, and ranch. The plain fries are cooked perfectly and tasty as well.
OHIO: Service Bar in Columbus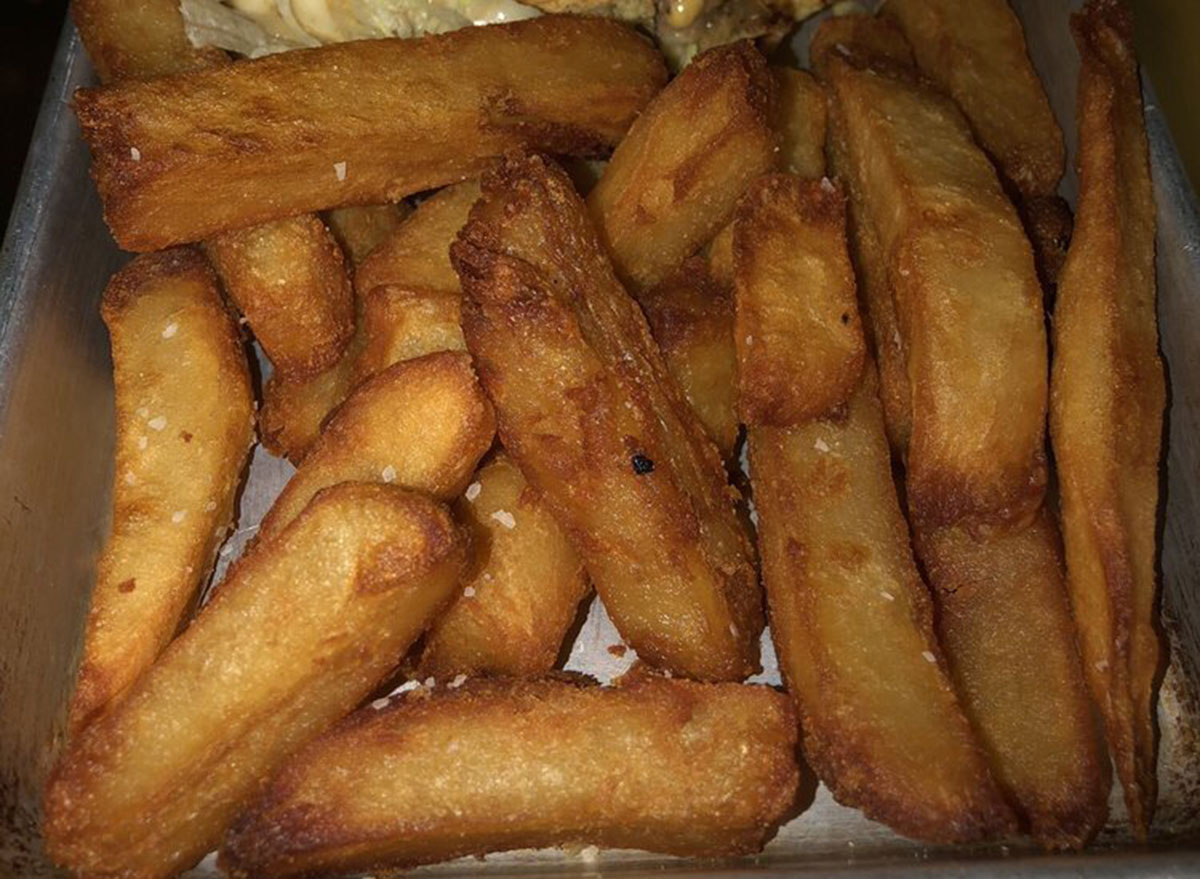 The effort put into the fries at Service Bar is astounding. They take three days to be created, going through brining, drying, freezing, and frying to craft the perfect fry. The restaurant uses special blends of oil and hand separates the potatoes to prevent sticking. No wonder they are a cult favorite in Ohio!6254a4d1642c605c54bf1cab17d50f1e
OKLAHOMA: Interurban Restaurant in Norman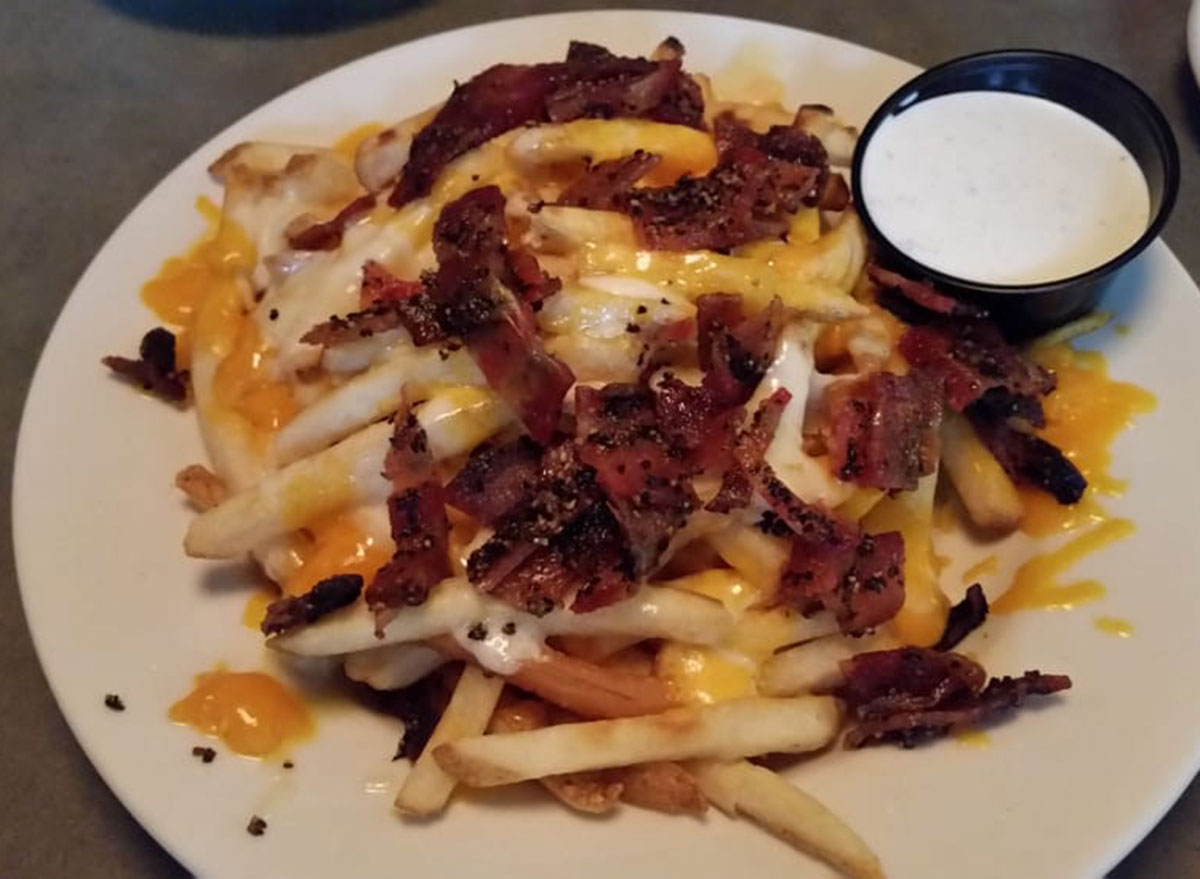 Interurban serves up Okie Fries seasoned and loaded with melted jack and cheddar cheese. Honey pepper bacon bits are sprinkled across the top to kick up the flavor. The dish is served with homemade ranch dressing.
OREGON: Nancy Jo's Burgers and Fries in Portland
Nancy Jo's has perfected the classic combination of burgers and fries. They are the best because the oversized potatoes are consistent in quality, freshness, and taste. Sometimes, it's good to keep it simple.
PENNSYLVANIA: JR's Fresh Cut Fries in Philadelphia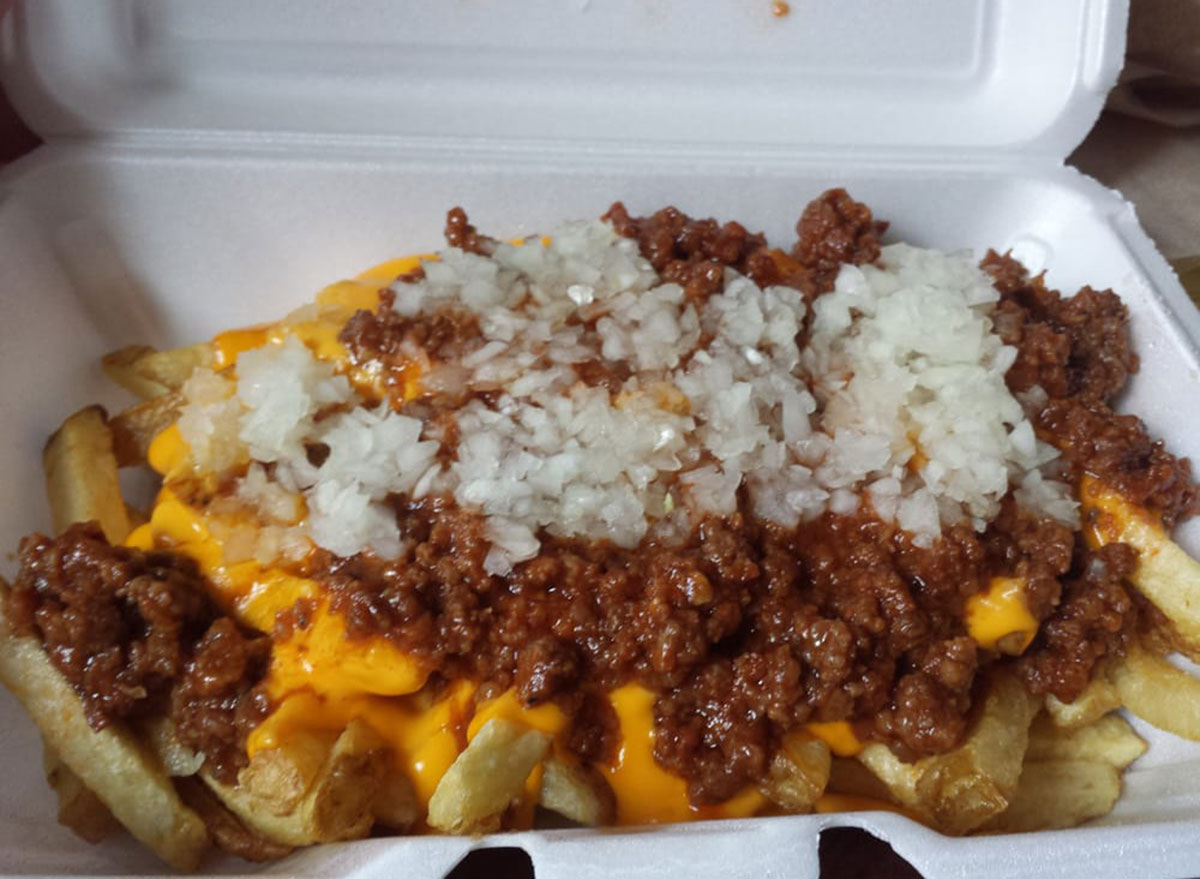 The name says it all. JR's fries are made from fresh, never frozen potatoes and fried to perfection. The menu has an assortment of delicious barbecue, crab cakes, chicken pot pie, and hamburgers to accompany the famous fries. Plus, the restaurant donates a portion of every sale to local charities and the Make-a-Wish Foundation.
RHODE ISLAND: Harry's Bar & Burger in Providence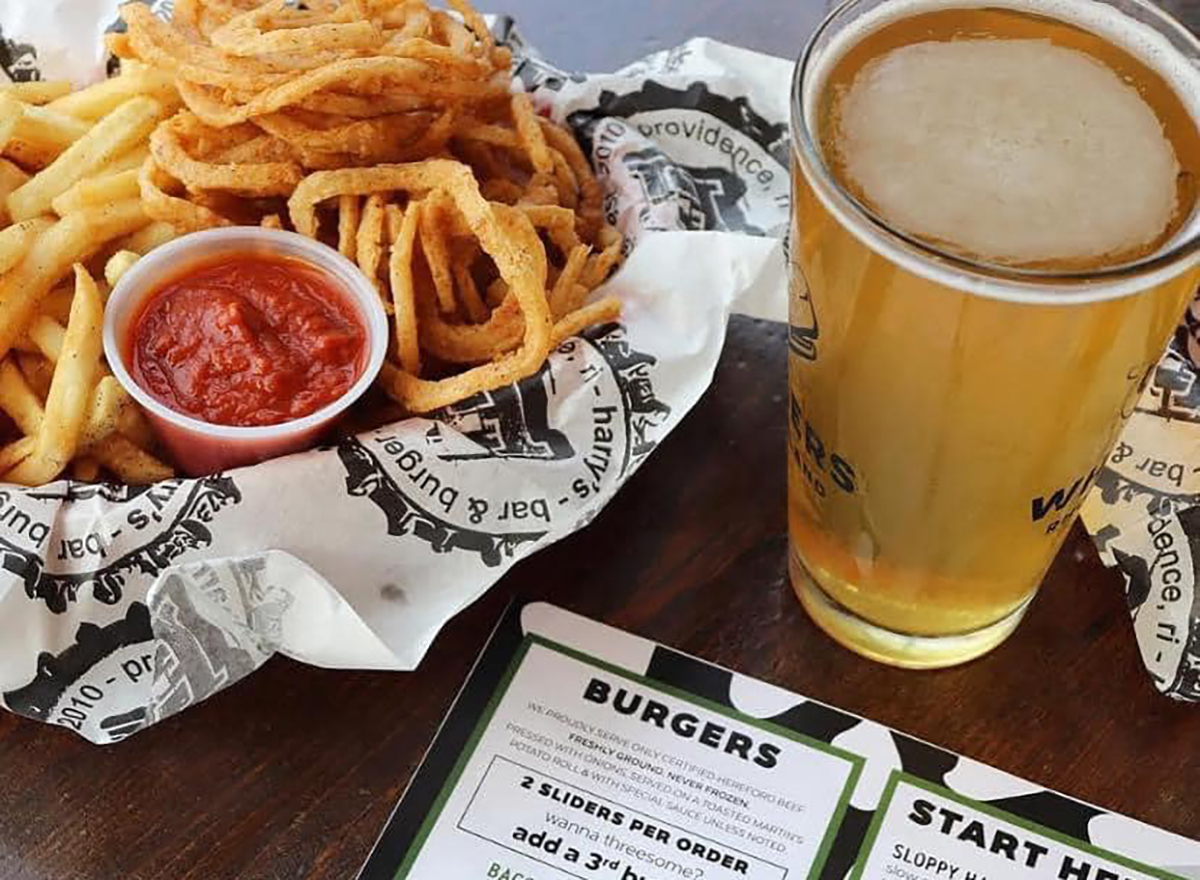 The salt and pepper fries are a must-try with your burger and shake at Harrys Bar & Burger. If you're feeling adventurous, get the sweet potato fries with kryptonite aioli.
SOUTH CAROLINA: Ruth's Drive-In in Hartsville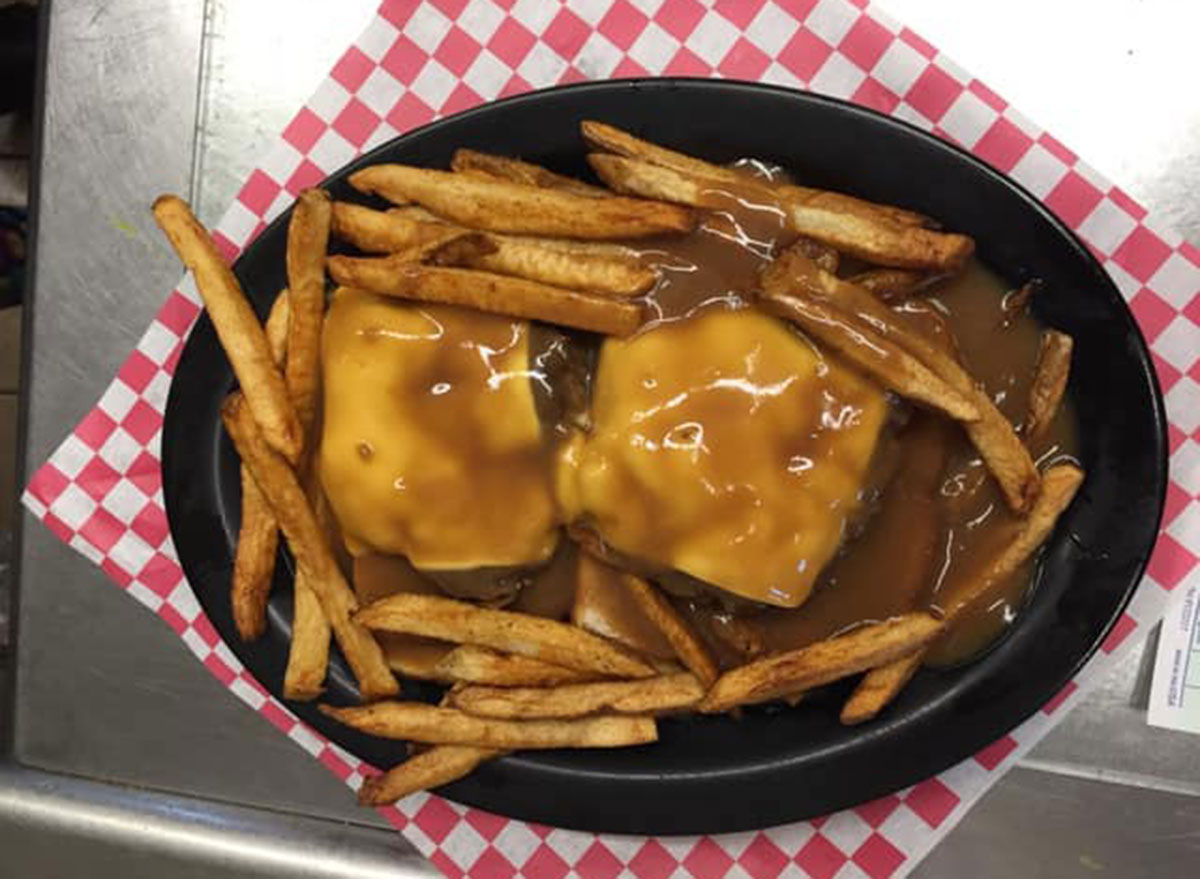 You can get a fantastic home-cooked meal at Ruth's, but you can also get some of South Carolina's most mouthwatering fries. The gravy on fries is super satisfying and the chili cheese fries feature a from-scratch chili recipe. Locals love this long-time spot to get great food at reasonable prices.
SOUTH DAKOTA: Sickie's Garage Burgers in Rapid City
Sickie's has been given many accolades for their burgers over the years, but the fries are not to be ignored. Diners love the Garbage Fries, a loaded creation that will fill the emptiest belly. Sickie's name is inspired by a person who calls out sick to work but ends up at the bar all day. With more than 50 beers and a garage-themed dining area, this restaurant might inspire you to do the same.
TENNESSEE: Grill Shack Fries and Burgers in Nashville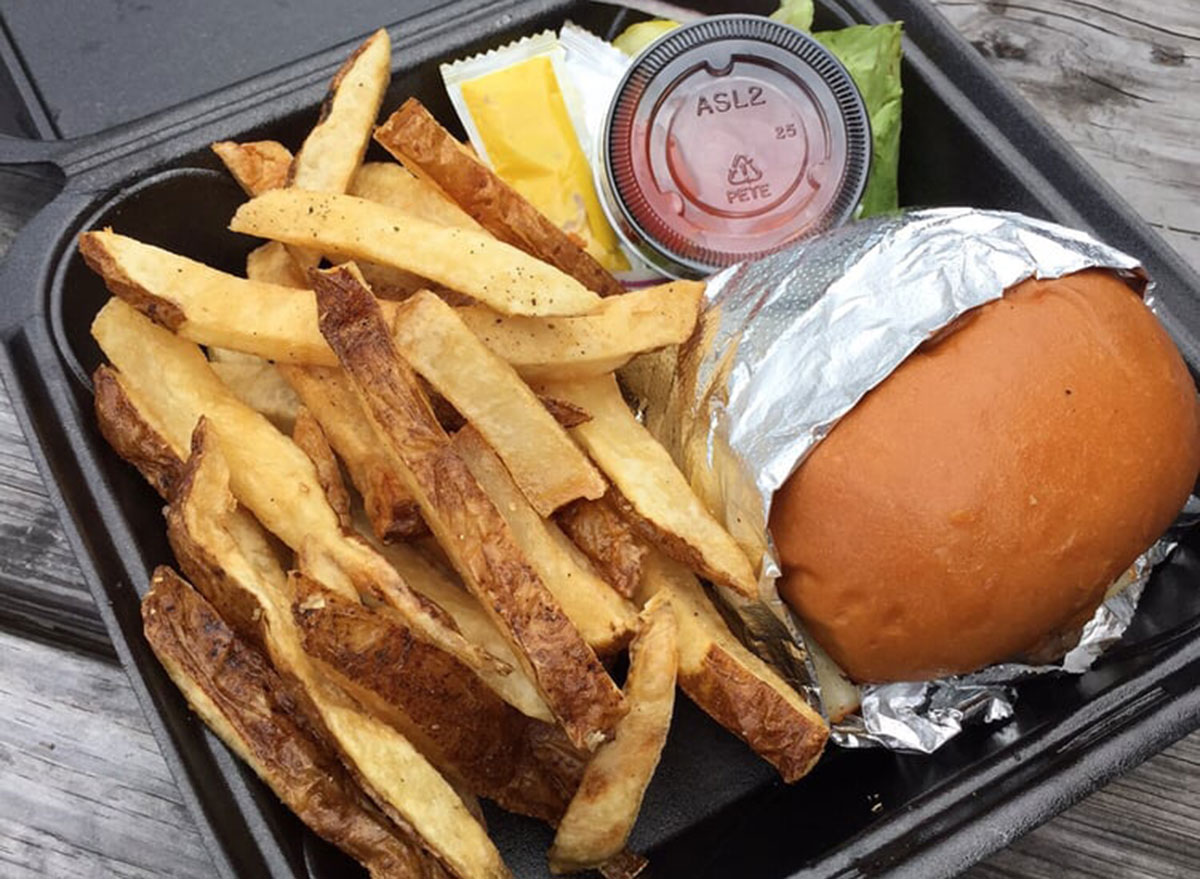 Diners flock to this unpretentious burger shack for tasty food, especially the Uber Tuber Hand Cut Fries. The menu keeps it simple with burgers, fries, and wings. Diners can call ahead and have it ready at the window. As a bonus, the spot also offers compostable containers to reduce your waste.
TEXAS: Hyde Park Bar & Grill in Austin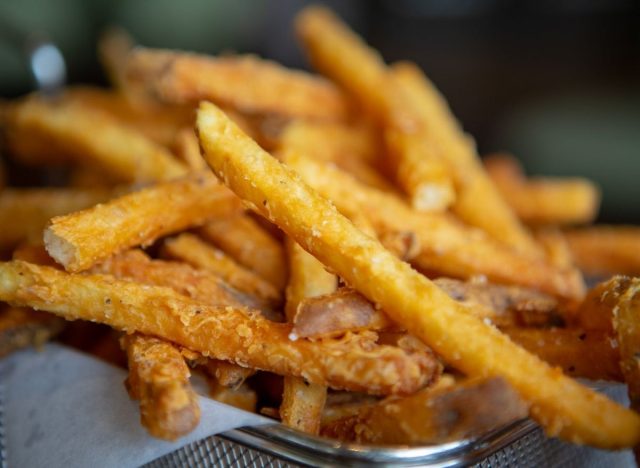 Hyde Park serves their signature fries with a special secret recipe dipping sauce. The fries are a work of art, drenched in buttermilk, coated with flour, and seasoned flawlessly with black pepper and spices. They are served in small portions to feed a few and a large appetizer portion that will feed up to six.
UTAH: Bruges Waffles and Frites in Salt Lake City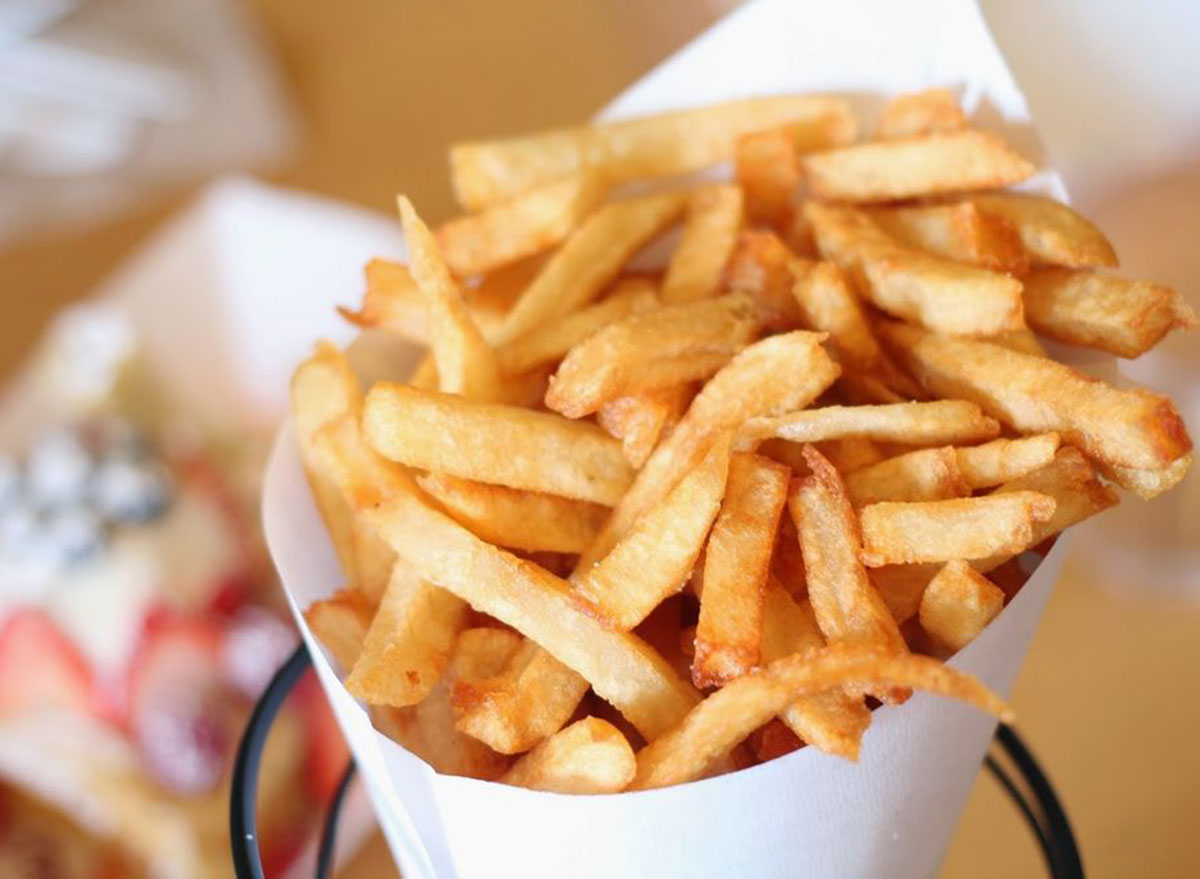 Voted the best fries in Utah since 2011, Bruges doesn't plan to relinquish their title anytime soon. The small downtown spot only seats about six tables but makes use of a rooftop area for overflow dining. They offer small frites, a Belgian style cone with one sauce choice or a large with three sauces, maybe alongside their Croque Monsieur. Whatever you eat them with, the hand-cut, made-to-order fries are exceptional.
VERMONT: Roxie's Fries in Castleton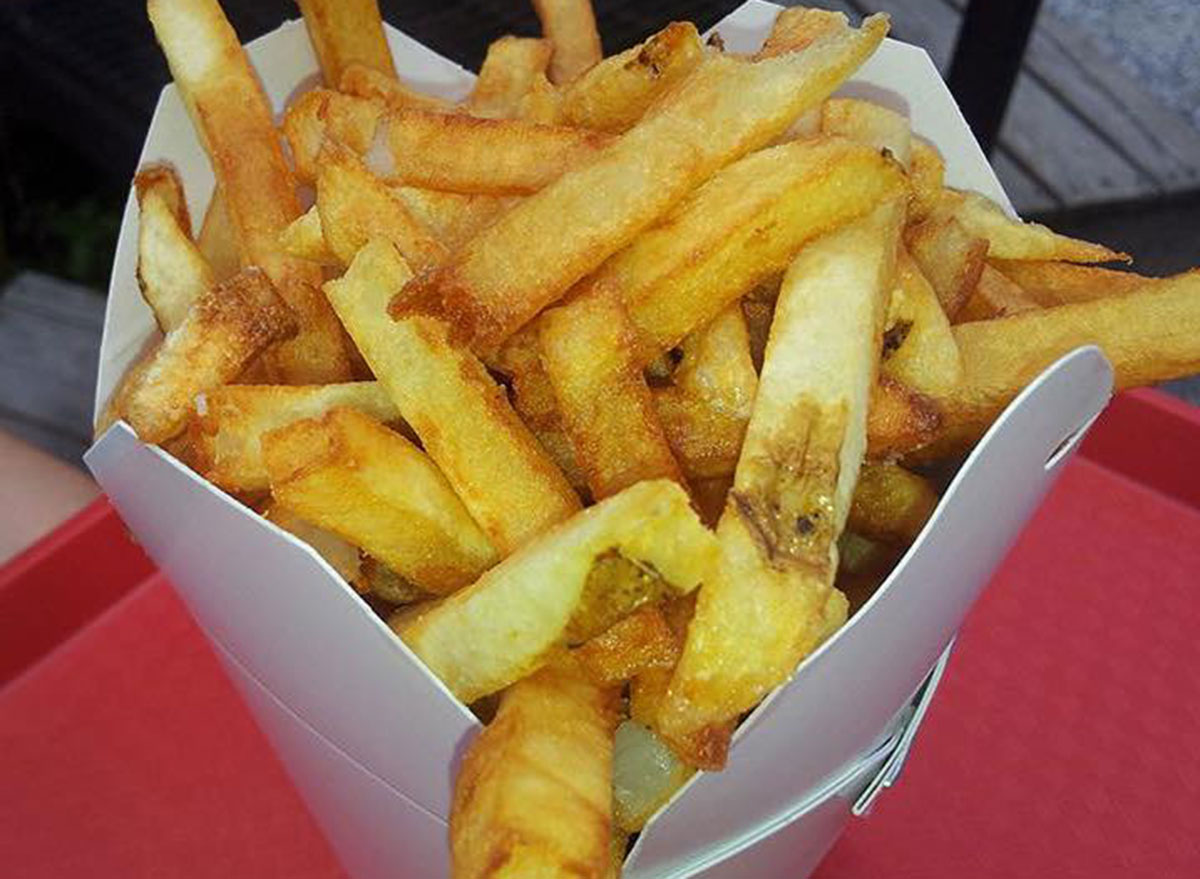 Roxie's is only open in the summer, but it's worth the wait. The fries are cut fresh to order at this food stand and patrons can pick from a half-pint, pint, or quart-size topped with chili, cheese, or gravy. The restaurant is quick and easy with outdoor tables to enjoy the summer weather.
VIRGINIA: Green Pig Bistro in Arlington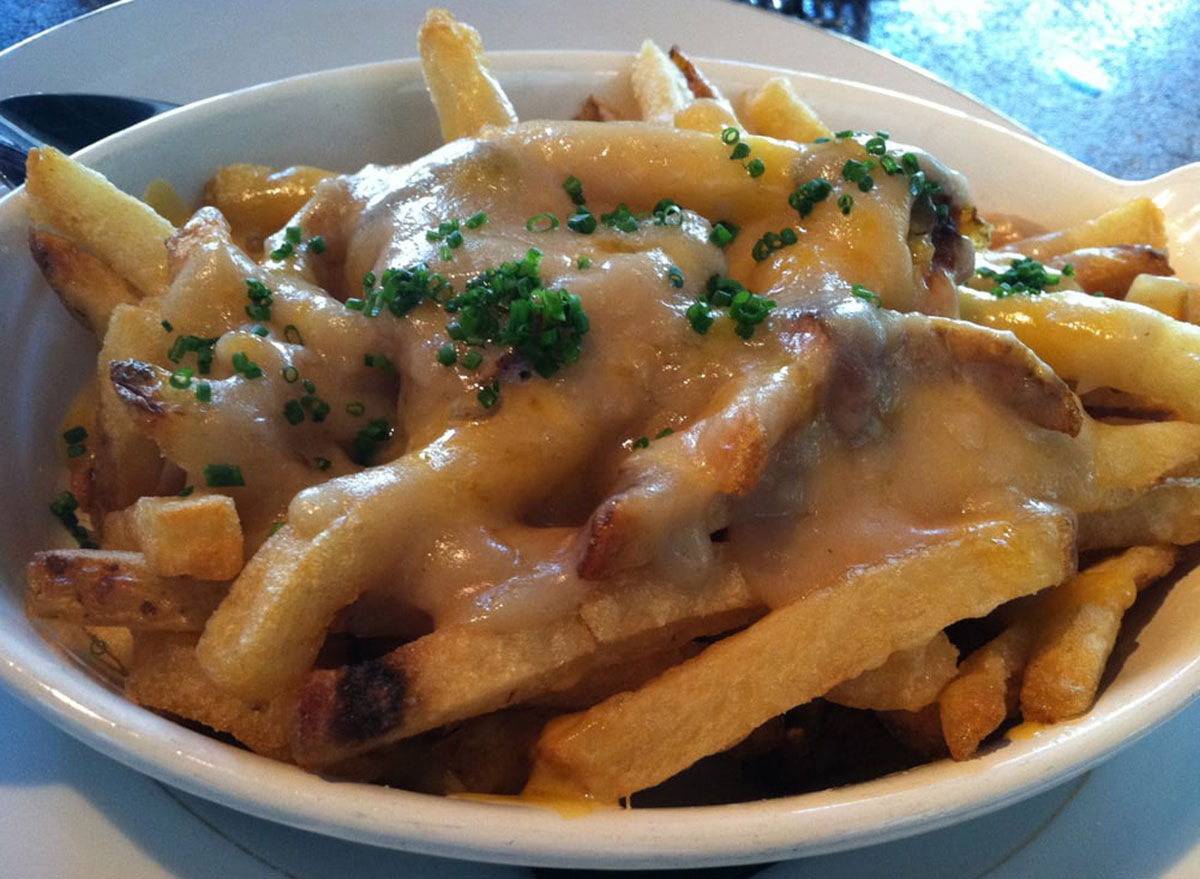 Travel & Leisure voted Green Pig Bistro's fries the best in Virginia. Part of the reason is their fresh hand-cut potatoes. The rest is due to their culinary approach: topping a perfectly cooked fry with duck liver gravy on top.
WASHINGTON: Boomers Drive-In in Bellingham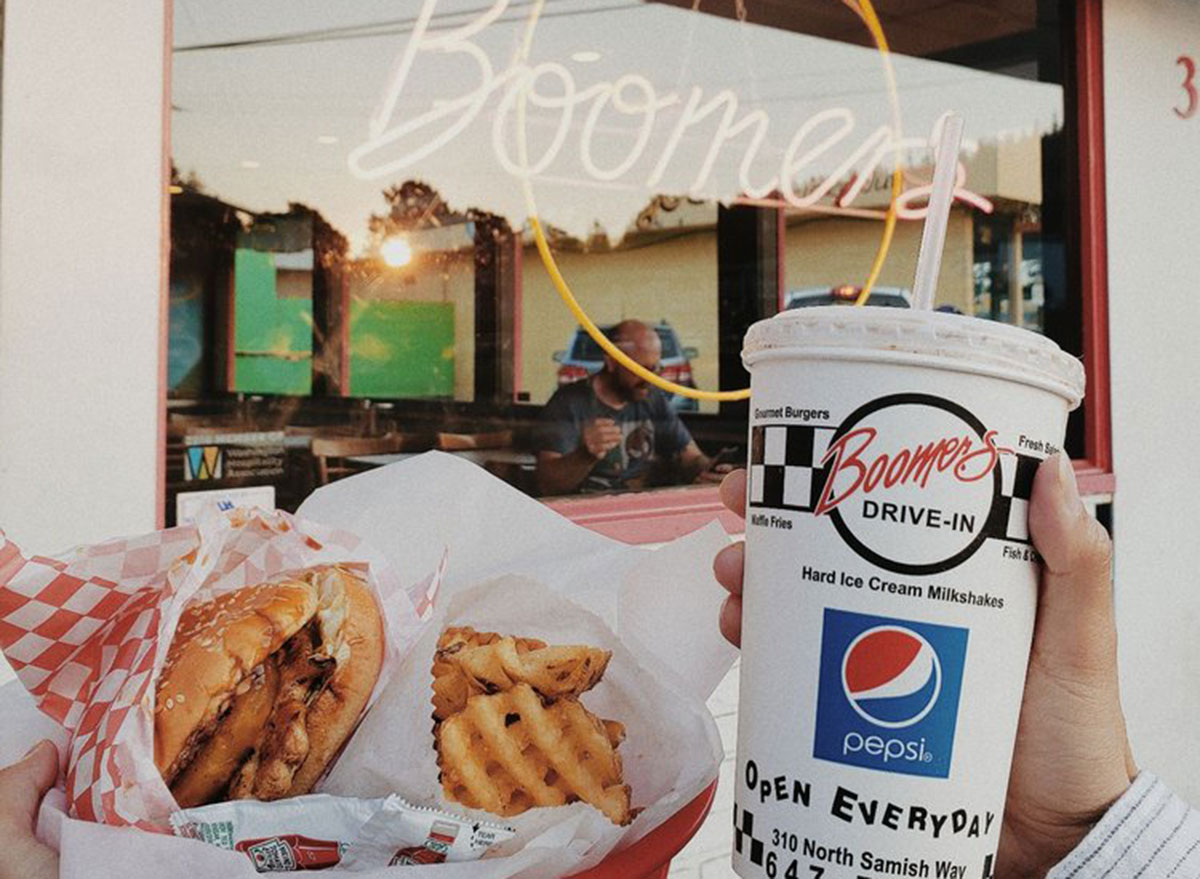 Finally, a waffle fry! Boomers dishes up warm sweet potato waffle fries, seasoned and full of delicious flavor. They also serve spiced-up curly fries, another type of fry that is underrepresented on our list.
WEST VIRGINIA: Fat Patty's in Huntington
Tasty and affordable, Fat Patty's bacon cheddar fries aren't ones to miss. Is there anything better than a bucket of beer-battered, crispy fries with the most perfectly tender insides? There are some other options, too, such as sweet potato fries with caramel dipping sauce. Yum!
WISCONSIN: Rustique Pizzeria in Green Bay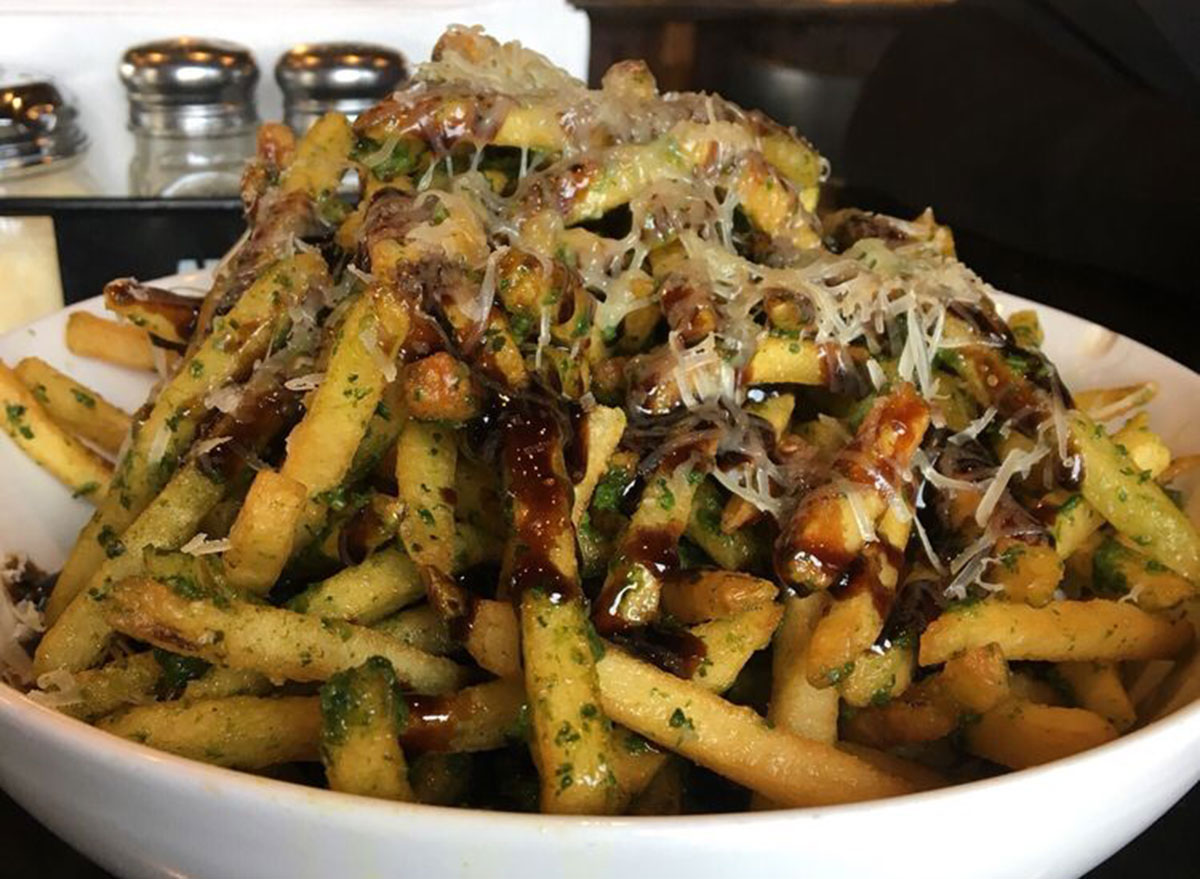 Not just a pizza place, Rustique is known to have some of the best fries in Wisconsin. The Pesto Fries, in particular, will impress diners. The shoestring fries are topped with fresh pesto, a sweet balsamic glaze, and shredded manchego cheese. Visitors are always impressed!
WYOMING: The Crowbar and Grill in Laramie
Every month you get a new fry special at this spot famous for Wyoming's best fried potatoes. They may reflect global cuisine or a particular beloved dish. The kitchen takes a creative spin on its fry dishes—try the Pad Thai Fries or the Poutine Fries. They're an epicurean delight!