Giada De Laurentiis Just Posted the Easiest Fall Appetizer
You're going to want to make this again and again!
If you love melon and prosciutto, you're going to love Giada De Laurentiis' fall-spiced poached pear and ricotta version even more—especially since it's served crostini-style on crispy baguette slices. Giada's recipe Instagram page, @theGiadzy, shared this recipe yesterday and we can practically smell the image. The post calls this simple appetizer the "the fall-and-winter version of melon and prosciutto." Sweet pears, which are in season in fall, replace the summery cantaloupe melon that is traditionally used. The pears are poached in a fragrant mixture containing warming herbs and spices like cloves and rosemary. The pears and prosciutto are served on crispy baguette slices and topped with a drizzle of olive oil. This would make a perfect Thanksgiving appetizer too!
You can use your favorite pear for this recipe, but Giada recommends petite Forelle pears because they are the perfect size for a crostini. Also, if you've found that it's impossible to find a perfect, slightly soft pear, know that this recipe is perfect for a slightly underripe one. A pear with a little bite won't fall apart when you cook it, says Giada on her recipe site, The Giadzy.
Read on to see how she makes this perfect fall appetizer. Plus, we have a few more pear-filled recipes for you to try. Then, make sure to check out 63 Tasty Fall Recipes That Make Weight Loss So Much Easier.
Giada's perfect fall appetizer.
You will need a few things on hand that you might not have stocked. The pears are poached in grappa, which is a strong liquor made from the products left over after wine is made. It's commonly served after a meal in Italy as a digestif. Unlink poaching in wine, grappa will not impart an acidic flavor, leaving room for the fall spices to come through. Giada throws warming aromatics like cloves, rosemary, red pepper flakes, peppercorns, and orange zest in with the grappa and lets that boil before gently poaching the pears.6254a4d1642c605c54bf1cab17d50f1e
To serve, she toasts and slices the baguette, then spreads on a honey-lemon sweetened ricotta mixture. The fragrant poached pears are sliced and rested on top, then thin slices of prosciutto follow that with a drizzle of olive oil and flakey sea salt. It's like fall in Italy on a plate! Read the full recipe here.
Here are some other amazing pear recipes we think you should try!
Sign up for our newsletter for more healthy recipes and cooking tips!
If you aren't into the grappa, follow this recipe that uses chai-spiced tea to poach the pears. We can't imagine that the flavors of cinnamon, star anise, pumpkin pie spice, and vanilla wouldn't taste amazing with sweetened ricotta and a slide of prosciutto!
Get our recipe for Chai Poached Pears.
Pear Cardamom Oats Smoothie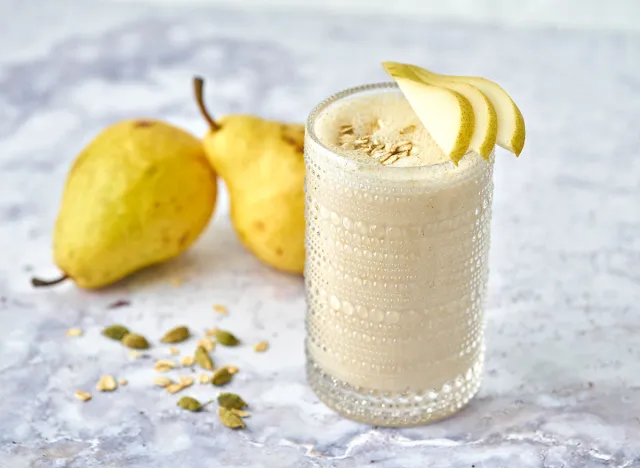 This quick recipe combines oat milk, oats, and fresh pears and whirls the ingredients with a touch of cardamom for the perfect fall smoothie. (Also, try one of our other 25 Best-Ever Weight Loss Smoothies.)
Get our recipe for Pear Cardamom Oats Smoothie. 
A Restaurant-Worthy Warm Goat Cheese Salad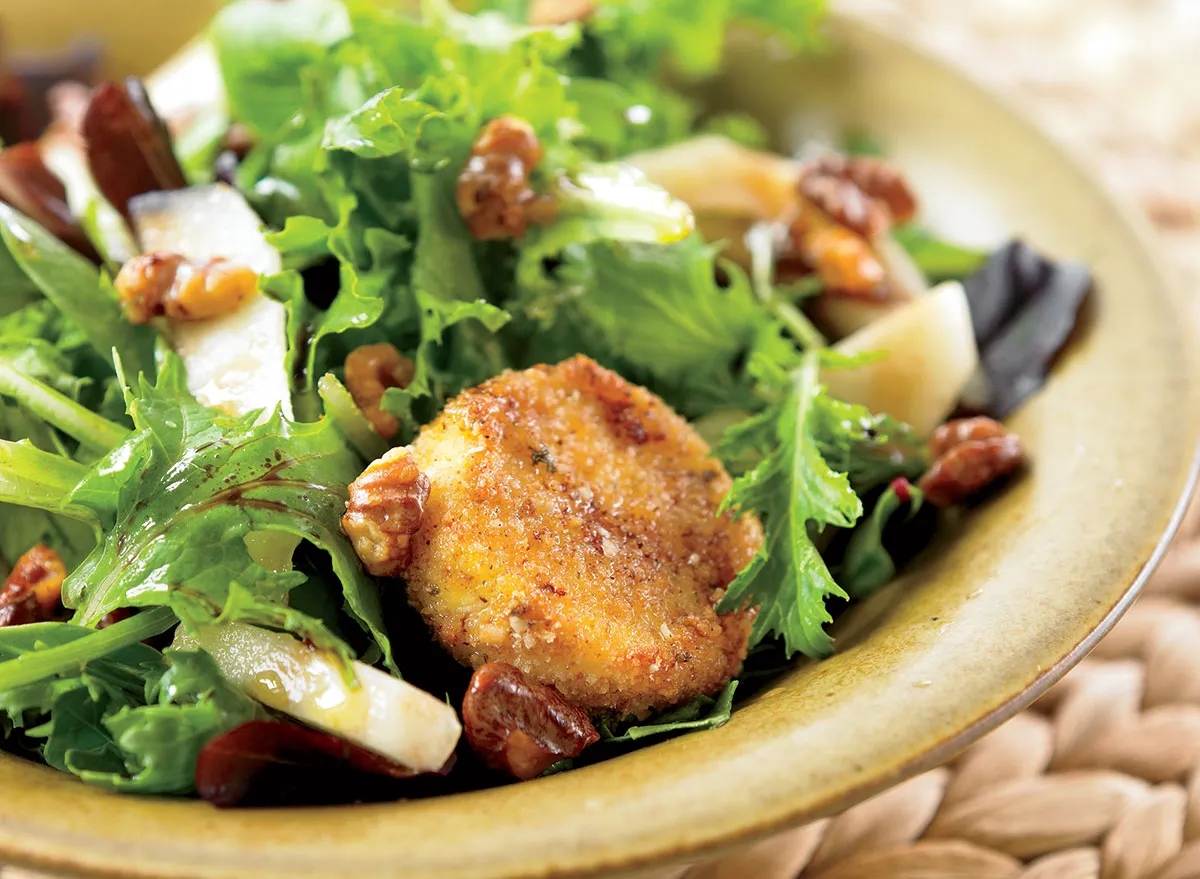 Warm goat cheese, peppery arugula, and sweet pears combine in this delicious and healthy salad. You're going to want to make this one again and again!
Get our recipe for restaurant-worthy Warm Goat Cheese Salad.
Poached Pears With Spiced Chocolate Sauce Recipe
This recipe makes quick work of poached pears with a pressure cooker. Just toss apple juice, red wine, pears, and a few sticks of cinnamon into the pressure cooker and it will be ready in seven minutes! In the meantime, break the chocolate into pieces and add the fall spice. Heat on high, stirring every 30 seconds until the chocolate is melted. Was that the easiest ever fall dessert ever or what?
Get our recipe for Poached Pears with Spiced Chocolate Sauce.
Read more:
23 Cozy Soup Recipes That Are Perfect For Weight Loss This Fall
The Best Brews You Need To Try This Fall, Say Beer Experts