27 Creative Ricotta Cheese Recipes (That Aren't Lasagna)
From breakfast to dessert and savory to sweet, there's a ricotta recipe for every meal.
Ricotta is best known as a staple in lasagna recipes or ravioli stuffing, but there are so many other ricotta cheese recipes that you're probably unaware of.
Its mild flavor and versatility mean that it pairs well with sweet and savory dishes. Ricotta is also high in protein, mostly derived from whey. A milk protein, whey is full of essential amino acids, and research shows it aids muscle growth and lowers blood pressure and cholesterol.
We asked a slew of chefs and recipe developers, and have even gathered from our own recipe archives for the favorite creative ways to use ricotta. Here are the 27 ricotta cheese recipes that aren't lasagna. It's much more versatile than you think!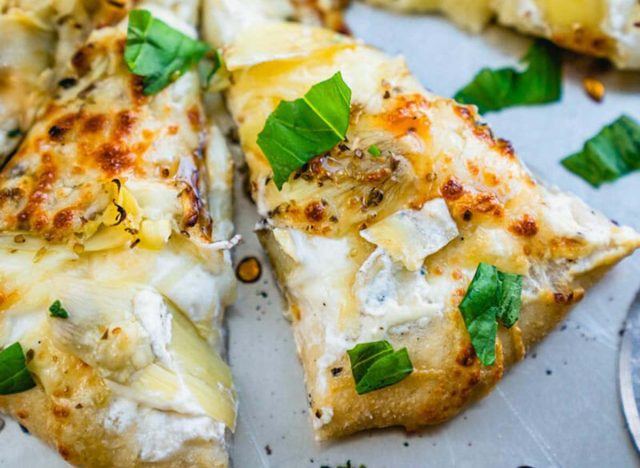 Husband and wide du0, Alex and Sonja, have created an easy and delicious 3-cheese pizza (with ricotta, of course). This homemade Italian delight includes tangy artichokes, with fresh basil, peppery herbs,  and a honey drizzle, making this a savory and sweet delight.
Get the recipe from A Couple of Cooks.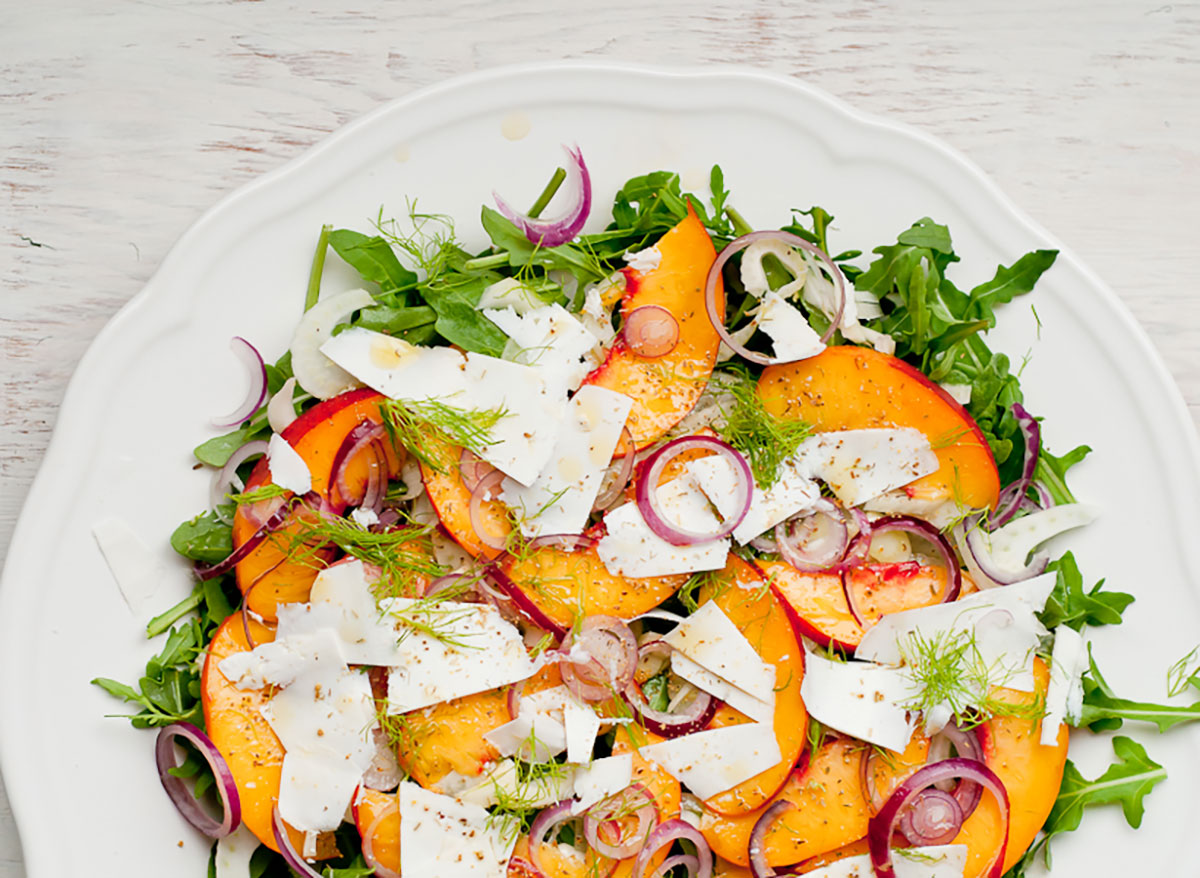 Ricotta Salata, an aged and harder version of the cheese, adds a "salty kick" to salads, Olson says. He prefers simple salads, like arugula, olive oil, lemon, toasted pine nuts, and shaved Ricotta Salata.
Get a similar recipe from Café Johnsonia.
Grilled peaches with lavender honey whipped ricotta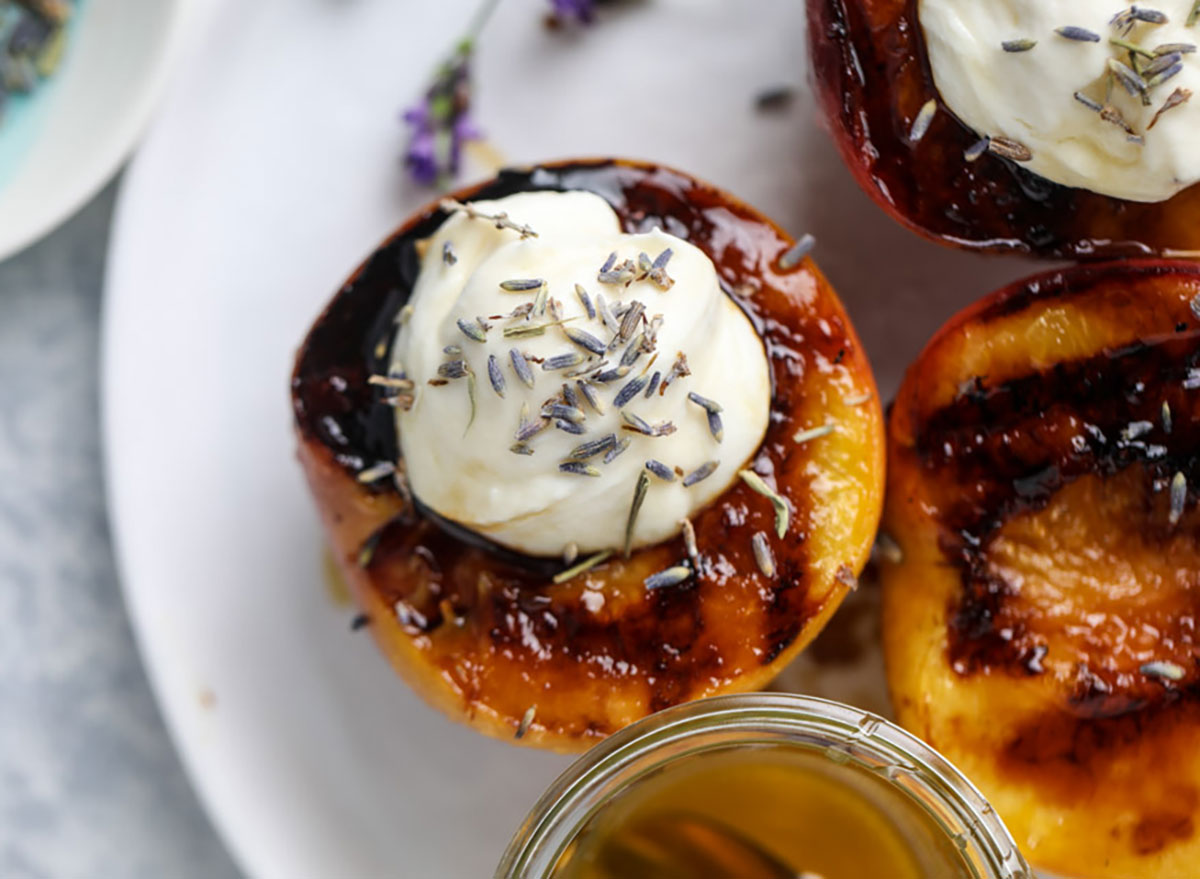 Executive Chef Jonathan Olson at The Keep in Columbus, Ohio, says he prefers Italian ricotta, which has a thicker texture because of its higher fat content, to the American version. One of his favorite ways to use the cheese is to top roasted peaches with fresh ricotta, aged balsamic vinegar, and basil.
Get a similar recipe from How Sweet Eats.
Whipped ricotta bowls with roasted pears
Yogurt is a go-to healthy breakfast or snack for many people, but did you know you can swap out yogurt for ricotta? Nutritionist Lisa Richards says that ricotta also often has less sugar and more protein. Top a bowlful of ricotta with fruit, nuts, or granola. Or add it to your favorite smoothie for a creamy base.
Get the recipe from Running to the Kitchen. 
Ricotta cookies are a staple in an Italian household. And although you will mostly see them during any holiday or celebration, you can make them all year round. These sweet, soft, cake-like cookies have a glaze drizzled on top for an extra sweet touch.
Get the recipe from Cooking Classy.
It's not lasagna or ravioli, but of course, we had to showcase the use of ricotta on a pasta dish! This lemon ricotta pasta is fresh and creamy with a zest, making it a perfect comfort food that's easy to prepare. The addition of peas adds some bright colors as well, making the pasta look that much more appetizing.
Get the recipe from Budget Bytes. 
Whipped ricotta with herbs and honey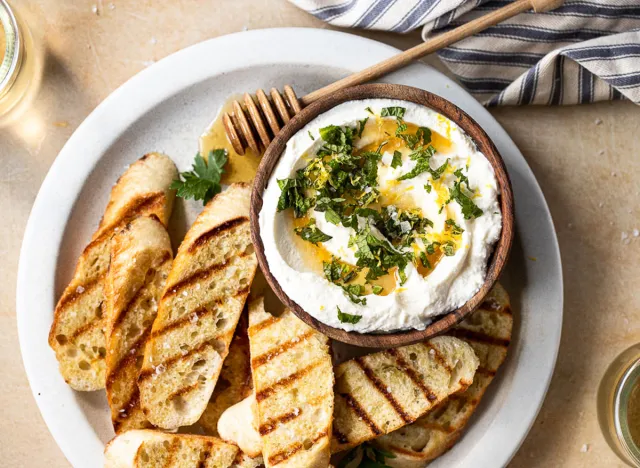 Whipped ricotta is all the rage. Not only is it easy to make, like this simple 10-minute recipe, but it's light and makes you want to eat it by the spoonful (although you can use veggie or crostini for dipping). Honey adds a nice sweetness to the mix, and the herbs are a savory addition.
Get the recipe from Fork in the Kitchen.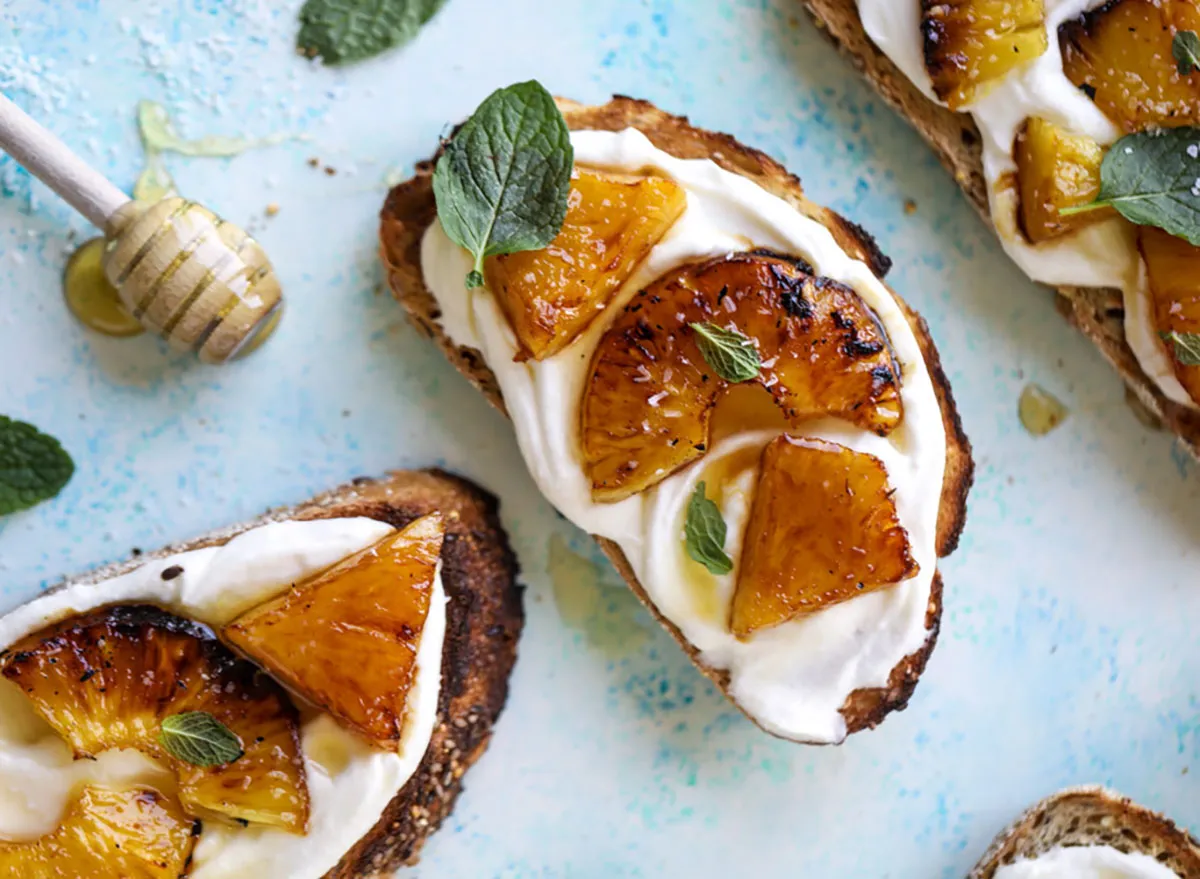 Vincent Ricchiuti of Enzo Olive Oil Co. said he enjoys spreading ricotta on toast and topping it with jam and a drizzle of olive oil. Ricotta toast offers endless possibilities, and it can be a great breakfast or snack.
Get a similar recipe from How Sweet Eats.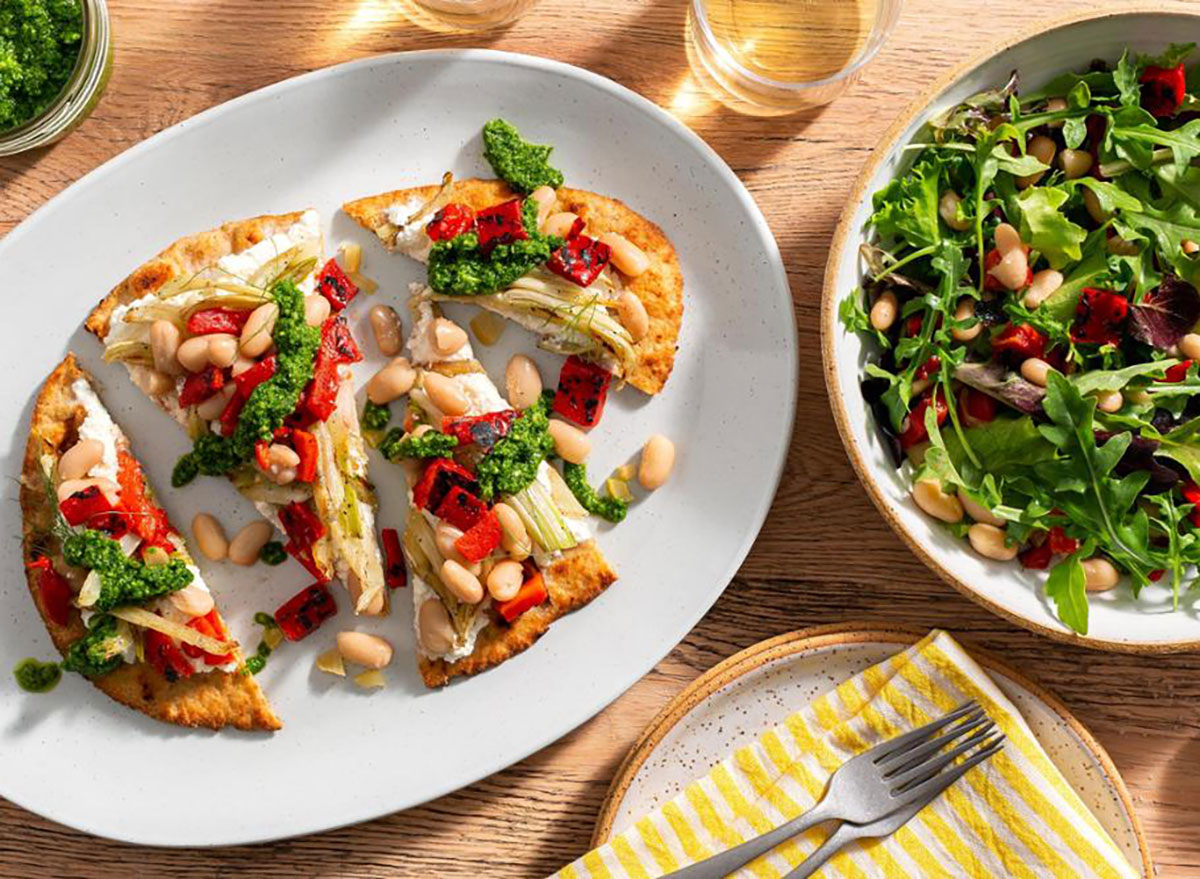 Ricotta can add richness to any dish without the heaviness of many other kinds of cheese, said Justine Kelly, executive chef and co-founder of meal delivery company Sun Basket. She likes to use cheese as a topping for flatbread.
Get Kelly's recipe for a Charred Fennel and White Bean Flatbread with Ricotta And Arugula Pesto. 
Roasted garlic baked ricotta
If you're looking for the cheesiest, gooey dip, look no further than this baked ricotta. The crispy coating
Get the recipe from Olivia's Cuisine.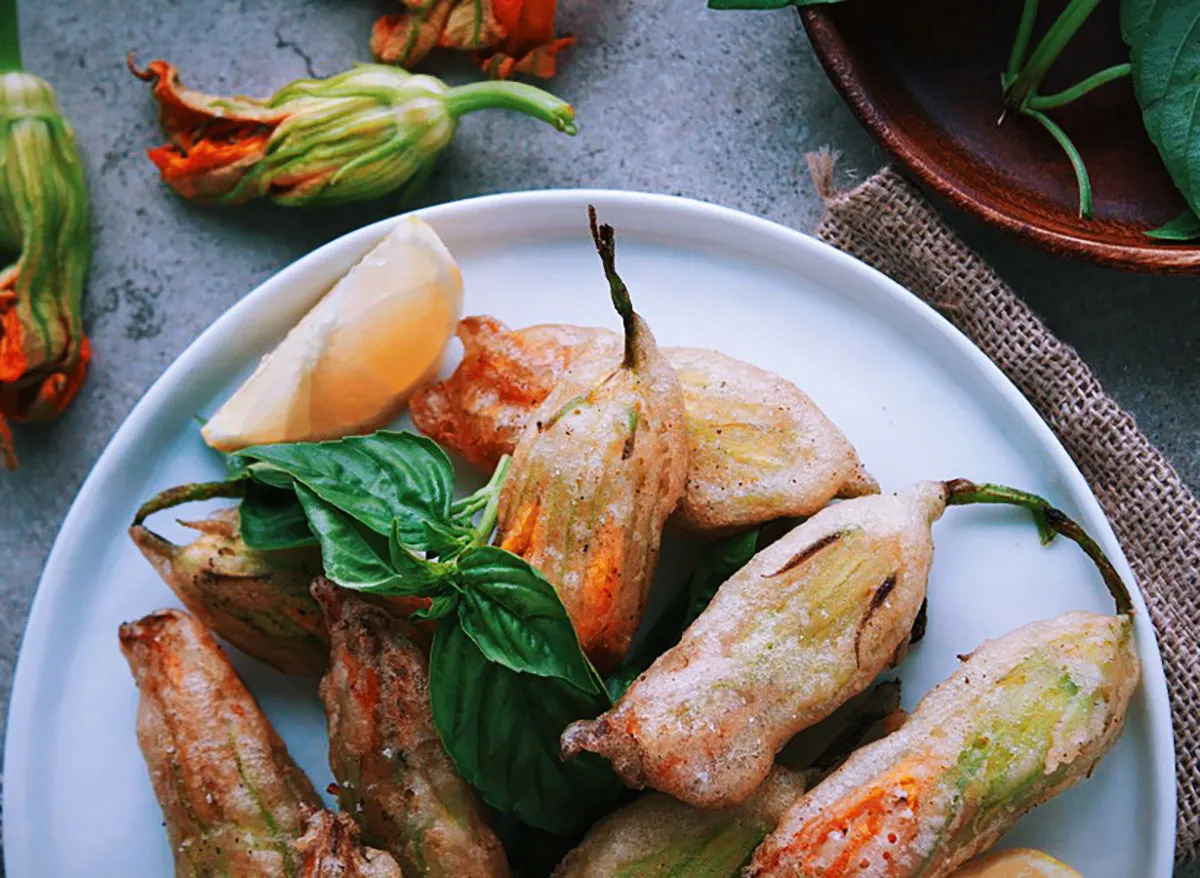 Los Angeles-based chef Timothy Hollingsworth, owner of Los Angeles restaurant Otium, lists tempura squash blossoms stuffed with ricotta as one of his favorite ways to use the cheese. He pairs the blossoms with pistachio pesto.
Get a similar recipe from A Beautiful Plate. 
Loaded calzone with chicken and veggies
A calzone is essentially a stuffed pizza, and who doesn't love a crispy crust packed to the brim with delicious ingredients? This particular calzone is filled with protein and nutritious veggies with the addition of creamy ricotta cheese that will ooze out the minute you pull the dough apart.
Get our recipe for Loaded Calzone with Chicken and Veggies.
This recipe from Gimme Some Oven is a delicious version of sauced-up gnocchi.
Daniel England, the corporate chef at OMG Hospitality Group in San Diego, says that ricotta gnocchi is his favorite use of the cheese, as it makes the dumplings "so soft and pillow-like." He usually sears it in a hot pan and serves it with a brown butter sauce, herbs, and macadamia nuts.
You'll be able to impress your family and guests with these stunning and tasty recipes. Plus, now you know that you can do way more with it than just bake Italian dishes. (Although, if you are making lasagna or some homemade ravioli, you can't go wrong by adding ricotta to it).
The cannoli is a traditional Italian treat with a crispy, fried shell that's typically filled with sweetened ricotta. This recipe adds chocolate chips and pistachios for an extra flourish.
Get the recipe from Cooking Classy.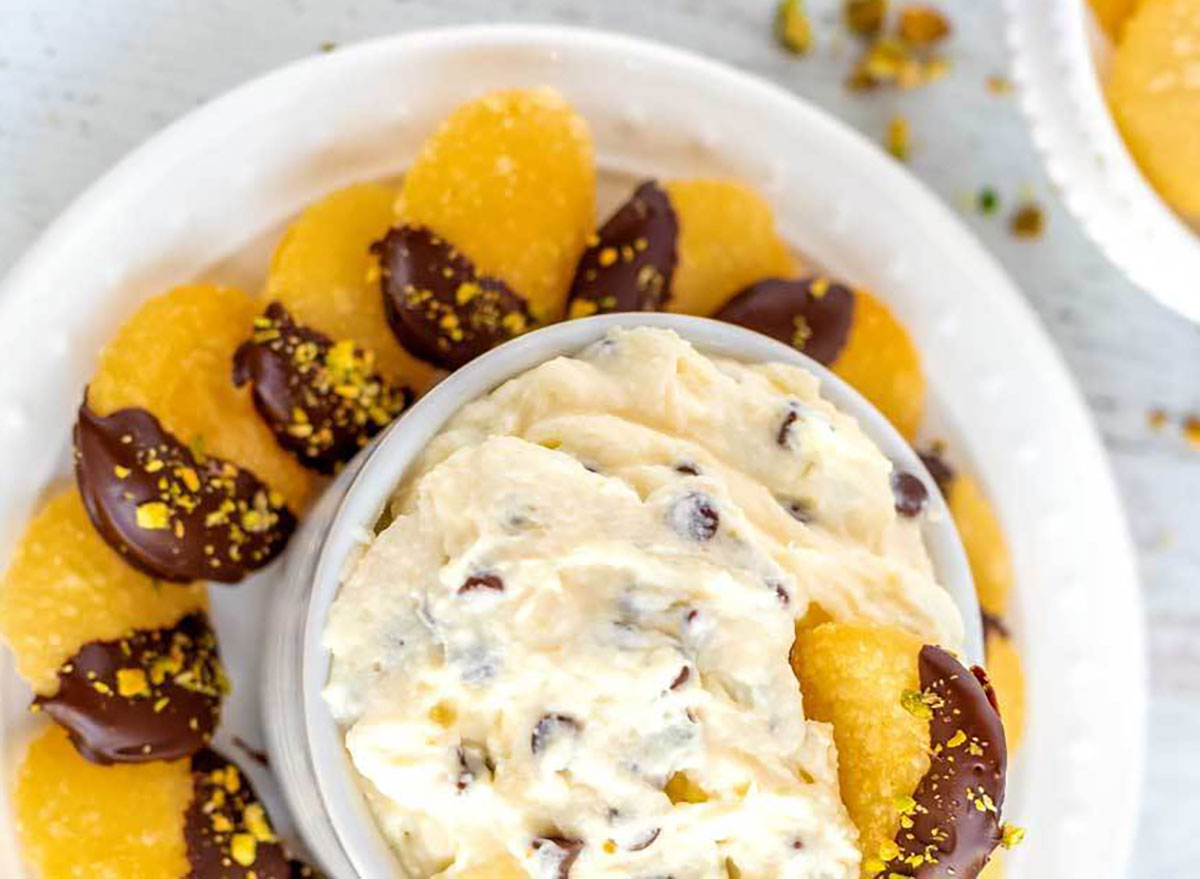 Ricotta is also a main feature in cannoli-inspired treats, said Jillian Wade, blogger at Food Folks and Fun. Her Holy Cannoli Ice Cream blends ricotta, mascarpone, waffle cone pieces, mini chocolate chips, and pistachios.
Another idea is cannoli chips and dip. The dip combines whipped cream, ricotta, cream cheese, powdered sugar, mini chocolate chips, vanilla, and orange zest, along with chocolate and pistachio-covered chips.
Get the recipe from Food Folks and Fun. 
Ricotta and cherry tomato salad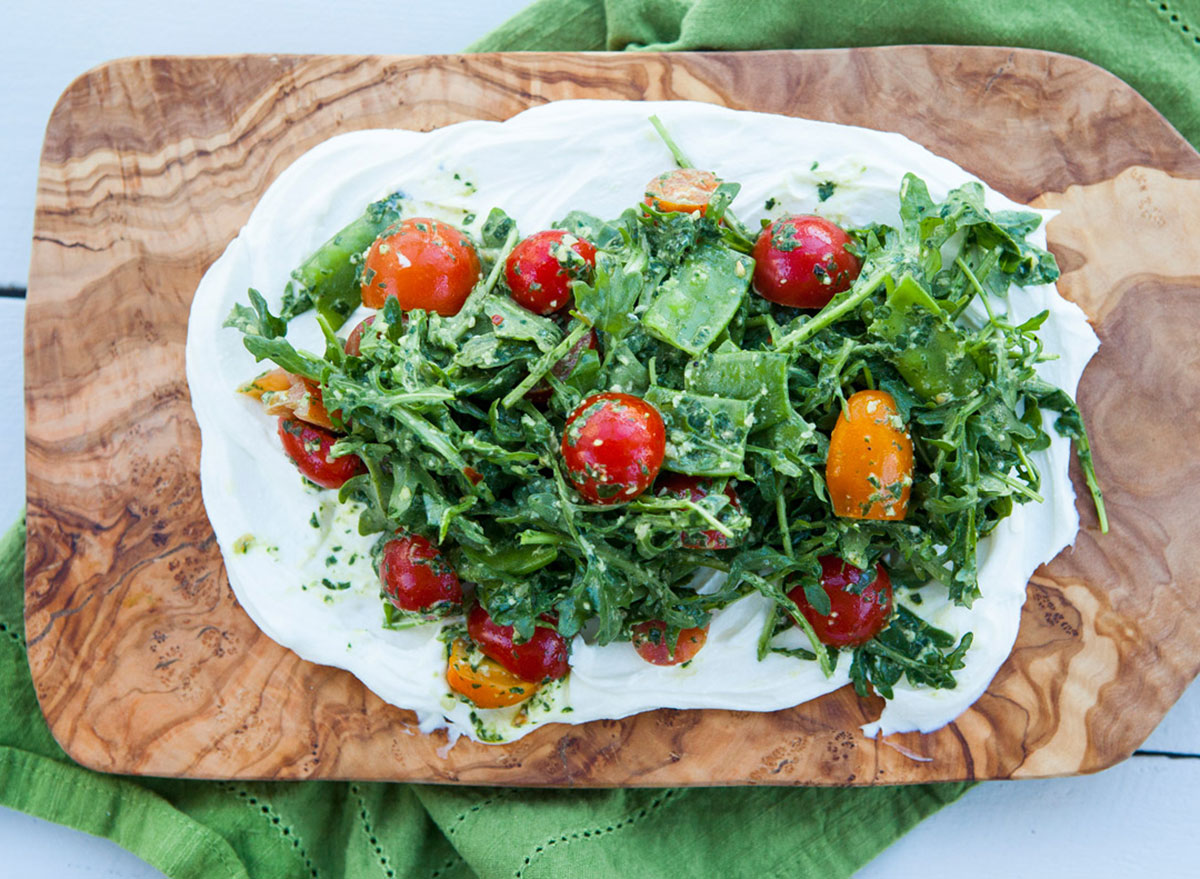 Neda Varbanova, the creator of Healthy with Nedi, uses ricotta whipped with olive oil and salt as the base for a salad of cherry tomatoes, baby arugula, and snap peas tossed in a dressing made from balsamic vinegar, pine nuts, basil, and olive oil.
Get the recipe from Healthy with Nedi.
Blueberry lemon ricotta pancakes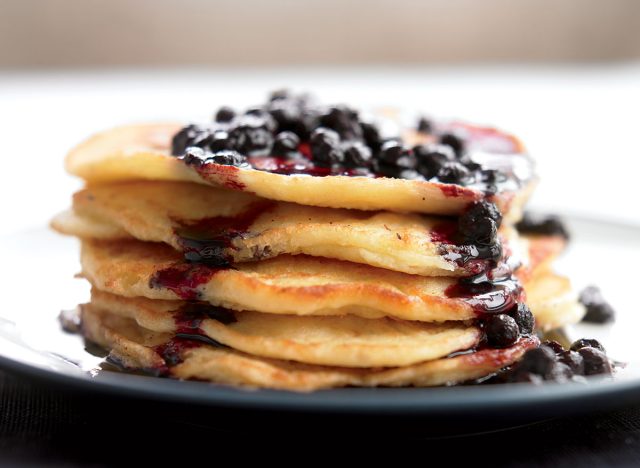 Ricotta is more than just a filling, it can also be used for extra-fluffy stacks when added to pancake batter. For this pancake recipe, you'll be getting protein from the ricotta as well as sweetness from the blueberry compote without the addition of more sugar, making it much healthier than maple syrup!
Get our recipe for Blueberry Lemon Ricotta Pancakes.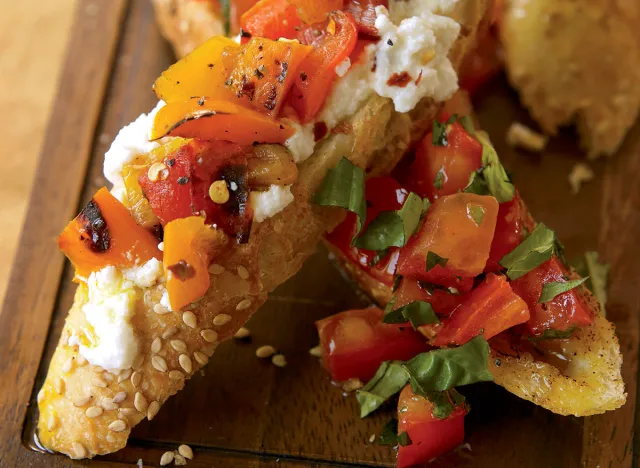 Bruschetta makes for a perfect, bite-sized appetizer. It's cheese and dressed toppings placed on a small toasted bread, you can't go wrong! Usually, bruschetta is topped with tomatoes. For this particular recipe, you're going to slather the ricotta onto the baguette and top with Pepperonata to give you a burst of flavor your mouth didn't know it needed.
Get our recipe for Italian Bruschetta.
Ricotta also makes a creamy filling for homemade crepes, which can be topped with fresh fruit, compote, or jam. Varbanova enjoys pairing her mom's Bulgarian crepes, or "palachinki," with sweet berry jam.
Get the recipe from Healthy with Nedi. 
Vered DeLeeuw, the founder of Healthy Recipes Blog, said using ricotta for cheesecake creates a lighter texture than traditional recipes. She uses whole milk ricotta for her crustless cheesecake, featuring vanilla and lemon flavors.
Get the recipe from Healthy Recipes Blog. 
Butternut, beet, and ricotta galette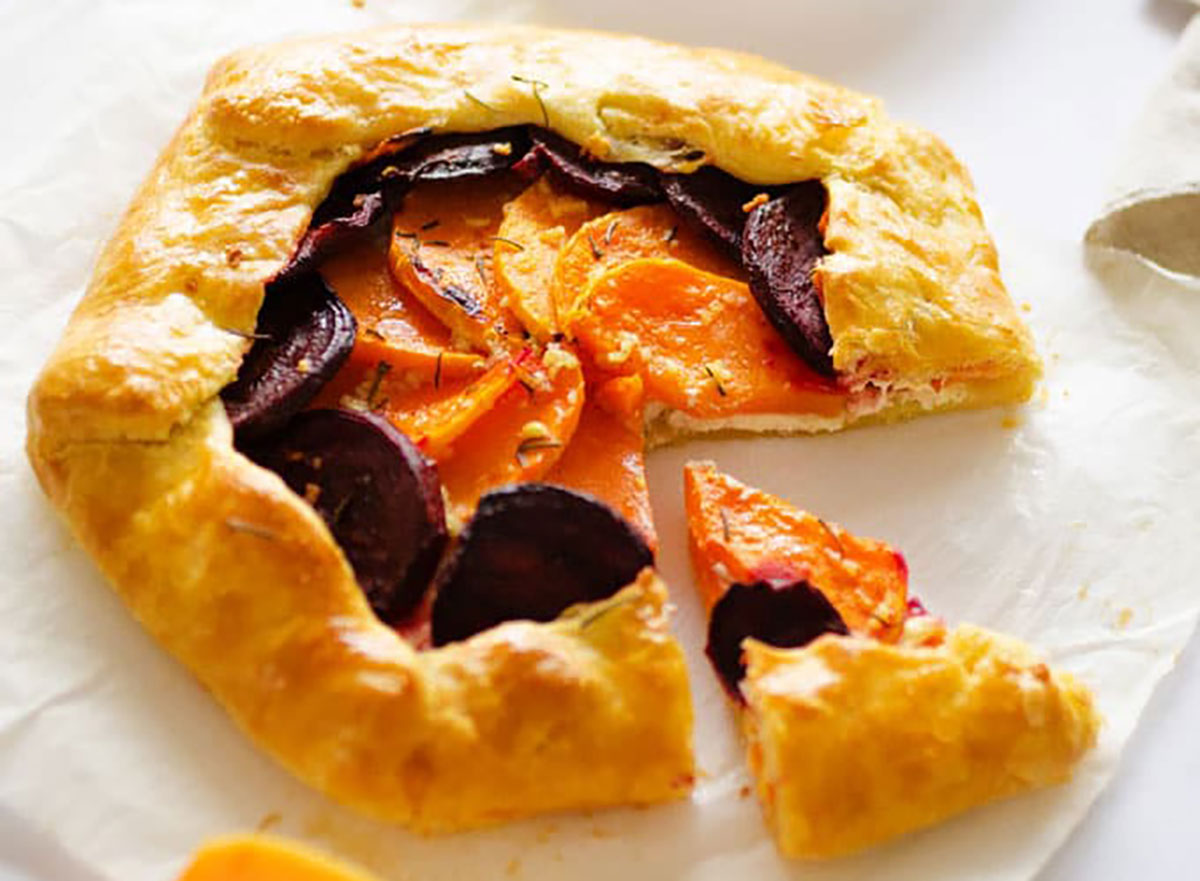 A ricotta base for sweet or savory galettes helps keep the bottom crust from getting soggy, Bond says.
Get the recipe from Live Eat Learn. 
Don Baiocchi, the founder of the Paleo Gluten-Free Guy blog, says that he doesn't eat much dairy, but when he does, ricotta is a go-to. He makes ricotta cream frosting to top his grain-free Cassata Cake, an Italian Easter cake, with whole milk ricotta, honey or raw cane sugar, rum or Amaretto, and dark or bittersweet chocolate.6254a4d1642c605c54bf1cab17d50f1e
Get the recipe from the Paleo Gluten-Free Guy.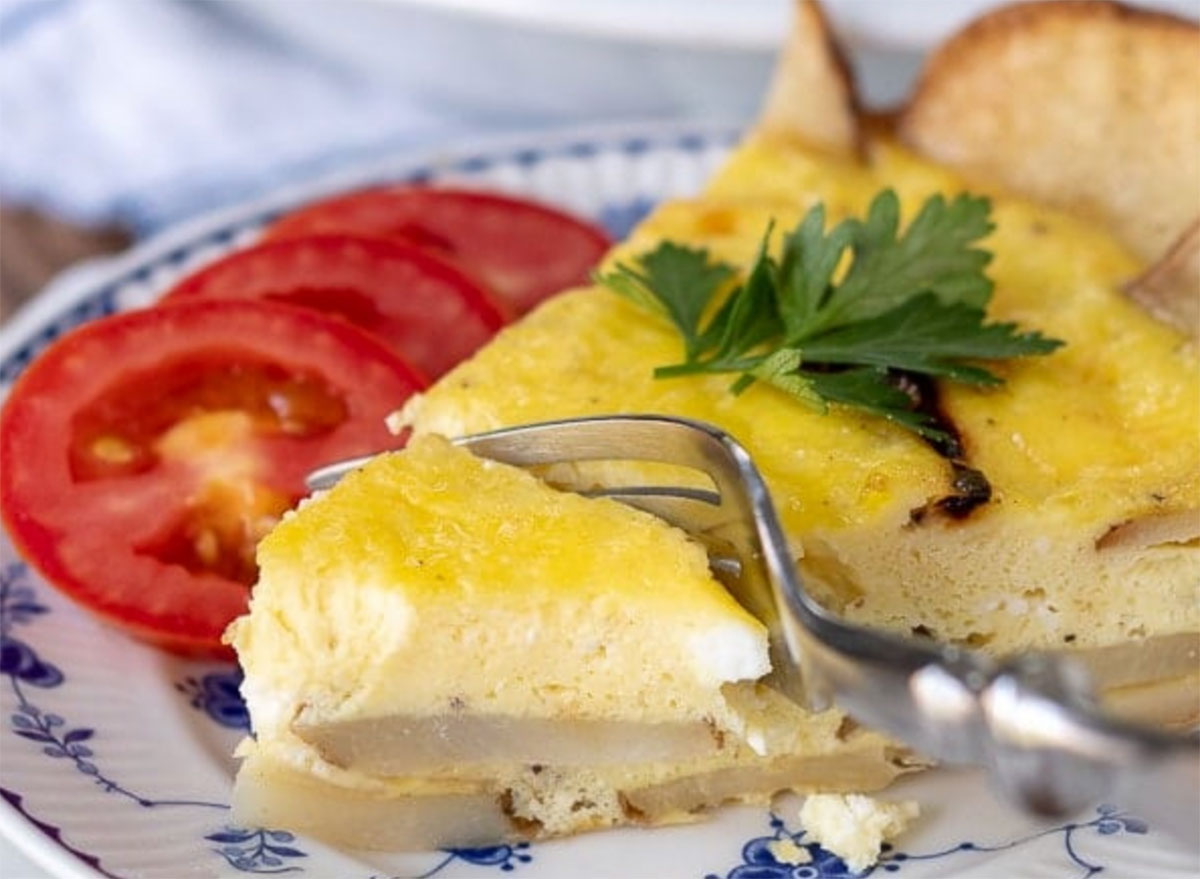 "Adding ricotta gives any frittata a fluffy, creamy texture," said Melissa Erdelac, recipe developer and creator of the blog MamaGourmand. She likes to incorporate ricotta into her potato frittata recipe, which is similar to a Spanish tortilla, with sliced potatoes, eggs, and cheese. However, any other vegetables, meats, or cheeses can be added, she says.
Get the recipe from MamaGourmand.
As with frittatas, Maya Krampf, founder of Wholesome Yum, says that ricotta adds a lightness to quiche recipes. Her recipe adds kale and mushrooms to the egg-based dish.
Get the recipe from Wholesome Yum. 
A half-cup of ricotta, along with butter and parmesan, is the trick to "no-fail, fluffy creamy grits" in just a few minutes, Erdelac said.
Get the recipe from MamaGourmand. 
Berry ricotta dessert parfait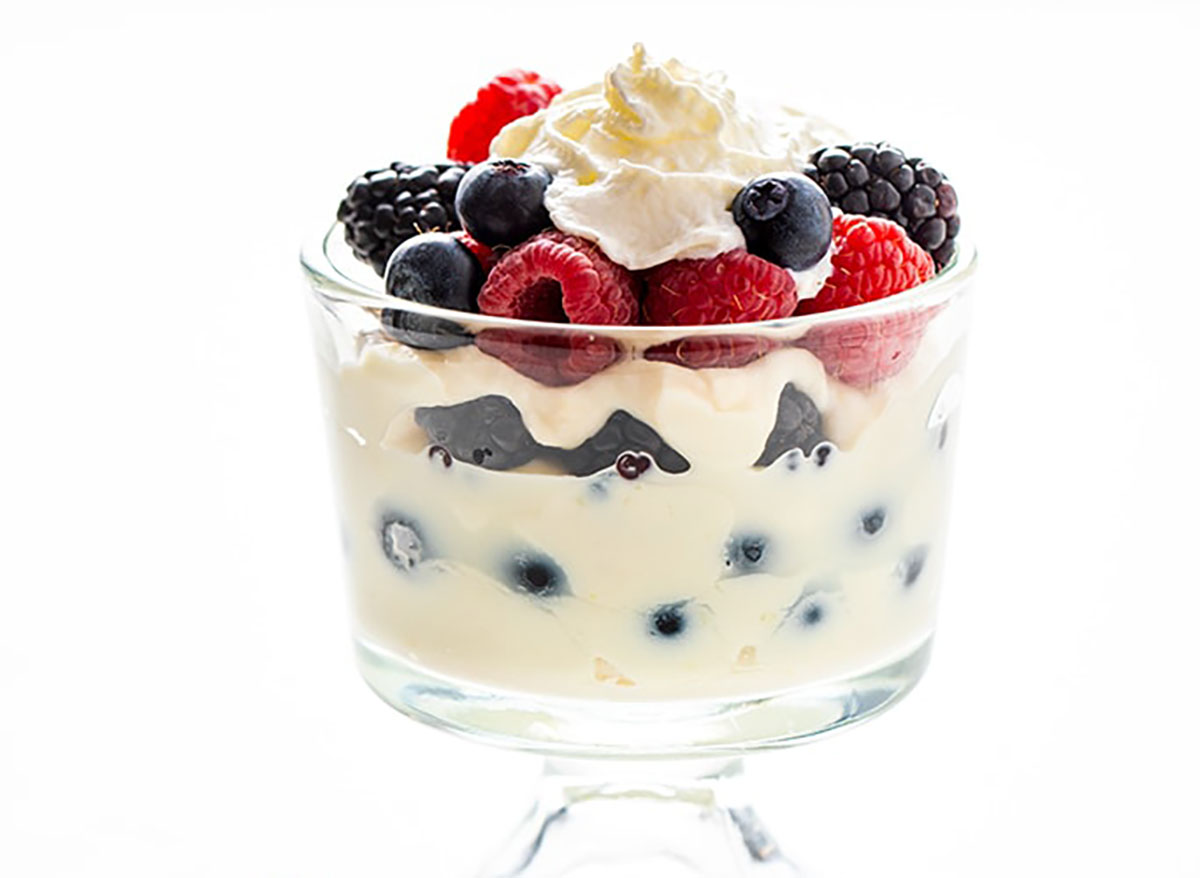 Krampf creates a keto-friendly dessert with ricotta blended with heavy cream, lemon zest, powdered sugar, and vanilla layered with berries. This is a versatile dessert parfait, and the berries can be swapped out for nuts, chocolate, or anything else, she says.
Get the recipe from Wholesome Yum.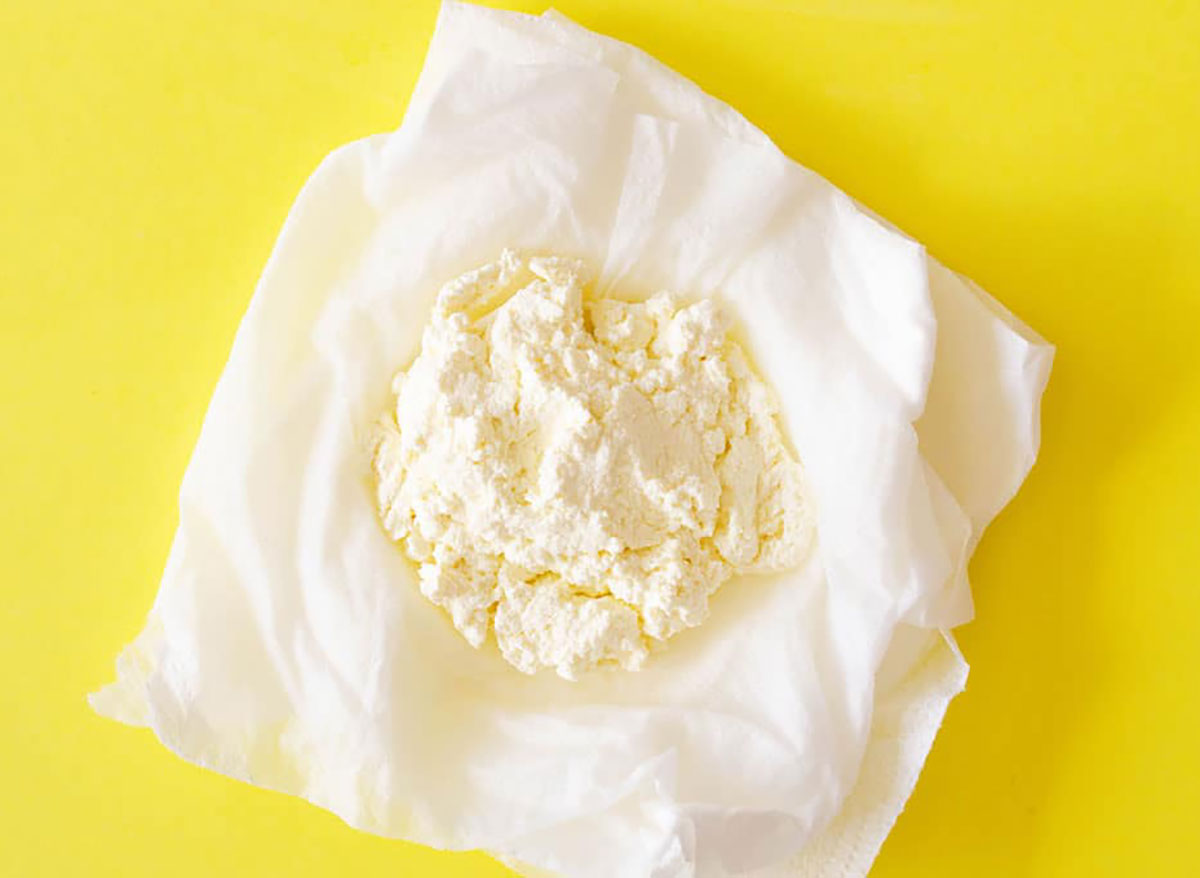 You may be looking for ways to use ricotta cheese, but maybe consider making your own ricotta cheese with this recipe! "Grocery stores are full of delicious ricotta products that are perfect for any recipe, but it's also fun to make your own. And it just takes three simple ingredients—milk, salt, and lemon juice—and five minutes in the microwave," says Sarah Bond of vegetarian recipe blog Live Eat Learn.
Get the recipe from Live Eat Learn. 
Although not everyone may be able to pronounce this cheese the correct Italian way, we can all agree on one thing: it is a super delicious and versatile ingredient that you can add to nearly anything. Whether you use it for your savory meals or sweet treats, you can really doll up ricotta to make it anything you want. When you're done using it for your ricotta cheese recipes, you can even sneak a spoonful by the carton (it's just that good), and reap some more of the protein benefits. It's pretty much like scooping peanut butter out of the jar, but with cheese.
A previous version of this article was originally published on August 12, 2019.