One Major Side Effect of Eating Pears, Says Science
Skip the trip to the salon and head out to the farmers market instead!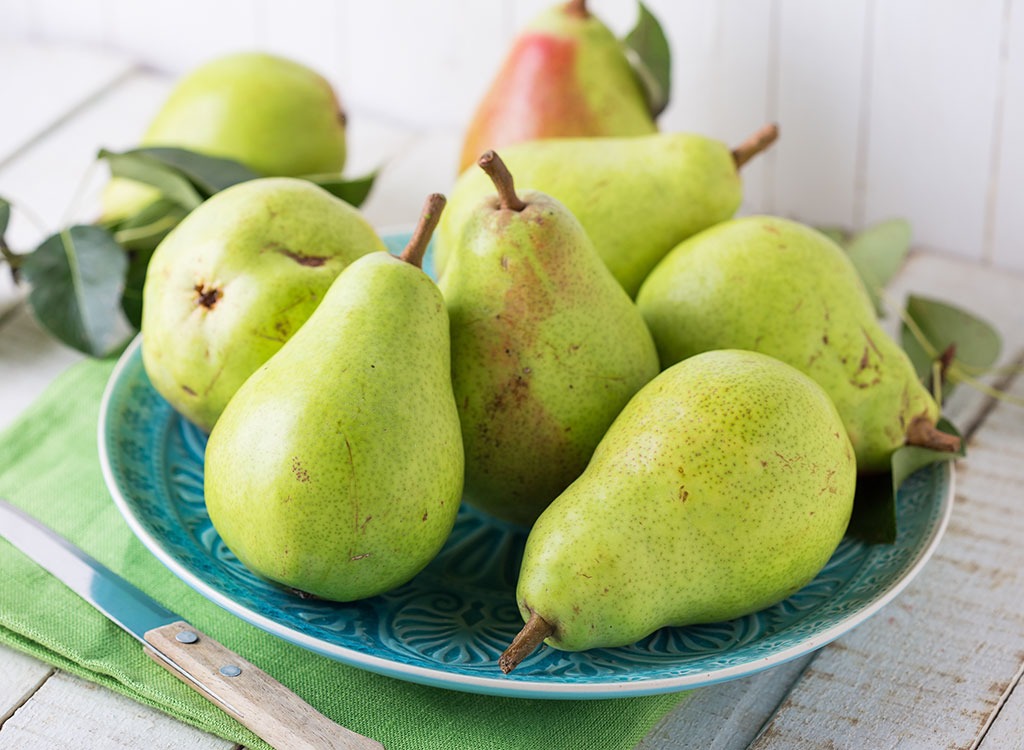 We do a lot to keep up outward appearances. Visits to the hair salon to maintain a healthy head of hair, manicures and pedicures to support nail growth, and there's a never-ending array of skincare products and recommendations to keep your skin at its best. While all of those are good to follow through with, there's something else you can do to help make a positive impact on your hair, skin, and nails: eating pears.
"It is widely known that pears have numerous health benefits. However, their positive impact on our hair, skin, and nails is lesser-known," says Kristin Gillespie, RD and nutrition advisor for Exercise With Style. "​​Pears are rich in vitamin A, zeaxanthin, and lutein, all of which work together to keep our hair and skin healthy."6254a4d1642c605c54bf1cab17d50f1e
Pears are a good option for helping to incorporate more vitamin A in one's diet, although they should not be the only source of vitamin A, as one large pear contains 58 IU (international unit) of the vitamin, according to the United States Department of Agriculture. International units are used to measure fat-soluble vitamins, including vitamins A, D, and K.
Additionally, Gillespie says that Vitamin A has "shown promise" in treating acne, although she adds that more research is needed in that area.
Pears are also high in lutein, with Asian pears containing approximately 138 micrograms. According to a study from Harvard Medical School, lutein has been shown to help diminish the effects of ultraviolet B, meaning you can feel free to enjoy the sun again, responsibly, of course. Eating pears, and the lutein within them, help to eliminate skin damage from the sun.
The sweet fruit is also full of vitamin C, which, like vitamin A, is extremely beneficial for skin health, according to a study from the University of Otago in New Zealand.
The study states that good skin health is "associated with fruits and vegetable intake," which also links the vitamin C found in many fruits and vegetables to healthy skin. Some of the skin benefits that the study linked to vitamin C are reduction in wrinkle depth, wound healing, and minimized scar formation, meaning that by regularly consuming pears, which contain about seven milligrams of vitamin C in a medium-sized pear, your skin could likely appear more clear and youthful-looking.
To keep your hair, nails, and skin healthy in an elegant and crowd-pleasing way, check out our recipe for Chai Poached Pears. Then be sure to sign up for our newsletter for even more healthy eating tips!