7 Grocery Chains With the Best Condiments
Most supermarkets carry the classic sauces, but truly unique condiments can be trickier to find.
A great condiment can bring any meal from good to great, adding a burst of flavor to just about any food item you can think of. Your favorite sauce can even elicit a strong feeling of nostalgia. As psychologist Rachel Goldman told Yahoo Life, "Food is linked to emotions, memories and feelings, and because of this it plays an important role in our lives."
Perhaps that's why you will search far and wide for your go-to dipping sauce. Most grocery stores carry the classics like Heinz ketchup or Frank's RedHot sauce. But truly unique condiments can be trickier to come by. Whether you are a sauce connoisseur or you are in search of that precise flavor of your favorite hamburger sauce from your childhood, you might be wondering which grocery chains carry the best condiment selections.
The following supermarket chains are great options for shopping for your favorite condiments. Whether they carry international brands or rare specialties, or because they simply have a reliable stockpile of great-tasting options, these chains are solidly reliable when it comes to filling your pantry with your favorite salsas, hot sauces, dipping sauces, and more.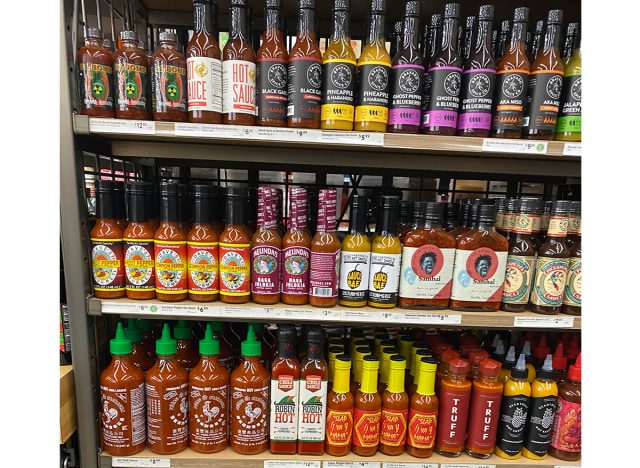 You may not think that a place that sells furniture and home goods would also have an incredible selection of condiments, but that is exactly what World Market offers its shoppers. It sells an array of international products, including condiments and sauces, meaning you are likely to run into some unique finds that you would never find at your usual supermarket. "Who ever buys for them just knows what's up," wrote one fan on Reddit. "It's not some no-name rack of all-the-same-but-the-branding bullshit sauces you find in other random places." So when you see World Market's selection of hot sauces, you cannot help but smile, especially if you love some extreme heat. Fans on Reddit have no trouble listing their favorite hot sauces at World Market, including brands like Bravado and Heartbeat. One wrote, "World Market has become my Hot Sauce plug."
Specializing in Latin American and Caribbean grocery items, Food Bazaar is primarily located in the northeast, with two dozen stores spanning New York City, New Jersey, Connecticut, and Long Island. The store's website mentions how it goes "to great lengths in order to provide each of the communities that we serve with the flavors that they love and recall from 'back home.'" There is no shortage of hot sauces to try at Food Bazaar, with shoppers sharing their personal recommendations on Reddit."Their selection of Asian and Latin condiments and ingredients is really second to none," one fan wrote. Another noted, "They also have Nando's peri peri sauce which I've had trouble finding elsewhere."6254a4d1642c605c54bf1cab17d50f1e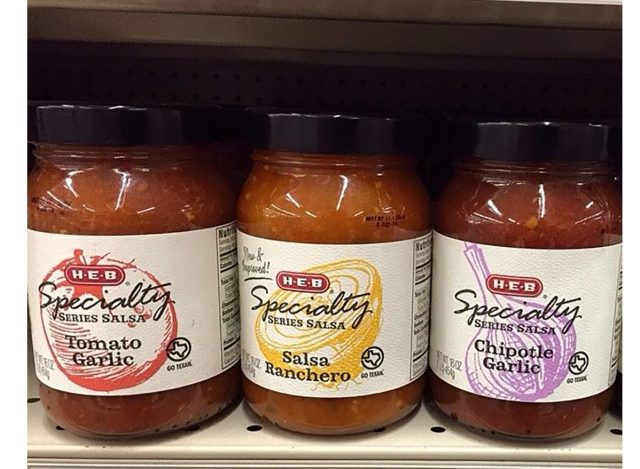 The Texas-based grocery chain H-E-B is a hot spot for excellent hot sauces and salsas. If you think about some of the great foods coming out of the state of Texas, you can count on there being excellent salsa to accompany it. Redditors have no trouble sharing their favorite salsas from H-E-B, with one pointing out how authentic Julio's brand of salsa is, saying "is the closest thing to salsa from Mexican Restaurants back home." But even the regular store brand H-E-B sauces are a hit with customers. One Redditor mentions "All H-E-B brand salsas you can buy cold are wonderful," which is on par with most of the store brand items you can find there.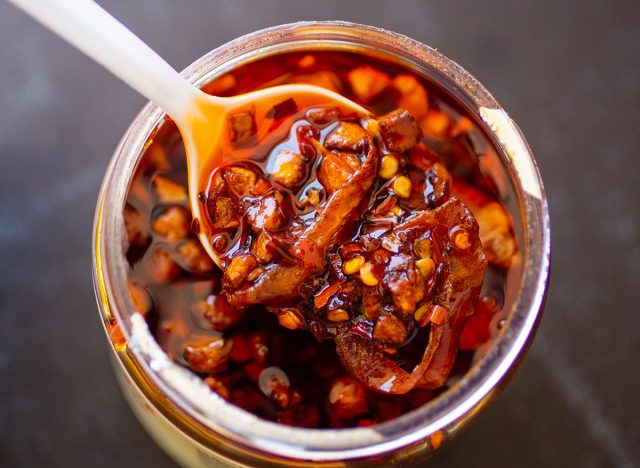 If you have an H Mart in your local area, consider yourself lucky. The Asian supermarket is one of the largest international grocery store chains in the country, selling some unique grocery items that fans cannot get enough of. The ability to purchase an array of condiments and sauces is not lost on customers, who are quick to recommend their top picks. Several Redditors specifically mention the store's Chili Oil, with one super fan noting that it is "[d]elicious and worth every penny."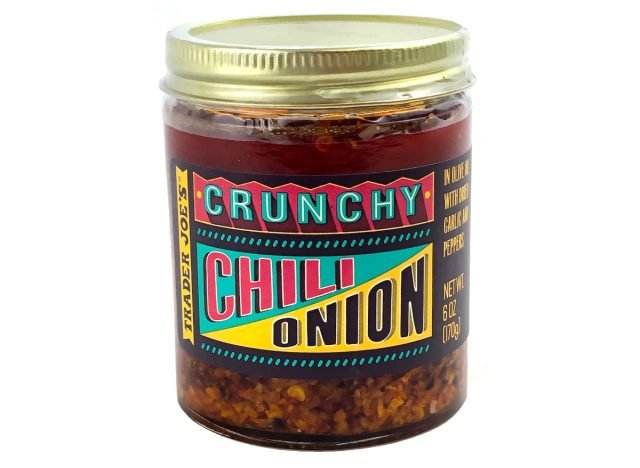 In addition to your everyday essential condiments like mayonnaise, mustard, and ketchup, Trader Joe's offers a variety of unique sauces as well. Stocking up on Trader Joe's brand condiments can quickly fill your entire grocery cart, especially if you follow the shopping list that one fan shared on Reddit. The top picks include the Crunchy Chili Onion, the Carrot Ginger Miso Dressing, and the Aioli Garlic Mustard Sauce. Other shoppers had great things to say about the Jalapeño Sauce, with one Redditor noting how "It's as close as I can find to the green sauce at Peruvian restaurants."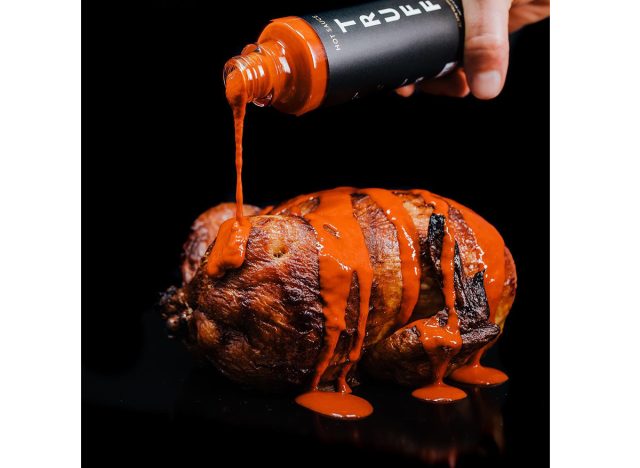 Costco is full of pantry essentials that its members include on their shopping lists on every grocery run, and condiments are certainly not excluded. While you may not find the most unique and rare sauces, Costco's business model of selling things in bulk will mean that you can easily stock up on your favorite condiments and have enough to last quite a while. But when it comes to specific favorites, a few stand out. Costco sells the fan-favorite Truff sauces, which one Redditor described "I think I died and went to heaven. This sauce was amazing." The Kinder's Teriyaki Sauce is also a popular choice among Costco members, with one Redditor confessing how "It even makes tofu taste delicious!"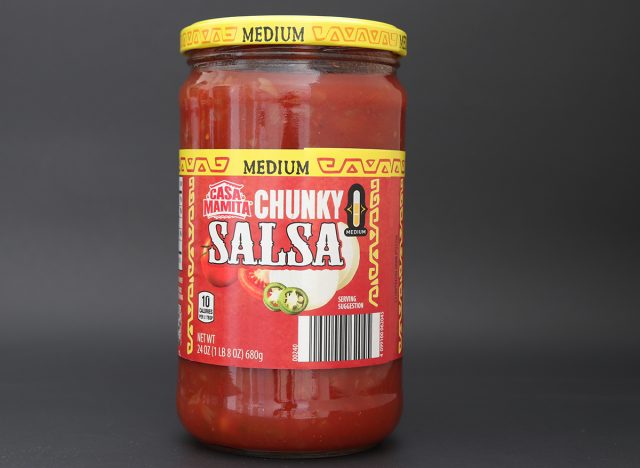 Discount supermarket chain Aldi has seriously impressed shoppers in recent years, both with its low prices as well as its selection of quality items. The store focuses largely on selling private-label products, meaning that the food you find at Aldi will be hard if not impossible to shop for anywhere else. When it comes to condiments, shoppers have plenty of great things to say. One Redditor loves the Casa Mamita salsa at Aldi, calling it "[t]he best store-bought salsa we've found!" Shoppers on Reddit also like Aldi's Fusia line of Asian-inspired stir fry sauces. One wrote, "My partner prefers this teriyaki sauce over the Panda Express which he loved and the PF Chang's sauces."
Carly Neil
Carly Neil is a freelance writer specializing in all things food, travel, Disney, and theme parks.
Read more about Carly