Popular Costco Foods That Help Fight Inflammation, Say Experts
Grab some of these helpful products on your next Costco run.
What you eat plays a huge role in your body's inflammation. According to Harvard Health, inflammation occurs when white blood cells flood a particular part of your body that needs protection from infection, damage, or unfamiliar substances. Smoking or building up fat from eating inflammatory foods causes your immune system to think your body is under attack, and if your body is constantly in this state it can lead to chronic inflammation, which can lead to heart attacks and strokes.
While this condition sounds terrifying, it can be preventable. By focusing on your diet and how you treat your body, you can stop inflammation in its tracks. Red meat and soda can cause greater chronic inflammation, but the nutrients found in tomatoes, olive oil, fatty fish, and nuts can all help prevent and reverse the effects of inflammation. The best way to tackle this issue starts at the doors of Costco when you go on your next grocery run. While it might feel difficult to figure out with Costco products fight inflammation, you can always look for some standbys that have your back.
After consulting with a handful of nutrition experts, we assembled the one-stop shopping list for anyone looking to eat right and cut down on any chronic inflammation. By stocking up on these goods, you can do your body right. After, be sure to also read up on our list of the 30 Best Anti-Inflammatory Foods.
Nature's Lab Turmeric Curcumin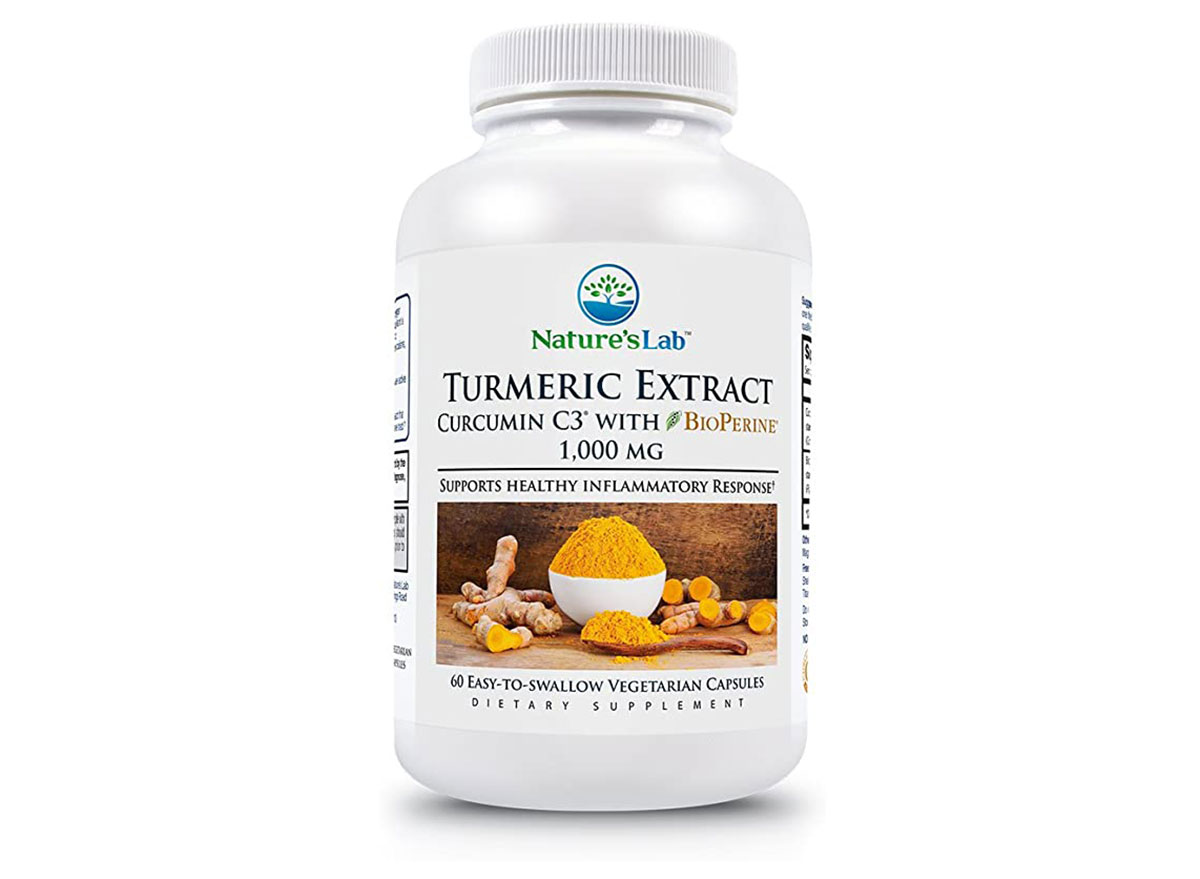 You can take the first step towards beating inflammation by making sure you stock your spice cabinet up with turmeric.
"[This product] contains the compound curcumin from turmeric, which researchers have shown reduces inflammation in humans," says Bryan Quoc Le, Ph.D. and author of 150 Food Science Questions Answered. "Curcumin works by binding to a protein in our cells that activates a series of cellular signals to the nucleus. These signals trigger the cellular machinery to release a number of antioxidant and anti-inflammatory defenses and enzymes."
"Curcumin is a relatively potent anti-inflammatory molecule and several clinical trials demonstrate that the compound has the potential to reduce chronic inflammation from several conditions," he continues.
Kirkland's Sockeye Salmon
Salmon can take your eating plan to great heights, and it even helps reverse the effects of inflammation.
"Salmon is known for its omega-3's and anti-inflammatory benefits, so be on the lookout for Kirkland's Sockeye Salmon on your next shopping trip," says Jay Cowin, NNCP, RNT, RNC, CHN, CSNA, and ASYSTEM's registered nutritionist said.
Once you grab a Costco salmon, you can whip it up into a Honey-Mustard Glazed Salmon With Roasted Asparagus for a delicious way to feel great.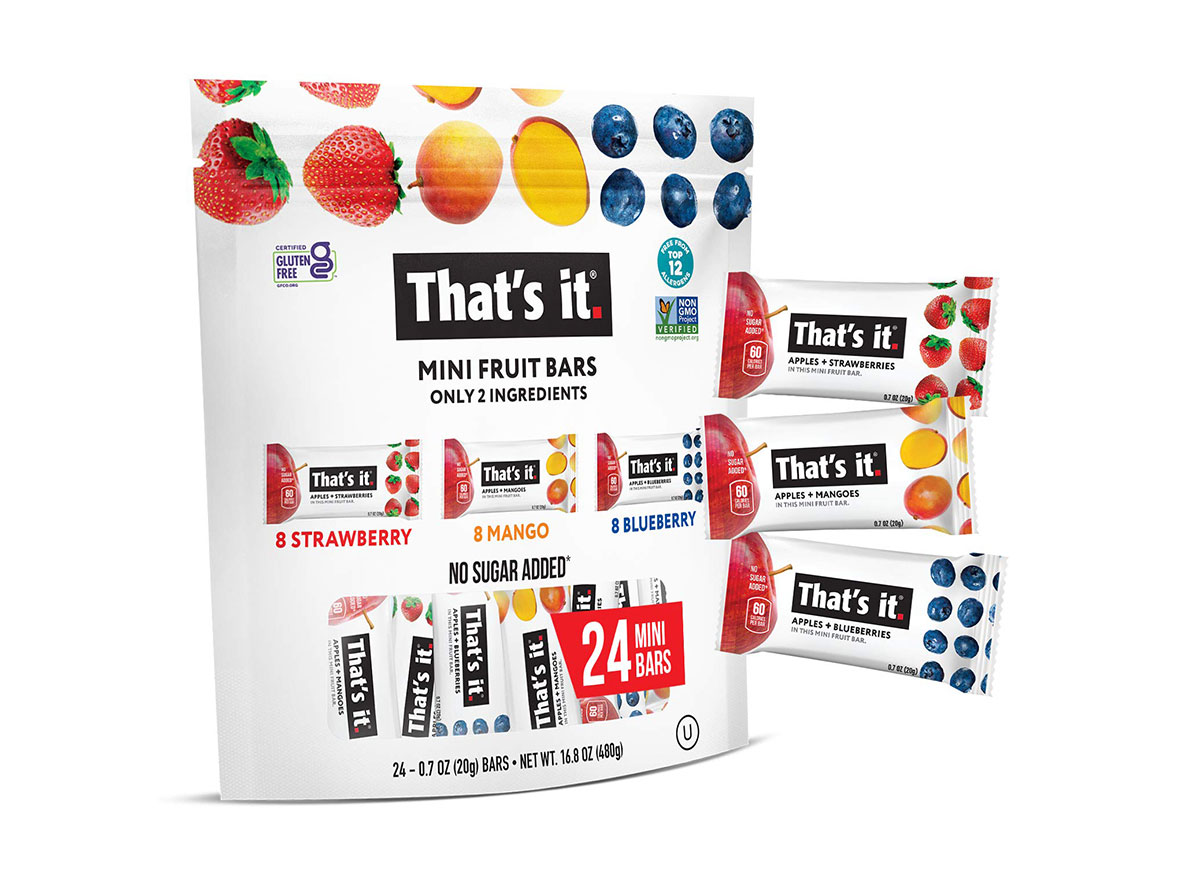 "One of my favorite Costco finds are these That's It fruit bars," says Marissa Meshulam, MS, RD, CDN, and founder of MPM Nutrition. "Unlike many bars that are filled with inflammatory ingredients, these bars are made only with real fruit, which provides a ton of antioxidants that work to keep our cells healthy and fight inflammation. They are a perfect convenience item for days when you haven't made it to the store yet but want to add some fruit to your snack or lunch bag."
"They contain no added sugar or inflammatory oils," adds Meshulam. "Instead, they rely on the natural sweetness from fruit to taste great!"
Costco's Stir-Fry Vegetable Blend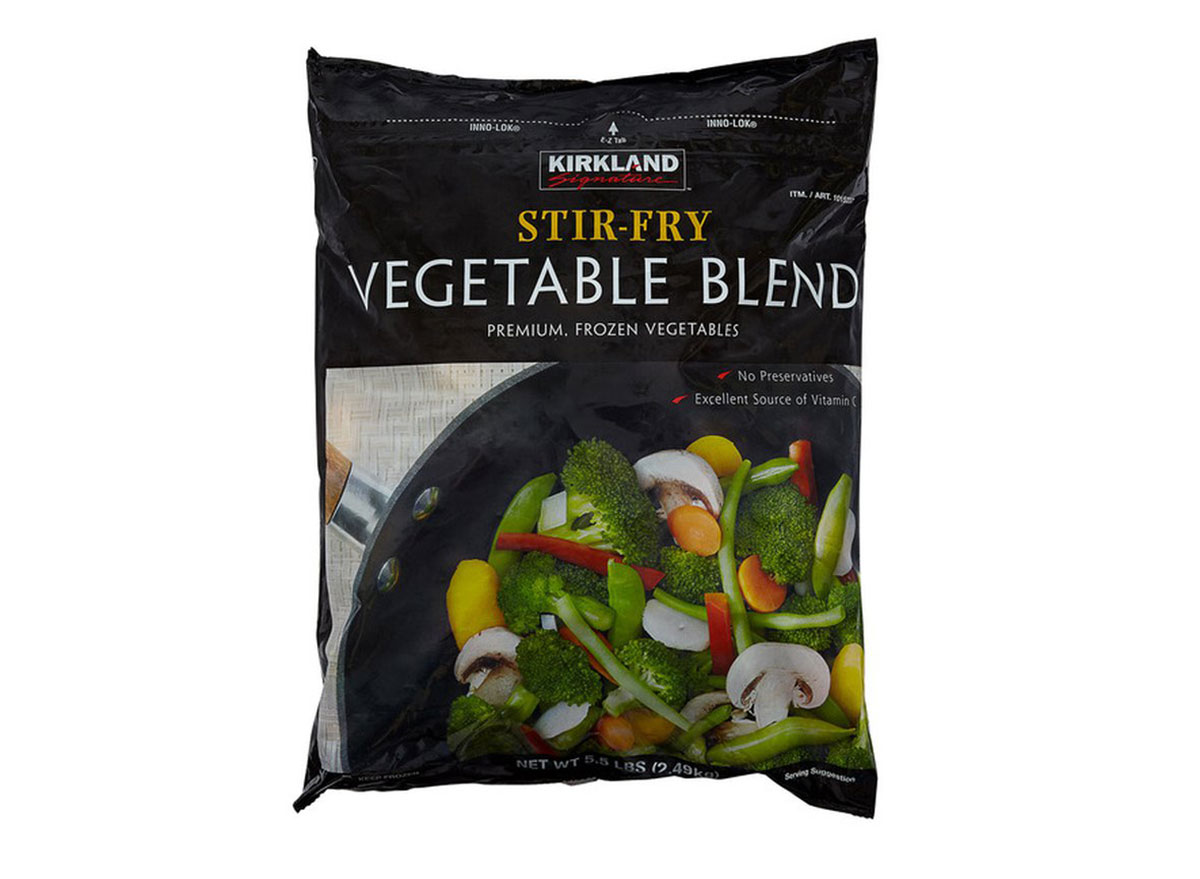 You can't go wrong with getting some more vegetables in your life, and Costco does it again with this frozen stir-fry topper.
"Frozen veggies are just as nutritious, if not more nutritious, than fresh vegetables because they are picked at the height of ripeness," says Lisa R. Young, Ph.D., RDN, and a member of our medical expert board. "I love the stir fry blend which can help round out your meal. The veggies are antioxidant-rich—particularly high in vitamin C which can fight inflammation."
Kirkland Mixed Nuts—Unsalted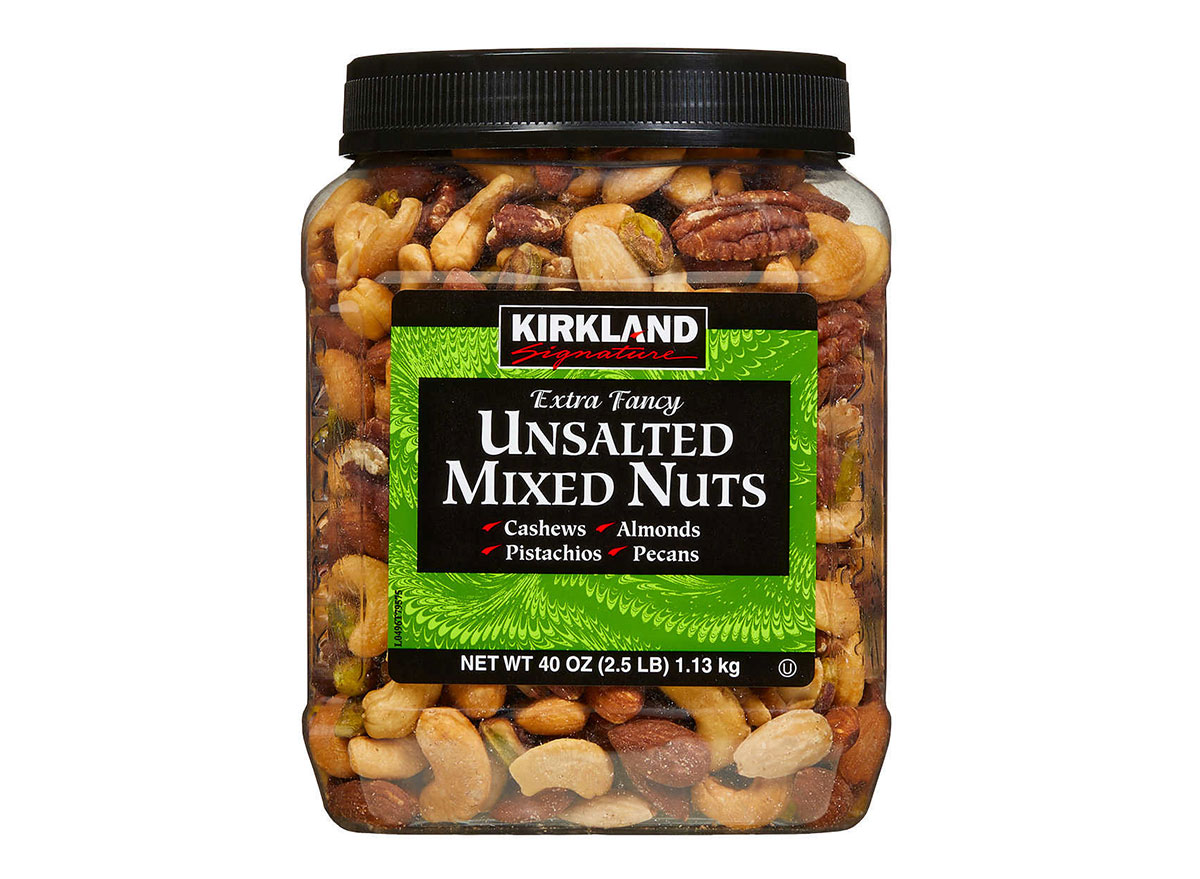 A variety of nuts can help you get to any health goal, and these Costco snacks keep you feeling great.
"Nuts are rich in heart-healthy fats which may help to fight inflammation while also protecting your heart and keeping blood sugar steady," says Young. "I prefer the unsalted varieties. Tip—because the calories in nuts add up quickly, scoop out a 1 oz portion (around a handful) and put it in a dish instead of eating from the container."
Along with nuts, here are 20 Healthy Fat Foods That Won't Make You Fat.
Kirkland Signature San Marzano Whole Peeled Tomatoes
6254a4d1642c605c54bf1cab17d50f1e
"Tomatoes are loaded with carotenoid antioxidants," says Jill Weisenberger, MS, RDN, CDCES, CHWC, FAND, author of the free guide Change Your Habits & Ditch Restrictive Eating. "Canned tomatoes are an even better source of them than fresh tomatoes. The antioxidants work to quiet or inactivate free radicals that can increase inflammation."
Once you pick up your tomatoes, you might need some recipe ideas. Luckily, you can check out Healthy Tomato Recipe Ideas Straight From a Chef for some immediate inspiration.
Kirkland Signature Organic Extra Virgin Olive Oil
Olive oil can do some great things for your overall health, and Kirkland's Signature Organic Extra Virgin Olive Oil doesn't disappoint when it comes to alleviating inflammation.
"Extra Virgin Olive Oil contains oleocanthal, a powerful antioxidant that has anti-inflammatory properties similar to ibuprofen," says Lindsey DeSoto, RDN, LD. "It also contains oleic acid, which has been studied to reduce markers of inflammation."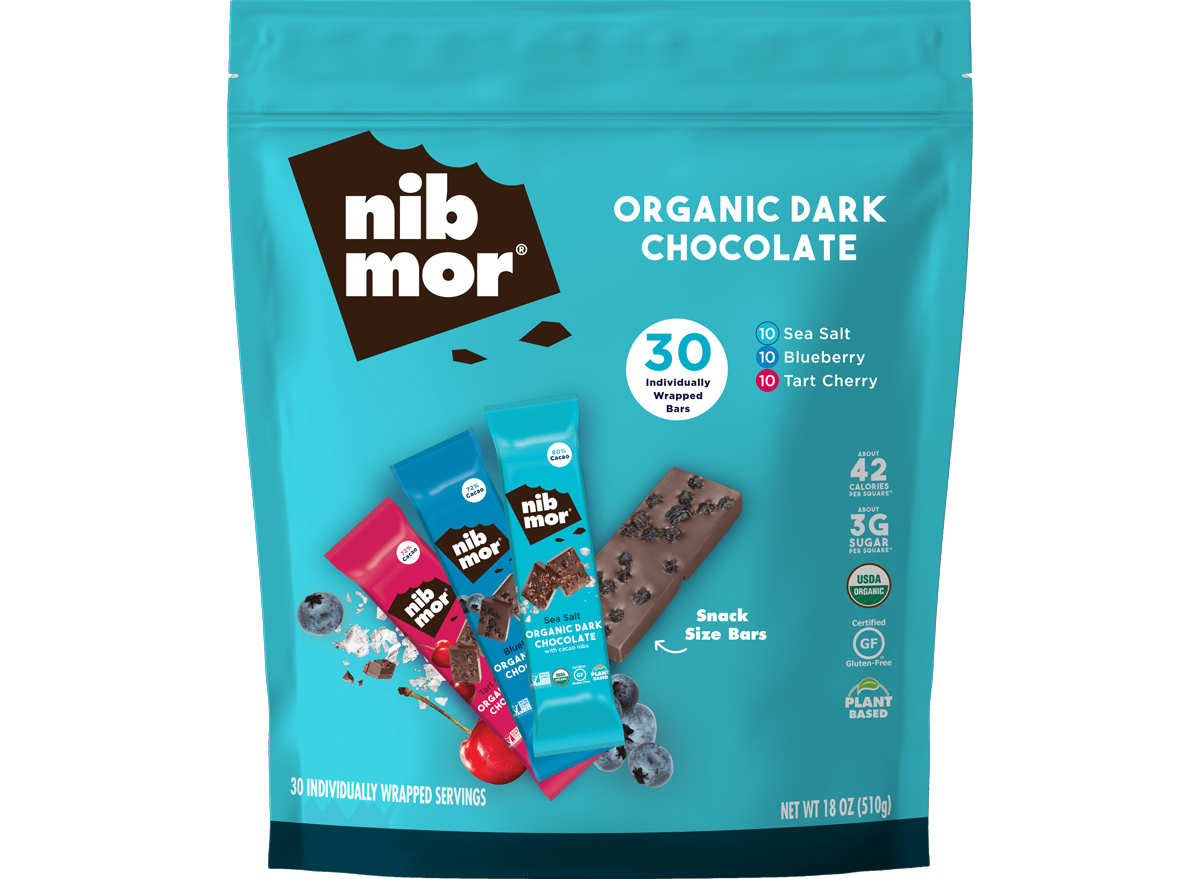 No one needs an excuse to eat more chocolate, but this delectable treat can get you that much more excited for dessert.
"Dark chocolate contains antioxidant compounds called flavonoids that help prevent and reduce inflammation in the body," says Leah Johnston, RDN, LDN at SRW. "A recent study sought to determine the effect of eating dark chocolate on inflammatory biomarkers in participants with type 2 diabetes. Researchers found that the group that consumed dark chocolate along with a specific diet regime had lower levels of inflammatory markers, including CRP and interleukin 6, when compared with the group that did not accompany the diet with dark chocolate."
For even more grocery tips, read these next: