12 Best Aldi Foods to Stock up On, According to Dietitians
Experts recommend buying these healthy Aldi foods as soon as you can get your hands on them.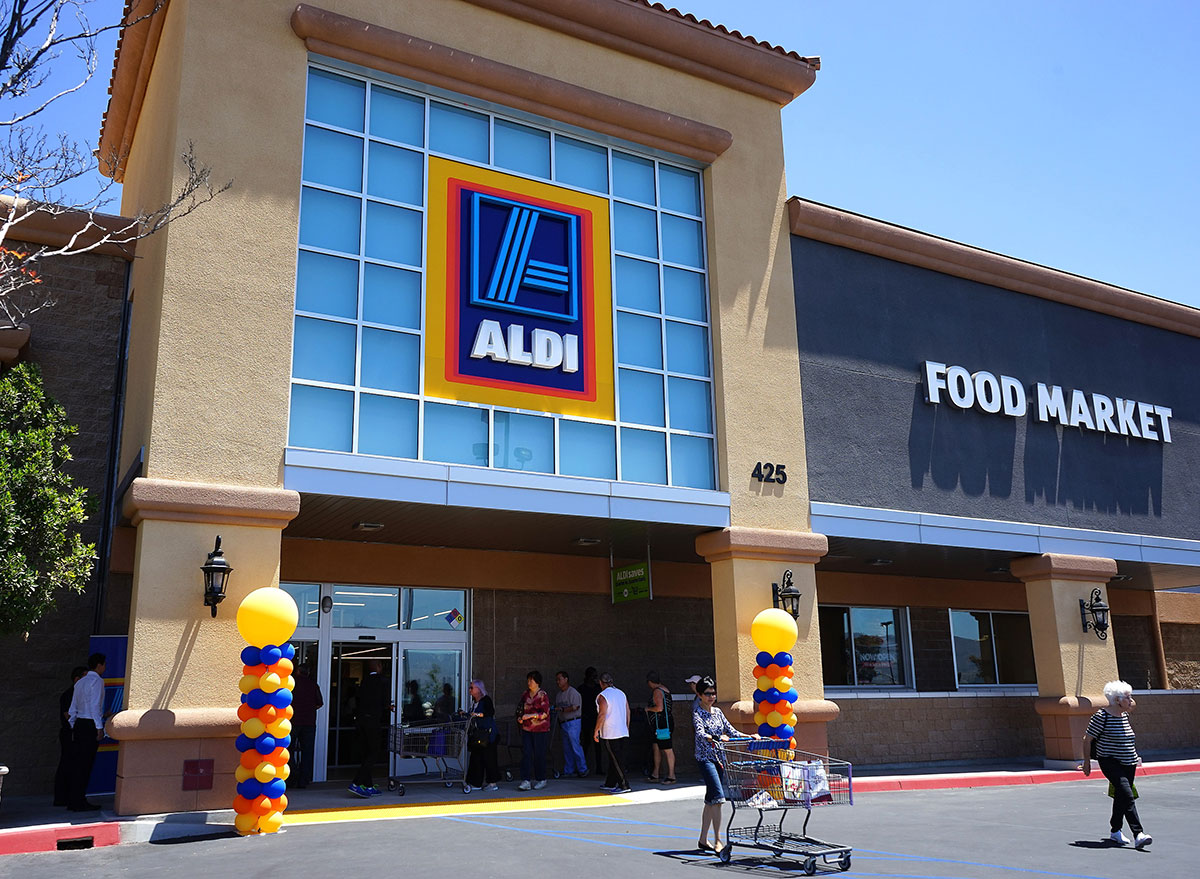 The product recommendations in this post are recommendations by the writer and/or expert(s) interviewed and do not contain affiliate links. Meaning: If you use these links to buy something, we will not earn a commission.
ALDI is one of America's fastest growing retailers, serving millions of customers across over 2,300 locations nationwide. They offer shoppers a curated selection of ALDI-exclusive brands which make up more than 90% of the store. This grocery store also has their weekly rotating selection of ALDI Finds with nearly 100 ALDI finds offered for a limited time. And while you can get many different items from this famous grocery store, some items pack more of a nutritional punch than others.
The next time you head to your local ALDI and prepare to buy your usual list of groceries, check out these 12 healthy Aldi foods that you'll want to add to your shopping cart. These are items that registered dietitian nutritionists (RDNs) from around the country pick up at their local ALDI when they go food shopping—and for good reason.
Read on, and for more healthy grocery-related tips, make sure to check out the Best & Worst Costco Food Court Items, According to a Nutritionist.
Fremont Fish Market Bay Scallops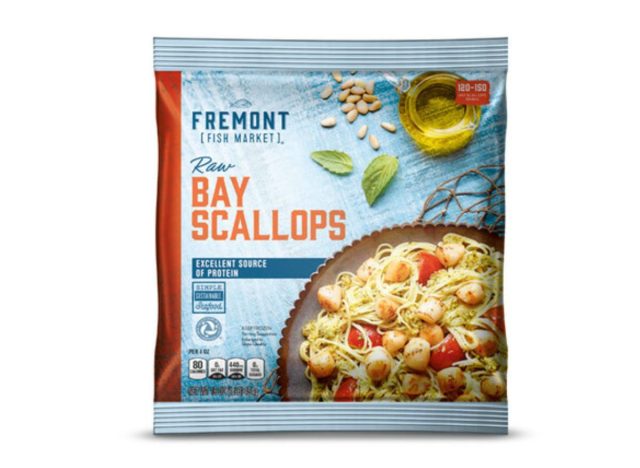 Per 4 oz (113 g)
: 80 calories, 0.5 g fat (0 g saturated fat), 440 mg sodium, 0 g carbs (0 g fiber, 0 g sugar), 14 g protein
"Eating seafood 2 to 3 times a week is one recommendation that I try to stick to. But sometimes, getting my hands on fresh seafood is simply not happening," exclaims Lauren Manaker, MS, RDN, registered dietitian and author of The First Time Mom's Pregnancy Cookbook and Fueling Male Fertility. "These frozen scallops are a source of high-quality protein, DHA omega-3 fatty acids, and vitamin B12. And seeing the BAP certification label lets me know that the seafood choice meets strict standards relative to the environment, the workers, and the animals."
Tuscan Gardens Artichoke Hearts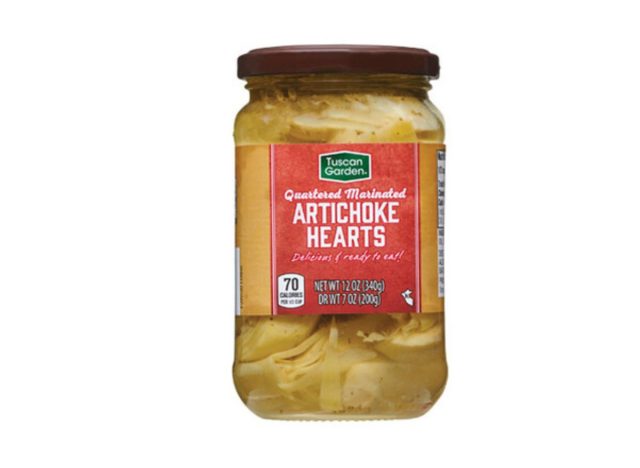 Per 1/3 cup (85 g)
: 70 calories, 7 g fat (0 g saturated fat), 250 mg sodium, 4 g carbs (3 g fiber, 1 g sugar), 1 g protein
Manaker turns to jarred vegetables, which can be a lifesaver on busy nights when fresh options aren't on hand. "These artichoke hearts give my dishes a boost of antioxidants and fiber in seconds, and they elevate pasta, chicken, and grain dishes in a simple way. I love keeping this jarred veggie option on-hand for a quick and simple vegetable addition to my dishes."6254a4d1642c605c54bf1cab17d50f1e
Park Street Deli Red Pepper Hummus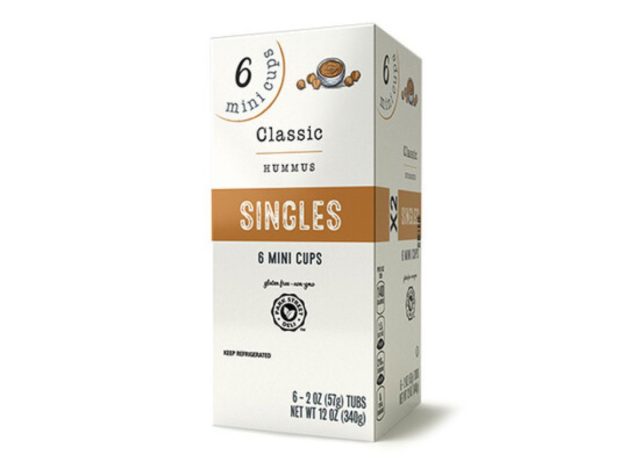 Per 1 mini cup (57 g)
: 100 calories, 7 g fat (0.5 g saturated fat), 230 mg sodium, 8 g carbs (2 g fiber, 2 g sugar), 3 g protein
"Having pre-portioned hummus cups can make mid-day snacking incredibly easy," explains Manaker, who uses whole grain pretzels or vegetables as a vessel for this antioxidant-packed dip that helps keep her going. "I will sometimes drizzle some high quality olive oil on top of the hummus for some extra healthy fat."
PurAqua Belle Vie Sparkling Flavored Water
Per 1 can
: 0 calories, 0 g fat (0 g saturated fat), 0 mg sodium, 0 g carbs (0 g fiber, 0 g sugar), 0 g protein
Hydration is so important, which is why Kelly Springer, MS, RD, CDN, registered dietitian and owner of Kelly's Choice, recommends these sparkling waters to her patients who get bored with plain water. "I have also recommended these drinks to my patients who need a tasty soda alternative, which comes in grapefruit, lime, blackberry, and strawberry flavors."  Springer loves the flavor and the fact that they are naturally flavored with no sweeteners or artificial sweeteners.
Earth Grown Extra-Firm Organic Tofu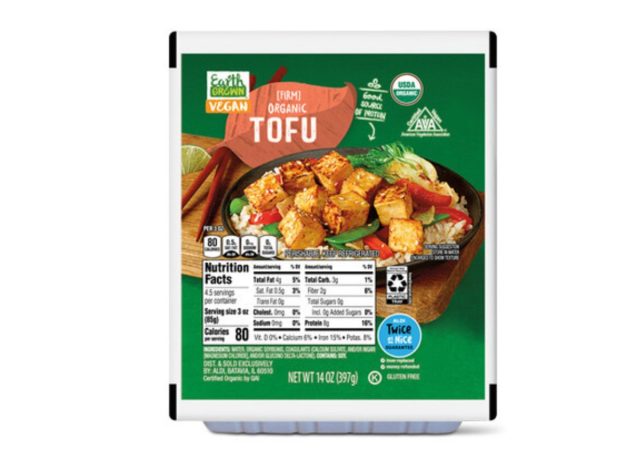 Per 3 oz (85 g)
: 80 calories, 4 g fat (0.5 g saturated fat), 0 mg sodium, 2 g carbs (2 g fiber, 0 g sugar), 8 g protein
"Tofu is a nutrient-dense, plant-based protein food that is versatile enough to star in a variety of different dishes, appropriate for all ages, and robust enough to anchor a meal," says Malina Malkani, MS, RDN, CDN, registered dietitian nutritionist and author of Simple & Safe Baby-Led Weaning. Malkani explains that tofu is a great source of fiber, iron, calcium, potassium, magnesium, and B-vitamins, and that the high isoflavone content in soy foods like tofu may help reduce depression as well as the frequency and severity of menopausal hot flashes in women, and may also help improve both their brain function and bone density. Further, "eating soy has not been found to affect testosterone levels in men, even at the highest levels of intake."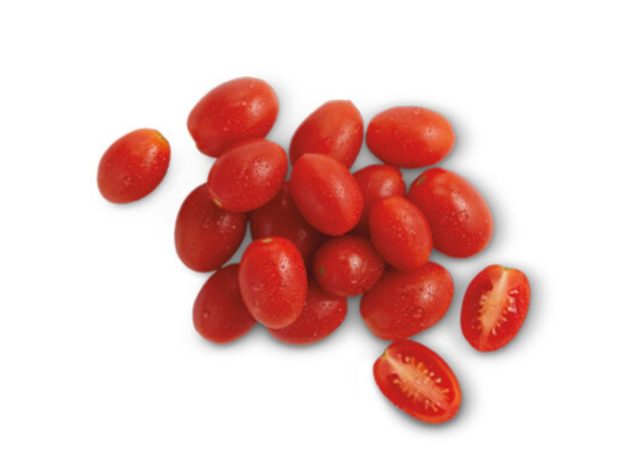 Per 1 cup (148 g)
: 50 calories, 1 g fat (0 g saturated fat), 10 mg sodium, 10 g carbs (4 g fiber, 6 g sugar), 1 g protein
Dr. Joan Salge Blake, EdD, RDN, LDN, FAND, registered dietitian nutritionist, nutrition professor at Boston University, and the host of the nutrition & health podcast, Spot On! loves to grab these sweet baby tomatoes at Aldi's. "I toss them in my salads to boost the vitamin C and fiber at my meals," explains Salge Blake. "The savings allows me to buy additional containers so that I can roast them and freeze them for another meal. In these food inflationary times, Aldi's is my place to go to get the most for my food dollar."
Friendly Farms Nonfat Greek Yogurt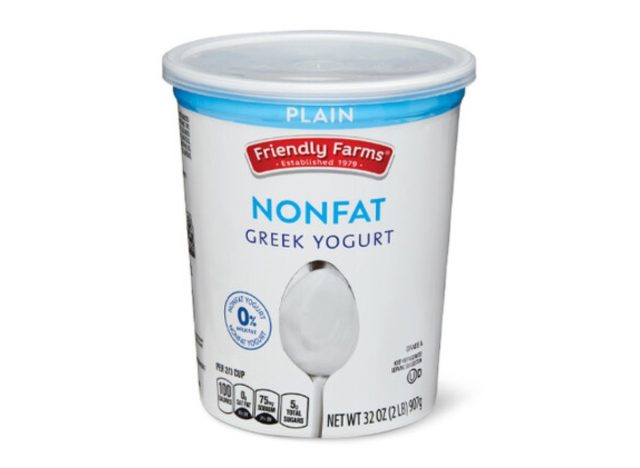 Per 6 oz
: 120 calories, 0 g fat (0 g saturated fat), 95 mg sodium, 15 g carbs (0 g fiber, 15 g sugar), 16 g protein
Jim White RDN, ACSM EX-P, registered dietitian nutritionist and owner of Jim White Fitness recommends Friendly Farms plain nonfat yogurt as a healthy Aldi food choice because it packs in 16 grams of protein per serving, along with live and active cultures. "The high amount of protein can help build lean muscle and also offer gut friendly probiotics," White explains.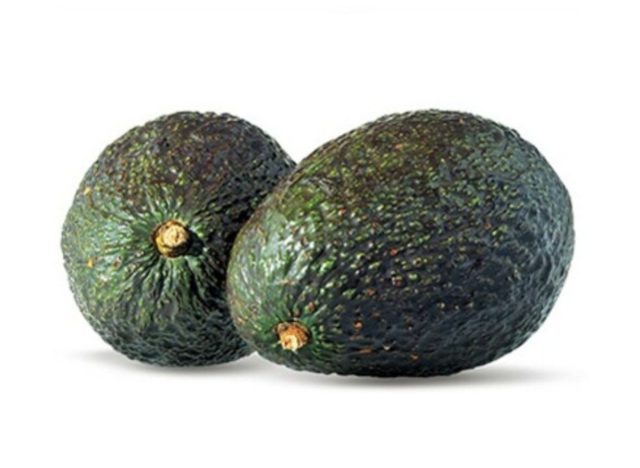 Per 1/3 medium (50 g)
: 80 calories, 8 g fat (1 g saturated fat), 0 mg sodium, 4 g carbs (3 g fiber, 0 g sugar), 1 g protein
One of my go-to healthy Aldi foods is avocados. My teen girls love to make avocado toast before school, and I like to use them to make guacamole for an after-school snack. Avocados are also nutrient dense, providing heart-healthy monounsaturated fat, which also helps with the absorption of fat-soluble vitamins (A, D, E, K). Avocados are also free of sodium, sugar, and cholesterol.
Simply Nature Organic Creamy Peanut Butter
Per 2 tbsp (32 g)
: 200 calories, 17 g fat (2.5 g saturated fat), 105 mg sodium, 7 g carbs (3 g fiber, 1 g sugar), 8 g protein
Filled with heart-healthy unsaturated fat, plant-based protein, and the antioxidant vitamin E, peanut butter is a win in my house. I add it to pancake batter, smoothies, oatmeal, or just on crackers for a deliciously filling snack.
Dakota's Pride Kidney Beans
Per 1/2 cup
: 150 calories, 0.5 g fat (0 g saturated fat), 170 mg sodium, 26 g carbs (8 g fiber, 1 g sugar), 11 g protein
Canned beans are a nutrient-filled, shelf-stable food that can be used to make chili, soup, rice and beans, and much more. Most Americans don't meet their daily recommendations for fiber, and adding ½ cup of these babies adds 32% of your daily recommended amount of fiber.  If you want to decrease the sodium, research has found that rinsing your beans can decrease the sodium by up to 40%.
Northern Catch Sustainably Caught Pole & Line Chunk Light Tuna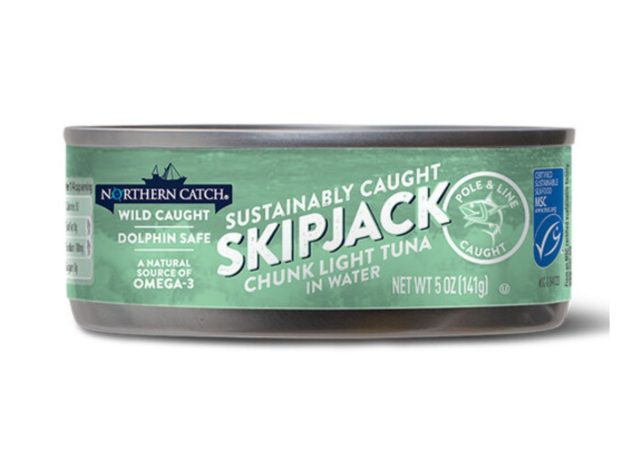 Per 1 can (5 oz)
: 90 calories, 1 g fat (0 g saturated fat), 340 mg sodium, 0 g carbs (0 g fiber, 0 g sugar), 19 g protein
Canned tuna is another shelf-stable must-have in my pantry full of omega-3s and protein. Grab one when you're in a pinch and make a quick tuna salad, or top over a green salad.
Season's Choice Berry Medley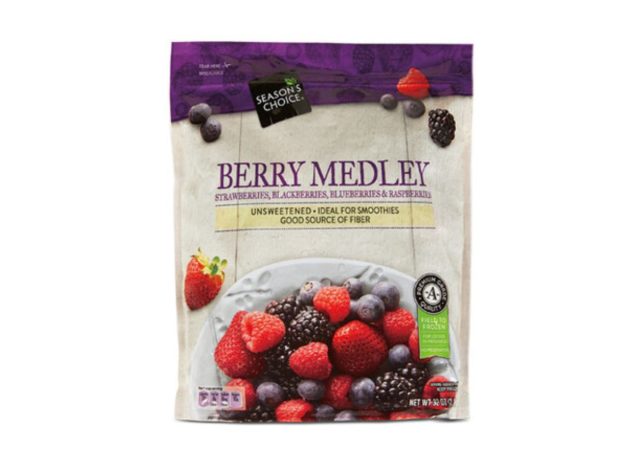 Per 1 cup
: 70 calories, 0.5 g fat (0 g saturated fat), 0 mg sodium, 17 g carbs (5 g fiber, 10 g sugar), 1 g protein
This frozen combination of strawberries, blackberries, blueberries, and raspberries is perfect to stash in your freezer. Whip it out for an easy smoothie mixed with Greek yogurt and 100% cranberry or pomegranate juice. They can also be defrosted and used in muffin and pancake batters.
Toby Amidor, MS, RD, CDN
Toby Amidor is an award winning dietitian and
Wall Street Journal
best-selling cookbook author who believes healthy and wholesome can also be appetizing and delicious.
Read more about Toby
Sources referenced in this article