8 'Healthiest' Fast-Food Baked Goods, According to Dietitians
These baked goods from your favorite fast-food chains are on the lighter side, but are still very tasty.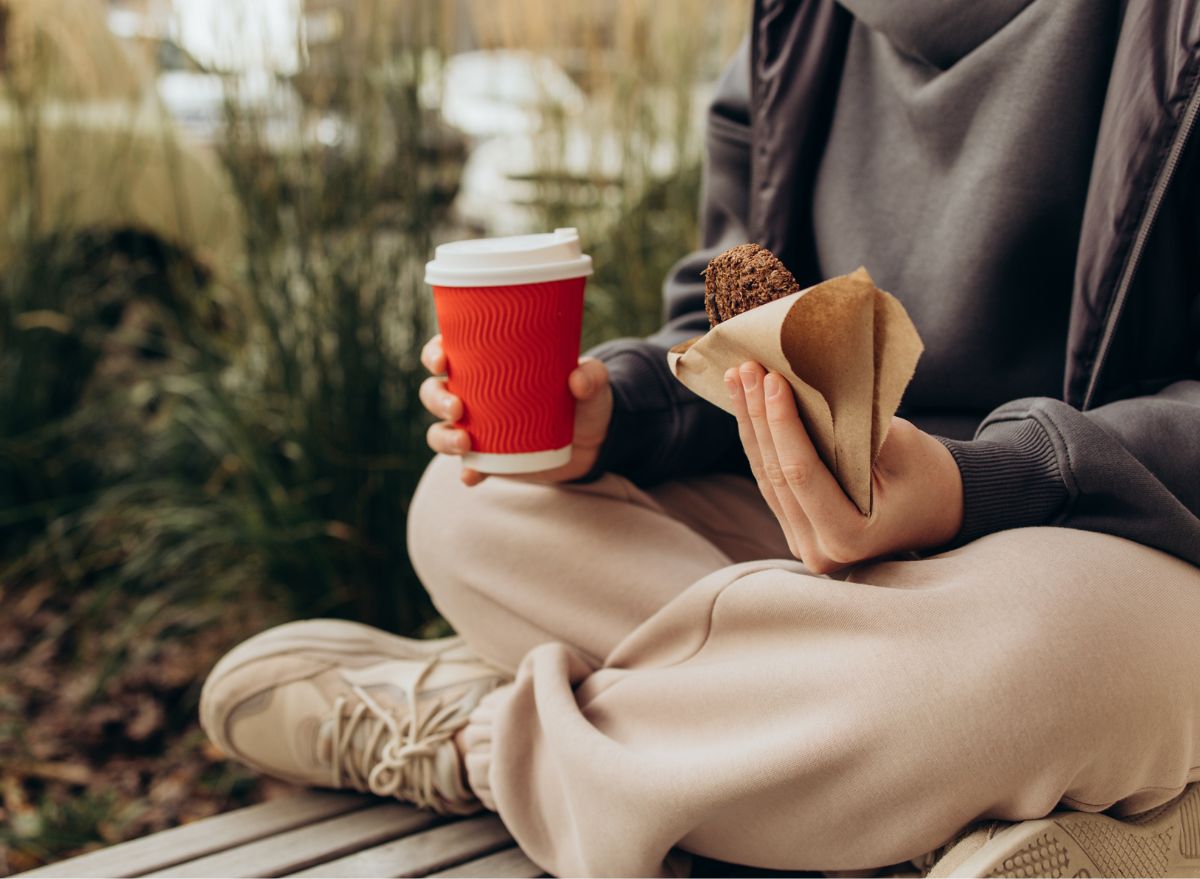 When your sweet cravings hit, it's best to be armed with the knowledge of which baked goods are your best choice. Most fast food establishments do carry some dessert, but the options tend to be hundreds of calories. Thankfully, there are still some healthy fast-food baked goods out there if you know what to look for.
According to the 2020-2025 Dietary Guidelines for Americans, 85% of your food should come from healthy options like fruits, veggies, lean protein, whole grains, healthy fats, and dairy, but you do have 15% discretionary calories. For added sugars, it's recommended to cap it at 10% of total calories (that's 200 calories based on a 2,000-calorie diet). Saturated fat can also be an issue, but you do have some wiggle room, and the Dietary Guidelines recommend no more than 10% of total calories from saturated fat.
The healthier baked goods options below are all reasonable in terms of calories and can fit into a healthy eating plan. This doesn't mean you should have them regularly or eat many of them at a time. It's a one-and-done thing to help satisfy cravings. I recommend reading the list to become aware of the best fast foods to go to when a baked good craving strikes.
Read on, and for more healthy dining out tips, check out The #1 Unhealthiest Breakfast at 14 Major Restaurant Chains.
Starbucks Petite Vanilla Bean Scone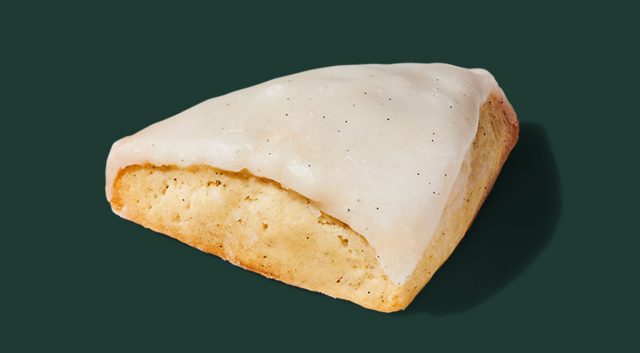 Per scone
: 130 calories, 6 g fat (3 g saturated fat), 110 mg sodium, 19 g carbs (0 g fiber, 9 g sugar), 2 g protein
This smaller-sized scone is perfect if you're craving something sweet. The reasonable amount of calories (only 130) can fit into a healthy eating plan.
Wendy's Fresh Baked Oatmeal Bar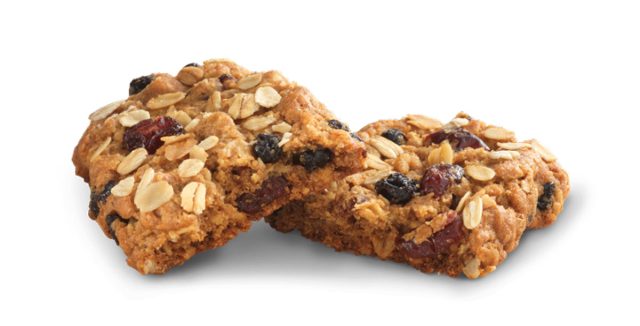 Per bar
: 280 calories, 10 g fat (4 g saturated fat), 230 mg sodium, 45 g carbs (4 g fiber, 23 g sugar), 3 g protein
Wendy's Oatmeal Bar is made with whole oats, sweet blueberries, and tart cranberries and is a top pick for Lauren Manaker MS, RDN, LD. The calories are within reasonable limits for a snack. Plus, it "provides four grams of fiber and 10% of the daily value (DV) of iron, helping contribute to people's nutritional needs," explains Manaker.
McDonald's Chocolate Chip Cookie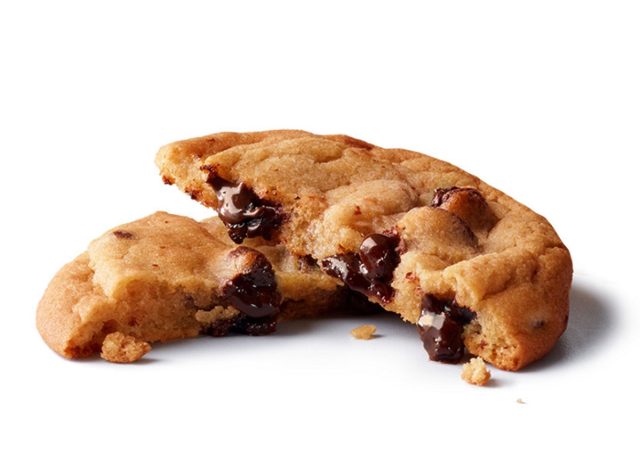 Per cookie
: 170 calories, 8 g fat (4 g saturated fat), 95 mg sodium, 22 g carbs (1 g fiber, 15 g sugar), 2 g protein
As a registered dietitian, I'm always looking for a good chocolate chip cookie, but most have hundreds of calories! When I'm craving this indulgence, I opt for this smaller portioned cookie from McDonald's for 170 calories. It's certainly not a healthy food per se, but I can fit it into a healthy eating plan on occasion.
White Castle Strawberry Swirl Cheesecake On-A-Stick
Per piece
: 150 calories, 8 g fat (4 g saturated fat), 105 mg sodium, 20 g carbs (0 g fiber, 9 g sugar), 2 g protein
Baked goods on a stick tend to be a good option because you usually can't fit too much food on that stick! This mini-sized strawberry cheesecake from White Castle is perfect for your cheesecake cravings, as it has a fraction of the calories compared to a slice of cheesecake.
Panera Sprouted Grain Bagel Flat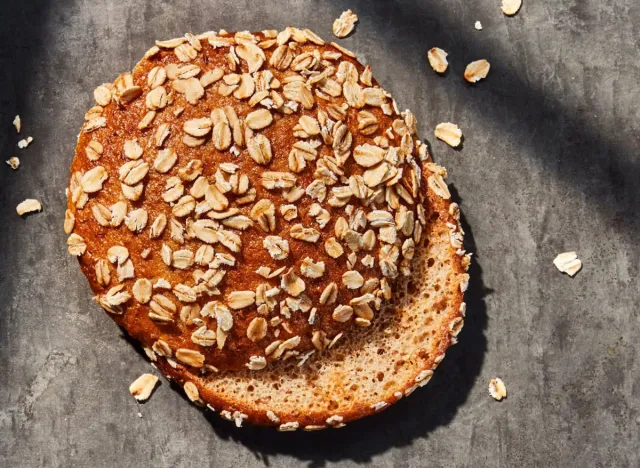 Per bagel flat
: 180 calories, 2 g fat (0 g saturated fat), 410 mg sodium, 34 g carbs (3 g fiber, 4 g sugar), 7 g protein
Instead of starting your day with a high-calorie muffin or other pastry, registered dietitian nutritionist and author, Malina Malkani, MS, RDN, CDN, recommends choosing this bagel flat from Panera. "It offers a quick, convenient way to start the day with a sensibly portioned whole grain breakfast," says Malkani. "Made primarily with sprouted whole grain flour, white whole wheat flour, and rolled oats, it provides a balanced three grams of fiber and seven grams of protein in only about 180 calories, and it tastes amazing with any of Panera's available spreads."6254a4d1642c605c54bf1cab17d50f1e
Popeyes Cinnamon Apple Pie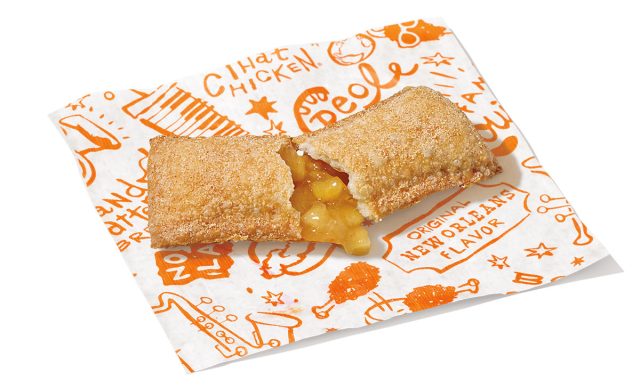 Per pie
: 240 calories, 16 g fat (6 g saturated fat), 260 mg sodium, 35 g carbs (1 g fiber, 12 g sugar), 3 g protein
Fast-food joints are known for their "grab and go," small-sized apple pies. If you're having a nostalgic moment and are craving one, stop by Popeyes. At 240 calories, it's a doable once-in-a-while choice, plus you'll also get in a bit of fruit. And yes, it is fried— but the Dietary Guidelines do give you some wiggle room and it's not an everyday treat.
Panera Sourdough Loaf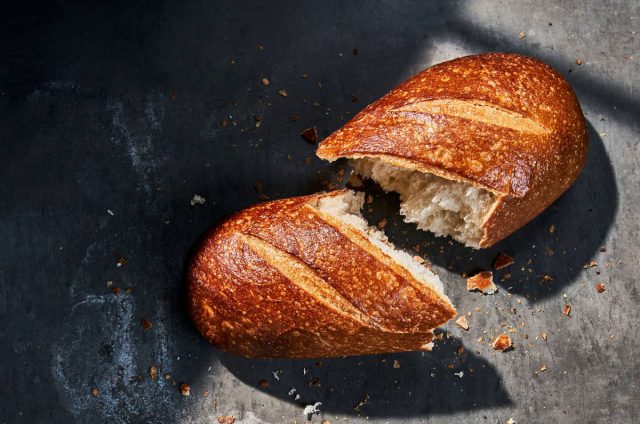 Per 1/8th of loaf
: 150 calories, 0 g fat (0 g saturated fat), 320 mg sodium, 31 g carbs (1 g fiber, 0 g sugar), 6 g protein
This baked good is a better-for-you option, as "It is nutrient-rich, low in fat and sugar, made with natural ingredients, and packed with essential nutrients and gut-friendly properties," says Wan Na Chun, MPH, RD, CPT of One Pot Wellness. "The fermentation process for sourdough bread can lead to an increased number of prebiotic- and probiotic-like properties, which help improve gut health."
Starbucks Cookies & Cream Cake Pop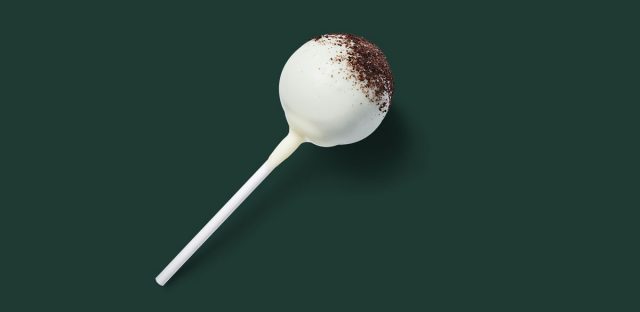 Per pop
: 140 calories, 7 g fat (4 g saturated fat), 70 mg sodium, 20 g carbs (0 g fiber, 15 g sugar), 1 g protein
This mini cake on a stick is perfect when that sweet craving hits. With 140 calories, it is a reasonable choice for dessert. And yes, it has added sugar, but the Dietary Guidelines recommend no more than 10% of total calories come from added sugar and this certainly fits within those limits.
Toby Amidor, MS, RD, CDN
Toby Amidor is an award winning dietitian and
Wall Street Journal
best-selling cookbook author who believes healthy and wholesome can also be appetizing and delicious.
Read more about Toby
Sources referenced in this article