10 Unhealthiest Wendy's Orders, According to Dietitians
Experts say you may want to avoid (or at least limit) these unhealthy items on the Wendy's menu.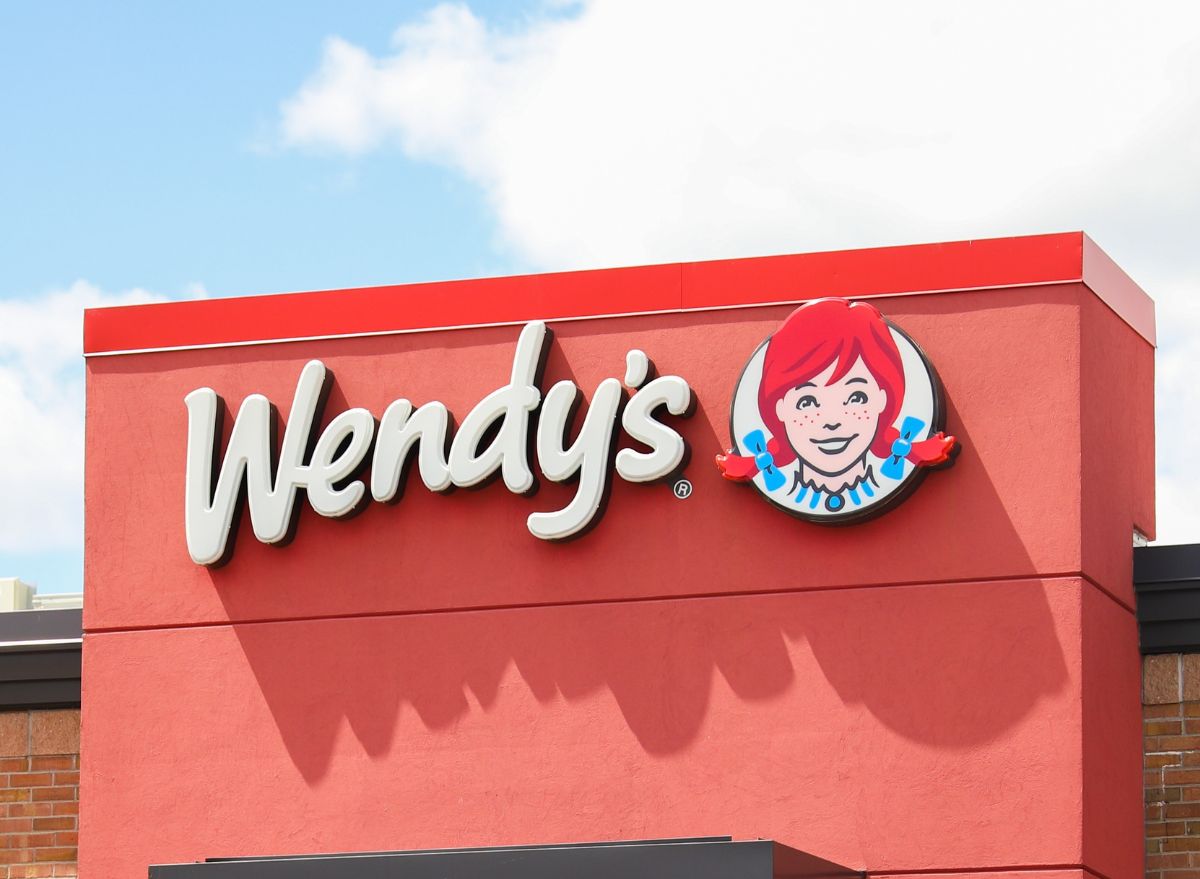 Fast food can be a real lifesaver when there's nothing else to eat and your own fuel tank is running low. Thankfully, many fast food chains have created healthier menus so you can eat well even when you're in a rush. Wendy's has plenty of healthier options, like their chili, baked potato, and certain salads, but there are several choices on the menu you may want to skip altogether, no matter how tempting these unhealthy Wendy's orders may be.
Some of the worst menu items at Wendy's have close to a day's worth of sodium and over 100% of the recommended saturated fat limit in just one burger or sandwich. These choices are loaded with cheese, bacon, beef, and even sugar, adding nutrients that can be damaging to your heart health, as well as an excess of calories.
Dietitians recommend staying away from these menu items, which they consider to be some of the unhealthiest Wendy's orders available. Read on, and then, for more healthy eating tips, check out the 8 Unhealthiest Taco Bell Orders.
Big Bacon Classic Triple Burger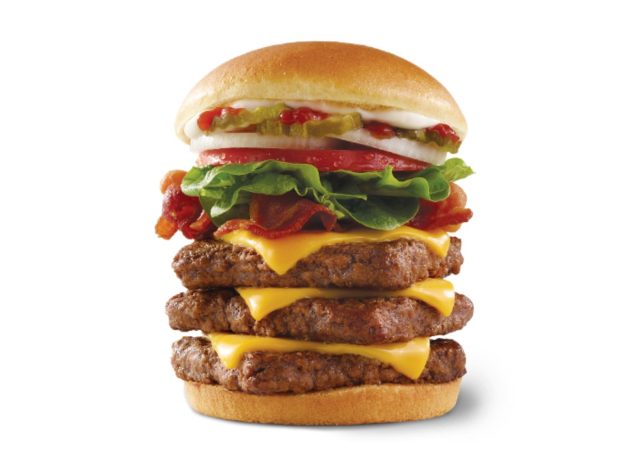 Per burger
: 1,220 calories, 86g fat (36 g saturated fat), 1,820mg sodium, 39g carbs ( 2g fiber, 9g sugar), 75g protein
The Wendy's Big Bacon Classic Triple Burger may be the worst thing on the menu, with 1,220 calories in just one sandwich. And don't forget about the 36 grams of saturated fat— or 163% of the recommended daily value (DV) of just 22 grams per day—and 10% of your daily calories. "Eating foods high in unhealthy fats, like saturated fat or trans fats, can raise LDL cholesterol and increase the risk of diabetes and heart disease," says Julie Pace, RDN,  functional dietitian nutritionist & owner of Core Nutrition Health+Wellness.
Maple Bacon Chicken Croissant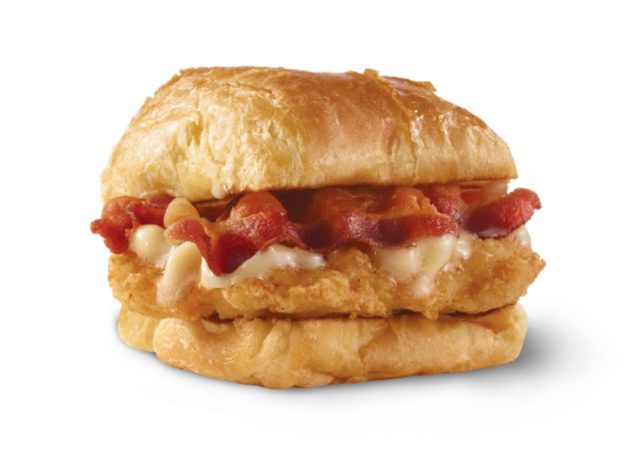 Per sandwich
: 570 calories, 31g fat (11g saturated fat), 1210mg sodium, 52g carbs ( 1g fiber, 14g sugar), 22g protein
If you're stopping for a quick breakfast, you might want to skip the Maple Bacon Chicken Croissant. Just one sandwich will have you starting your day with half of your limit of saturated fat and sodium. One sandwich has 1,210 milligrams of sodium, which is 52% of the recommended daily limit of 2,300 milligrams.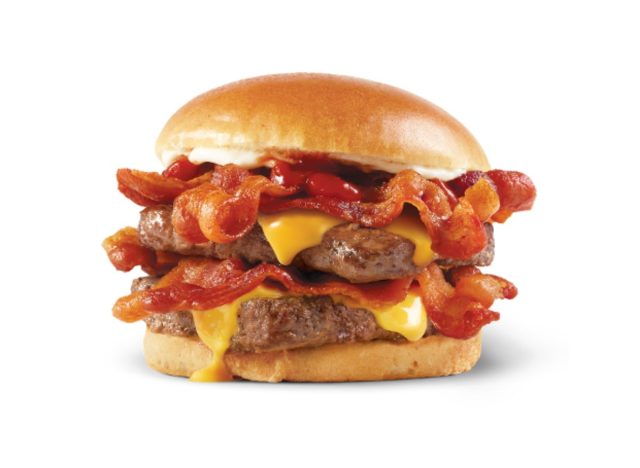 Per burger
: 960 calories, 66g fat ( 27g saturated fat), 1540mg sodium, 36g carbs ( 1g fiber, 7g sugar), 57g protein
With two hamburger patties, plenty of smoked bacon, and American cheese, the Baconator is better left behind the counter. One sandwich has 27 grams of saturated fat (122% of the DV) and 1,540 milligrams of sodium. Bacon and American cheese are high-sodium choices, and they add up quickly in this popular burger.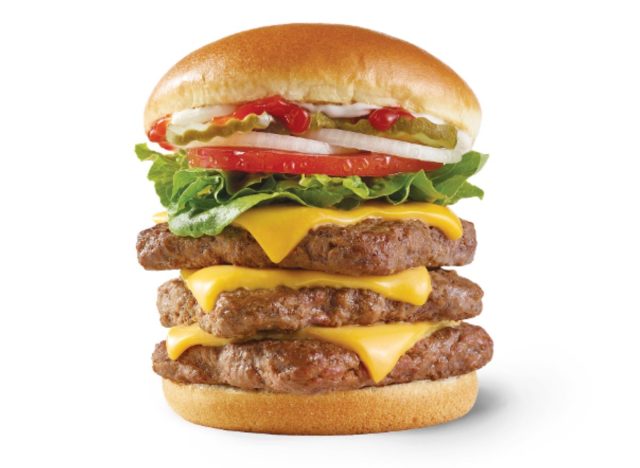 Per burger
: 1160 calories, 82g fat ( 34g saturated fat), 1610mg sodium, 38g carbs ( 2g fiber, 8g sugar), 70g protein
Dave's Triple Burger has over 1,100 calories and 34 grams of saturated fat, along with 1,610 milligrams of sodium (70% of the recommended daily limit). Eating this burger, even weekly, would put someone at a higher risk for developing heart disease, says Joanna Ayalloore, MS, RD, owner of Nutrition Kept Simple.6254a4d1642c605c54bf1cab17d50f1e
Loaded Nacho Triple Burger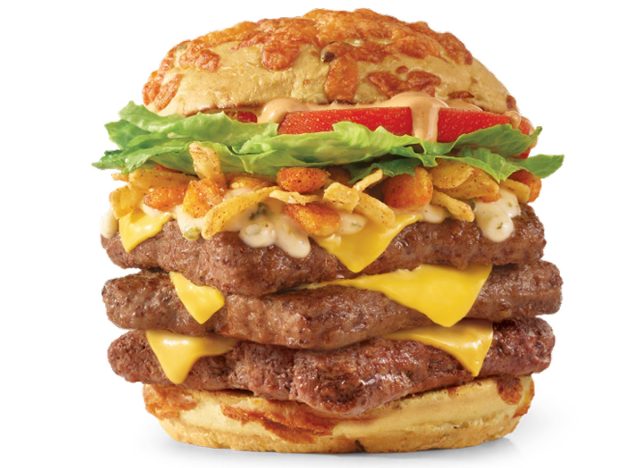 Per burger
: 1280 calories, 87g fat ( 36g saturated fat), 1930mg sodium, 52g carbs ( 4g fiber, 12g sugar), 75g protein
The Loaded Nacho Triple Burger is full of flavor with its jalapeño cheddar bun, spicy chipotle sauce, queso, and the added corn and tortilla strips, but it's also full of sodium and fat. "The American Heart Association recommends limiting daily sodium intake to no more than 2,300 milligrams, and this burger contains almost that full daily amount," says Mandy Tyler, M.Ed., RD, CSSD, LD.  "Individuals would be much better off enjoying a single patty burger and then a healthy snack later in the day if still hungry," Tyler adds.
Asiago Ranch Chicken Club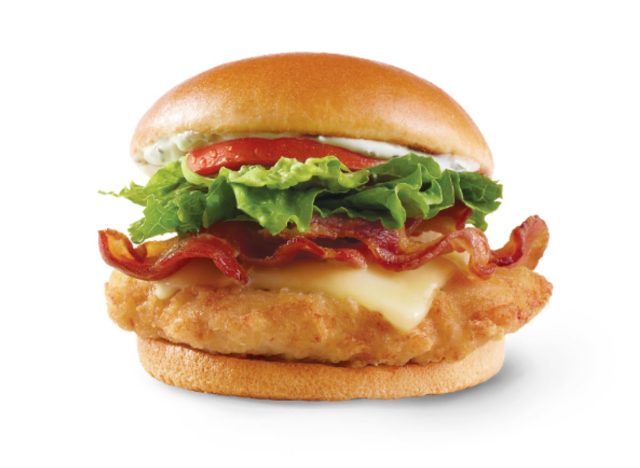 Per sandwich
: 600 calories, 28g fat ( 8g saturated fat), 1710mg sodium, 50g carbs ( 2g fiber, 5g sugar), 36g protein
"When it comes to making healthier choices at Wendy's, the Asiago Ranch Classic Chicken Club falls into the category of menu items to approach with caution," says Jessie Hulsey RD, LD, an Atlanta-based registered dietitian. While this sandwich only has eight grams of saturated fat (36% of the recommended daily limit), it does have 1,710 milligrams of sodium. Just this one sandwich will meet 75% of your recommended daily sodium limit, not leaving room for much else without eating entirely too much salt.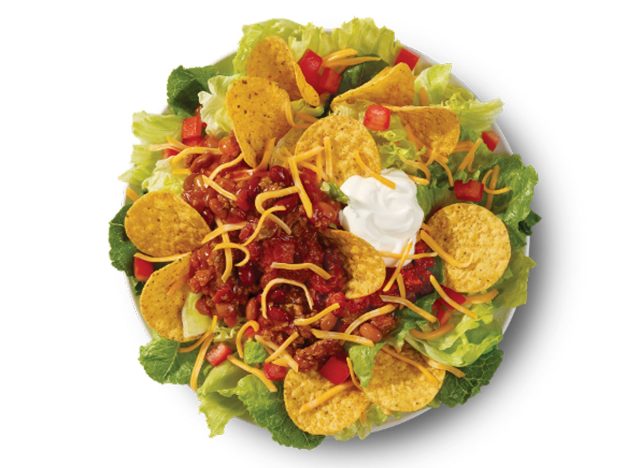 Per salad
: 690 calories, 34g fat ( 13g saturated fat),1,870 mg sodium, 68g carbs (12g fiber, 16g sugar), 30g protein
Don't be fooled into thinking a salad is automatically a healthier choice. The Taco Salad from Wendy's has more fat and sodium than some of the burgers on the menu! With 13 grams of saturated fat and a massive 1,870 milligrams of sodium, you'll get over half of the recommended limit of each nutrient from this meal.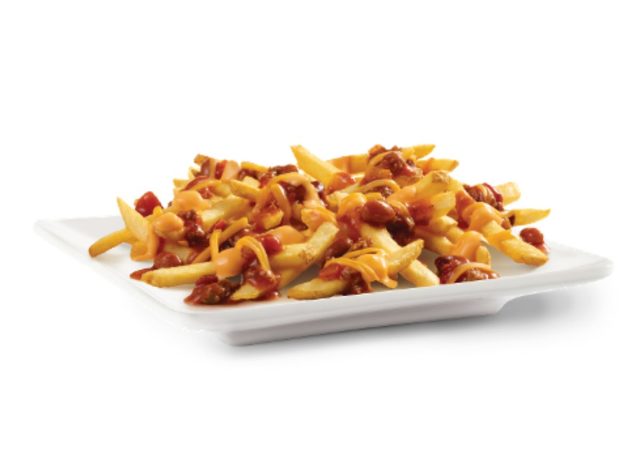 Per order
: 520 calories, 27g fat ( 9g saturated fat),1,330 mg sodium, 53g carbs (6g fiber, 3g sugar), 17g protein
There are plenty of healthier side options at Wendy's, but the Chili Cheese Fries aren't one of them. While we appreciate it being a fiber-rich option with 7 grams from the beans, it also comes with 1,330 milligrams of sodium, adding over 50% of the daily limit with just a side dish.
Loaded Nacho Chicken Sandwich
Per sandwich
: 670 calories, 30g fat ( 8g saturated fat), 2,070mg sodium, 66g carbs ( 4g fiber, 11g sugar), 35g protein
While the Loaded Nacho Chicken Sandwich is a step healthier than the loaded nacho burger when it comes to saturated fat (just eight grams for the whole sandwich), you'll get 90% of the DV for sodium in this one meal. A traditional crispy chicken sandwich may not have the extra flair of this sandwich, but it has less than half the amount of sodium, making it a healthier alternative.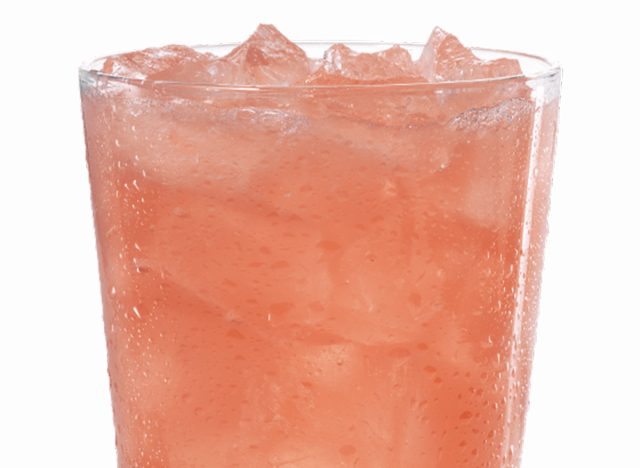 Per medium drink
: 330 calories, 0g fat (0 g saturated fat), 35mg sodium, 84g carbs ( 0g fiber, 79g sugar), 0g protein
Moving on from fat and sodium, the Strawberry Lemonade makes our list with its excessively high amount of added sugar. Just one medium drink has 79 grams of added sugars, which is 158% of the recommended limit for added sugars in a day! Added sugars bring extra calories with no other nutritional value. Sipping unsweetened iced tea, diet soda, or water with your Wendy's order is a healthier option.
Kelsey Kunik, RDN
Kelsey Kunik is a registered dietitian, freelance writer, nutrition consultant, and sustainable food blogger.
Read more about Kelsey
Sources referenced in this article