The 8 Unhealthiest McDonald's Burgers of All Time
These meals make your diet anything but happy.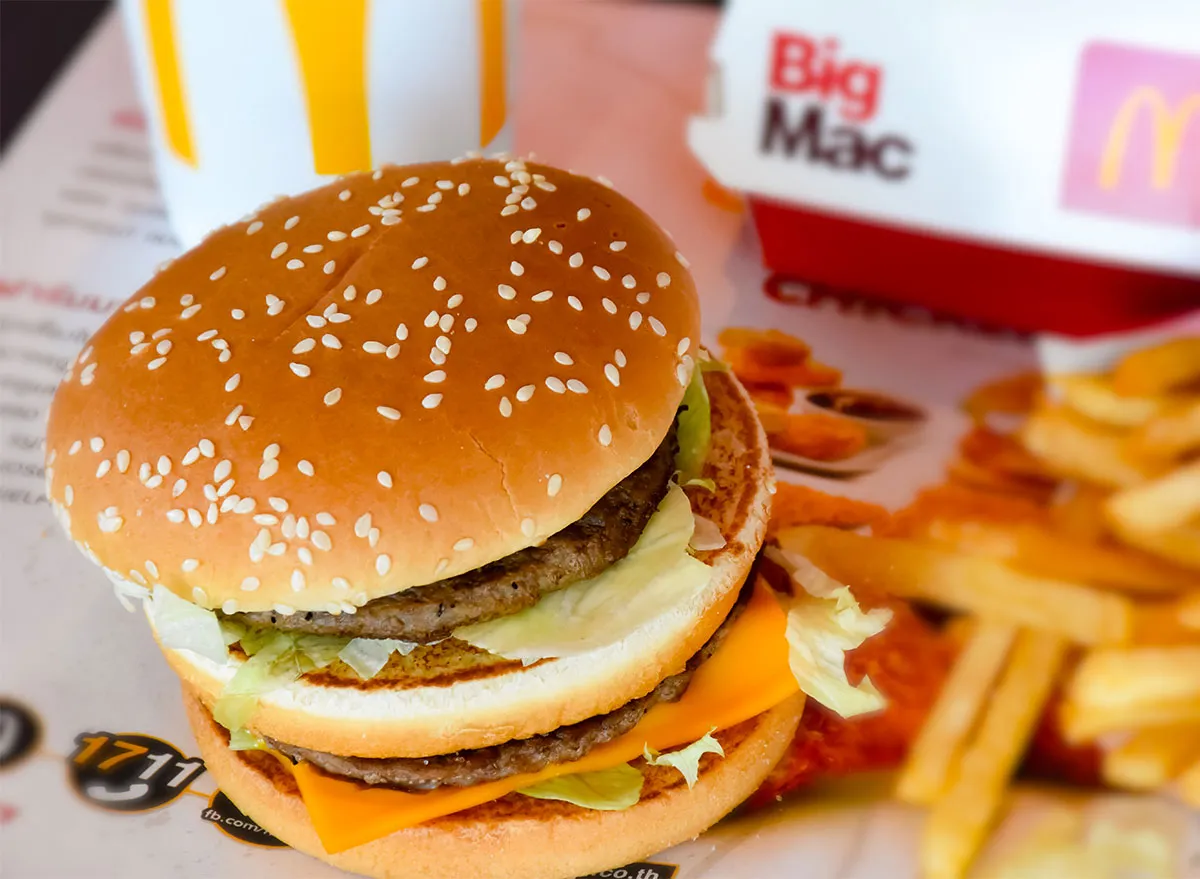 McDonald's burgers have become synonymous with the word "unhealthy" for good reason—even a simple happy meal contains enough calories and sodium to make any parent's head spin. These diet-busting entrees trace their existence back for decades, with some of the worst offenders available on any menu today! Many have wondered which burgers truly reigns supreme as the unhealthiest McDonald's burgers through the franchise's rich history, and today, we finally have a definitive list.
To determine which culprits could claim the title of "unhealthiest burger of all time," we ranked the overall amount of calories, fat, and sodium in each sandwich. By recognizing these burgers as the calorie bombs that they are, you can see just how far McDonald's has come as a franchise, and learn what meals to avoid at all costs.
Ranking from bad to worst, with a range of sandwiches that stretch from bad to the nightmarish, read on to discover the all-time unhealthiest McDonald's burgers. And if you're looking for some healthier eating tips, you can check out our list of 21 Best Healthy Cooking Hacks of All Time.
Bacon Double Cheeseburger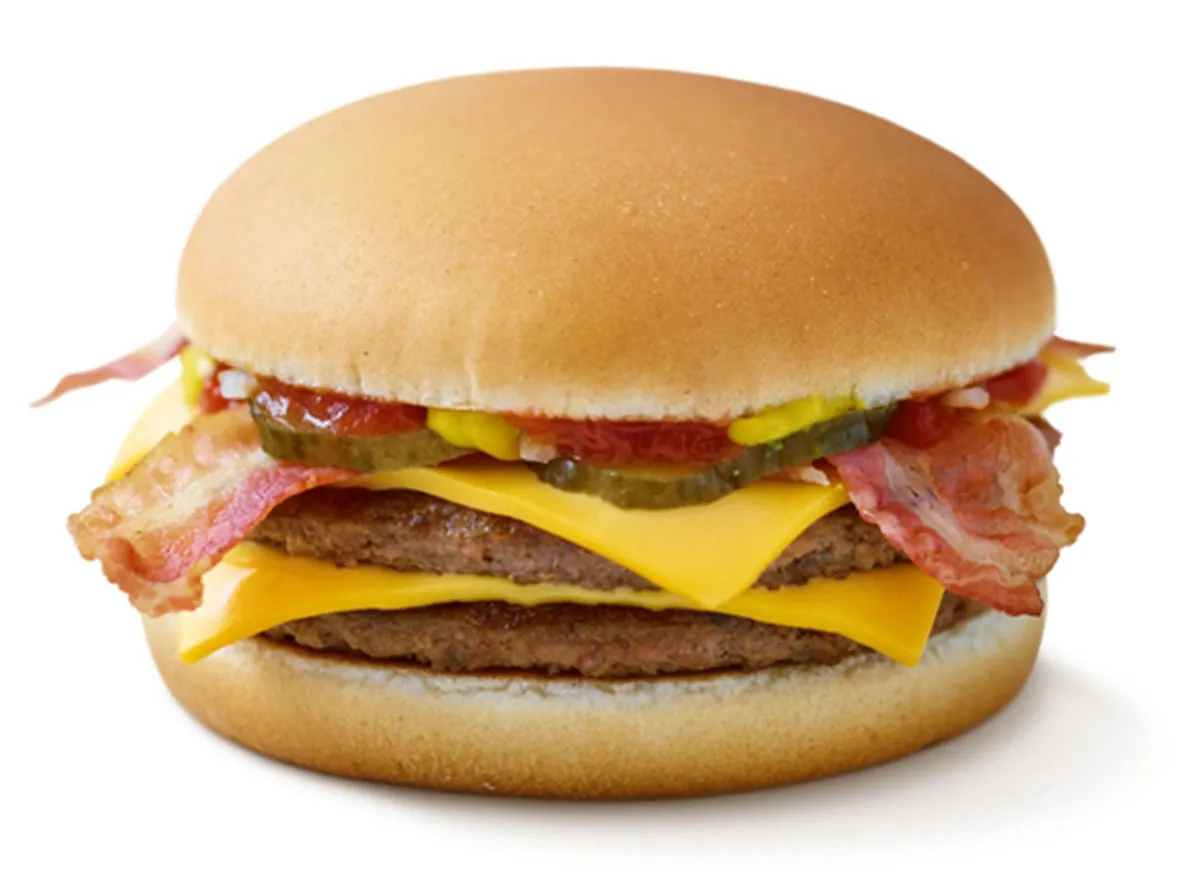 500 calories, 26 g fat (12 g saturated fat), 1290 mg sodium, 35 g carbs (2 g fiber, 8 g sugar), 30 g protein
Most bacon cheeseburgers never do your waistline any favors, and McDonald's takes it to the next level with their take on the bacon double cheeseburger. This monstrosity loads up on salt, featuring almost 75% of your daily recommended intake, as well as packing in 12 grams of heart-stopping saturated fat. With stats like these, pass over this calorie nightmare during your next McDonalds run.
Why not just make a healthier version with one of our 13+ Best Healthy Hamburger Recipes?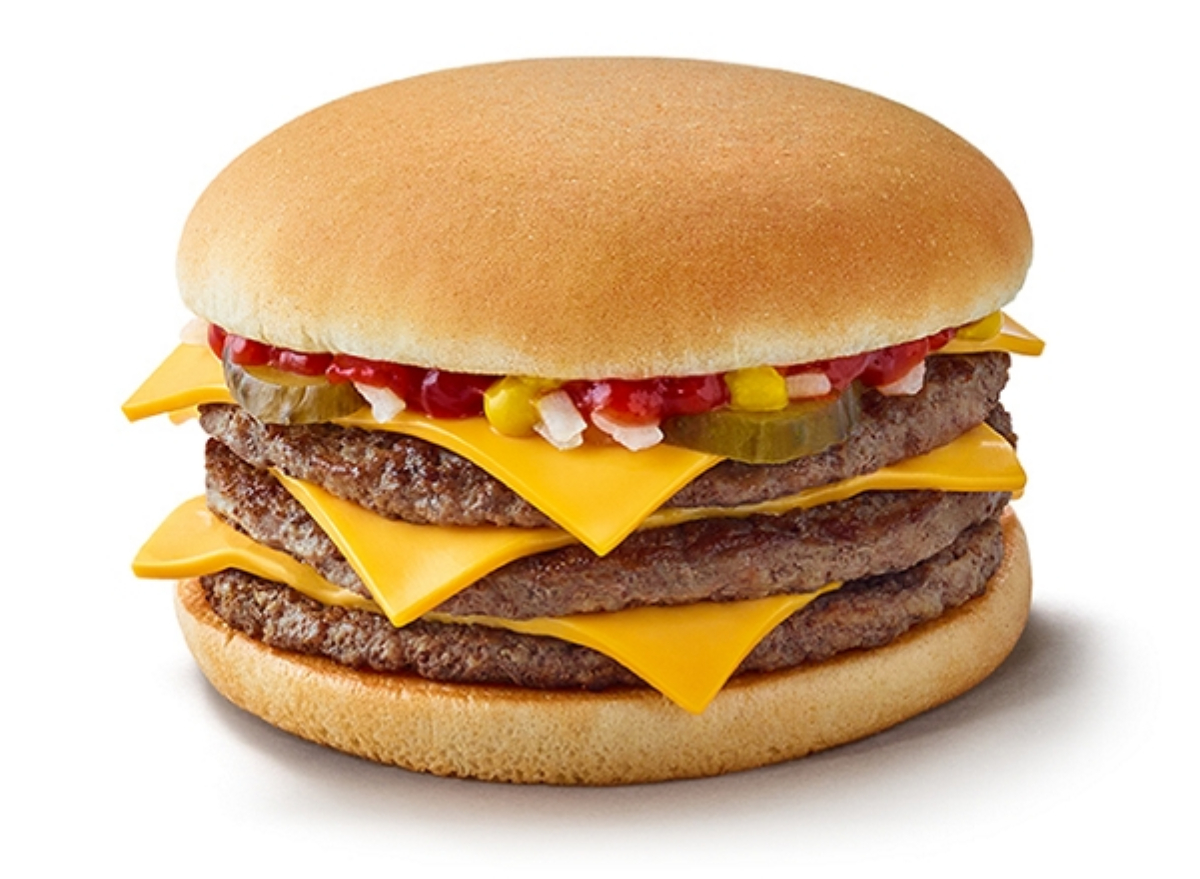 520 calories, 28 g fat (14 g saturated fat), 1180 mg sodium, 35 g carbs (2 g fiber, 7 g sugar), 32 g protein
At first glance, this burger would appear fairly innocuous out of the box, but with three patties and three slices of cheese, this burger unravels any diet. The true terror lurks in the 1180 milligrams of sodium, over half a teaspoon crammed into one small burger. Anyone looking to keep fit and keep their blood pressure down would be wise to avoid this nutritional disaster.
Instead, you should order one of these 7 Healthiest McDonald's Orders, According to a Dietitian.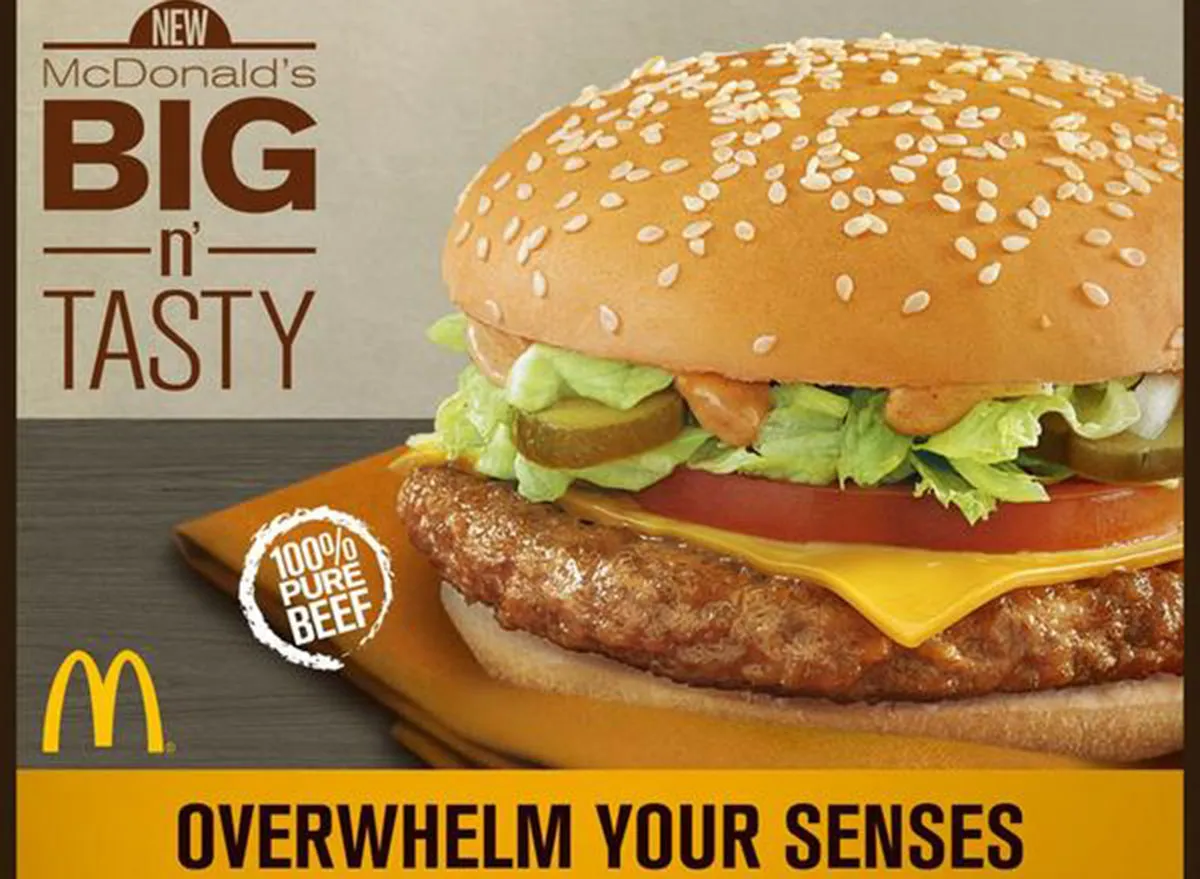 526 calories, 30 g fat (8 g saturated fat), 790 mg sodium, 31 g carbs (6 g fiber, 15 g sugar), 24 g protein
The Big N' Tasty entered the McDonalds' family as the supposed answer to the Burger King Whopper. Just like the Whopper, this burger entered menus with the same amount of fat and empty carbs. Coming in with almost half your day's worth of sodium, and a full 30 grams of fat, this sandwich offered very little to anyone looking to experience a wholesome meal. The formula for the burger has since left McDonald's menus, but still managed to lay claim as one of the unhealthiest McDonalds burgers in existence.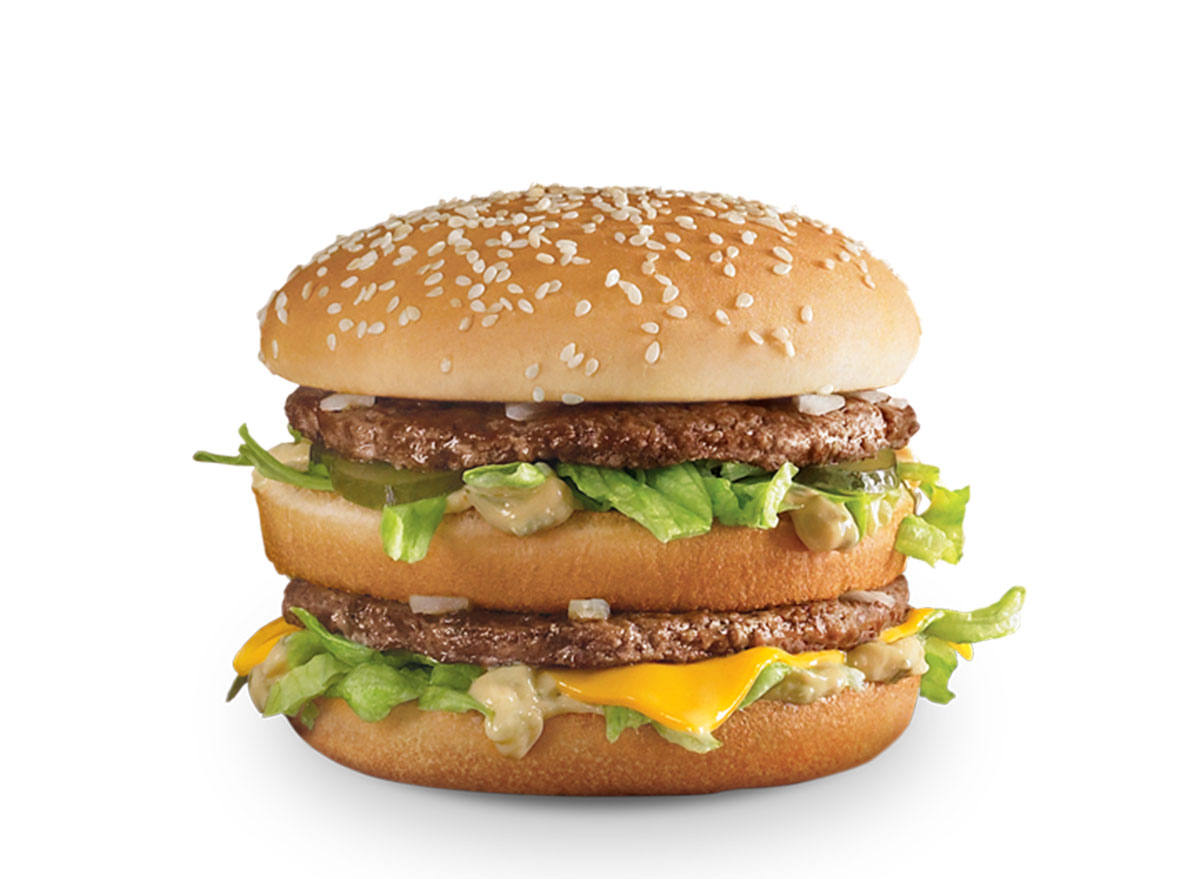 550 calories, 30 g fat (11 g saturated fat), 1010 mg sodium, 45 g carbs (3 g fiber, 9 g sugar), 25 g protein
With a name like a Big Mac, you might expect this burger to rank deeper in our list. While the sandwich still comes in well before our number one spot, don't assume you can get away with ordering this and maintain any semblance of a diet. With over half a teaspoon of salt loaded in, this burger threatens your blood pressure levels and heart health. Don't make the mistake of ordering this burger, even if it is a cheat day. Instead, make our healthier version with this Copycat Big Mac Recipe.
Quarter Pounder With Cheese Deluxe
620 calories, 36 g fat (14 g saturated fat), 1220 mg sodium, 44 g carbs (3 g fiber, 11 g sugar), 31 g protein
The Big N' Tasty eventually morphed into the larger quarter pounder with cheese deluxe, a burger that takes the fat and sodium of its predecessor to the next level. This massive burger features over half your daily recommended sodium intake, and a heart-stopping 36 grams of fat. When you have a burger this big loaded with fat and salt, you don't even need to figure in fries to know your eating plan will suffer if you polish off one of these sandwiches.6254a4d1642c605c54bf1cab17d50f1e
Double Quarter Pounder With Cheese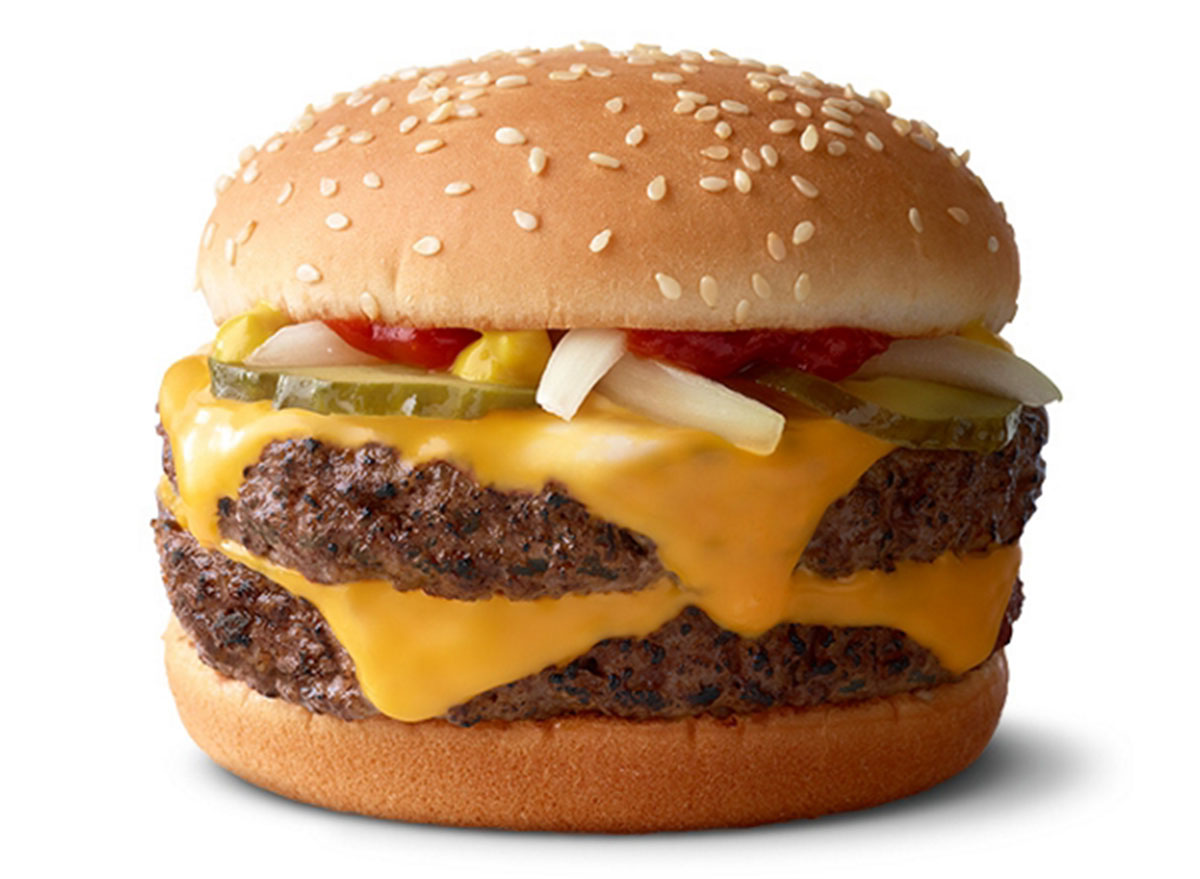 720 calories, 40 g fat (19 g saturated fat), 1370 mg sodium, 43 g carbs (3 g fiber, 10 g sugar), 49 g protein
Weighing in with a whopping 720 calories and well over half your daily sodium intake is the double quarter pounder with cheese, a burger you should never order under any circumstances. This item packs in the most amount of fat and salt out of all McDonalds burgers offered in the U.S., meaning this sandwich lays claim as the worst burger you could currently order at the franchise.
Sweet BBQ Bacon Burger on Texas Toast
740 calories, 38 g fat (14 g saturated fat), 1430 mg sodium, 61 g carbs (3 g fiber, 16 g sugar), 40 g protein
This discontinued McDonalds burger etched its name into unhealthy history with its massive 38 grams of fat and near 3/4 teaspoon of salt loaded into every sandwich. Pair the gratuitous inclusion of bacon with two pieces of saturated fat-filled texas toast slices as buns, and you have a recipe for disaster.
Speaking of menu items that have disappeared, remember these 15 Discontinued McDonald's Menu Items?
860 calories, 52 g fat (18 g saturated fat), 1470 mg sodium, 62 g carbs (5 g fiber, 13 g sugar), 41 g protein
This monster of a sandwich defined unhealthy burgers when it hit menus in 2017 and took the Big Mac formula to the next level. As a limited time offer, the Grand Mac offered up an oversized version of the Big Mac and featured a humongous 52 grams of fat and almost a full daily serving of salt in just one sandwich. With all of the poor nutrition wrapped up into the meal, you could almost glean half your daily calories from it. This sandwich still haunts or diet nightmares, and truly claims its spot as the most unhealthy Mcdonald's burger of all time.
Now for dessert…this is The #1 Worst Food to Never Order at McDonald's.