10 Healthy(ish) Game Day Recipes Perfect for Football Season
These foods will score some game-winning points during football season!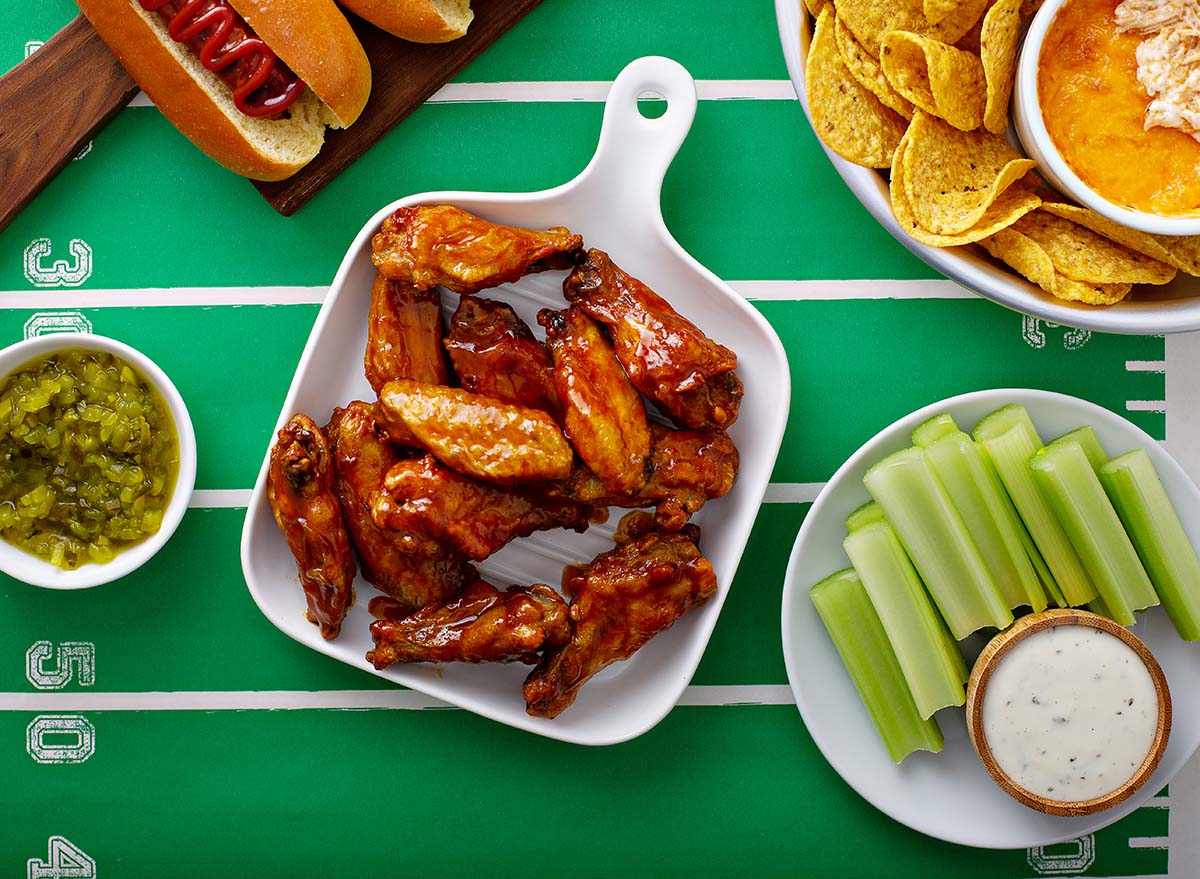 Thursday, September 8th kicks off the first NFL game of football season. This 18-week stretch will consist of your Thursdays, Sundays, or Mondays glued to the TV, cheering on (or yelling at) your favorite team. While rooting for them and sporting your team's gear is part of the fun, there's another add-on of football season that goes hand-in-hand with watching the game: game-day food.
Sitting down and stuffing your face with delicious foods is all part of what makes game days a fan favorite. However, while you may be used to inhaling tons of unhealthier foods like chips and deep-fried wings, there are actually healthier alternatives to these game-day snacks that remain true to their original versions. We spoke with The Nutrition Twins, Lyssie Lakatos, RDN, CDN, CFT, and Tammy Lakatos Shames, RDN, CDN, CFT, authors of The Nutrition Twins' Veggie Cure, to tell us about game day recipes that remove some of the calories, but are still perfect for watching football. Read on for our favorite game day food recipes, and for more, don't miss 8 Dips That Use The Lowest Quality Ingredients.
The Best Ever Buffalo Wings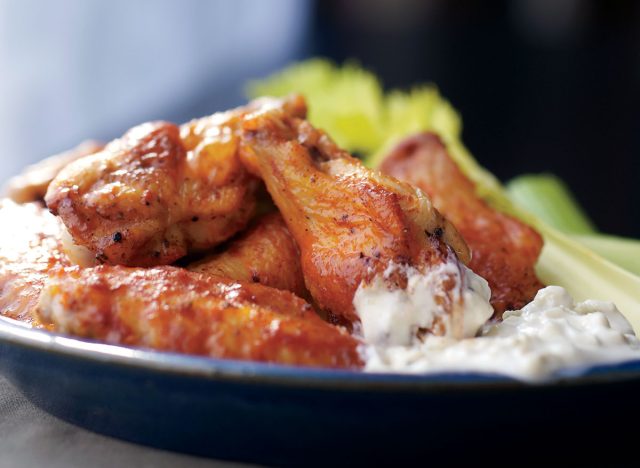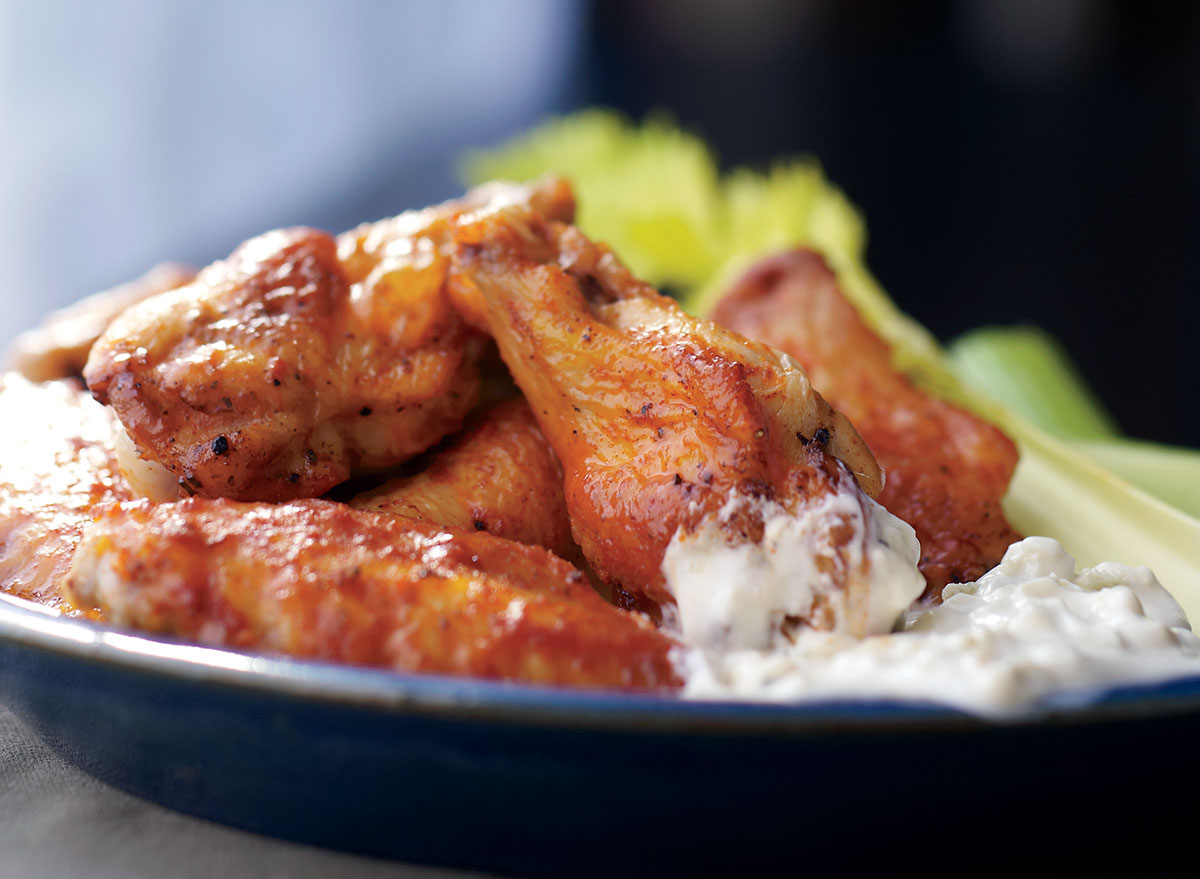 Say goodbye to deep-fried wings with this version that is not only better for you, but keeps the flavor of a typical wing.
"The chili powder will provide anti-inflammatory benefits," says The Nutrition Twins. "Research shows it may even cut appetite, which is ideal for game day when you're surrounded by calorie-laden-tempted treats!"
The Nutrition Twins suggest that in order to get an extra-lean, zesty version of this baked wing recipe with half the calories and 75% less fat, cook boneless, skinless chicken breast tenders in the oven or on the grill until firm. Then toss them in the pan briefly with the hot sauce-spiked butter.
Get our recipe for Easy, Oven-Baked Buffalo Wings.
Hummus Stuffed Jalapeño Poppers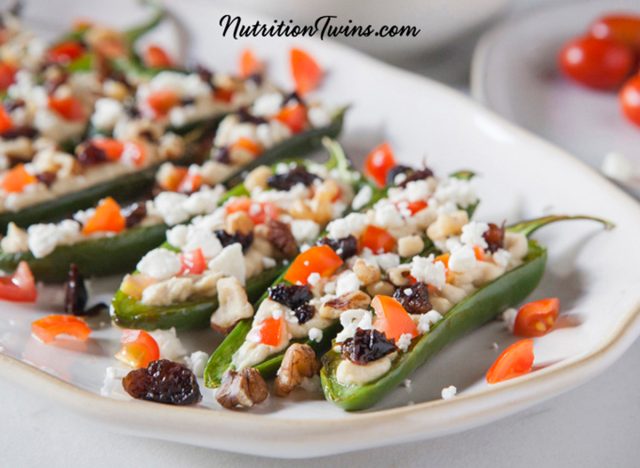 A classic game-day food gets a little tweak with these hummus-filled peppers.
"This sweet, savory, creamy, crunchy, and spicy version of jalapeño poppers hits all notes to satisfy whatever you're craving," says The Nutrition Twins. "This recipe cuts calories by one-third, while nearly omitting the saturated fat by swapping cheesy insides for hummus and skipping the deep frying that typically makes jalapeno poppers a disaster for your waistline."
The Nutrition Twins suggest that this version boasts anti-inflammatory heavy hitters, such as antioxidant-packed prunes, fiber-rich chickpeas, and omega-3-rich walnuts. Research published in the Nutrients journal shows that walnuts can help to keep you satisfied and assist in weight loss.
Get the recipe for Hummus Stuffed Jalapeño Poppers from The Nutrition Twins
Low-Calorie Chicken and Black Bean Nachos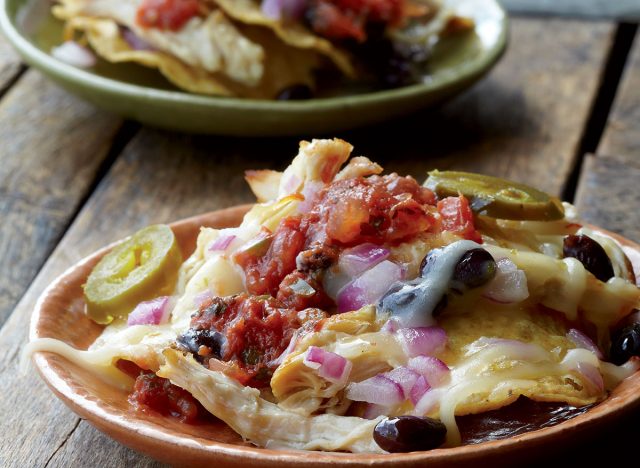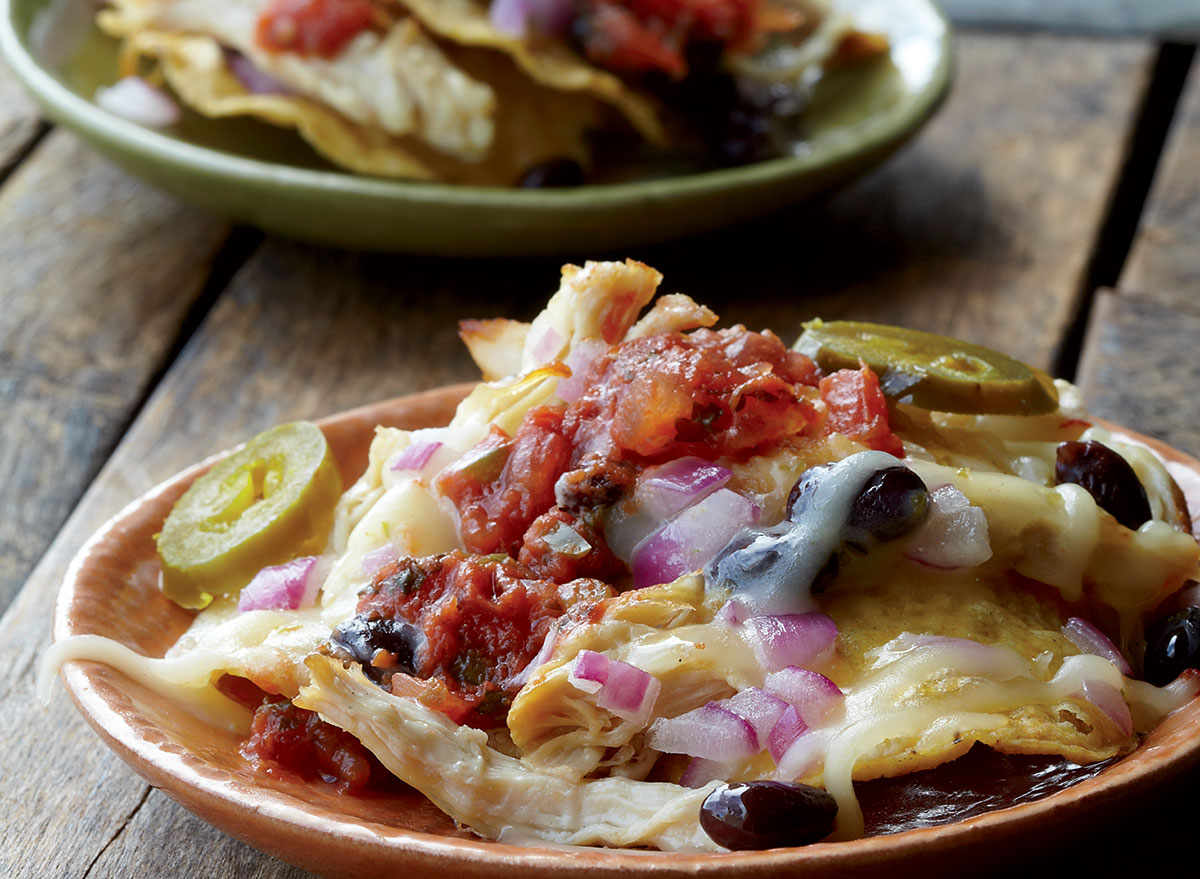 This isn't your typical soggy, greasy calorie-bomb nacho recipe.
"Why overload a chip with heavy, oily toppings that just leave it mushy, when you can have this delicious, lighter version?" The Nutrition Twins ask.
This recipe leaves the chips crunchy and is layered with protein-packed chicken, good-for-your-gut fiber-filled beans, lime-spiked sour cream, and just enough shredded Monterey Jack cheese melted on top to keep you satisfied.
"And those black beans may be especially helpful on game day as they seem to help improve after-meal insulin response," explain The Nutrition Twins. "This is a big deal for your metabolic health when you may be sitting around and overeating."
Get our recipe for Low-Calorie Chicken and Black Bean Nachos.
Spicy Potato Skins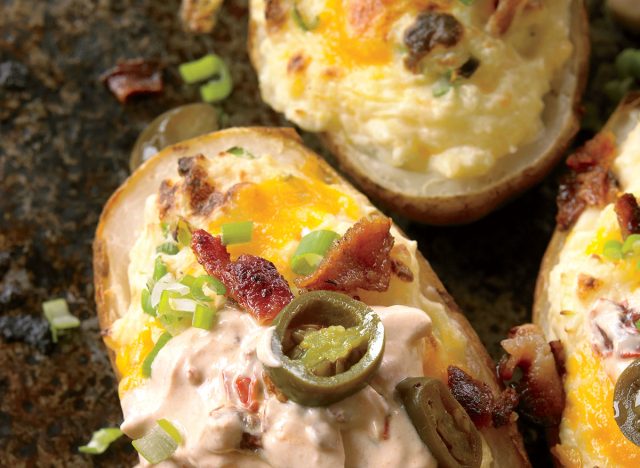 This is a leaner version of a football game staple with a bit of a kick.
Say goodbye to the fried, unhealthy version of potato skins, and hello to this baked kind. You're still getting the delicious creamy taste of cheese, sour cream, milk, and butter mixed together, topped with a bit of bacon, so you'll really feel as if you're enjoying this game-day delight. The extra heat? Some minced chipotle pepper. Plus, the addition of chopped jalapeño on top.
If you're still looking to make this version a tad healthier, you can swap out any of the ingredients for more veggies and add a different protein like chicken, which is lower in fat and calories than bacon.
Get our recipe for Game-Day-Ready Spicy Potato Skins Recipe.
Easy Guacamole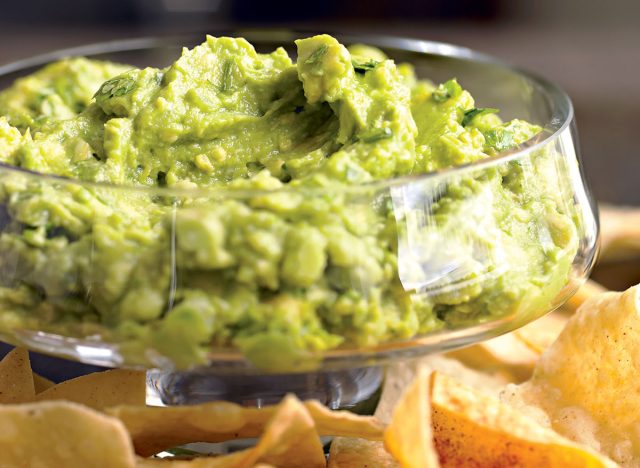 You can't go wrong with enjoying some dips while watching the game, and guacamole fits right into that category.6254a4d1642c605c54bf1cab17d50f1e
"While most dips are full of artery-clogging saturated fat, that's not the case for this mouthwatering guacamole," says The Nutrition Twins. "It is packed with good-for-your-heart monounsaturated fat from the avocado that acts as a nutrient booster and helps you to absorb fat-soluble vitamins like A, D, E, and K."
Not only that, but The Nutrition Twins say this guacamole also contains anti-inflammatory powerhouses like garlic, cilantro, onions, lemon, and jalapeños.
Get our recipe for An Easy Guacamole That'll Become Your Go-To.
Loaded Pizza with Turkey Pepperoni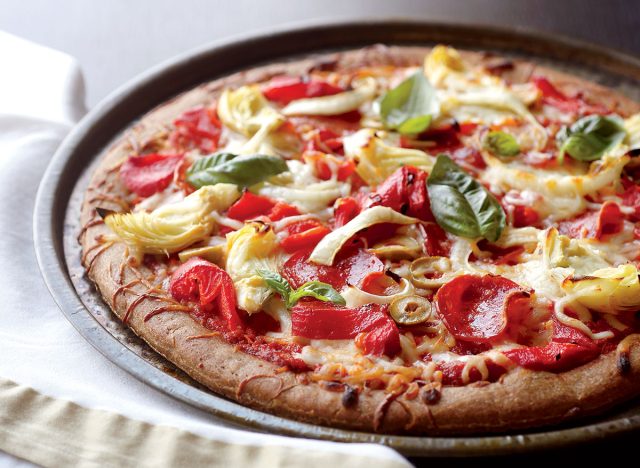 Who needs to order takeout pizza when you can create your own, healthier version right at home?
"This supreme-loaded pizza is a total score for your waistline, saving 500 calories compared to Pizza Hut's version," says The Nutrition Twins. "A low-calorie, fiber-rich whole-wheat thin crust shell works its magic as the perfect canvas for flavor and nutrition-loaded toppings like red peppers, artichokes, fresh basil, olives, and a decent helping of turkey pepperoni—and of course cheese."
They further say that it's hard to believe you get all this satisfaction for only 300 calories and the added benefit of artichokes, which, according to the British Journal of Nutrition, have been shown to be a powerful prebiotic, feeding good gut bacteria.
Get our recipe for Loaded Pizza Recipe With Turkey Pepperoni.
Skinny Turkey Meatballs with Wild Blueberry Dipping Sauce
Meatballs don't have to be a heavy, over-filling game day snack.
"These delicious, juicy meatballs pack in all the flavor, but they're completely guilt-free with less than 60 calories per meatball and no artery-clogging saturated fat," says The Nutrition Twins. "The mushrooms add fiber, antioxidants, a surprisingly perfectly meaty texture, and research shows they may help to prevent weight gain. Meanwhile, the wild blueberries pack in antioxidants and have a delightfully unexpected sweetness."
Get the recipe for Skinny Turkey Meatballs with Wild Blueberry Dipping Sauce from The Nutrition Twins.
Spinach Artichoke Dip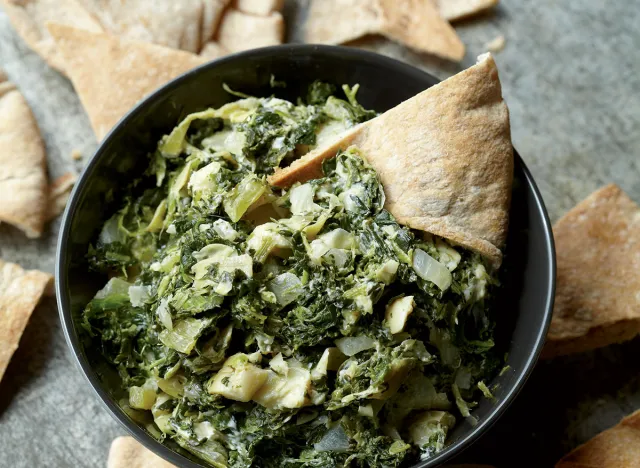 Spinach and artichokes are two vegetables you can't go wrong with eating. Put them in a dip and you've got a delightful snack that's easy to devour, especially when distracted by the game.
However, while typical spinach artichoke dips can be dense due to the mayonnaise and cream cheese mixed in, this recipe calls for a lighter version of each. Mix in some olive oil mayonnaise with whipped cream cheese (a lighter and airy version of regular cream cheese). For some more flavors, squeeze in some lemon juice and throw in some chopped roasted green chiles.
Get our recipe for Easy Spinach Artichoke Dip Recipe.
Sweet Potato Nachos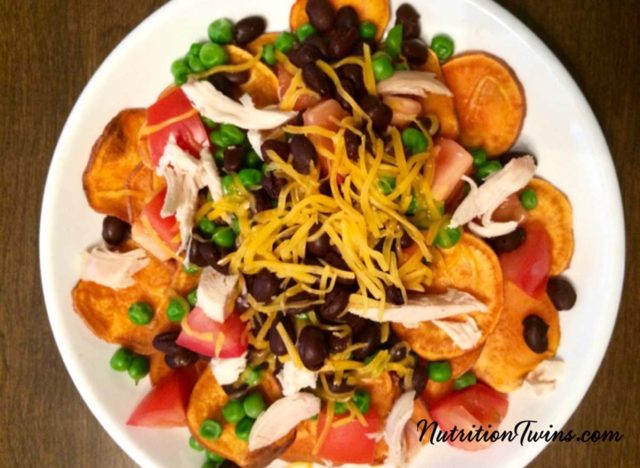 "Comfort food at its finest—these nachos are creamy, crunchy, savory, and delicious," says The Nutrition Twins. "Yet, you could eat the entire batch as a full meal and it would contain fewer calories than many weight loss meals, while also providing 24 grams of protein and 10 grams of fiber."
The Nutrition Twins suggest rather than racking up the calories and bloating sodium with fried chips, these tasty nachos get their crunch from crispy baked lycopene-rich sweet potatoes.
Furthermore, they say that the fiber-rich peas add a surprisingly sweet and creamy twist. Research, according to the American Journal of Clinical Nutrition, shows the protein from the chicken can help to keep you full for hours.
Get the recipe for Sweet Potato Nachos from The Nutrition Twins.
Cauliflower Pizza Muffins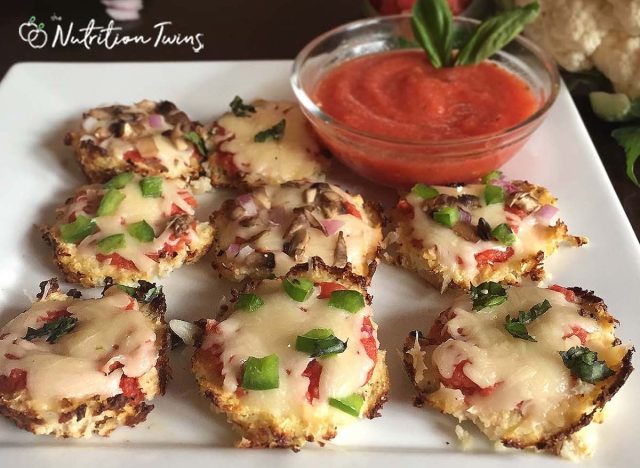 You may have heard of cauliflower pizza, and these personal-sized bites are the perfect switch.
"These mini pizzas are the ideal finger food for game day," says The Nutrition Twins. "Not only are they deliciously cheesy, but they're lightened up so they contain fewer calories and they step up the nutrition."
The Nutrition Twins explain these muffins do this by increasing fiber, antioxidants, and nutrients by replacing the bread with cauliflower. Plus, you top the pizza with veggies.
"These little muffins give your guests who follow a gluten-free diet the perfect chance to enjoy pizza," says The Nutrition Twins.
Get the recipe for Cauliflower Pizza Muffins from The Nutrition Twins.
These gameday recipes are perfect for big parties or smaller gatherings (even if it's just snacks for one). They're tasty while not packing on all the guilt of unhealthy food thanks to their alternatives. If you're ready for football season, be sure to enjoy these appetizers each Sunday!
Kayla Garritano
Kayla Garritano graduated from Hofstra University, where she majored in Journalism and double minored in Marketing and Creative Writing.
Read more about Kayla