7 Pizza Chains With the Most Food Quality Complaints
There quantity-over-quality brands are most likely to disappoint you.
When it comes to iconic American comfort foods, pizza is at the top. But just because pizza is universally adored doesn't mean discerning customers will settle for mediocrity.
If you're gonna treat yourself to a slice (or three), the pie should at least offer a bit of quality. After all, nothing squanders a cheat day quite like a lackluster frozen pie or disappointing—and artery-clogging—takeout. And don't even get us started on the woes of a terrible deep-dish.
Naturally, some pizza chains excel at quality—going the extra mile to source reputable ingredients, make dough from scratch, opt for healthier toppings, and cook pies to order.
Then there are those pizzerias that, shall we say, kind of phone it in. Whether by cutting corners, using meat with antibiotics, or overloading the crust with terrible-for-you ingredients, some pizza chains in the U.S. are clearly more about quantity than quality, churning it out on cruise control without as much concern for the integrity of the food.
So the next time your comfort food cravings hit, if food quality is a priority at all, you may want to steer clear of these six pizza chains with the most complaints in that department.
And don't miss 4 Burger Chains With the Most Food Quality Complaints.
CiCi's Pizza
Pizza is the main course at CiCi's Pizza, but it falls short and sits at the bottom of the menu totem poll. Known for its all-you-can-eat pizza buffet, the chain is a cost-friendly and easy option on the market, but it comes with a few caveats.
Over the years, in multiple states and restaurant locations, CiCi's Pizza has violated numerous health inspections, Mashed reported. The chain was docked for keeping pizzas out for customers for too long and at unsafe temperatures. A lack of freshness and quality was also heavily noticed by customers.
"I used to eat at Cici's and Pizza Hut as a child. They are at the bottom of places I'd consider eating at," wrote Reddit user u/pennywisen. Regardless of the brand's booming sales in 2022, customers don't put the pizza chain on a high pedestal. As another Reddit user put it, "Cici's is definitely the worst, but what can you expect from a $5 sit-down buffet?"
Domino's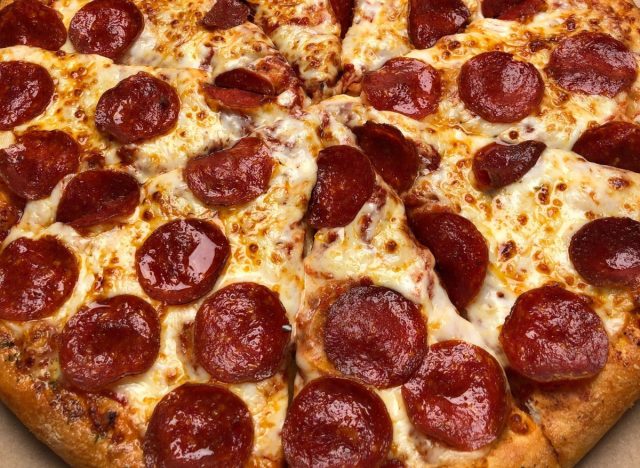 Any pizza chain with a reputation for tasting like cardboard is bound to have some public relations struggles. Case in point: the one and only Domino's. Sure, the massive pizza company may not taste and chew like cardboard anymore (at least we don't think it doesn't . . . ), but it certainly isn't lacking in a whole new slate of customer gripes.
As the largest pizza chain on the planet, the priority for Domino's is turning out as many pizzas as possible, at the speediest rates imaginable. Naturally, that means some corners are being cut. Not only is it one of the unhealthiest pizza chains in the world, with certain slices that'll give nutritionists nightmares, but the company has been criticized as overpriced, as well as for lacking consistency and for long delivery delays.
Then there's everything from missing garlic bread, order mix-ups, and uneven toppings to contend with. Perhaps most unsettling of all, though, is that Domino's uses some of the lowest-quality beef on the market. Between the long delays, inconsistent customer service, and bad meat, it's all too easy to have beef with Domino's these days.
Pizza Hut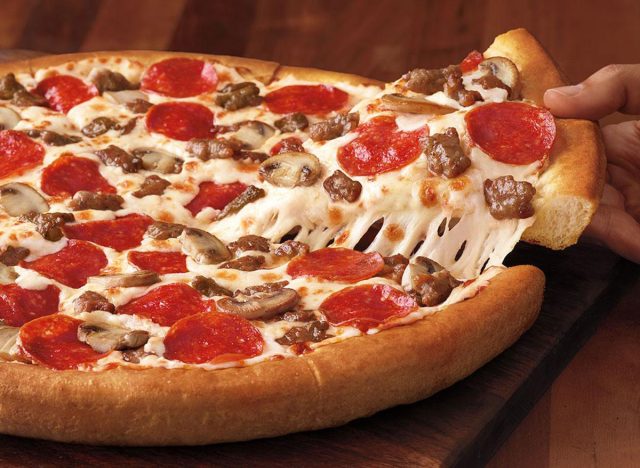 Childhood nostalgia can only get you so far. Pizza Hut, once the de facto pizzeria of Americana lore (remember Book It?!), has taken a plunge in public perception of late, becoming the number one pizza company falling out of favor with customers.
In fact, sales have been weakening in recent years, due largely to the brand's Blockbuster-like inability to adjust to modern times. Like Domino's, this is another chain rightfully criticized for its mediocre meat, which surely contributes to the fact that Pizza Hut serves some of the unhealthiest pizzas in the country.
But even when Pizza Hut awkwardly attempts to adjust to modern times, adding Detroit-style pizza to its menu, for instance, things don't go so well either. In summary, the mere fact that there's an online comment thread titled "Why does Pizza Hut pizza now taste bad?" speaks volumes about the less-than-stellar reputation this once-favorite staple has for its quality.
Papa Johns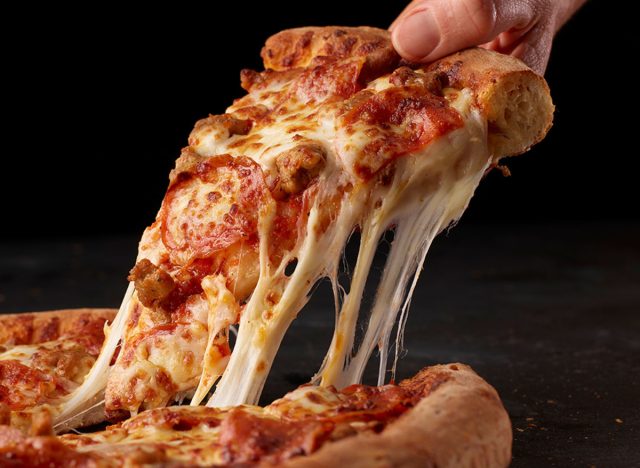 We're not saying that Papa Johns's is a beacon of high-quality food, but this restaurant chain is one example of poor quality in other ways—namely, a lack of quality character from its disgraced ex-CEO.6254a4d1642c605c54bf1cab17d50f1e
"Papa" John Schnatter's public image has turned into a veritable dumpster fire in recent years. While he has resigned from his namesake company in 2017, a lot of that damage still lingers, especially because he continues to stir up controversy.
Additionally, Papa Johns's sells some of the unhealthiest pizzas you can order—while extra-cheesy stuffed crust may sound dreamy, it's also one of the worst things you can put in your body. Sure, on paper, Papa Johns's sounds like it's doing really well, but not every new menu addition has been well received.
Sbarro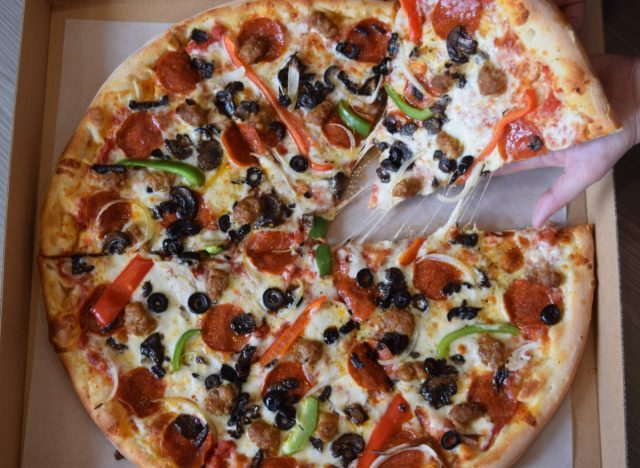 Considering its reputation as a food court mainstay, it's not really a surprise that Sbarro has fallen out of favor with customers in recent years.
Year over year, sales have continued to decline for the once-mighty chain. While other delivery-focused pizzerias thrived during the pandemic, this mall staple didn't fare nearly as well, with sales decreasing 18% in 2020.
But it isn't all the mall's fault—customers have complained about the lack of quality and the straight-up "bad" food, including pizzas that are pre-made and warmed via heat lamps. And if you're willingly going to indulge in some of the worst pizza around, it should at least come piping hot and not lukewarm from under a heat lamp.
Little Caesars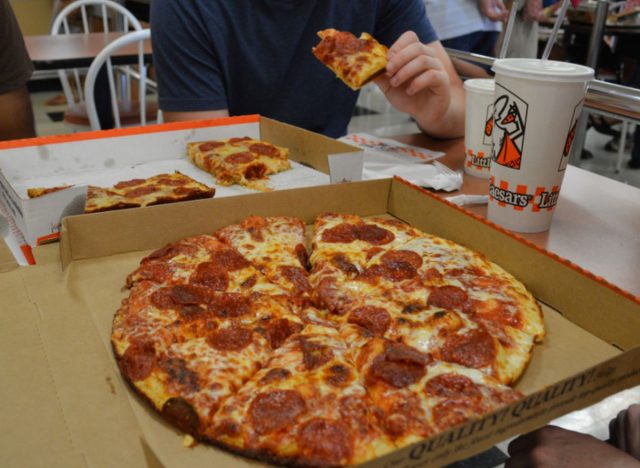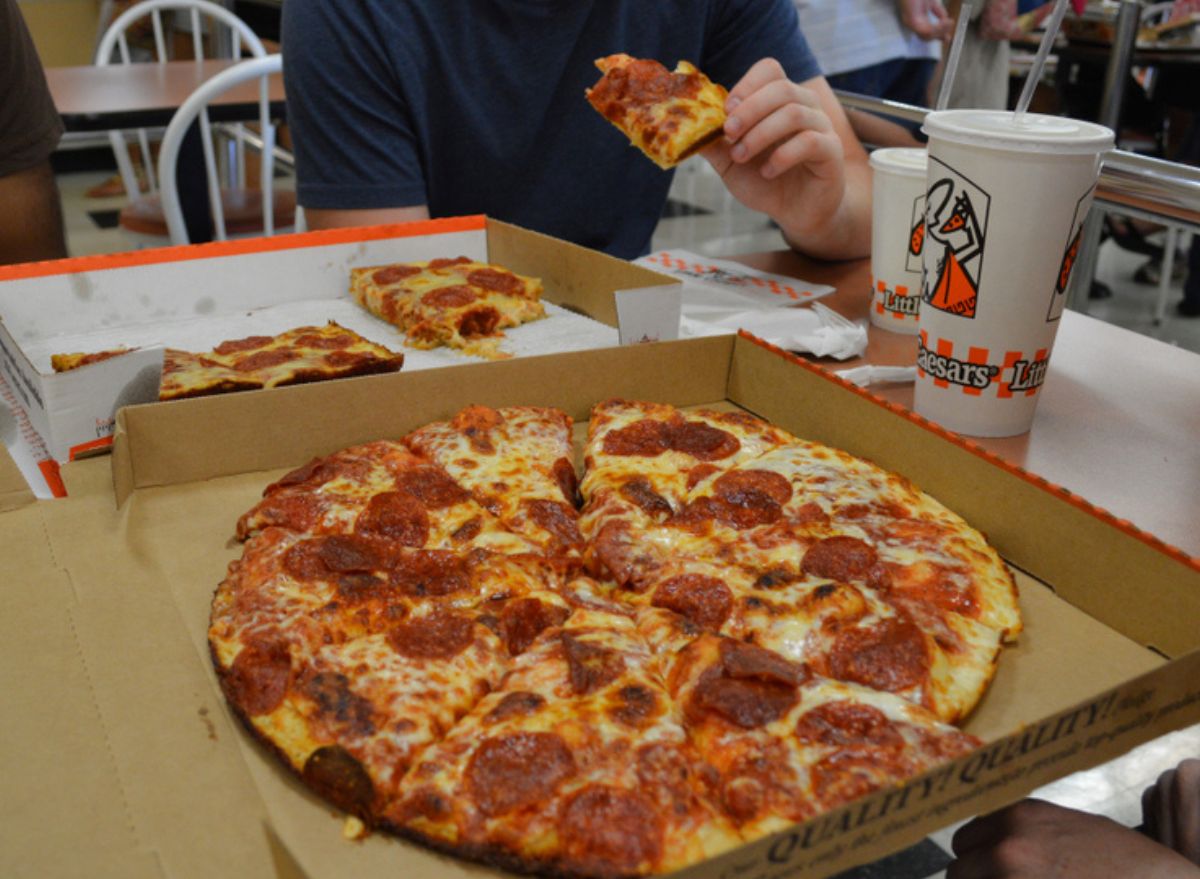 Unlike Sbarro, Little Caesars has seen quite the success lately, with more customers flocking to the chain for its affordability, consistency, delivery, and generally good pizza. But with more customers—and more volume—comes more opportunity to make mistakes, cut corners, and amass complaints.
Indeed, the "two pizzas for the price of one" promo isn't all that great if said pizza is terrible for you. And Little Caesars reputation as an affordable option may be changing too, with menu prices increasing amid inflation.
Little Caesars low-quality reputation is so real it even prompted a Reddit thread titled "Is Little Caesars REALLY that bad?" from a U.K. resident concerned about America's low pizza standards, with most tepid responses praising the brand for being cheap and inedible—not exactly singing its praises.
Uno Pizzeria & Grill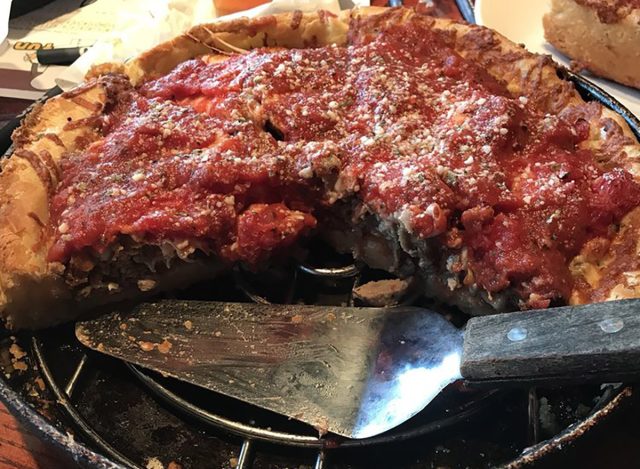 Speaking of deep-dish you should avoid, look no further than Uno Pizzeria & Grill, a chain whose reputation has aged like milk. Reflective of its declining sales in recent years, including a massive 28.5% nosedive in sales during the pandemic, the chain has dwindled to less than 100 restaurants, where customers commonly complain about long wait times for deep-dish pizza.
The chain is plotting a comeback to try and revive its brand, but it'll take a serious overhaul to change the perception of its mediocre food. Uno also serves food that's bad for your heart and equally unhealthy sides.
A version of this story was originally published on June 24, 2022. It has been updated to include new information.
Matt Kirouac
Matt Kirouac is a travel and food writer and culinary school graduate, with a passion for national parks, all things Disney, and road trip restaurants.
Read more about Matt